Did you see Tuesday's post with an introduction to the French campsites, Les Castels? Check it out if you've never heard of Les Castels before.
Les Castels are gorgeous camping grounds all around France set within the grounds of stunning chateaux's. Last summer I travelled to France for one week and visited three Les Castels campsites.
It was the perfect family week away and had just the right mix of relaxation, activities, places to explore, great food, sunshine, beaches and lazy afternoon naps. I was away with my partner and our son, George, who was 15 months old at the time. I was also six months pregnant so that relaxation factor was very important!
Here's what we got up to…
Day 1: Fly into Paris
We flew into Paris on a Friday afternoon and picked up a hire car at the airport. We quickly left the city behind us and were on our way to our first campsite in Saint–Pair–Sur–Mer in Normandy. It was very late by the time we arrived so we went straight to bed and had to leave the exploring for the following day.
Day 2: Campsite Number 1
Château de Lez Eaux was our first and favourite campsite. It was so beautiful and so relaxing. It is located near Brittany between Mont-Saint-Michel and Granville and is set within the grounds of a 19th century castle. We were there in early July – just before the summer holidays begin – and it was incredibly quiet and peaceful so it was the perfect start to our holiday.
We stayed in a two bedroom chalet with a Jacuzzi and we were the only people in our area of the campsite. The chalet was spacious and well equipped and we had everything we needed for the three of us.
On our first full day in France we didn't even leave the campsite. We spent our first day skipping between the gloriously warm indoor pool, the play park and the beautiful campsite grounds. We bought cheese, bread and croissants from the onsite shop and had pizzas and chips from the onsite takeaway restaurant.
We enjoyed sunny drinks sat outside the bar and for the first time in ages we all felt 100% relaxed. It was lovely to let George run around and roam free. He'd just started walking a few weeks before this holiday so he was keen to use his new-found independence! In the early evening we went back to our chalet to soak in the hot tub while we watched the sunset and finish off the left over pizza (which I wouldn't recommend doing while in a hot tub!)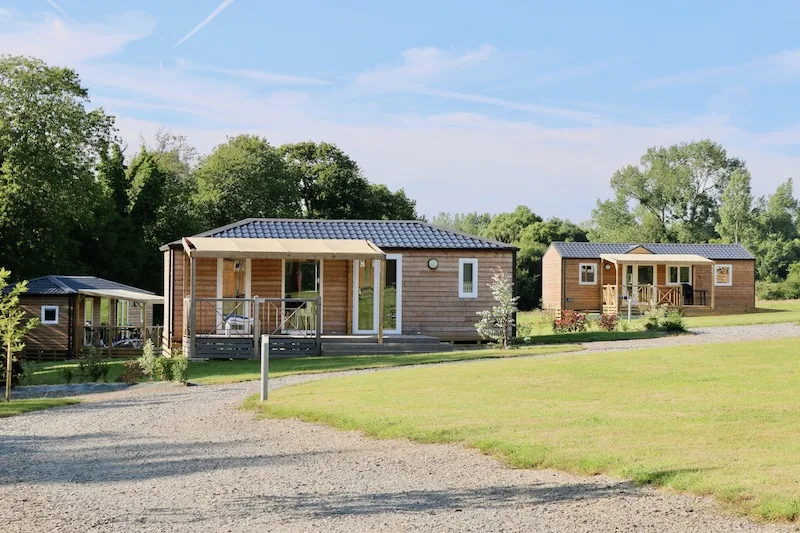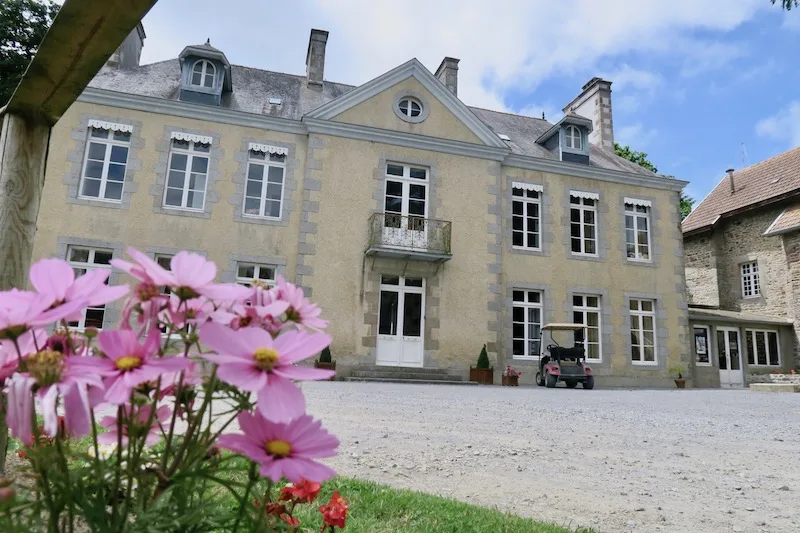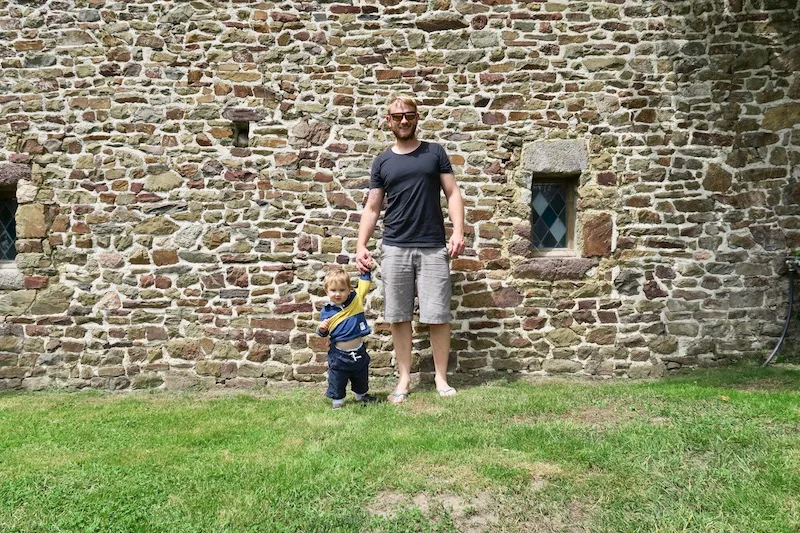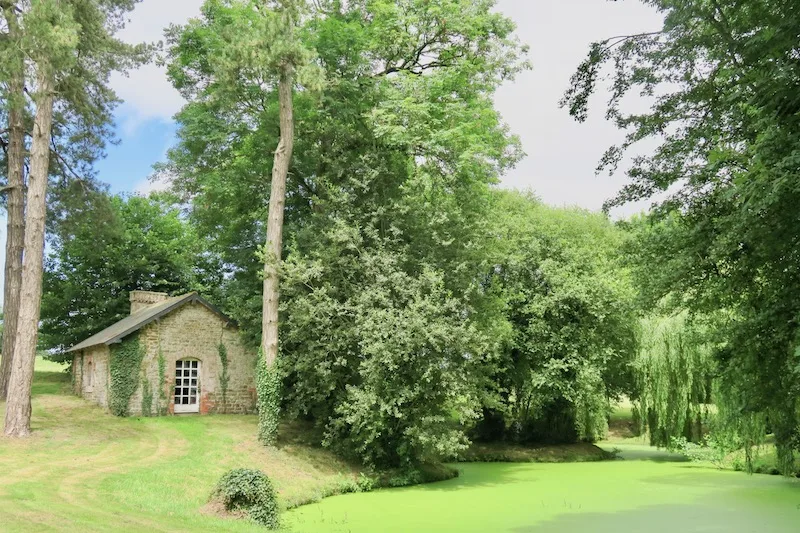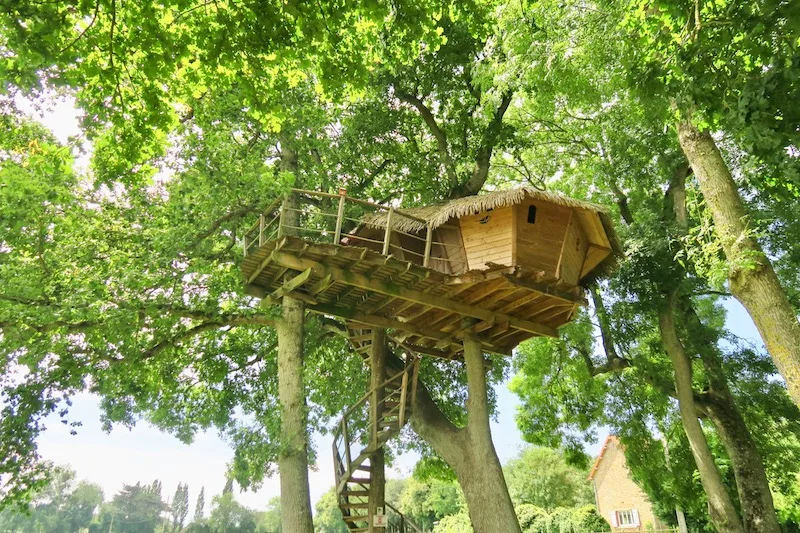 Day 3: Le Mont Saint Michel + our second campsite, Domaine des Ormes
We were up early on our third day, packed up the car and made the short drive to Le Mont Saint Michel in Normandy, which was perfectly located between our first and second Les Castels campsites.
Le Mont Saint Michel is a small island between Normandy and Brittany and is dominated by an enormous abbey perched at the peak of the island.
Le Mont Saint Michel it's like stepping into a fairy tale. It's like a magical world that only exists between the pages of a Harry Potter book and you can see grown adults skipping with excitement as they approach the island (OK, maybe that was just me). The narrow, cobbled streets wind their way up to the abbey and wonky, rickety little shops and restaurants line the streets.
I have a full blog post from this incredible island coming soon!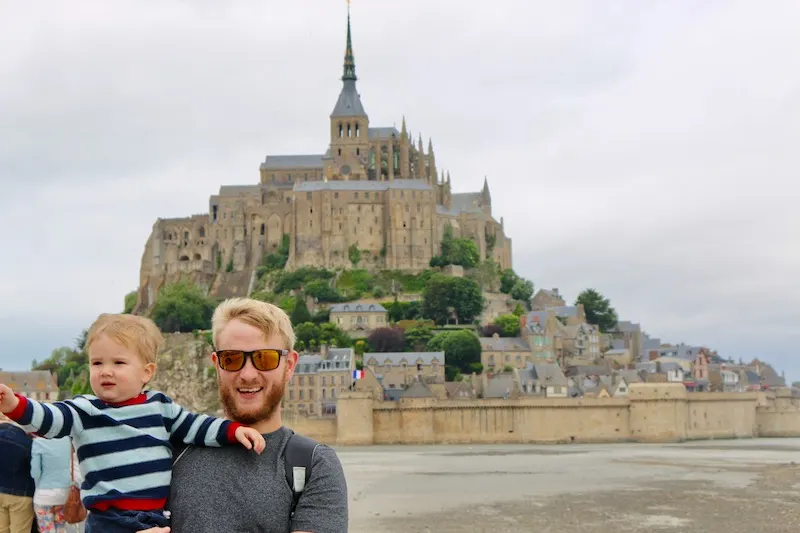 Our second campsite was Domaine des Ormes, one of the larger Les Castels sites. Wow, you could stay here for weeks and still not explore everything the site has to offer. It felt completely different to our first campsite at Château de Lez Eaux and it was much more energetic with an endless list of activities for kids.
Set within a 200-hectare estate, Domaine des Ormes is enormous. There are six swimming pools as well as water sports like cable water skiing on the lake. There are indoor and outdoor pools, a lazy river, waterslides, toddler pools and quiet swimming pools for relaxing.
There are eight restaurants, a golf course, an equestrian centre, a tree adventure course, a climbing wall, archery, mini golf, fishing, peddle boats, paint-balling, bikes to hire, tennis, a games rooms, a zip wire, a maze, evening entertainment shows and more. Phew, I told you there was a lot!
Domaine des Ormes also has a huge variety of accommodation types to choose from. This is the place for quirky glamping options and the raft houses and tree houses look amazing. We stayed in a two-bedroom mobile home and it was really lovely. Once again, it was fully equipped with everything we needed. We were staying here for three nights so we really got settled in. We hired bikes, stocked up the fridge and even made friends with the other families in the chalets around ours.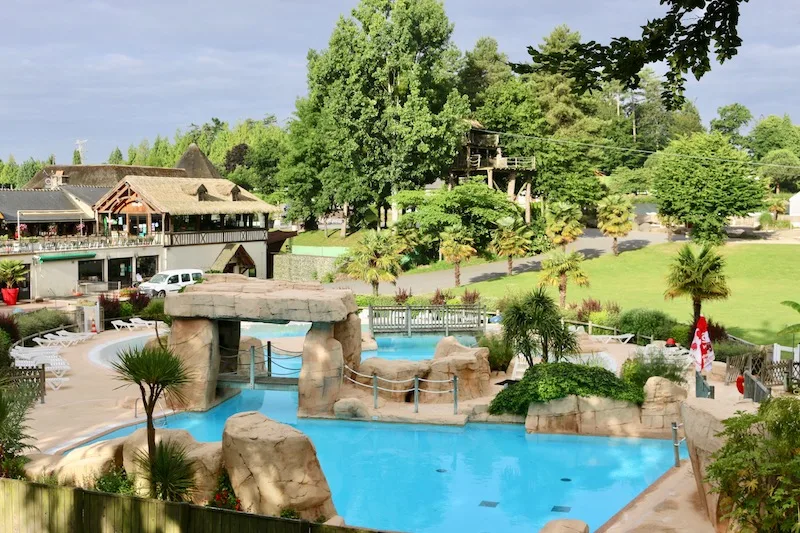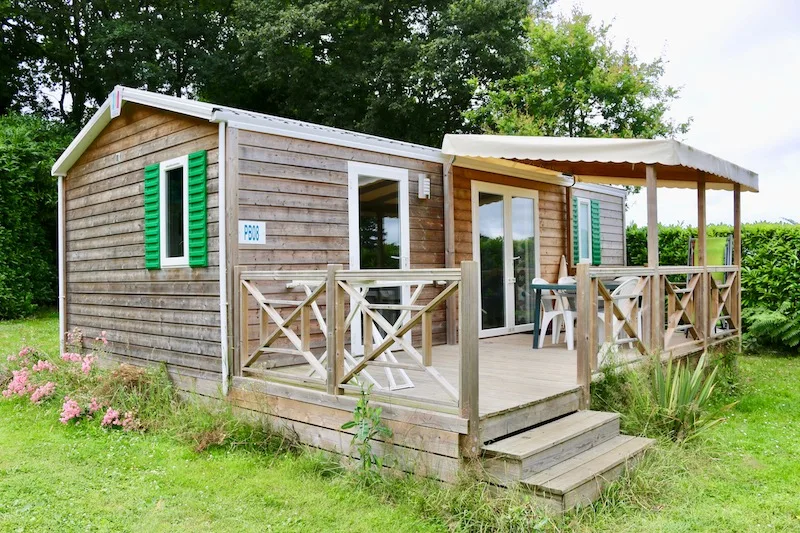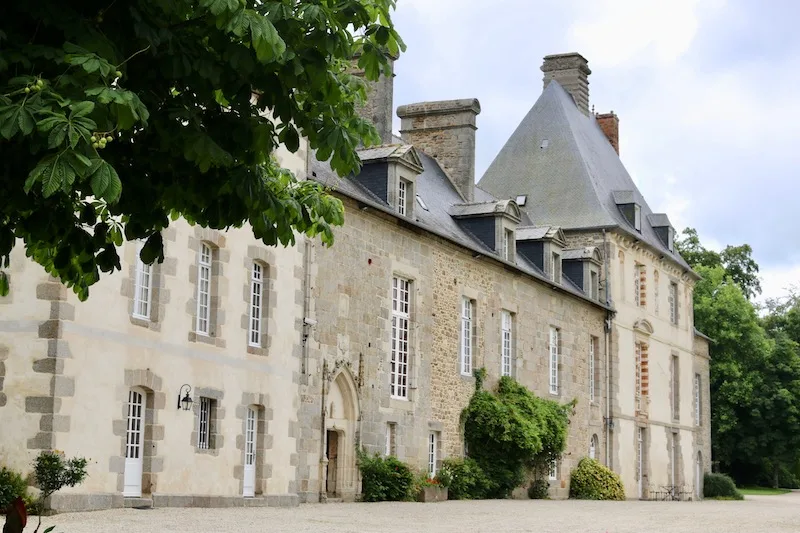 Day #4: St Malo
On our fourth day we took a short drive from Domaine des Ormes to the walled town of St Malo. Tall granite walls surround the old town and give it a really charming and historical feel. We bumped along the cobbles within the walls and browsed the little boutiques for as long as George's patience would last. It wasn't long before he wanted to escape from his pushchair so we walked through the town and to the beach.
This is one of those beaches that is perfect for a long walk to blow away the cobwebs and fill your lungs with salty sea air. What is it about a long walk along the beach that seems to fill you with energy and cure every problem?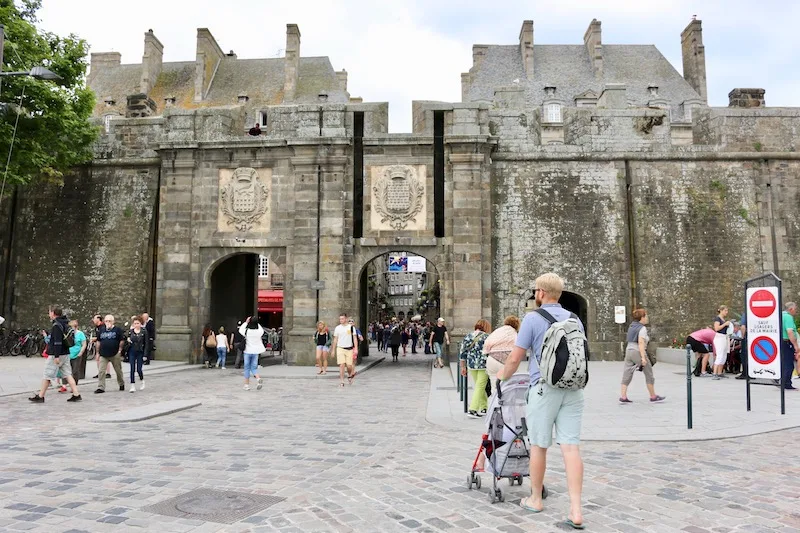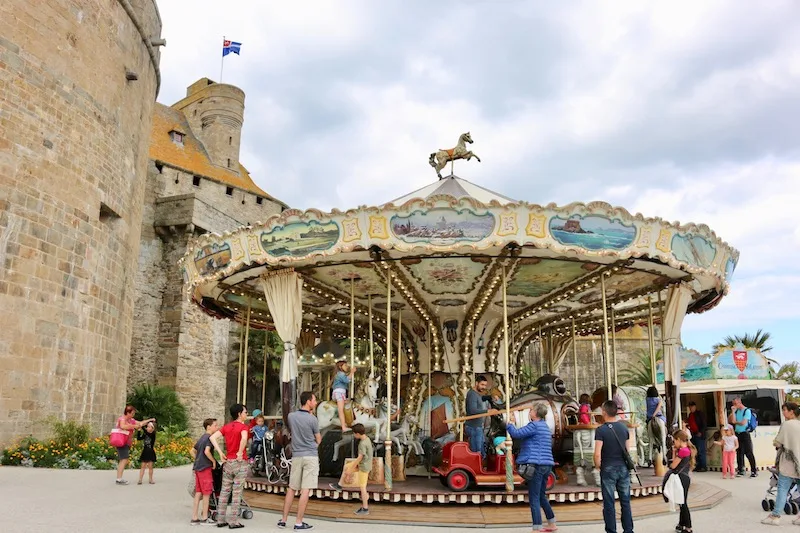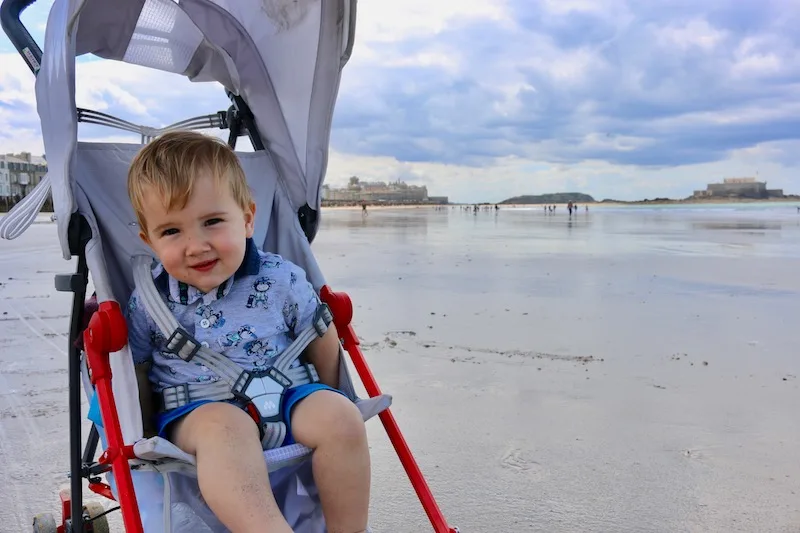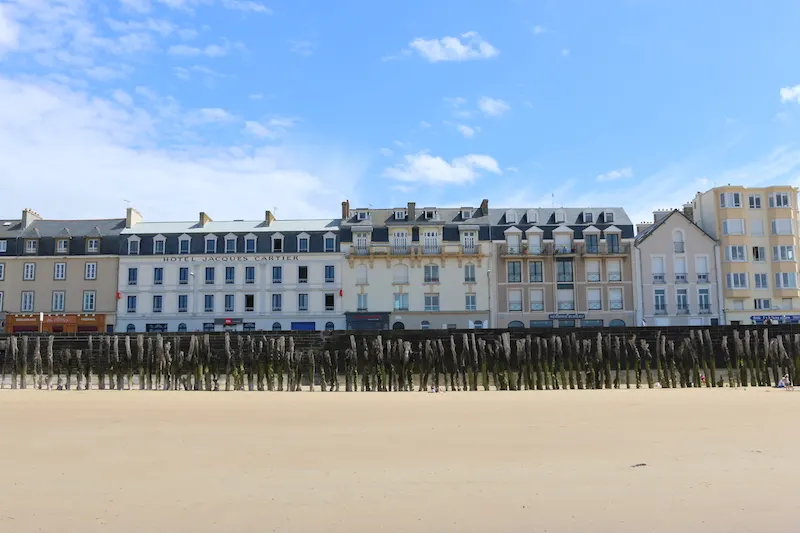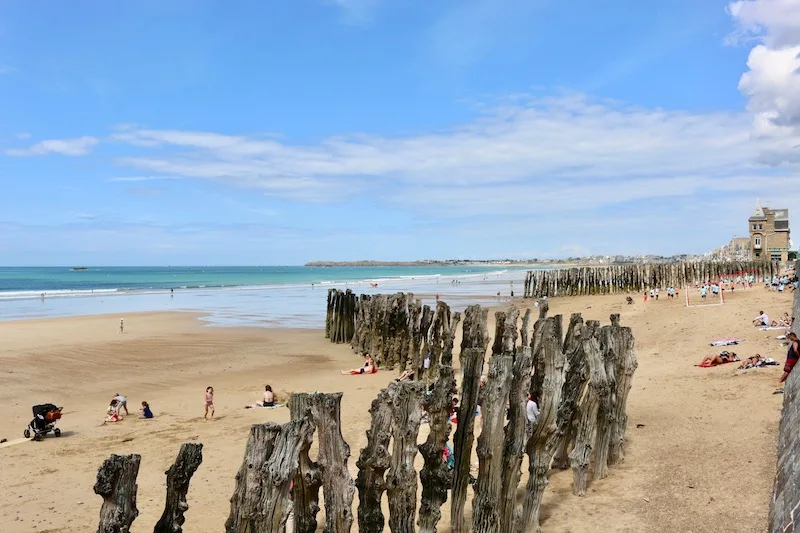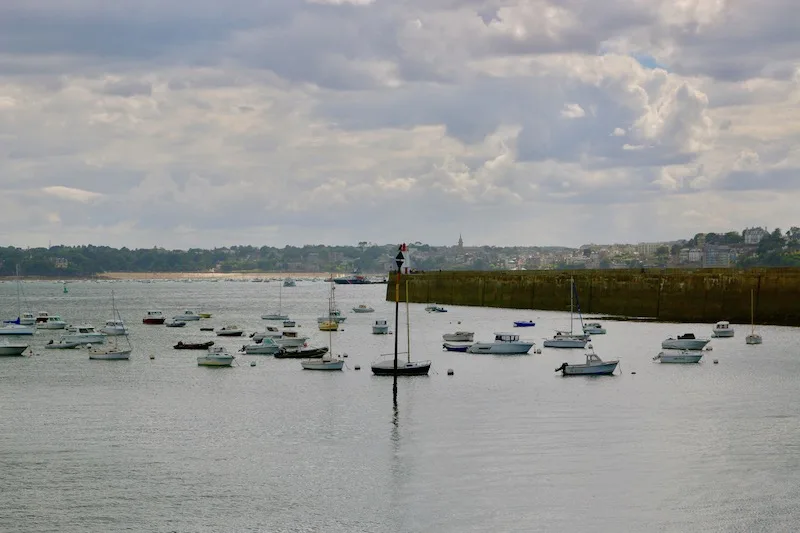 I'll be sharing part two from my Les Castels travel journal on the blog this week so come back again to see how we got on at our final campsite and the gorgeous beaches we discovered in the area.