You may be thinking it's impossible to find an affordable but stylish and luxurious hotel in Paris. Admittedly, it's a difficult task but it's something I cracked during my last visit.
With a perfect location near to Le Marais district, Place de la Republique, Canal Saint-Martin and Gare du Nord, Renaissance Paris Republique Hotel ticks the box when it comes to location. I visited Paris for a weekend and I always think that when you're short on time you can't compromise on location.
It would be easy to walk past this unassuming hotel but once you step inside those double doors you wonder how you ever missed it from the outside.
The overall vibe of the hotel is stylish and elegant yet fun. The staff were super friendly and quirky little designs gave it something interesting and original compared to many big hotels. In fact, it didn't feel like a hotel chain at all. It was more like a large boutique that made me feel right at home. We went straight up to our room and I was instantly drawn to the long windows looking out over the city. I could sit in that window seat and enjoy that view for days. The room was spacious and the bathroom was encased in glass for an even more spacious and airy feel. I hate those hotel bathrooms where you feel like you're trapped in a little box!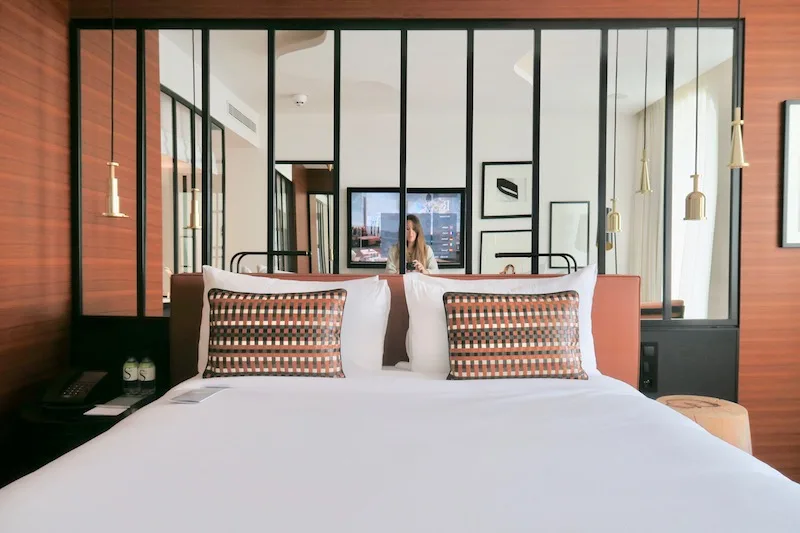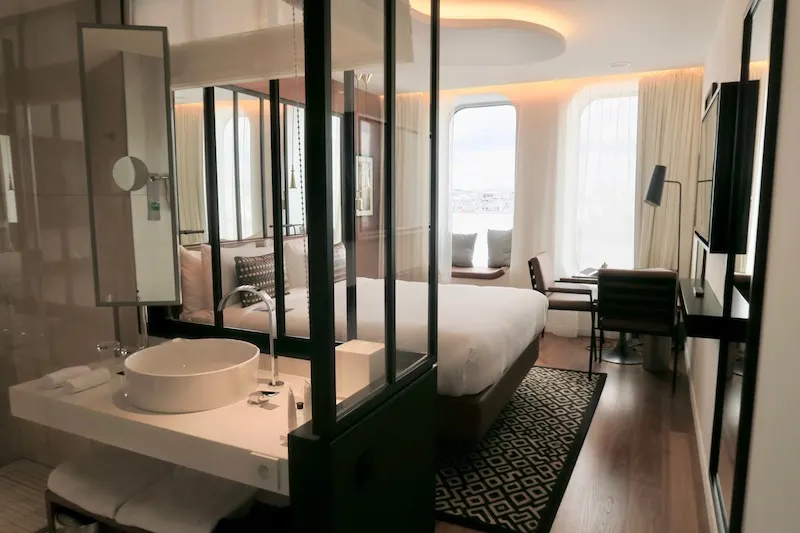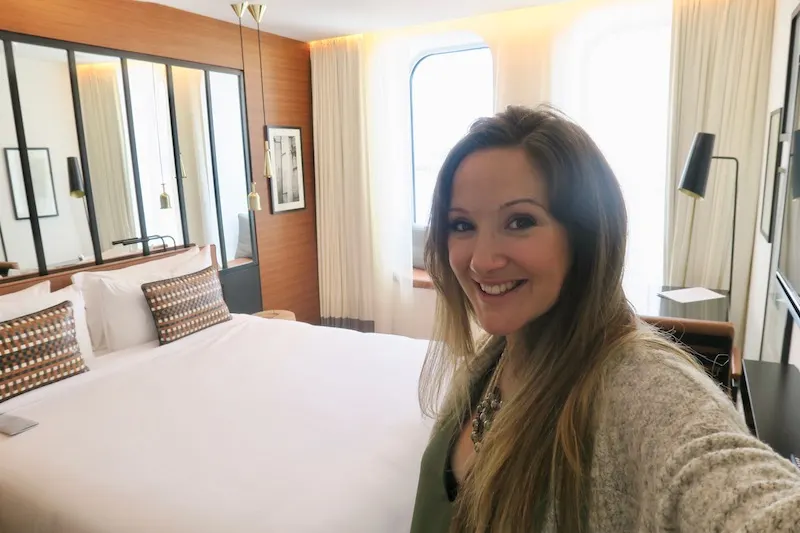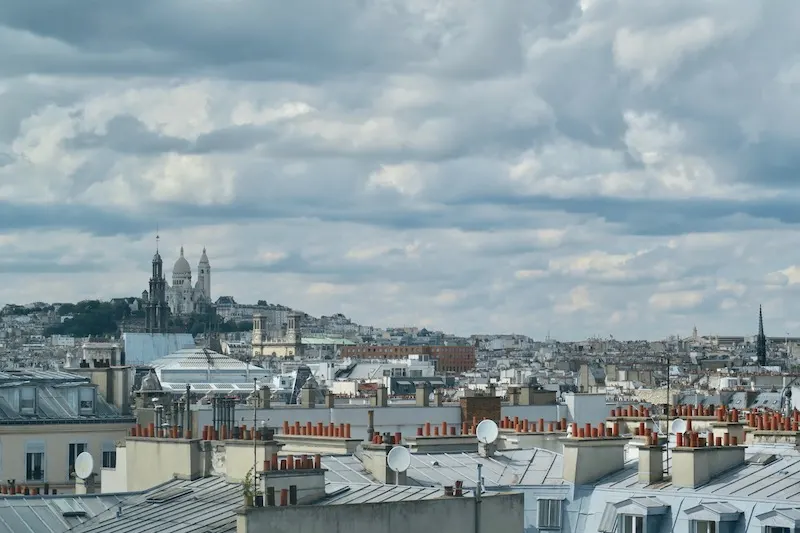 While I took some photos, Sam headed down to the hotel bar for a G&T. I was busy testing out the gorgeously sumptuous bed, sniffing all the lovely toiletries and rummaging through the mini bar and cupboard to see which snacks (like locally brewed beers and French chocolate) I'd be devouring later while Sam soaked up the sun outside.
The outdoor bar and restaurant area was by far our favourite thing about the hotel. Paris is so busy and bustling but this outdoor area is a serene and relaxing place to escape to. After a G&T or two it's easy to forget you're in a city at all. It's a perfect sun trap where you can admire the living wall as the friendly waiters whisk around you. I was pregnant at the time and they made it their mission to create tasty mocktails for me. They were so delicious I wasn't even jealous of Sam's gin or icy beers (well, only a little bit anyway!)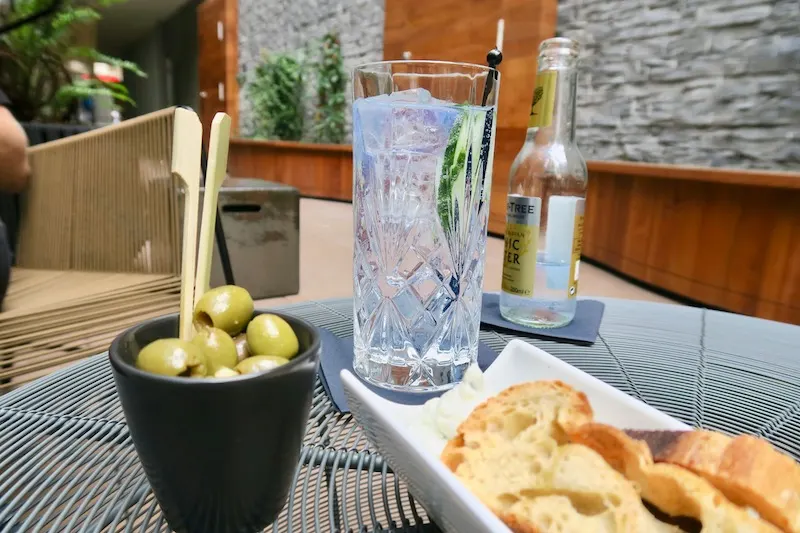 It took a lot of determination to leave our sunny spot and head out into the city to explore. We really could have stayed here all day and not seen a single thing from Paris.
Renaissance Paris Republique Hotel is conveniently located near to a few tube stops so getting out and about was easy enough.
It was Sam's first time in Paris since he visited with school when he was 14. We'd decided to have a chilled weekend in Paris – mostly because I was pregnant but also because we didn't want to get home on Sunday night feeling like we needed another holiday. I have another blog post going live soon about what we did during our relaxing weekend in Paris so keep your eyes peeled for that!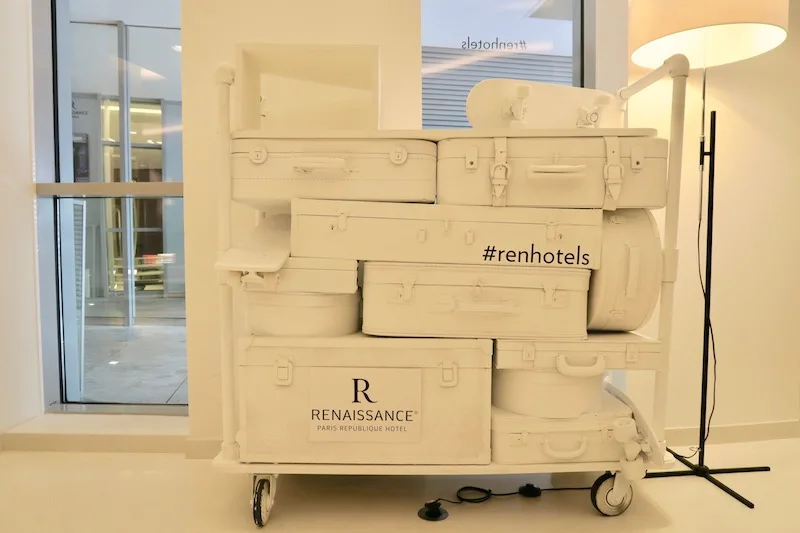 Eating at Renaissance Paris Republique Hotel
Dinner at Renaissance Paris Republique Hotel was delicious. We dined outside and enjoyed a delicious three courses. The menu was filled with modern French cuisine and Sam and I both opted for dishes we wouldn't usually go for but were really happy with our choices. So often when I try to be brave and order something unusual I wish I'd gone for the 'safe option' but that wasn't the case here.
Breakfast in the hotel was just as delicious but it was amazing how different the atmosphere was. At night time it feels very sophisticated with lots of guests from outside the hotel. It was still casual but with a stylish atmosphere. In the morning it was much more laid back as sleepy guests woke up with strong coffee and eggs benedict. It was bright and sunny and the staff were chatty and efficient as they brought us fresh pastries and a selection of cheeses.
Once our breakfast had gone down we donned our fluffy gowns and slippers and made our way to the hotel spa. We hadn't booked any treatments but we enjoyed a relaxing hour in the Jacuzzi and steam room. A cosy seating area with magazines and interior design books made it the perfect place to chill on a Sunday morning.

Final thoughts about the Renaissance Paris Republique Hotel
The Renaissance Paris Republique Hotel is 100% the kind of hotel I'd recommend to my friends. It's a gorgeous hotel with stylish and unique features, a great outdoor area and a fantastic location. Our room was comfortable and spacious with incredible views. All the staff were lovely and the food was unbeatable. The spa was small but a tranquil place to escape.
Travel Hacking with Marriott Rewards
I stayed at the Renaissance Paris Republique Hotel with Marriott Rewards, a hotel loyalty program that's free to join and points are redeemable at over 4,400 hotels. When you're a Marriott Rewards member you get lots of benefits during your stay like free wifi and late checkout (both of which I always take full advantage of!) You can use your points to buy other things too like retail gift cards, flights and experiences.
I've just used my points to book another swanky weekend away. I'm taking Sam away for a surprise weekend for his birthday in January. The hotel I've booked looks a-mazing so I'm really excited. But the place we're going is a surprise for Sam so you'll have to wait until January to find out where it is!