Pulling into a rocky car park next to a smooth lake, we were surrounded by nothing but high walls formed from volcanic rock. There was a bright, white peak glimmering in the distance but nothing to suggest that the third largest glacier in the world was on the other side of the wall.
I was here to climb Vatnajokull Glacier, the largest glacier mass in Europe. The glacier is over 8,000 km2 and is 1,000m thick in some parts and is between 1,400 and 1,800 meters above sea level. It covers seven volcanoes, some of which are still active beneath all that ice and there is a cavern system running under the glacier. In 1996 one of the volcanoes did erupt beneath the glacier. It took one month for the ice to melt and the resulting flood destroyed huge areas of Iceland as more than three cubic meters of ice water flooded into the surrounding area.
Pushing that thought to the back of my mind, I attached some crampons onto my hiking boots, put on enough layers to keep a snowman warm and I was ready to hike up just a tiny part of Vatnajokull Glacier.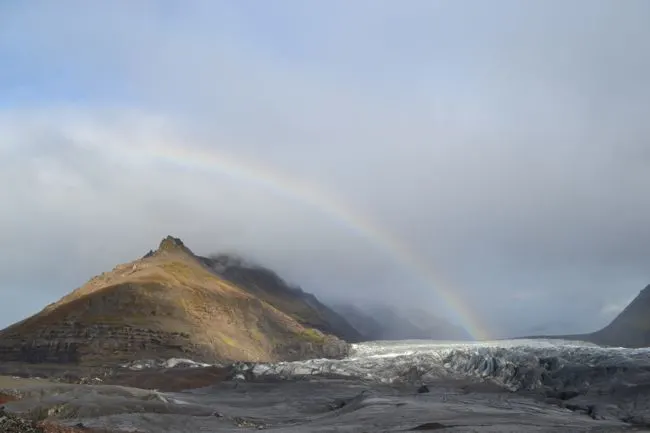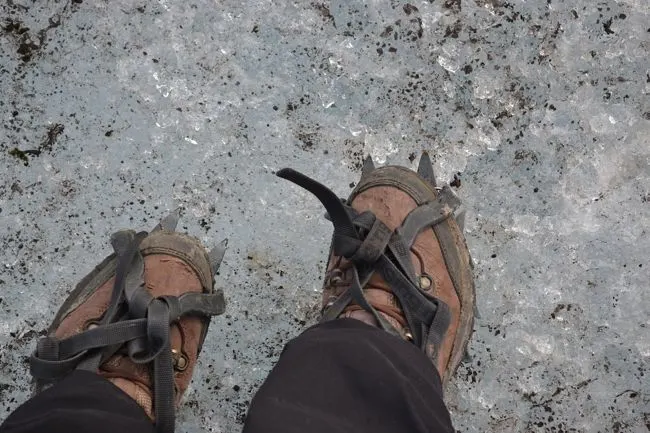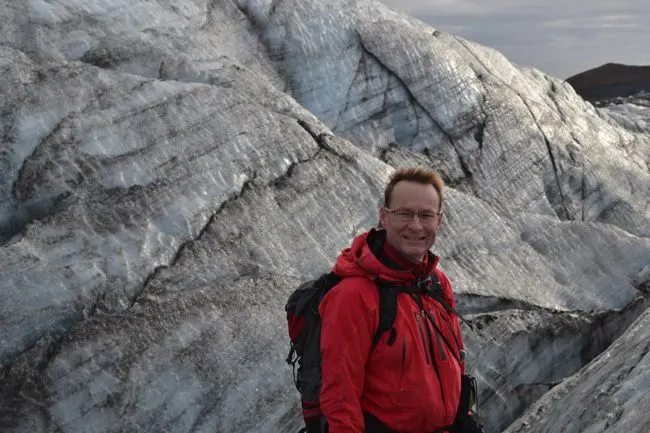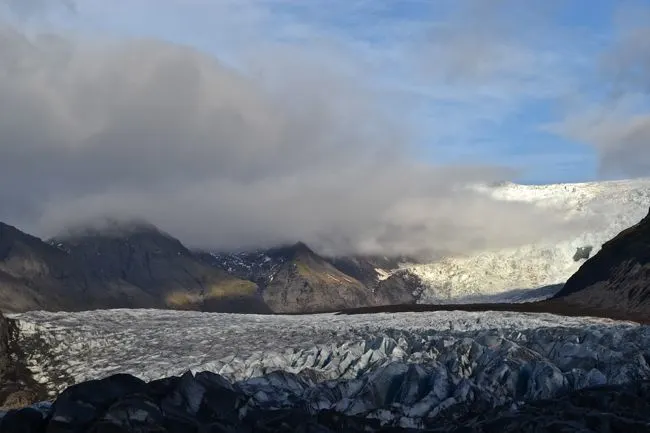 Our tour leaders from Extreme Iceland helped us attach the crampons and I quickly discovered that crampons are incredible. I felt like a super hero as I walked across the smooth ice without so much as a slip.
You can't walk like a lady when you're wearing crampons (which I do, of course) you need to stomp like a giant and make sure all your metal spikes are firmly planted in the ice before attempting your next stomp. It's a great and satisfying feeling as you crunch through the ice and feel tiny shards splinter around you. Something that would usually be a difficult task suddenly feels simple and you can't help but feel proud of yourself as you climb to a peak on the glacier.
I was surprised to find that the first part of the glacier we came to was grey and filled with dirt. This is because the ice has travelled down the mountain and picked up dirt and small stones along the way. Over the years, this sediment filters through and leaves the ice pure and clear.
After about 10 minutes of walking, or stomping as I was frequently reminded to do, the ice began to clear and became the dazzling blue/white that you'd expect.
This was one of the many times in Iceland where I felt like I could be on another planet and civilization was a million miles away. The thought of seas, beaches, palm trees, cities and even crowds seems absurd when you can see nothing but ice for miles around. It was hard to image anything but this icy isolation that covers 8% of Iceland.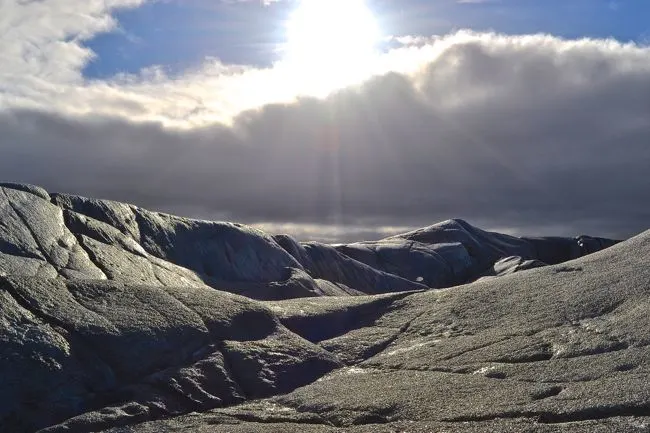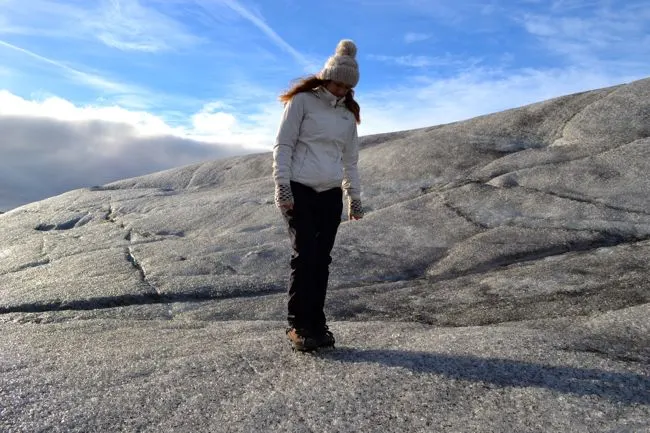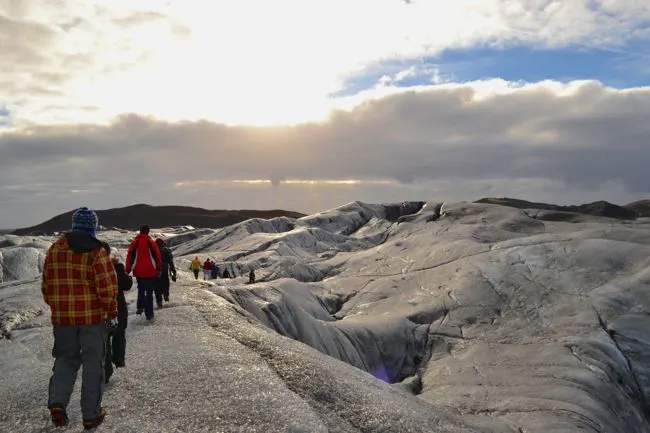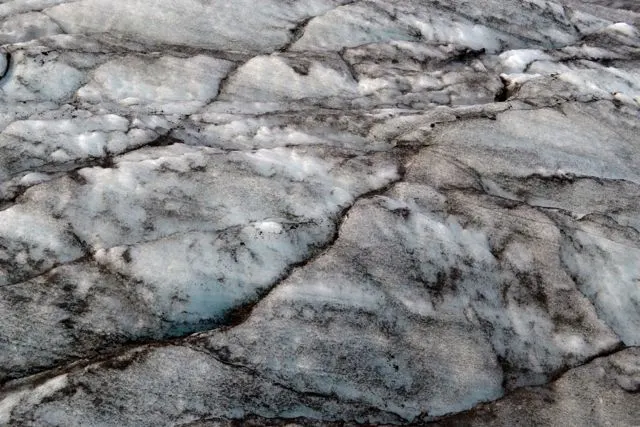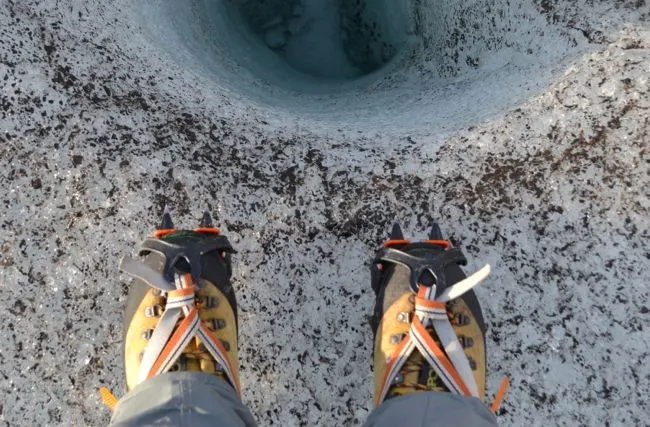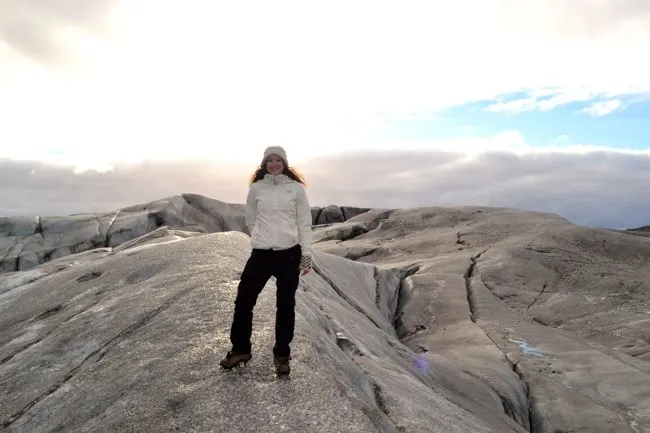 Walking in single file we followed one another's steps over narrow ridges, past blue holes that seemed to go down into the center of the earth, across massive icy cracks and down sheer drops in the ice. The sun was blindingly bright as it shone off the ice like a mirror which makes you feel like you're walking in the clouds.
It isn't very often that I have a moment where I think, 'Wow, I'm going to remember this for the rest of my life', but while I was on that glacier, posing for photos and staring out across the vast expanse of ice, I genuinely had one of those moments. A moment where I walked away from the group and put my camera down and just stared in wonder at how incredible our world is.
If you only do one thing while you're in Iceland, I'd recommend glacier hiking. This is such an incredible opportunity that shouldn't be missed.
My glacier hiking experience was with Extreme Iceland. I took the two day South Coast and Jokulsarlon Glacier Lagoon tour. I received a discount for my trip but all thoughts and opinions are my own.