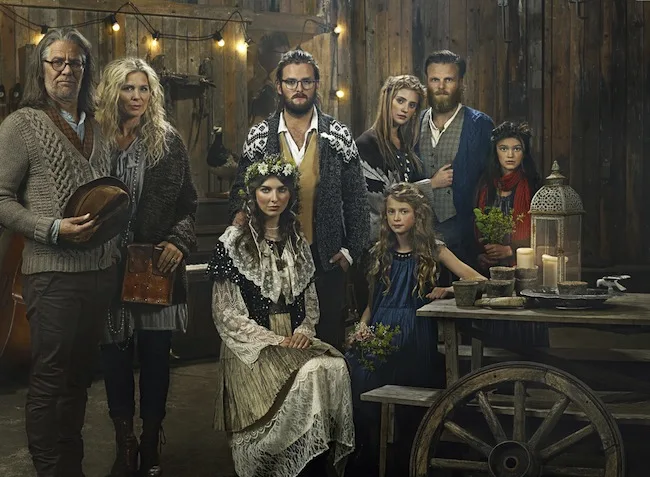 The picture above is from Farmers Market, an Icelandic design company and clothing brand. I can't decide if these clothes should be in Little House on the Prairie or in a fashion magazine. Either way, I love them and that's part of the reason why I love Iceland.
Everything is stylish and cool in a chilled out kind of way. It makes you wonder if Icelanders were born with this understated fashion sense or if they're just really good at hiding how hard they're trying.
Packing for Iceland is tough because you can experience so many weather conditions in one day. We're talking about outfits that can go from bright sunshine and mild temperatures to icy winds that are harsher that a slap across the face with a particularly cold Icelandic fish.
The weather in Iceland makes the British weather seem calm and mild. It takes unpredictability to whole new level and likes to trick you into a false sense of security and whip it away again just as you remove your fifth layer.
Iceland is the perfect place for knitted jumpers, wool dresses, thick tights and chunky boots. There are a few more practical things you'll need to put on your list that aren't quite so stylish.
I learned a few things about what you should pack for Iceland and also a few things you have to pick up while you're there.
Here are 8 things everyone should pack for Iceland:
1. Waterproof Jacket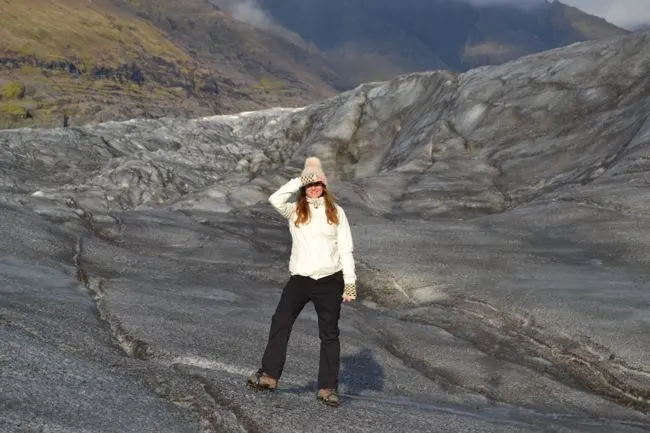 No matter what time of year you visit Iceland, you're definitely going to need a good waterproof jacket. As I've mentioned before, the weather in Iceland can flip in seconds and switches from bright and sunny to cold and rainy or even snowing so I'd recommend a light waterproof jacket that you can wear over your warm jumpers.
I have a North Face waterproof jacket that has a soft fleecy lining around the neck and a good hood which came in very handy. It also packs up really small so I could stuff it in my backpack when I didn't need it. These jackets are expensive but they're well worth it because you'll keep it for years.

2. Icelandic jumper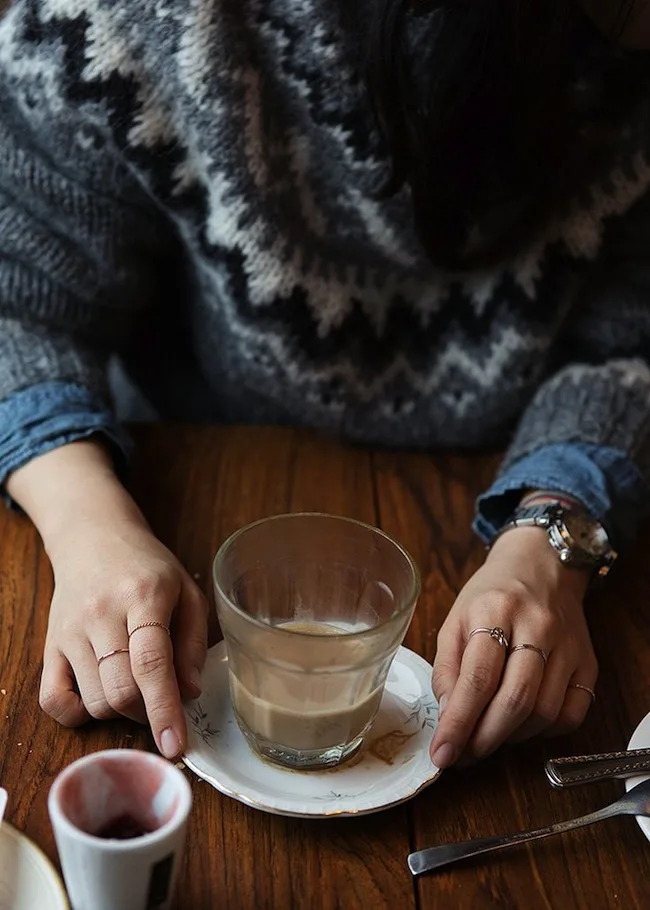 The Icelandic jumper is basically a uniform for locals and you definitely need to be wearing one to be in the cool crew.
They're usually patterned around the neck, come in neutral colours and are made with natural materials. The jumpers are so warm that you don't need to wear a jacket on top and this is why you feel like you see them EVERYWHERE.
Many of the jumpers are handmade and this is reflected in the high price. Their popularity ties in with a recent popularity in knitting and has become something of a national symbol. This is more than just a jumper, it reflects the nation's ability to cope after the economic crisis in 2008 which hit the country hard. This jumper says that they can look after themselves and they value their traditions. It's also interesting that this style is spreading and every visitor to Iceland wants a slice of the homemade action.
Top tip: Icelandic jumpers are itchy as hell. They're also hot as hell so make sure you have something light to wear beneath or you'll be itching like mad.
3. Layers
It's all about the layers in Iceland to make sure you stay warm but still stylish in this unpredictable climate. My top secret here is thermals. I know what you're thinking, 'Thermals aren't sexy', right? I know, I know. But when you've got thermals underneath you can wear whatever you like on top.
I usually wear thermals and then I'll put leggings with cute jumpers or dresses on top. I don't look like I'm bundled up but I'll be super toasty!

4. Waterproof trousers
I had real issues buying these trousers for a number of reasons. Firstly, they're ugly. Secondly, they were quite expensive at £45. Thirdly, they're ugly. Did I mention they're ugly? But I was grateful for these trousers when the heavens opened.
We usually spent all day on the road visiting different places in Iceland so it would have been horrible to sit in soggy trousers while driving from place to place.
Some people opted for waterproof trousers that are lined but I had a thin pair that can be slipped over whatever you're already wearing. These are cheaper and mean you can take them off if the sun decides to shine. These also mean you can be wearing a cute outfit underneath.

5. Comfortable shoes/walking boots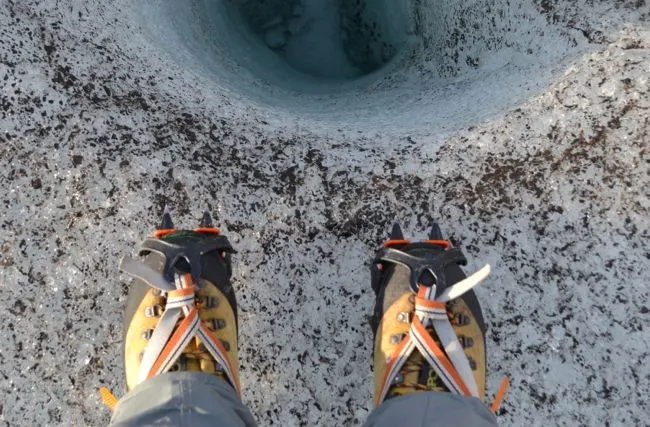 If you're travelling in the summer you'll definitely want to get out and about in the mountains and do some hiking so a decent pair of walking shoes is a must. If you're visiting in the winter then you might not be doing so much hiking but there will be walks to waterfalls and around national parks.
If you're planning to go glacier hiking (more on this coming soon!) then you will need very sturdy boots in order to attach your crampons.
I actually didn't take hiking boots and I wore my cosy Ugg boots for the entire trip because I'd left my boots at my parent's house in Wales. I was able to hire hiking boots for glacier hiking for 1,000 Icelandic Krona which works out at about £5.00 – much better than buying new ones and even a good option if you don't want to lug around a heavy pair of boots.

6. Colourful bobble hat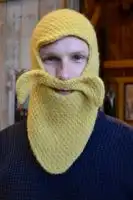 A bobble hat with a beard attached is optional but if you want to fit in with the locals then a cute and cosy bobble hat will be your favourite accessory.

7. Sunglasses
It might seem strange to have sun glasses and cashmere bobble hats on the same list but, trust me, you'll need them. When the sun shines off a fresh layer of snow it's the most beautiful sight in the world but it doesn't half make you squint.
8. GoPro Camera
I'm usually more than happy using my iPhone and DSLR camera when I'm travelling but a combination of the wet weather and underwater activities in Iceland made a GoPro really handy.
If you aren't familiar with what a GoPro is, it's a tiny camera that comes with a waterproof case and can be easily attached to a head, chest or wrist strap. They're great for activities like snorkelling, visiting hot springs or the Blue Lagoon or when you're around waterfalls.
What do you think to the Icelandic style and is there anything else you think that should be on this list?
---
Read more:
Are packing cubes worth it and do they really save space?
Tips for visiting the Blue Lagoon in Iceland
Snorkelling between tectonic plates in Iceland
Tips for road tripping and car hire in Iceland
Exploring the Golden Circle in Iceland
KEX Hostel Review: A stylish stay in Iceland
Visiting Jokulsarlon Glacier Lagoon
First impressions from Iceland
12 things you didn't know about Iceland
---
Enjoyed this post? Subscribe to my mailing list for weekly updates.