Hands up if you've got a long haul summer holiday coming up!?
Oooh you lucky thing, I hope you're jetting off somewhere fabulous!
As your departure date gets closer I'm sure you're going to start thinking about packing so I'm here today to share my tips.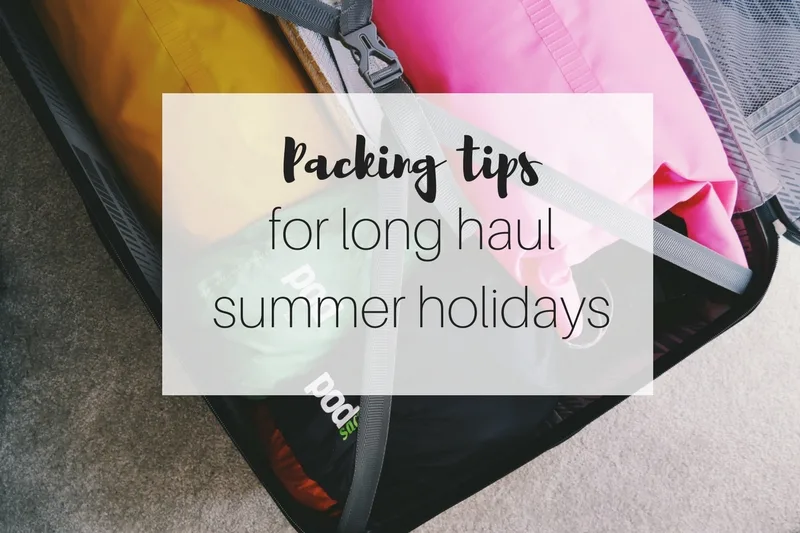 I used to be terrible at packing and would pretty much take everything I owned AND the kitchen sink. Of course, I'd arrive and wear a tiny fraction of the clothes and bags and shoes and jewellery I'd dragged half way across the globe with me. I'd always regret lugging so much stuff with me and would vow to pack lighter next year. Only I never would!
While I was backpacking through Asia and Australia I learned a lot during those two years. Of course, I learned a lot of philosophical things like living in the moment and appreciating the little things in life. But one of the main things I learned was how to pack for long haul travel.
Make a packing list
Before you even begin packing, make yourself a list. This will ensure you don't forget anything but, more importantly, it'll mean you don't over pack. It's all too easy to think, 'I'll just squeeze in this top and these shoes and this necklace', and before you know it you're packing every possession you own!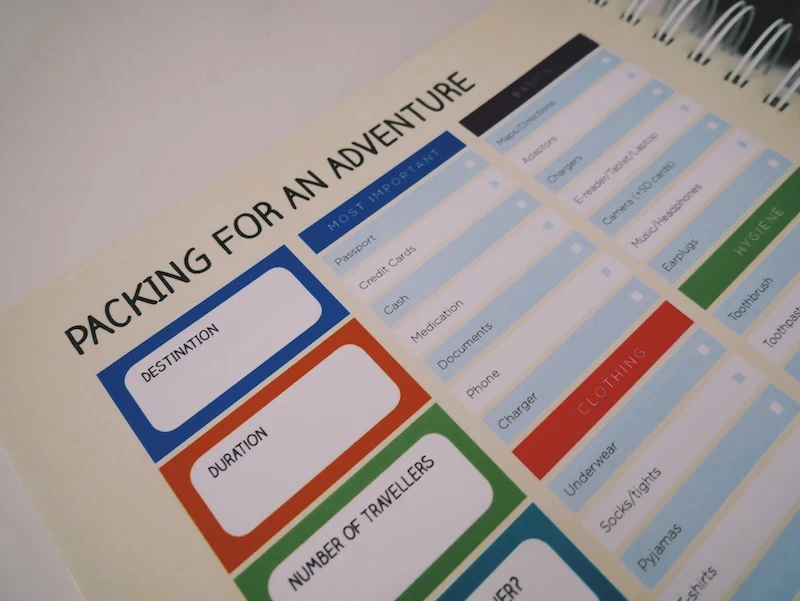 Get an enormous suitcase and share it
With so many airlines charging to check-in baggage, it makes sense to get as much bang for your buck and squeeze as much into that weight allowance as you can. I usually recommend taking hand luggage only but when you're travelling long-haul you're probably be going away for longer and will need more stuff.
So share a suitcase with whoever you're travelling with and take a side each. But make sure you weigh it before you leave the house so check you're not over the weight limit for your airline. Take a look at Matalan's luggage collection for some good mahoosive suitcase options.
Read more: Taking a suitcase backpacking
Use packing cubes
Packing cubes are great space savers. I'm not even sure why but you end up with so much extra space when you use them. And if you're sharing your suitcase with your partner or your kids it makes it much easier to separate everyone's stuff.
Read more: Are packing cubes worth it and do they really save space?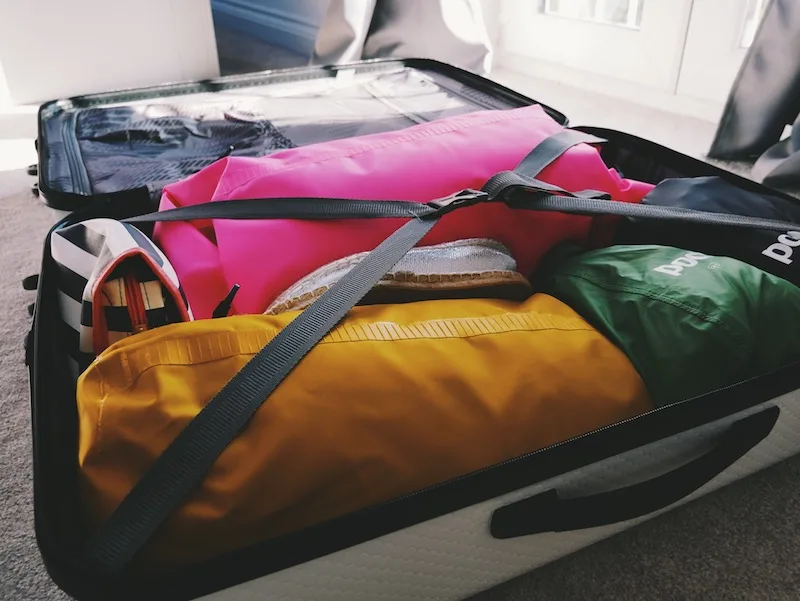 Use your hand luggage allowance too
Just because you're checking in luggage it doesn't mean you can't maximise your hand luggage too! If you've got items you couldn't squeeze in your main luggage then pop them in your hand luggage. Keep aside bulky things like bigger clothes for your hand luggage as it makes it easier when you're going through security. If your bag is filled with jumpers and jeans then it's unlikely it will get searched but if you have toiletries and lots of little bits and bobs then they're more likely to want to look inside.
Take lots of tops but barely any bottoms
My top tip for packing light is to leave all the shorts/skirts/trousers/jeans at home and just take 1 or 2 options. I usually take my favourite denim cuts off and travel in a pair of leggings and that's pretty much it. No one notices/cares if you're wearing the same jeans everyday if you have lots of different tops and accessories. And it's much better to get one REALLY nice pair of jeans or shorts than 4-5 cheaper options.
Remember, they'll have everything there
No matter where you're going in the whole world, as long as they have people, they will have all the stuff you need. So don't worry too much about taking EVERYTHING because you can get it all when you arrive.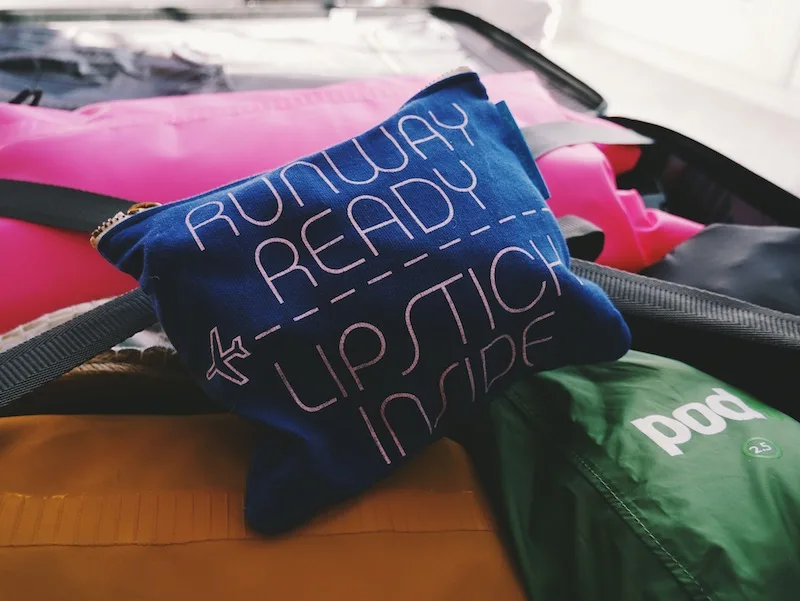 Only take your favourites
Don't take your 'second favourite' things because you'll never use or wear them. Let's say you have 4 bikinis and 2 are your favourites and the other 2 are just OK. You're never going to wear the 2 OK ones so just stick with your 2 favourites!
Leave some space
I know it's tough to leave a little bit of free space in your case but do this to leave room for souvenirs, gifts and…presents for yourself!
Wrap your cables up with hair bobbles
Avoid your cables getting into a tangled mess by wrapping them up neatly and securing them in place with bobbles. This also means you won't be rummaging through your case looking for a stray bobble when you arrive.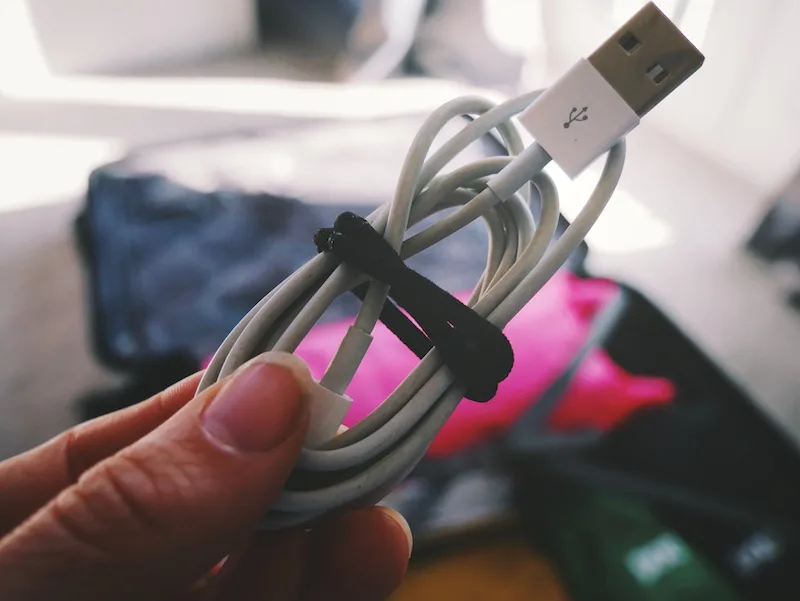 Buy an international plug adaptor with USB points
Most of our gadgets can be charged via USB these days so all you really need is one adaptor with loads of USB points. Buy an international adaptor so you can use it anywhere and you'll never need to worry about having the correct adaptor for the country you're in.
Take a sarong instead of a towel
Leave the bulky beach towel at home and take a thin, lightweight sarong instead. It's just as good if you're lying on it on the beach and it'll dry you off too. It's easier to pack in your suitcase and you won't need to lug a big towel to the beach everyday.
All you really need is your credit card and passport
And remember, all you actually need is your credit card and your passport. Remember this when you're stressing and worrying you've forgotten something. As long as you leave the house with these two items then nothing can really go wrong. OK, maybe you'll want your phone too!
Do you have any more travel packing tips to add to the list?
Read more packing tips
What to pack in your carry on for long haul flights
12 travel hacks for travelling light
10 unnecessary items every traveller thinks they need (but I NEVER used)
10 reasons why you don't need a backpack to go backpacking
What shoes should I take travelling?
Small carry-on luggage and how to fit EVERYTHING into your free bag
This post was written in collaboration with Matalan.