If you think that Venice is the kind of destination you can only visit on a romantic break or your honeymoon, you've got it all wrong.
Sure, it's the sort of place where you can stroll hand-in-hand, float along in a gondola or share a bowl of pasta, Lady and the Tramp style. But Venice is also the perfect city to explore for a weekend with your friends or even on your own.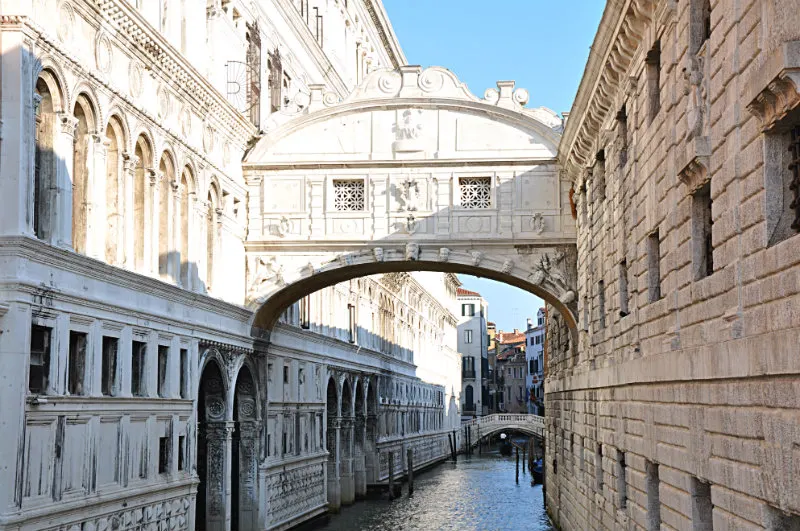 It's easy to reach, and no matter where you are in the city you'll be surrounded by jaw-dropping beauty.
So when you do make it to this watery Italian city, follow this guide to Venice for a weekend you'll never forget.
What to do in Venice during a short break
Eat – You're in Italy, so it's hard to find a bad meal while you're here. Pasta is a must, of course, but cicheti, which are small, tapas-like plates, are the must-eat item when you're in Venice.
You'll find them in bacari, which are small wine-bars dotted around the city – order a glass of wine and enjoy bite-sized specialties you won't forget!
Gondola Ride – It may seem like a cliche, but you really can't visit Venice without enjoying a traditional gondola ride. It'll set you back €80 for 40 minutes, which is the price set by the city – but the memories are truly priceless!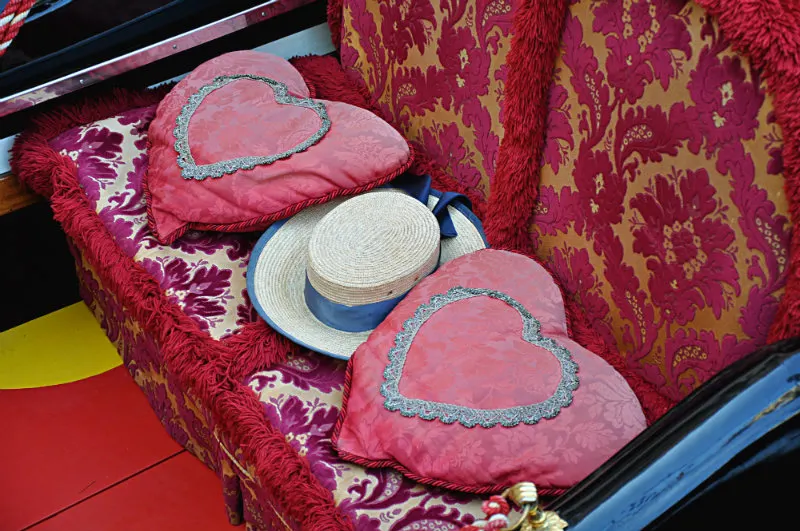 St. Mark's Square – A truly stunning square that's rich in history and loaded with selfie-stick-carrying tourists. Go early to get the best photos.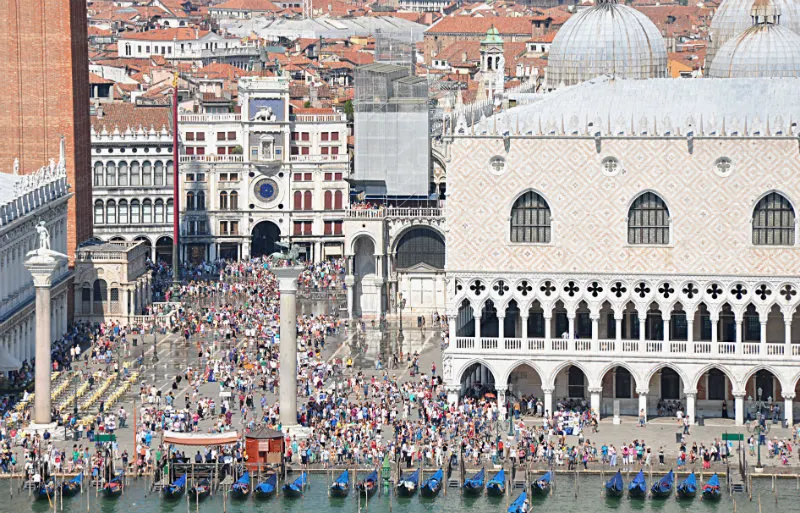 Rialto Bridge – Not only is this one of the most gorgeous bridges in the world, it's also a bustling marketplace where you can buy souvenirs, jewellery and artwork to take home with you.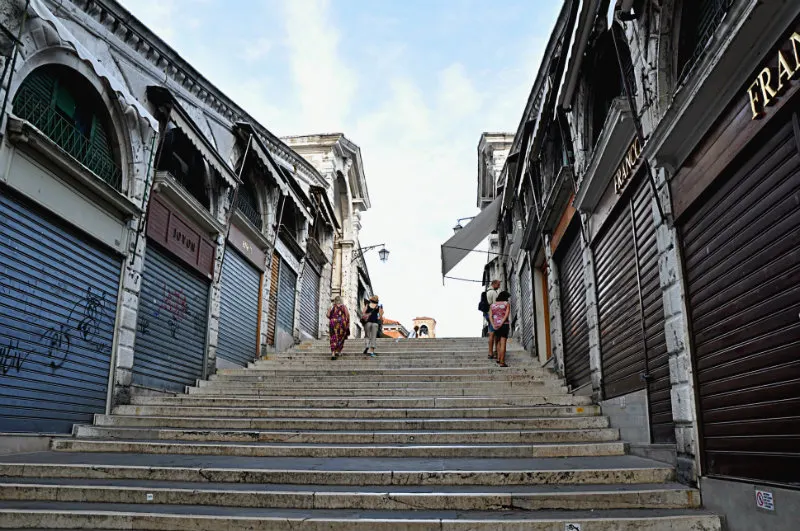 Venice off the beaten track
Use a Local Guide – If you really want to see Venice off the beaten track, get a local to show you around. The city is a veritable maze of canals and alleyways, so leaving your tour in the hands of a local is the best way to understand the destination properly.
Whether it's art, food or even theatre you want to explore, Venice Tours will make sure you have an unconventional insight into their city. Venice is a very busy city so once you've seen the main sights it's great to get off the beaten track and see a different side to the city that only a local would know about. This is especially great if you're short on time – I think of it like fast-tracking your way around the city!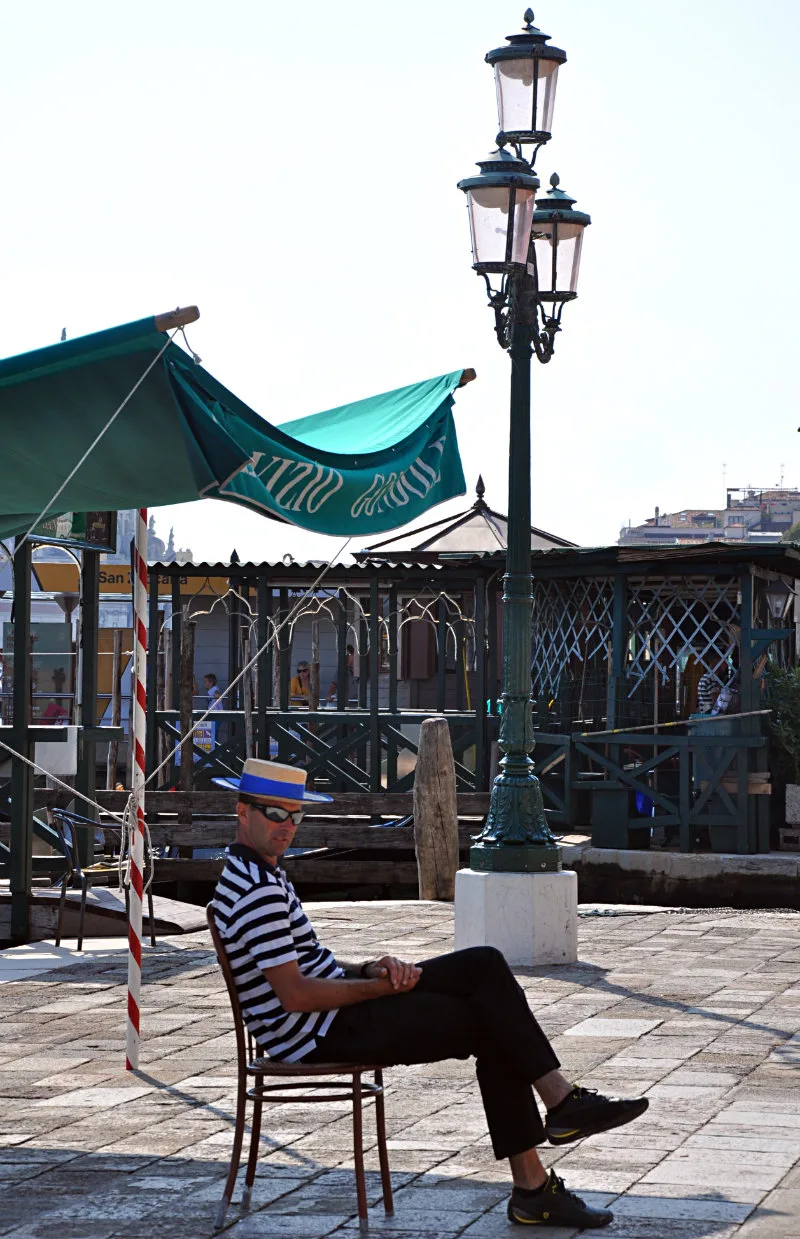 Traghetto – Don't want to pay €80 for a gondola ride? How does €2 sound?
The locals' gondola, also known as a traghetto, is a quick boat ride that'll take you across the Grand Canal where there's no bridge in sight. It's only a two-minute journey, but you still get to sit in an ornate gondola, guided by a gondolier in a stripey shirt…so it totally counts.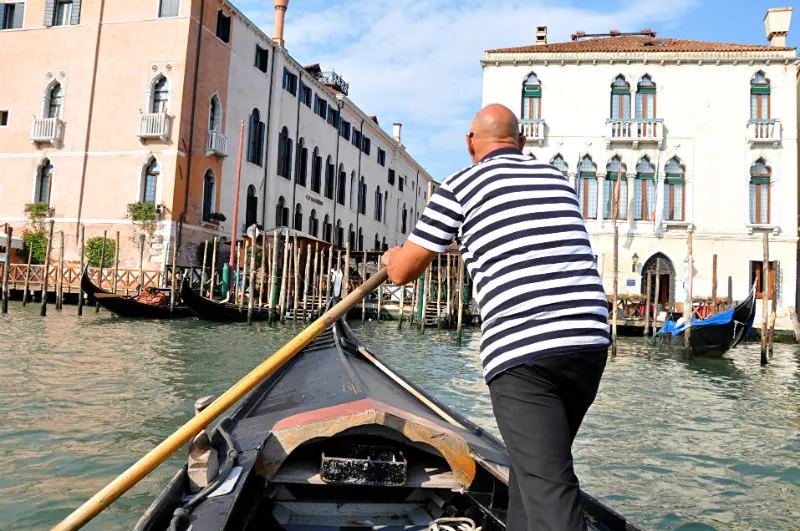 Libreria Acqua Alta – If you like books, you will adore Libreria Acqua Alta. It's a bookshop, but it's almost like an exhibition, with old boats filled with literature, cats roaming the aisles and a huge outdoor staircase made of – you guessed it – books!
You'll find it at Calle Lunga Santa Maria Formosa.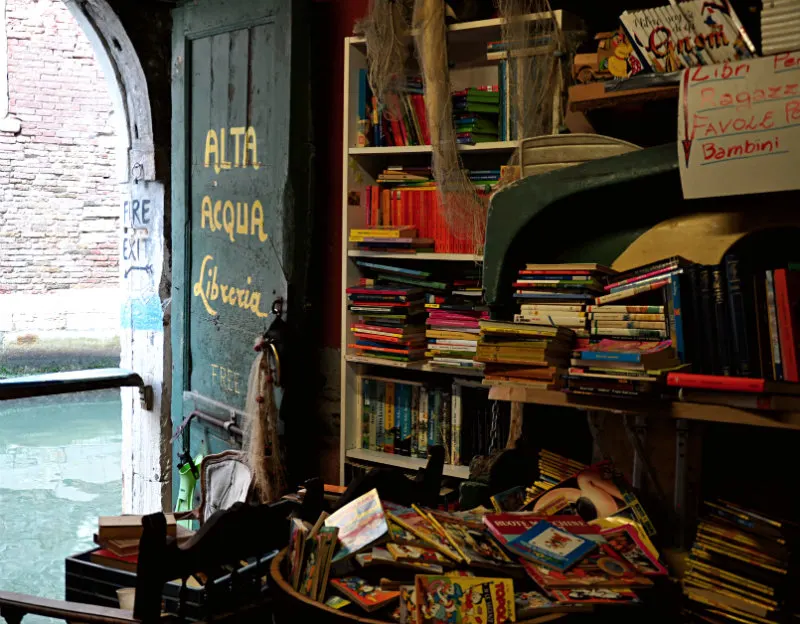 How to get to Venice
There are plenty of flights from the UK arriving into Venice Marco Polo, which is the international airport just a few miles out of the city. We like Skyscanner for finding the best flight options.
Catch the ATVO bus from right in front of the main terminal for €6 (one way). It'll take you to Piazzale Roma in around 20 minutes, and from here you can hop on a vaporetto (more info below).
If you're travelling on a low-cost airline, you might fly into Treviso airport. It's much further out, but it's easy enough to get to the city from there too. The ATVO bus costs €12 one-way or €22 return (to use within 10 days) and will take you to Piazzale Roma, where you can catch a vaporetto to almost anywhere in Venice.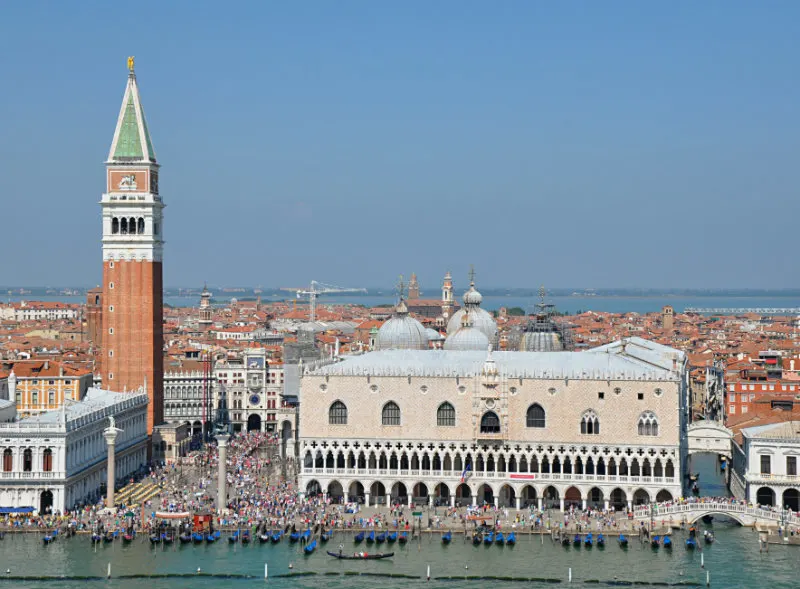 Getting around Venice
Working your way around a new city can be daunting, but in Venice it's a total adventure!
In a lot of areas you can only get around on foot, along the narrow alleyways and across miniature stone bridges, water lapping beneath your feet. Where the canals widen, though, you can jump on a vaporetto, the cooler, totally Venetian version of the London Underground.
These boats travel along the main canals of Venice, and for €20 you can buy a 24-hour pass and see as much of the city by water as you like.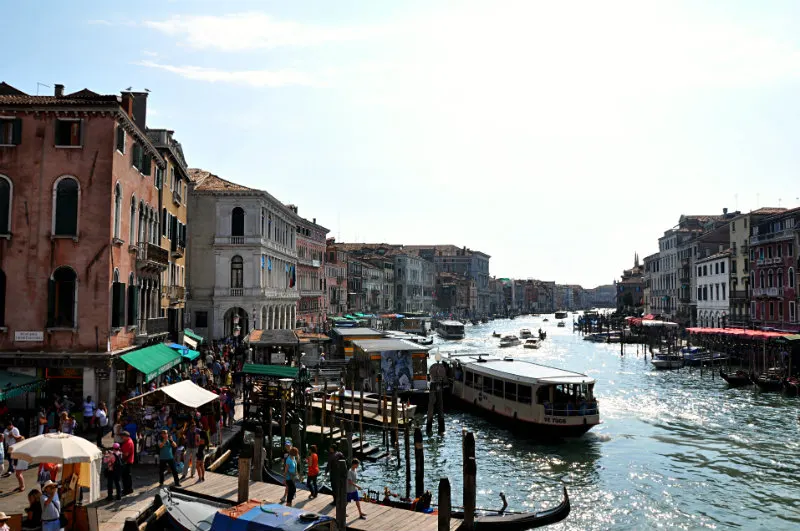 Where to stay in Venice
[column size=one_half position=first ]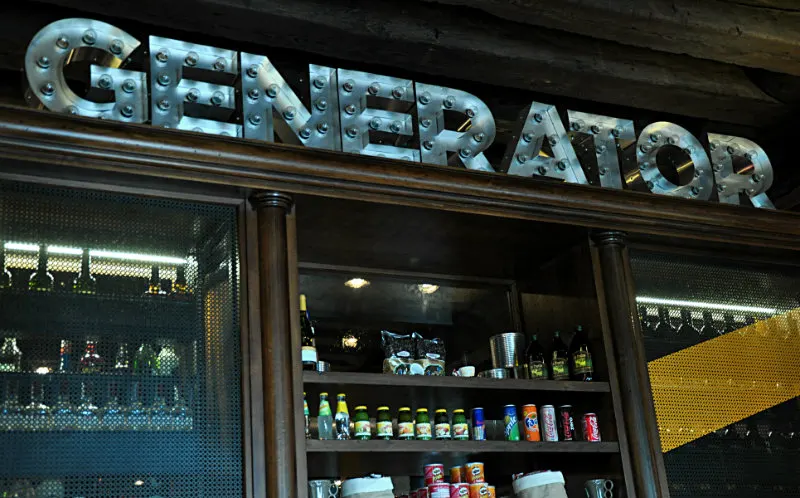 [/column]
[column size=one_half position=last ]
Perched on the edge of Giudecca Island, just across the water from St. Mark's Square, ultra-trendy Generator Hostel offers hip communal areas, affordable rooms and a 24-hour bar. The dorms are basic, but there are private en-suite rooms available if you're not a fan of sharing with strangers.
[/column]
The Local Option – Airbnb
[column size=one_half position=first ]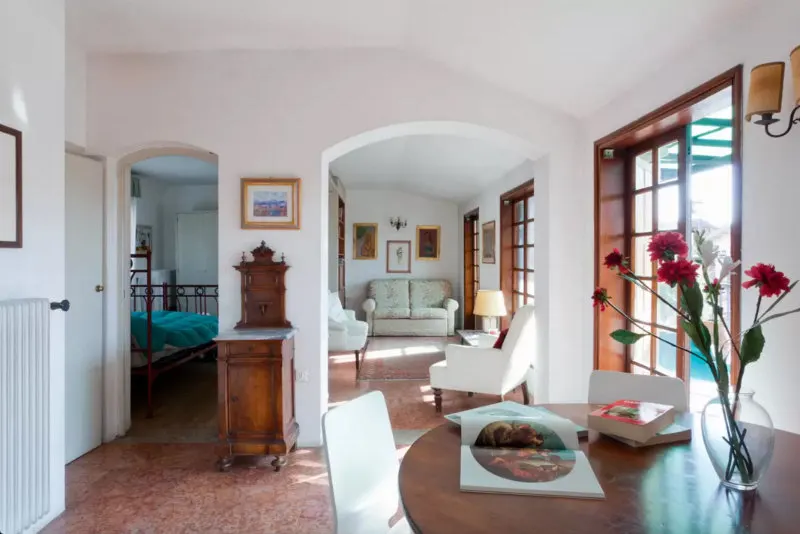 [/column]
[column size=one_half position=last ]
There's something fascinating about the life of a local in Venice. How do they move house, when there are no vehicles in the city? What do they do when it floods? Do they ever get motion sick just getting to work?
Live like a Venetian while you're there and find out for yourself, by renting an Airbnb apartment, like this pretty home.
[/column]
[column size=one_half position=first ]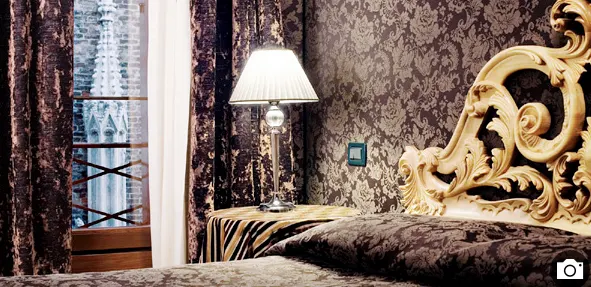 [/column]
[column size=one_half position=last ]
If you're looking for a dash of romance during your Venice weekender, book in at one of these two B&Bs, right in the heart of Venice. Prices start from €138, with each room decorated in rich red, gold or purple, lending it a cosy and romantic air.
There's a roof terrace complete with complimentary prosecco, so you can watch the sun go down over Venice in style.
[/column]
Do you have any Venice recommendations to add to this list?
Pin this for later