Last year I had a gorgeously festive city break to Warsaw in Poland visiting the Warsaw Christmas markets and other lovely wintry things. I think Warsaw is such a perfect and underrated city for a festive weekend away. The two main draws to visiting Warsaw at Christmas time are:
Warsaw at Christmas is so pretty and traditional and quaint
Warsaw is cheap!
It was the affordability factor that really won it for me. I found return flights for about £40 pp with Ryanair (check Skyscanner for a similar bargain from your local airport) and an Airbnb for about £100 for a weekend. All in all, I spent about £350 on a weekend away for a family of four! A Warsaw Christmas break has got to be one of the most affordable festive city breaks ever.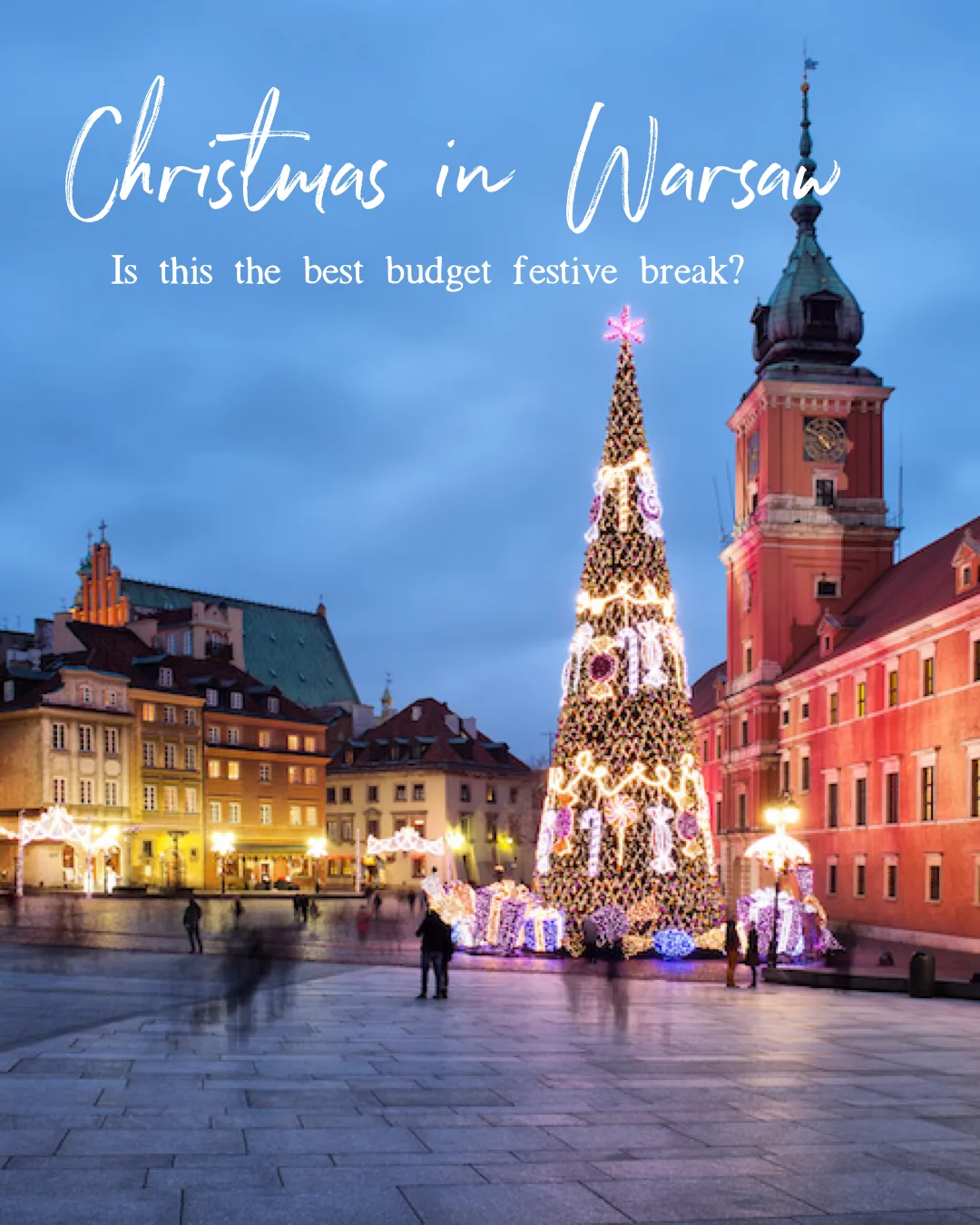 So if you're looking for a cheap festive break this winter I can't recommend Warsaw enough. Warsaw is a really nice place to get away from the consumerism of Christmas and enjoy the traditional excitement,
Here's the Airbnb we stayed in (it was lovely and I really recommend it and you can get £25 in Airbnb credit if you use this link!) but I don't recommend visiting a cold city like Warsaw with very young children.
I wrote about why we won't be taking any winter city breaks with kids here! But for couples, friends and families with slightly older children (probably 6+) I think a Warsaw Christmas break is a brilliant winter break option!
Here are some of the best things to do in Warsaw around Christmas time.
1. Explore the Warsaw Christmas markets
Of course, this has to be right at the top of the list. It would be impossible to visit Warsaw at Christmas without seeing the Christmas markets as Warsaw's Old Town is all about the markets.
European cities really know how to do Christmas markets and Warsaw is no exception. Dotted around the city you'll find pop-up markets of varying sizes and with different food, drinks, activities and cute wooden chalet stalls to explore. There's a quaint and traditional vibe that feels a billion miles from the panic buying of Christmas shopping in other cities.
The largest of Warsaw's Christmas markets can be found in Warsaw's Castle Square, right in front of the Royal Castle and in front of the Palace of Culture and Science, so you can't miss it! The Warsaw Christmas markets usually kick off at the beginning of December and stay open all month, so if you're visiting in the festive season you can load up on gifts, decorations, mulled wine and traditional treats!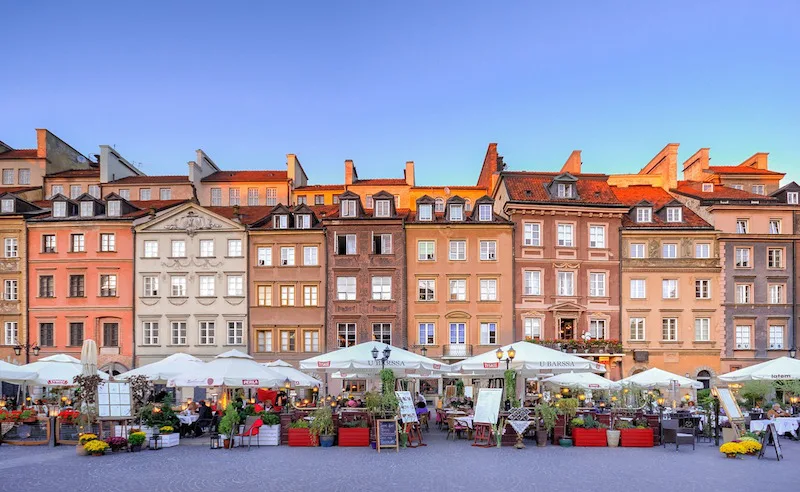 2. Explore the Old Town
Although you can do this at any time of year, no trip to Warsaw would be complete without exploring the UNESCO World Heritage listed Old Town. The Old Town is where all the pretty buildings are and most of the tourist attractions so you'll probably spend most of your time here. Every season here looks a little bit different, and winter brings with it stunning decorations, cosy cafe fronts, and splashes of bright colour against the grey skies.
It's like something out of a picture book with its cobbled stones and reconstructed Renaissance and Baroque buildings (the originals were destroyed in World War II), and it's a magical part of the city to walk around.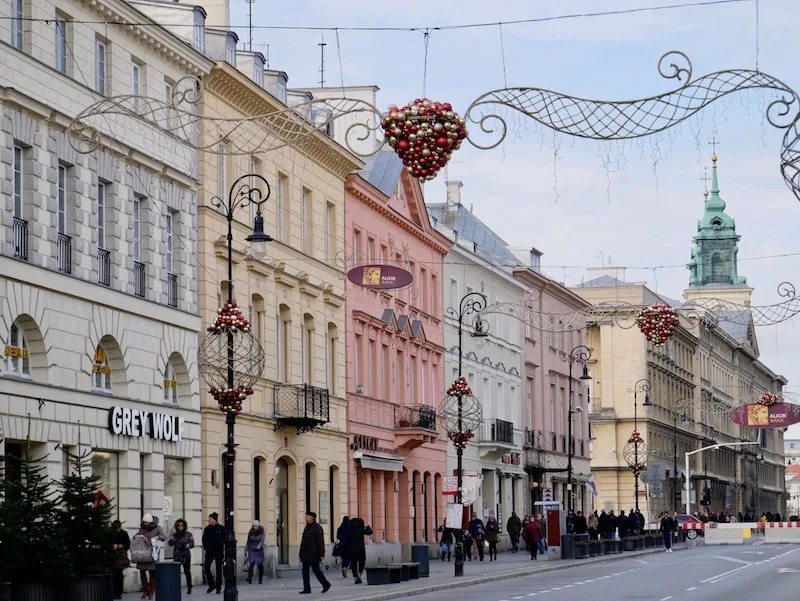 3. Christmas Light Festival
Over December, Warsaw lights up thanks to the city's annual Warsaw Christmas Light Festival, a series of light installations that start in the Old Town's main square and stretch for 20km along the Royal Route to Wilanów.
If you're in Warsaw at the beginning of December, you might just be lucky enough to catch the switching on ceremony, which marks the start of the festive celebrations in the city. We were around for the Warsaw Christmas light switch on last year and it was very busy but was magical atmosphere so it's well worth visiting for that alone!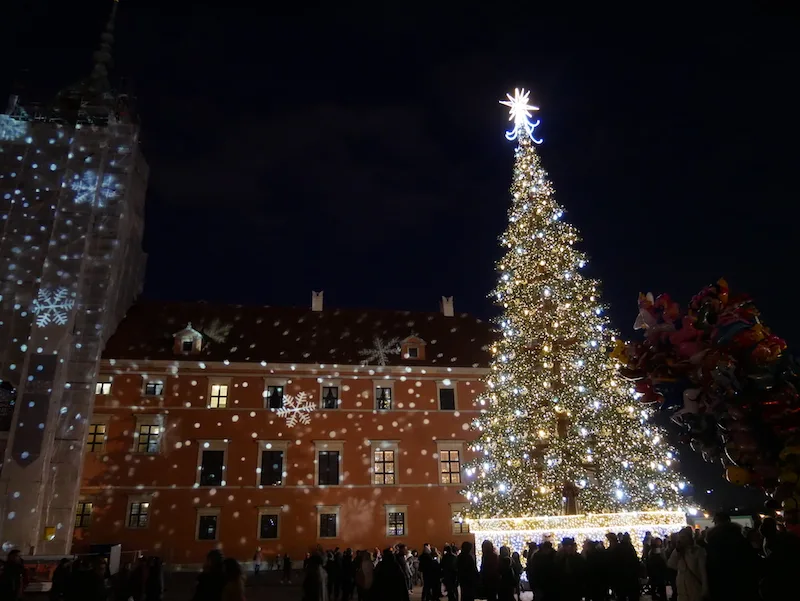 4. Ice Skating
One of my favourite winter-time activities (not that I'm any good at it) is ice skating – there's just something so magical about it, even just watching other people waltzing around the rink!
In Warsaw, there are plenty of places to ice skate but I recommend visiting the free ice skating rink outside the Palace of Culture and Science. Ice skating backdrops don't get much better than that and when you're finished you can head straight to the markets for a warm glass of mulled wine!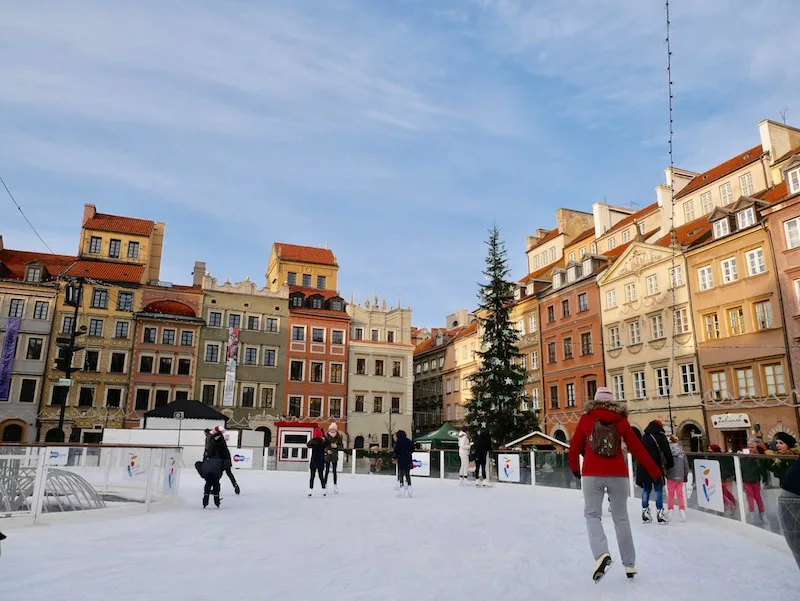 5. Get a bird's eye view from St. Anne's Church
The view over the main square from the tower of St. Anne's church is spectacular all your round but at Christmas, it's even more breathtaking. You'll see the Warsaw Christmas markets, the enormous tree, and (hopefully) the snow-covered Old Town, which makes it all look like it belongs on the front of a Christmas card.
It's well worth the 147-step climb and the 6 Zloty entrance fee (around £1.25).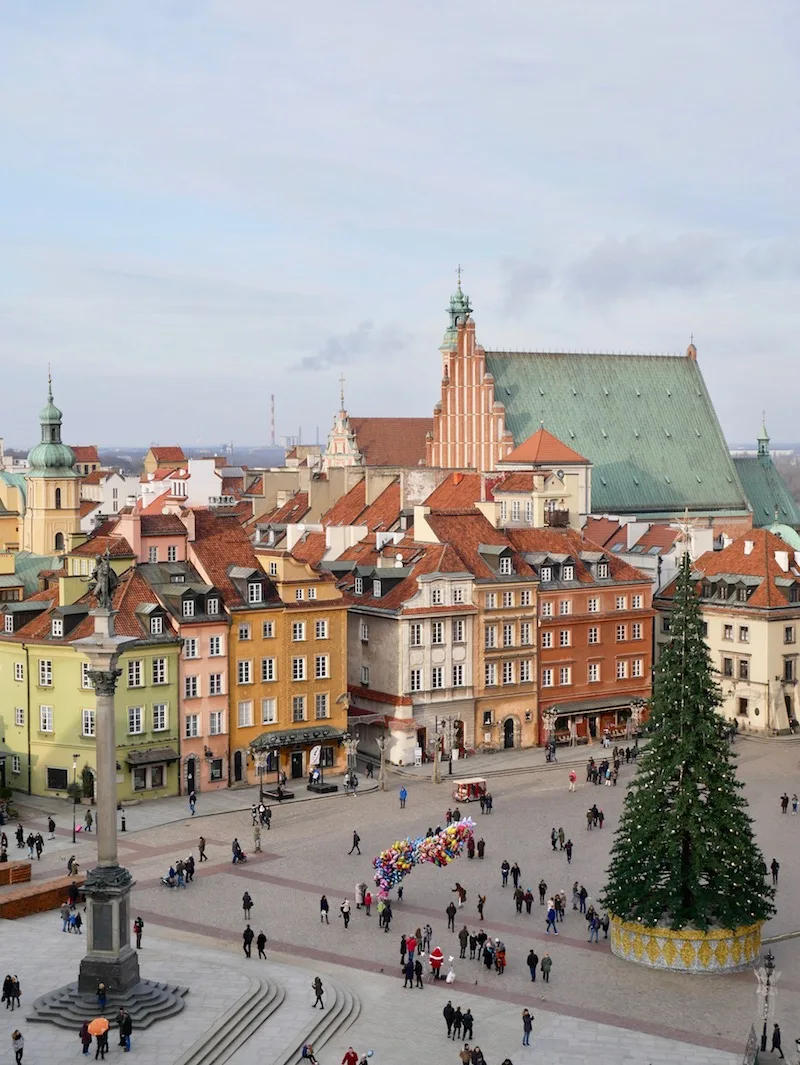 6. The Royal Garden of Light
The Royal Palace Wilanow – sometimes referred to as the Polish Versailles – is a 17th Century palace that's packed with history and opulent design, but it's transformed at Christmas into something even more spectacular.
When darkness falls, the palace gardens come to life with thousands of eco-friendly LED lights that are accompanied by music, following a new theme each year. On Friday and Sunday evenings, there are also impressive lighting displays on the facade of the palace that are pretty unforgettable.
We didn't go here (I'm absolutely gutted as I didn't know about this place until I got home!) so I don't have any photos but there are a couple here and it looks incredible.
7. POLIN Museum of the History of Polish Jews
Sometimes in winter, you just need something indoorsy to keep you warm and dry for a few hours, and in Warsaw there's no better place to do it than at the POLIN Museum of the History of Polish Jews, which won the title of European Museum of the Year in 2016.
Not only is this museum an architectural masterpiece, but it's also fascinating. The exhibitions present a 1000-year history of Polish Jews, spread out over eight different thought-provoking galleries.
8. Catch some culture
Each year the Warsaw Philharmonic Choir performs a series of Christmas carols concerts, featuring well-known tunes in addition to lesser-known traditional songs. Keep an eye on the Warsaw Philharmonic website for dates and details.
Another Warsaw Christmas favourite is the classic ballet, The Nutcracker, which is performed by the Polish National Ballet. Check out their website for information.
9. Go skiing
Skiing…in Warsaw? Yes, it's possible! Although there are no mountains nearby, the locals don't let that stop them – they take to Szczesliwice Hill, an artificial ski slope with an elevation of 152 metres.
Szczesliwice is no Alpine ski resort, but it's a lot of fun, and you don't need to bring your own equipment either. Just show up, rent your gear, and hit the slopes – just make sure you bring cash, as no other payment type is accepted.
10. Try all of the food
Nothing staves away the chill of winter like a hearty meal, and in Warsaw you'll find plenty of warming food all across the city. I found the Warsaw Christmas markets were lovely but they weren't great if you were looking for a good meal. If you walk around the Old Town however, you will find lots of adorable little restaurants. Many of them have boards outside advertising traditional dumplings so make sure you pop in and try these because they're amazing!
One of the best places for food in Warsaw (and plenty of things you didn't even know you wanted) is at Hala Koszyki, a huge indoor food hall that's a hipster haven and foodie heaven. Take your pick from local or international cuisine, from street food to restaurant dining, and make sure you stop for a drink or two along the way.