If you're looking for a new weekend break destination then I have a great suggestion for you today – Vilnius in Lithuania!
I'm sure many people won't have heard of Vilnius and definitely won't have considered Lithuania as a holiday destination! But I urge you to think again because Vilnius is perfect for a weekend break.
Vilnius is cheap, exciting, beautiful, interesting, it's safe and there are plenty of things to do in Vilnius during a weekend away.
Not only are there loads of things to do in Vilnius but the city is also small enough that it isn't overwhelming. Visiting a city like London, Paris or New York for just a weekend can be overwhelming but Vilnius is small enough that you'll get to know the city and see all the highlights.
Vilnius has the most incredible Old Town so if you base yourself here you'll be right in the centre of the city for a fantastic city break.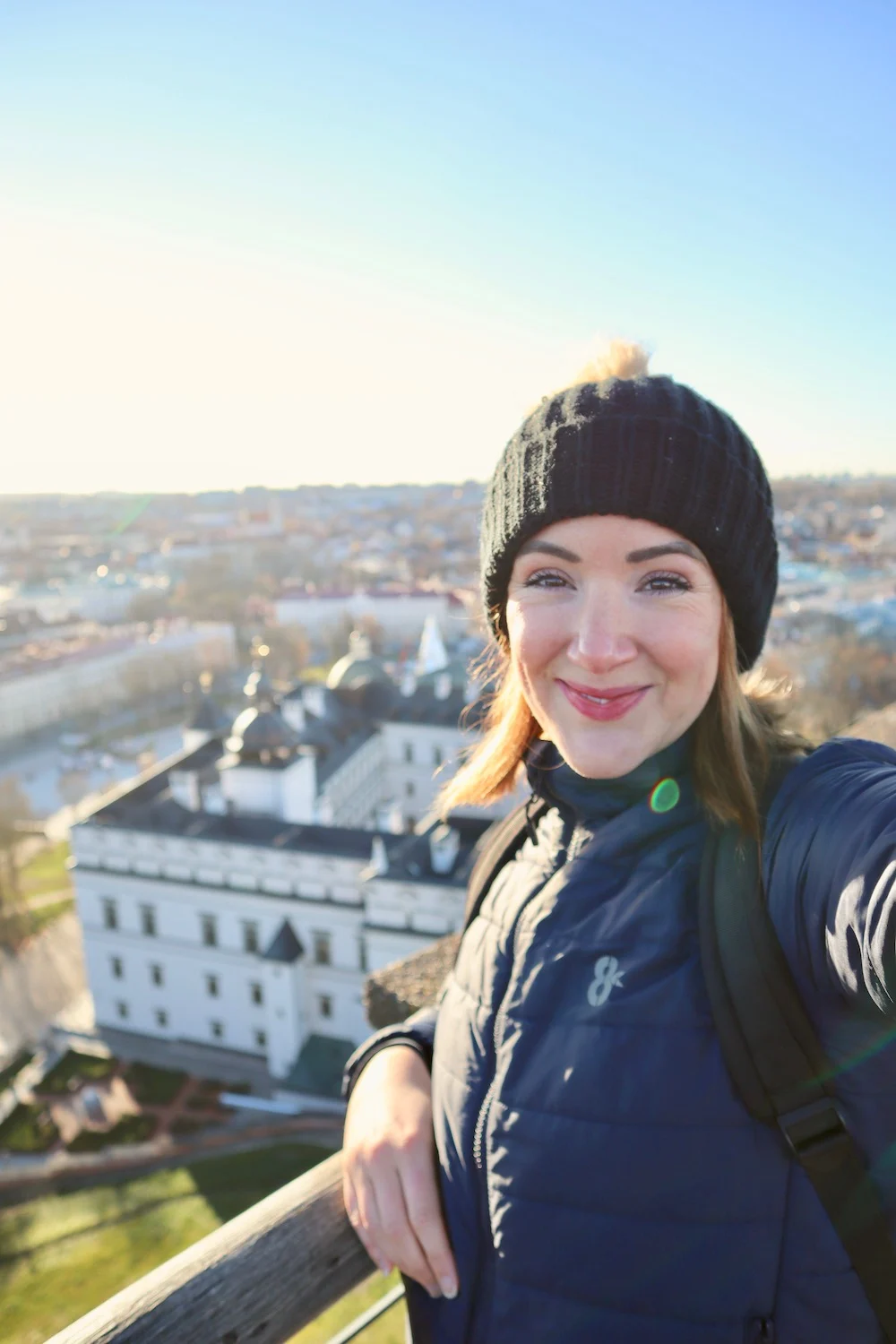 Things to do Vilnius
Vilnius is the capital of Lithuania, a small country in the Baltic region of Europe. It's bordered by Latvia, Belarus, Poland and Russia.
Lithuania is a beautiful country and it always amazes me that it isn't a more popular destination for tourists looking for a cheap and easy weekend break.
I think this is starting to change as people become more confident booking cheap flights to new places and it's now so easy to follow people on social media and see how easy it is to travel!
Lithuania's summers are warm and the winters are cold, making it a lovely place for either a festive winter break or a sunny summer trip.
I visited in November and it snowed and Vilnius was blanketed with a gorgeous layer of fluffy white snow. It was magical.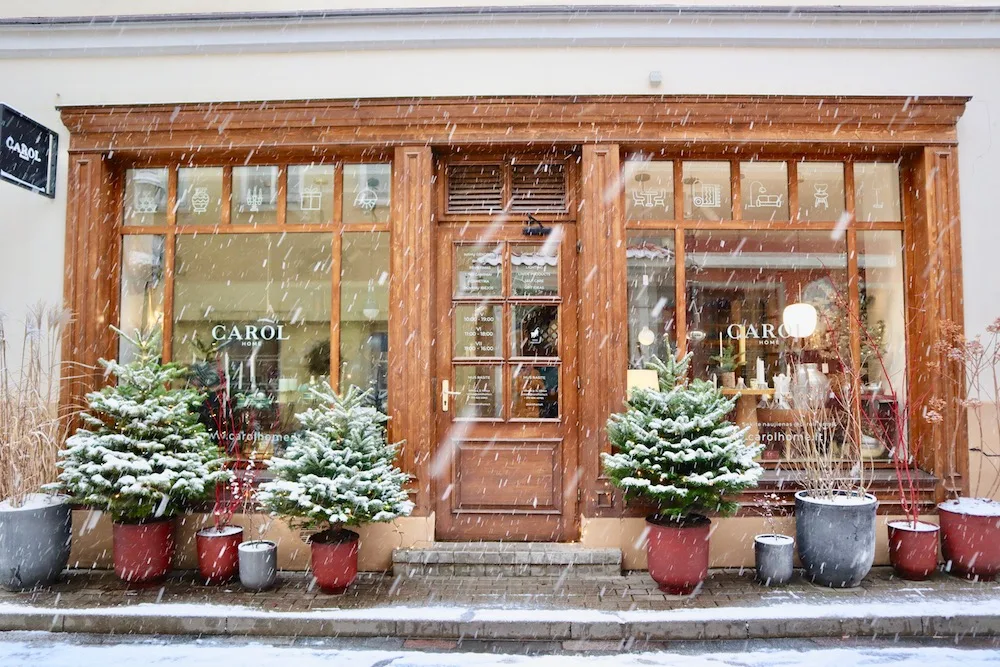 With hindsight, I wish I'd waited a few weeks and visited at the very end of November when the Christmas decorations were up. I left on November 23rd and the decorations were just starting to go up that day.
Vilnius is known for its mediaeval Old Town and gorgeous Baroque architecture. The city is both grand and beautiful but also charming and quaint.
It's also worth noting that Vilnius is an incredibly affordable city to visit and you can have a really cheap weekend break to Vilnius. My 3 day trip to Vilnius cost less than £200 including flights, accommodation, activities, food and drink.
Read more: Prices in Vilnius + how much my 3 day trip to Lithuania cost
How I spent my weekend break in Vilnius
I visited Vilnius for 3 days and found this to be perfect as I could see most of the main Vilnius attractions.
I spent my first afternoon relaxing, strolling and getting to know the city. And then I had one day to see the main attractions in the city (10 things to do in Vilnius are listed below). On my second day I took the train out to Trakai and then headed back to the city for my late flight home.
Trakai is a tiny, historic, lakeside city with a castle on an island and beautiful colourful buildings. I found it to be lovely to escape from the city for a day and see a different side to Lithuania.
Read more: Visiting Trakai from Vilnius: Everything you need to know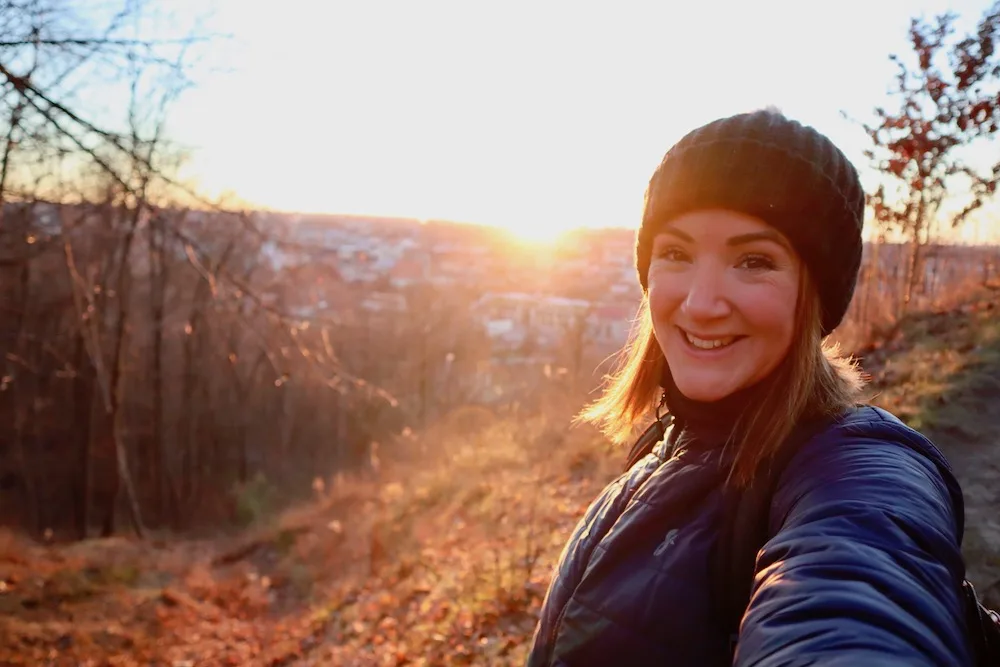 Where to stay in Vilnius
I definitely recommend staying as close to the old town as you can. This area is beautiful and it's where the main things to do in Vilnius and the best Vilnius attractions are located.
I stayed at Mai Ram Yoga House and I highly recommend it!
It's a yoga house with a small restaurant and bar and a handful of rooms attached in a separate building. You don't need to be a yogi to stay here and you don't need to join any classes.
I really loved the serene, tranquil and peaceful atmosphere and my room was beautiful. It was spacious with minimalist decor and lots of plants. I had a meditation area, loads of storage, a table and chairs and a beautiful bathroom with a big roll-top bath. There's also a communal kitchen you're free to use.
I paid a total of £95 for two nights. There are much cheaper options available but I'm glad I splashed out.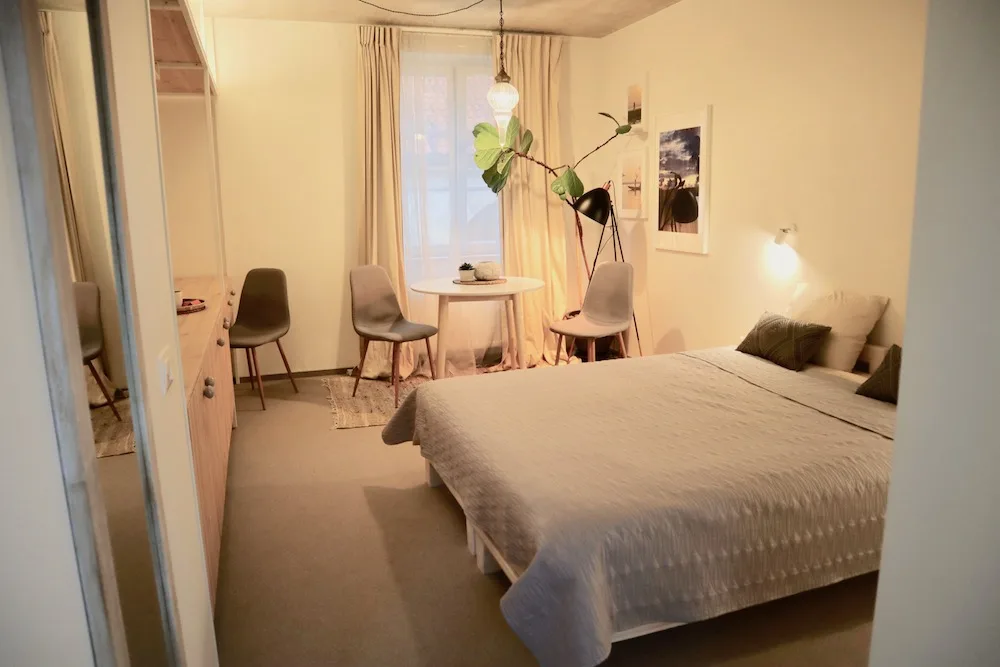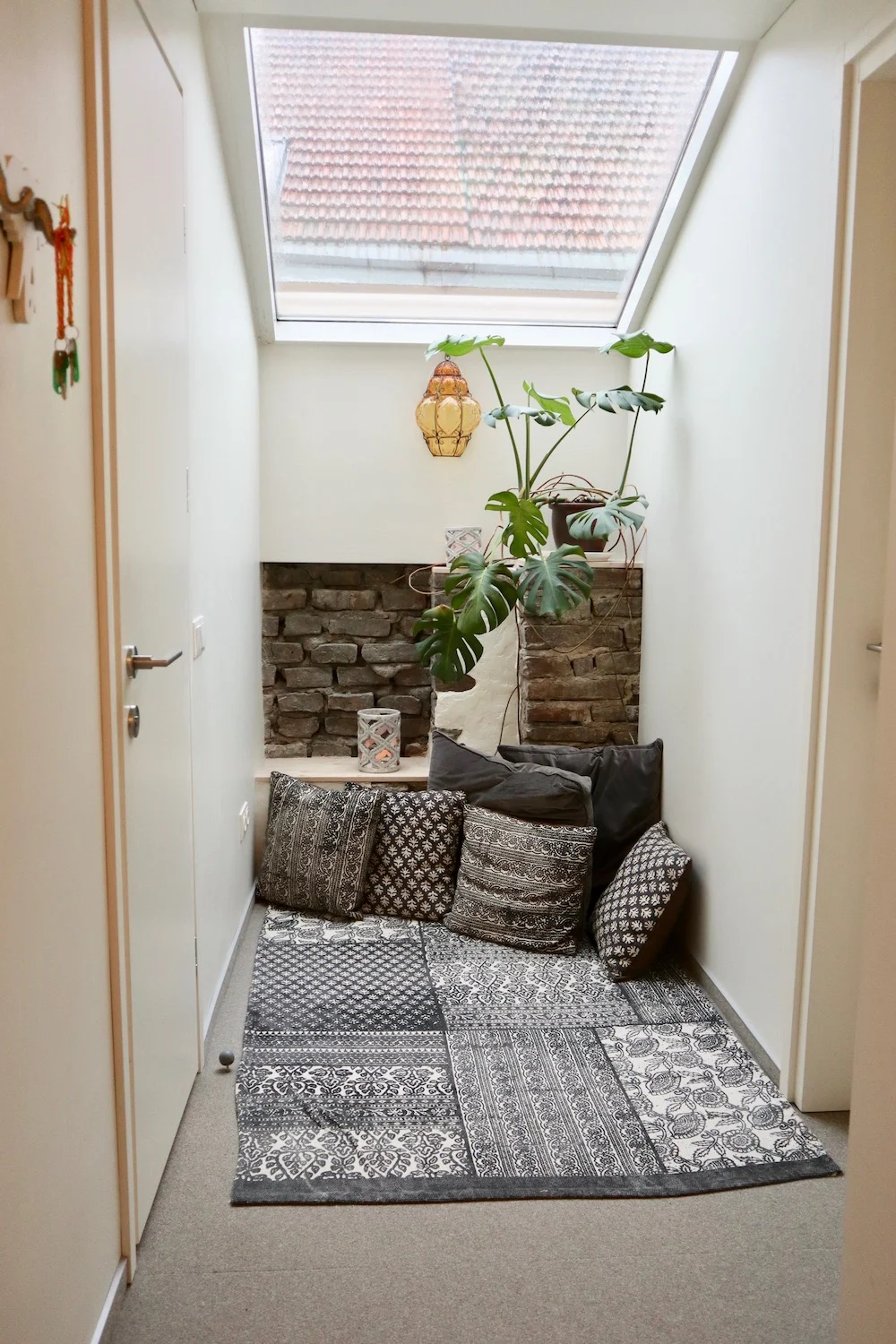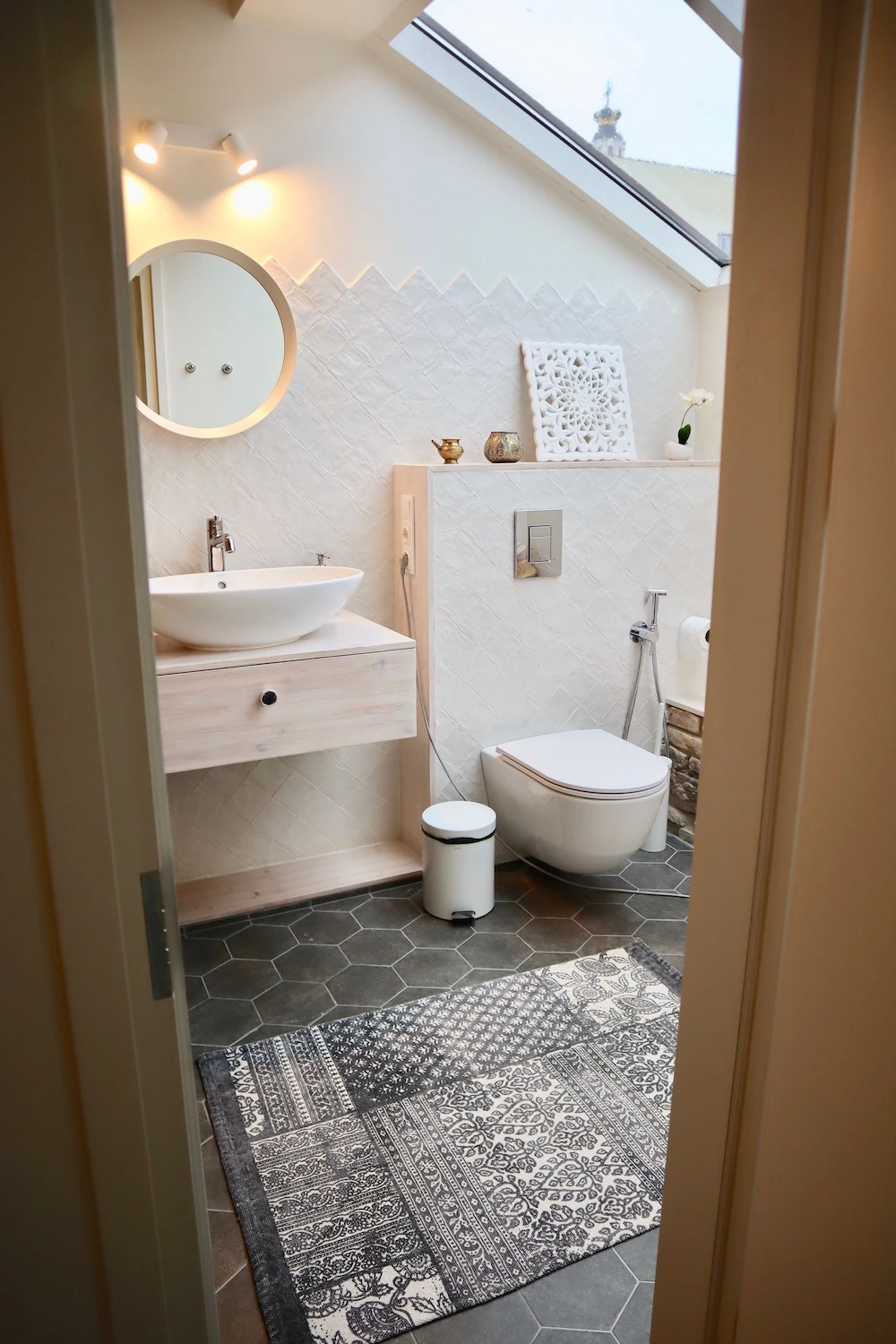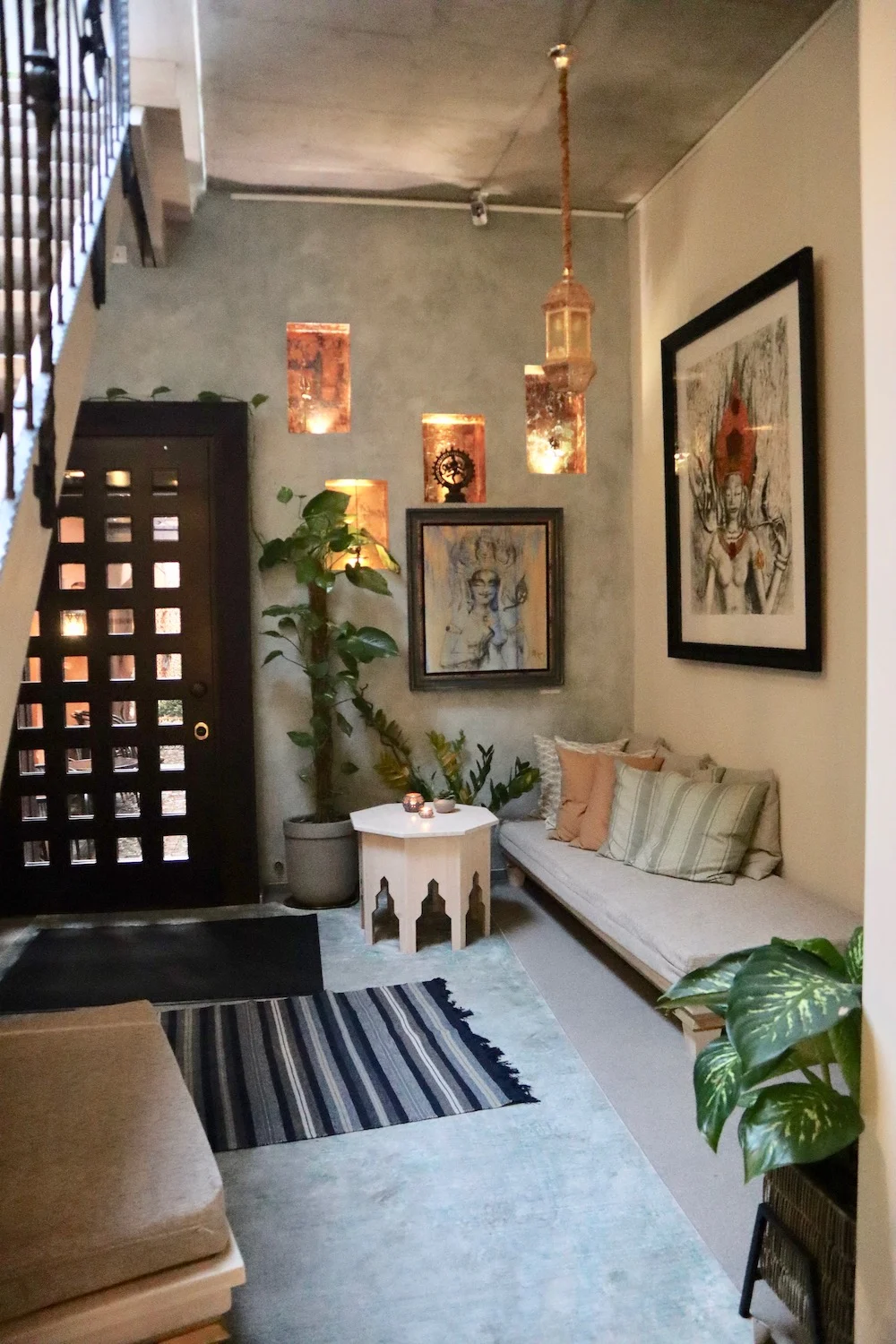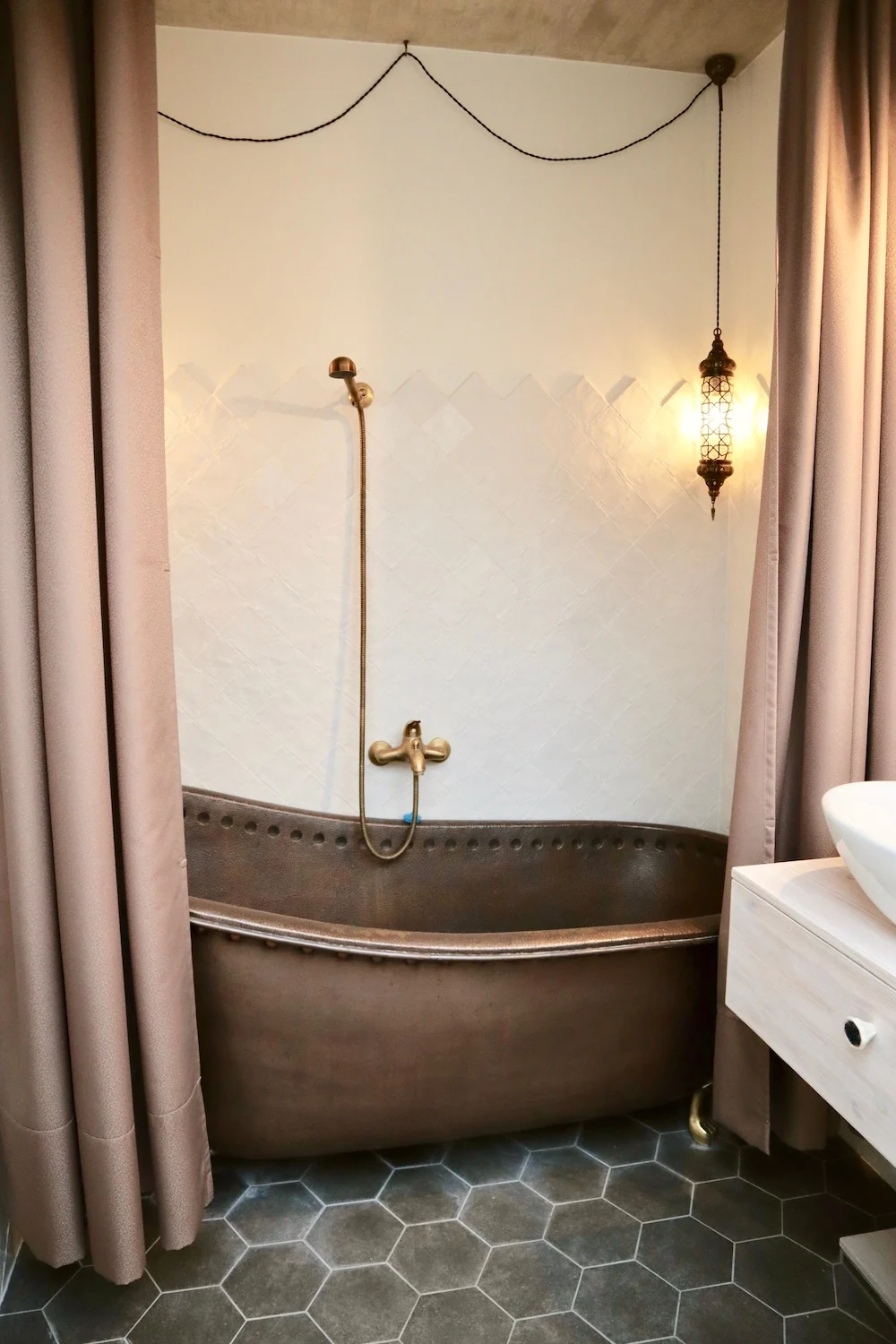 10 things to do in Vilnius
I really enjoyed visiting Vilnius for a weekend break because there are lots of things to do in Vilnius but it's still small enough that it isn't overwhelming or confusing.
If you plan your day well you can do all of this in a day and a half.
Like most cities, Vilnius didn't really seem to wake up until late afternoon, especially Uzupis! I recommend saving Uzupis and the Old Town for an afternoon when all of the shops, bars and cafes will be open. I visited Uzupis on a Sunday morning and nothing was open!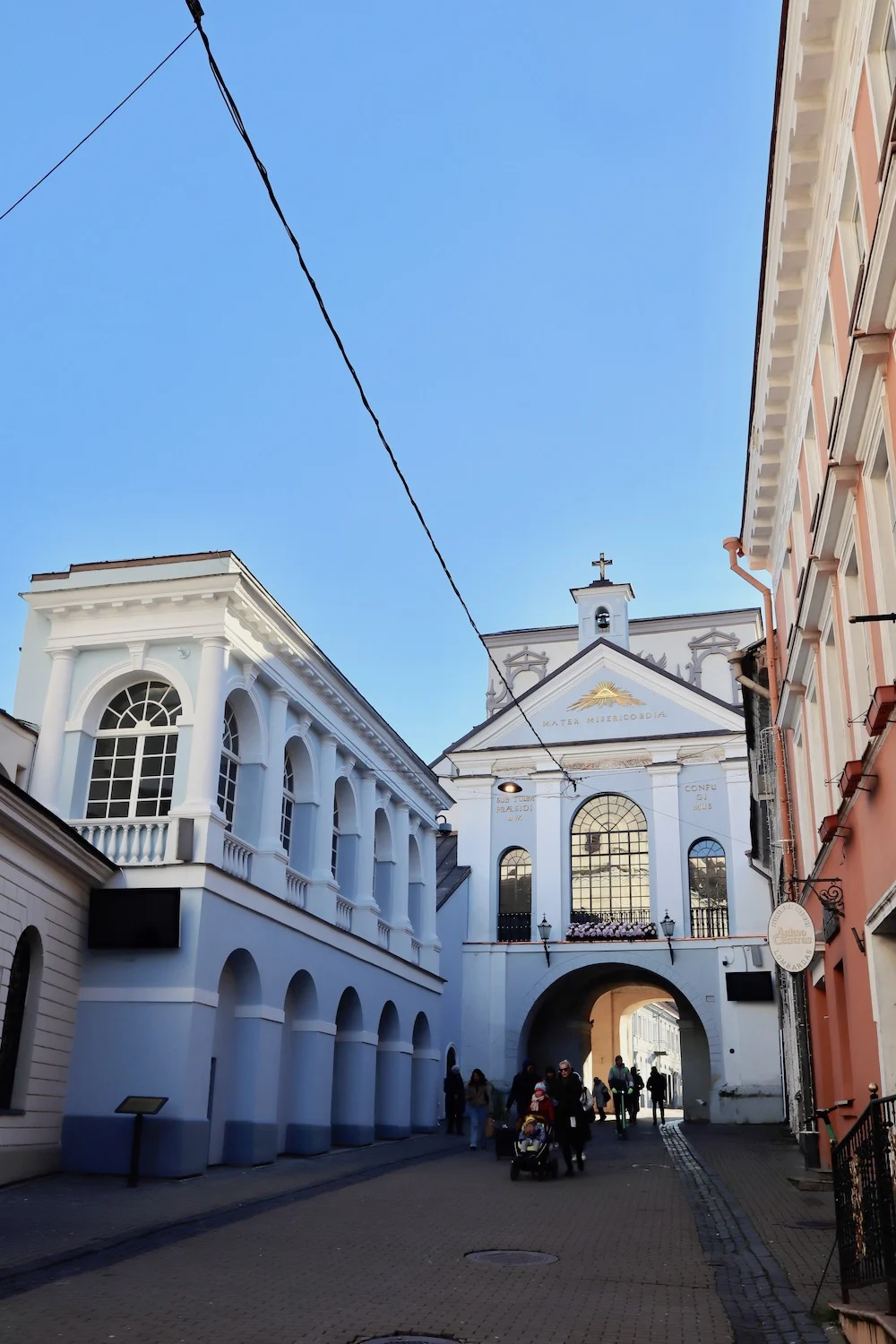 #1. Explore the Old Town
Of all the things to do in Vilnius, this is the one you can't miss as the city's Old Town is the main attraction. If you can, I highly recommend staying in a hotel or apartment in the Old Town so you're close to the action.
Vilnius Old Town is a UNESCO World Heritage Site made up of 70 quaint and beautiful streets with winding lanes and charming shops and cafes. It's one of the largest surviving mediaeval old towns in Northern Europe and it's simply gorgeous.
The main areas to explore are:
Cathedral Square
Town Hall Square
Pilies Street
Gediminas Avenue
Then and now Old Town Walking Tour
If you want to get the most from your visit to Vilnius then I highly recommend a walking tour when visiting the Old Town. A guide can make sure you see all the main sites and will give you a much better understanding of the city. There are so many hidden gems, secret alleyways and untold stories around Vilnius.
When I strolled around the Old Town alone I appreciated how beautiful it was, but I didn't have a full appreciation for the city and all the Vilnius attractions until I took a walking tour.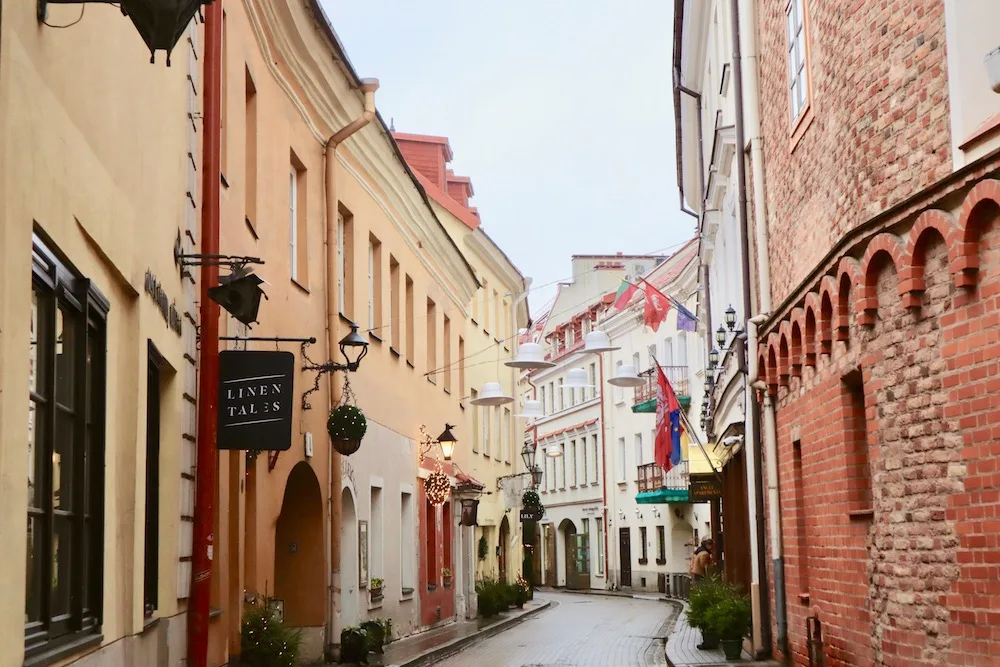 #2. Check out the street art
There's a lot of very cool street art in Vilnius so it's worth taking the time to look for it. Some pieces will jump out at you while others are hidden down little side streets.
There's a Vilnius street art map here but if you want to know more I recommend taking this Alternative Vilnius Bike Tour.
A bike tour is always a fun way to see a city because you whizz round quickly and this alternative tour focuses on the street art and you'll find out more about life in Vilnius.
If you're thinking that street art is little more than graffiti then I beg you to think again. In all honesty, I kind of thought the same until I took a street art tour in Berlin and realised there's so much more to it. Street art can be political and thoughtful and emotional and it's a way for artists to express important messages and get them seen by everyday people. Street art is fascinating so I'd definitely take the time to explore it a little deeper.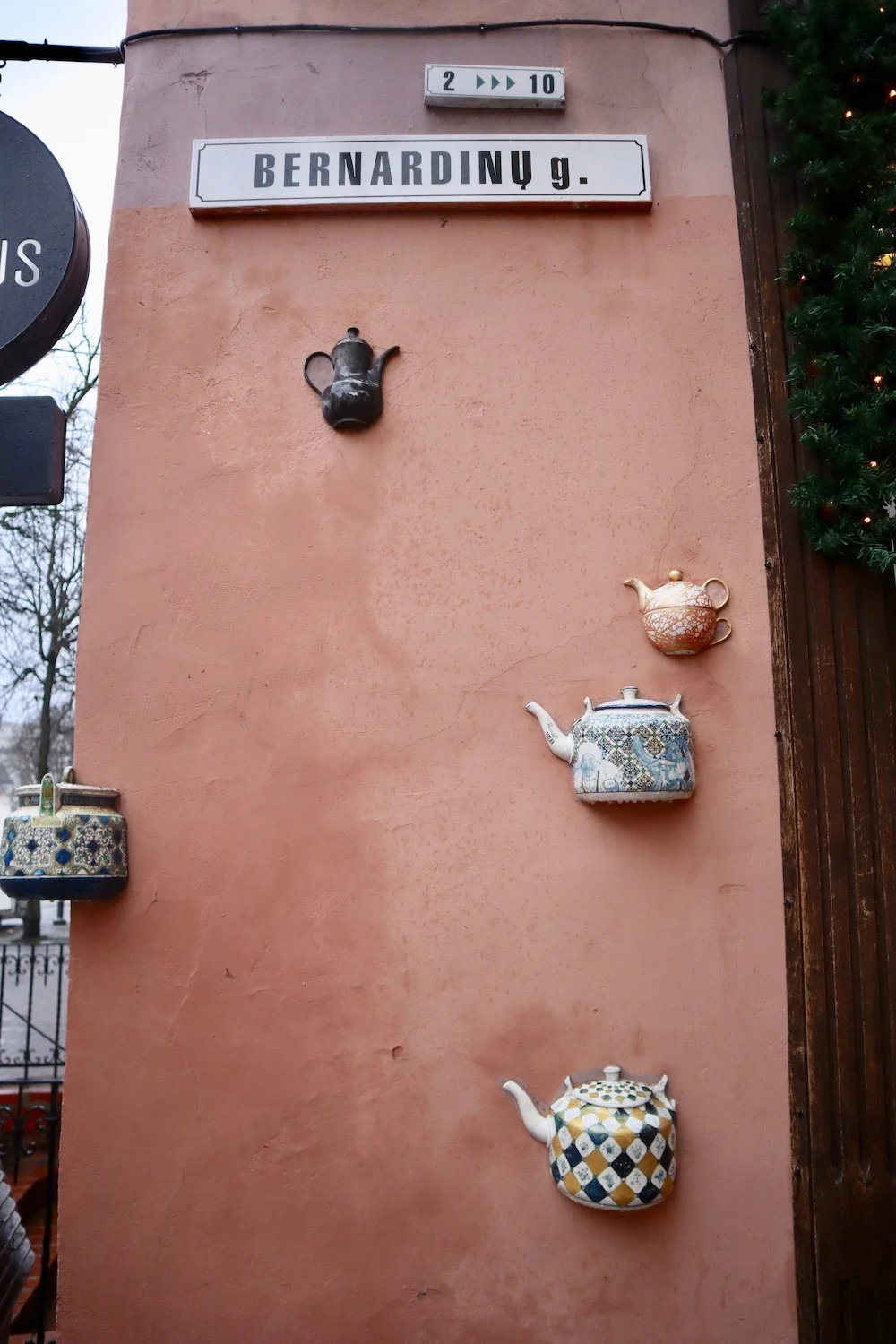 #3. Walk up the Hill of Three Crosses at sunset
This was one of my favourite things to do in Vilnius, possibly because I wasn't expecting the view to be quite so beautiful.
It's a monument at the top of a hill consisting of three white crosses overlooking the city. The three crosses aren't hard to find, just put it into Google Maps and you'll find them easily.
You'll need to walk through Kalnai Park, a beautiful green space in the city with a river running through it. While I was there in November 2021 there were new steps being constructed up to the three crosses so hopefully they'll be finished by the time you visit!
I recommend arriving just before sunset for an incredible view over the city.
Crosses are thought to have been on the hill since the 17th century, with the current concrete monument being constructed in 1916.
Make this your last activity of the day before heading out for drinks in one of Vilnius' cool bars.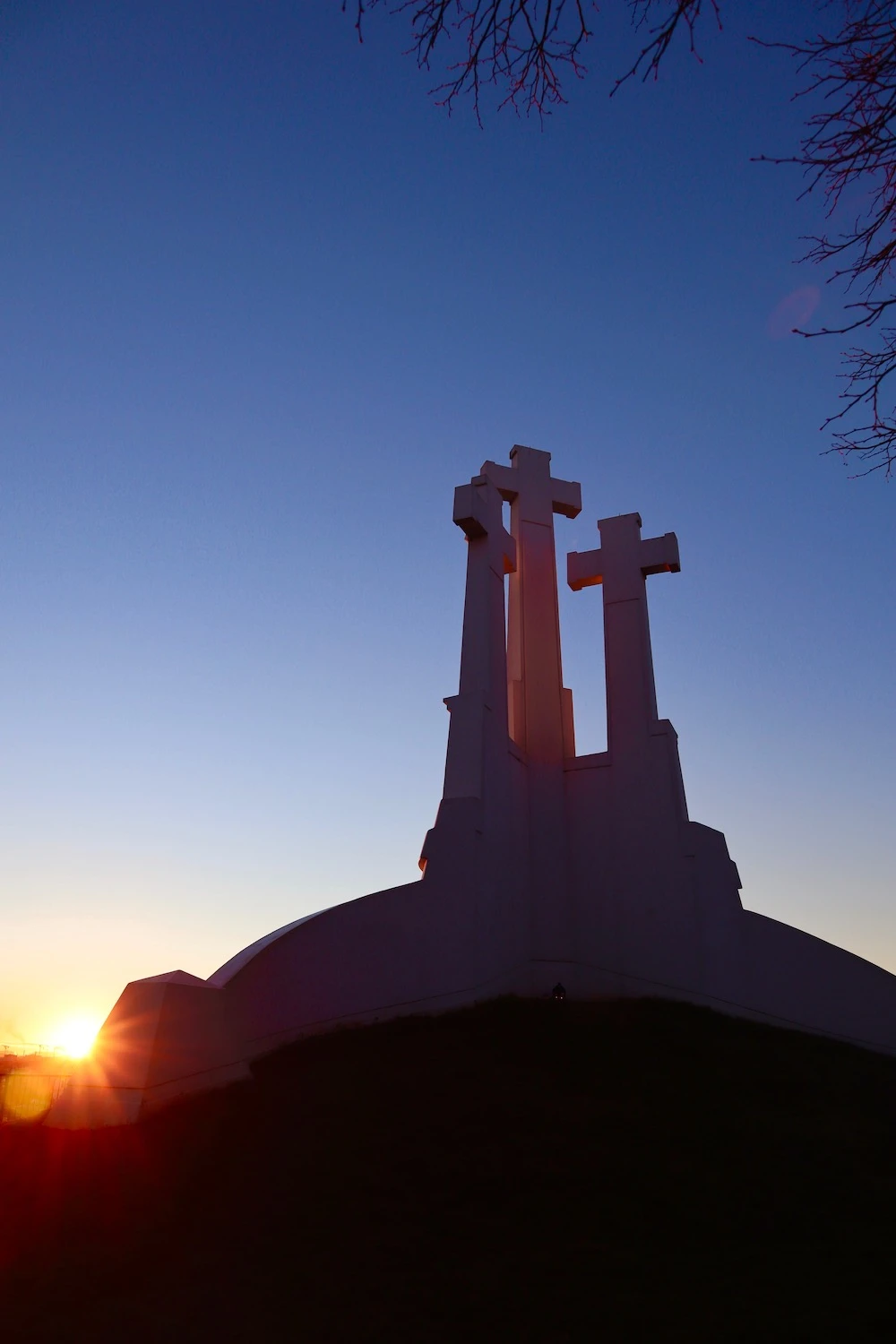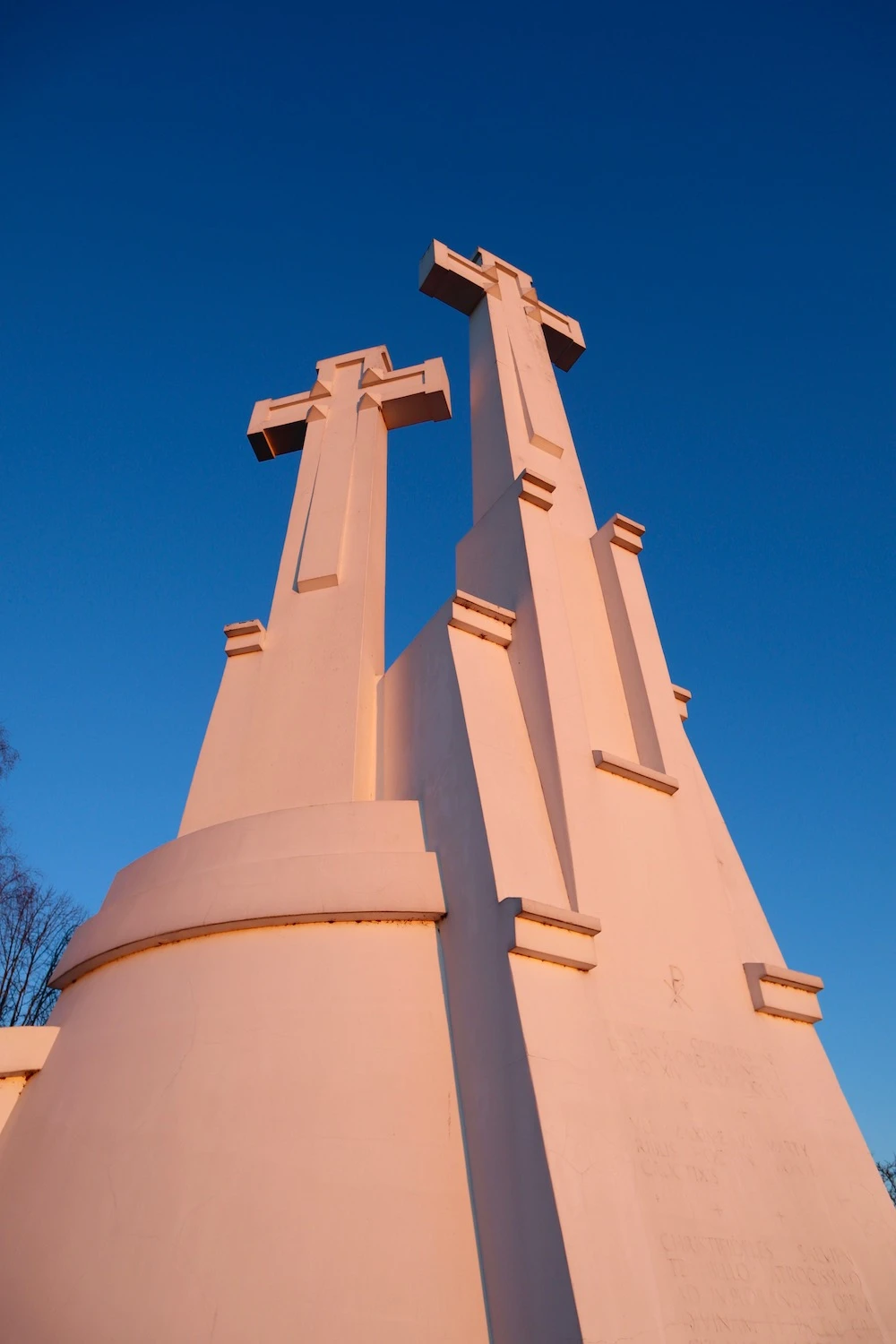 #4. Visit the Republic of Uzupis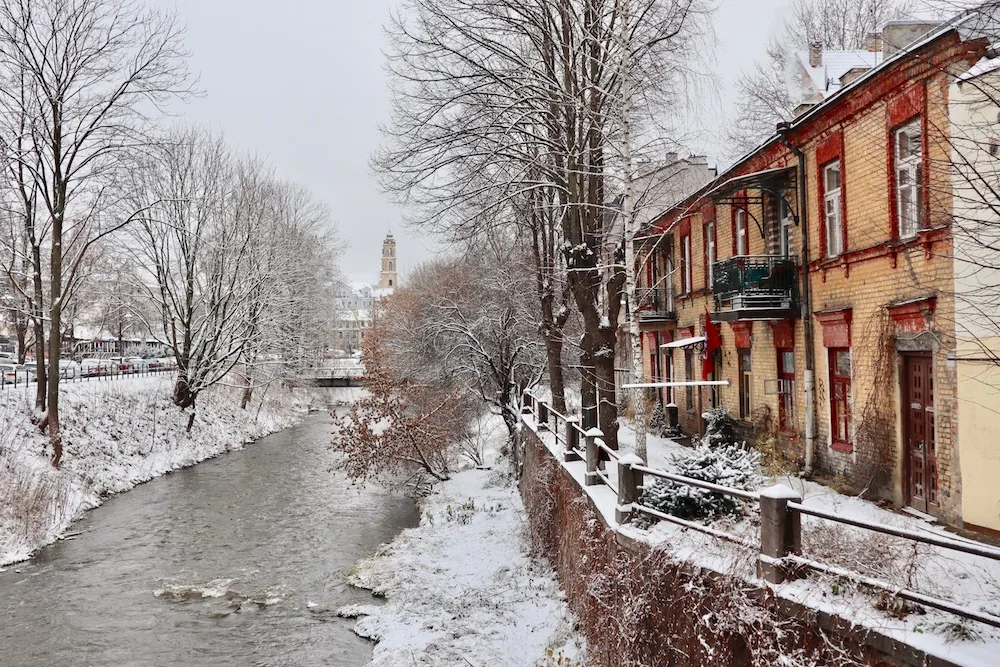 The Republic of Uzupis is one of the smallest republics in the world, making a visit here one of the really unique things to do in Vilnius. This tiny neighbourhood has a creative and artistic vibe so it's a popular place for backpackers and freespirits.
Everything in Uzipis feels a bit tongue in cheek and it's obvious they're having a bit of fun here.
Like I said above, I visited on a snowy Sunday morning when most things were closed so I highly recommend visiting later in the day! If you can, I'd go for lunch and then hang around and explore and stay for some evening drinks.
There's a great blog post on Third Eye Traveller about things to do in Uzupis.
If you'd like to visit Uzupis as part of a tour then this Old Town & Uzupis tour looks like a brilliant option.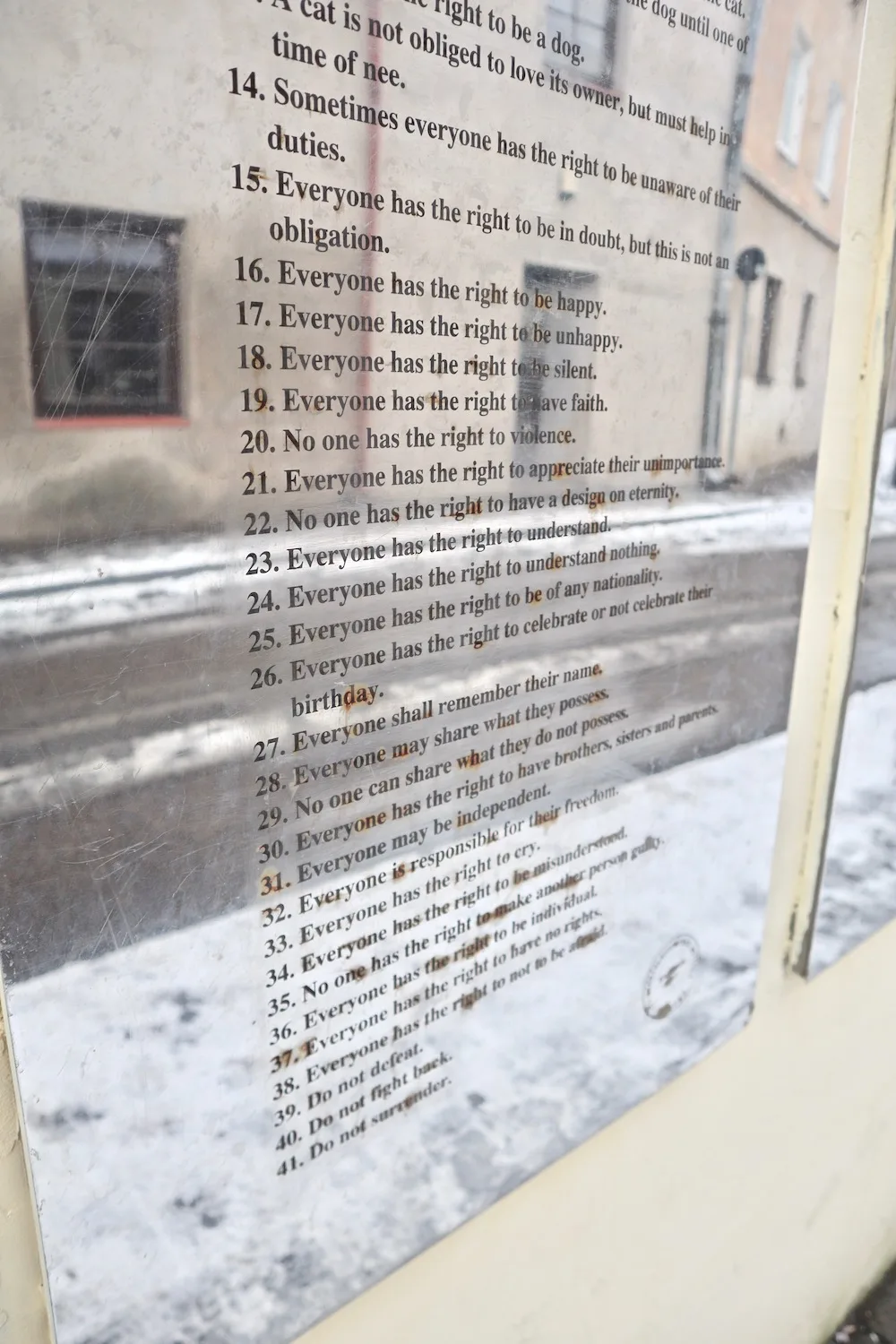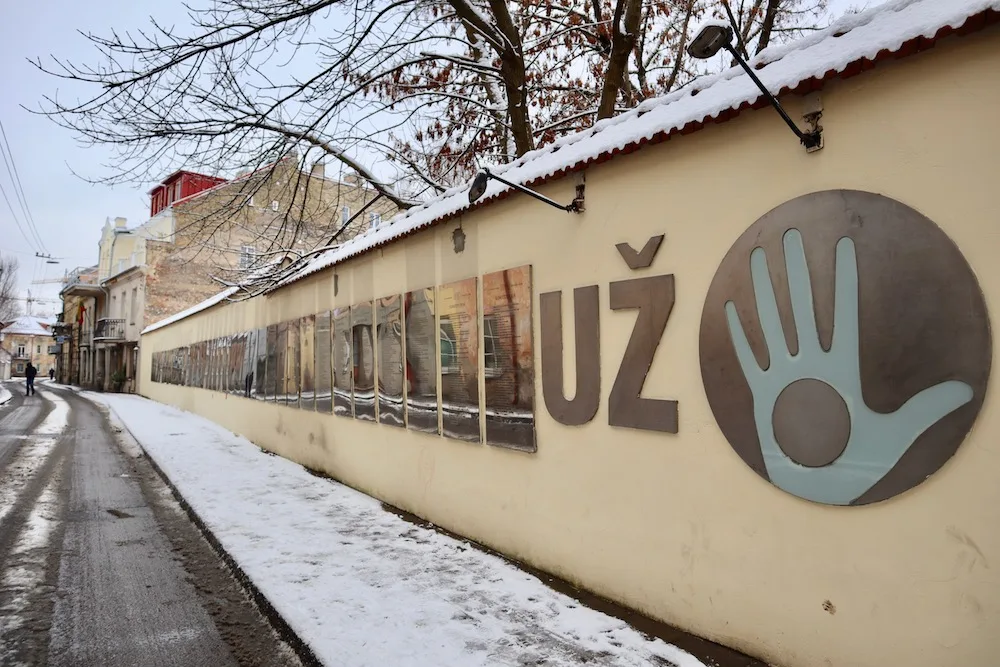 #5. Visit Gediminas Castle Tower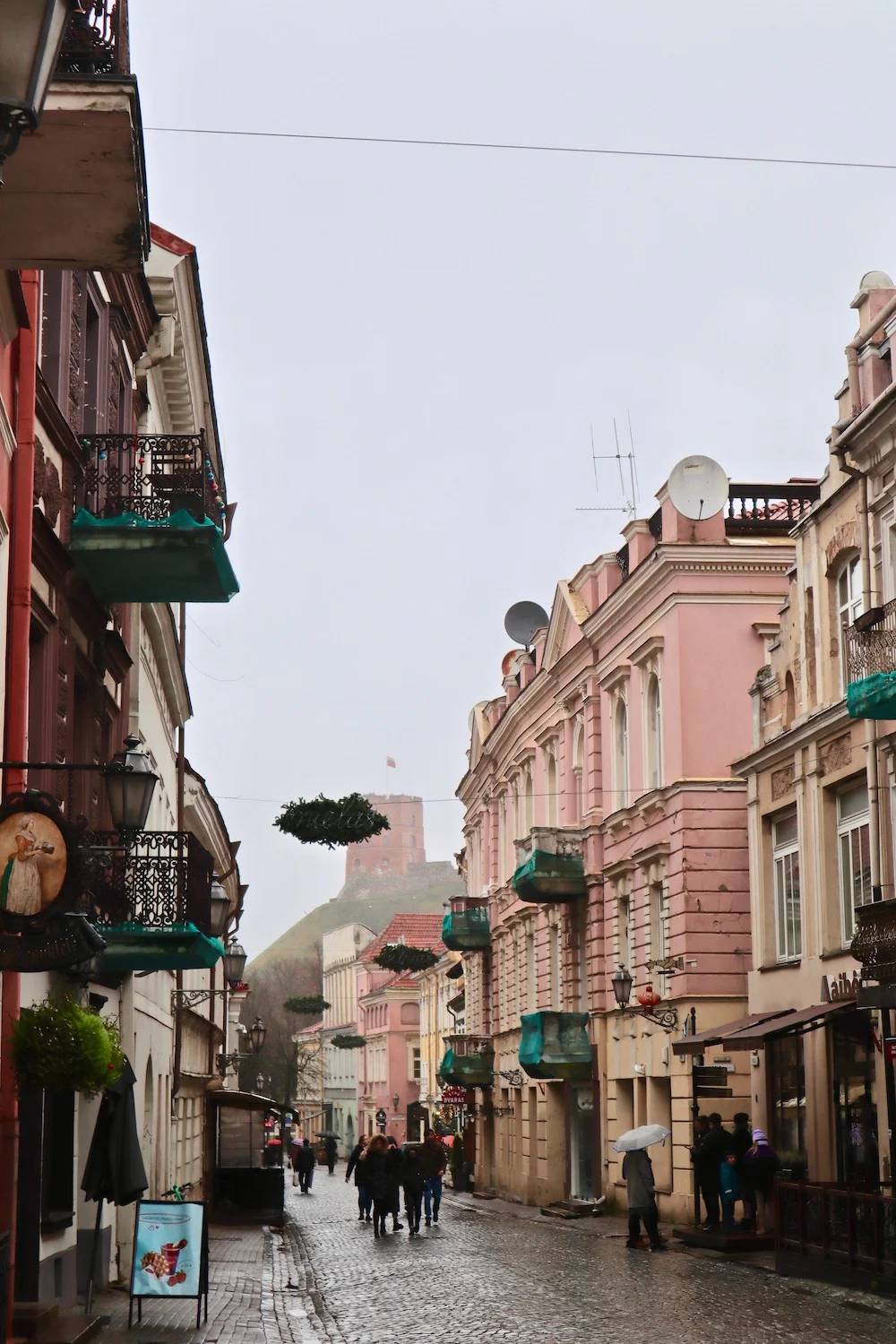 Another of my favourite things to do in Vilnius was visiting Gedminas Castle Tower. It's a lovely walk up to the top of Gediminas Tower then the views up there are gorgeous.
I walked up fairly early in the morning and it was lovely with fresh blue skies and clear views.
Gediminas Castle Tower is the only remaining part of the castle in Vilnius and it's now an iconic symbol for the city.
You can walk up for free and enjoy the views or pay to go inside. I went inside – mostly just to warm up because it was freezing outside – but I actually found it to be really interesting and peaceful inside.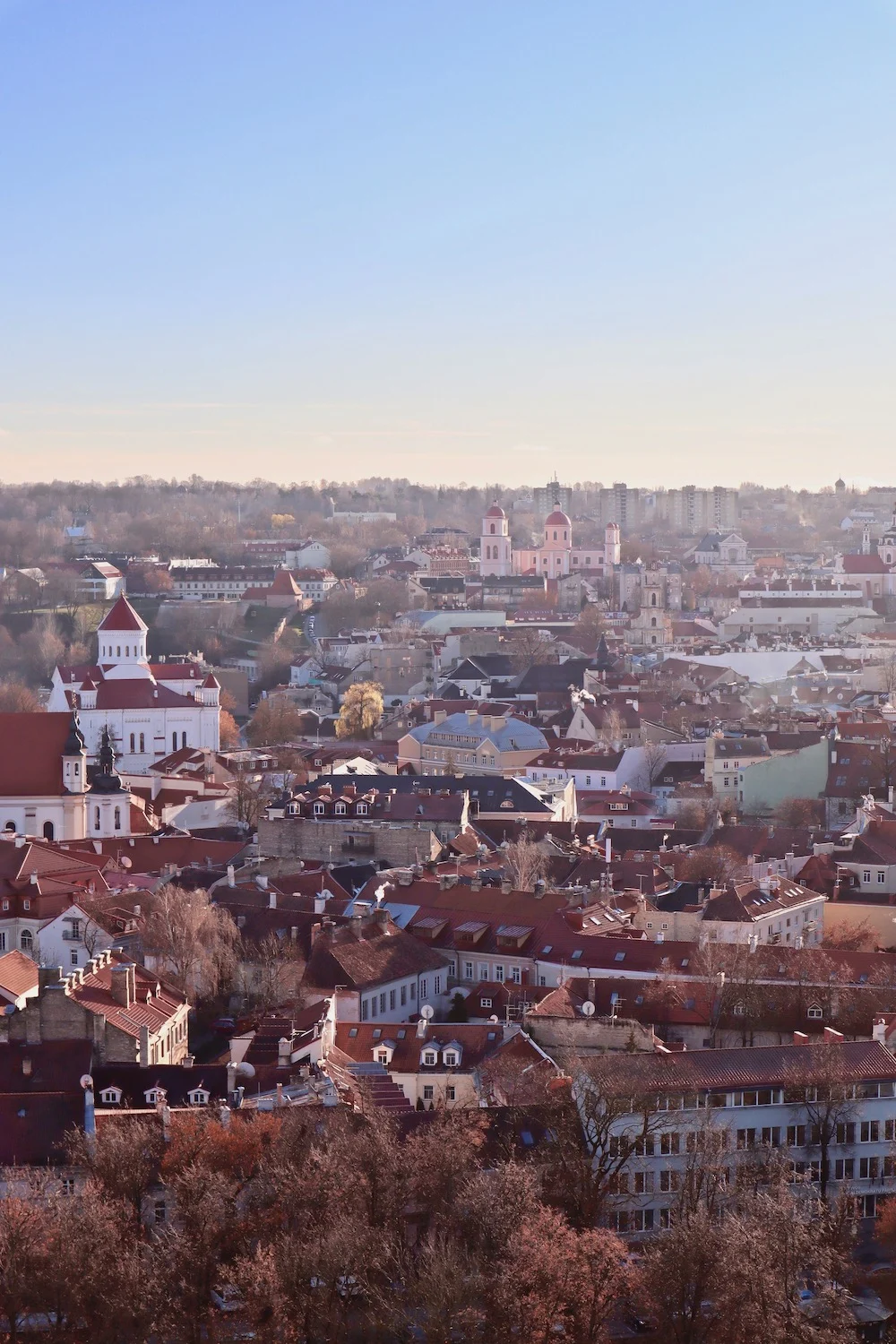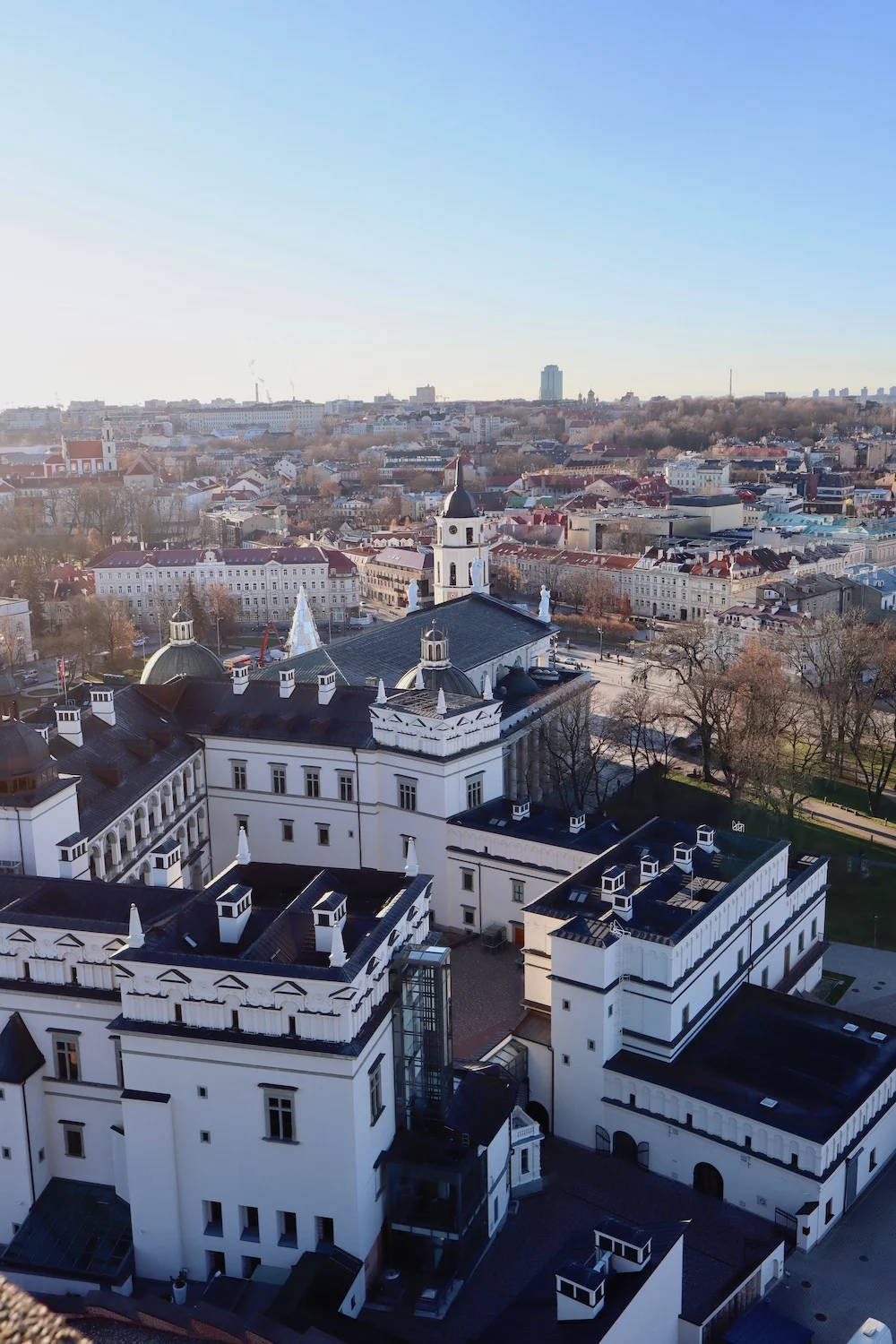 #6. Visit Vilnius Halle Market
You'll especially want to visit Vilnius Hall Market if you're self catering as there are so many tasty treats to pick up! I didn't feel well the first night I arrived in Vilnius so rather than eating out I visit the market and picked up lots of pastries and cakes and they were delicious!
Lots of the stalls offer tasters of the produce on offer so make sure you try a few samples.
If, like me, you're a little bit shy about chatting to market stall owners then I highly recommend this Vilnius Hall Market Tour with cheese and wine tastings included! Market tours are often the most unexpectedly amazing tours as you can find out so much about a city, its history and its people through its food!
#7. Go to Trakai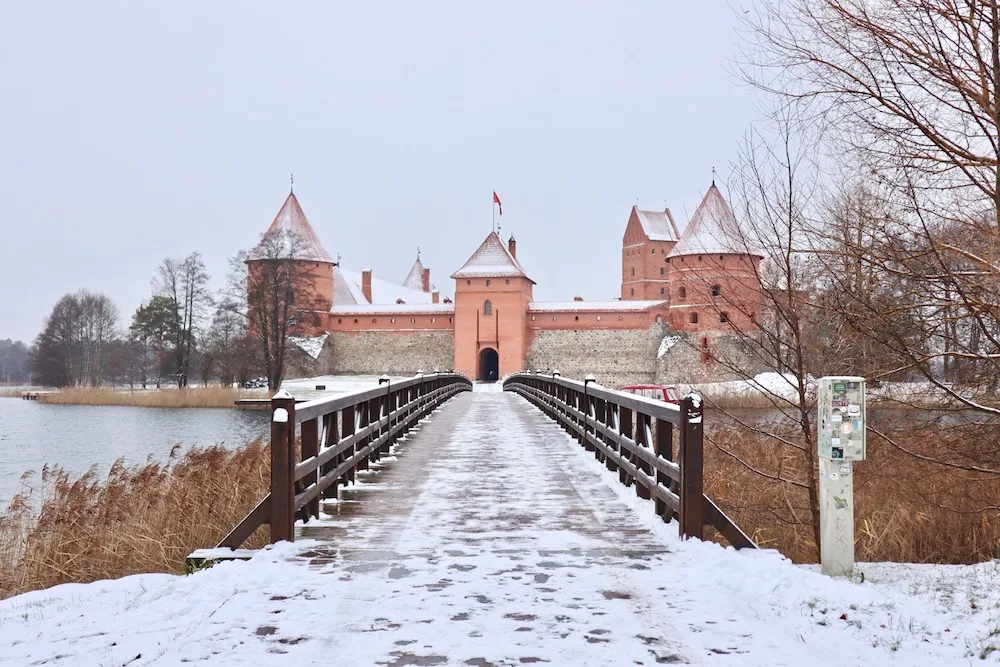 OK, technically this isn't a thing to do in Vilnius but it's such an easy thing to do from Vilnius!
Trakai is a historical, lakeside city with an incredible island castle and it's very easy to catch the train or bus there from Vilnius.
If you're visiting in the summer then it's a busy, bustling place with people enjoying their holiday homes and cooling off in the lake. During the winter months I found it to be tranquil and peaceful and serene.
Read more: Visiting Trakai from Vilnius
#8. Visit the Jewish Quarter
There's a lot of Jewish history in Vilnius that is both harrowing and fascinating and you can't visit the city without delving into a little bit of this history. The Jewish quarter is the place to begin and if you do a walking tour many of them will touch on the Jewish history.
There's a really interesting 2.5 hour walking tour around the Jewish Quarter for anyone wanting to learn more.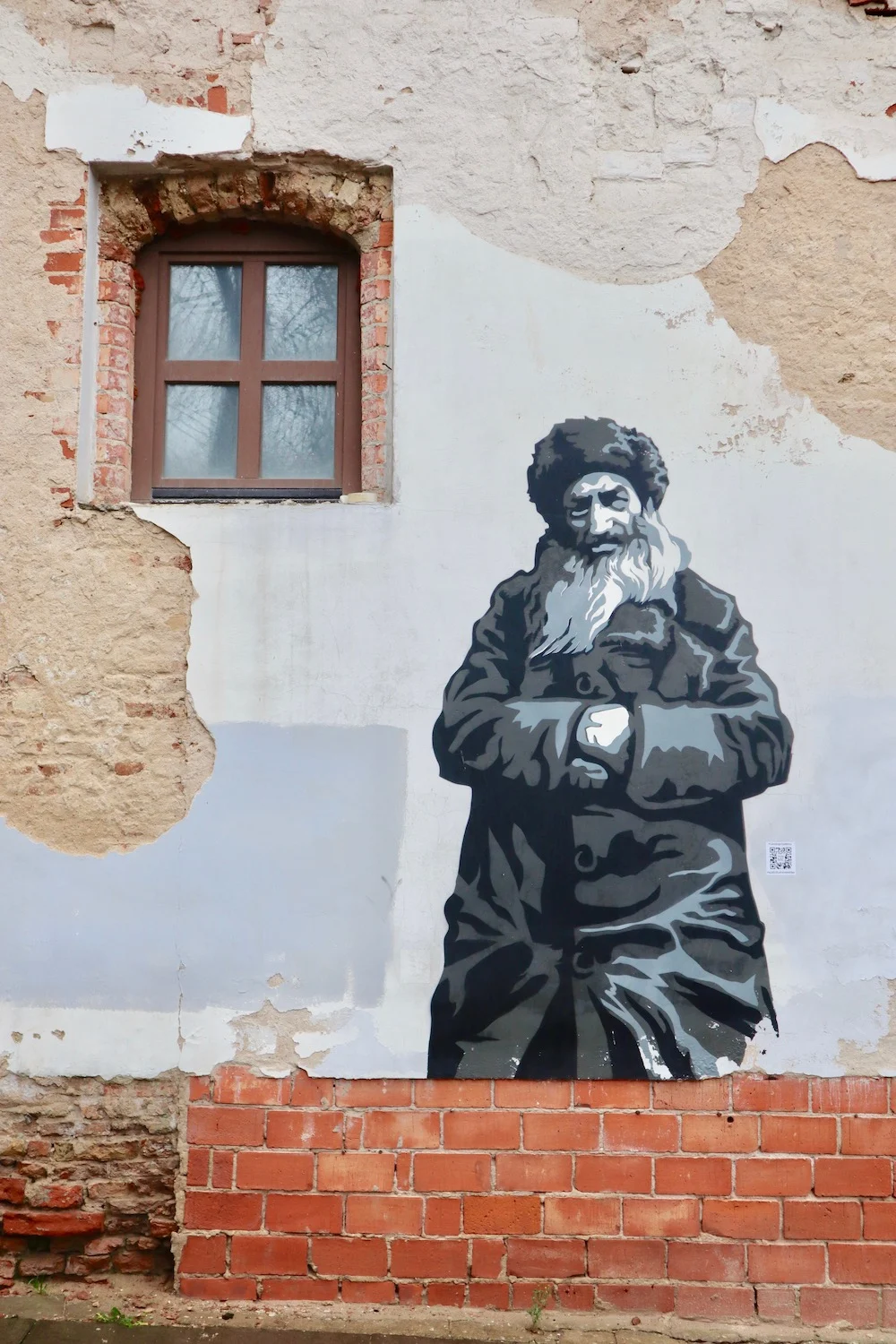 #9. Explore some of the 28 churches
Vilnius is famous for its churches because there are 28 stunning churches in the Old Town alone. I had every intention of attempting to visit them all but I became a bit 'church-blind' after visiting 5-6 of them!
21 of the churches are Roman Catholic, 4 are Russian Orthodox while the remaining 3 are Lutheran, Reformed and Eastern Rite Catholic.
Many of the churches are open and you can respectfully step inside to admire them.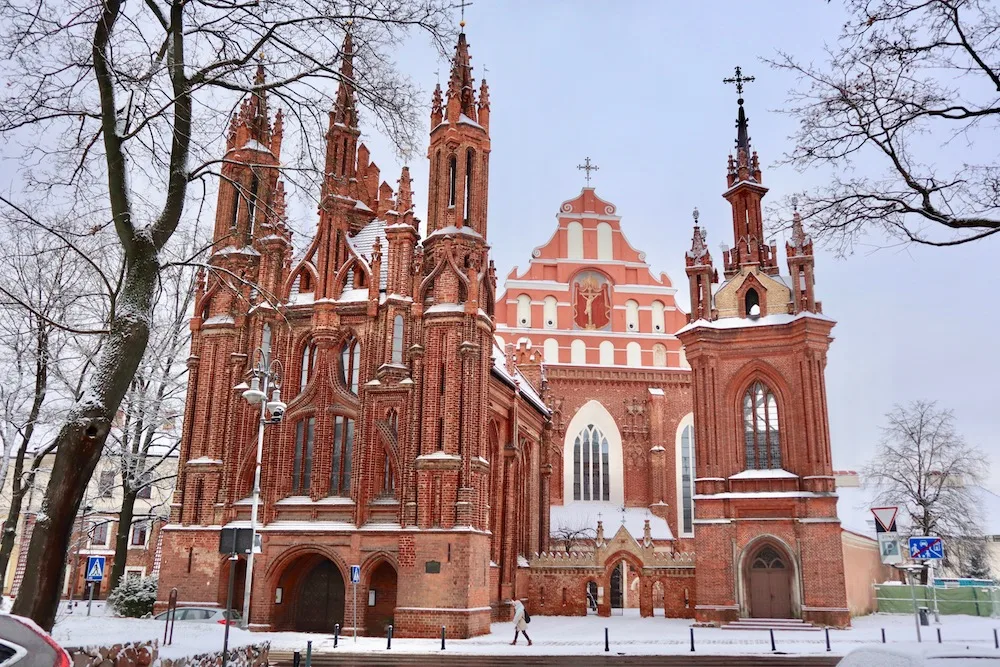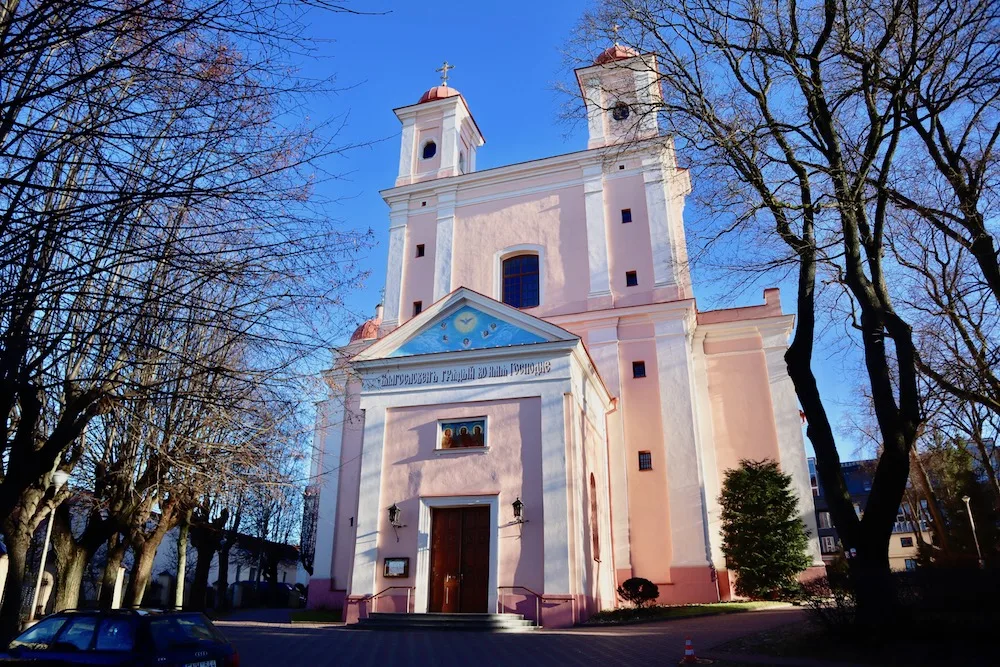 #10. Enjoy the bars and restaurants
You're going to be spoilt for choice when it comes to bars and restaurants in Vilnius, there are so many to choose from.
And I know this isn't a very original tip but I genuinely find TripAdvisor to be the best and easiest place to find nice places to eat in a new city. I like that you can search for places on a map so you can easily find the best coffee shop/pub/bar/restaurant/takeaway near to where you are.
Rosehip Cafe for a vegan lunch (close to Gediminas Tower) and Holy Donut for an indulgent breakfast were two of my favourites.