A few weeks ago I finally had the chance to tick something off my London Bucket List that has been lingering at the top for years. But the weird thing was, I didn't actually know what I was doing.
I'd been invited out for a 'surprise night' by the guys behind the Hostelworld.com Adventure Taxi.
"We'd like to whisk you away in a bespoke taxi where you will be surprised with an experience. All you need to do is tell us your interests and we'll craft an experience suited to you."
How could I say no to an offer like that?
I told the Hostel World guys that I like adventures and adrenaline fueled activities that are unusual yet iconic. They had their work cut out for them but they didn't fail with their mission to create an incredible experience.
My fellow travel blogger, Vicky Flip Flop, and I were picked up in a customized black cab which came complete with two camera men who were on hand to film our entire evening. I suddenly felt like a movie star as I reapplied my lip gloss and attempted to paint a dazzling smile across my face.
The Hostelworld Adventure Taxi is a fun new campaign that launches on October 22nd. The taxi will be visiting London and Edinburgh and will be whisking lucky travellers off on an adventure around the city. Phone booths will be places in hostels and when it rings you'll be put through to the Hostelworld Hotline before your surprise adventure begins.
You can see the promo video here (and my dazzling smile) which I appear in for about 00:03 seconds.
Climbing the o2 arena is about more than just walking over a building, it's about conquering a London icon and viewing the city from a vantage point that few people experience.
If you aren't familiar with the o2 arena, you might know it as the Millennium Dome. It's the second largest arena in the UK, holds 20,000 people and I can honestly say that the photos make it look deceptively small. It isn't until you're inside the o2 that you realize how incredibly humungous it is. There's like a whole little village of shops and restaurants under the domed ceiling and I didn't even see the actual arena.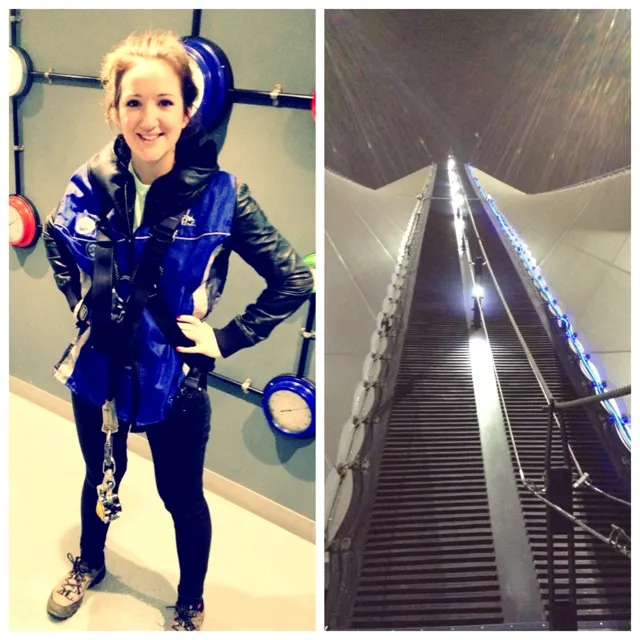 Before being allowed anywhere near the suspended walkway, which goes up, over and down the dome, we watched a safety video and were kitted out with jackets, sensible shoes and harnesses. You have a pulley clip that you're connected to all the way to the top to make sure you don't fall down.
After the intense safety briefing you'd probably think you're about to embark on a journey to Everest. I was starting to get nervous as my fitness levels have dipped to an unhealthy level since my triathlon but thankfully it was an easy climb. The surface is soft and bouncy like climbing a massive trampoline but don't be tempted to have a little jump as you will be told off, trust me.
If you aren't breathless by the time you reach the central viewing platform, the views from the top are sure to take your breath away.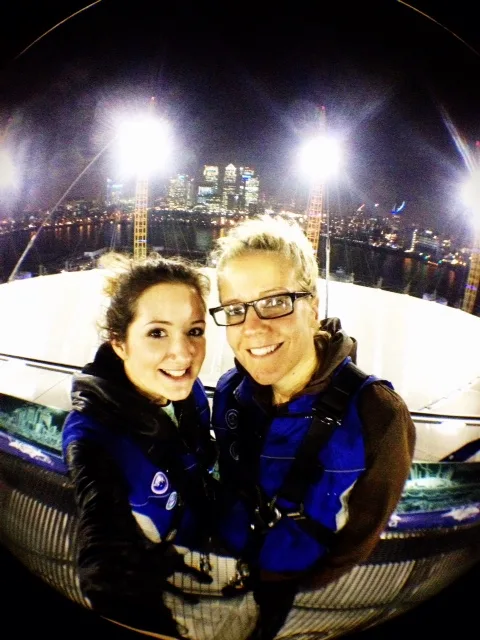 I was so pleased we'd done the climb in the evening when the whole city was twinkling with lights. If you're unlucky enough to have bad weather then I think the view would be pretty disappointing but if you climb at night time it won't affect your views.
We stood at the top marveling at the incredible views while posing awkwardly and trying to look natural for the camera.
The walk back down was slightly more difficult as it's a steeper descend and the surface was slightly slippery with dew.
Up at the o2 is a lot of fun and at £25 per person I think it's a great attraction for anyone visiting London for the first time. If you live in London then I'd recommend gathering a big group of friends and family so you can have a frametastic group shot from the top. The climb is easy so suitable for almost everyone and the guides are really helpful and patient for anyone who needs some extra help.
Massive thanks to HostelWorld for this awesome surprise and the chance to climb the o2!