If you're travelling abroad for the first time in a while you may be feeling confused about the rules surrounding hand luggage liquids. What liquids can you take in your hand luggage and how much are you allowed?
With ridiculously long queues in airports at the moment and huge delays at airport security, the very last thing you want is to be held up due to getting your hand luggage liquids wrong.
At Manchester Airport last week there was an extra hours wait for anyone who needed to get their bags rescanned at security, and most of these rescans were due to people having random liquids in their bags.
So don't get it wrong. Follow my guide to travelling with liquids in your hand luggage and hopefully you'll avoid any lengthy delays at security!
If you're not a big reader, I'll make things easy for you.
You need this bag, these bottles and these pots and you'll be ready for airport security like a pro!
If you'd like a little more information then keep reading…
20cm x 20cm clear plastic bag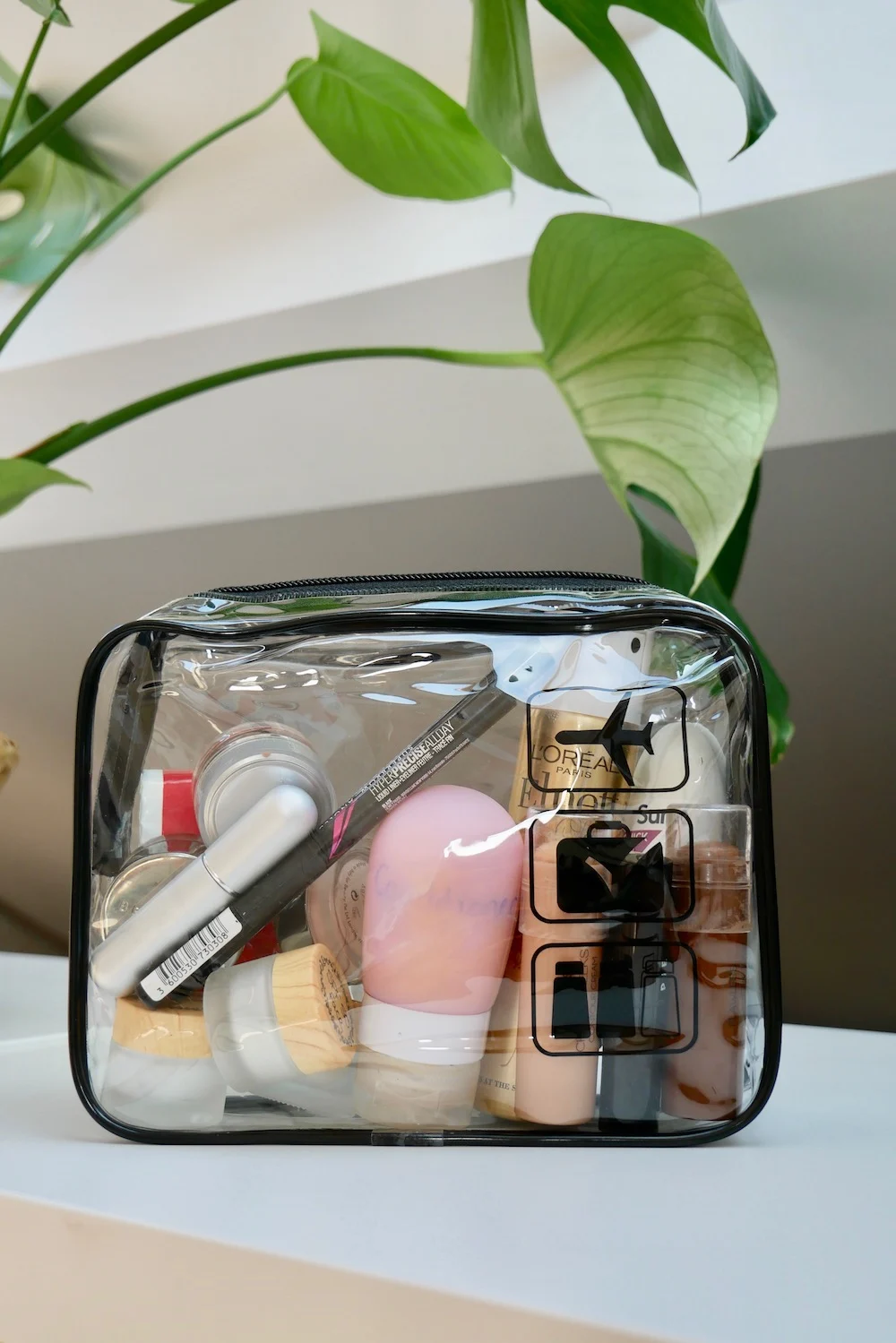 First of all, you need to have all of your liquids in a clear, plastic, resealable bag that measures no more than 20cm x 20cm. And yes, some airports will measure it so don't be tempted to go bigger.
You are only allowed one bag, no more! All of your liquids need to fit in this bag.
If you've got a stray lip balm hiding in the bottom of your bag or a few mouthfuls of water left in your water bottle then the machines will spot it and you will have to have your bags searched. So make sure all of your liquids are in your hand luggage liquids bag and it's no bigger than 20cm x 20cm!
Most airports do hand these bags out at security so don't worry if you don't have one.
But the ones they had out are flimsy so I prefer to use my own to avoid single use plastic waste and the possibility of it splitting open if it's stuffed to the top!
I have these TSA approved hand luggage toiletry bags from Amazon and I can't recommend them enough. They're as big as they possibly can be without being too big so they have loads of space.
No liquid bottles bigger than 100ml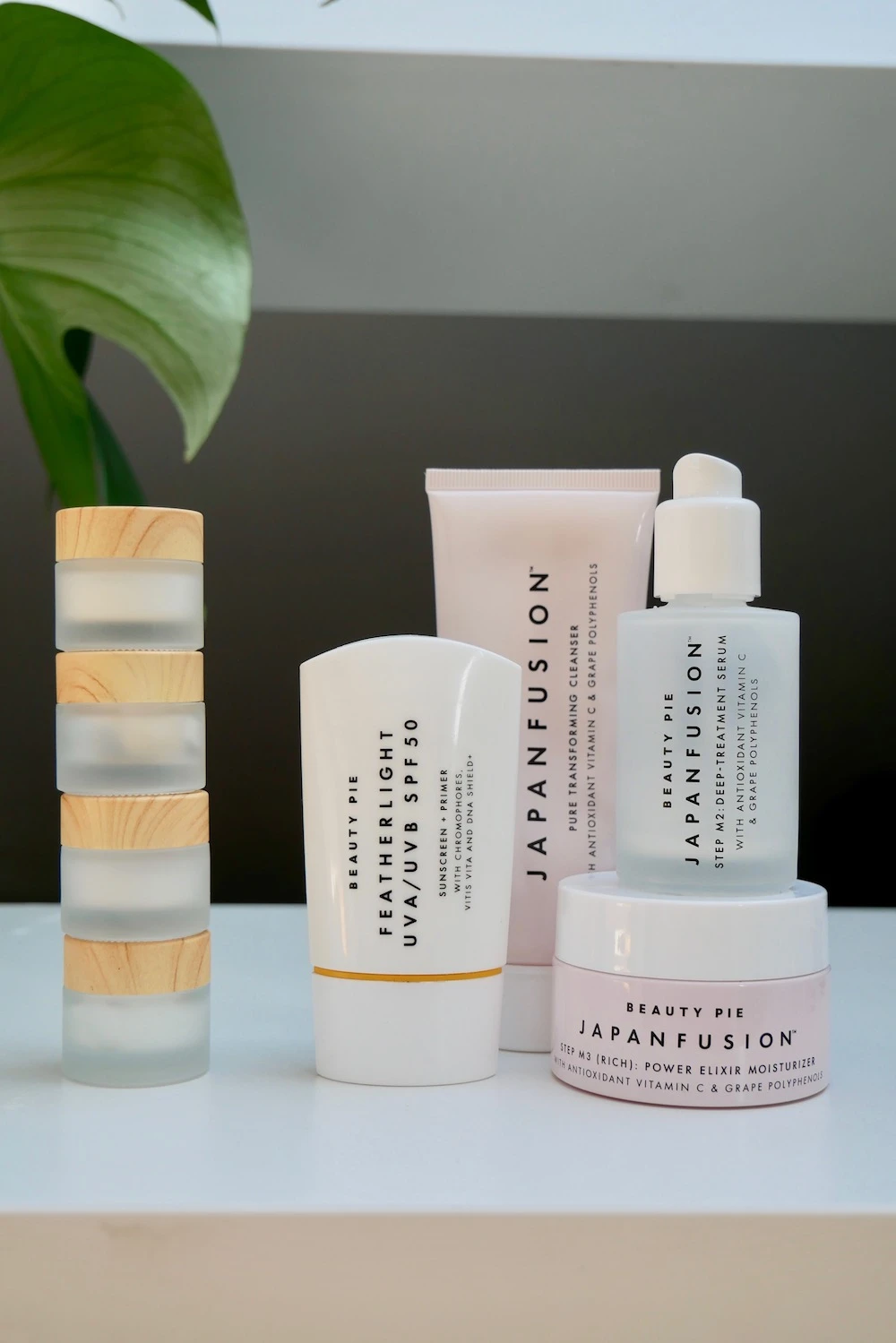 The second thing you need to remember is that nothing can be more than 100ml.
For many products this is probably going to mean decanting your liquids into smaller bottlers or buying miniature sizes.
I know it doesn't really make sense because you could take 8 x 100ml bottles of the same shampoo, but you can't take an 800ml bottle of shampoo!
It's much more cost effective to buy hand luggage liquids bottles and decant your normal products into these. Miniature bottles are expensive and it's even more single use plastic.
I have these lovely little jars that are perfect for travelling. They hold 10ml of a product and come with scoops and stickers so you can easily fill and label them. They look tiny but they hold enough product for a week away.
What are the best hand luggage liquids bottles?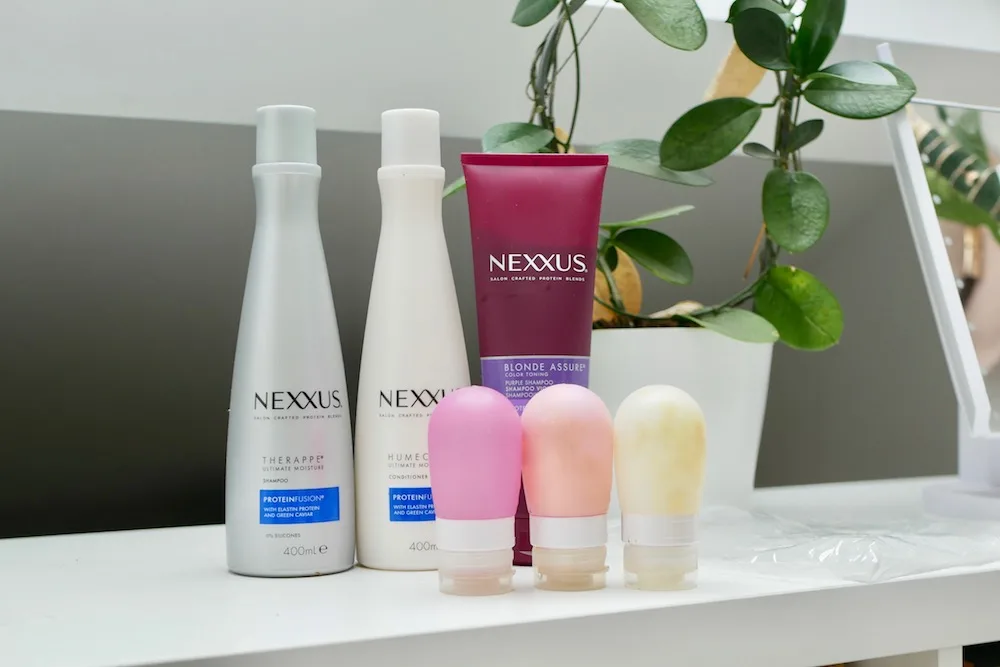 The best hand luggage liquids bottles are the silicone bottles. They're more durable, easier to fill and you can squeeze out the last drops of your product.
Regular plastic bottles tend to split when you're squeezing them so they don't last long in comparison to silicone ones.
I recommend buying high quality silicone bottles with a wide neck so they're easy to fill.
Whittle down what liquids you really need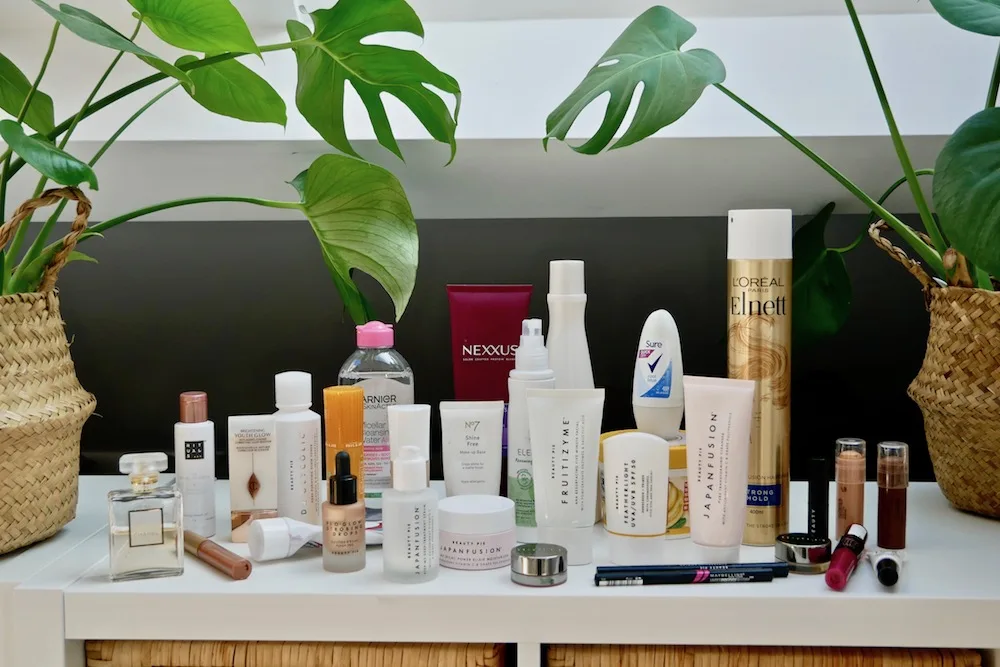 If you're travelling with just hand luggage then I'm guessing you probably won't be away for too long, so think about what you actually need and get it down to the bare minimum.
Can you go a few days without a leave in conditioner hair mask? Probably.
Can you leave your anti-wrinkle serums and lotions at home? I'm guessing so.
Is it the end of the world if you don't use your tooth whitening gel for a couple of days? Nope.
Cut it back to what you REALLY need before you even begin packing your hand luggage liquids bag.
Some miniatures are worth buying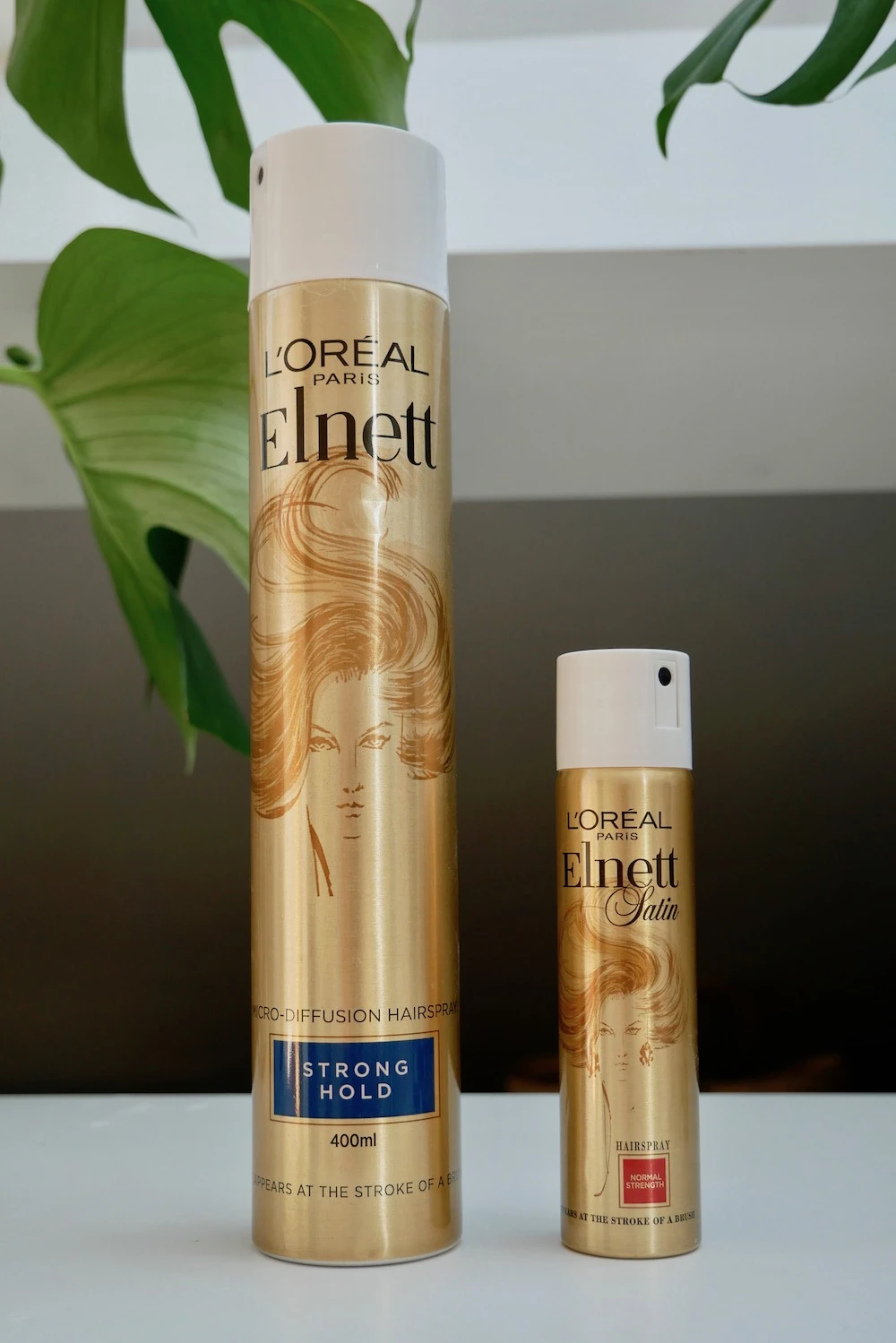 There are some things that are messy, tricky or impossible to decant into smaller bottles. For me, these things are toothpaste and hairspray. I travel with tiny tubes of toothpaste and little cans of 75ml hairspray. Alternatively, wait until you've almost finished a tube of 100ml toothpaste and roll it up and take that with you.
Switch to solid toiletries where you can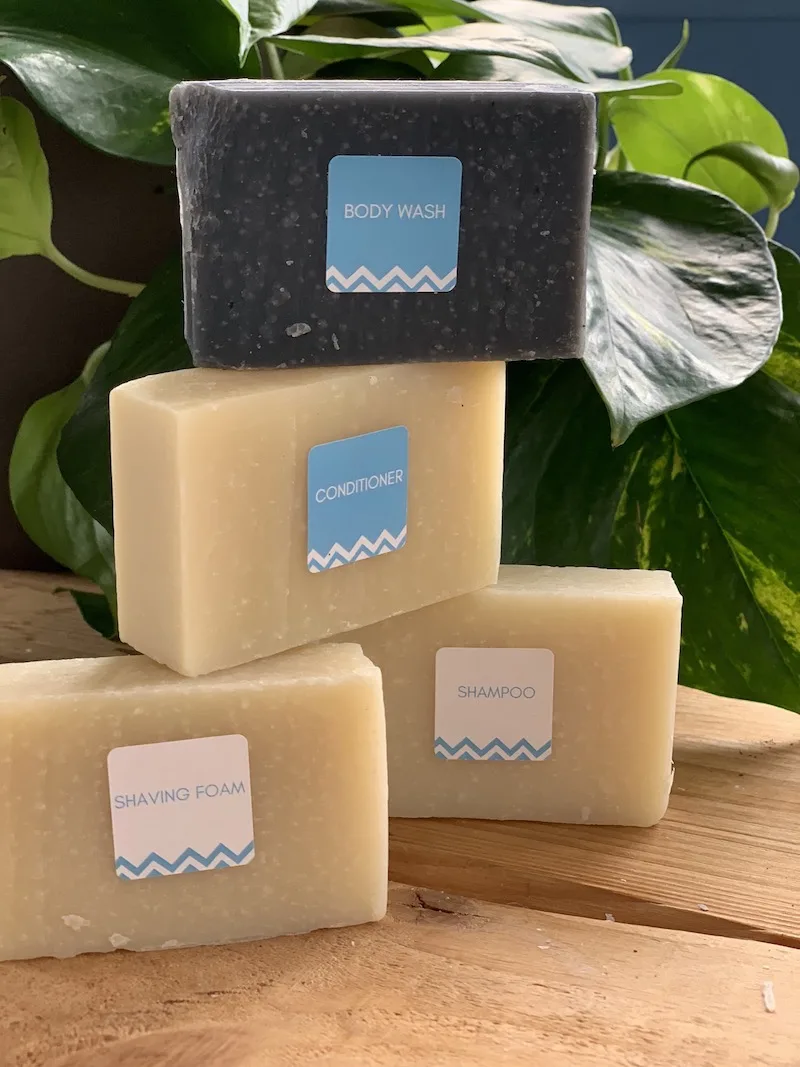 Wherever possible, switch to solid toiletries – not just for travelling but for life in general. They're cheaper, better for the environment and usually better for your skin too.
I've switched to solid soap and solid shampoo and I can honestly say I'd never go back to liquids now – it just seems so unnecessary!
I like the Garnier Ultimate Blends Solid Shampoo Bar and I also really like the XHC one. I found the XHC bars in B&M for £1.00. You can get a pack of 3 for £9.99 on Amazon which really still feels like a bargain if you can't get to B&M.
Airport security liquids: What is classed as a liquid at security!?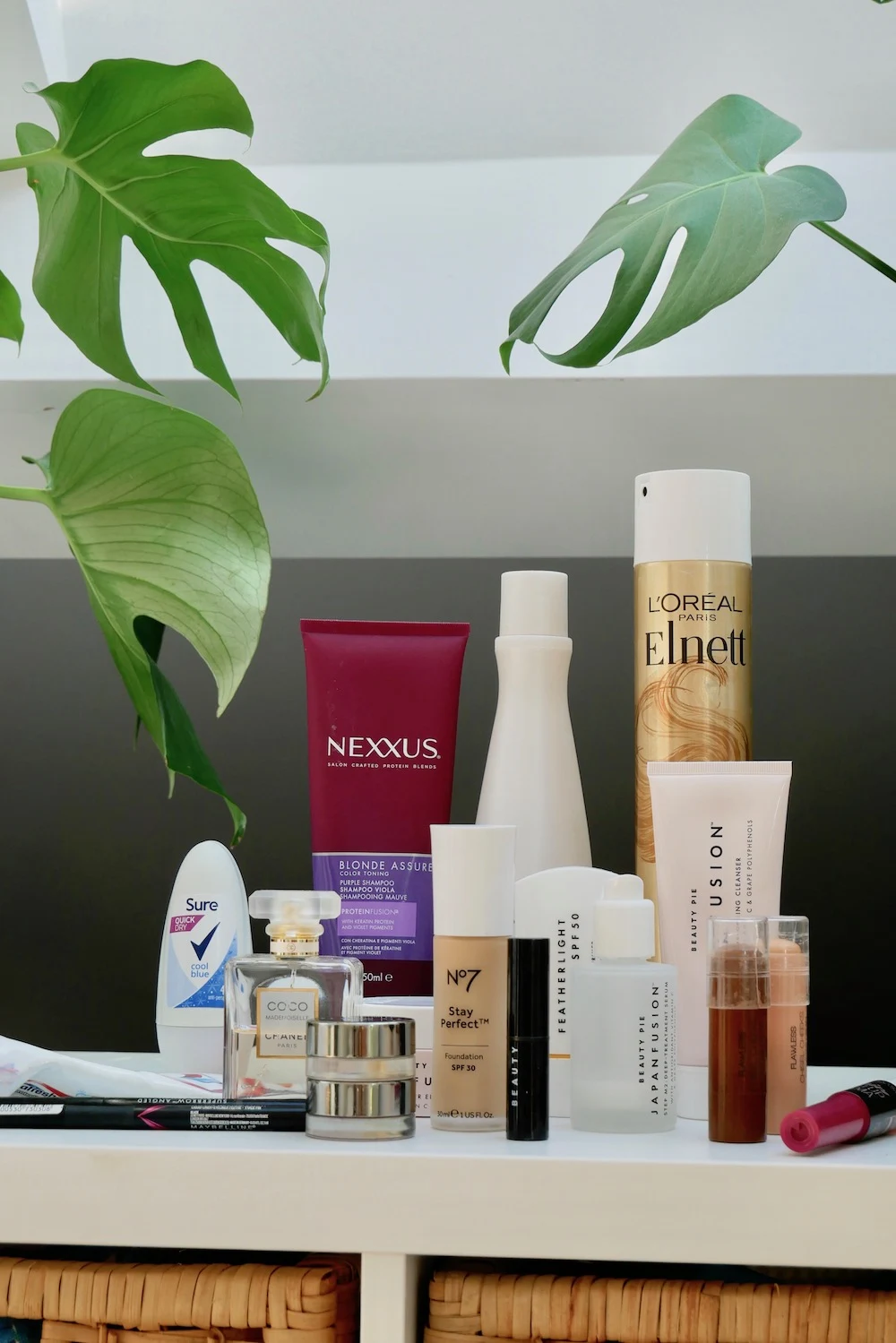 What is actually classed as a liquid can be a bit confusing. I once heard a security guard say, 'If you can spread it, it's a liquid!'
So this is obvious things like:
Liquid medicines
Shampoo
Conditioner
Toothpaste
Face cleanser
Liquid foundation
Roll on deodorant
Contact lens solution
And not so obvious things like:
Can you take liquids on a plane if you bought them in duty free?
Yes, if you've bought liquids at duty free then you can take them on the plane, no matter what size they are.
If I'm travelling with just hand luggage then I'll often buy a big bottle of sunscreen at Boots in the airport because I know they'll have my favourite brand.
You can even buy things online at Boots and have them ready to be picked up at duty free!
Just remember that some airlines can be funny about you getting on the plane with big duty free bags so I'd always be careful about buying too much.
Does toothpaste count as a liquid in your hand luggage?
Yes, it does!
You can buy dry toothpaste or 'toothy tabs' from shops such as Lush but, to be honest, they're disgusting. They're dry and gross and don't give you the clean, minty fresh feeling like regular toothpaste does.
Maybe it just takes some getting used to but I don't like it!
So yes, you'll need to put your toothpaste into your clear, plastic hand luggage liquids bag and it must be smaller than 100ml. But actually, a 100ml tube of toothpaste is pretty big and could last a whole family a few weeks.
How can I take perfume in my hand luggage?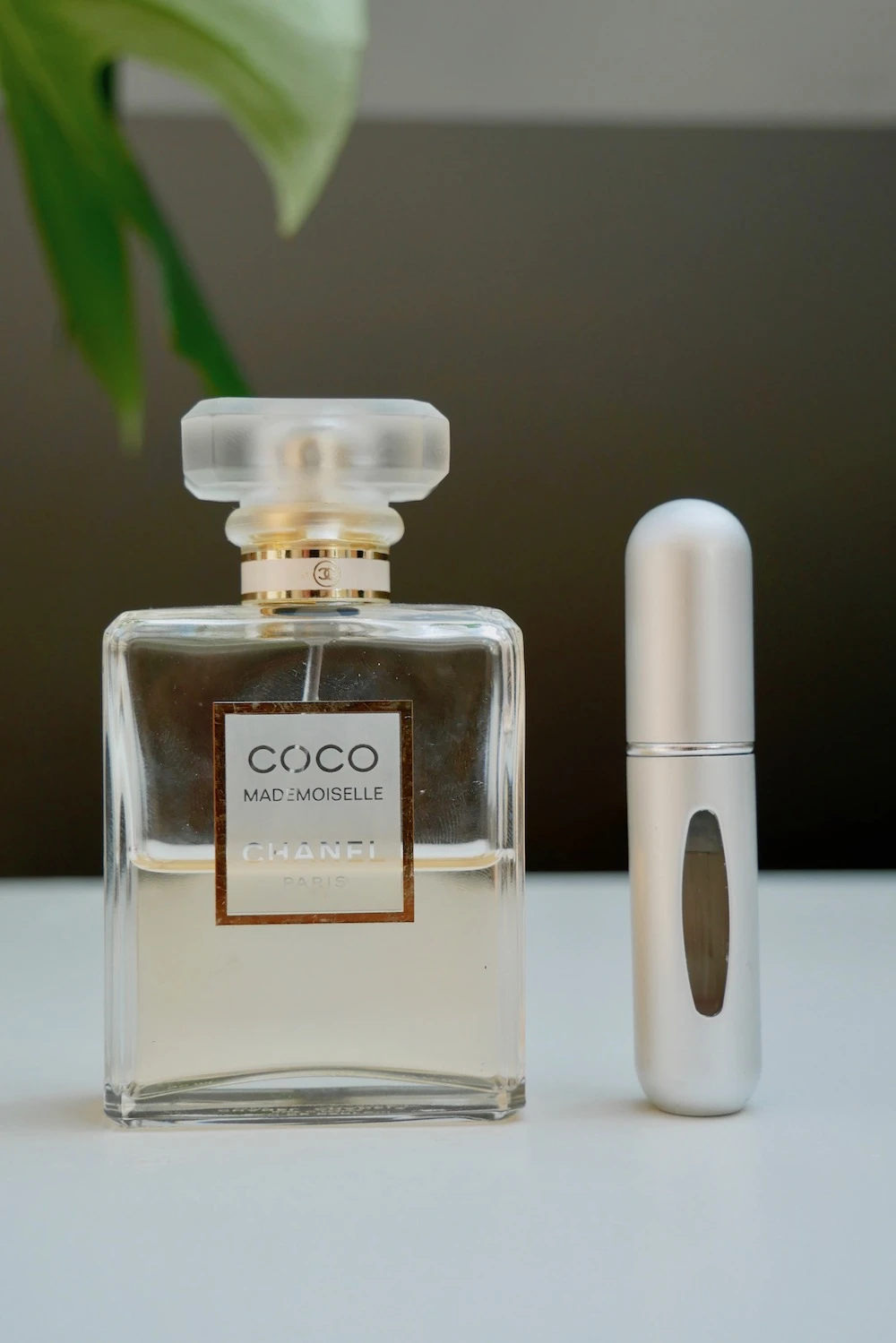 You need to get yourself one of these refillable 5ml perfume bottles. You just take the cap off your perfume and you squirt it into this little bottle.
Even if your perfume bottle is under 100ml I would recommend one of these. It's cheap, easy and lightweight and much easier than carrying a bulky perfume bottle.
Do I need to put my liquid medication in my hand luggage liquids bag?
Yes you do.
What happens if I try to take liquids on a plane in bottles bigger than 100ml?
Your liquids will be confiscated and you won't get them back.
So please, please don't try and get on the plane with 1 litre of expensive whiskey or a bottle of champagne or a giant bottle of perfume because it will be confiscated.
Can I take a refillable water bottle through airport security?
Yes, provided your water bottle is empty, you can take it through security. Most airports have drinking fountains so you can refill it on the other side of security. If there isn't a fountain then you can ask a bar or cafe to fill it for you.
How many 100ml bottles can I take in my hand luggage?
You can take as many 100ml bottles as you can fit inside your hand luggage liquids bag.
If your bag is 20cm x 20cm and fairly wide then you can easily fit about 8 100ml bottles in it.
That's why I highly recommend getting one of these little bags from Amazon as you can fit so much in them. They're wider than the ones they hand out in the airport so you'll get way more in them!
Here's everything I put in my hand luggage liquids bag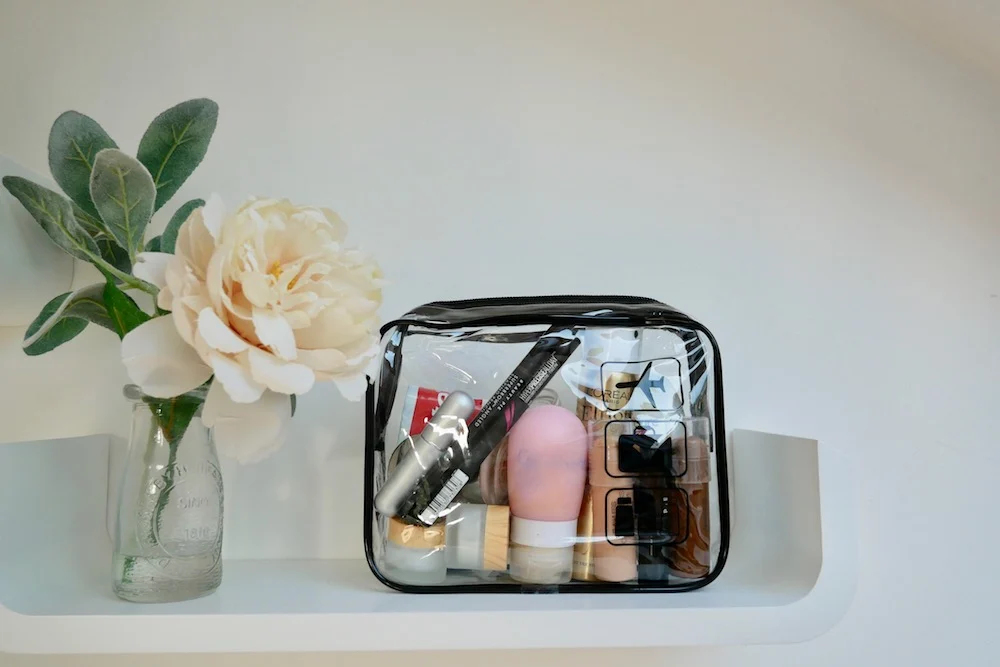 Here's everything I put in my hand luggage liquids bag:
Toothpaste
Conditioner (I haven't found a solid conditioner that works for my dry hair)
Roll-on deodorant
Face cleanser
Facial SPF 50
Moisturiser
Face serum
Foundation
Concealer
Cream blush
2 x contour sticks
Lip balm
Creamy eyebrow pencil (I have no idea if this actually needs to be in there)
Liquid eyeliner
Mascara
Lipstick
Hairspray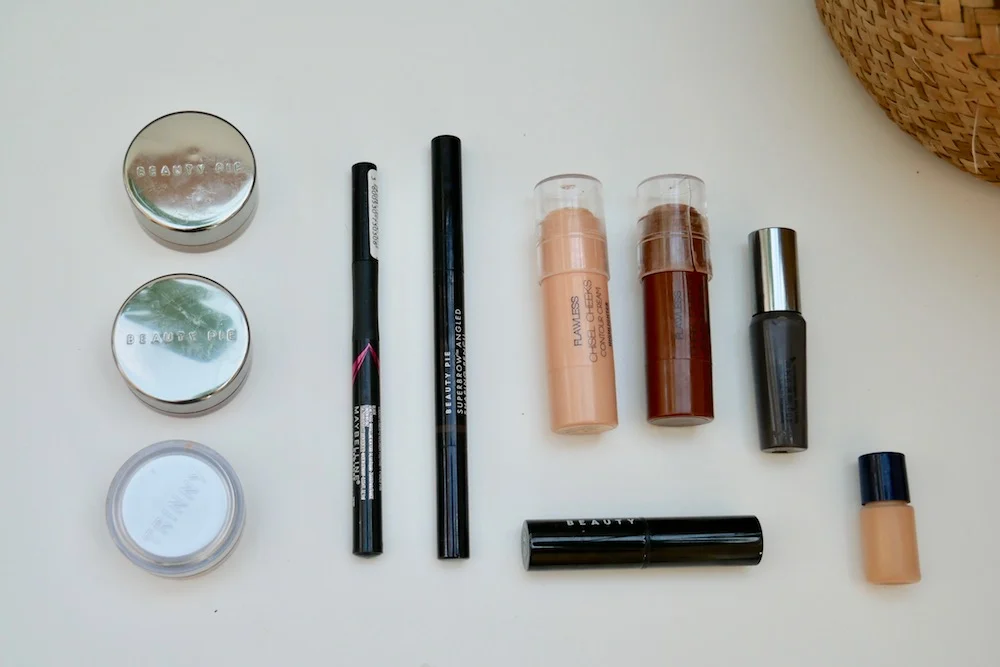 Read more: