I've lived in North Wales nearly all of my life but there are still hidden gems and gorgeous beaches I still discover today. Porth Iago is one of those!
Porth Iago is a beautiful, sheltered beach on the Llyn Peninsula in North Wales. It's a little tricky to access as the car park is on private land and it's hidden down narrow country lanes. But it's worth the extra effort so here's my guide to visiting Porth Iago!
Where is Porth Iago Beach?
Porth Iago is on the west coast of the Llyn Peninsula in North West Wales.
I recommend finding it by searching for 'Porth Iago Campsite' on Google Maps.
Do not use Apple Maps, use Google Maps.
Porth Iago is accessed via a private farm so it may feel like you're in the wrong place at first, especially as a sign on the drive says it is private property. But drive a little further and you'll soon see the pay and display parking machine!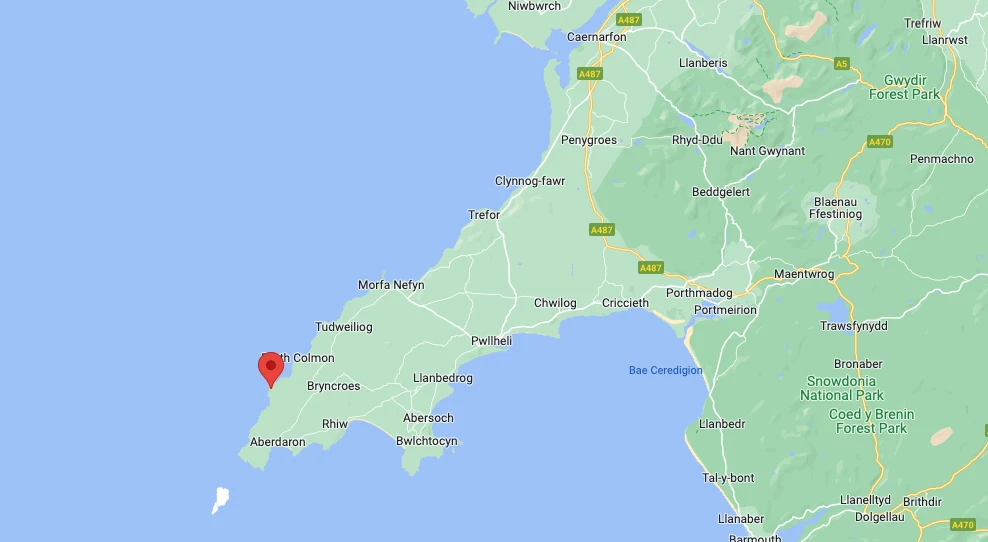 What is Porth Iago?
Porth Iago is a bit of a hidden gem in the area. It's a beautiful sandy cove with the most gorgeous water and golden sand. It's enclosed so it's sheltered from the wind and it faces the sunset.
Nearby beaches such as Abersoch, Criccieth, Porthmadog and Aberdaron are popular hotspots but Porth Iago is lesser known so it doesn't get as busy.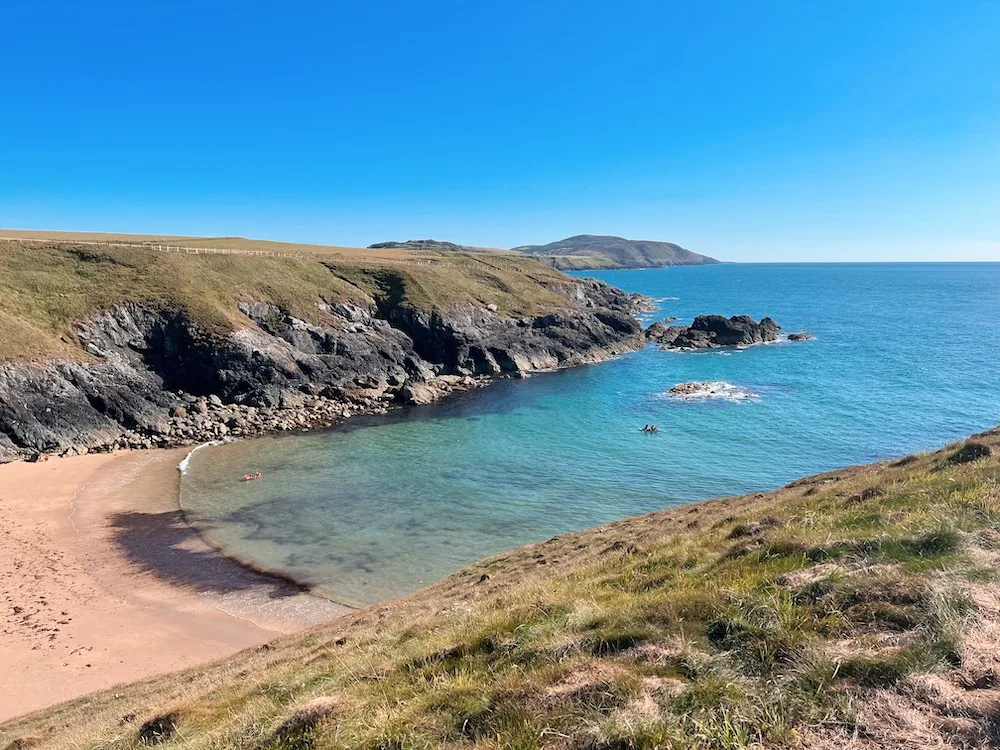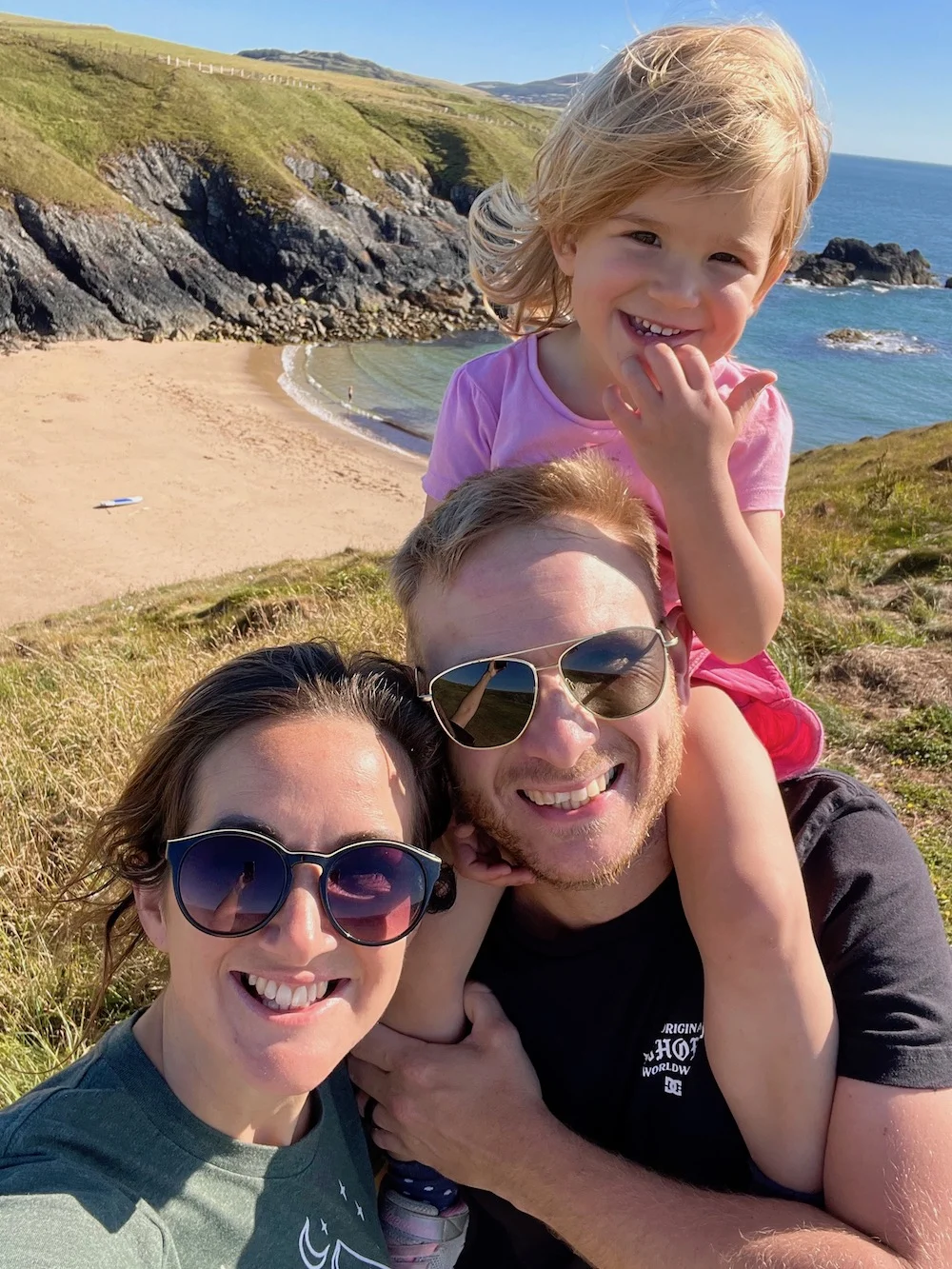 Parking at Porth Iago
Access to Porth Iago is via private land so it can be a bit confusing.
The actual beach is not private but access to it is and it's important to remember that you're crossing a private farm and the farmer has made this access public. The farmer has created a car park and campsite on his land. This is not council owned or run by the National Trust.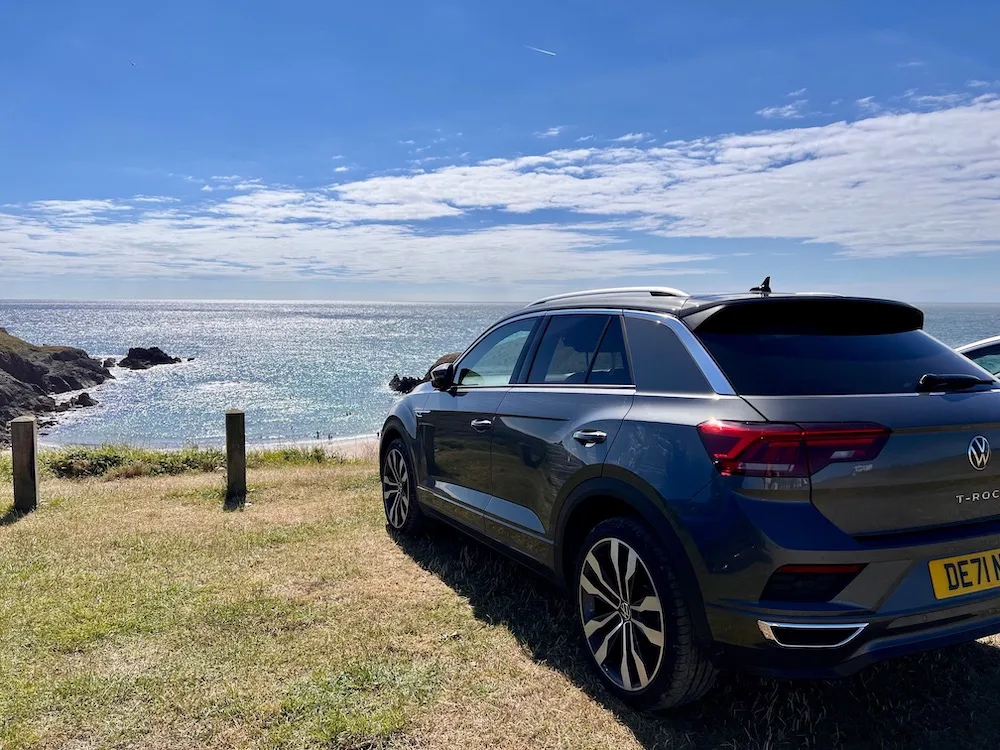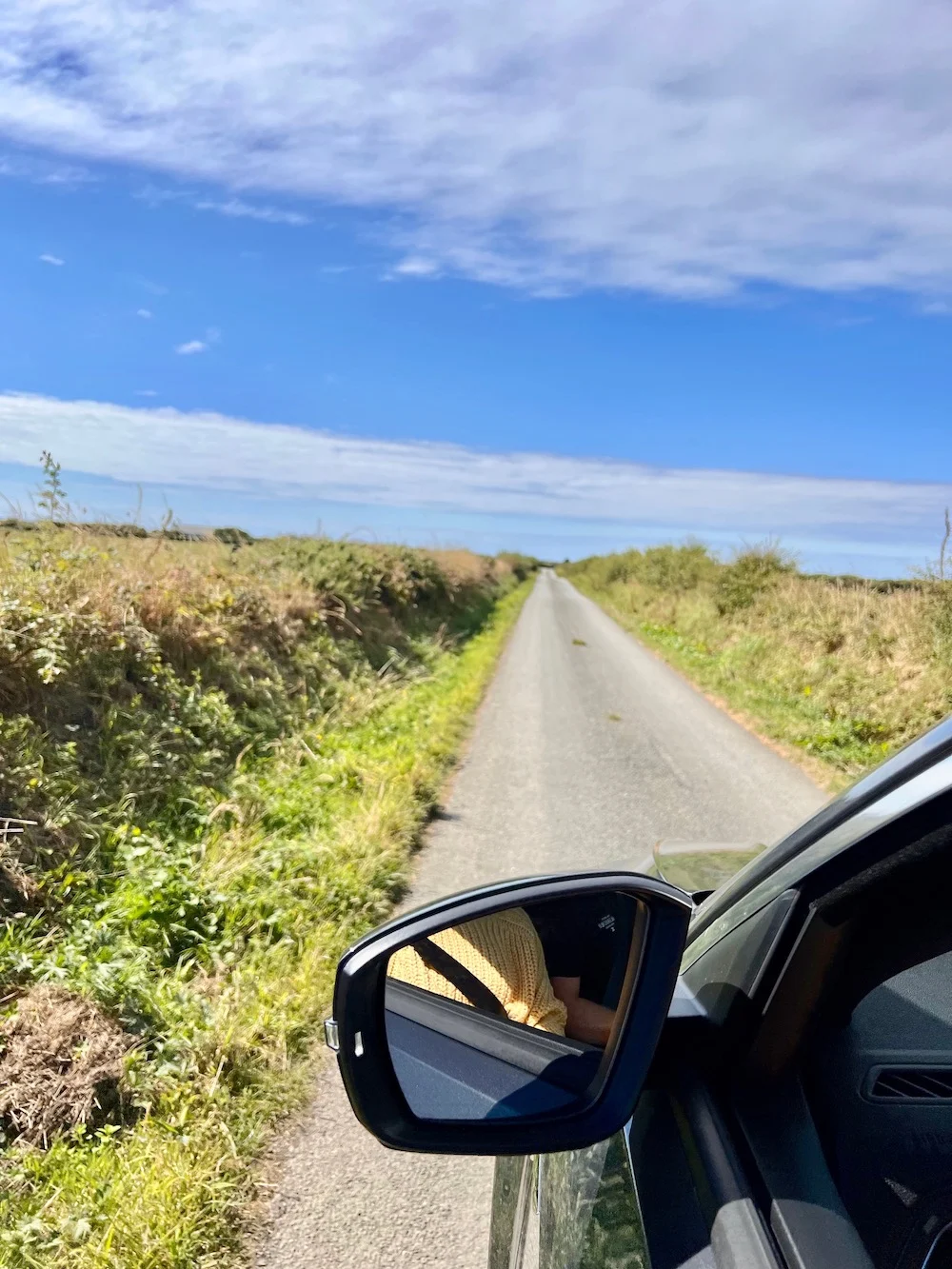 Porth Iago Car Park
You do have to pay to park at Porth Iago. You can pay via a Pay and Display machine which is located outside of the farm house as you drive in. You can pay with card.
The following fees apply (accurate as of August 2022)
Pedestrians/ bicycles – £1
Motorbikes – £2
Cars – £5
Cars + a dog – £6
Overnight stay – £20
Overnight stay with a dog £22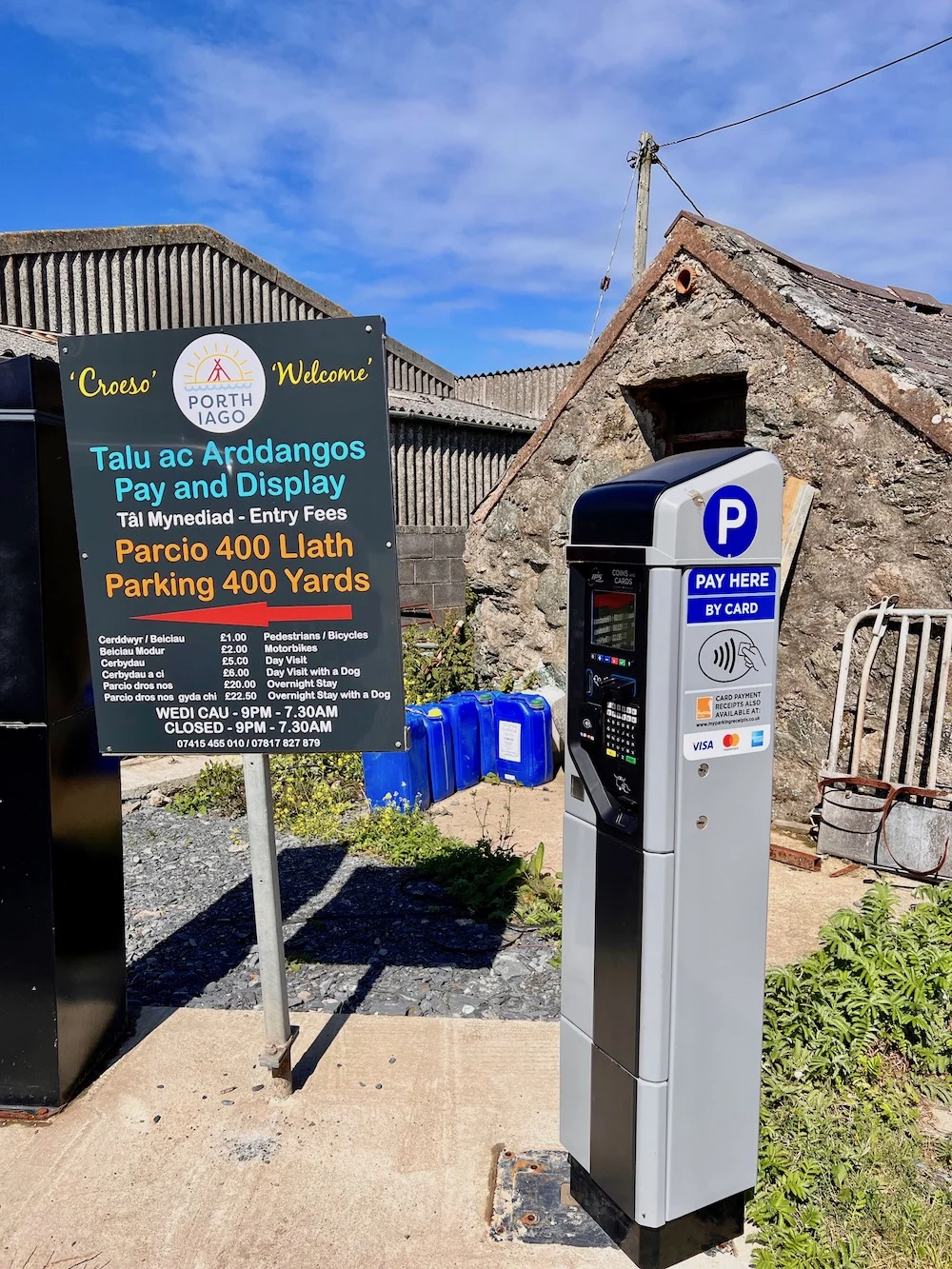 Access to Porth Iago – Is it accessible?
Once you've parked you can access the beach via a steep, sandy path down the cliffs. The path is short and steep and not easily accessible. If you have mobility problems you will not be able to walk down.
Our last visit was with our three young children ages 7, 5 and 2. Our elder children loved scrambling up and down the path and our youngest managed most of the walk with her hands being held but did need to be carried for some parts.
If you go slowly you will manage it in flip flops or sandals.
If you're a little unsteady on your feet but want to give it a go then I'd recommend wearing a good pair of trainers or boots and have someone in your party who can carry your bags.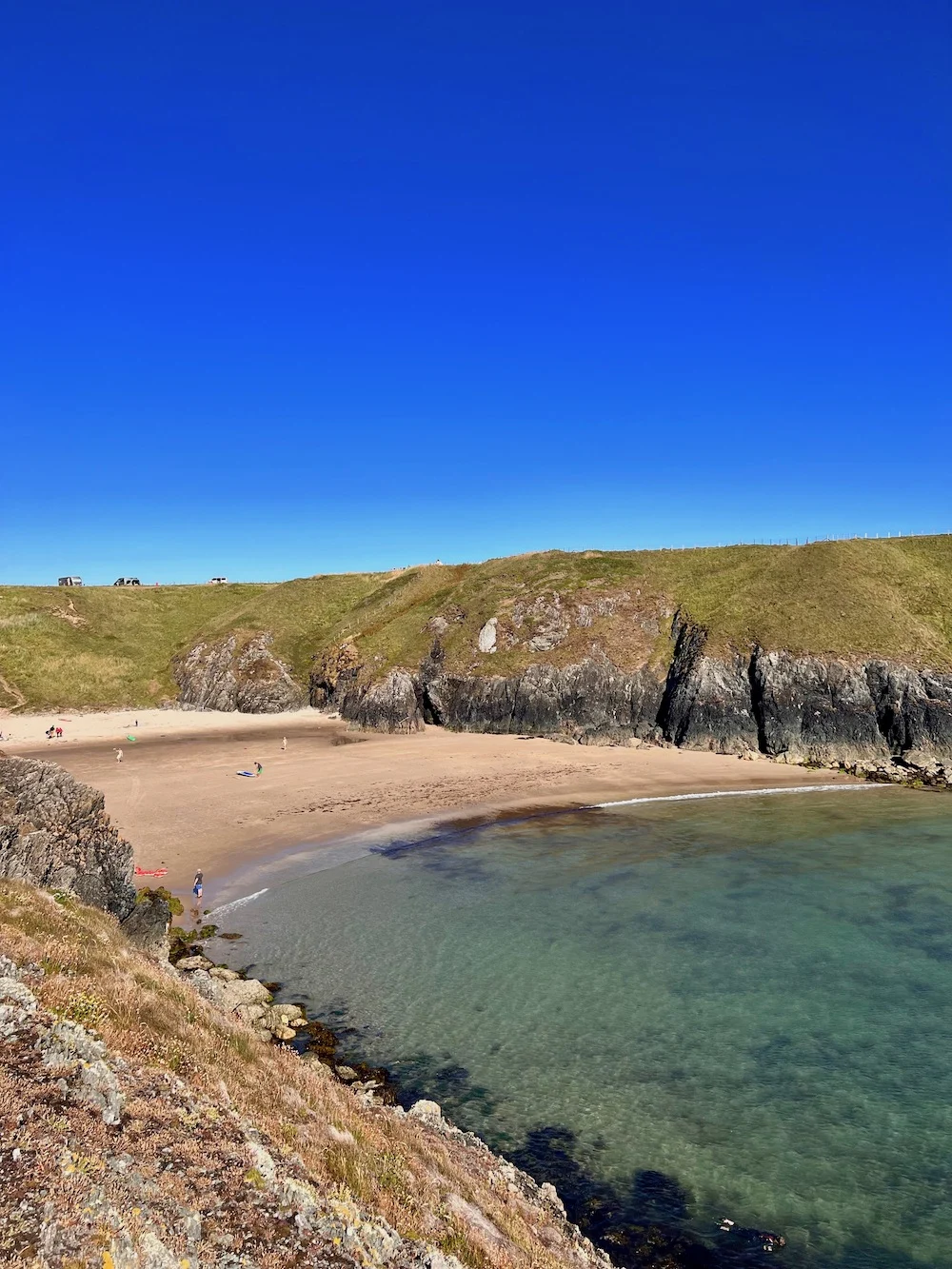 What facilities are at Porth Iago?
There are toilets and a small food truck is there everyday during the summer months.
There are also bins but it's best to take your rubbish home with you.
The food truck serves burgers and things like sausage and bacon baps as well as cans, chocolates, sweets, crisps and ice creams.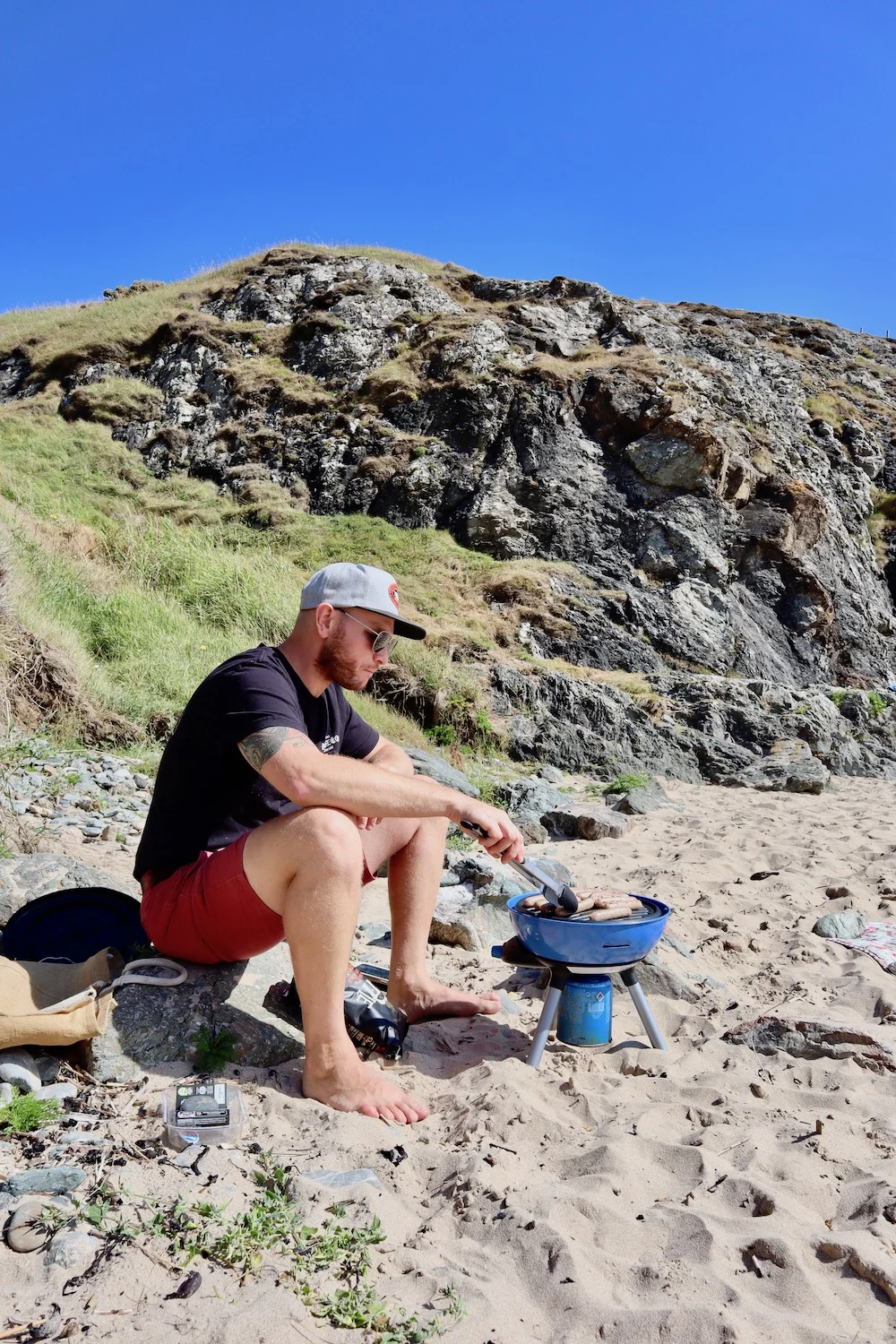 Can you take your dog to Porth Iago?
Yes, dogs are welcome! There is a small additional fee for dogs. It's £1 extra for a day visit and £2 extra for an overnight visit.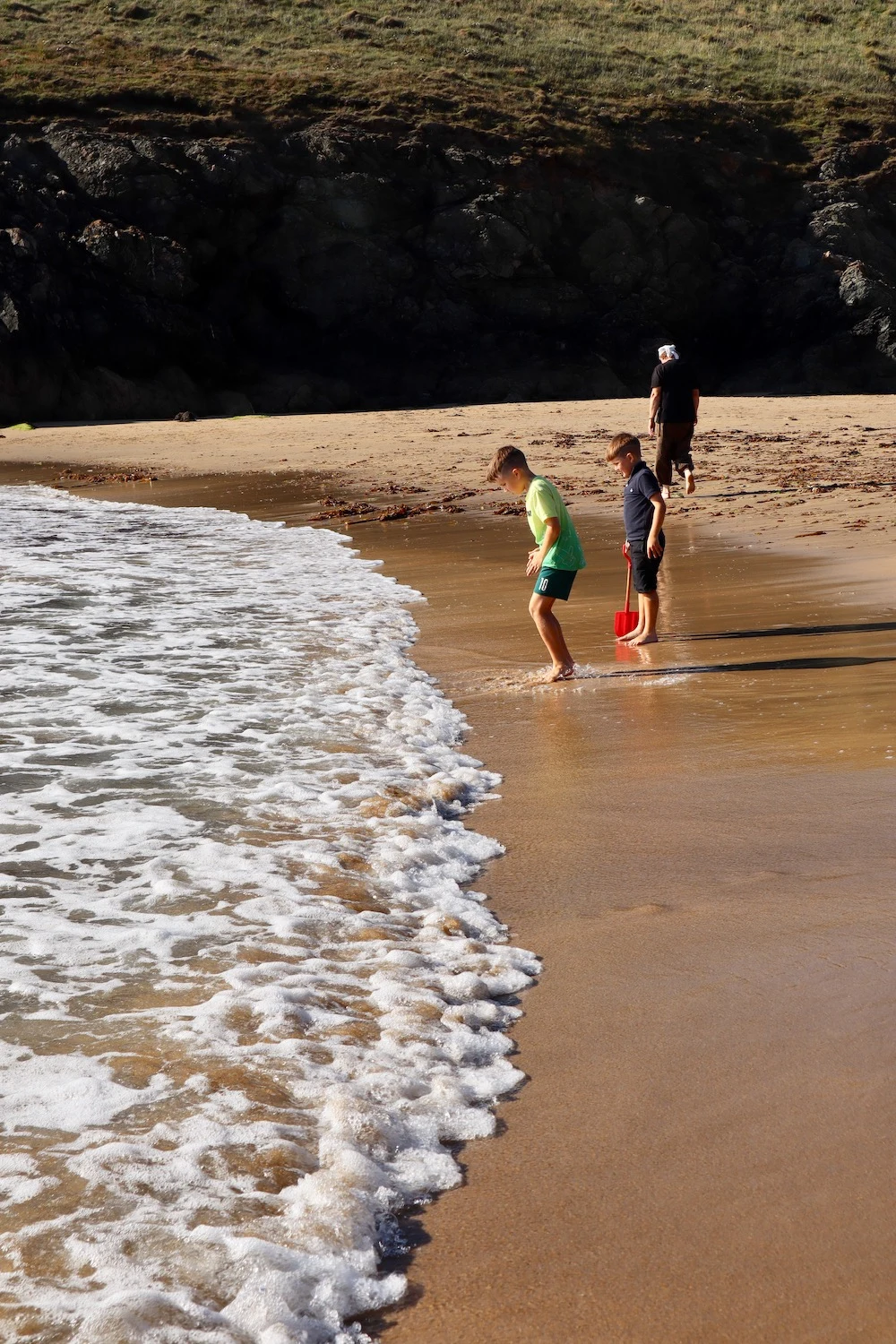 Can you take paddle boards and kayaks?
Yes, lots of people take paddle boards and kayaks and even inflatables to Porth Iago. It's a lovely, calm, sheltered bay so it's a great place for gentle watersports.
Just be aware that it is a steep walk down to the beach so some people may find it difficult to carry their boats and boards down there and back up again.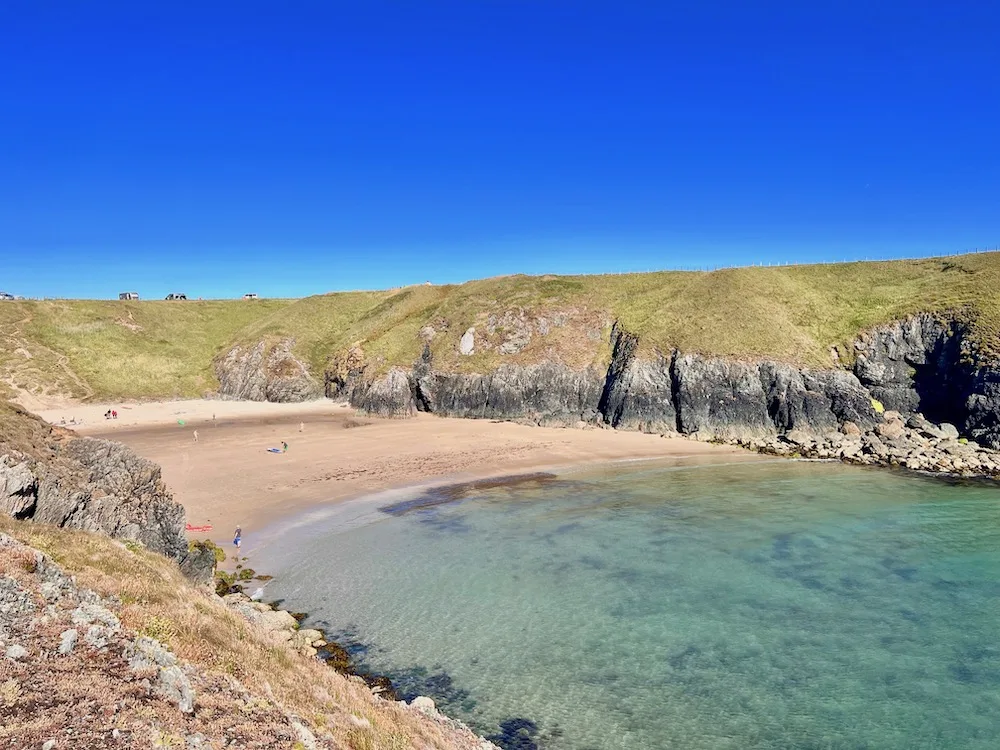 Can you snorkel at Porth Iago?
Yes, the snorkelling is great at Porth Iago! It's a great place for nervous snorkellers and kids too as it's so calm.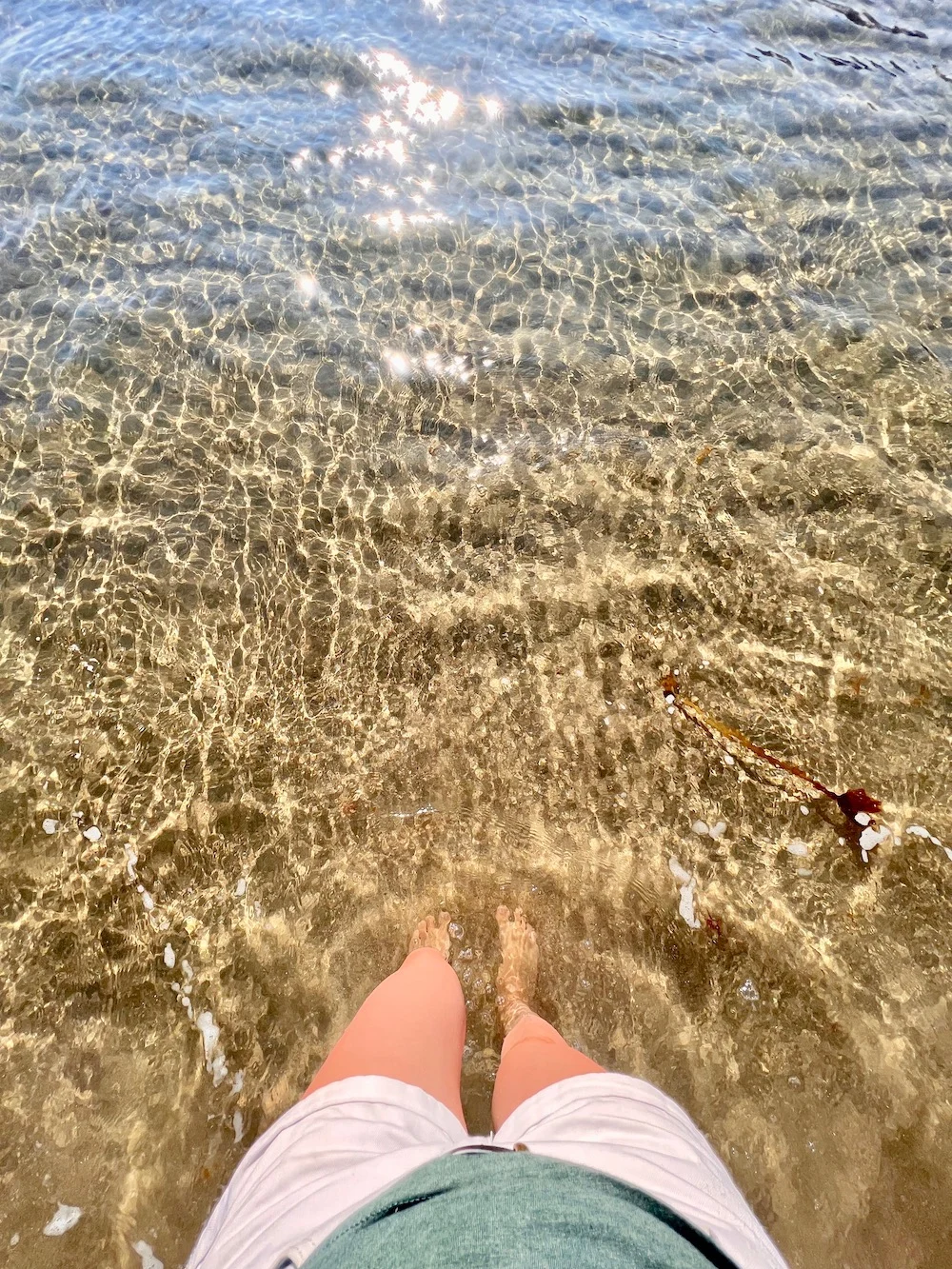 Is there much shade at Porth Iago?
No, there's not a lot of shade so if you'd like to sit in the shade I recommend taking an umbrella or pop-up beach tent.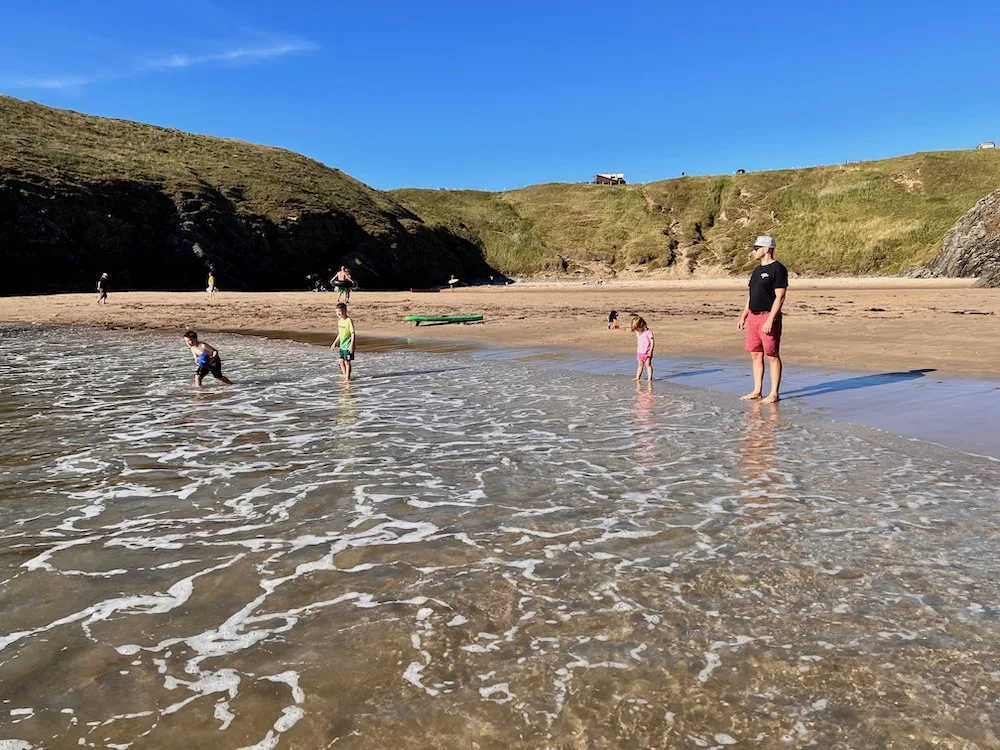 What's the Porth Iago Campsite like?
I haven't personally camped at Porth Iago but it looks gorgeous. You do need to pre-book so it shouldn't get too busy. Tents and vans are welcome and you can even park your campervan right next to the cliff for that incredible view!
The campsite is fairly basic but it's lovely. What more do you need when you've got that view right next to your tent or campervan?
To book your camping you can find the contact information on their Facebook page.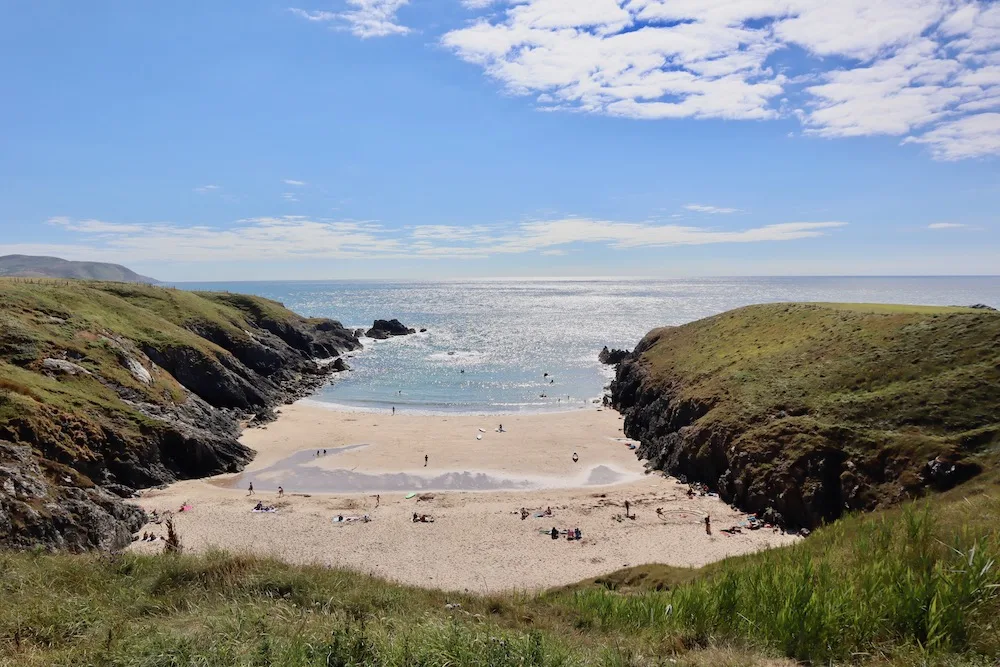 Can you walk along the Welsh Coastal Path from Porth Iago?
Yes there's direct access onto the Welsh Coastal Path so there are some incredible walks to be taken from the campsite.
Is Porth Iago near Whistling Sands?
Yes, another gorgeous beach nearby is Whistling Sands. If you were to drive from Porth Iago to Whistling Sands it would take about 15 minutes. You can also walk along the coastal path. I haven't done this myself but I've been told it takes about half an hour and is an incredibly beautiful walk.
Read more:
Another of my favourite beaches on the Llyn Peninsula is Llanbedrog Beach.
And if you're travelling further towards West Wales then Llangrannog in Ceredigion is gorgeous!