Today's blog post is about finding the best heated jacket to keep you warm this winter. I'm one of those people who is always cold so a heated jacket has been an absolute game changer!
We're just delving into the cold weather here in the UK so it's time to dig out the winter woollies and invest in a proper coat that will beat the winter chill!
If you're looking for the best heated jacket for this cold weather then I've got you covered! And if you're new to the world of heated jackets then let me fill you in…
Heated jackets and heated vests/gilets have become popular over the past few years because we now have such tiny batteries. Technology has developed and given us incredibly powerful, rechargeable batteries we can keep in our pockets, meaning we can heat our coats with just a tiny device.
Heated jackets are powered by a portable battery which is stowed away in a discreet inside pocket of the coat. The battery is recharged at the plug at home via USB and connects to a cable inside the jacket.
Heated jackets have panels within them with a heating element that warms up quickly. It really is like having a tiny radiator inside your jacket.
Now if you're searching for the best heated jacket then I'm sure you will have come across so many designs with hundreds of conflicting reviews and massive variations in price. The internet is a wonderful beast, but it can make things so confusing when you find SO MUCH information online.
I'm here today to simplify things and share a few options.
In my opinion, there isn't a massive variation in the 'heated' part of the jacket. Even the cheap ones seem to do just as good a job at heating as the expensive ones. The big decision when choosing the best heated jacket for you really comes down to the design of the jacket.
Best heated gilet for putting a stylish coat on top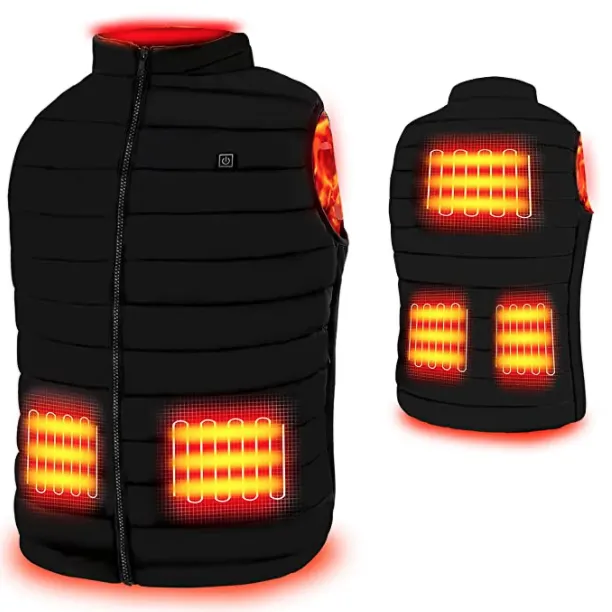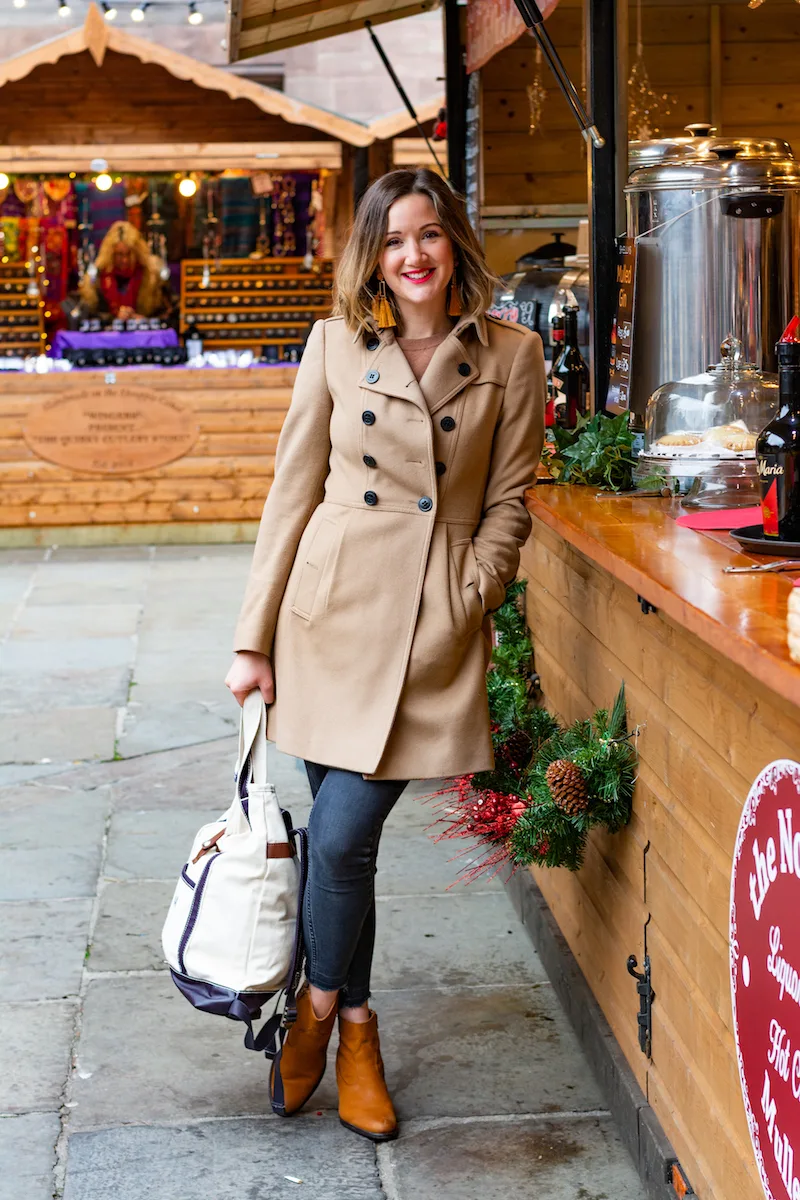 Wear a heated gilet beneath a nicer coat to get the warmth without an outdoorsy look
You've probably noticed that most of the best heated jackets have an outdoorsy style suited to countryside walks and casual settings. If this style isn't for you then I highly recommend getting a heated vest or gilet to wear beneath a more formal or stylish coat.
This is also a more affordable option so you can save your money for a nicer coat to go on top!
Rrtizan Heated Vest for Mens and Womens, USB Electric Heating Vests, 3 Temperature Levels Heated...
★【Safety & Intelligent】Rrtizan heated vest designed with the latest carbon fiber and imported high-quality TPU heating sheet for quick heat up. If up, it would stop running until the heat...
☀【Heated Coats with 3 Temperature Control】Fast heating within 1-3 seconds, 5 Heating pads will warm you up to 60-65℃/149℉ across core body areas (left waist, right waist, left flank, right...
❃【Free Size & Unisex Style】Freedom of waist-size, adjustable as needed, a simple electrically heated jacket suitable for men and women, which is great for all kinds of winter sports or outdoor...
Here's another one in white which I really like!
Kintiwe Heated Vest for Women, Heated Jacket with USB Electric Thermal Body Warmer, 3 Heating...
[ATTENTION]: As this heated vest is small than usual vest, we recommend that you buy a larger size. If you have any questions when you buy or receive the heated vest, please contact us in time, we...
[5 heating Zones and 3 Heating Levels]: Heated vest has 5 heating zones with 3 heating levels (red light high = 60 ° C; white light medium = 55 ℃; blue light low = 50 ℃) . Carbon fiber heats up...
[12000mAh High Battery Capacity ]: With the 12000mAh power bank, the runtime up to 10 hours, it will give you a strong support in cold weather.(Low-temperature: 10 hours; medium-temperature: 6.5...
Best lightweight and slim fit heated jacket
The 8K Flexwarm Heated Jacket <- click for full review and more photos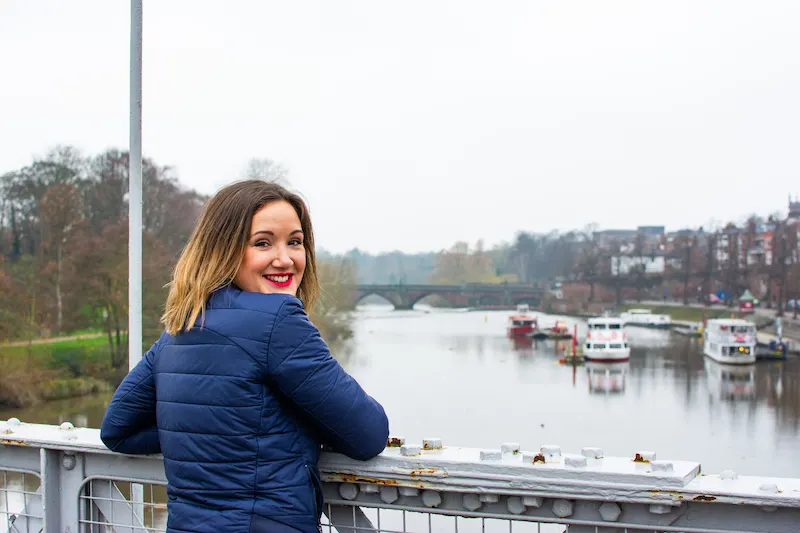 The 8K Flexwarm Heated Jacket isn't the warmest I've tried but it's great for chilly days and another good option to wear beneath another coat.
While you might be thinking, 'Why would I buy one that isn't the hottest!?' I actually wear this one the most. It still gets really toasty and warm and is thin enough to slip nicely beneath a more stylish outer coat. I also like the tighter, fitted design. This means the jacket sits close to your skin so you feel the warmth more. As a smaller person, I don't really like wearing big puffy coats because I feel like a big round ball with two little legs poking out! So this thin jacket is nice to stop that feeling!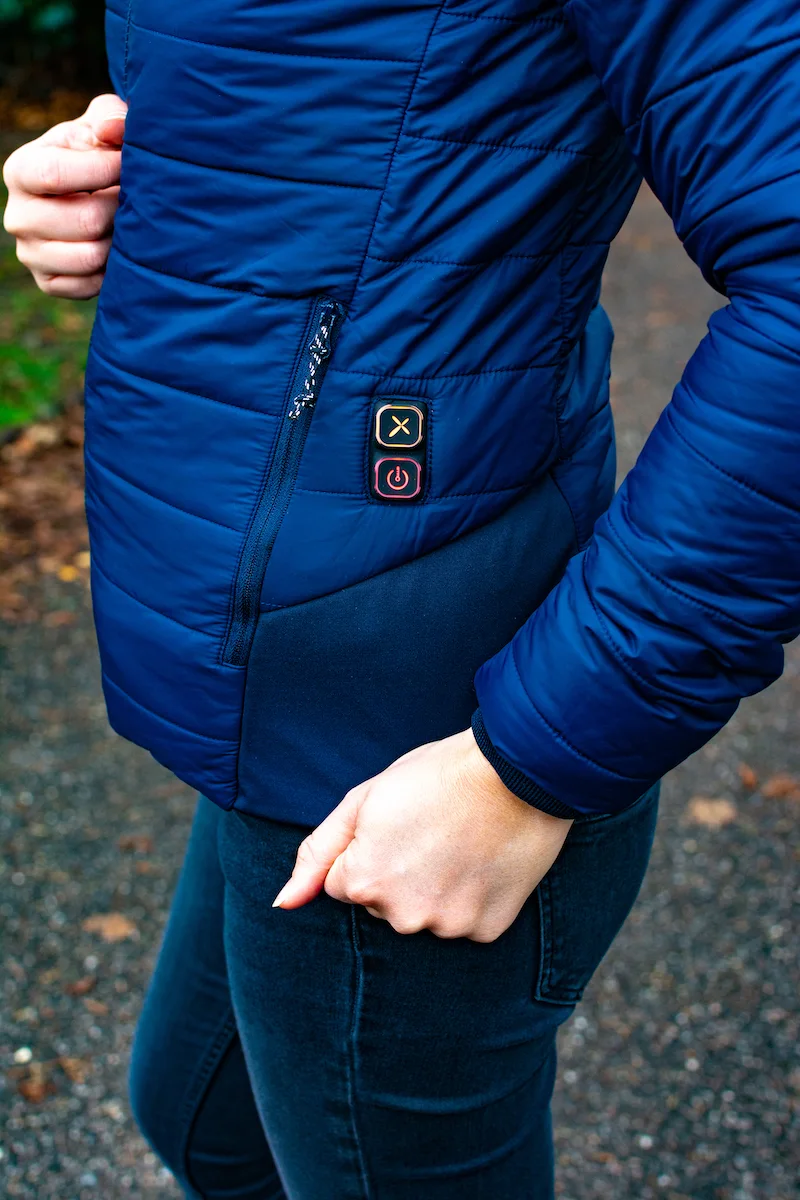 Another really nice slim fit option from Amazon is the Ororo slim fit heated jacket. This one has a detachable hood and I love that it's a flattering shape for a woman's figure (and doesn't make you feel like a little round ball!)
ORORO Women's Slim Fit Heated Jacket With Battery Pack And Detachable Hood (Black,L)
STYLISH DESIGN WITH BREATHABLE FABRIC: Soft shell fabric exterior with fleece lining ensures you don't lose any excess heat and enjoy comfortable warmth; Detachable hood is specially designed for...
HEAT ACROSS BODY: 3 carbon fiber heating elements generate heat across core body areas (left & right chest, mid-back); Adjust 3 heating settings (High, medium, low) with just a simple press of the...
QUICK AND LONG-LASTING WARMTH: Heat quickly in seconds with 7.2V CE/UL-certified battery; Up to 10 working hours; USB port for charging smartphones and other mobile devices.
Best quality coat and heated jacket combo
Blazewear Explorer Jacket <- click for full review and more photos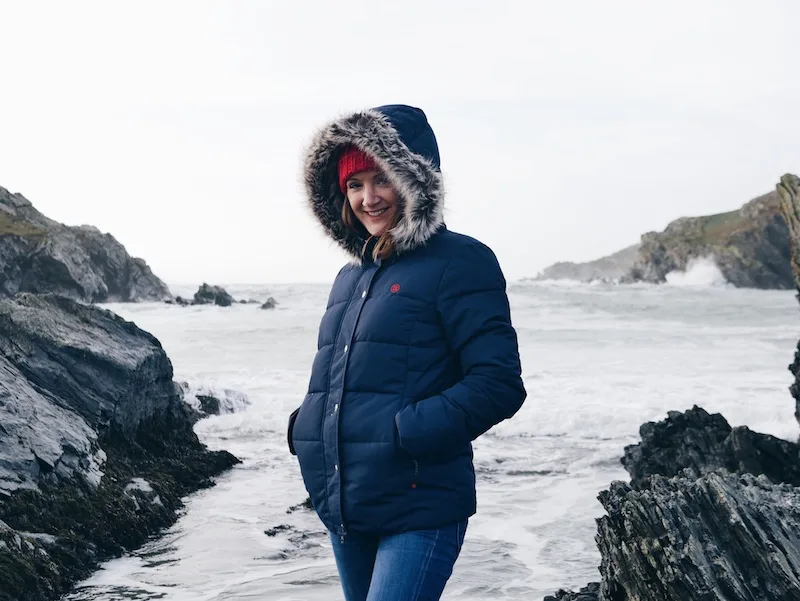 This is a more expensive coat but it's the best heated jacket in terms of heat, quality and design. Everything about it is so well made and it's the kind of coat you'll be wearing for years to come. It is an outdoorsy design so best for walking, casual outings or skiing. I've actually worn this on two ski trips and it was perfect!
The battery pack for the Blazewear jackets is quite heavy and it isn't possible to use a smaller one (I've tried!)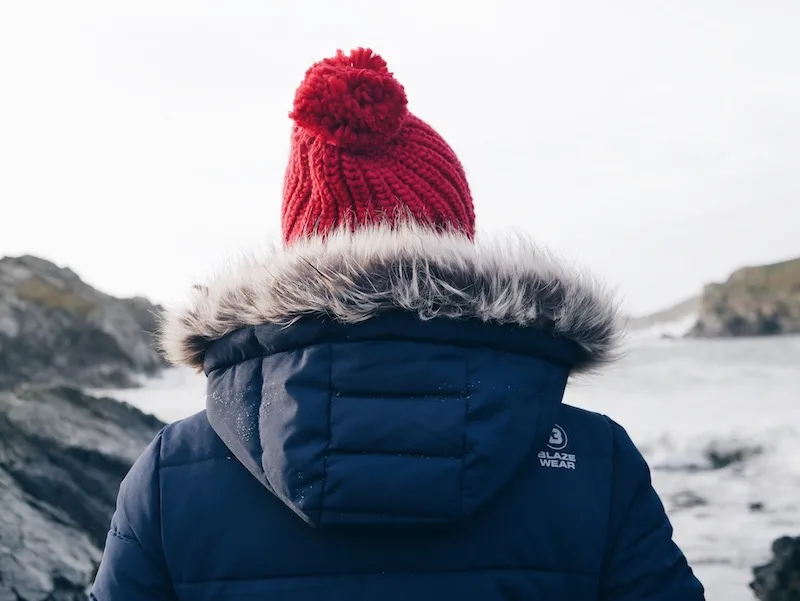 Best stylish coat for women
ActionHeat 5V Heated Long Puffer Jacket
This one is only available to the North American's out there as shipping is only available in the US and Canada.
I haven't tried this one myself but it's the only heated jacket I can find that is actually a really nice coat too. It's a long puffer jacket with a faux fur hood and looks stylish, cosy and warm! If you don't like the option of wearing a heated gilet or lighter heated jacket beneath your nice coat then this could be the option for you.
If you're not in North America then there's another gorgeous one available on Amazon UK which I love!
Anniou Duck Down Heated Jacket Double Switcher 3 Levels Temp-adjust Jacket Winter Coat (No Power...
3 heating cell locating on back and abdomen, speeding up heat for reaching the highest temp (60°C). Powered by a 5V portable charger (if you want more warm, also could accept use a 7.4V USB power...
Smart chip, dual-control temperature control, only 3-5 seconds to bring you warm! There is 3 modes of adjustment: providing temp from 25~55°C.
Brand new heating tech, not only intelligent temperature control, also brings hyper safety with 5V ultra-low voltage.Could be easily block cold and wind, effectively maintain the body temperature and...
And this one is lovely too. It doesn't look like a heated coat and even has a heated hood which must be amazing!
Best coat with heated pockets
If you don't want to go for a full on heated jacket then there are coats available with heated pockets. Dreamy, right!?
Here's a nice, stylish option..
ZEQI Heated Puffer Jacket for Women, Winter Long Sleeve Zip Warm Thickened Puffer Jacket Baggy Short...
[Lightweight down jacket]: This Oversized heated jacket is filled with 90% down, which not only keeps warm, but also makes you fashionable and stylish. The thick down jacket can accompany you through...
[Built-in heat source]: This women's heating jacket includes a built-in heating plate, which can generate heat on the back. Use a standard 10000 mA power bank (not included) to quickly heat up.
[3 temperature settings]: Puffer Jacket Short Coat adopts a one-button button design and has 3 heating settings (high, medium, and low). You can adjust the temperature to suit your needs.
And another mid length coat in black or pink with heated pockets…
Smart heating down jacket women's white duck down mid-length hooded autumn and winter lightweight...
Insulation: The battery-heated jacket has a three-zone heating system, which includes 3 ultra-fine carbon fiber heating plates placed along the chest and upper back to increase the core body...
Lasting warmth: The winter hooded jacket is equipped with a 5V 1000mAh power bank. This power bank can quickly charge and heat clothes. Four LED power indicators show the battery life of the mobile...
Temperature settings: The long heated jacket uses a one-button design with three heating settings-high (red): 150°F, medium (white): 130°F, low (blue): 110°F.
Best colourful heated coat
If you're a bit fed up with most of these heated coats being black or navy blue then fear not, I've found a few colourful heated jackets that will bring some cheer to a dull day…
USB Charging Electric Heating Clothing for Unisex with 3 Heating Levels 8 Heating Zones Warm Heated...
☁ Health Heated Jackets: The heated jackets can help promote blood circulation, relief pain of muscles. Perfect for outdoor activities like snowmobile, motorcycling, mountain climbing, camping,...
☁ 8 Heating Zone and Temperature Control: The built-in 8 heaters, the intelligent three-gear temperature control which is suitable for adapting the vest heating temperature according to the...
☁ Did't Come with Battery: No specific battery required.You can use your own power bank to charge the heated jackets, powered by any 5v portable charger (low and safe voltage),the usb plug is...
TOYOMO Women Heated Jacket with Battery Pack Washable Hoodie Jacket Winter Overcoat Slim-Fit Jacket...
[Outdoor Sportswear]Windproof, breathable, warm and wear-resistant. Suitable for skateboarding, skiing, hiking, camping, fishing, mountaineering, traveling, outing, hunting, cycling, self-driving, ice...
[Heating jacket] 3 heating zones, warm your abdomen and back. The carbon fiber heats up quickly, has high efficiency, is washable, and is resistant to bending; the constant temperature protection...
[Intelligent temperature control] 3 levels of temperature, abdomen/back dual control, long press for 3 seconds to turn on/off. Red: ≈45-50°C, white: ≈35-45°C, blue: ≈25-35°C. The heating...
WANFEI Heated Gilet Heating Jacket, 3 Adjustable Temperature Electric Heated Vest for Women, USB...
【5V/2A USB Charging & Keep Warm For A Long Time】🔥🎁 Heating Jacket is compatible with any power bank with 5V 2A USB output port. A 5000mAH to 10000mAH fully charged power supply can be heated...
【4 Heating Zones】🔥🎁 Electric heated vest including 4 carbon fiber heating elements generating heat across collar, back and abdomen for core-body warmth. Heated clothing help promotes blood...
【3 Heating Levels】🔥🎁 WANFEI Heat Body Warmer has two buttons to control the heating area of the back and belly separately. Adjust 3 heating settings (High, Medium, Low) with just a simple...
Best budget heated bodywarmer
So you want to feel the heat without feeling the hit on your bank balance! I hear you. Many of these heated coats are pricy but there are heated gilets and bodywarmers available at a fraction of the cost.
Here's one I found on Amazon for just £27.29!
Bseical Warming Heated Vest USB, Electric Heated Body Warmer, Heated Jackets for Men/Women, Washable...
▶ Lightweight and comfortable: The heating vest is made of lightweight insulation materials, waterproof and windproof, comfortable and skin-friendly, and smooth to the touch. It can help you easily...
▶ 9 heating zones and 3 temperature settings: 9 carbon fiber heating pads are built in the front and rear, allowing you to feel the warmth in 360°. Press the LED button to adjust the 3 available...
▶ Fast and long-lasting warmth: The USB plug is compatible with most 5V mobile power supplies on the market (not included), and can be heated quickly without radiation (the size is slightly smaller,...