I have a bit of an obsession with luggage. Some girls like shoes. Some girls like handbags. I like luggage! Suitcases and backpacks and shoulder bags, I love them all!
I love the feeling of organisation you get with a new bag. You have a pocket for everything and it just makes me feel neat and tidy and like I've got my act together!
Over the years I've been sent A LOT of luggage to review but no suitcase or backpack was ever perfect.
There was always a pocket in the wrong place or a zipper that wasn't quite right!
A lot of the luggage I tested felt like it had been designed by someone who had never even been on a plane! I wanted to find luggage that made flying easier and helped to make airports less stressful – especially when you're flying with just hand luggage.
And that's where The Travel Hack Luggage comes in!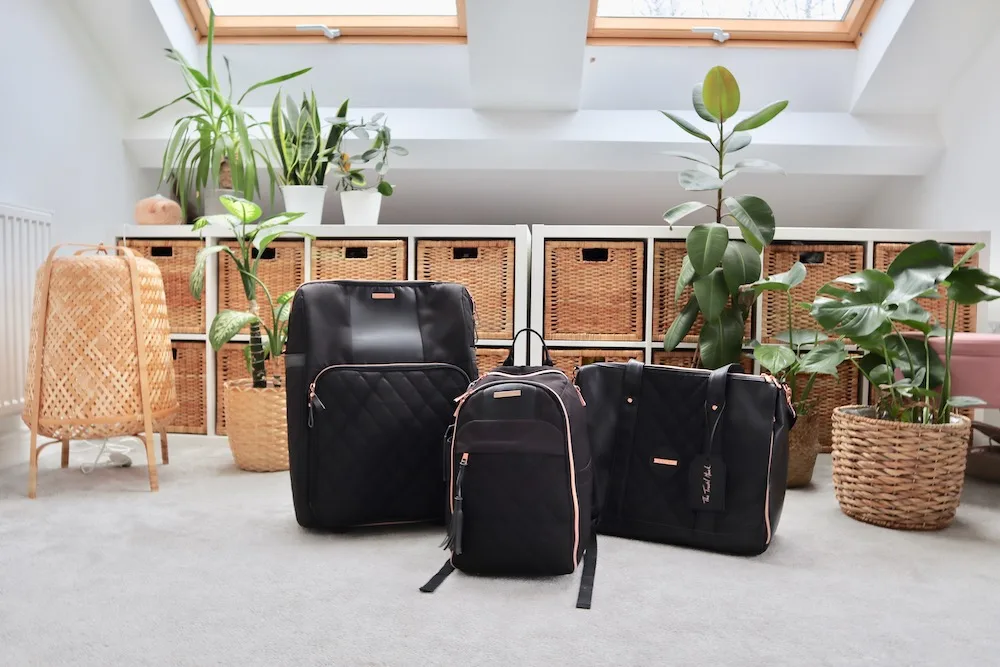 Teaming up with Cabin Max
I teamed up with Cabin Max, a local luggage manufacturer specialising in cabin bags.
Cabin Max are based in Wrexham, North Wales. Their offices actually aren't far from my house and it's a bit of a coincidence we started working together. When I was pregnant with my first son, George, Cabin Max reached out and offered to send me some goodies for the baby and a baby changing bag. When I sent them my address to post the bag out we realised how close we were!
I ended up going for lunch with the Cabin Max team and I think we all realised we shared a love for travel, luggage and simplifying the process of flying with great luggage!
Cabin Max's most popular piece of luggage is their famous Metz 44L backpack. It's the perfect dimensions to take on a plane as hand luggage and gained popularity with budget travellers looking to beat the airlines and not pay for any luggage.
Cabin Max had a fantastic range of practical luggage but lacked a stylish, feminine range.
As The Travel Hack focused on travel hacks to help travellers find stylish experiences on a budget, a collaboration between Cabin Max and The Travel Hack was a perfect match.
Meeting the Cabin Max team was a dream because I finally found a group of people who shared my passion for great luggage!
Designing luggage that takes the stress out of flying
Flying with just hand luggage can be stressful because you have so many things to take out of your suitcase when you pass through security and when you get on and off the plane.
I hate that feeling of rummaging through your suitcase looking for liquids and electronics while also trying to hide your underwear from everyone in the queue!
I wanted to find a suitcase that kept everything you needed to remove at security separate, and in a compartment that made it easy to remove them.
And let's not forget that if you've only got hand luggage then your bags can end up being heavy and there's always the stress of it being too big and getting a hefty fee at the boarding gate!
I also wanted to find something that had a quick and easy place to stash your handbag. We've all been there when you're only allowed one bag on a plane but you've actually got two so you're sat on the floor of the airport, opening up your suitcase trying to squish one bag inside the other. Then you get on the plane and you need your handbag straight back out again!
It was due to these avoidable problems that The Travel Hack Pro Cabin Case came about!
The Travel Hack Pro Cabin Case
The Travel Hack Pro Cabin Case was the first piece of luggage we released. It has a top 'handbag compartment' that's easily accessed and you can pop your handbag inside when boarding the plane
The top compartment is also perfect to store your liquids and electronics to quickly remove when going through security.
This suitcase is within the dimensions to be taken onboard with most airlines but IT IS HUGE! I promise, it's not too big to get on the plane! Loads of people get it and think it's going to be too big but thousands of people have flown with it hundreds of thousands of times and it is fine. It's taller and thinner than most suitcases to make the most of the awkward dimensions the airlines allow and this means you get the biggest suitcase you can possibly have without it being oversized – meaning you can take the most luggage possible! Winner winner.
The suitcase does only have two wheels and, while we did discuss adding 4 rotating wheels, we decided this would make the bag much smaller, heavier and more expensive. We decided to keep the bag as big as possible and the price lower so you get better value for money and can pack more!
Read more about The Travel Hack Pro Cabin Case here and see some more photos!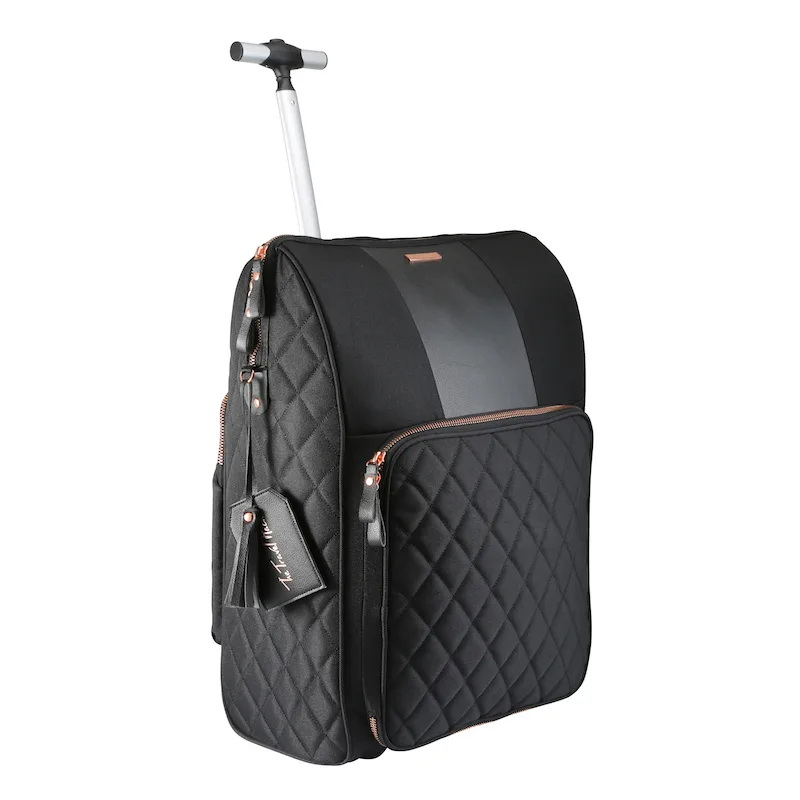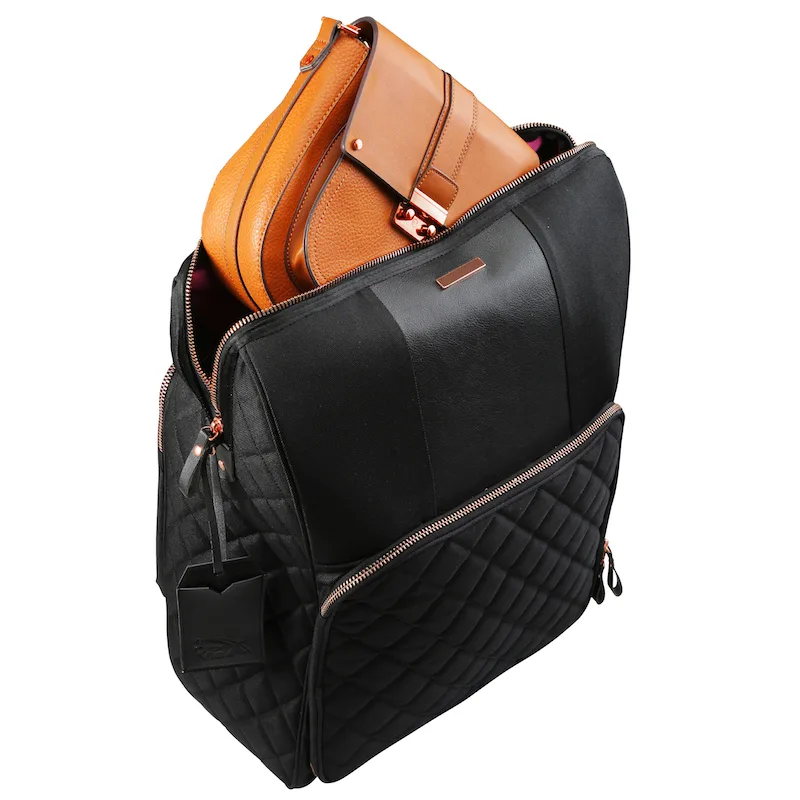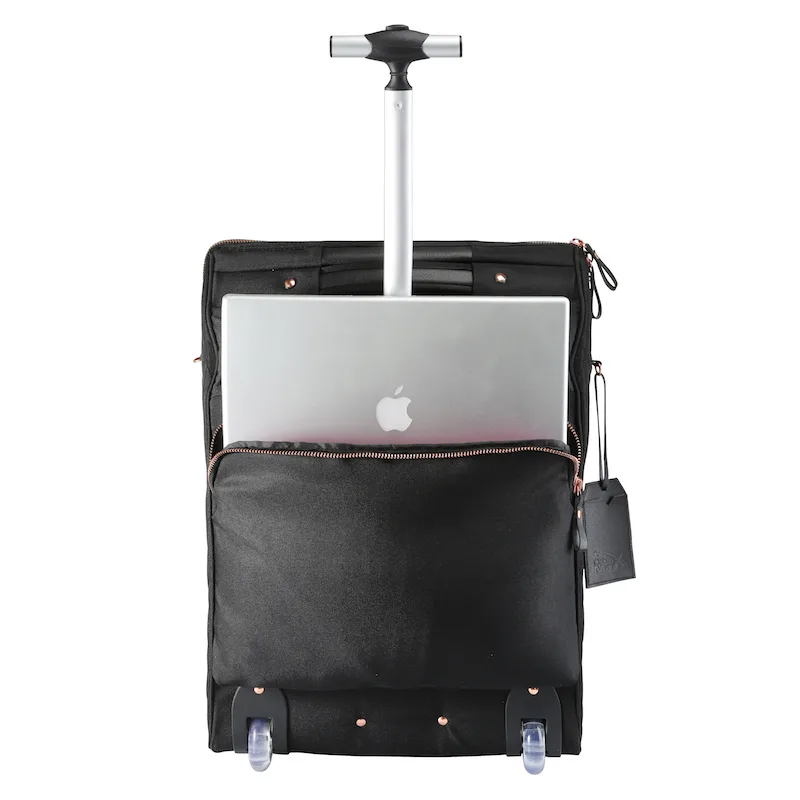 The Travel Hack Backpack
I know you shouldn't have favourites but The Travel Hack Backpack is my favourite as this is the bag I use everyday. In fact, I've been using it everyday since it was released and I still think it's the best backpack out there.
It's incredibly versatile and is also popular as a gym bag or a work bag thanks to the secure laptop pocket. It's very popular with mums who like to have their hands free and all the organisational pockets inside and easy-to-access outer pockets keep you feeling organised no matter what you're doing.
The rear laptop pocket is actually my favourite part of the bag. I use it for nappies and wipes when I've got my daughter with me, books and games when I've got the bigger kids, a laptop when I'm working and an iPad when I'm travelling.
The backpack can be used as the 'free' Ryanair bag and it's surprisingly spacious and easily fits everything for a long weekend away.
Read more about The Travel Hack Backpack and see more photos.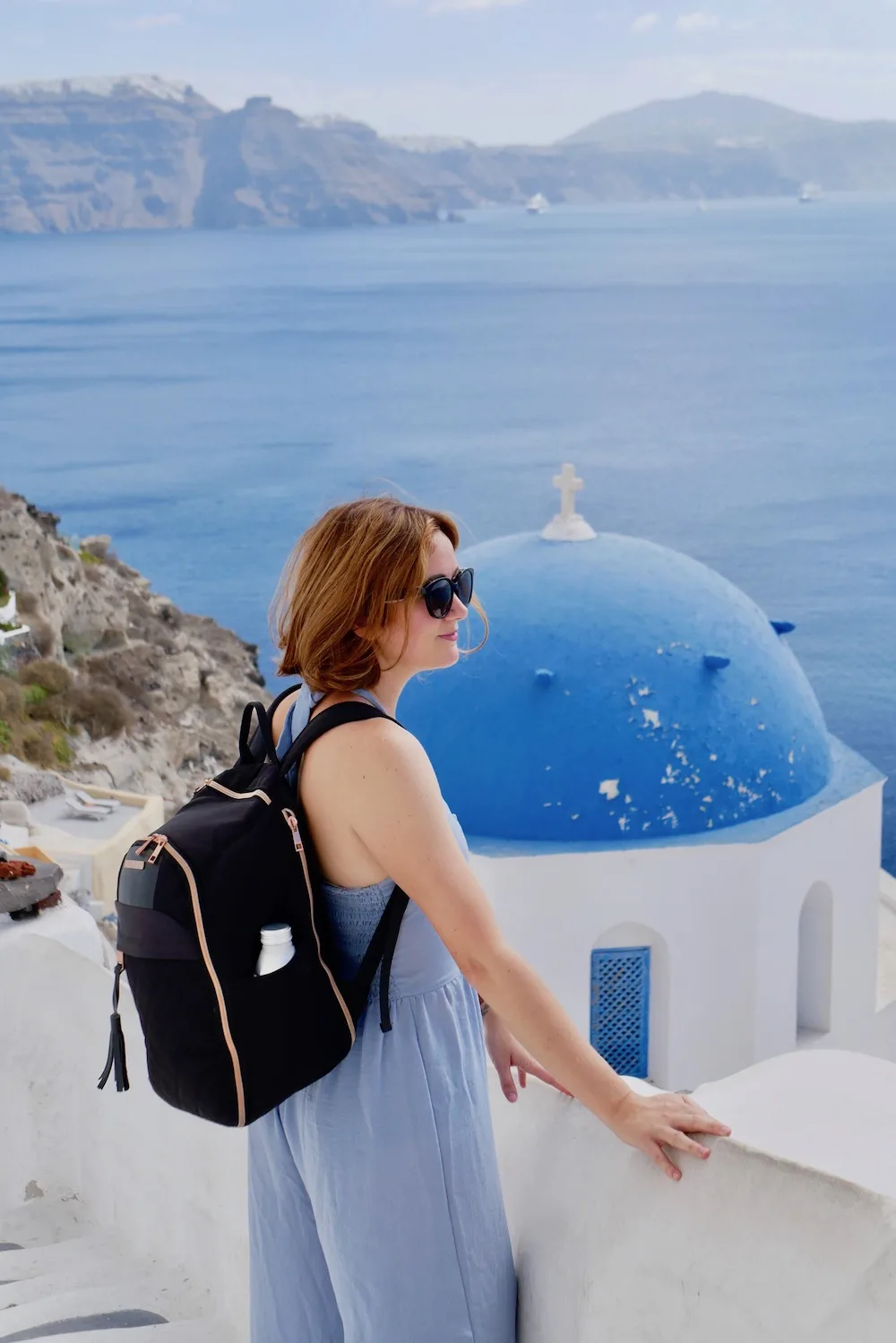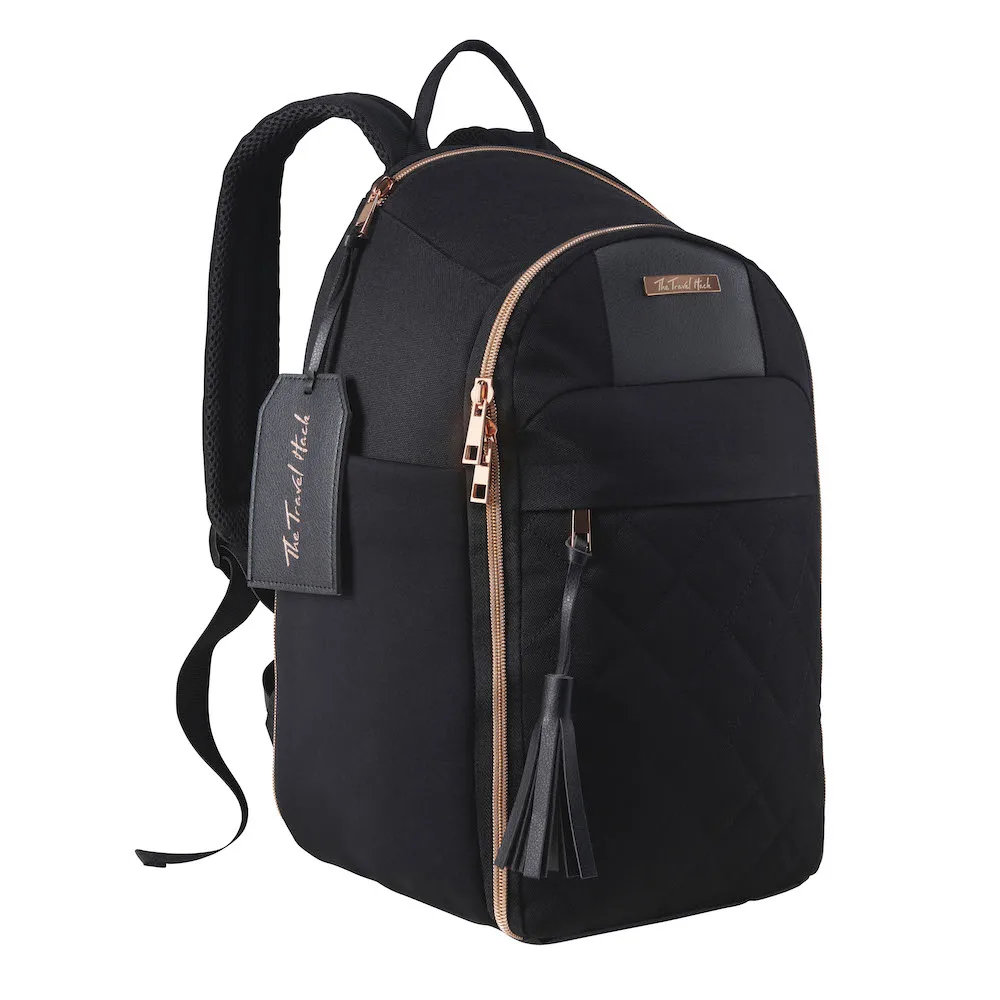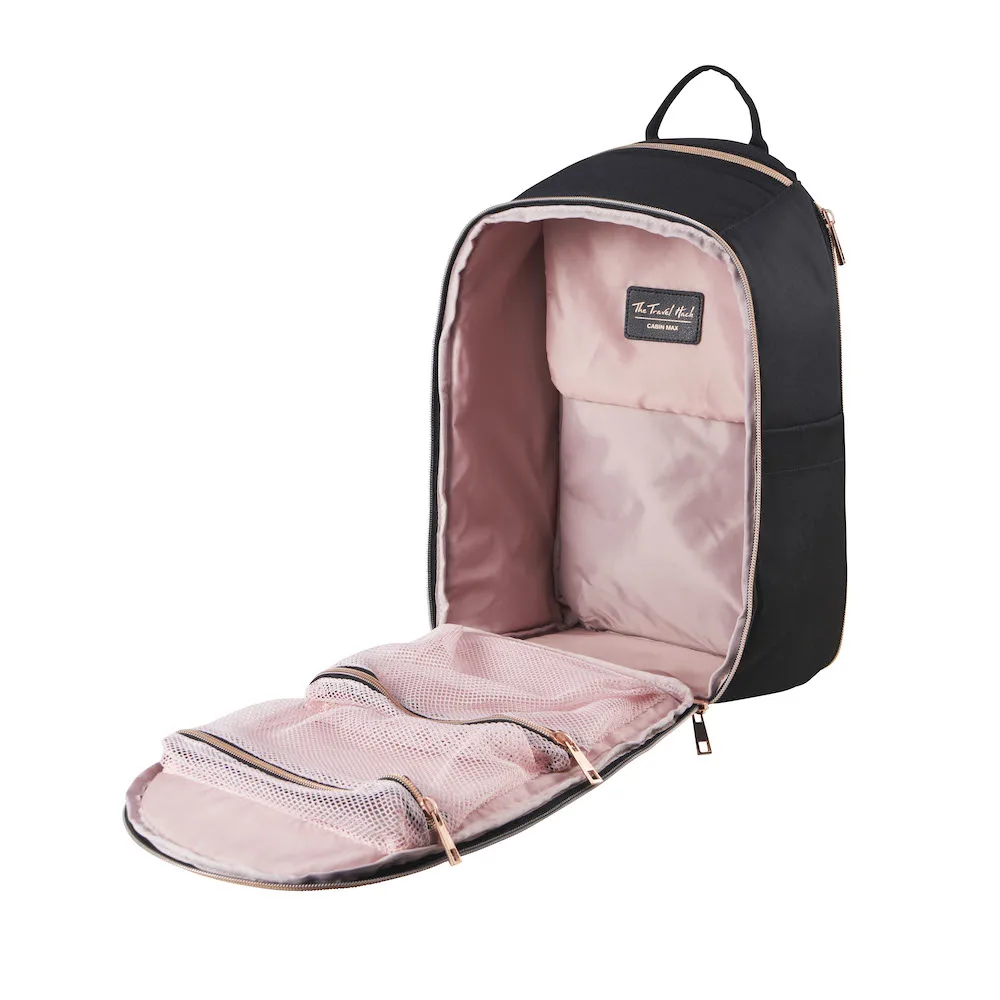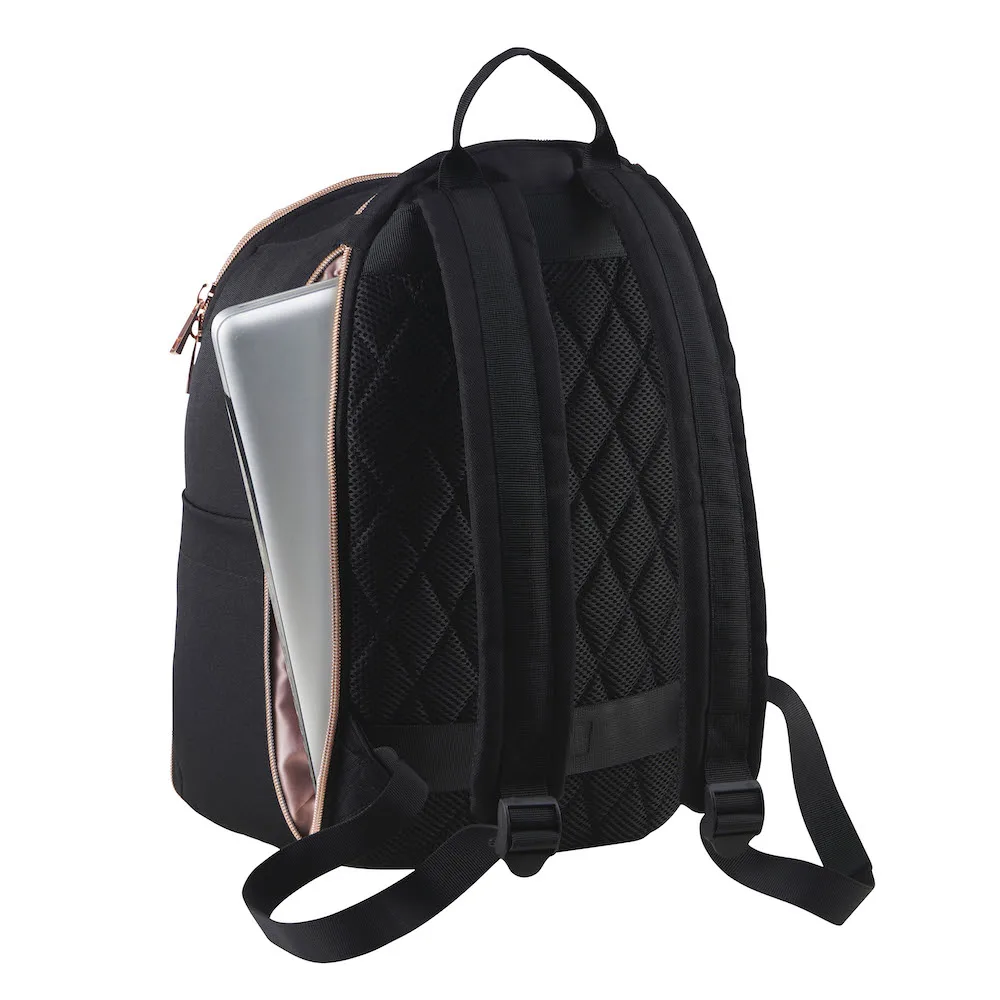 The Travel Hack Tote Bag
The Travel Hack Tote is the latest addition to The Travel Hack Luggage set. It's slightly bigger than the backpack and is ideal for those of us who prefer a shoulder bag to a backpack.
This is the ideal bag to stay organised while travelling thanks to all the internal and external pockets. It's the perfect size to avoid extra fees with easyJet but also has a huge 30L capacity so it's plenty big enough for a few days away. It has a few nifty and unexpected extras such as a hair straighteners pocket, a roomy internal laptop pocket, two slim external pockets perfect for tablets or documents, a 'hidden' external pocket that's next to your body so it's great for your phone, purse and keys.