If you're visiting Krakow for a weekend or just a couple of days then I highly recommend spending one day looking at all the things to do in Krakow Old Town. There's more than enough to keep you busy for a whole day.
I recommend walking around the Old Town, but if you'd prefer a whistle-stop tour you could hire an e-scooter!
I've plotted these places into a Google Map so you'll easily be able to walk from one to the next without getting lost!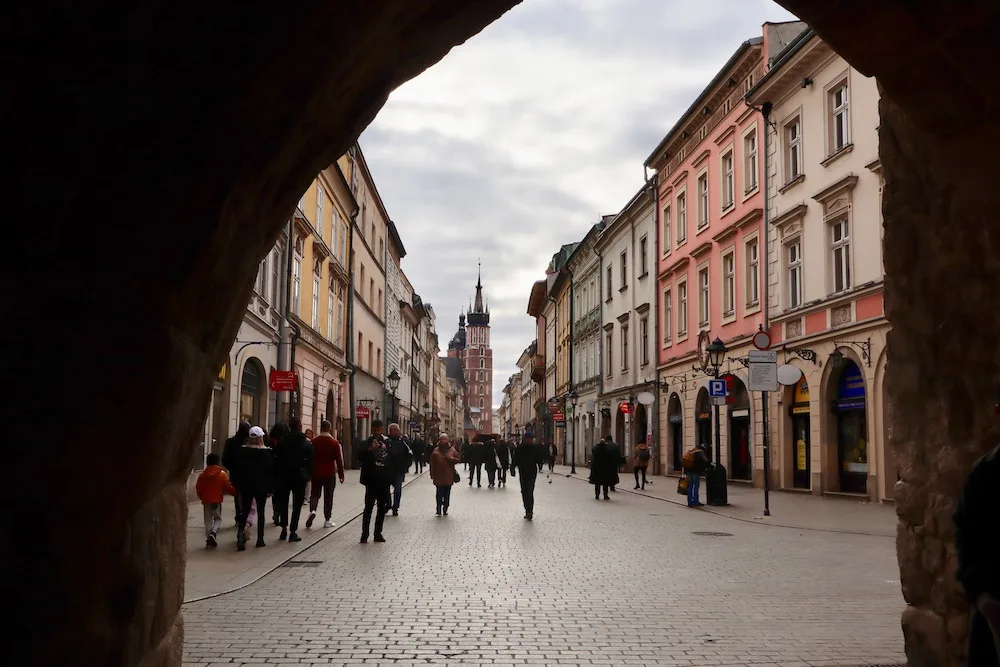 Things to do in Krakow Old Town Market Square
The Market Square is a great place to start during your tour of Krakow's Old Town. This impressive square is home to some of Krakow's most popular attractions and is an ideal place to begin.
#1. St Mary's Basilica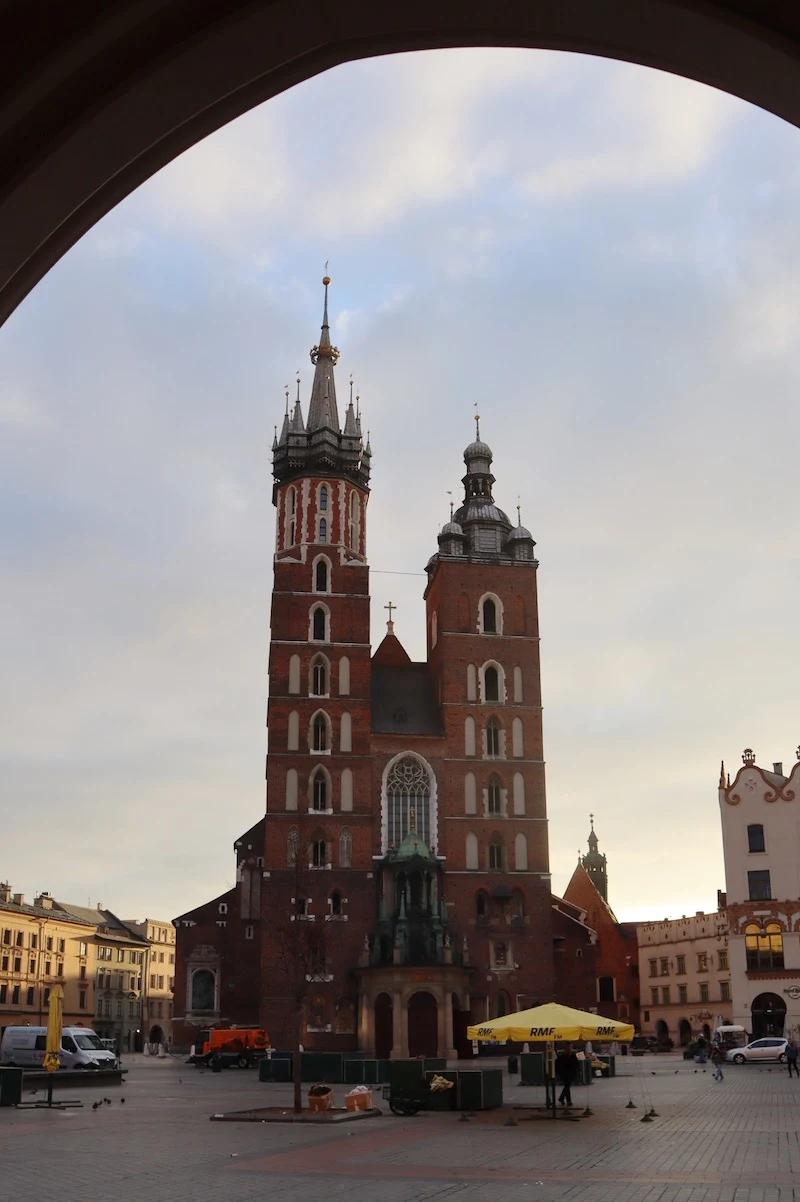 You won't be able to walk past this incredible Gothic church without snapping a photo or two. I'm looking back on my photos from Krakow and I have about 50 shots of St Mary's Basilica!
This incredible 80 metre tall church was built in the 14th century and it's open everyday to visitors between 11.30am and 6pm. You can go inside and take a tour or simply admire this beauty from afar.
#2. Cloth Hall
The Cloth Hall sits in the center of the market square and was once a centre for international trade. Dating back to the Renaissance, this incredible building was a major hub when Krakow was Poland's capital and one of the biggest cities in Europe.
On the upper level of the hall there is a museum housing Polish painting and sculptures. The ground level still operates as a market, making an incredibly grand and impressive place to be selling tourist souvenirs! Beneath Cloth Hall you'll find Rynek Underground Museum, a multimedia experience displaying the recently excavated medieval merchant stalls.
#3. St Adalbert's Church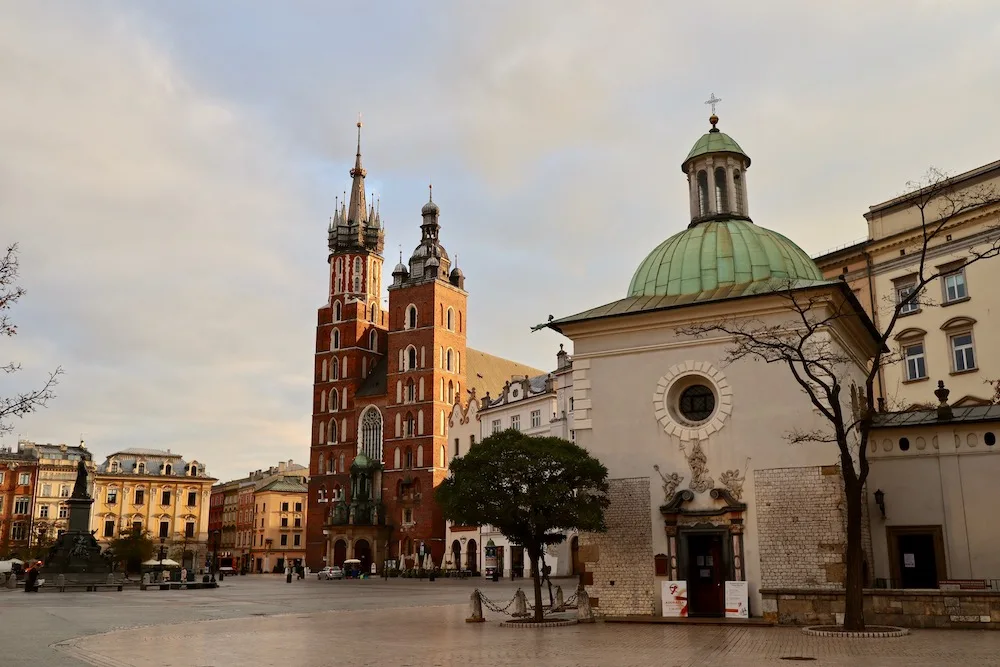 This small church is the main market square and is totally overshadowed by the incredible St Mary's Basilica behind it but you can't walk past without giving it some attention!
St Adalbert's Church was built in the 11th century, making it one of the oldest stone churches in Poland. It was built before the rest of the square which explains why it looks a little out of place amongst such grandeur!
#4. Adam Mickiewicz Monument
This beautiful bronze monument in the Market Square was completed in 1898 and features Adam Mickiewicz, thought to be the greatest Polish romantic poet. There are four figures at the poet's feet who symbolise the Motherland, science, courage and poetry.
#5. Town Hall Tower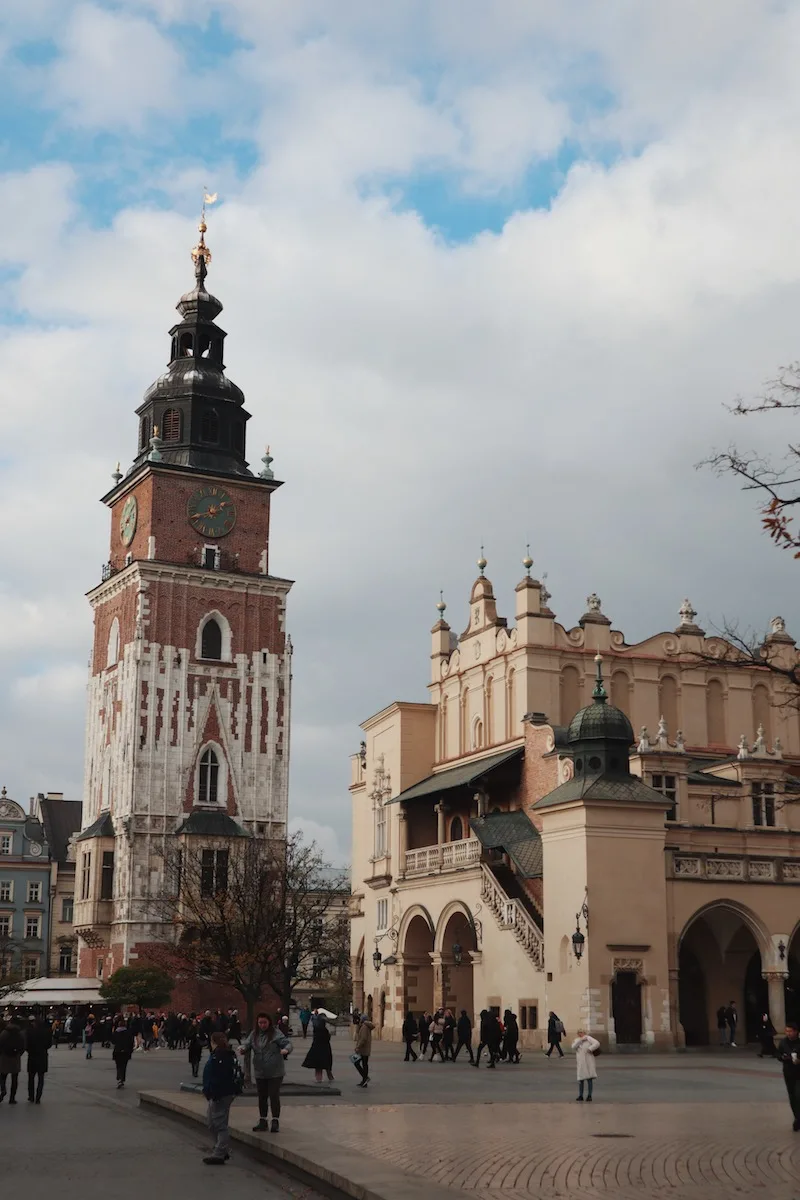 The Town Hall Clock Tower is the last remaining element of the city's original Town Hall. The 70 metre tall tower was built in the 14th century. If you're wondering if it leans just a little then you'd be right! It leans 55cm after a storm in 1703.
There is an observation deck at the top of the tower and it's open to visitors. You can learn more about the tower and get a great view from the top (although the balcony is closed so it is a view through small windows). As with all clock tower observation decks, the staircase to the top is very narrow and difficult to pass when it's busy.
#6. The Head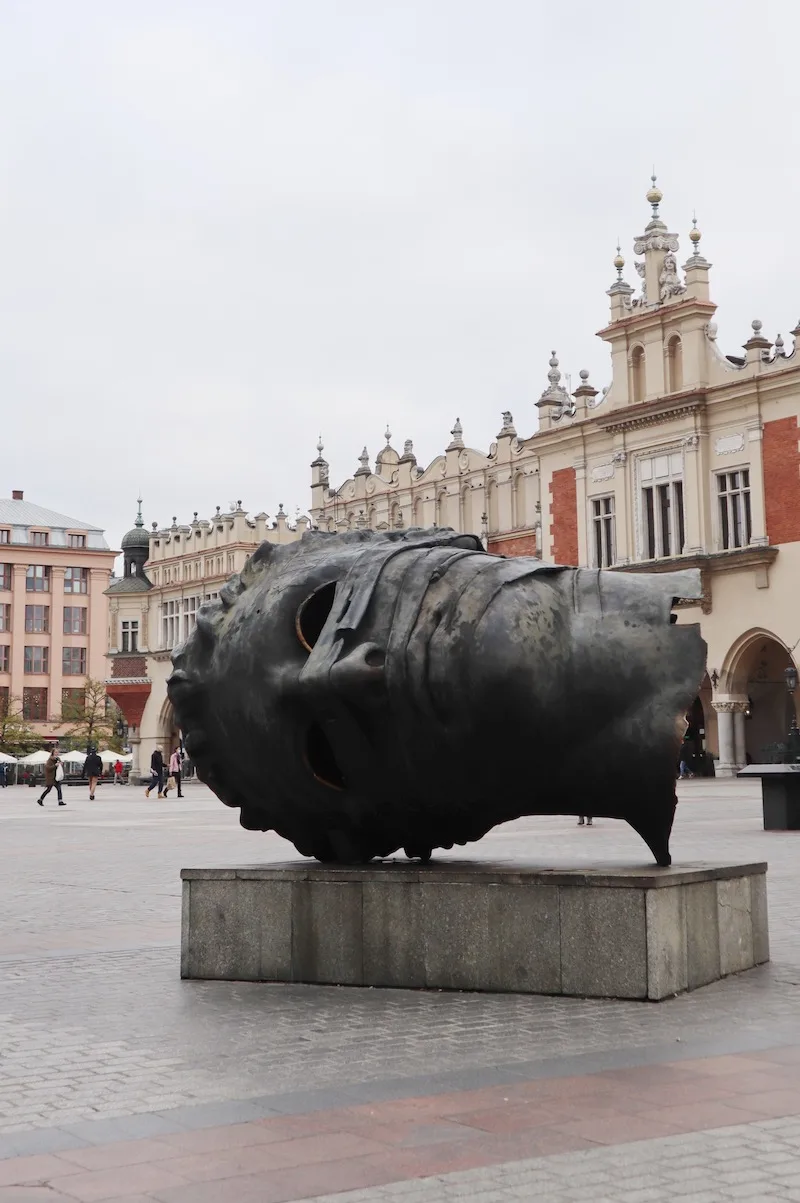 At the bottom of the Town Hall Tower you'll notice the incredible head monument called Eros Bendato (Eros Bound). This is the most well-known monument in the city and is a popular meeting spot so you'll notice lots of people waiting around it. It's the work of Polish artist Igor Mitoraj who gifted his sculpture to the city and it was a controversial move to place it in the market square.
We're now going to leave the Market Square and start exploring the side streets….
#7. Jagiellonian University Professors' Garden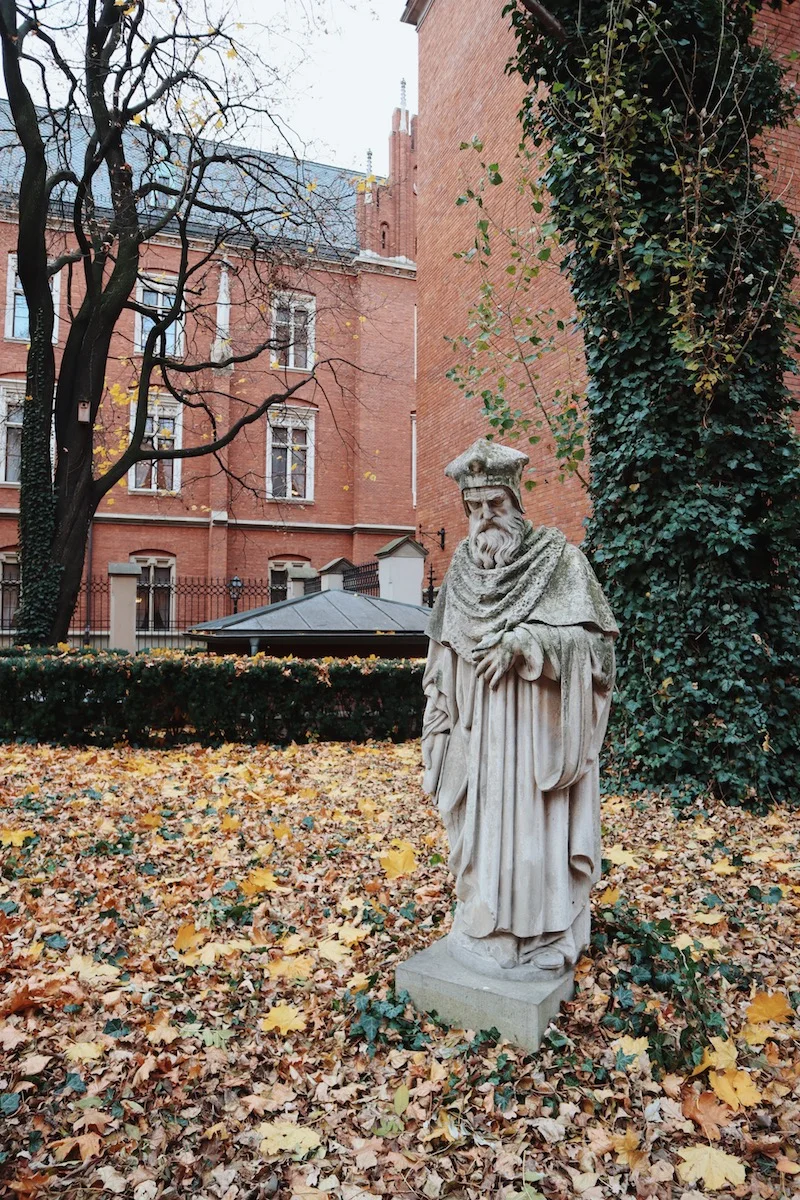 This is one of those easily missed things to do in Krakow. You could easily miss the Professors' Garden but look out for an archway in the wall that will take you through to this unexpected little park. Jagiellonian University Professors' Garden was opened to the public in 2010 as a memorial to the 183 Jewish professors who were arrested during the war. Many of these men lost their lives, taking with them so much knowledge and culture that should have been passed along to future generations.
The garden is now a fraction of the size it used to be as it used to be a fruit and vegetable garden for the university professors.
#8. Collegium Maius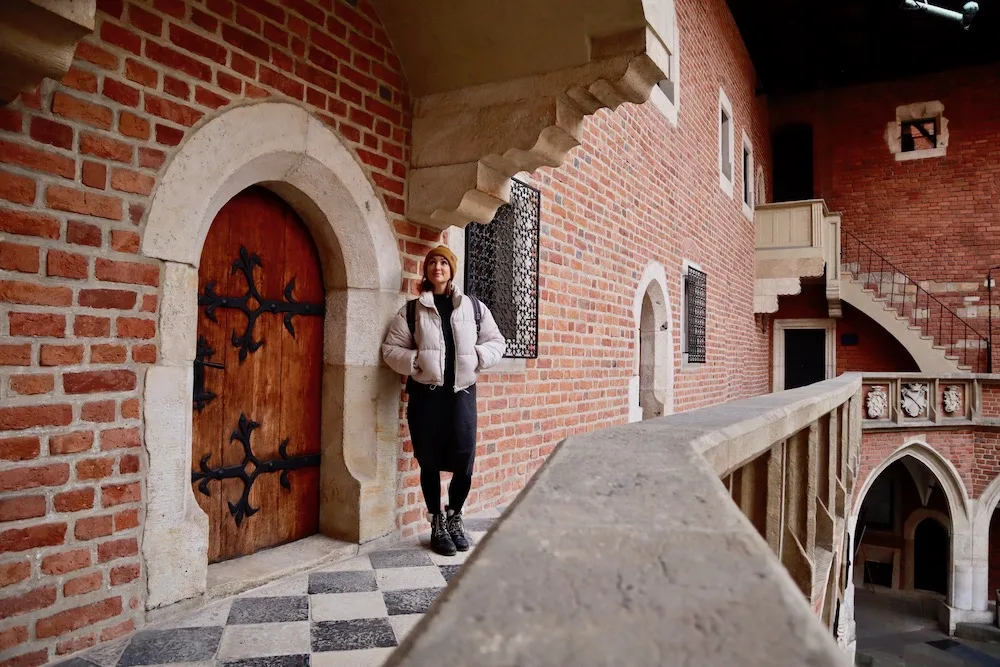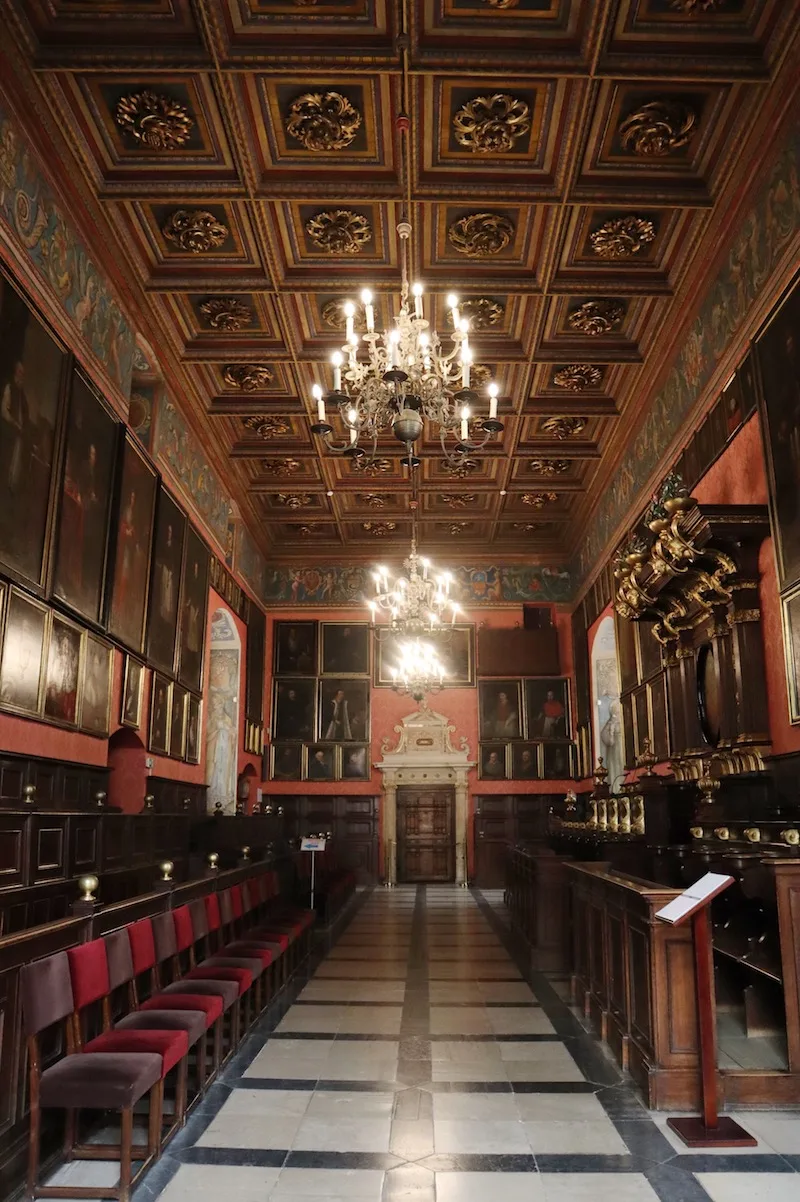 Next door to the Professor's Garden you'll find the Collegium Maius, the Jagiellonian University's oldest building, dating back to the 14th century. You can pop your head in and have a quick look, or go to the cafe within the courtyard. You can also pay a small fee (it was 15,00zl for me in 2021) to enter and have a look around some of the incredible rooms inside.
When I visited (November 2021) there was restoration work going on so scaffolding covered the majority of the courtyard. It was still beautiful though and had this gorgeous tranquil, scholarly atmosphere!
#9. St Anne's Church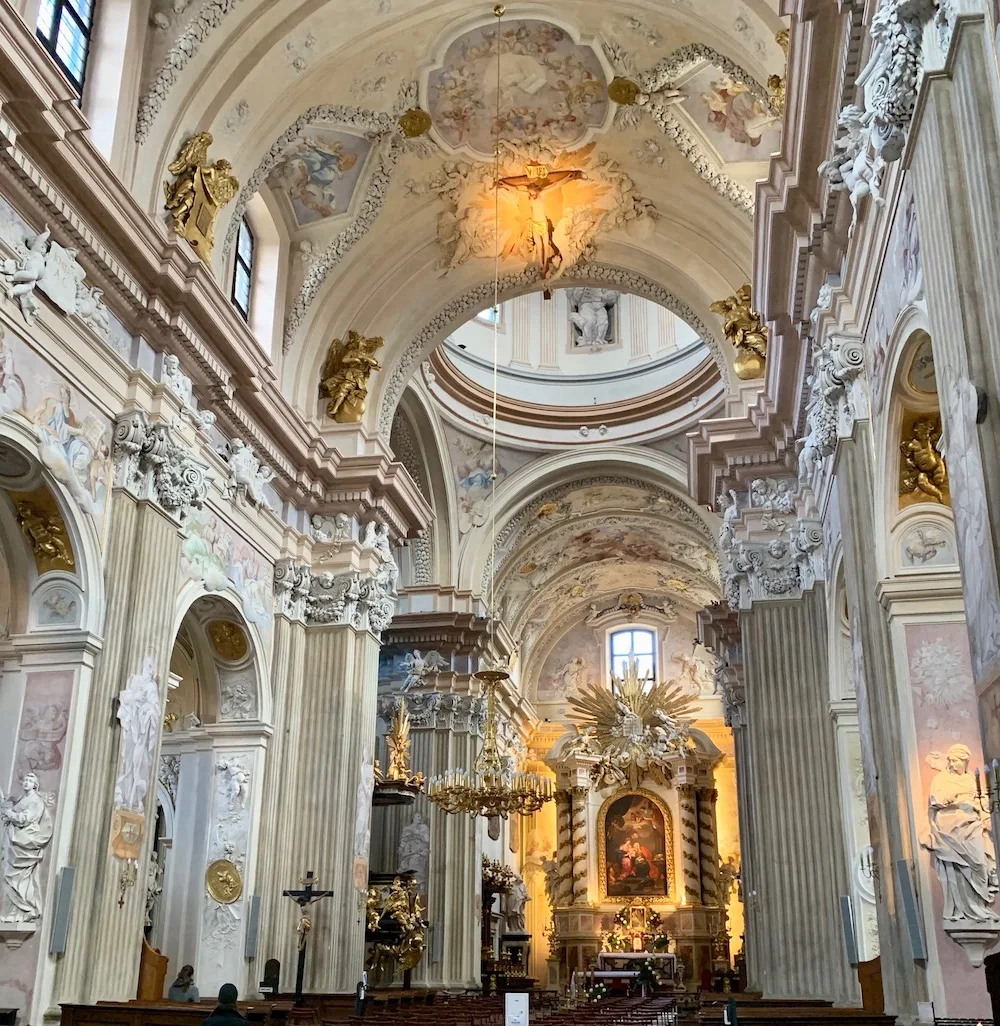 This Roman Catholic Church on Anny Street. The original church dates back to the 14th century but was destroyed in a fire. It was rebuilt and is now one of the leading examples of Polish Baroque architecture. It's worth taking a look inside too because it's beautiful!
#10. MOS Building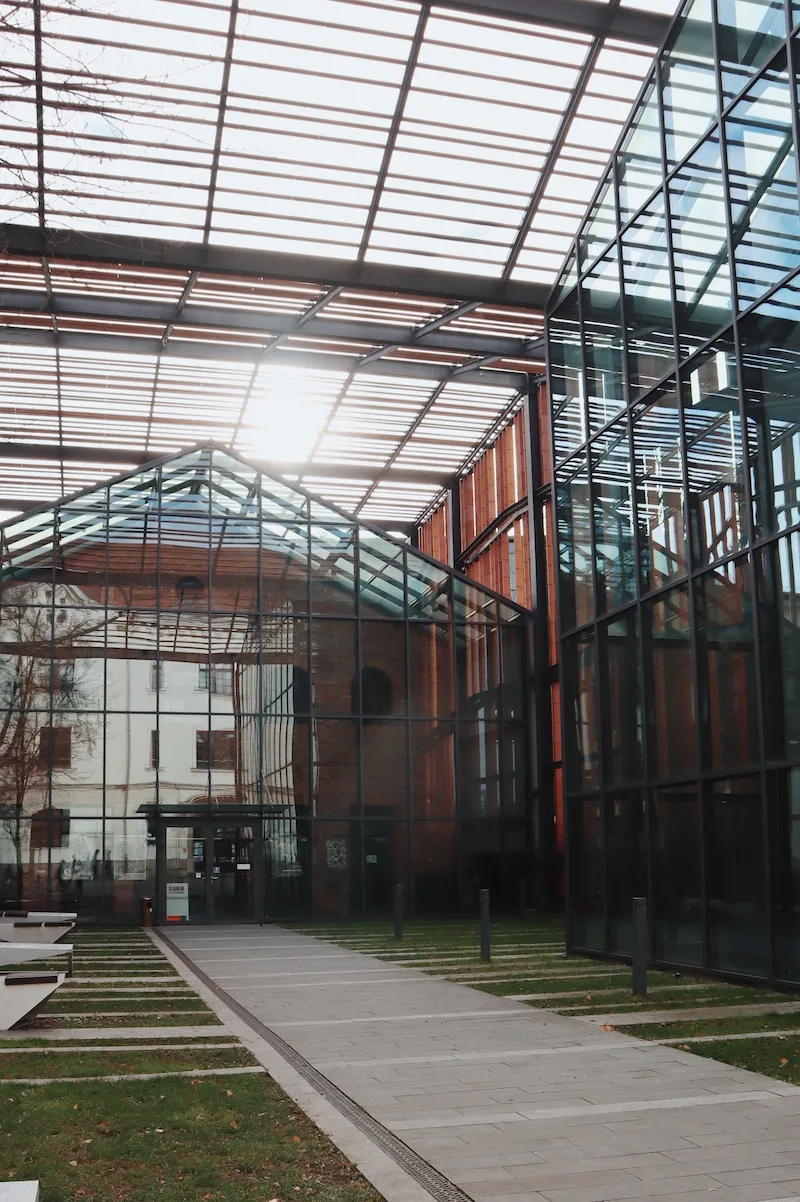 The Molopolska Garden of Arts is a modern addition to the city constructed in 2005. It's a multifunctional space designed to house and celebrate modern art and has a theatre, library, concert hall, exhibitions and more. You won't be able to miss this incredible building as it's such a contrast to the traditional buildings surrounding it.
#11. St Florian's Gate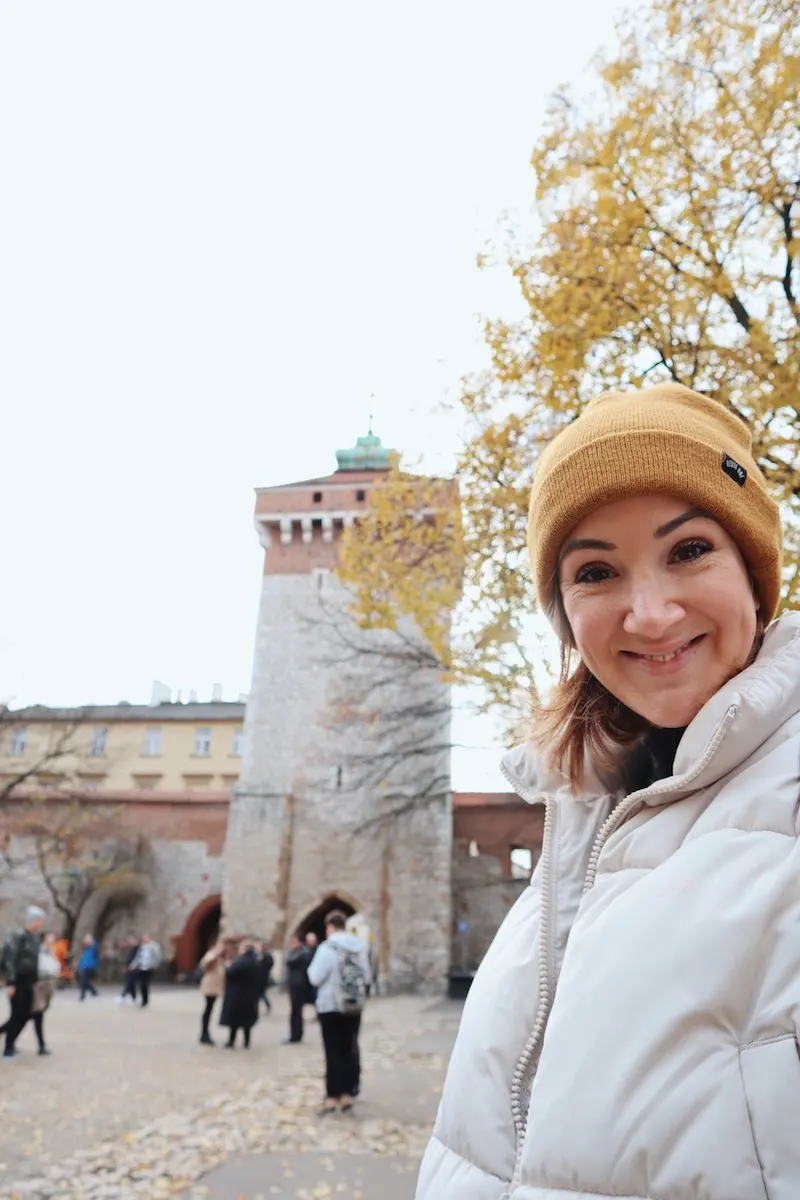 This gorgeous Gothic tower is part of the city's fortifications and is a very impressive entrance into the Old Town!
#12. Clocks in the Holy Spirit Square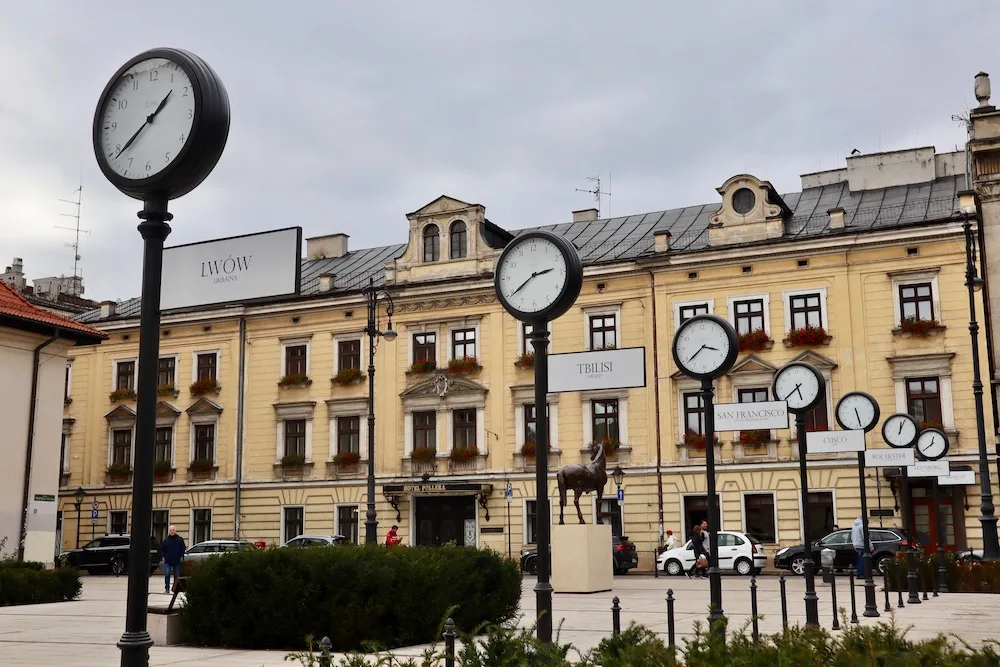 These clocks are a recent addition to the Holy Spirit Square and show the times of other cities on the UNESCO list. This square was once a bus station so the clocks are a reference to the history of the square.
#13. Juliusz Slowacki Theatre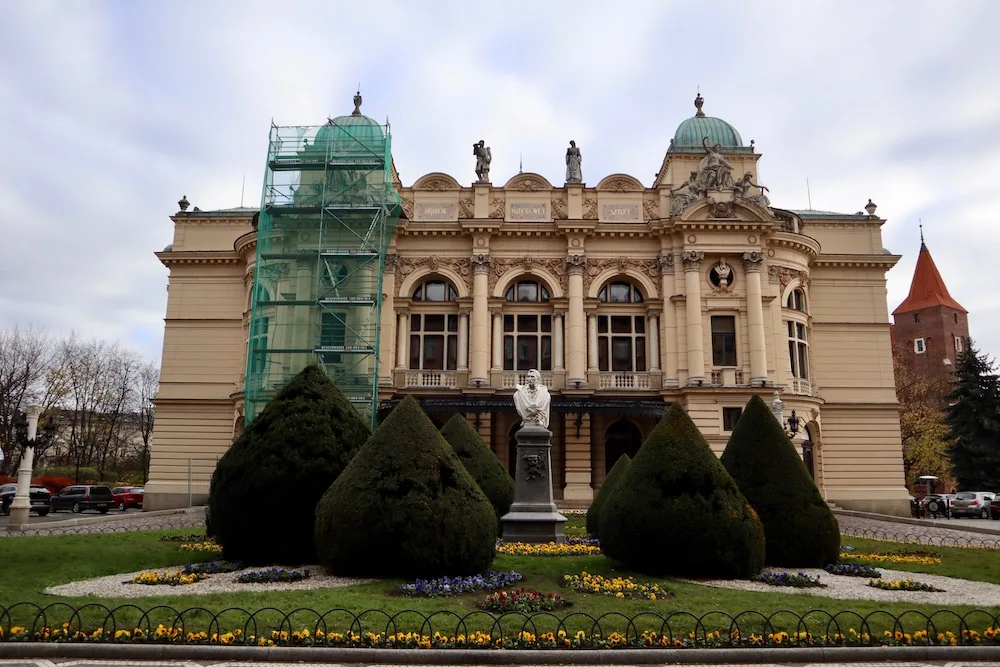 While you're admiring the clocks, look to the incredible theatre next door, named after the famous Polish poet and playwright. It's often open so you can have a look inside!
#14. Bielak's Passageway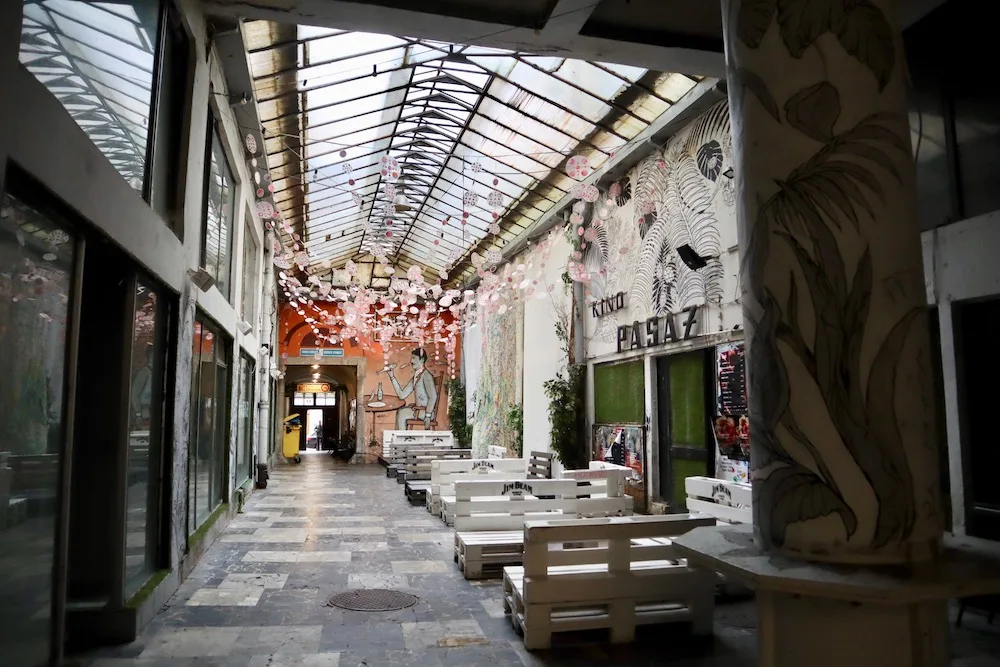 This secret spot on Stolarska Street will whisk you back into the main square. There are a few quirky bars and cool street art down this passageway so it's worth a look!
#15. St Peter and Paul Church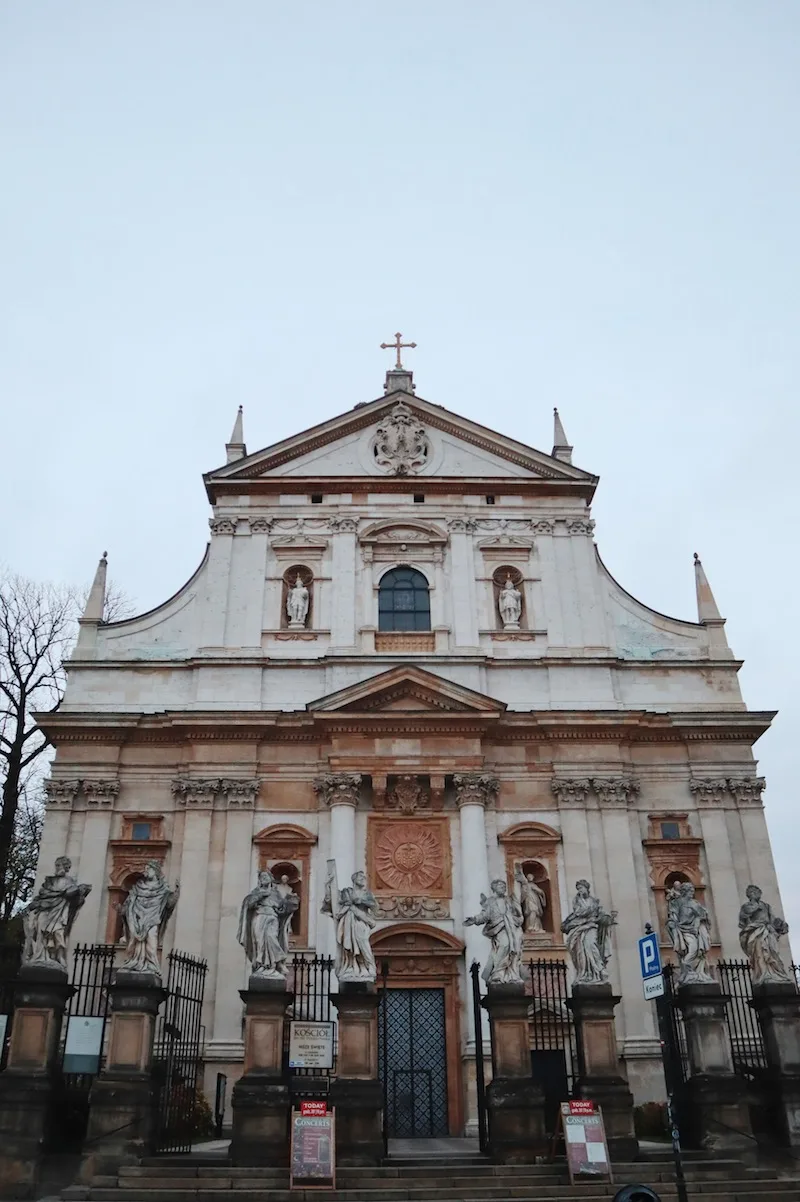 This gorgeous church on Grodzka Street is thought to be the first building in Poland built in the Baroque style. It's incredibly impressive and the bustling street outside was filled with street vendors and musicians so it's a lovely place to stand and admire it.
#16. Wawel Castle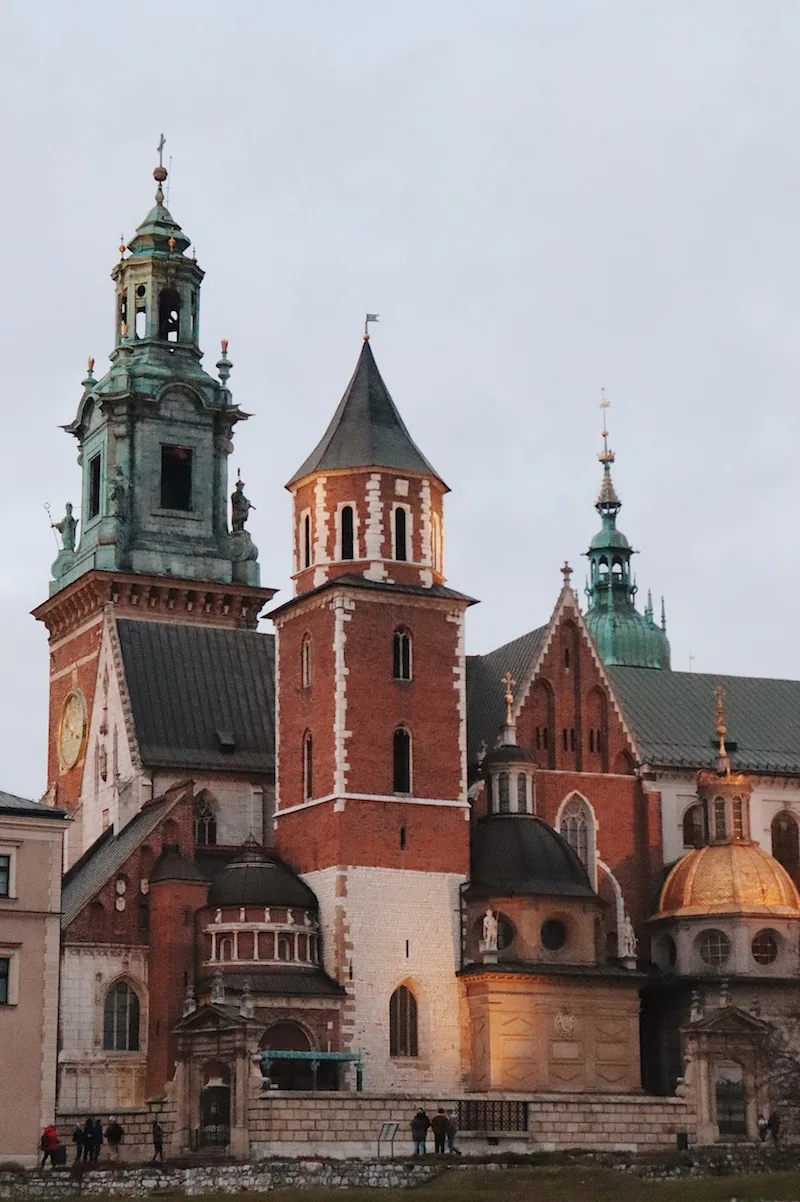 Wawel Castle absolutely blew me away. I was expecting to have a 10-minute wander up to the castle but I could have spent hours here. If you love history and castles then you could plan to spend half a day here. Unlike many castles, it's beautifully intact and there's so much to see. It is home to exhibitions, museums, a cathedral and so much more.
Visiting the castle is definitely one of the best things to do in Krakow so make sure you leave yourself plenty of time to explore.
#17. The Dragon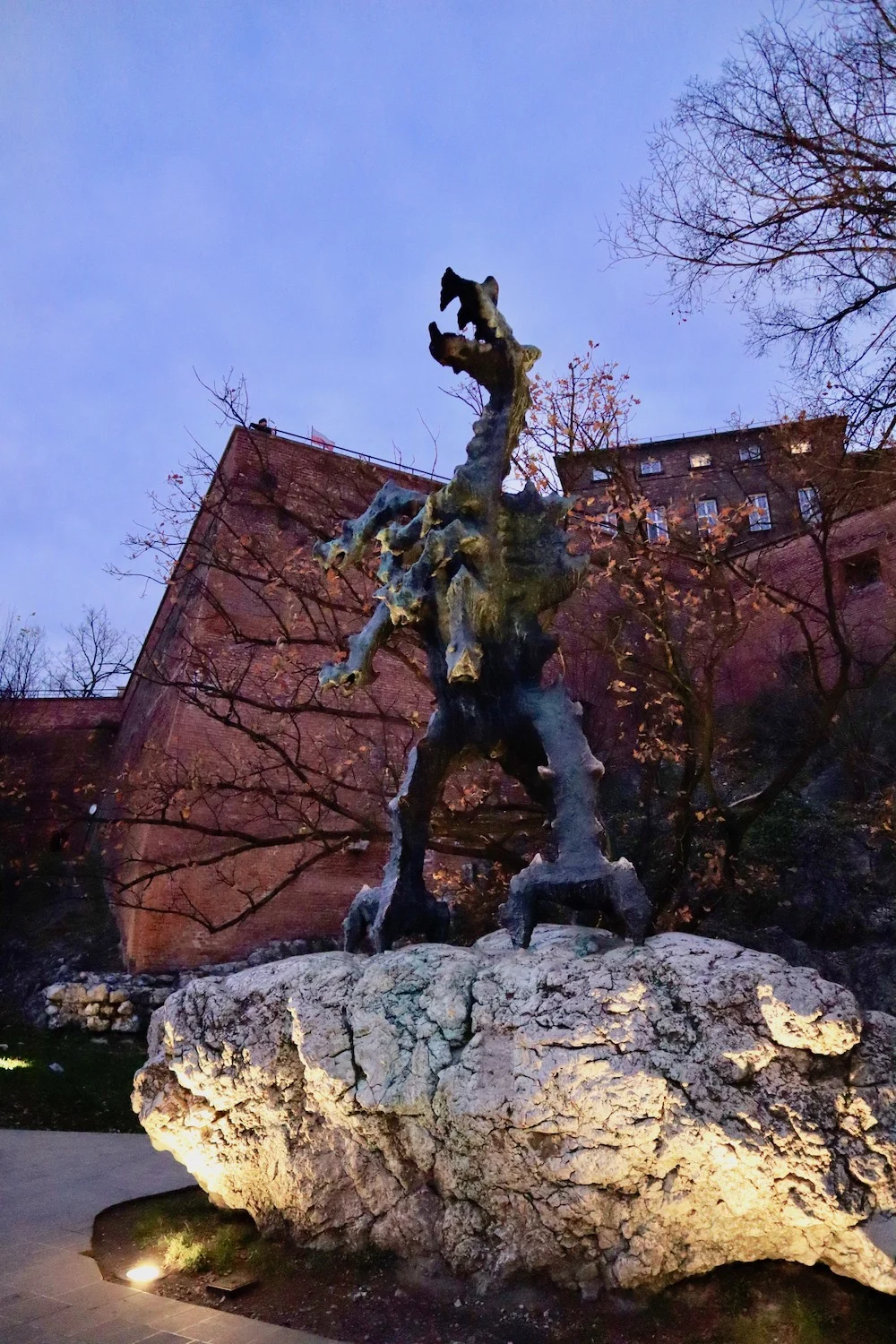 The Dragon of Wawel Hill stands at the foot of Wawel Castle on the banks on the Vistula River and the legend of this dragon is told to every child across Poland.
The dragon was said to live underneath the castle and he was eating local residents and creating havoc! The king promised that whoever killed the dragon would marry his daughter and win the crown.
Many strong, brave men tried to kill the dragon but were sadly defeated and the dragon became stronger as he devoured them all.
Then, one day, a poor shoemaker had an idea…
He filled a sheep carcass with hay and sulphur and fed it to the dragon. The greedy dragon ate it up quickly and the sulphur made him incredibly thirsty so he ran to the river to drink. He drank and drank and drank and then…boom! Due to all of the sulphur he exploded!
The king kept his promise and the poor shoemaker married his daughter.
A statue of this famous dragon now stands at the foot of the castle and is a symbol of the city. If you're lucky, you might even see the dragon breathe fire!
Seeing the dragon statue is a great thing to do in Krakow if you're visiting with kids!
#18. Planty Park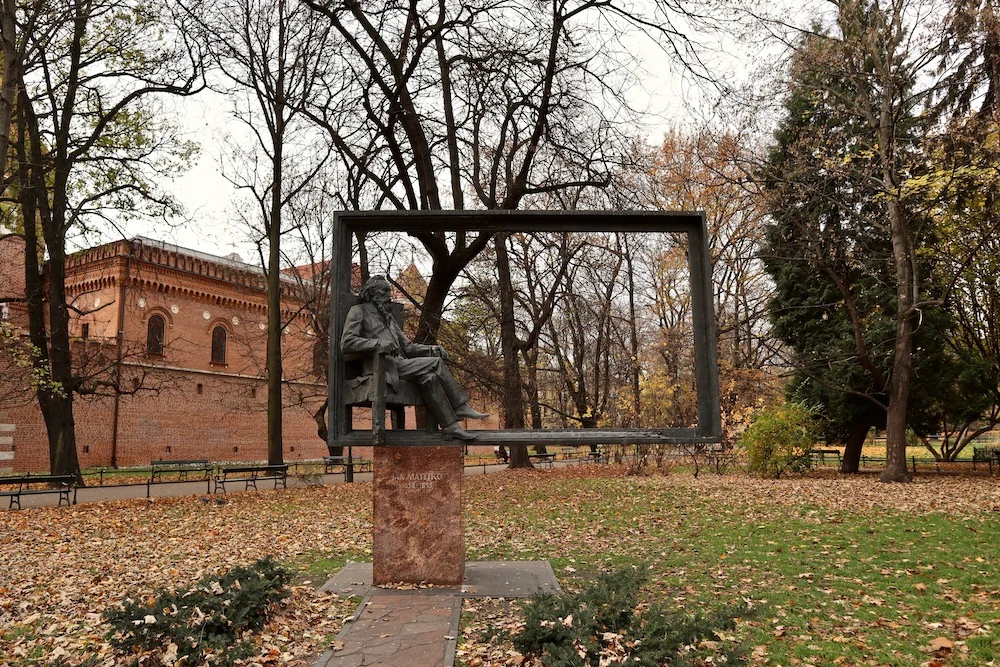 Planty Park is the circular park surrounding the entire Old Town. I just love that there's such a beautiful space for nature in the center of the city. You might not necessarily go out of your way to visit Planty Park but you'll be sure to come across a section of it while you're exploring all the things to do in Krakow's Old Town.
If you've decided to hire an e-scooter then this is the perfect place to get to grips with it! And if you're a runner, this would be a beautiful place for an early morning run.
There's a smooth path through the centre of the park and benches lining the path on either side.
Things to do in Krakow Old Town: Cafes and Restaurants
It's not all walking and wandering and sight-seeing while you're in Krakow's Old Town. The city is full of cosy and stylish cafes and restaurants to break up the sight-seeing and refuel along the way.
I highly recommend adding these cafes and restaurants into your Google Map plan so you've always got somewhere nice to recharge!
Some of these cafes are just outside of the Old Town. I prefer these smaller Independent cafes which often aren't in the expensive central buildings.
#19. Camelot Cafe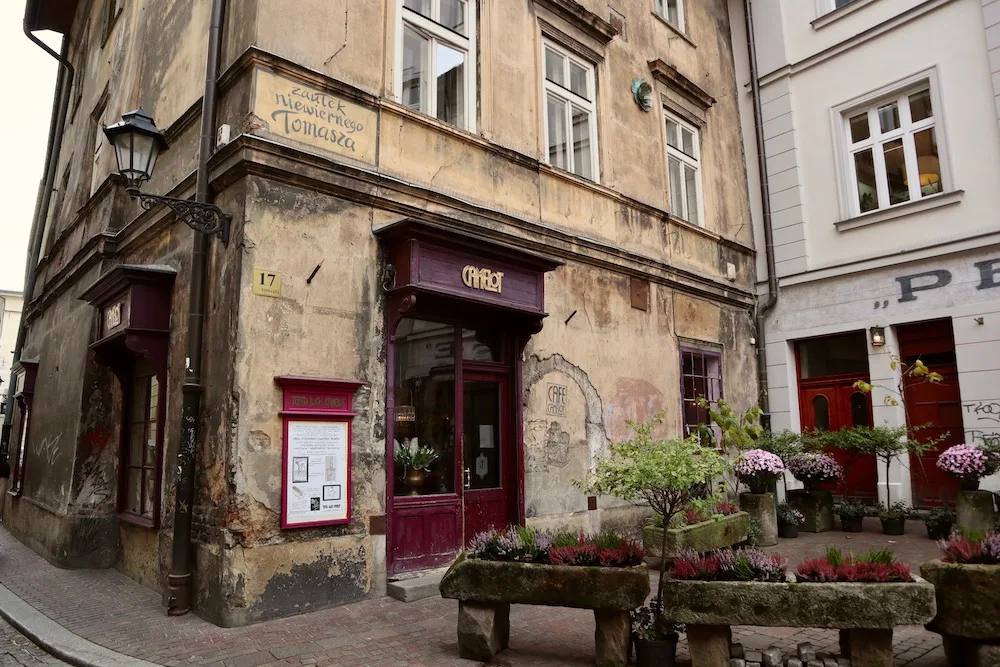 Camelot Cafe, swietego Tomasza 17, 31-022 Kraków
Camelot Cafe pops up on all of the lists of things to do in Krakow! It's a cosy and atmospheric cafe famous for their breakfasts and desserts. They also have great vegan options and the cafe exterior is a favourite with Instagrammers!
#20. Cafe Lisboa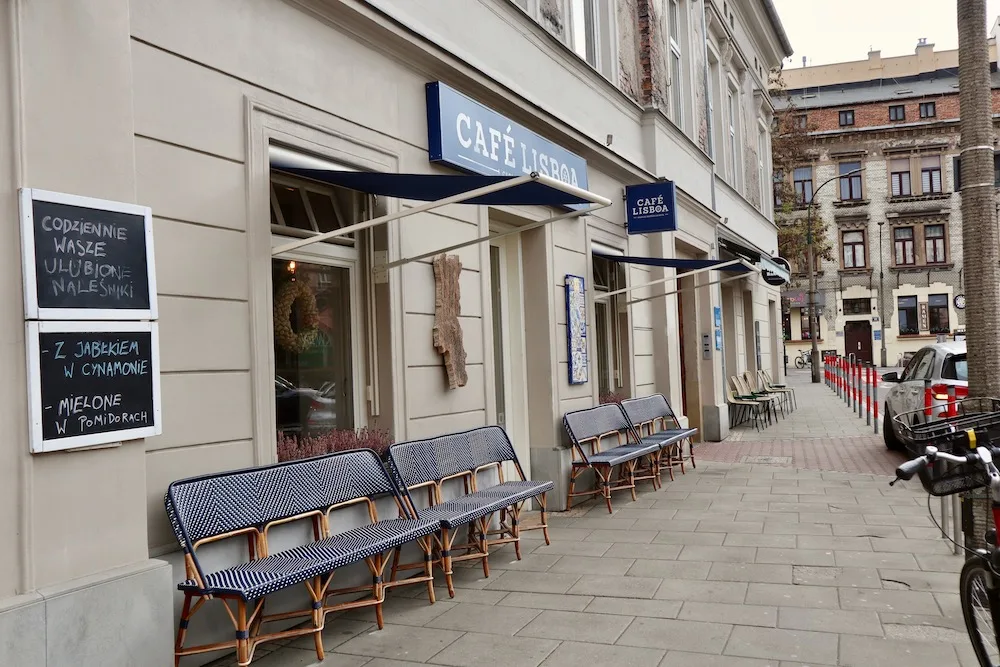 Dolnych Mlynów 3/4, 31-124 Kraków
While it may not be traditional to be eating Portuguese food in Poland, you cannot miss the pasteis de nata in Cafe Lisboa.
#21. Body Espresso Bar
Dolnych Mlynów 3/1, 31-124 Kraków
Great coffee, great cake. What more do you need?
#22. Karma Coffee
This local roastery serves amazing coffee in a cool, hipster environment. Don't expect a smile, but do expect a great cuppa!
There are two locations in the city, one in the Jewish Quarter and one just outside of the old town.
#23. Tektura
Krupnicza 7, 31-123 Kraków
Again, just outside of the Old Town and great for coffee, brunch, lunch and cakes with a simple, stylish feel. Yes, drinking good coffee and eating sweet treats is one of the best things to do in Krakow!
#24. Mural Street Food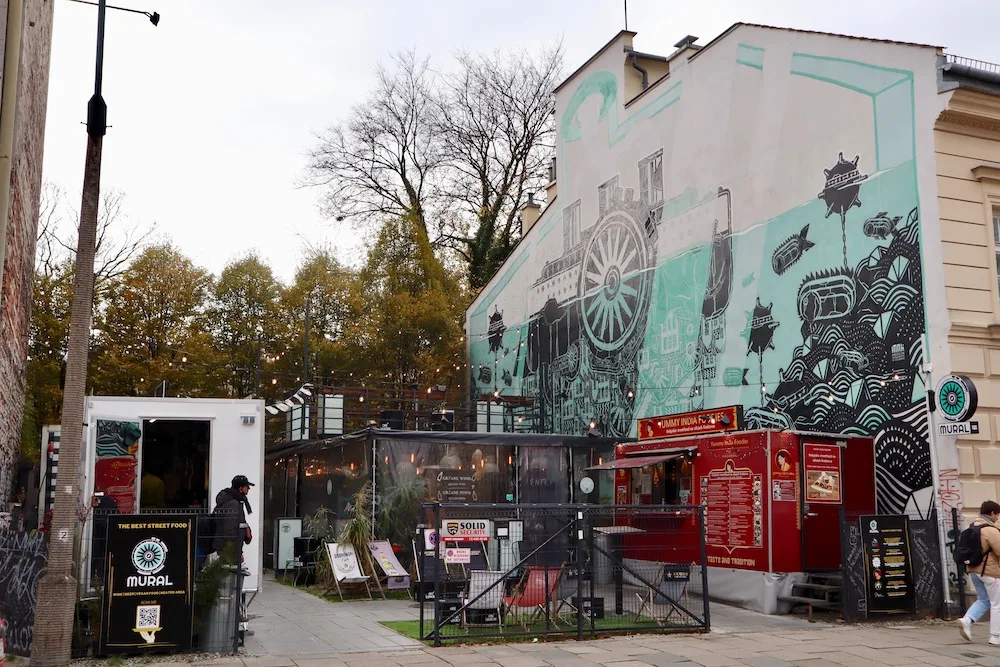 Krupnicza 24, 31-123 Kraków
This street food park is home to six food trucks serving a variety of delicious treats. The place comes to life at night time when it's illuminated with twinkly lights and a great atmosphere.
#25. Pierogarnia Domowa
Szpitalna 3, 33-332 Kraków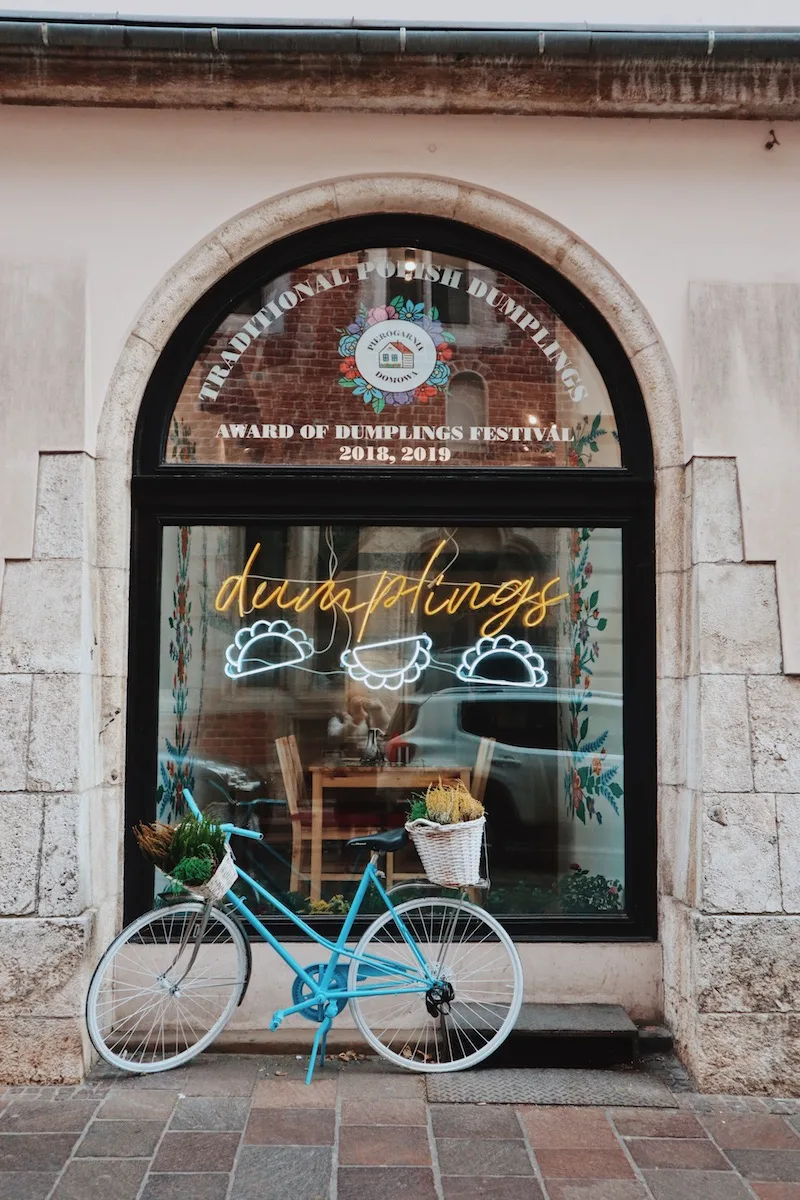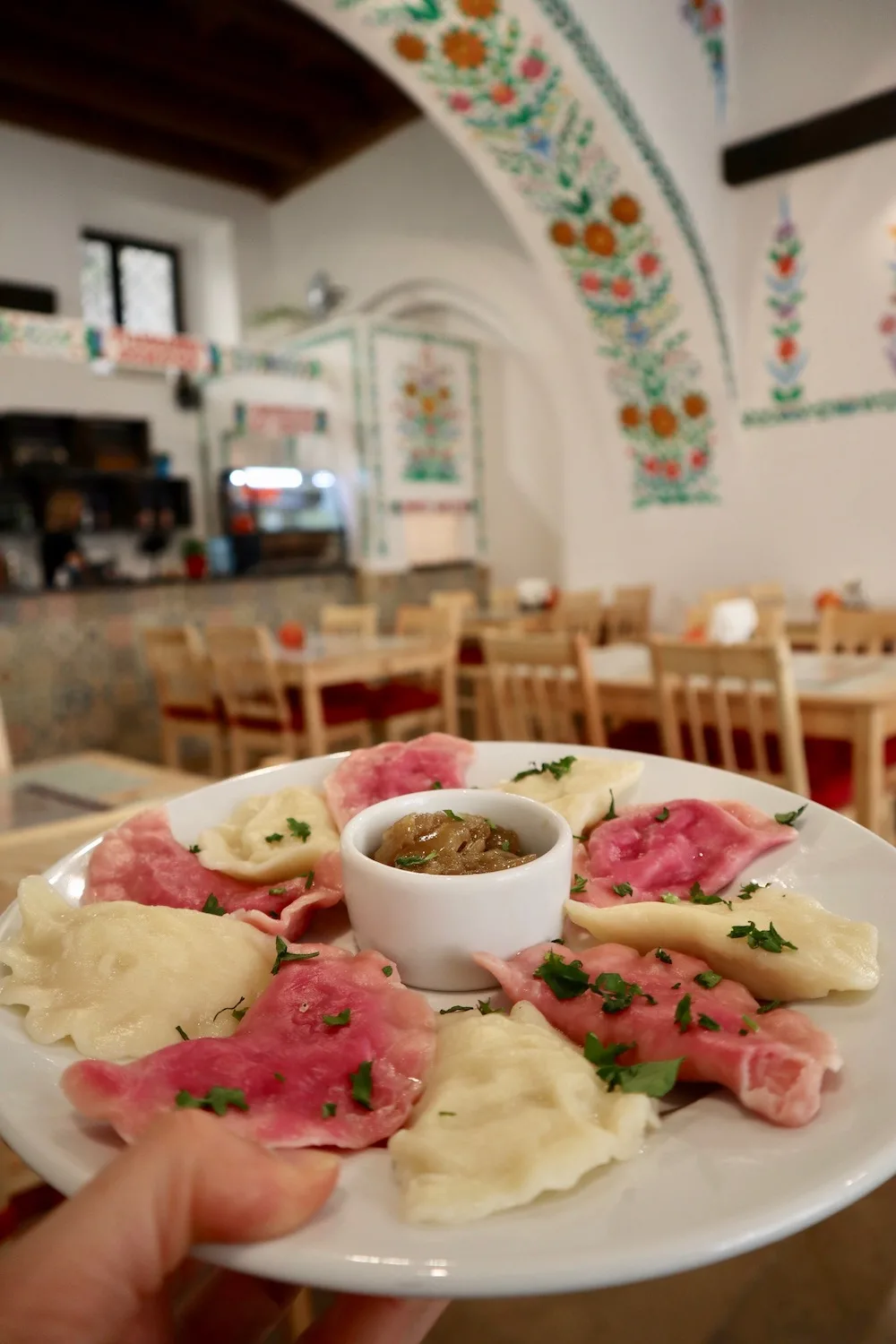 This is a great place for traditional, handmade Polish dumplings in a simple but lovely restaurant. This is a good place if it's your first time in a traditional Polish restaurant as the helpful staff will help you decipher the menu. You can choose from sweet or savoury dumplings or go for a combination of flavours!
If you're interested in knowing more about the prices in Krakow you can check out my blog post and see how much I spent.
And if you're thinking about visiting a different Polish city, how about Warsaw? You can check out my post from a festive weekend in Warsaw here.