If you're a parent you've probably been told at some point you're not meant to put children in car seats while wearing bulky winter coats. I know, I know! It's one of those parenting rules we know we should stick to but, realistically, it's a hard one to enforce on cold mornings. It's hard enough getting out of the house some mornings, never mind asking kids to take their coats off and sit in a freezing cold car.
The reason you shouldn't wear big coats in the car is because the car seat straps need to sit tightly along the shoulders and torso in order to be effective. Bulky, puffy, padded coats mean the straps are often a few inches off the body and, in case of an emergency stop or a crash, a child could come loose from their seat.
To combat this problem, Multimac have launched the new 'Road Coat®'.
Some of you will already know that I have a Multimac seat in my car. It's a very clever car seat that allows you to fit 3 or 4 children in the back of a regular sized car.
The new Road Coats®. have an inner and an outer layer and the back of the coat is highly compressible. There is also a unique split in the collar that allows the seatbelt to slot through the slits and sit inside the inner layer of the coat, so it's snug against a child's body. The child can then fasten the outer layer of the coat over the top of their seatbelt, so they're snug and warm and comfortable.
Our review of using Multimac's Road Coat®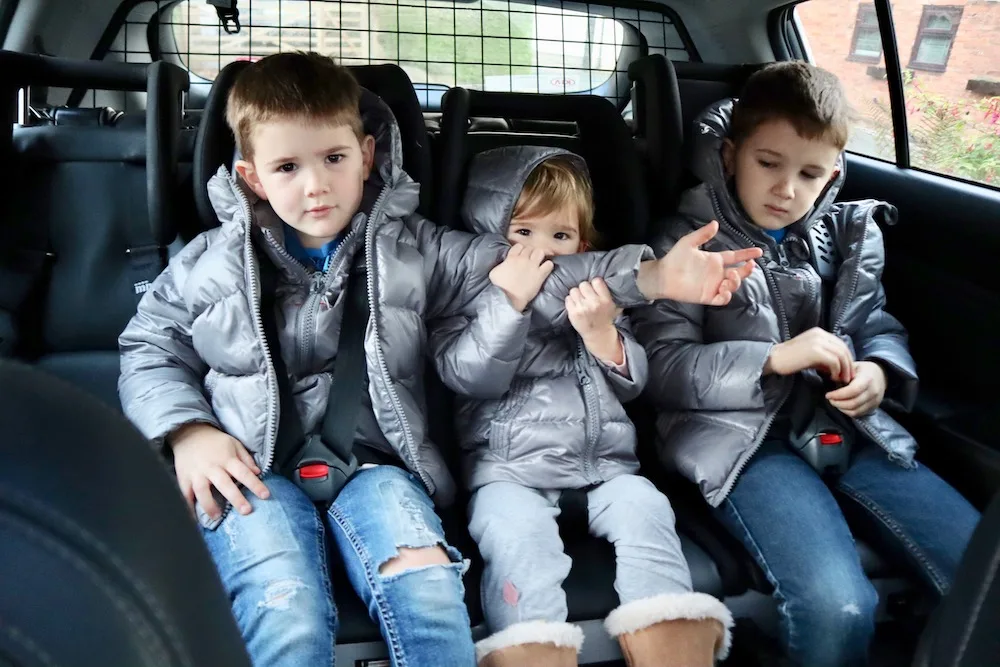 I think we can all agree that the Road Coat® is a great idea and, now we have them, I can't quite believe they haven't been invented sooner. I felt the same about the Multimac seat. It solves such a common problem in a very simple and effective way!
If I'm totally honest, I thought the Road Coat® might be a bit of a faff but they're really not at all. The idea of 'slotting' seat belts through slits in collars felt like it could be too much for my tired and uncaffeinated brain while doing the school run on a Monday morning, but it really wasn't. The seatbelts just slip into the collar naturally so there's no fiddly manoeuvring.
The boys can get their own seatbelts on with the Road Coat® without help. Joseph has just turned five and he's only just started fastening his own seatbelt so you can see how simple it is. I always check they're on properly but they're both really good about fastening them up quickly and then zipping up their coats.
Alba's is easy enough to fasten and she usually insists on trying to zip up her outer coat herself so that keeps her busy for the duration of the car journey!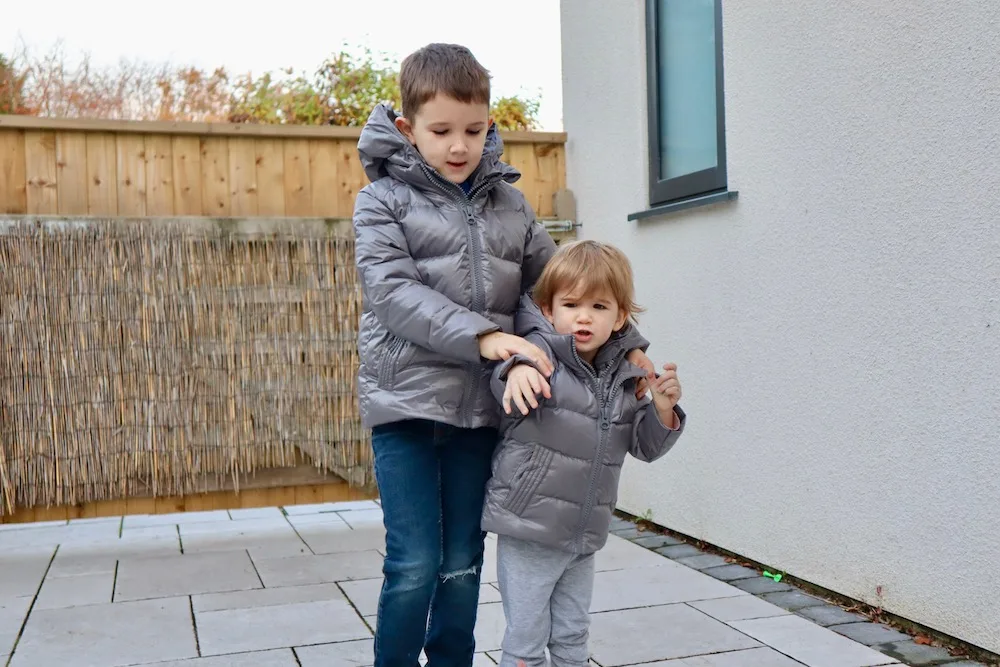 Do the kids like the Road Coats?
We all know how unpredictable kids can be so it was another worry that my kids wouldn't like the coats, but they love them.
They love the Road Coats for a few reasons:
The just love the coats and how warm, cosy and comfortable they are
They love the fleece lined pockets
They like being 'matchy matchy'
They love that the coats have bags and they can pack the coats away into their special bags (honestly, this is their favourite thing to do! They have all the toys in the world and they just want to pack and unpack their coats!)
They love that the coats have two zips (this is very exciting!)
They like that they can have their seatbelts tight – OK, so this is a biggy and a major pro for the coats. I think my kids are so used to be strapped in 'nice and snug' that they hate it when their seatbelts aren't on properly. They all seem to like that secure feeling of their belts being on properly.
They like zipping up their outer coats and 'hiding' their seatbelts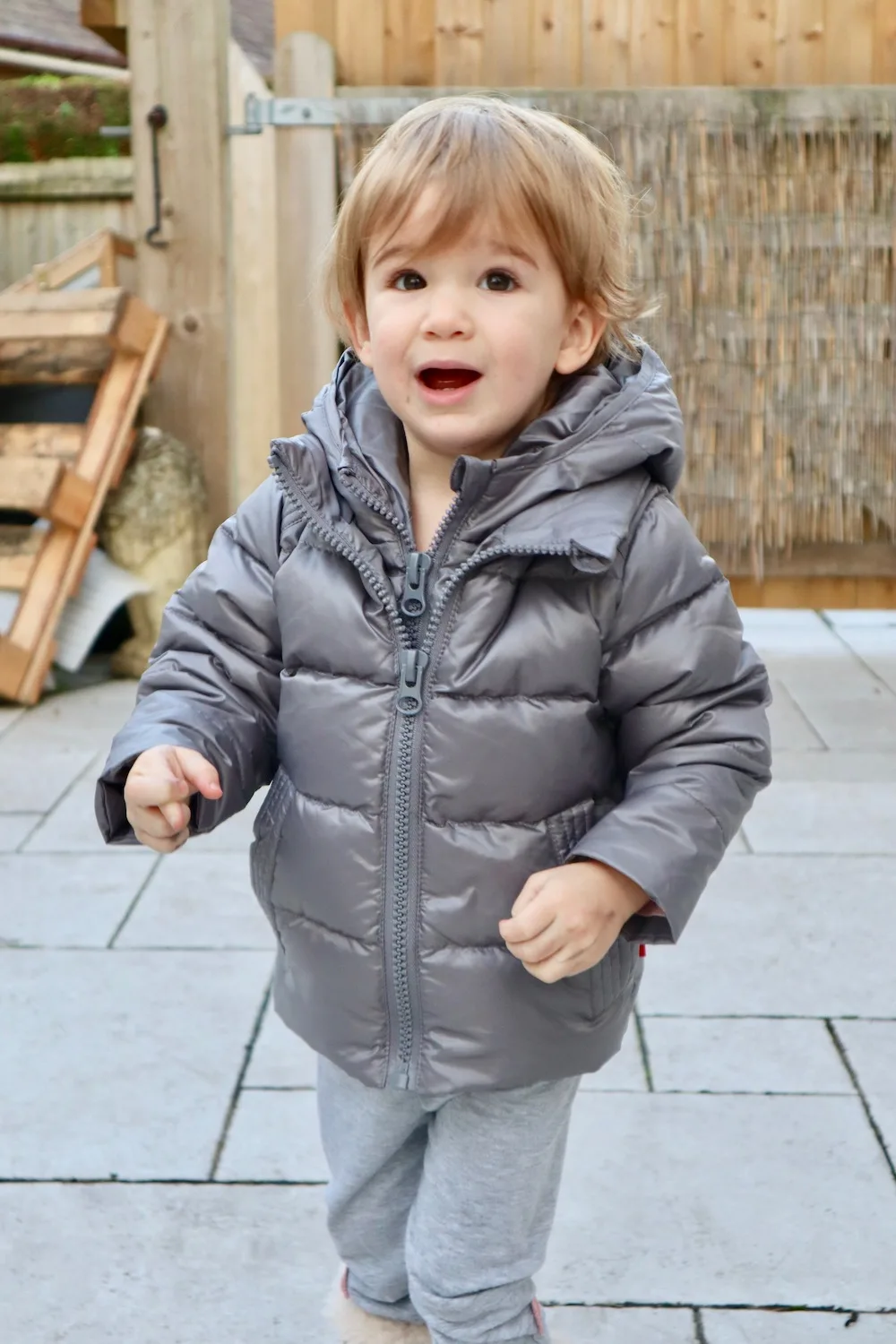 What are the coats like?
We know the Road Coats are great from a safety point of view, but what are they like as everyday kid's coats?
I'm very pleased to say they're gorgeous coats!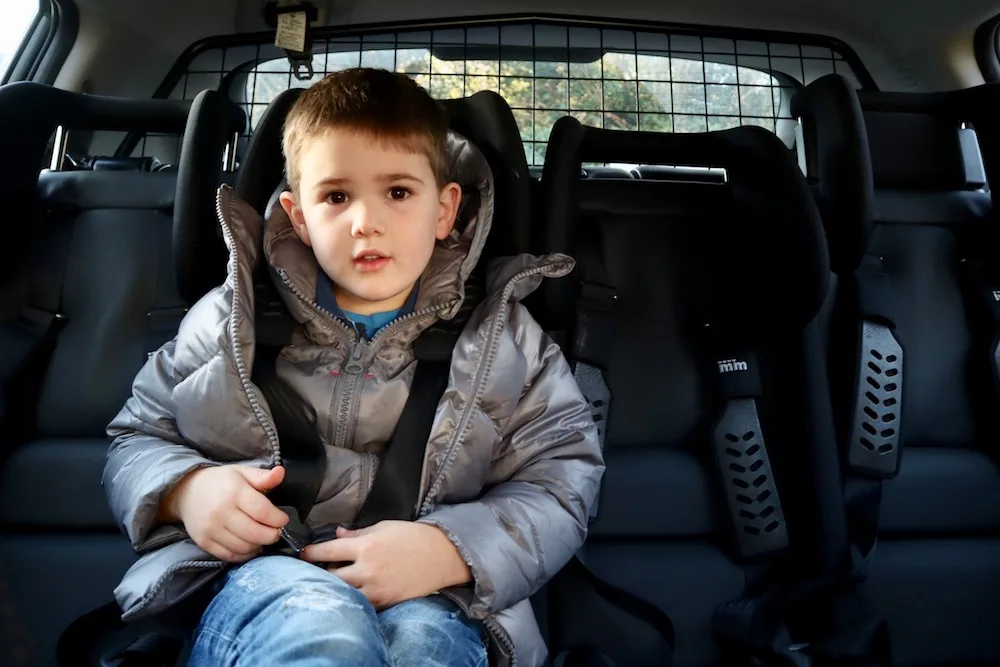 My kids were actually sent new coats from Mountain Warehouse as part of a campaign I was working on in November. My boys liked their Mountain Warehouse coats until the Road Coats came along and now the Mountain Warehouse coats are history – they won't even contemplate wearing them and I've been told to pass them along to their younger cousins. They love how warm and comfortable the Road Coats are.
Alba does still like her Mountain Warehouse coat because it's yellow (yellow is the only colour she knows so she's obsessed!) but she'll always choose to match her brothers when they're all together.
From my point of view, they're really practical and brilliant quality. They're easy to wipe clean and they're machine washable. I'm sure they'll last for years so they'll definitely be passed down from child to child, making them good value.
They're much thicker and warmer than their old coats and have nicer details like bigger hoods, fleecy pockets and chunkier zips.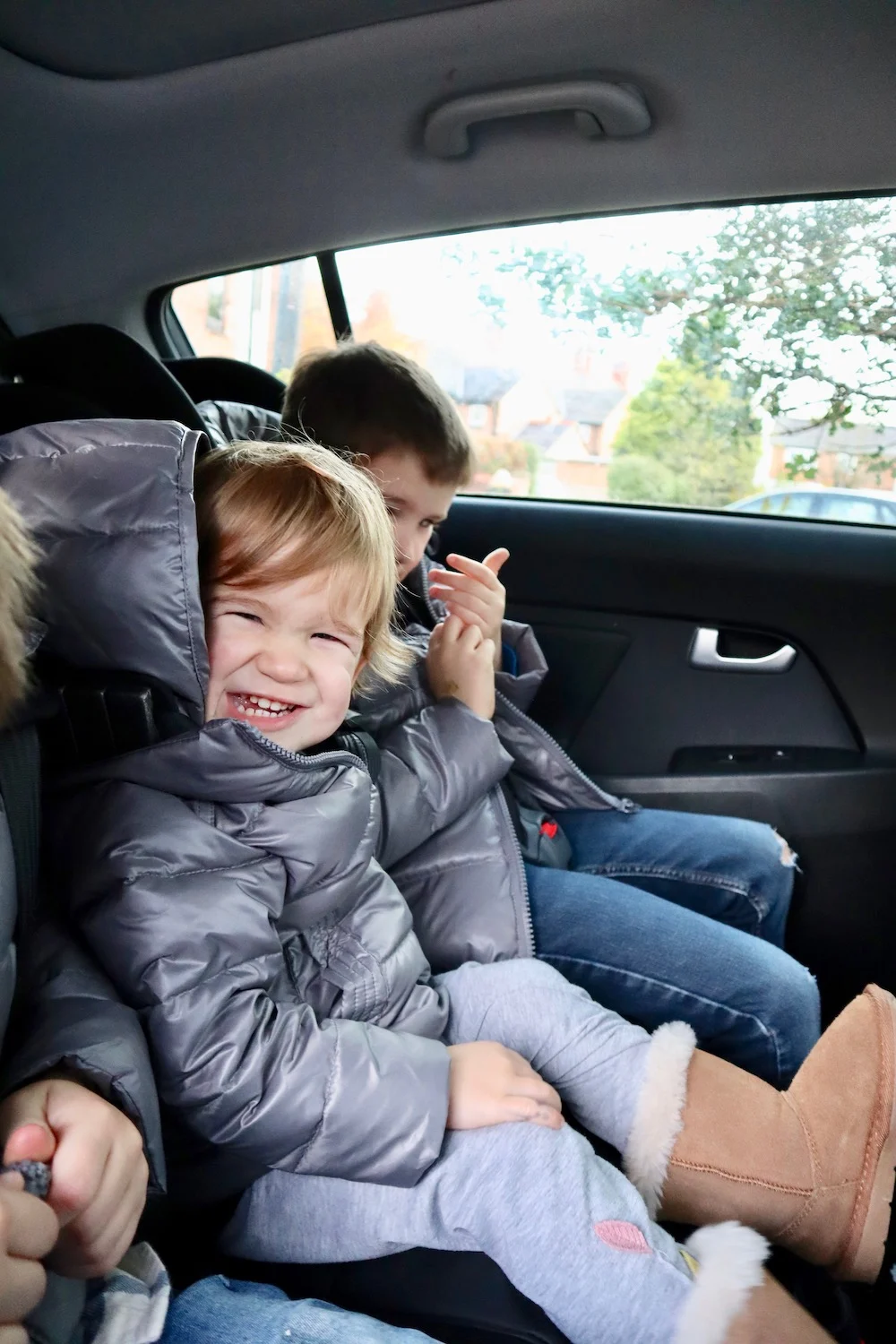 Final thoughts on the Multimac Road Coats
If you're looking for a safer alternative to a regular coat then I highly recommend the Road Coat. The coats retail at £69 plus delivery so it is a little more expensive than a regular high street coat, but I do believe these are better quality so they can easily be passed along to younger children. I feel the extra money is worth it for the safety features and quality.
Now that we're using the Road Coats I do feel very conscious when the kids are wearing different coats in the car. The boys had a 'Blue Day' at school last week where they had to dress in blue, so George wore an old blue puffer coat and I really noticed the difference and I was very aware I couldn't strap him in tightly while he wore the coat. He felt the difference too and happily went back to his Road Coat the following day.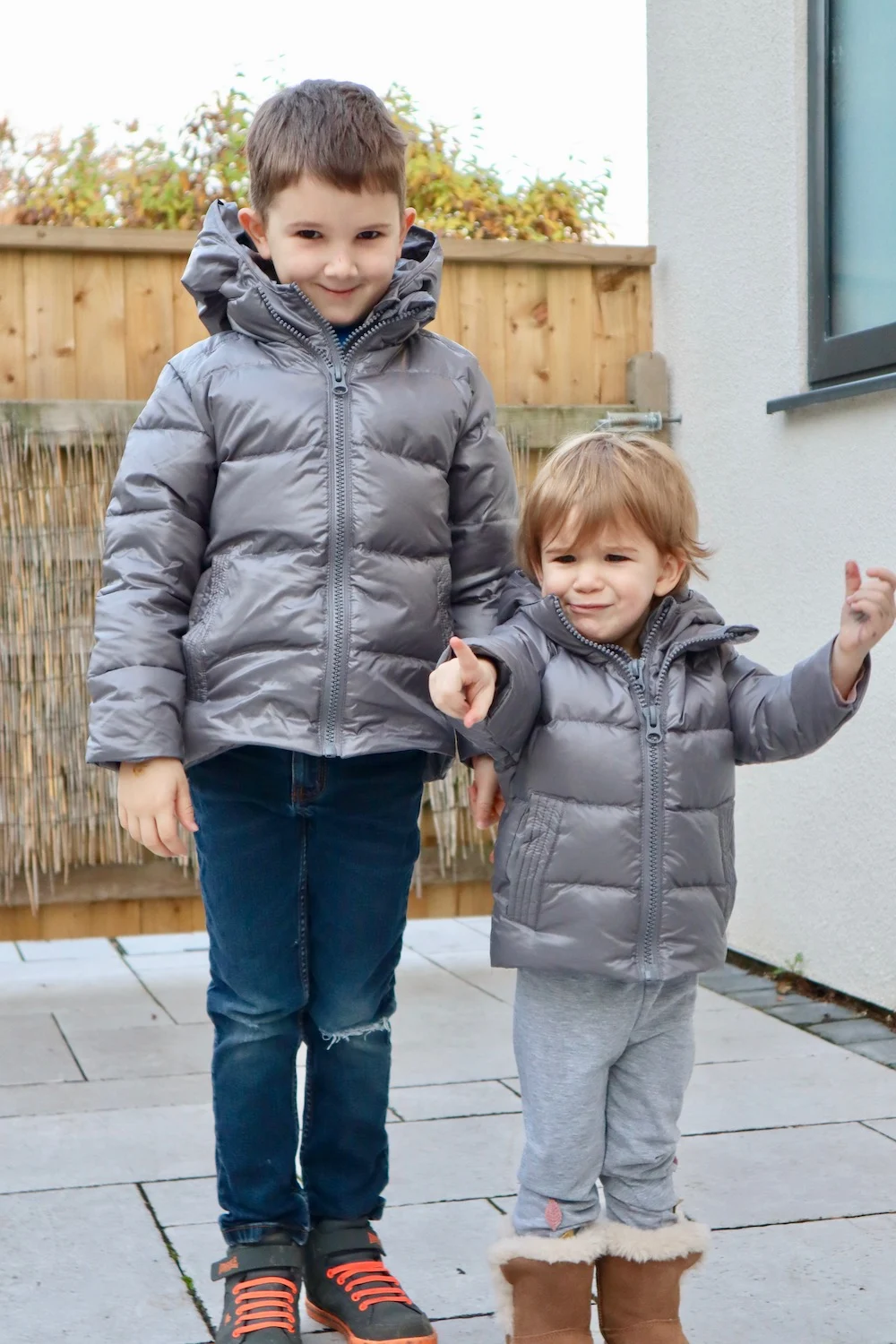 Joseph refuses to wear anything but the Road Coat because he loves it so much. He likes the silvery colour of the coat and calls it his 'Spaceman Coat'. They both really like the warmth of it and the way they can unzip the outer layer if they get hot, but it's still zipped up and doesn't fall off their shoulders.
Multimac currently only stock the coats in this silvery grey colour which might not appeal to all children, so I do this this could be a con for some families.
Size wise – I would say they're true to size. Alba is small (she's just turned two) and she's wearing size 18 months. George is 6 (almost 7) and he's wearing age 6 and it fits perfectly. Joseph is a fairly big 5 year old (he's just turned 5) and is wearing age 5.