This was my favourite day in the Algarve with a visit to Praia da Bordeira Beach…
Warning: Reading this post will make you want to immediately book a holiday!
Early mornings are my favourite time on holiday.
At 6.30am and I hear the faint rustling of a baby waking up through the baby monitor. His internal body clock amazes me each and every morning but, for once, I don't mind getting out of bed at this ungodly hour.
He greets me with a beaming grin as I stumble into his bedroom. His arms and legs start waving manically as he desperately signals he wants to be picked up. I take him through into the enormous kitchen/living area where I tiptoe around in the quiet space. Everyone else is sleeping and I love this early morning stillness.
I put the kettle on as I try to ignore the mess in the kitchen from last night's BBQ feast. Salmon, prawns, burgers, chicken and plenty of G&Ts with tangy lemon were enjoyed on the terrace overlooking the pool.
Through the floor to ceiling windows I can see straight out across the Portuguese countryside. The sky is beginning to lighten and the misty clouds roll across the horizon. The garden is dewy and cool but I can't resist standing outside for a few minutes to take it all in.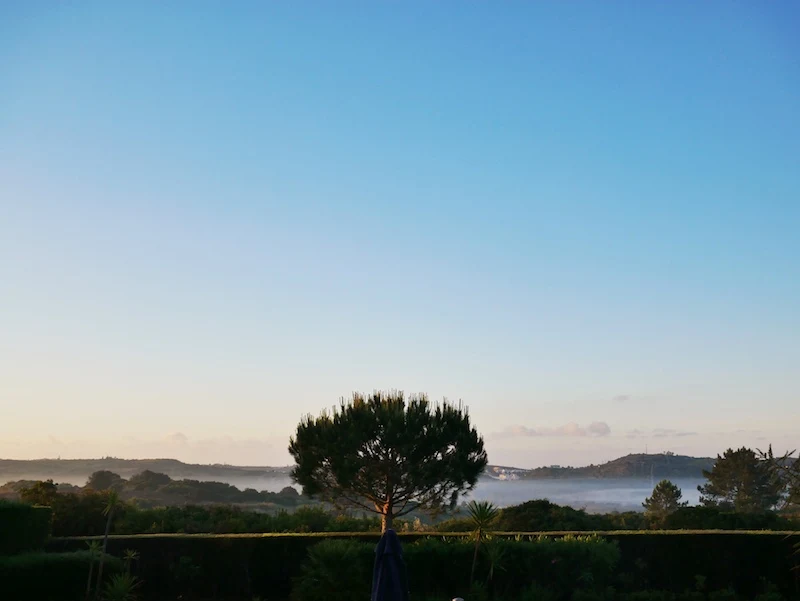 I make myself a cup of tea, wrap Joseph up in a blanket and we head up to the roof terrace to enjoy the sunrise. The air up here feels so clean and crisp. It almost tastes nice and feels good to take great big lungs full. It even smells nice and I want to capture it in a jar and take it home with me.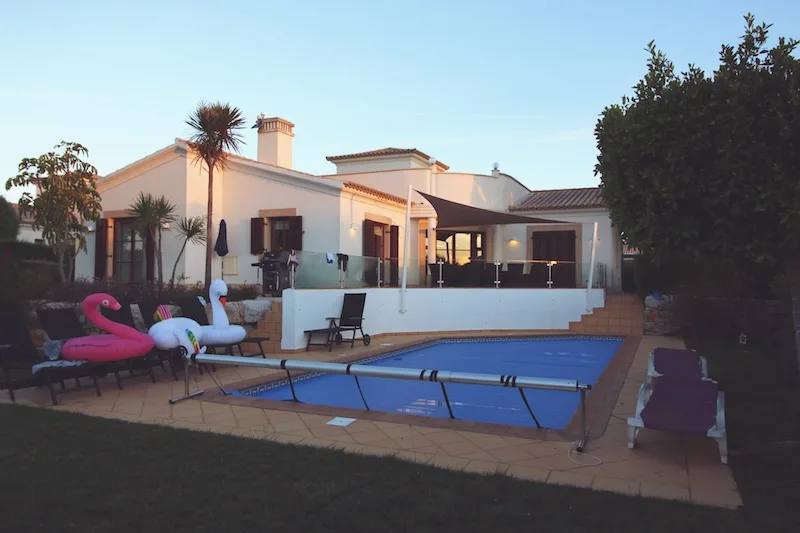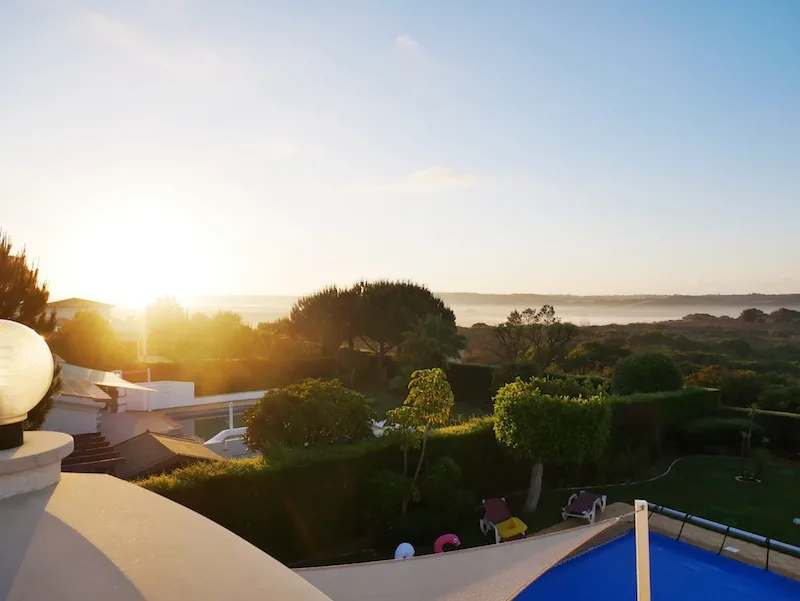 I enjoy a steamy cup of tea as I feed Joseph and watch the world waking up. The mist that blankets the distant hills starts to disperse as the sun makes its bright appearance and begins to warm us up.
Within minutes, this magical scene has gone and is replaced by something equally lovely – but nowhere near as tranquil!
I hear some clattering from the veranda below me that signal George is awake. He wakes with the noisy enthusiasm only a toddler can muster at 7am and he loudly shouts his good mornings to his inflatable toys around the pool.
'Hiya Mingo!' (That's Flamingo)
'Hiya U-Corn!' (That's Unicorn)
'Hiya Wan!' (That's Swan)
These guys were the best £10 I ever spent. Thanks Primark 😉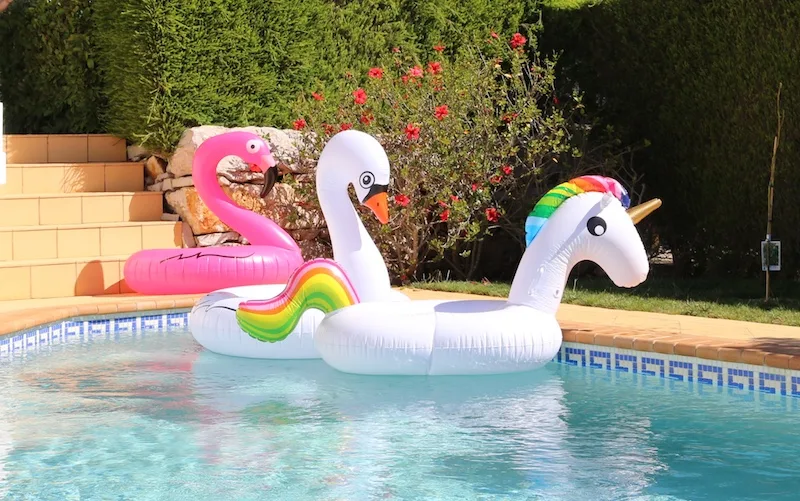 I'm on holiday with Sam and our two boys, George (aged 2) and Joseph (aged 6 months), and also my parents. My mum and dad play golf, so the Algarve is the ideal holiday destination for them. They have 5 days of golf booked, but today is their day off from golfing and they've offered to babysit the boys. I know I shouldn't be this excited about the prospect of a day away from my children but I really am!
We enjoy breakfast by the pool and then hastily make our exit for a child-free day!
Visiting Praia da Bordeira Beach
I'd found a newspaper clipping in the information folder in the villa. It was a 4-page spread from The Sunday Times all about the Western Algarve and the featured image was Praia da Bordeira Beach and it looked too good to miss.
We jumped in the car, popped 'Praia da Bordeira Beach' in the satnav and off we went, enjoying the spontaneity of child-free travel.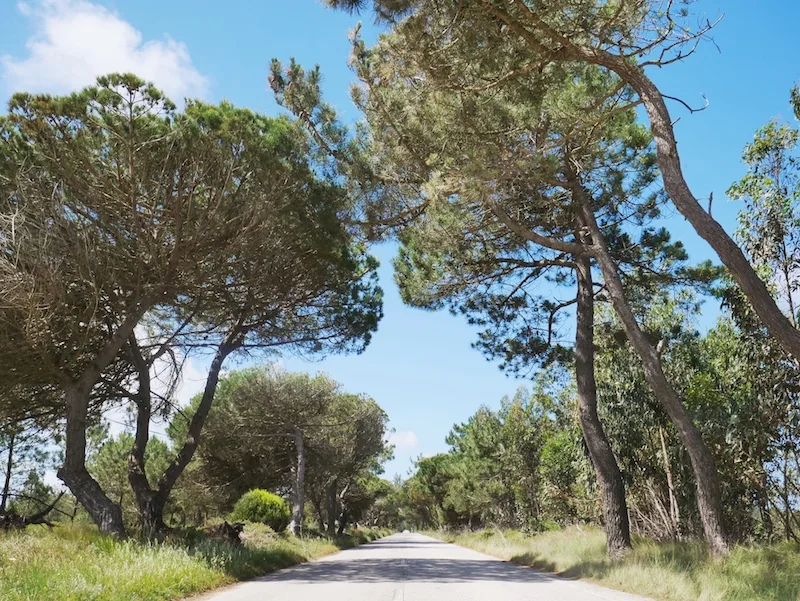 Portugal is such an easy destination to drive around and hiring a car and exploring is the best way to see it. Tiny towns are dotted along the coast and you'll stumble across hidden beaches not mentioned in the guidebooks. Everything is close but not too close, meaning you can stop every half an hour and discover something new, but still feel like you've having a good road trip. And with everything being fairly spread out, it means your fellow tourists are spread out too so nowhere feels too busy or…you know…touristy.
Tourism is obviously huge in Portugal. They had 17.4 million visitors in 2015 and the majority of those go to the Algarve. That's a lot of people but you'd never guess they were all there, especially when you're on the beach. Most of the beaches are quiet and secluded thanks to the natural walls formed by towering cliffs that enclose the sandy coves into little bays. They're quiet and calm and with each hidden bay you feel like you've stumbled upon a little secret.
Today we were heading to Praia da Bordeira Beach which is actually a million miles from the secluded little bays I've just described.
[one_half]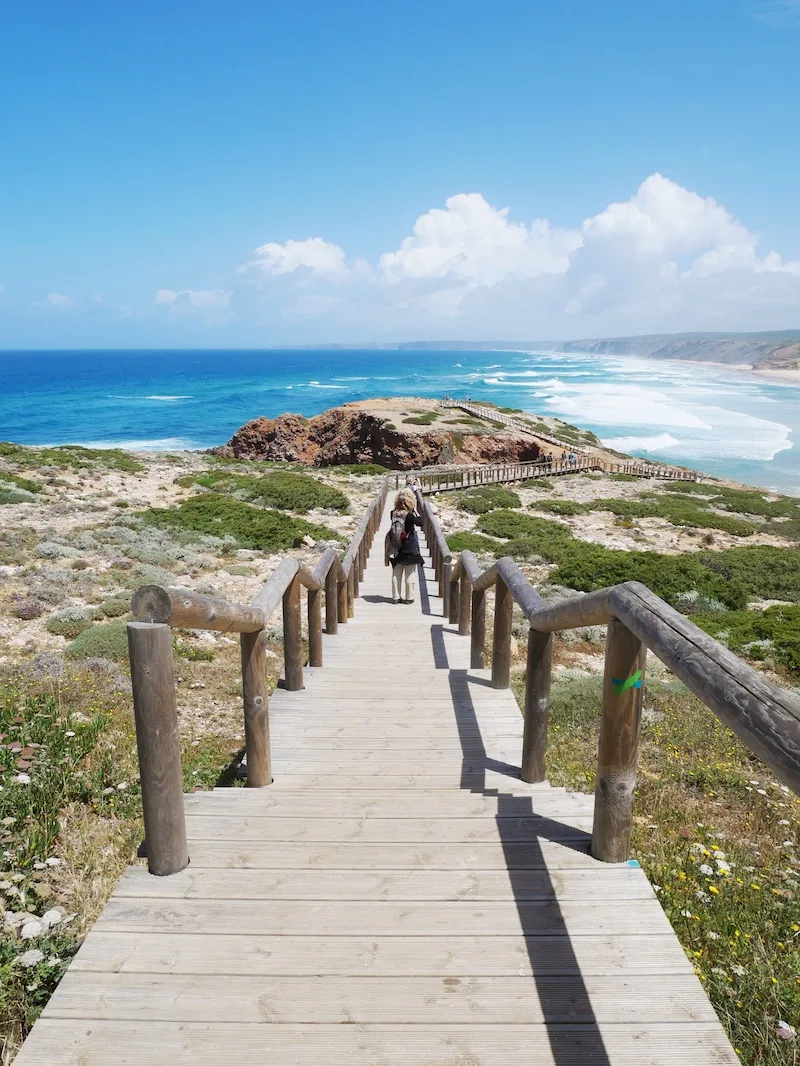 [/one_half][one_half_last]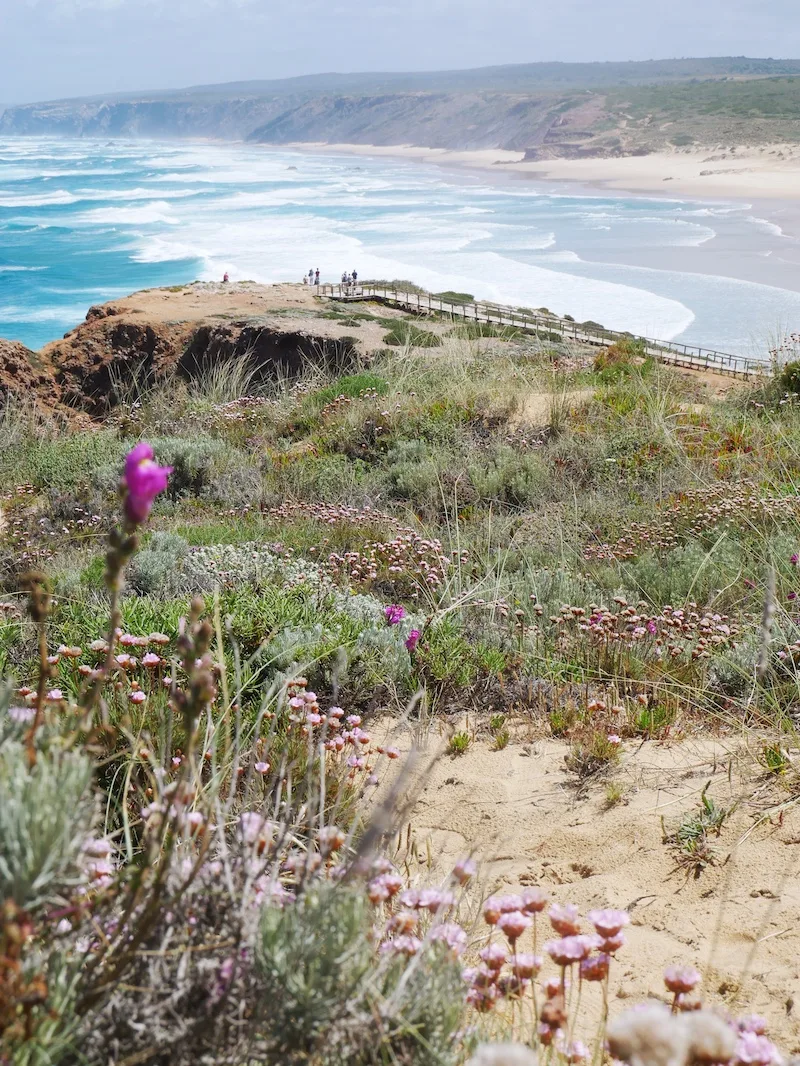 [/one_half_last]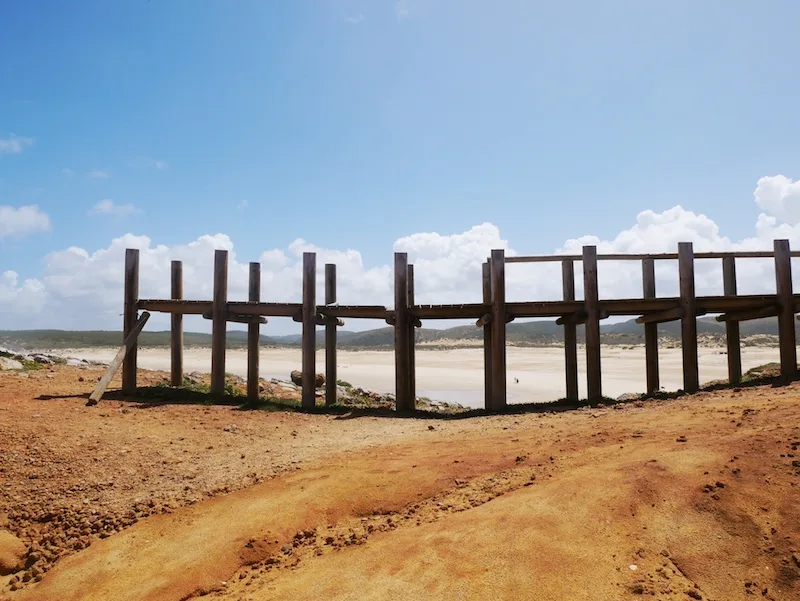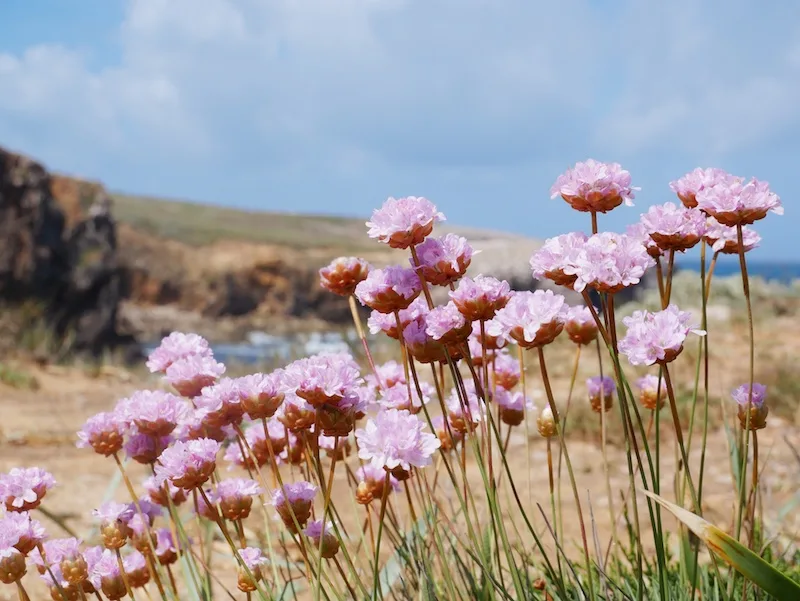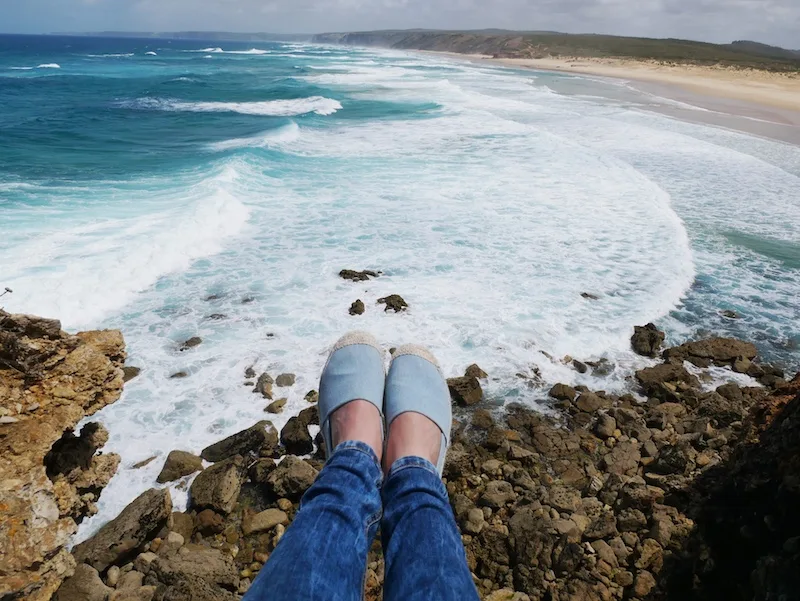 Praia da Bordeira Beach is 3km of wild, rugged sand surrounded by craggy limestone peaks and emerald blue waves crashing to the shore. Wild flowers bloom along the cliffs in a series of pinks, purples and yellows that are so beautiful you can't quite believe a florist hasn't arranged them. Huge boulders provide natural armchairs for you to soak up the sun and watch the surfers in their eternal struggle to catch a wave.
A long boardwalk leads your eye out to sea, but we took the path down to the beach and were greeted by soft sand dunes as far as the eye can see. Down here you're sheltered from the wind and, despite the crashing waves, it feels serene and tranquil.
Sam and I walked along the shore, racing against the icy Atlantic waves that chased us up the beach. We ran up and down sand dunes, stumbling, falling, rolling and laughing. Then sitting down to catch our breath and wishing the kids were with us after all…
[one_half]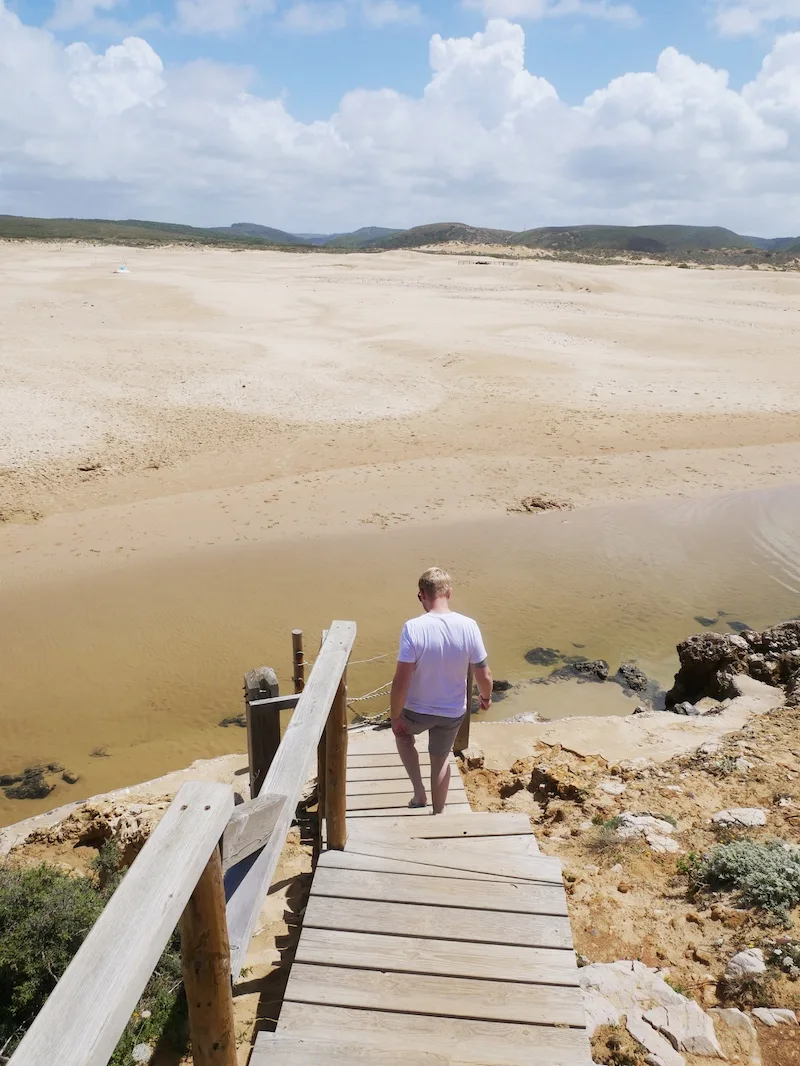 [/one_half][one_half_last]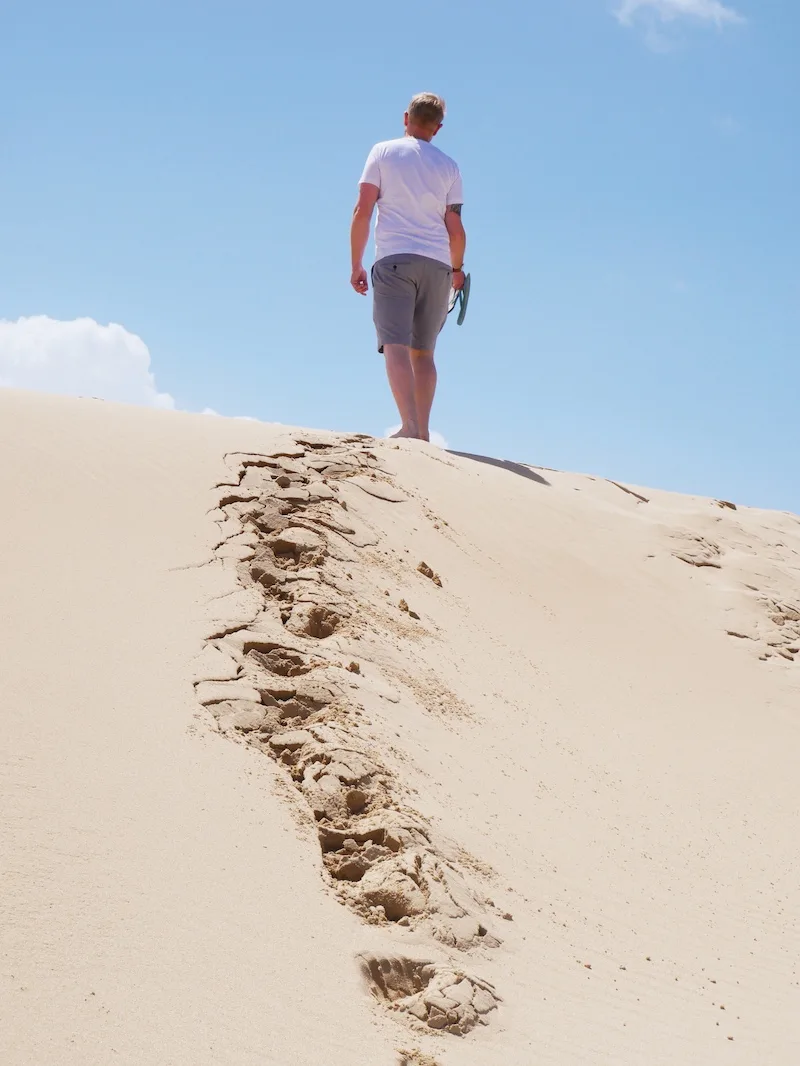 [/one_half_last]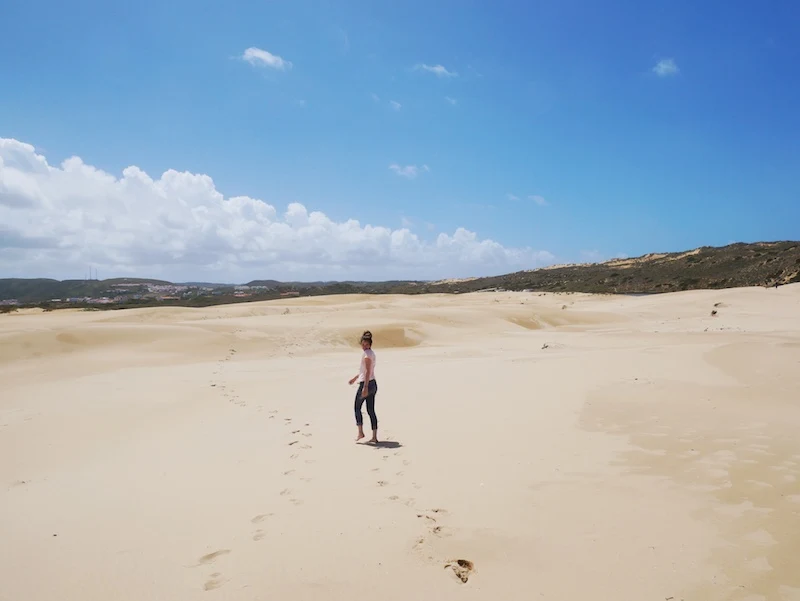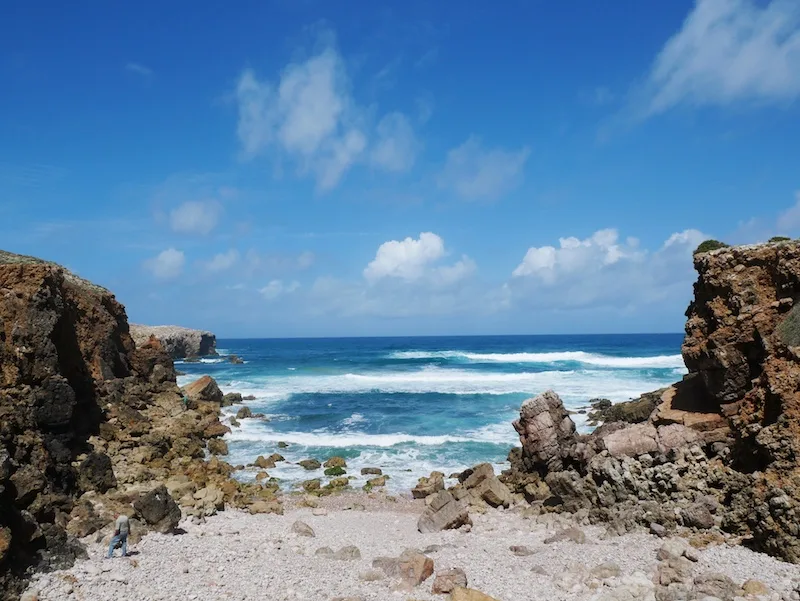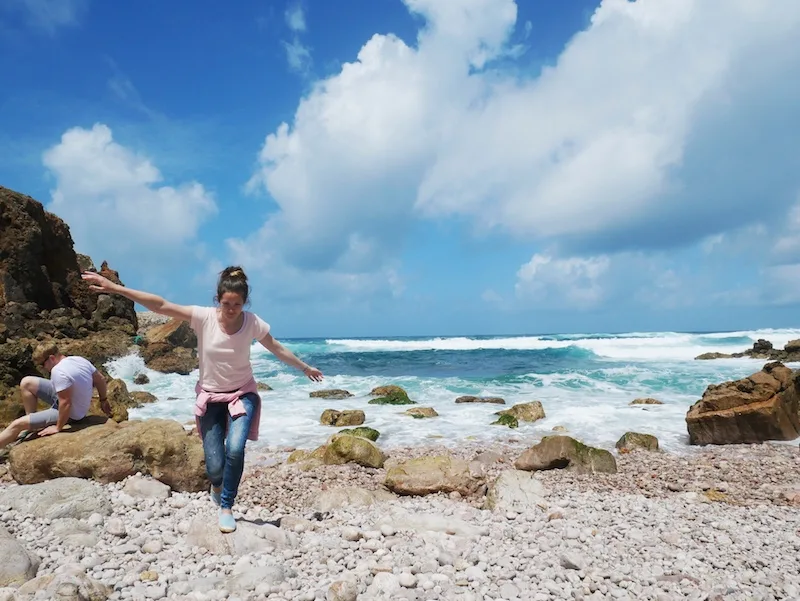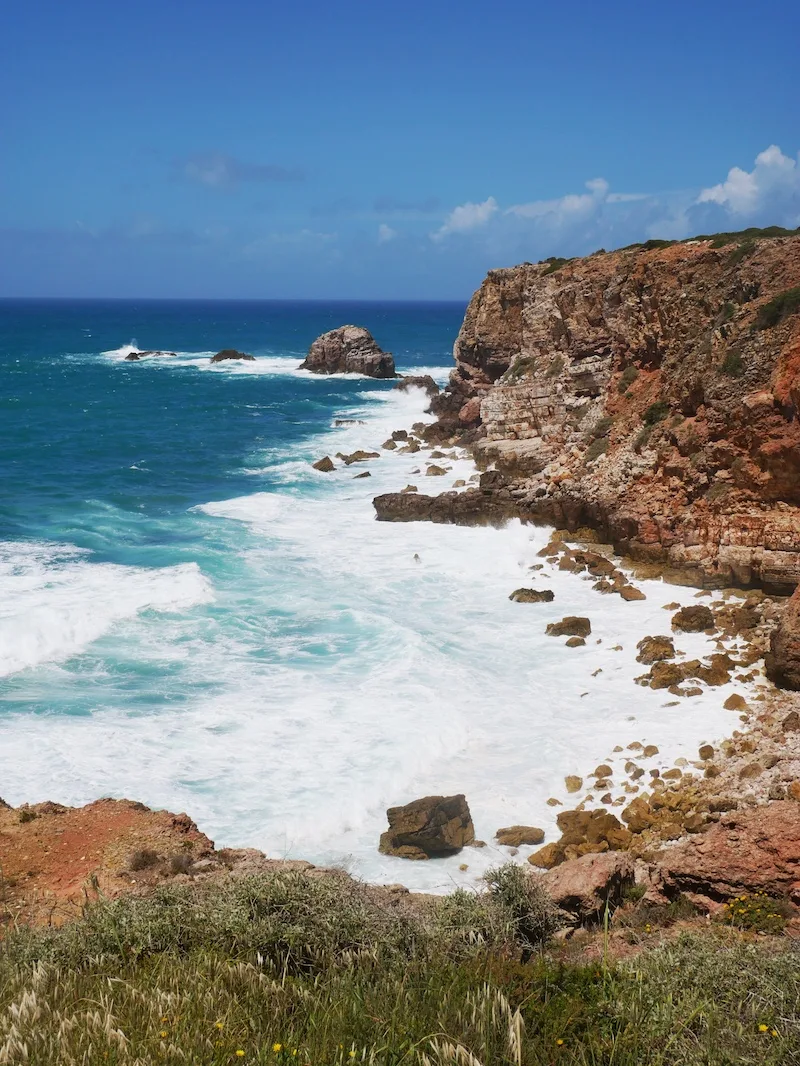 We headed to a little restaurant called Micro Bar for lunch. It's in the tiny village of Carrapateira, the kind of place that's so rustic and rural and charming that you can't imagine another tourist has ever set foot here. A small group of local men were gathered in the square and turned to look at us as we strolled into town. They looked like they'd been sat in those exact spots for 30 years, baking in the sunshine until they were withered, mahogany statues.
Micro Bar is a colourful, vegetarian-friendly restaurant serving enormous portions and icy beers. The menu is small but I wanted every single item they sold. I finally settled on a burger surrounded by a fresh salad and topped with a thick wheel of creamy goats cheese and sweet, caramelised onions.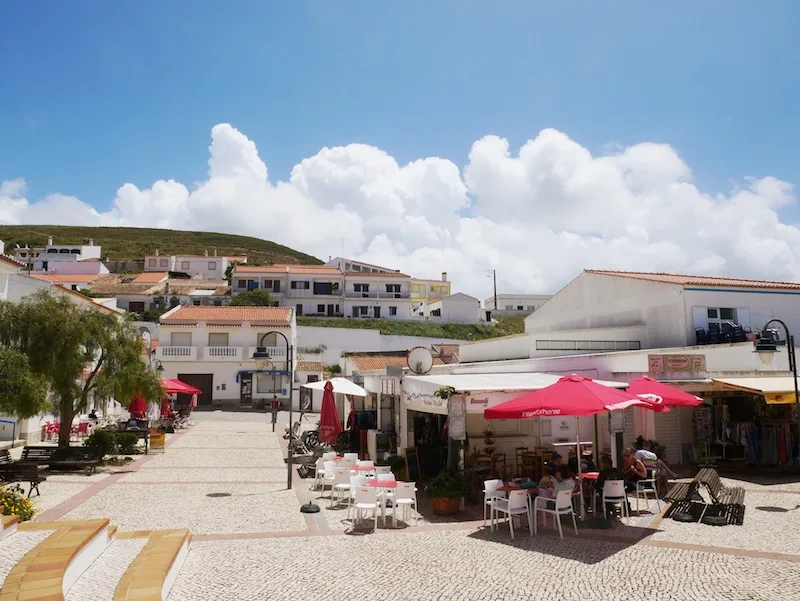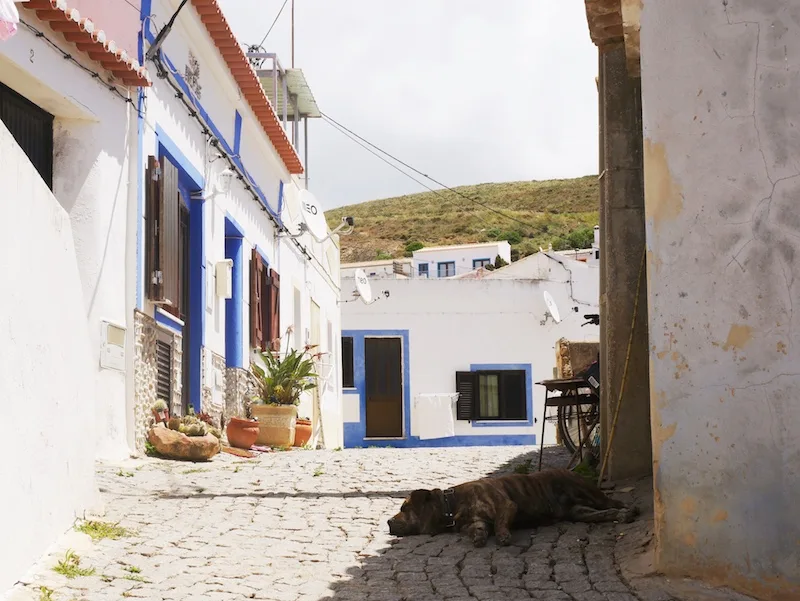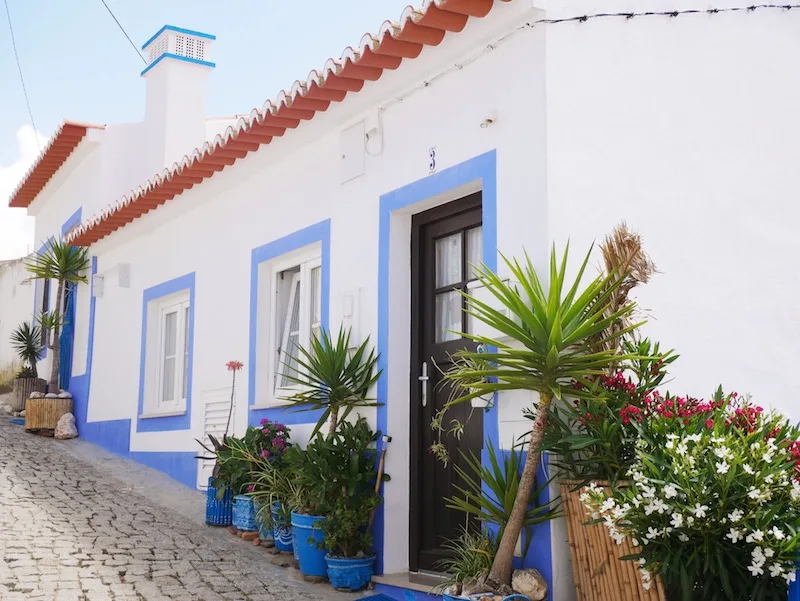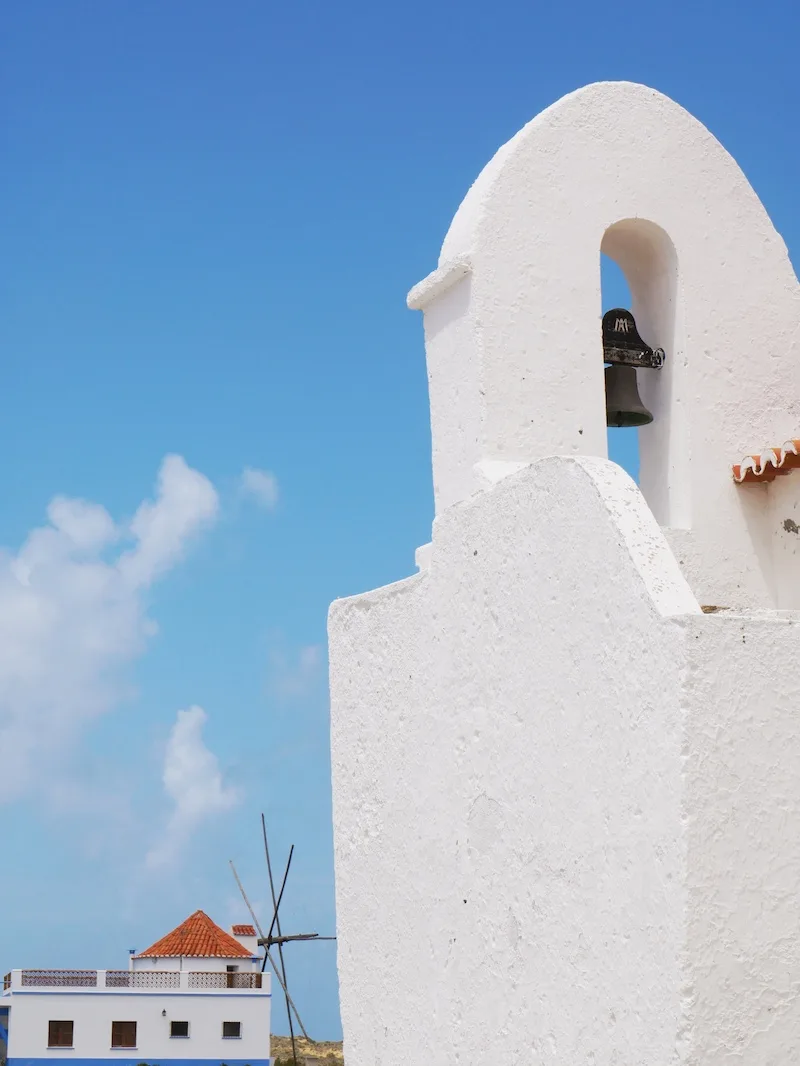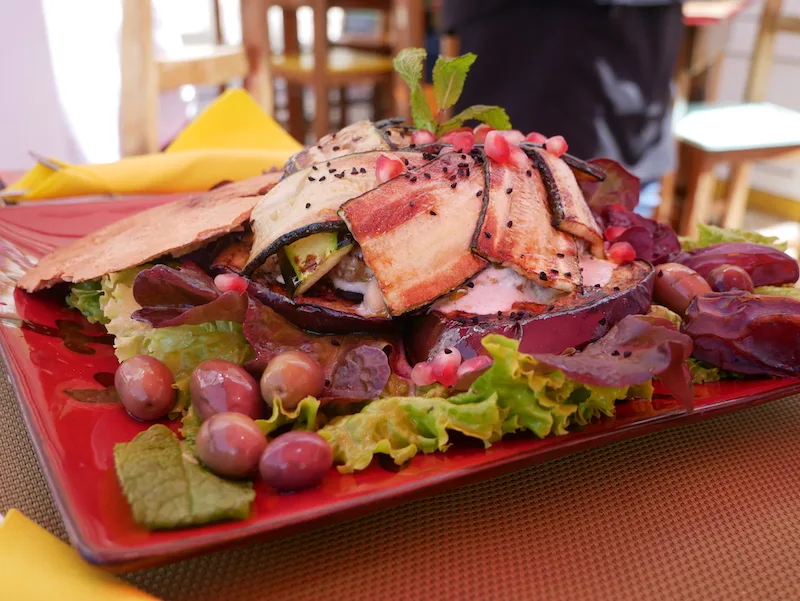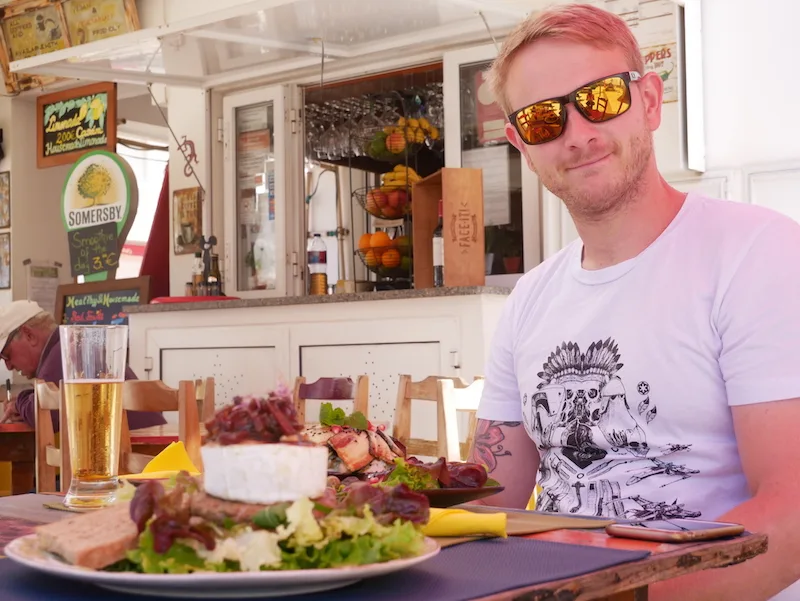 That evening we headed back out for dinner. We had no idea where we were going this time but drove for 15 minutes until we came to the small town of Vila do Bispo. The town seemed so quiet that we weren't even sure if there was a restaurant there but as we walked to the beach we found a few seafood restaurants dotted along the shore.
Once we arrived at the beach my initial reaction was the forget about the seafood restaurants and look at that sunset. The sky was a soft, pastel pink with an orangey haze towards the clouds. The sea was gently shushing against the shore and there wasn't a single person on the beach. Considering we had no idea we were coming here, we seemed to have stumbled upon yet another beautiful gem.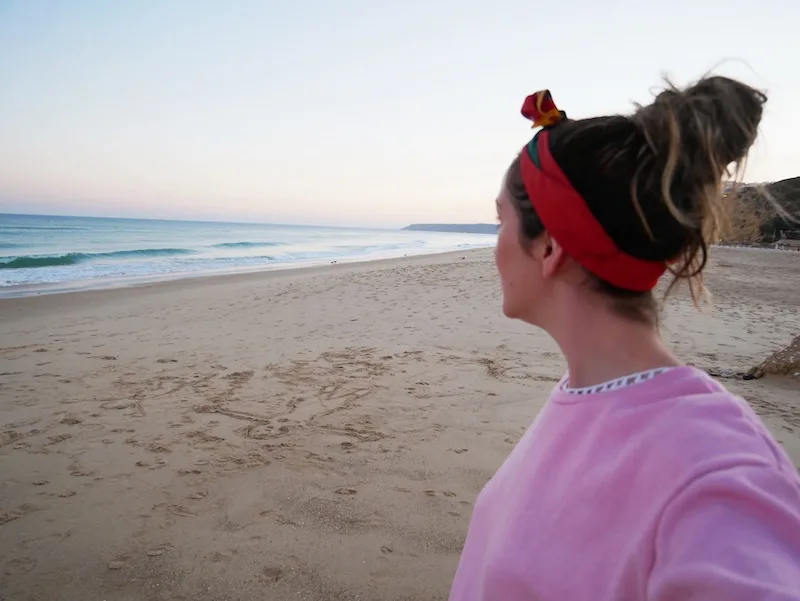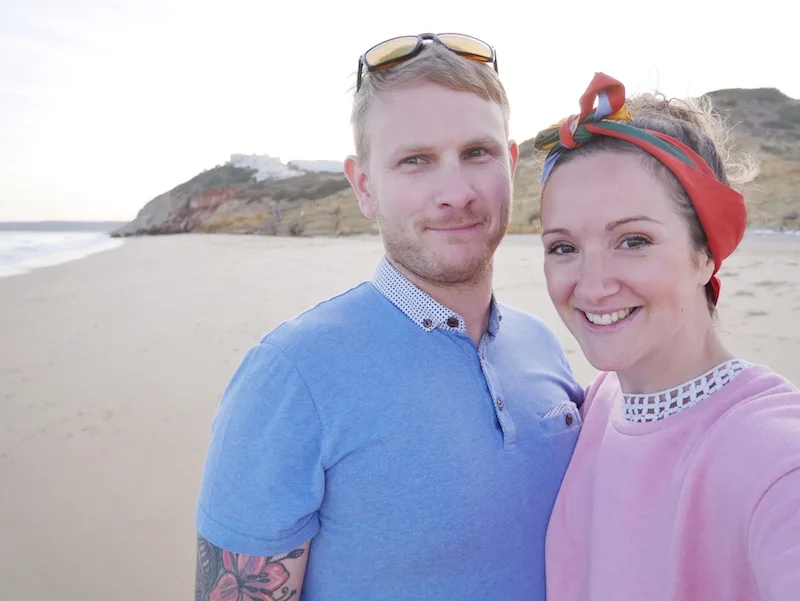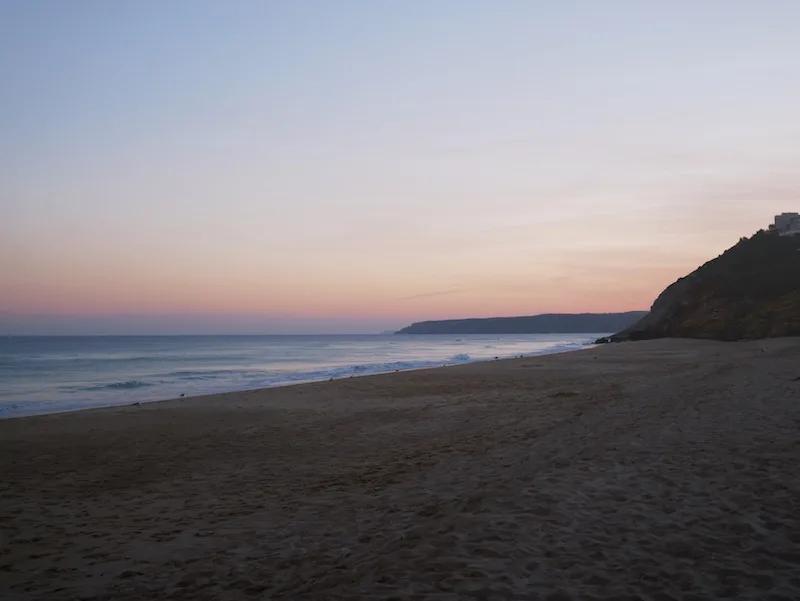 (I'm sorry, the photos stop here because this is where my battery died!)
I wanted to sit on the beach all evening and enjoy that sunset but hanger was setting in!
There were three seafood restaurants and we opted for the smallest, simply because it looked like everyone was having fun there. It was called Mira Mar and really doesn't look like anything special but, from past experience, these busy but basic restaurants are always the best. A small chalk board displayed the menu and white paper table cloths lined the little tables. Jugs of wine were generously poured while small groups of friends chatted with animated hands.
Sam had the tuna steak while I had the red bream. Both were grilled to perfection and served with a simple pot of veggies and new potatoes. It's meals like this that make you wonder why you bother cooking anything fancy because a freshly caught fish, generously seasoned and quickly grilled is one of the most delicious meals you could wish for.
It was dark by the time we left but we walked along the empty beach that was illuminated by the moonlight bouncing off the sea. I'm sure you could see every single star in the sky as we drove back to our villa for a final G&T by the pool.
---
My holiday details
I flew to Faro from Liverpool with easyJet. The flights were booked 12 weeks in advance and cost £112pp
I stayed at Almaverde Villa 75 on the Western Algarve. You can read my review from the villa here.
We hired a car through Luz Ocean Drive and it cost £200 for a week for an estate car.
I have another post coming this week with all my favourite things to see and do!
[one_half]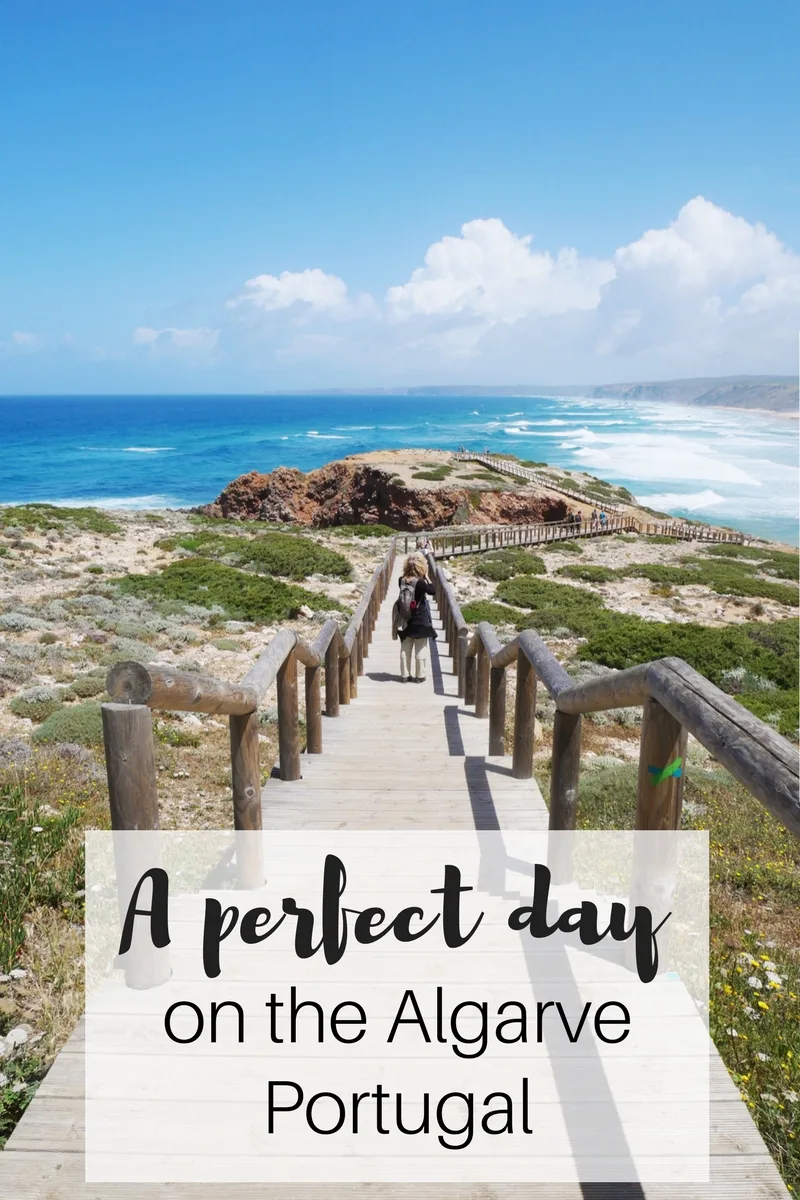 [/one_half]