This week's weekender of the week is a little different as we take to the waves for a more active and adventurous trip.
We usually talk about city breaks for a weekend away but what about heading to the beach and brushing up on your surfing skills? A weekend of sun, sea, sand, surf, loads of exercise and icy beers at sunset sound like a great way to spend a Weekender.
Today I'd like to introduce you to Rapturecamps, a surf school with camps in Bali, Nicaragua and Portugal. For us Brits, Portugal is going to be the best option for a short holiday and the good news is, Ericeira sounds incredible.
Rapturecamps was founded by travellers who met in North Africa. The guys were both business savvy entrepreneurs with internet know-how. But, above all, they were passionate about surfing and were looking for a way to surf great waves for the rest of their lives.
Where is it?
The Portuguese base is in Ericeira, one of the top surfing towns in Europe and named as one of the top 4 in the world according to CNN.
Ericeira is best known for being a world-class surfing destination but it's also a seaside resort and stems from a fishing village so it has that gorgeous charm you'd expect from a Portuguese town. It has golden beaches, blue seas, endless sunshine, quaint cobbled streets, great restaurants and, most importantly, surf!
The Save the Waves Coalition chose Ericeira as Europe's first and — so far — only World Surfing Reserve. This is a program that preserves surfing areas and the surrounding environment and also aims to protect cultural, economic and communities in surfing areas. If you're going to learn to surf anywhere in Europe, this sounds like a pretty good place to do it!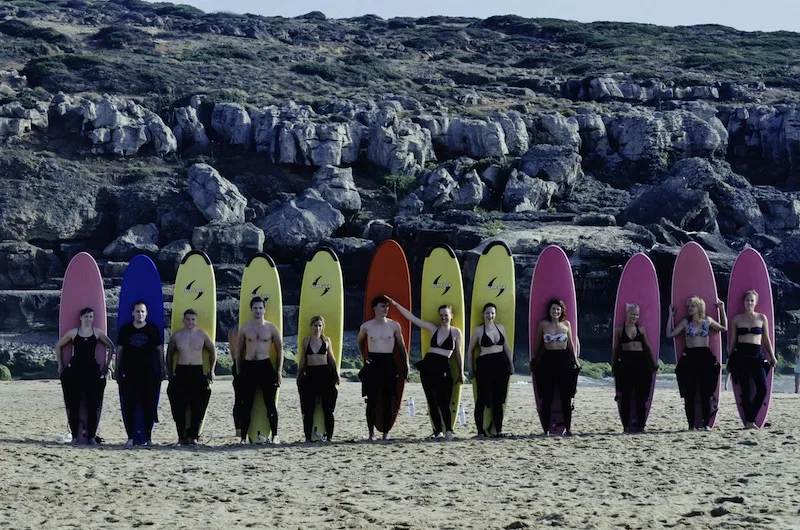 How to get there
Ericeira is just half an hour away from Lisbon. Flights to Lisbon take 2 hours 45 from London and you can pick them up for less than £100 with easyJet and Ryanair. You can then take a transfer to Ericeira for about €30 each way – so getting there is pretty cheap.
Where to stay
Rapturecamp have a large Portuguese style house and 3 apartments just 200 meters from unspoiled beaches. Enjoy scenic views, a private garden and a friendly, community feel. They are just 3 minutes from Foz do Lizandro Beach and are a 15 minute walk into town. You can choose from a 2-bed apartment or opt for a shared or private room within the house. Prices for half board begin from €29 per night.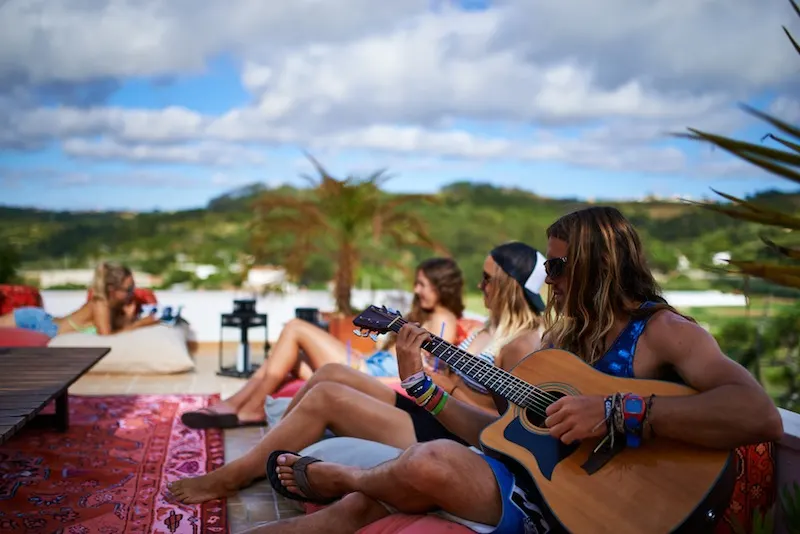 Surf lessons
Whether you're a total newbie or you need to brush up on your surfing skills you can book surfing lessons through Rapturecamp for €30. Note that they don't have lessons on a Sunday so you'll probably want to squeeze in a few on the Friday and Saturday so you can practice alone on the Sunday. If you don't need/want lessons then you can hire a board and a wetsuit for €20 per day.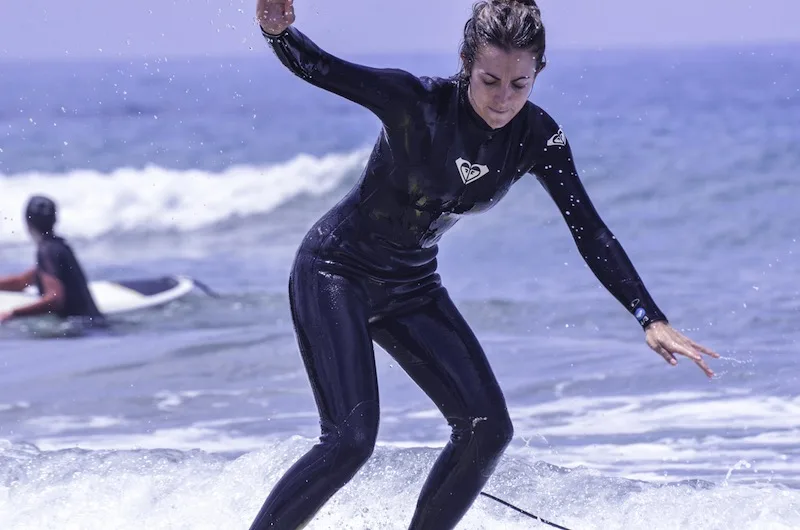 Yoga?
Yoga and surfing compliment each other perfectly. They're both all about balance, focus, breathing, flexibility and mindfulness. A combination of yoga and surfing would make an awesome holiday. Imagine how good you'd feel when you went home!
Rapturecamp offer yoga lessons for €10.
More info
Check out surfcamp.travel for more info and basically loads of gorgeous images that will make you want to give up your life and move to Portugal to be a surfer. Don't say I didn't warn you 😉