I arrived in Timisoara, Romania with no pre-conceived ideas about the city so I really didn't know what to expect. This was a new destination for me and I didn't know anyone else who had visiting Timisoara. In fact, most people I spoke to had never heard of it!
Of course, I'd searched through Google images and read a few travel blogs but I still didn't realise how wonderful this city is, especially if you're visiting for a weekend break. There are so many things to do in Timisoara and it was a gorgeous place for a sunny, weekend break.
I'd visited Romania a few times (often taking advantage of the cheap flights!) and I loved it so I was excited to see more and find out the best things to do in Timisoara.
Romania's third and most westerly city, Timisoara is small and compact. But you know what they say, 'the best things come in small packages', and this couldn't be more true for Timisoara. Here's what I got up to during my 4 day trip to Timisoara, Romania.
But before we go any further, let's address the elephant in the room…
How do you pronounce Timisoara? As an English speaker it feels like an unusual word to get your mouth around!
Timisoara is pronounced: Timi-shwara.
OK, now we've got that out of the way…let's find out the best things to do in Timisoara and see what my 3-day itinerary looked like.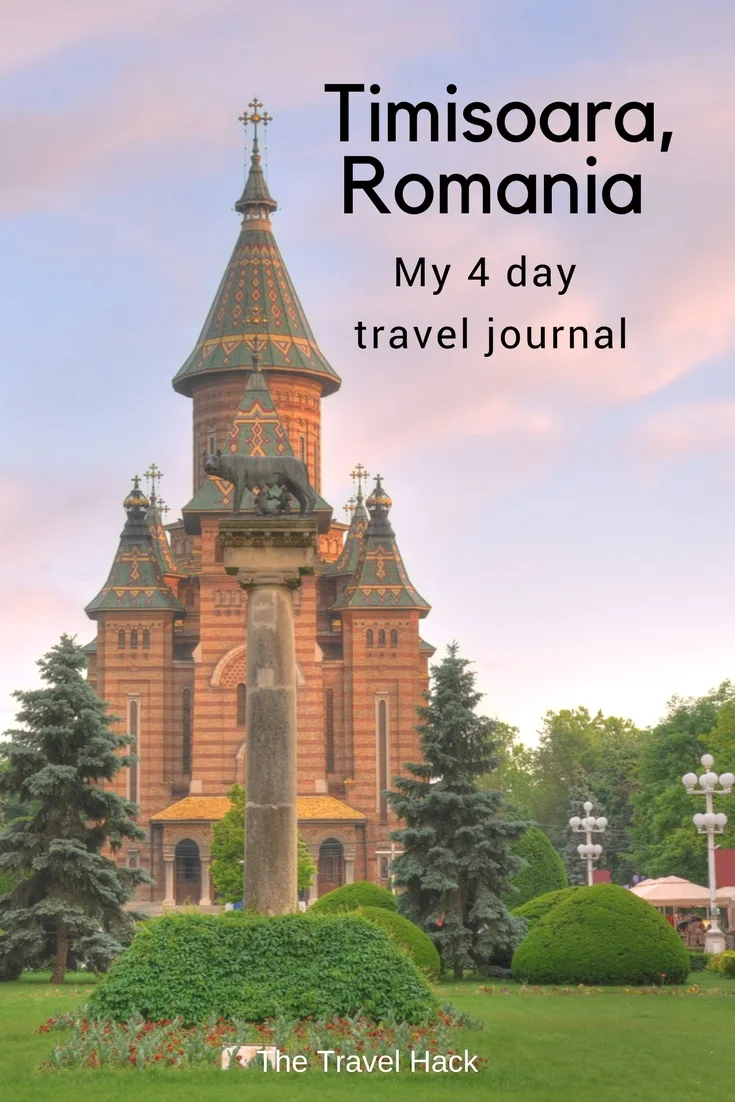 We arrived late on Thursday evening and went straight to Hotel Check Inn where we were staying for 4 nights (unfortunately this hotel is no longer open but here are some hotel options for Timisoara. )
I was travelling with two friends and we were often joined by Mihaela Codre who had invited us out there and acted as our guide, giving us an insider's view on the city she grew up and showing us exactly where to go and places to visit in Timisoara.
Friday
(I've left all of my photos to the end of each day to make this guide to things to do in Timisoara as easy to read and understand as possible)
Visit the Orthodox Cathedral
On Friday morning we took a 25 minute stroll into the city and met Mihaela at the grand and impressive Orthodox Cathedral. We were joined by a cameraman and a journalist who were following our trip to report back to the local and national media. It was a bit like being a celeb on a reality TV show and I secretly loved it 😉
The cathedral is even more impressive on the inside with virtually every surface gilded in sparkling gold. There's the thick scent of incense, flickering candles and two priests chanting to a devoted crowd who gathered together and placed a hand on the person nearest to them. It was a spiritual, almost emotional, service but we only stayed a few seconds as it did feel like on an intrusion on such a personal ceremony.
See Victory Square
From the dominating steps of the cathedral we made our way down to Victory Square where Mihaela gave us a brief run down on the history of Timisoara and this very important square.
Timisoara was a communist city until 1989 and everyone lived in fear of spies. Everyone was watching everyone and no one knew who they could trust. Brothers, friends and neighbours would report each other to the communist party if anyone was heard speaking out against the government and families were forced to live on meagre rations and in poor conditions. In December 1989 a revolution began and protests started right here in the square. I'm cutting a very long story short here but there was a lot of protesting, fighting and murder but it was when there were a lot of shootings and the government spoke out against religion that the people started to turn against the government.
The square is now known as Victory Square and it looks like something right out of a fairy tale. The cathedral is like a sparkling princess castle and the beautifully ornate buildings that surround the colourful flowers in the square add to the magical charm. There are cafes and restaurants around the square
We walked through the city and wandered down narrow streets dotted with outdoor cafes with enormous umbrellas sheltering people from the sun. It was quiet but welcoming and there's a lovely, peaceful vibe in the city.
Visit Liberty Square
We made our way to Liberty Square, arguable the most beautiful and impressive square in the city. Each vibrant building surrounding the square is a different colour and unique but striking design, making it a bright, impressive and playful square. At one end sits the Catholic Cathedral and nearby is the Museum of Art. Many of the other buildings are restaurants and cafes and we found the perfect spot to enjoy lunch and some cool drinks.
Visit the Museum of Art
After lunch we made our way across to the art gallery.
Now I know I'm going to embarrass myself here and admit how incredibly uncultured I am but I'm not a huge fan of art galleries. I like to glance over the art and I enjoy the tranquil atmosphere and impressive architecture of galleries but I quickly get bored and prefer to be outdoors. But just as I was getting bored we made our way into the latest exhibition there, Meating by German artist Virgilius Moldovan.
And wow, it was incredible. His bigger than life statues depict humans in their most vulnerable state, naked and imperfect in some way. Statues of this size are usually strong and imposing and show muscular men and curvaceous women who are dominating and powerful. These statues are the complete opposite and they're difficult to look at.
One statue is different to the others in the exhibition and shows Hitler holding a slaughtered rabbit and represents the way he slaughtered Jewish people and they were as powerless and vulnerable as rabbits.
Get gelato from Massimo
That was pretty intense so we headed out into the sunshine for ice creams and stroll through the parks. I can highly recommend a visit to Massimo for what we were told was the best ice cream in Timisoara. The gelato was so delicious we visited every day and didn't bother trying anywhere else in the city! Try the dark chocolate gelato. Thank me later!
Stroll through Rose Park
We visited Rose Park, a beautiful park filled with roses of every type and colour, and then Kid's Park which would be a dream come true for kids in the city. You could easily spend an entire day in this park as kids run between the bouncy slide and the crazy golf, the enormous assault course and the variety of slides, swings and climbing frames! Everything is hidden in the trees so it didn't feel as big as it was and there was a magical feel of exploring through a forest.
Walk along the river and have a drink in one of the quirky bars
We walked along the river and had a drink at La Capite Bararie, one of the many quirky bars that line the river. It was an idyllic setting as the sun was low in the sky, it was a perfect 28 degrees, we sat on hay bales as we sipped beers and G&Ts and excitedly chatted about what a gorgeous city this is.
Have dinner in Victory Square
We went back to Victory Square for dinner before slowly walking back to our hotel.
By the time we got back we'd clocked up an impressive 20,000 steps so we enjoyed a well-deserved beer before bed.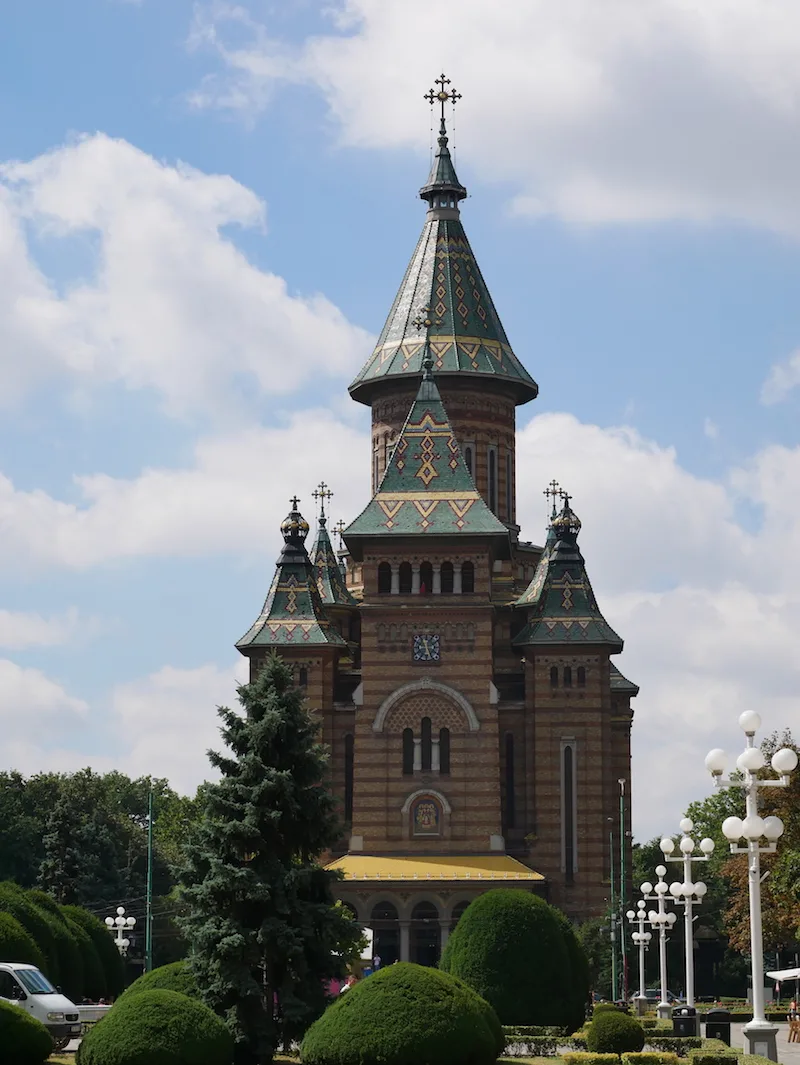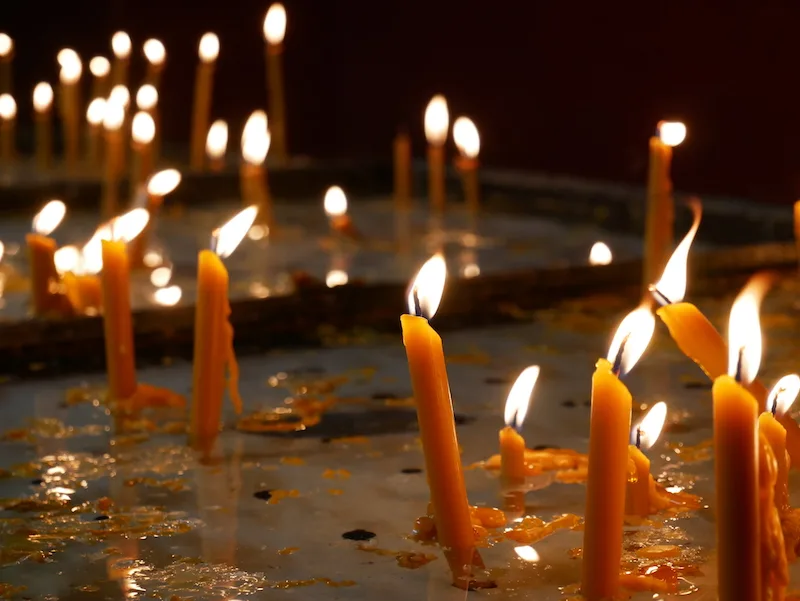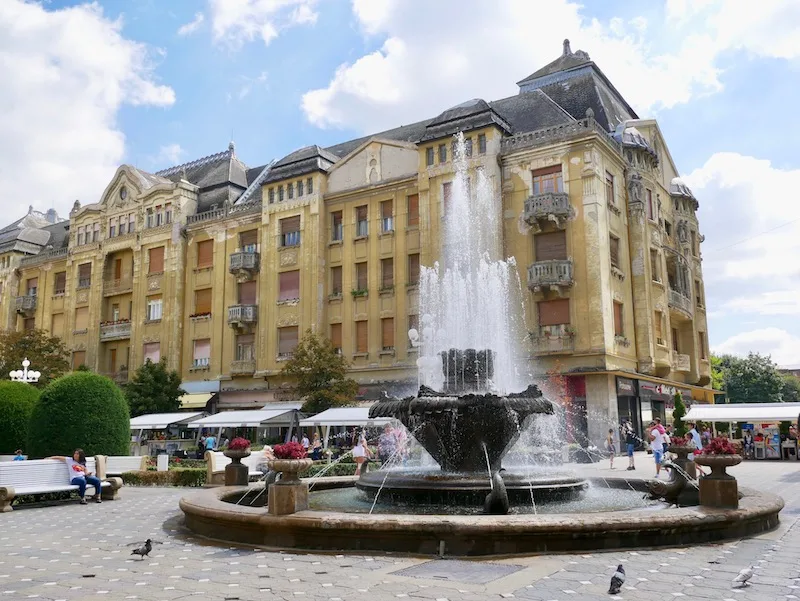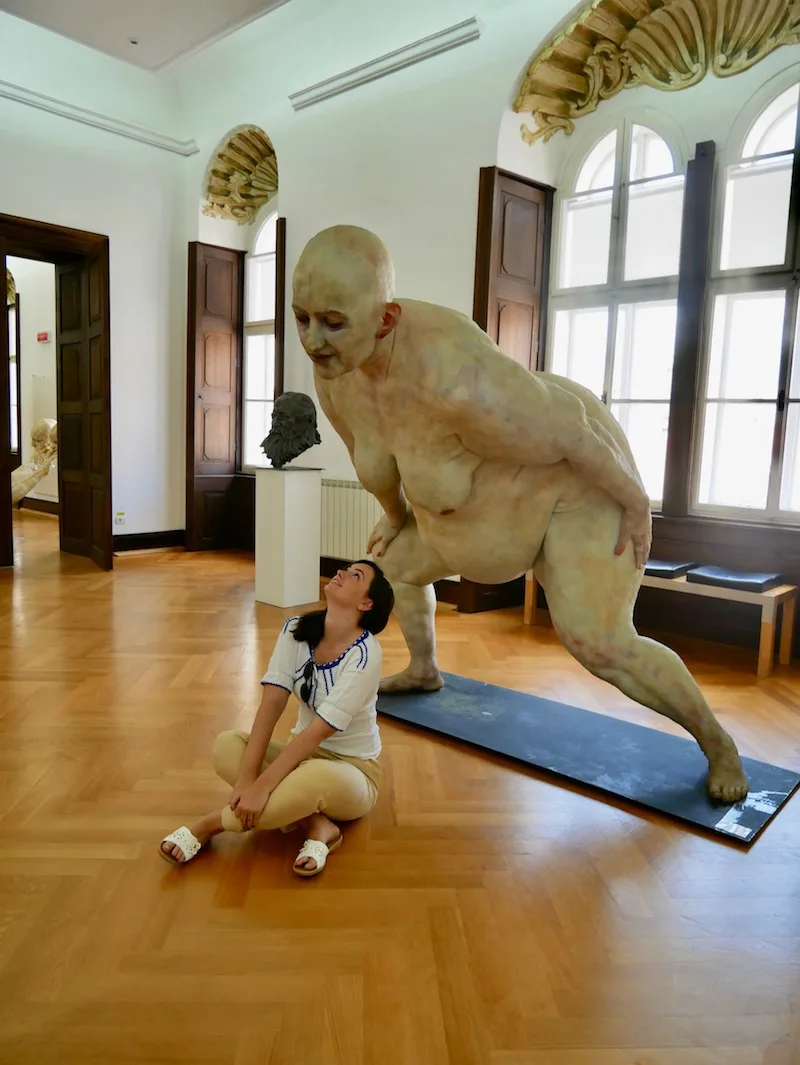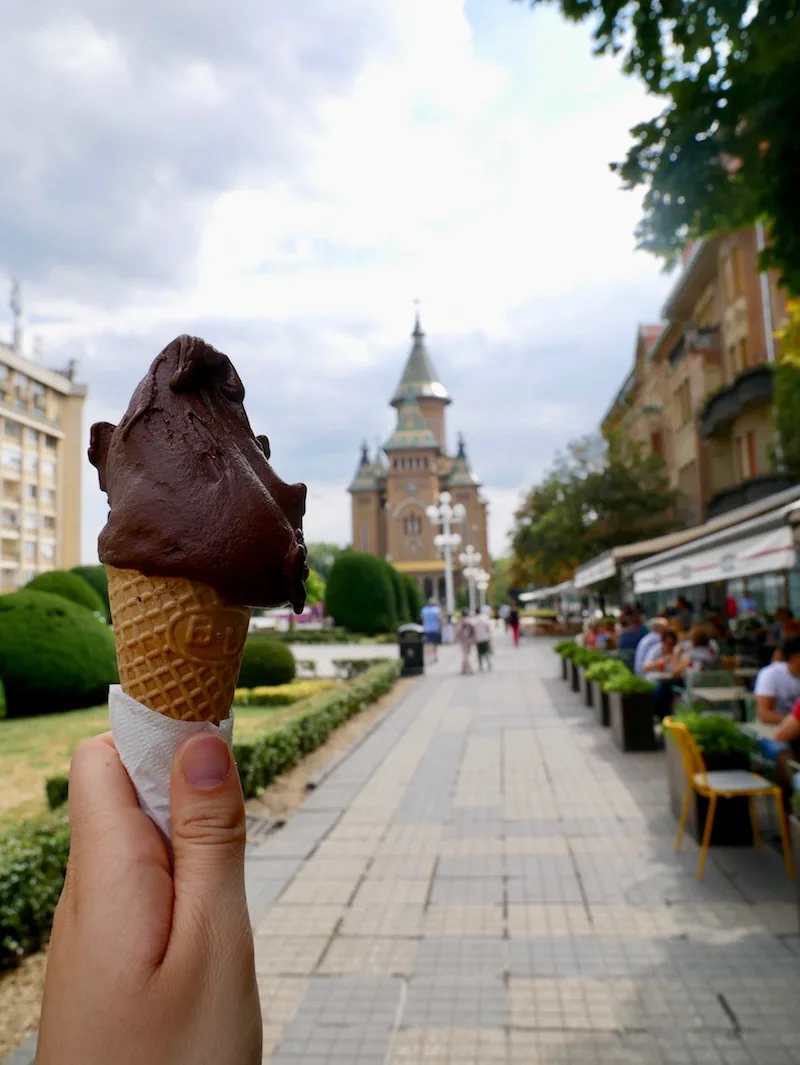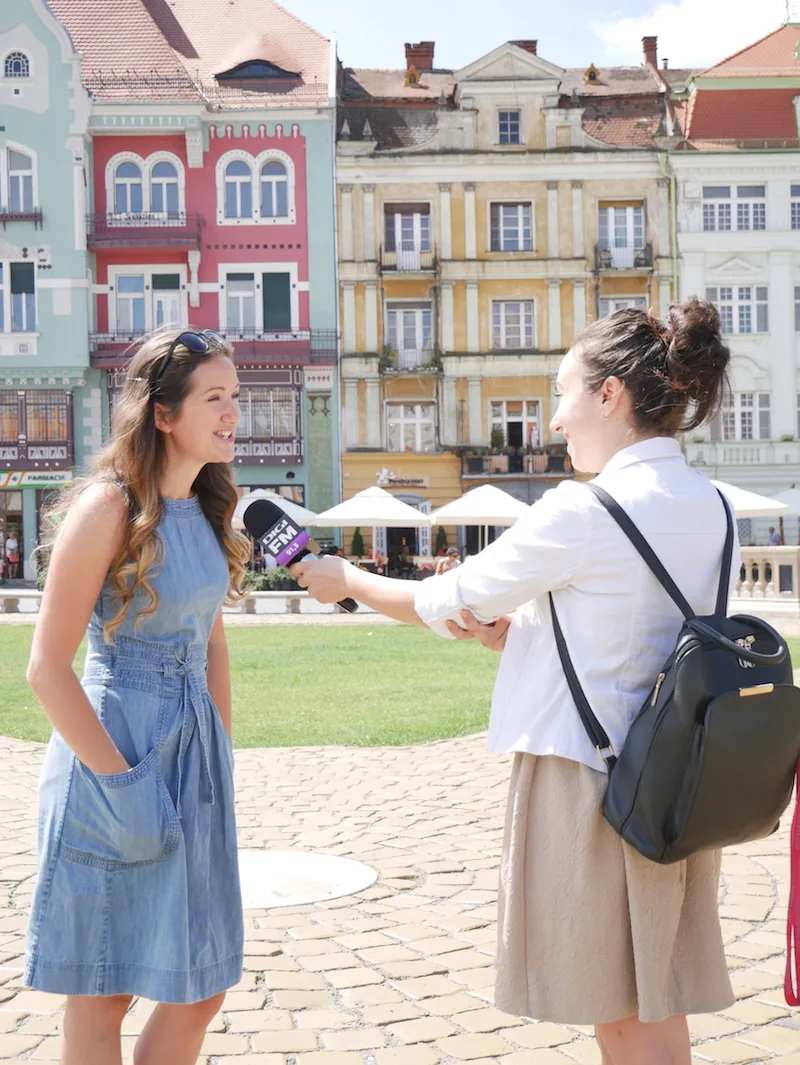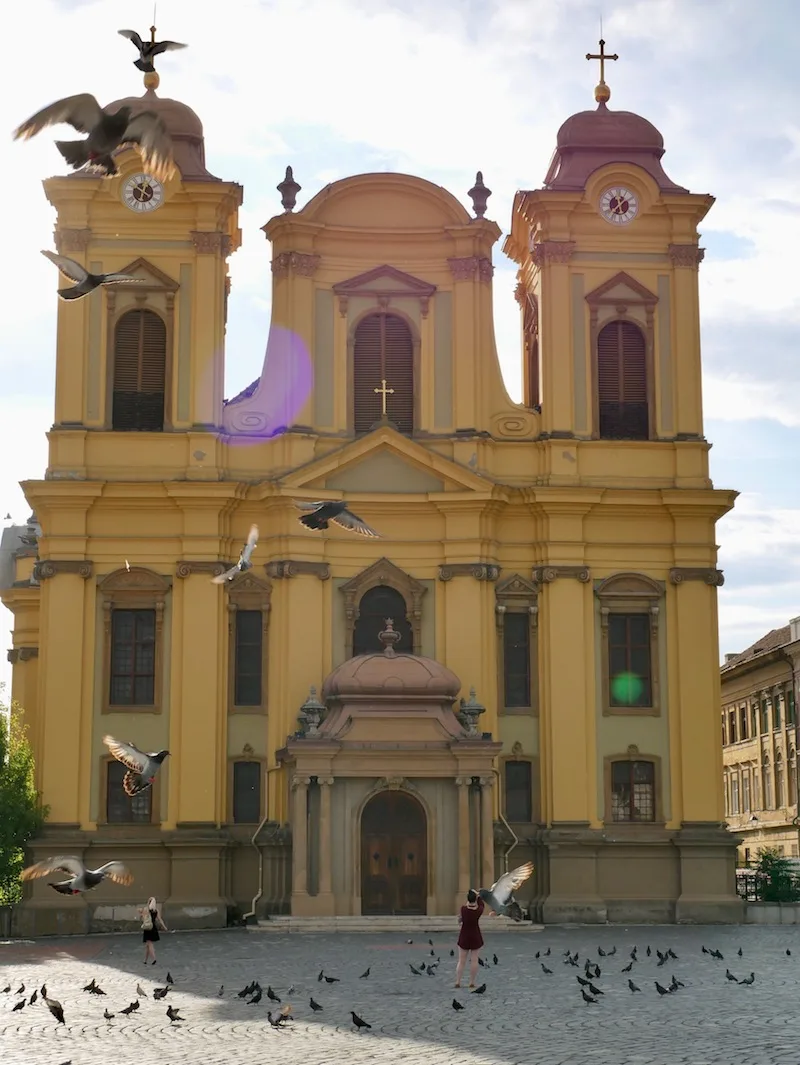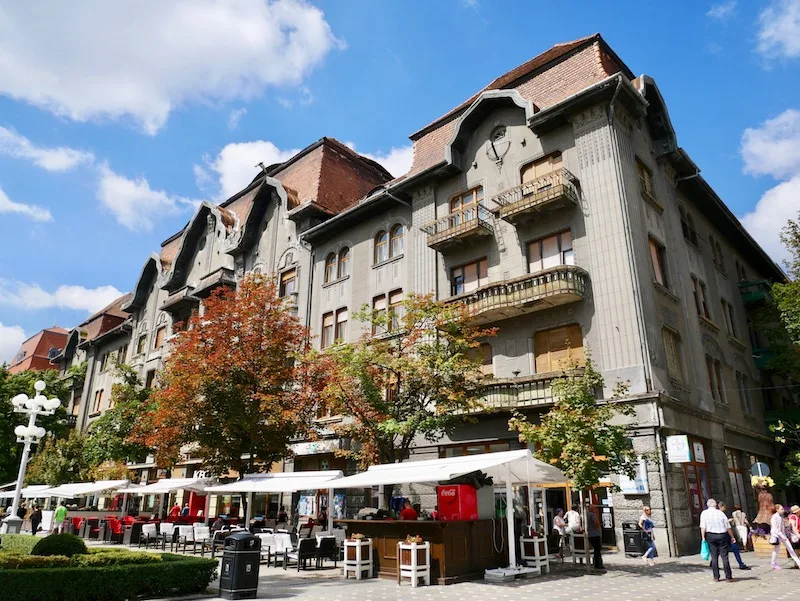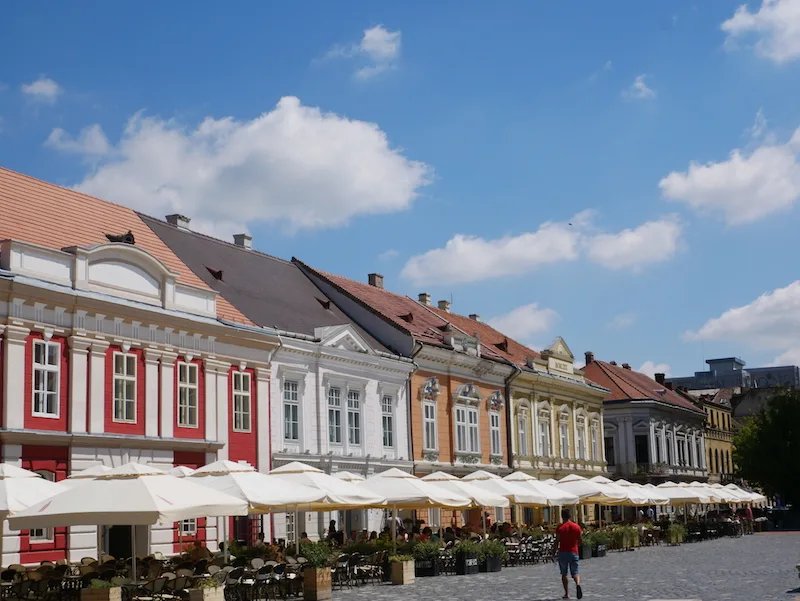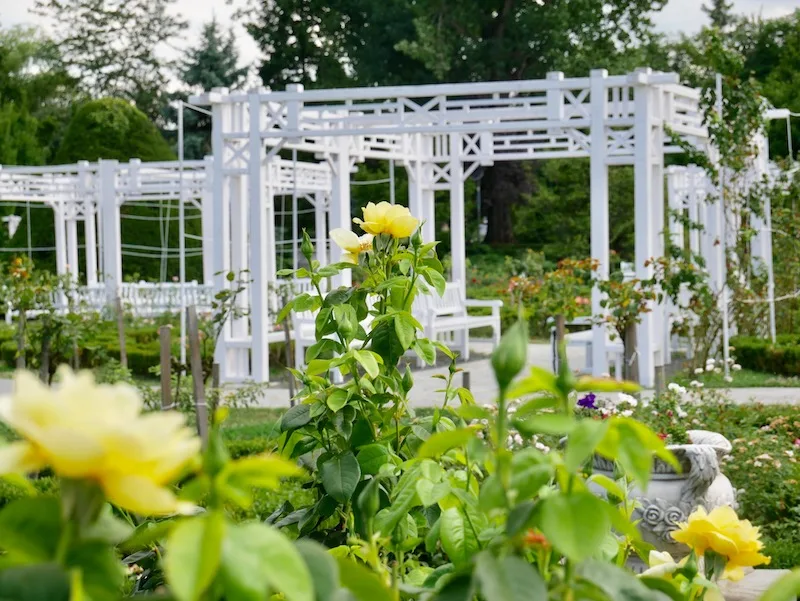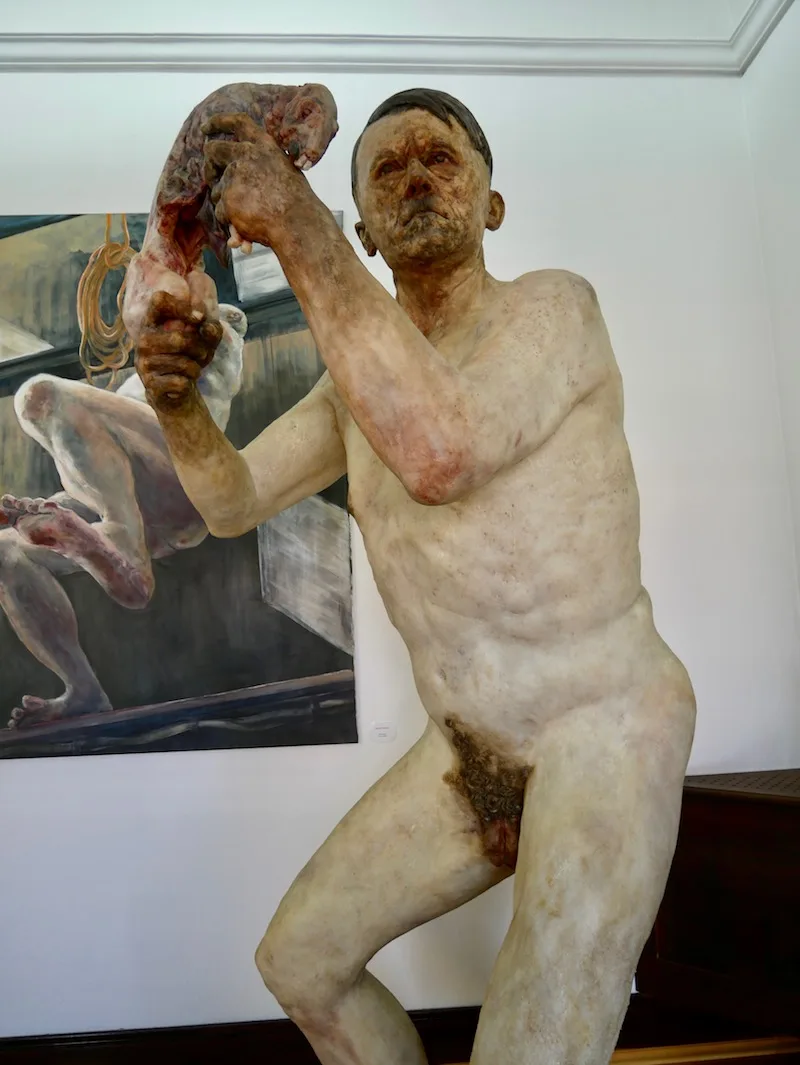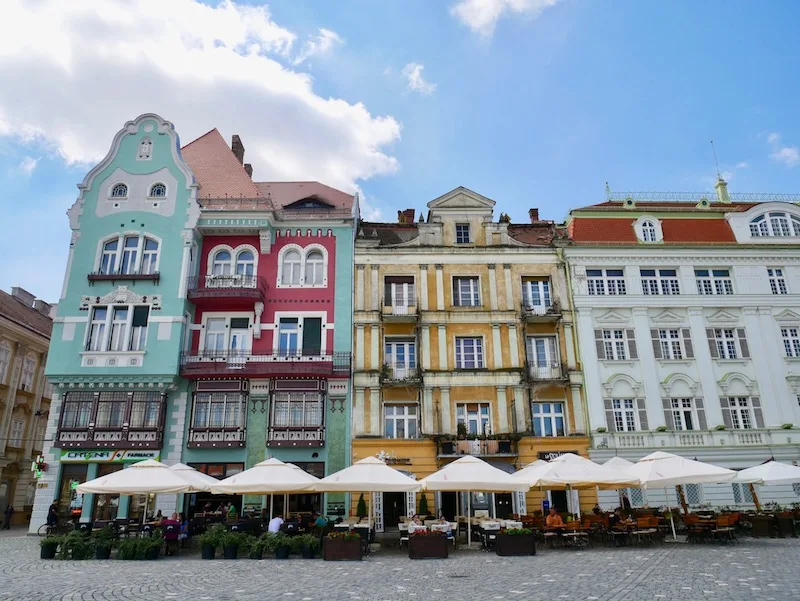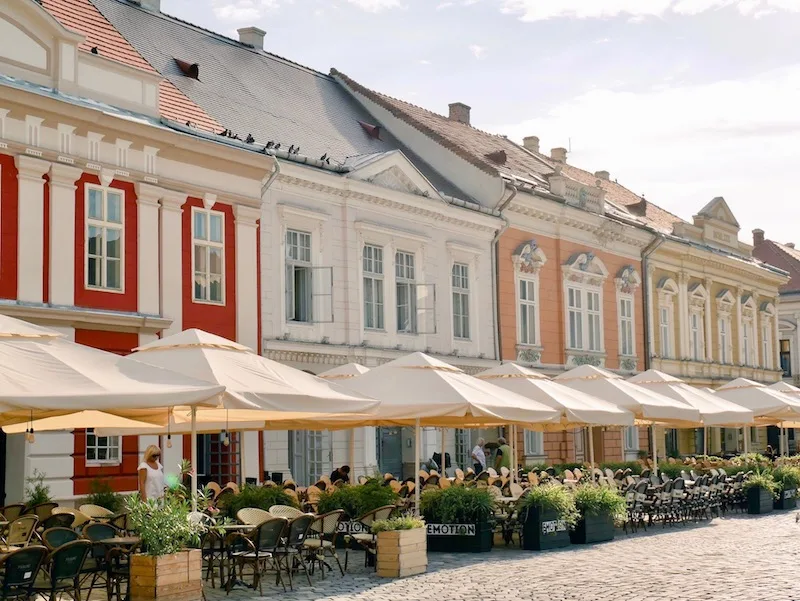 Saturday: Things to do in Timisoara on your second day
Banat Village Museum
We began our day by visiting Banat Village Museum. It was a short taxi ride out of the city and is a village museum, a reconstruction of a little farming village with traditional houses, schools, workshops and churches. It was quaint and cute but didn't have enough going on to hold our attention for long as each little house was virtually the same. Unless there's a specific event going on I'd give it a miss.
Visit an outdoor pool
It was already getting hot so we headed to Termalum Spa which is walking distance from the museum.
In Timisoara, going to the pool is a big thing. It's what all the locals do on a hot day and there are lots of outdoor public pools around the city. The temperature was climbing well above 30 degrees so it was a welcome relief to jump into the chilly pool.
Hire a boat on the river
We stayed for a couple of hours before jumping in a taxi back into the city centre to have lunch before hiring a pedalo on the river. This was so much fun and I felt like it was something that sets Timisoara apart from lots of other cities. It was so nice to enjoy the sunshine, pull over our pedalo for a drink and just enjoy this super slow pace – and it was pretty slow because it was so hot!
Have a rooftop dinner
That evening we went for dinner at Craft Rooftop, a new rooftop terrace overlooking Victory Square. This was one of my favourite meals during our whole trip. The food was delicious but the setting was the cherry on top! We walked home along the river where there were so many cool bars, loads of music and just that gorgeous warm, holiday feeling.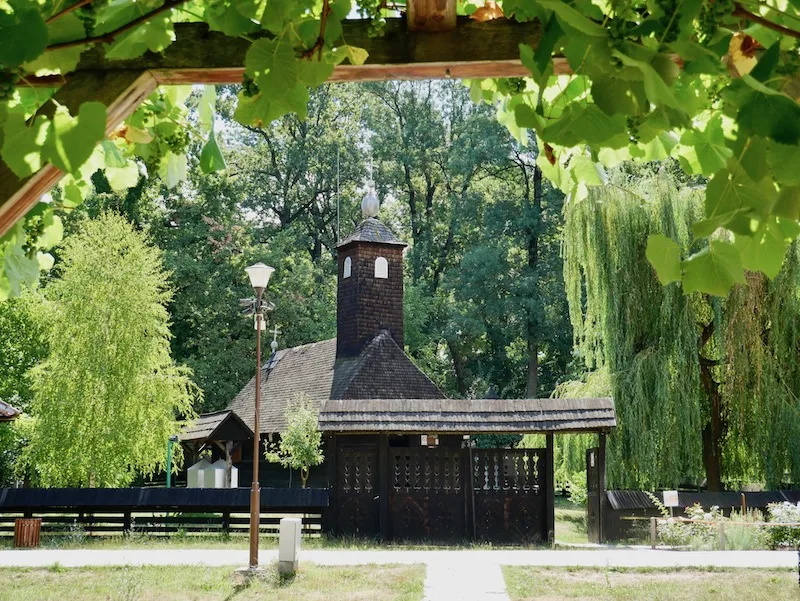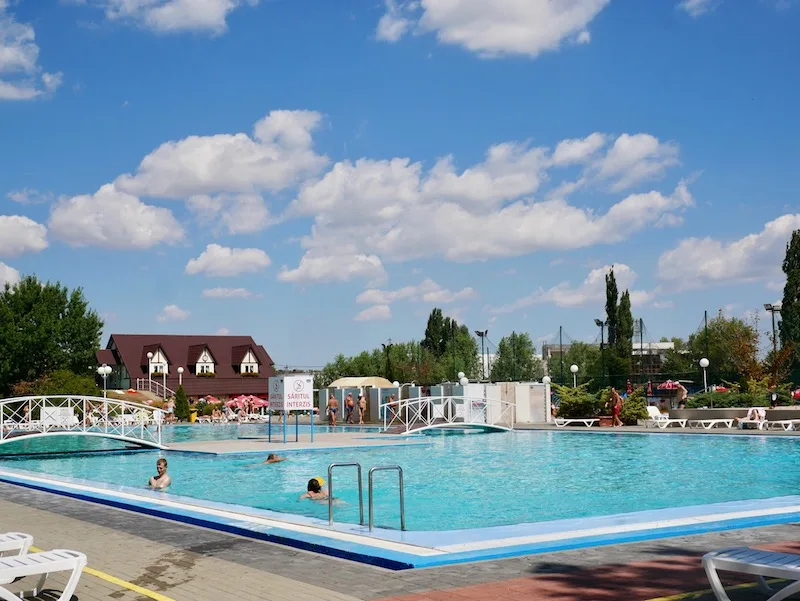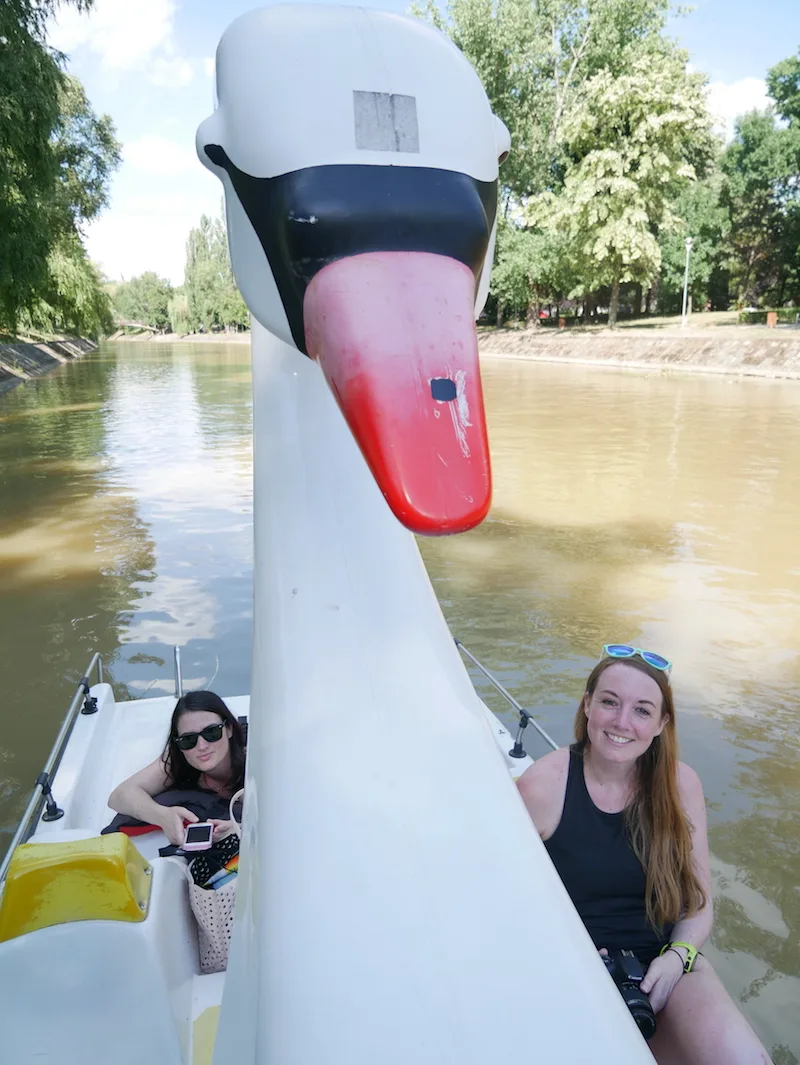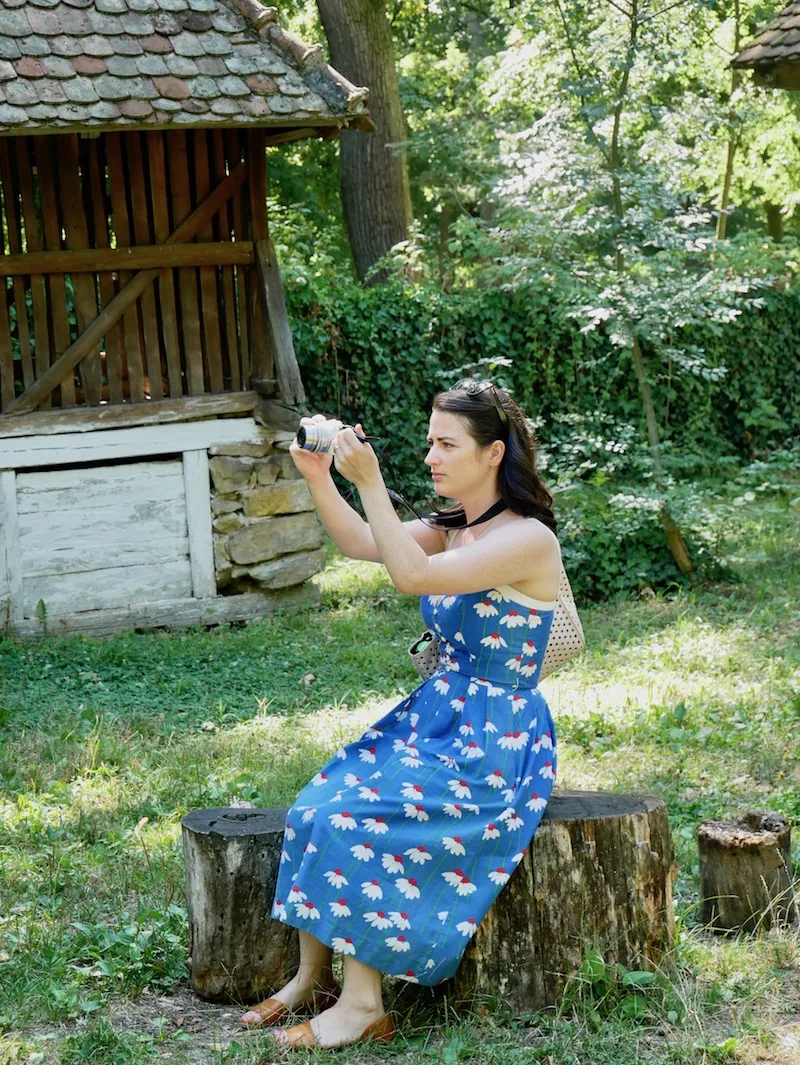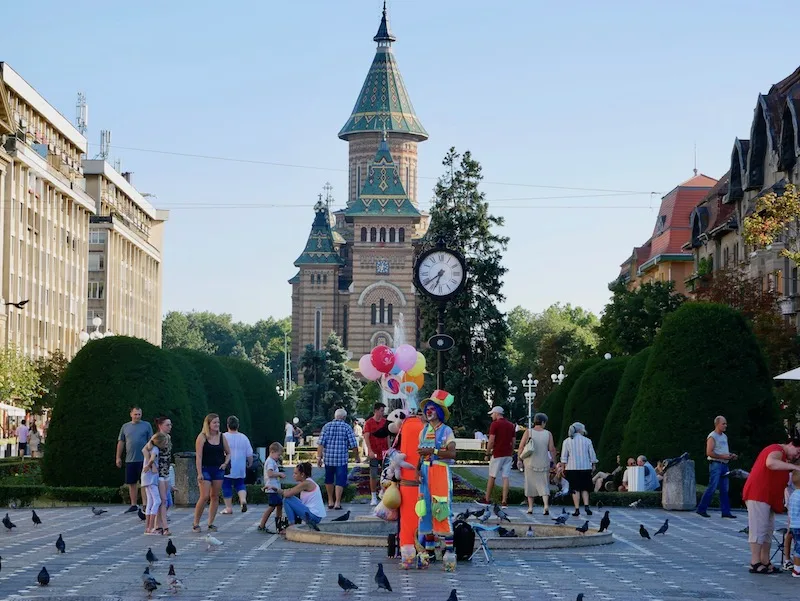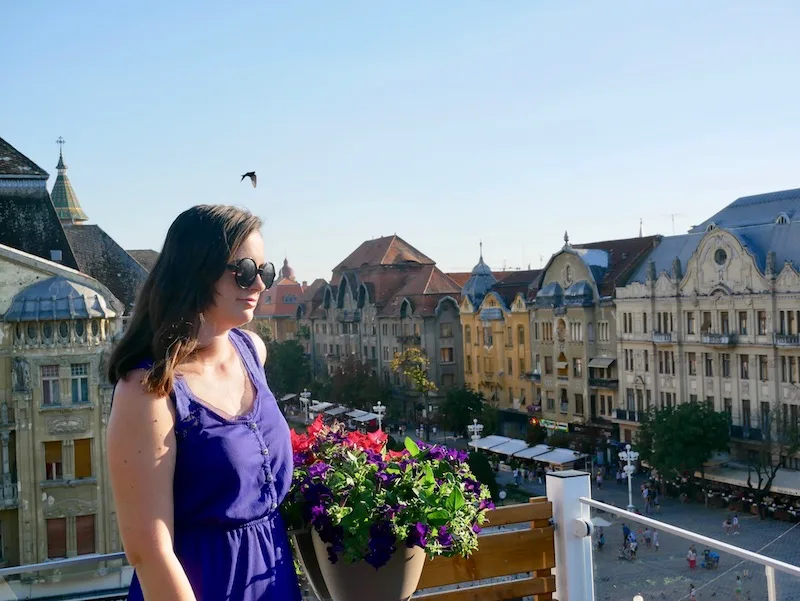 Day 3: Things to do in Timisoara for an outdoorsy day outside the city
Our third day in Timisoara was an outdoorsy day as we headed out of the city to see some of the surrounding countryside.
Visit a winery!
Our first stop was Cramele Recas winery, about a 45 minute drive from Timisoara, but unfortunately it was closed so we made an appointment to go back the following day.
Visit Herneacova outdoor activity centre
We then made our way to the nearby Herneacova, an outdoor activity centre. This is a lovely place for a family day out as it has horse riding and a treetop adventure park, giant BBQs, a picnic area and a really nice restaurant.
Relax with an icy beer at an outdoor pool or by the river
We headed back into the city and made our way to another outdoor pool to cool off and enjoy an icy beer – this was becoming a bit of a theme during our weekend in Timisoara!
Visit a traditional bakery
After all that swimming we got a little peckish and an afternoon snack was in order so we made our way to a traditional bakery called Cofetaria Trandafirul. Romanian cakes are sweet and deliciously decorative and I highly recommend stopping at a cake shop or two during any visit!
Have dinner at Amphora
That evening we had dinner at Amphora, a gorgeous restaurant in the old city walls in the heart of the old citadel. We dined outside and I had the seafood risotto which was delicious.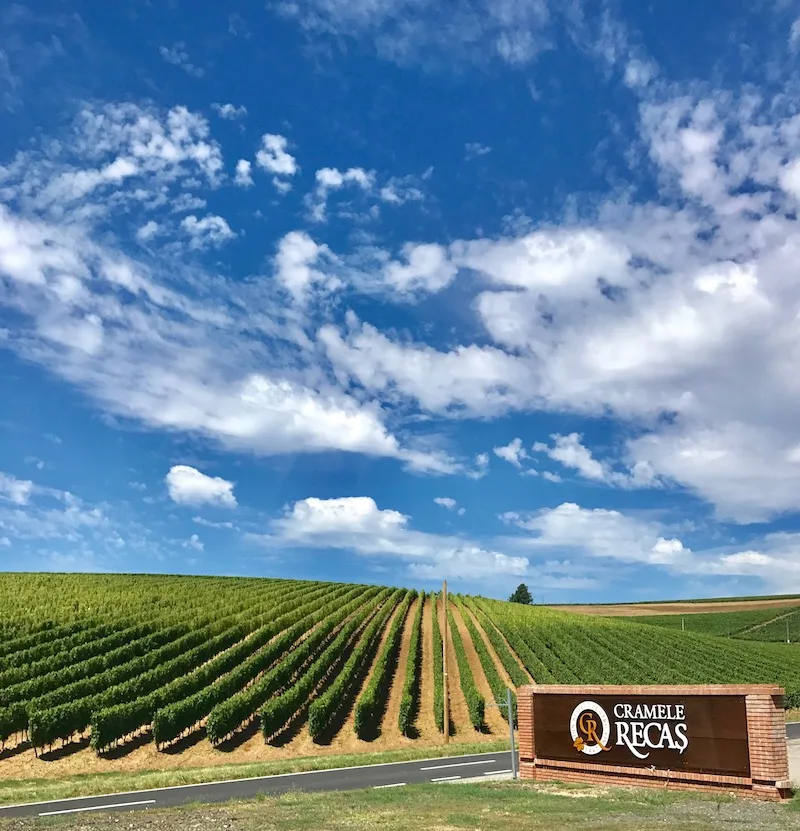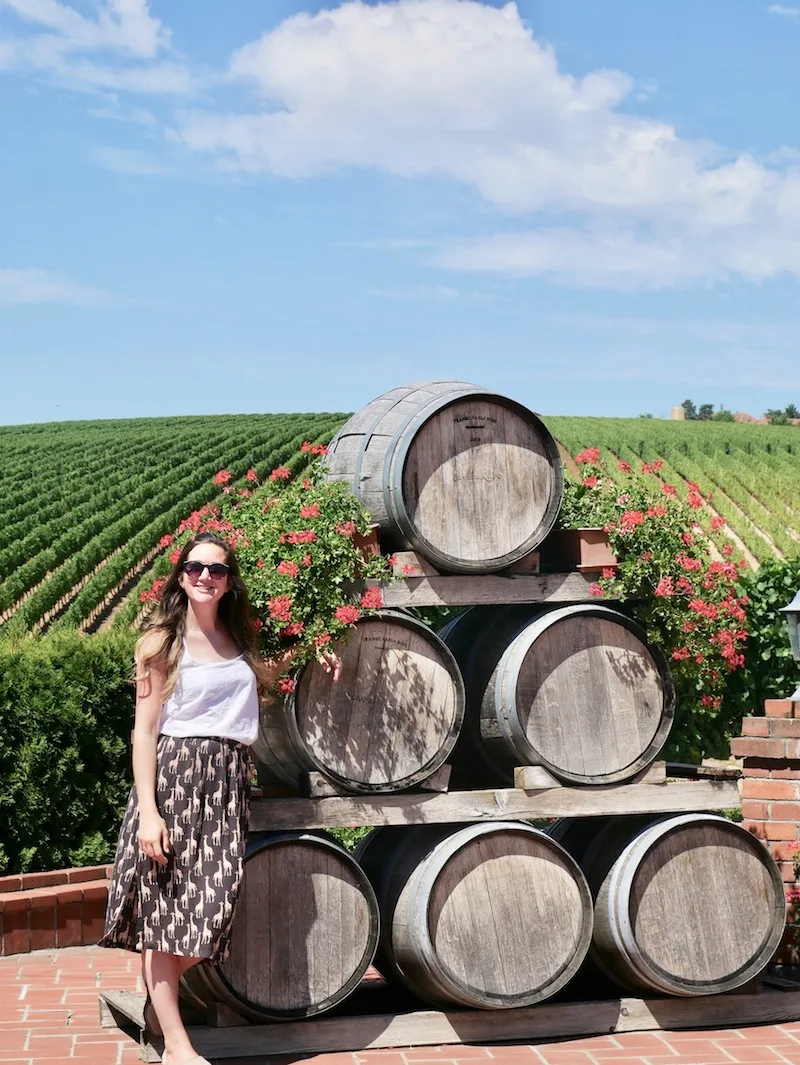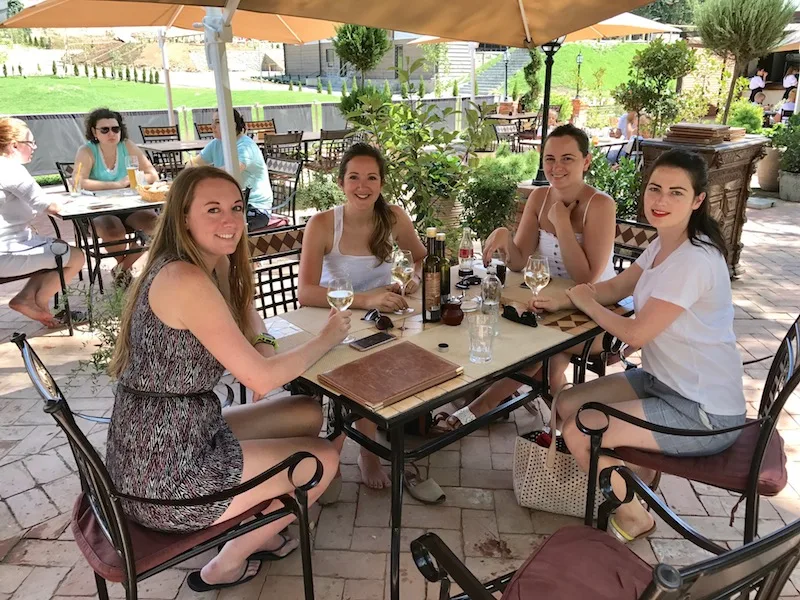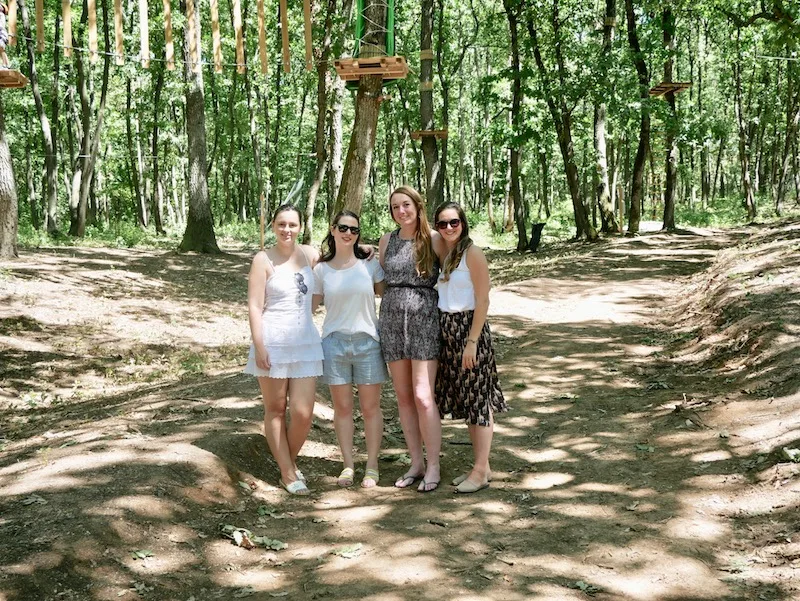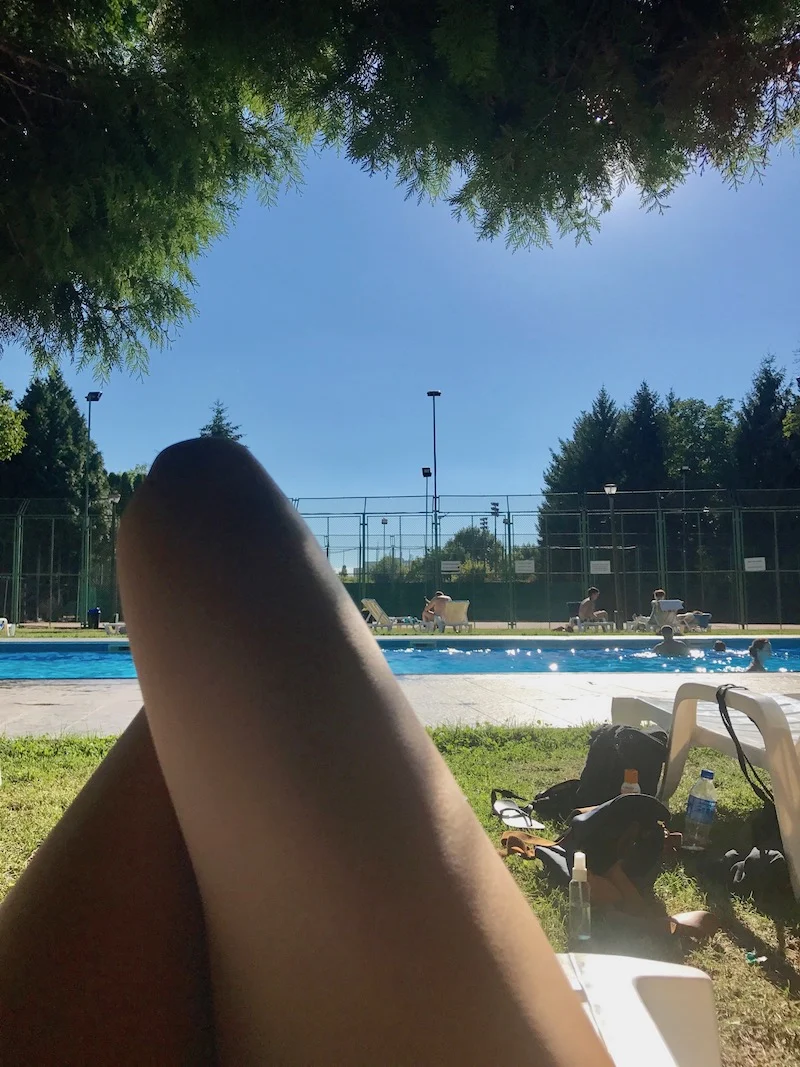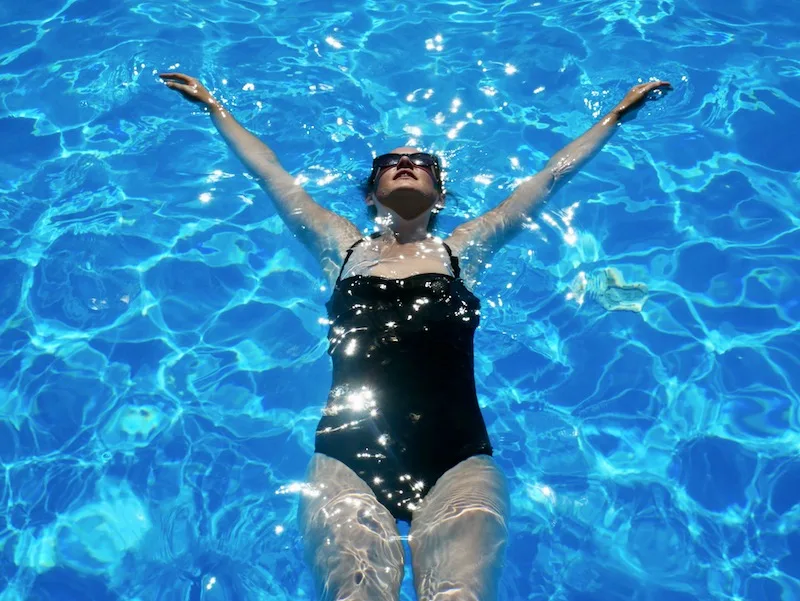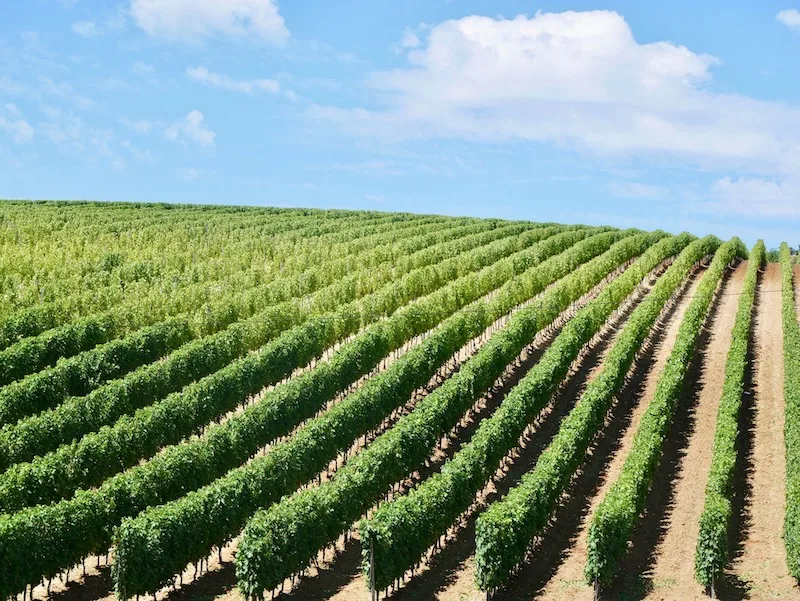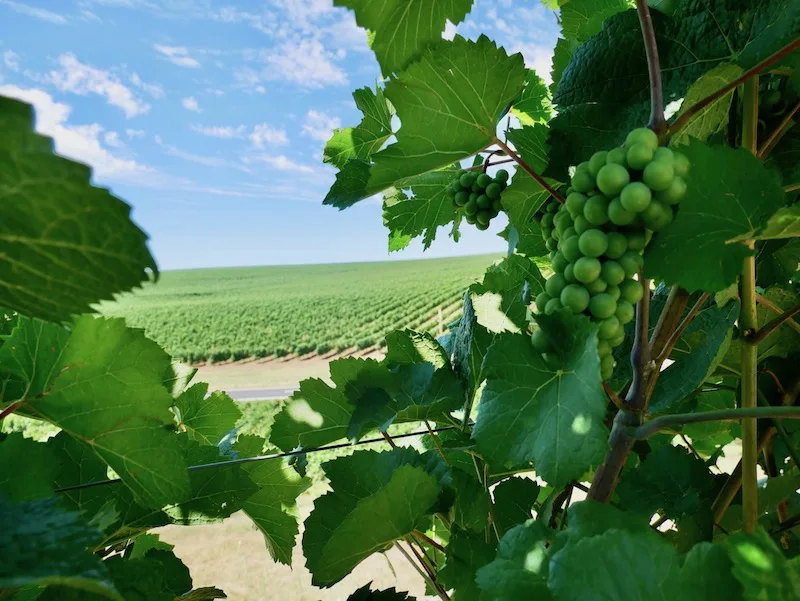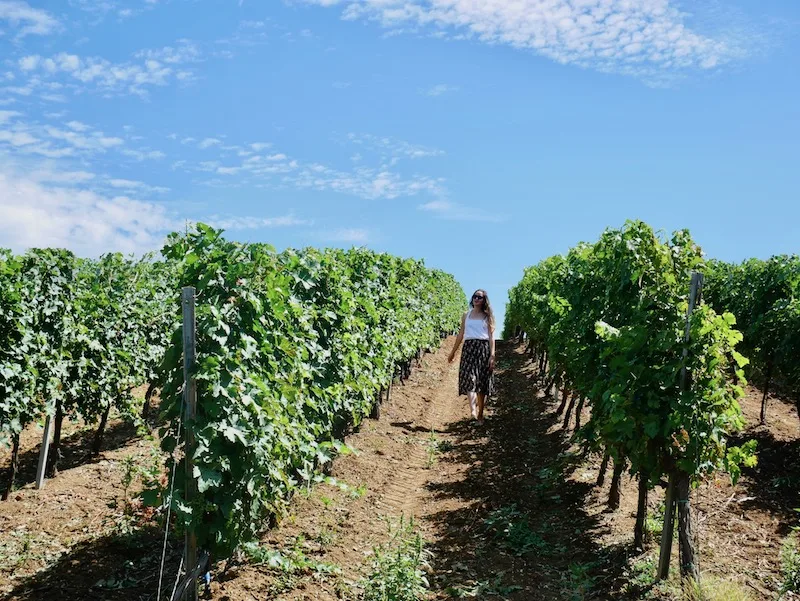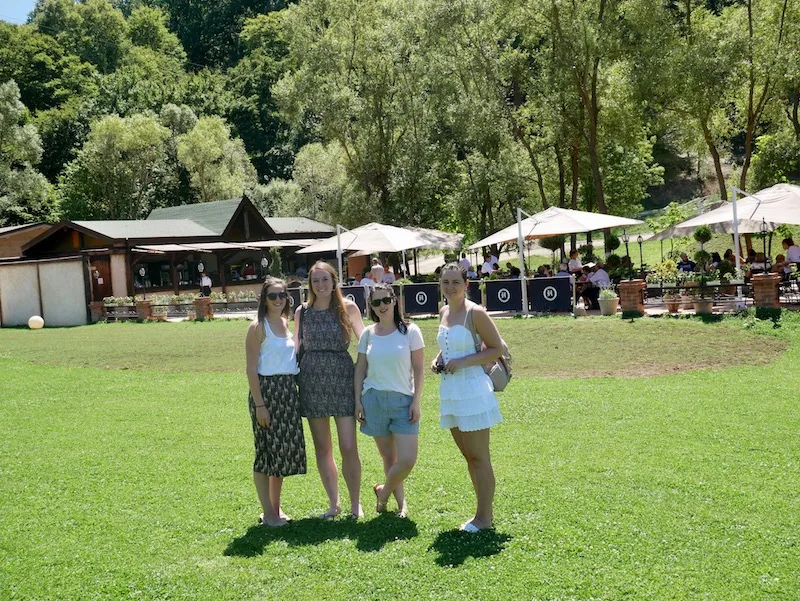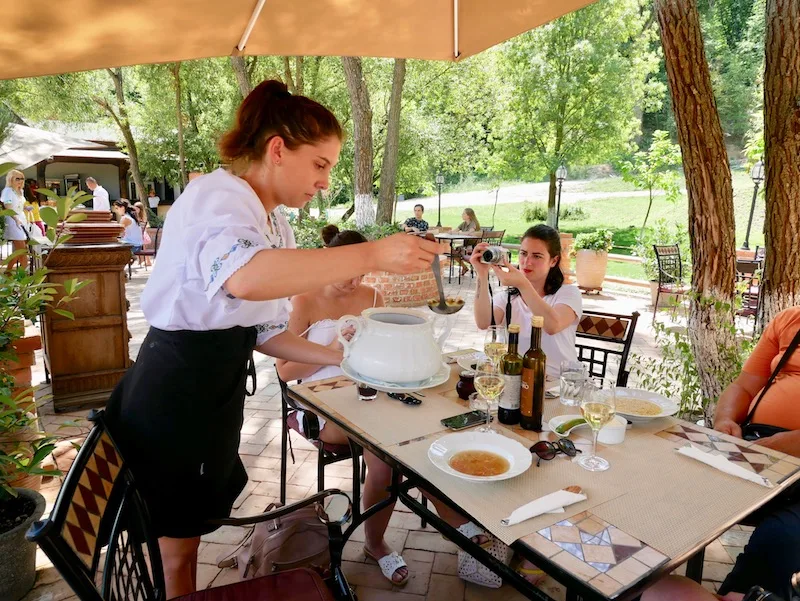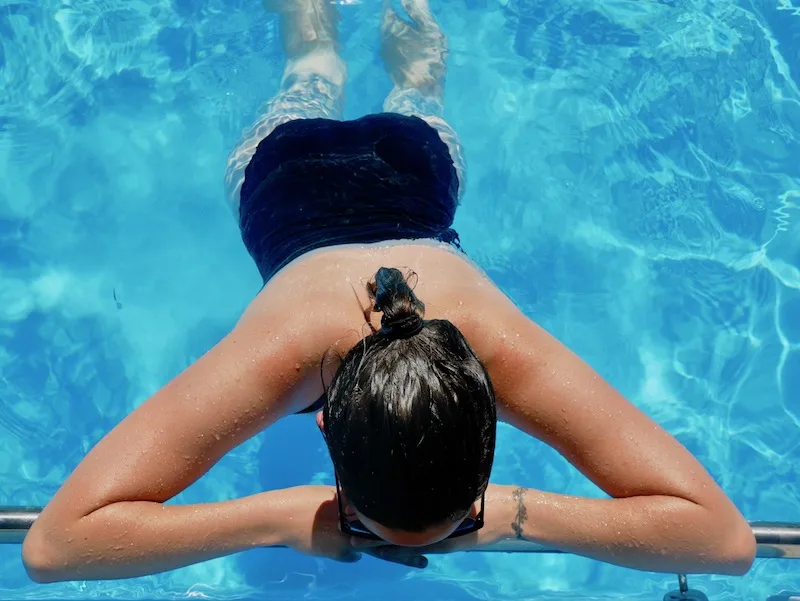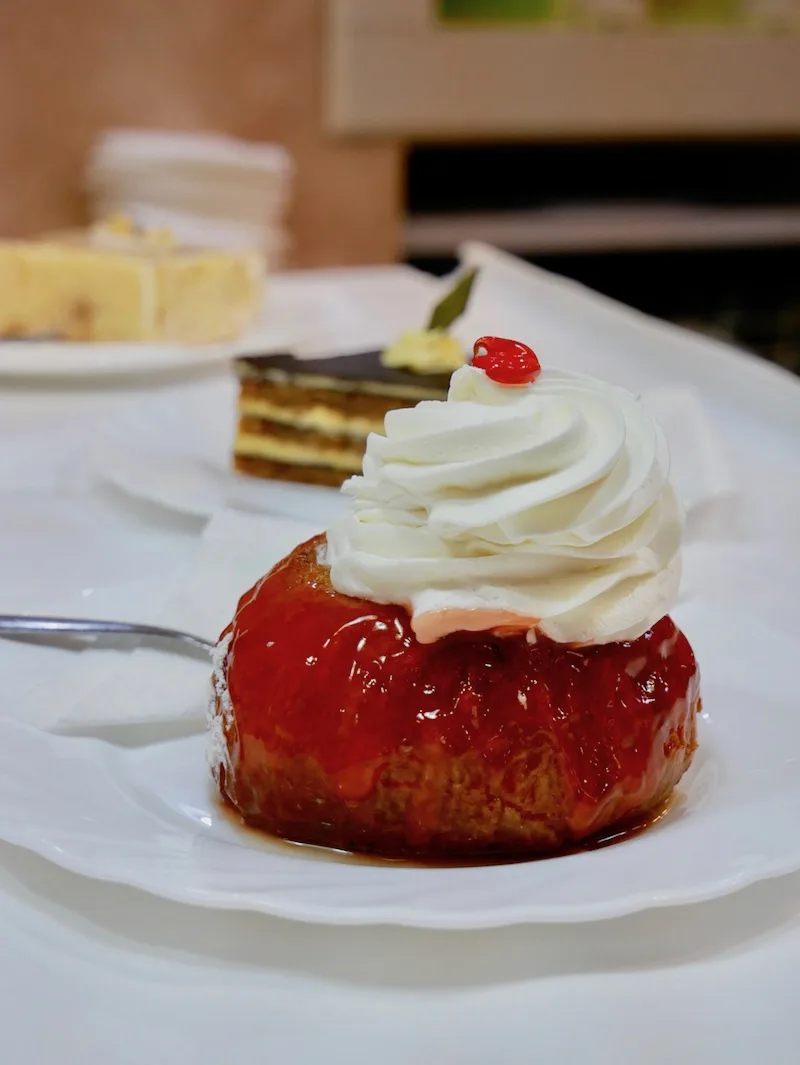 Day 4: Things to do in Timisoara on your final day
Get up early and enjoy the main squares before it gets busy
On our fourth and final day in Timisoara we got up early and made our way into the city centre for around 8am. We were keen to get some photos around the main squares before the city got busier and it's always nice to see a city just before it wakes up.
We were spoiled for choice when it came to places to have breakfast but ended up going to Neata which is an omelette bistro. It's really cute and quirky, the staff were lovely (something I can't say for most restaurants in Timisoara) and the omelettes were delicious.
I then had breakfast desert (yes, that's a thing!) from a hole in the wall at a traditional bakery just down the road. It was some kind of sticky, custardy, raison swirl and it was delicious.
We made our way back to the hotel for a 12pm check-out and were then picked up for our second attempt at wine tasting at Cramele Recas. Thankfully, it was well worth heading back for and our tour was both interesting and delicious!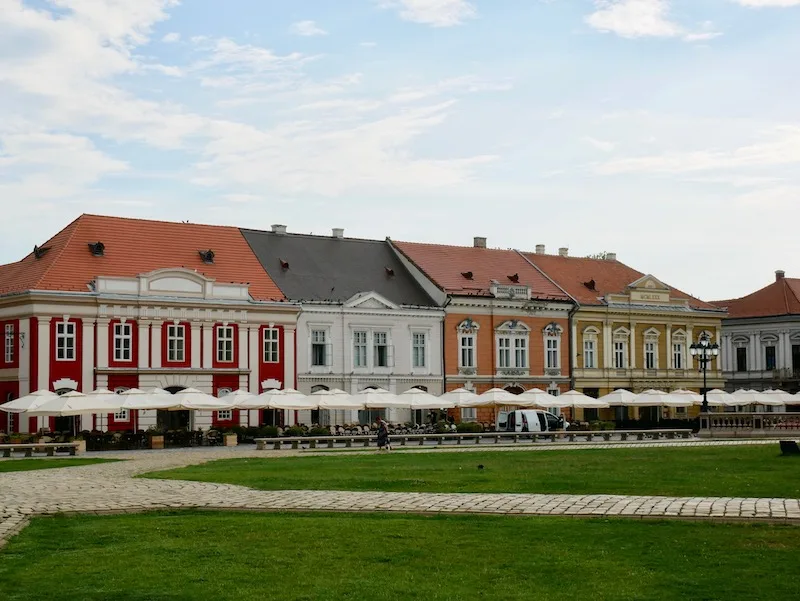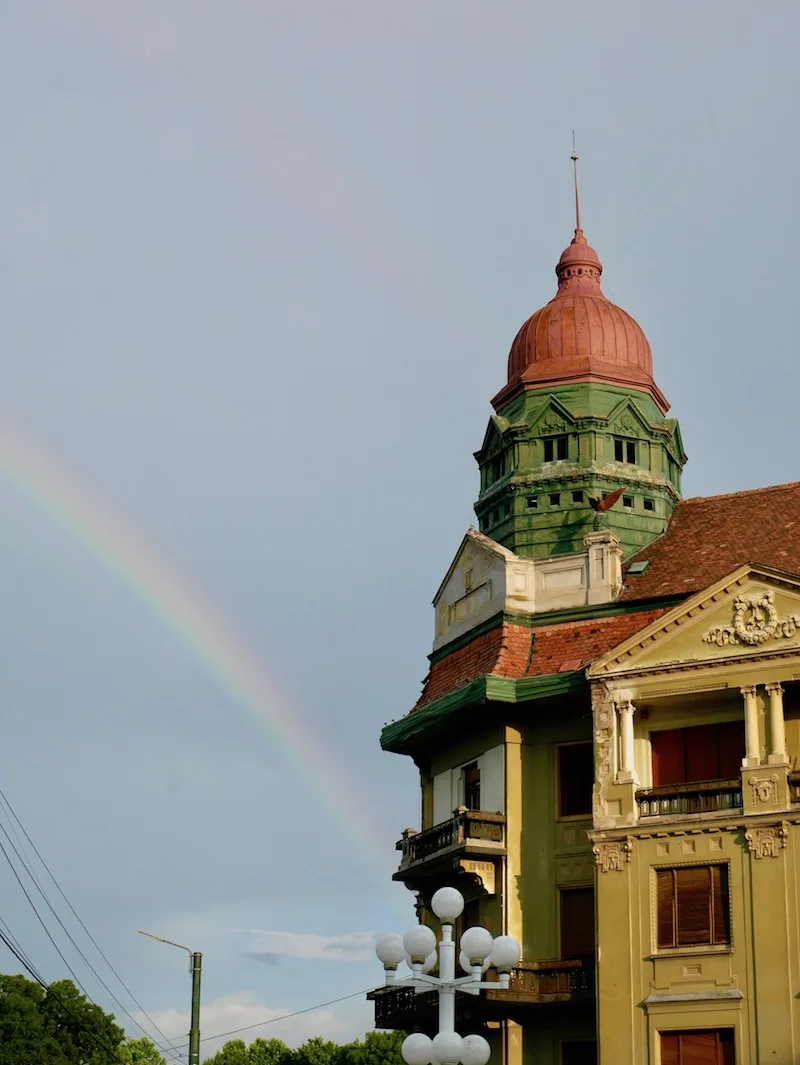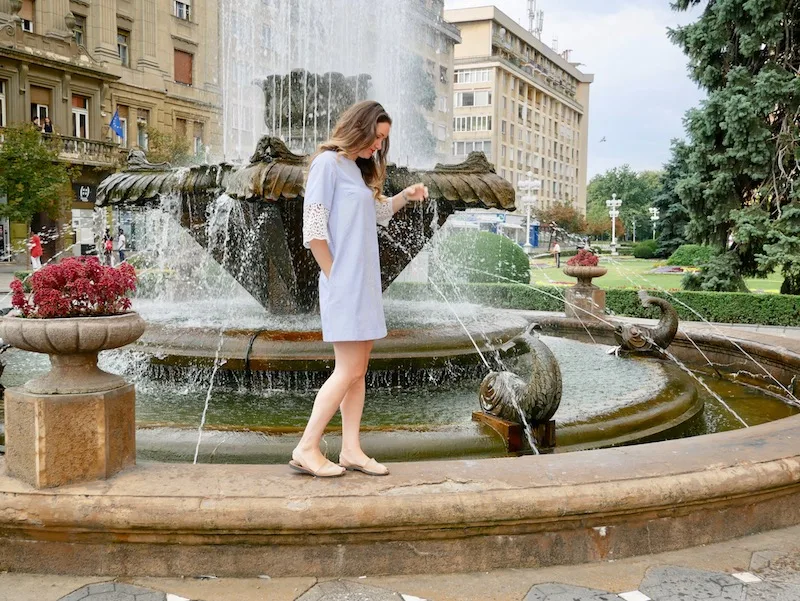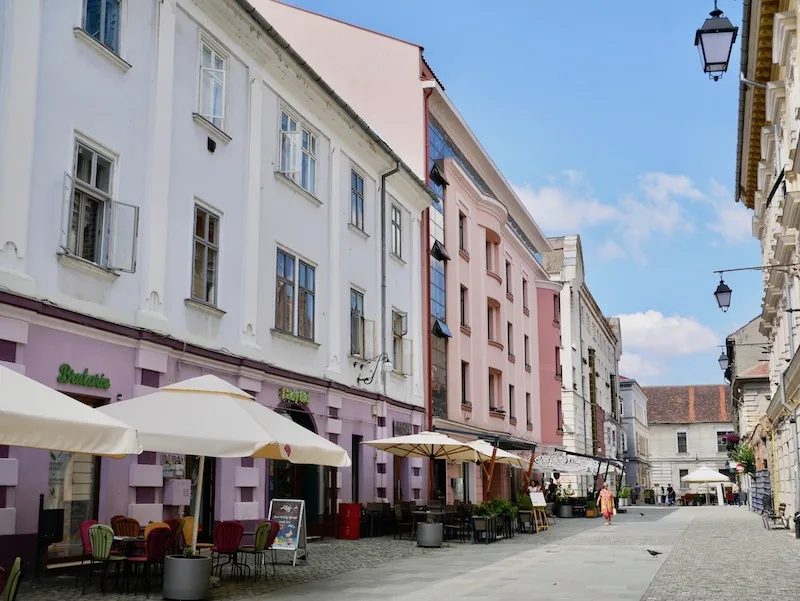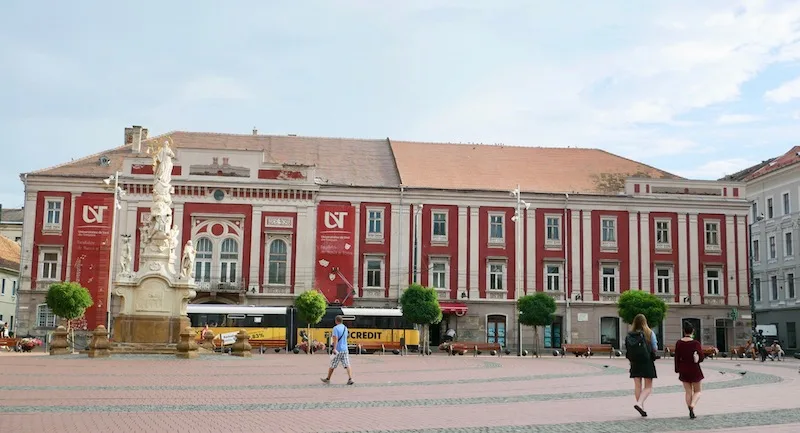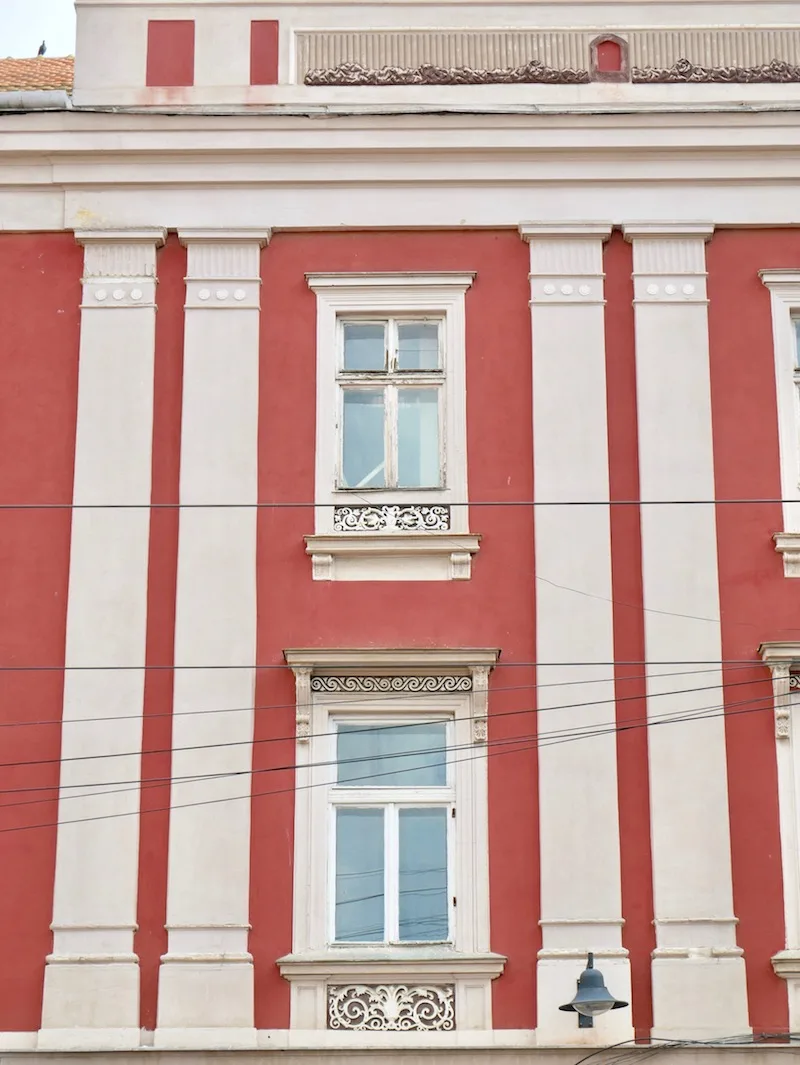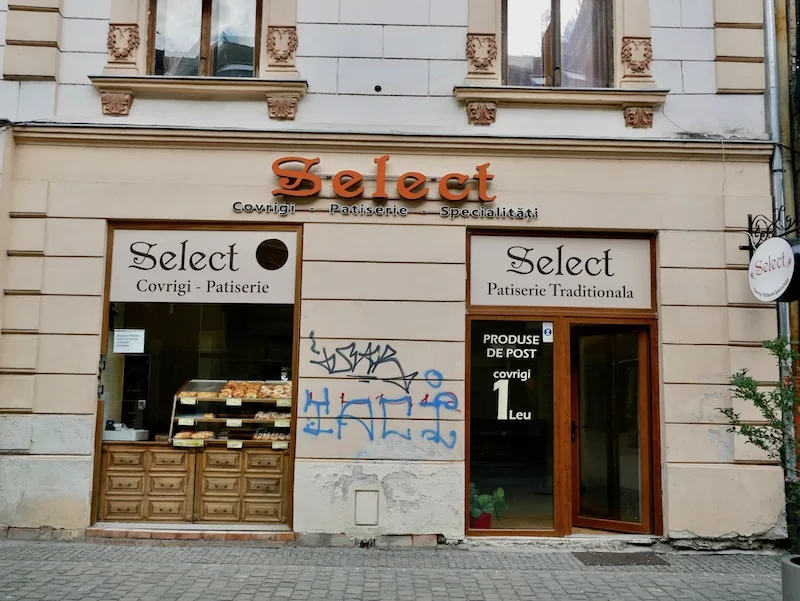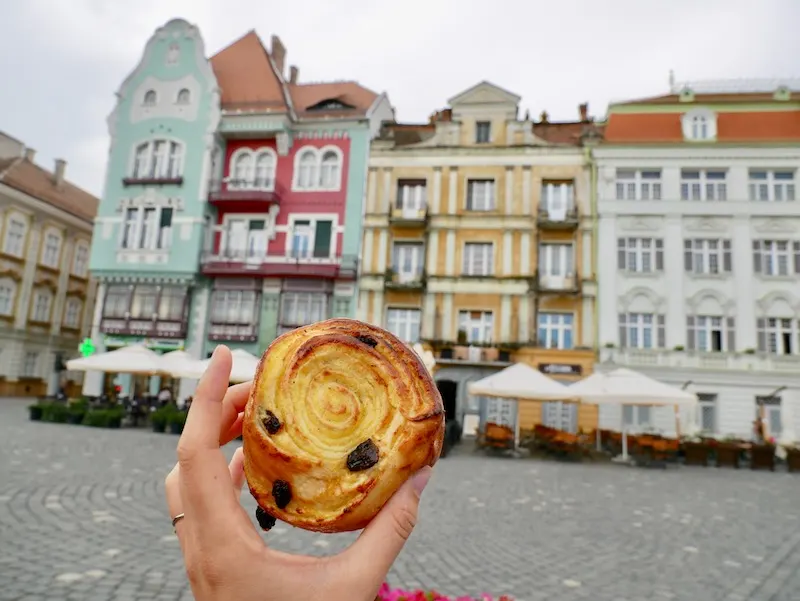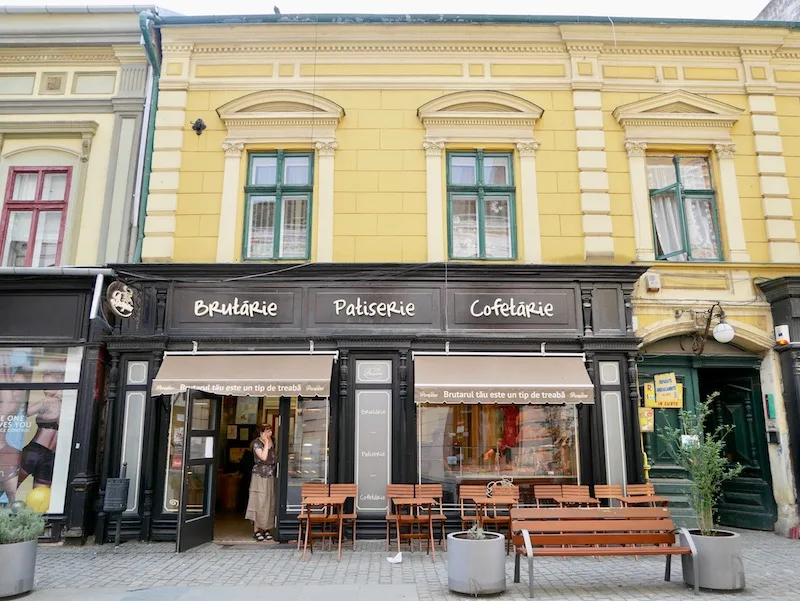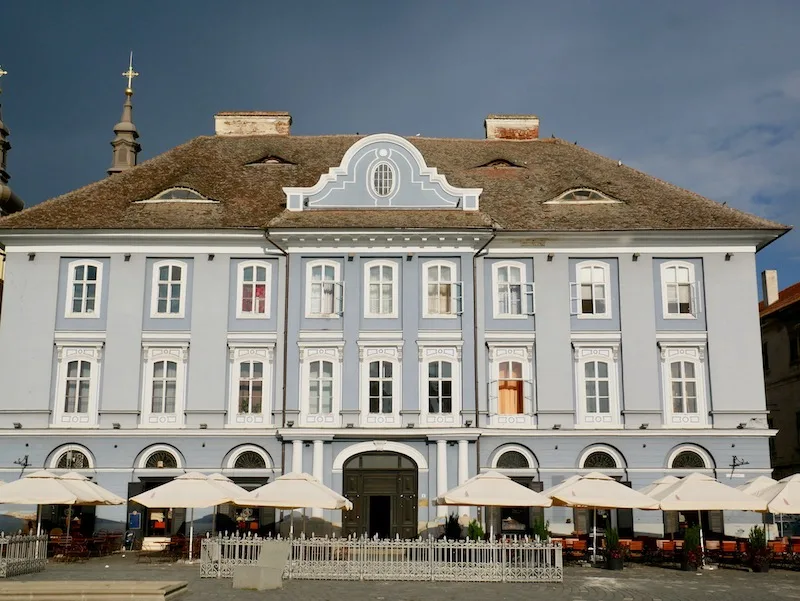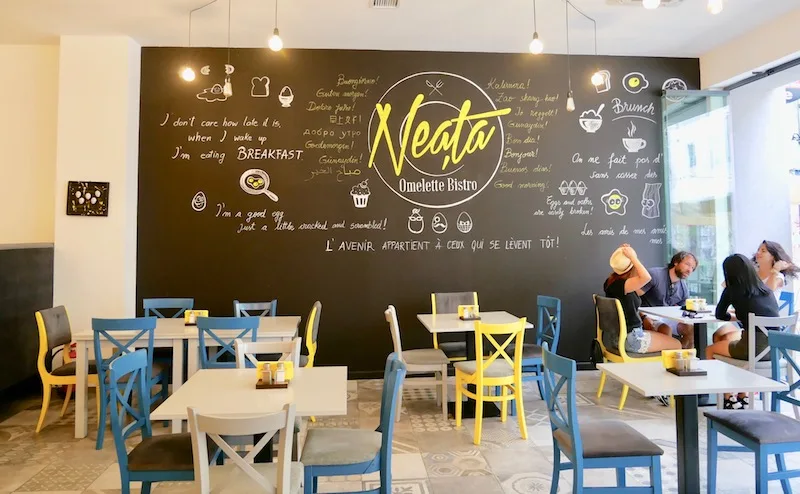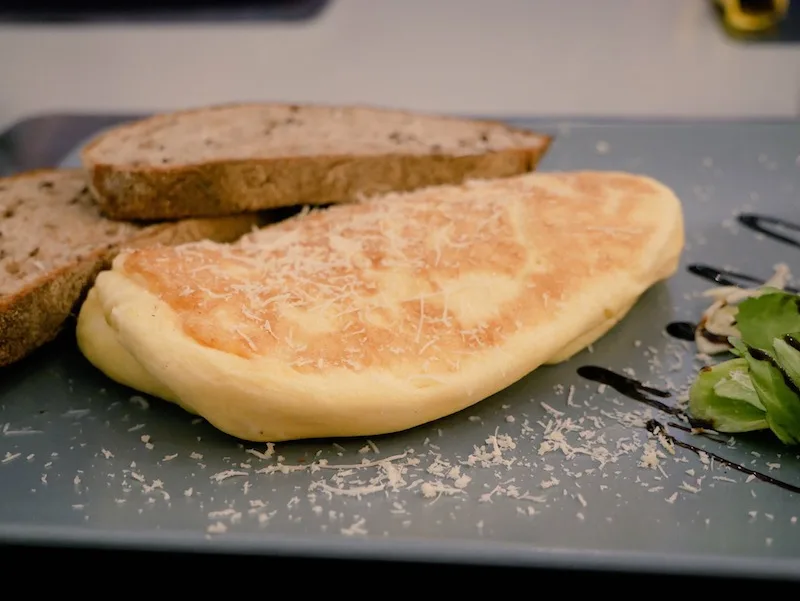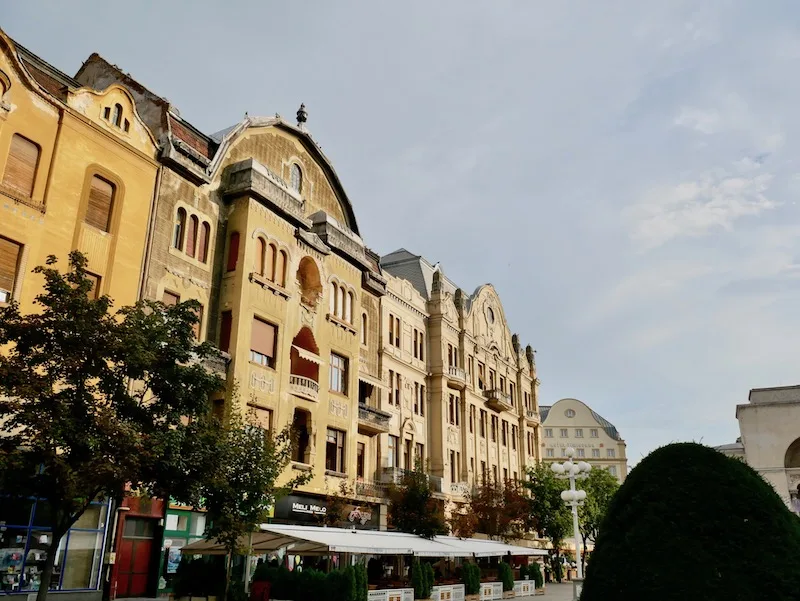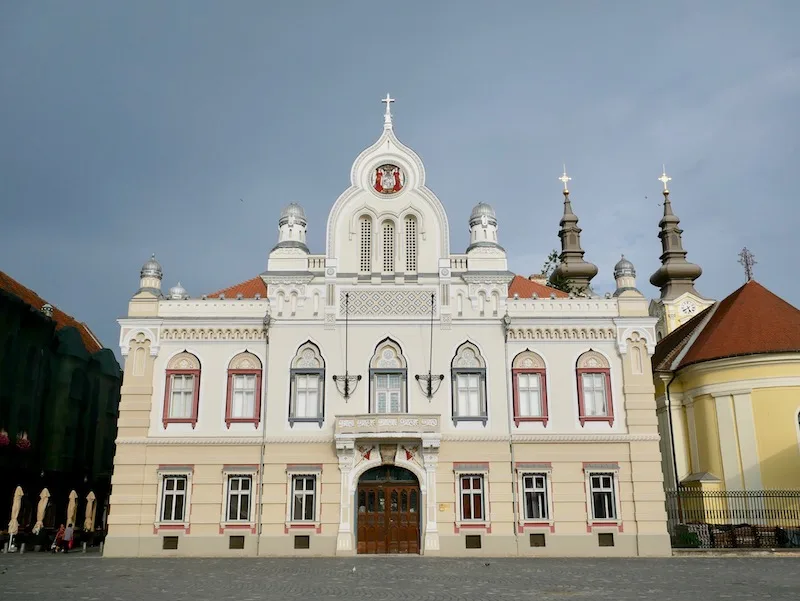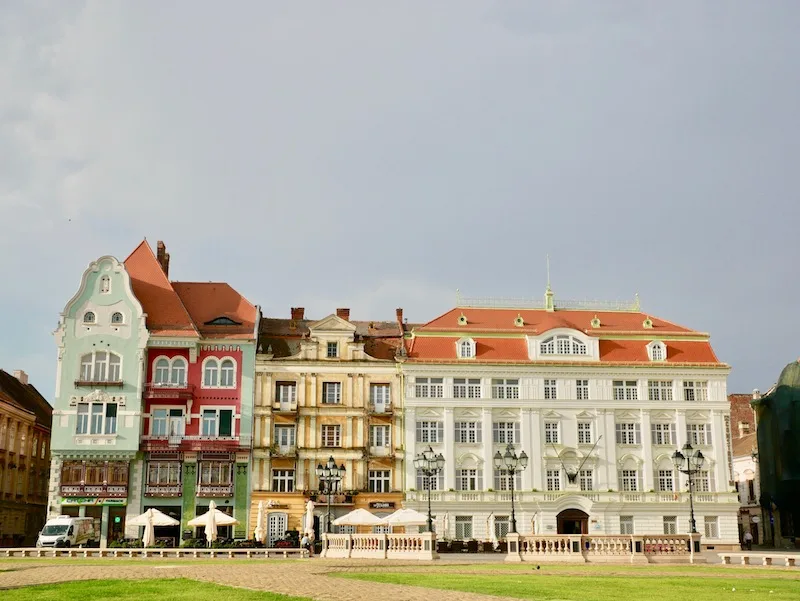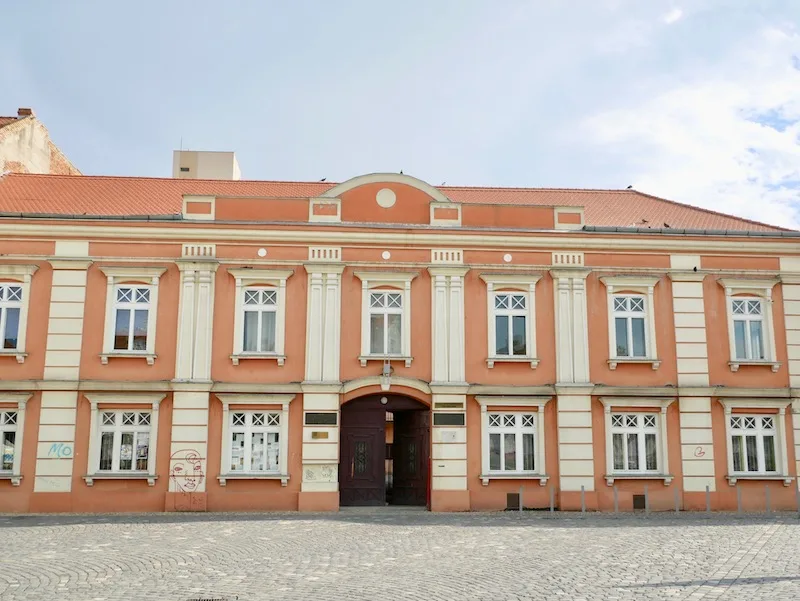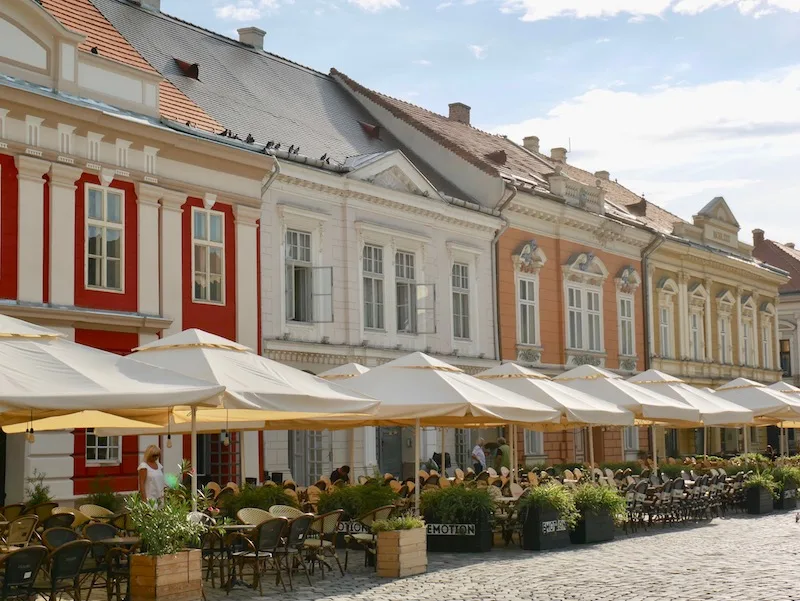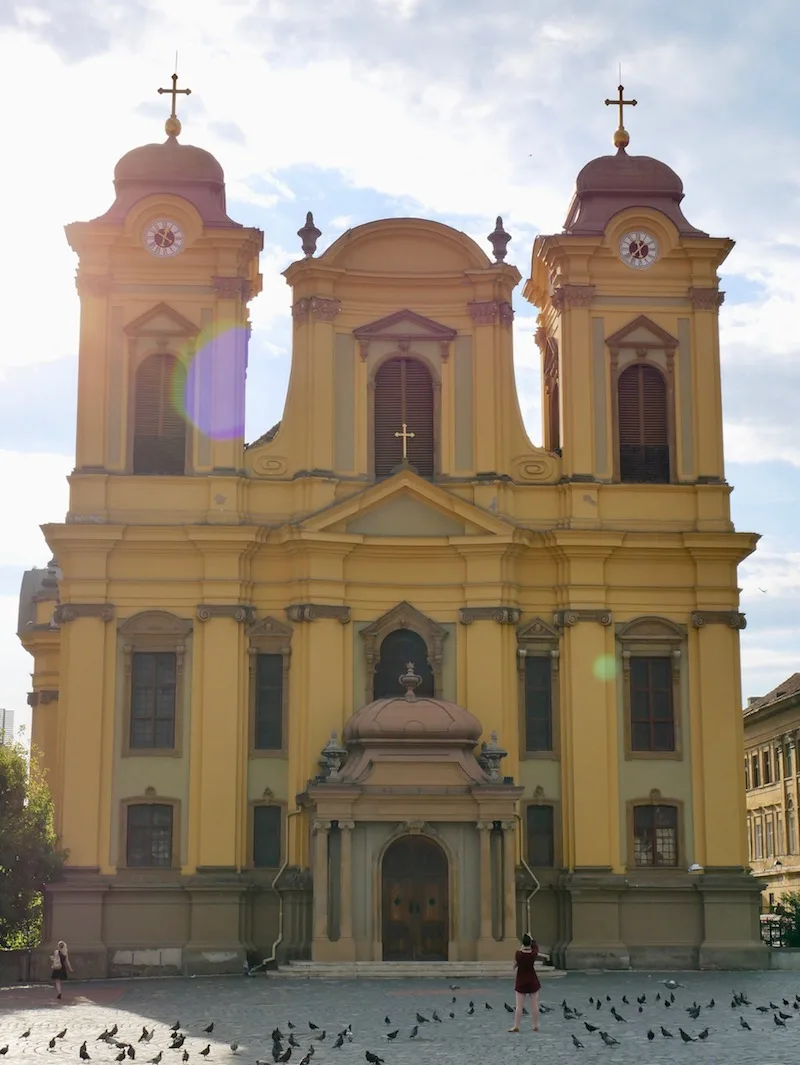 I hope this incredible list of things to do in Timisoara is helpful and helps you to plan your trip to this beautiful little city.