Making the transition from a 'young, carefree and boozy ski holiday' to a 'family ski holiday' can seem a little bit daunting. You don't want to miss out on your annual ski holiday but bringing young children along seems like more hassle than it's worth, right?
You have a couple of options here.
Don't go skiing for the next 15 years. Lols, sorry, that's really not an option is it!
Go skiing with a big group of friends and/or family and take turns skiing and looking after the kids.
Opt for a family friendly ski holiday company who have onsite childcare, child-friendly areas and activities and nannies for the day and evening.
For my recent ski trip to Tignes I opted for number 3 and took a family friendly ski trip with Mark Warner.
I was travelling with my partner, Sam, and our little boy, George, and we had the best time ever. George loved the nannies and we loved the fact we could relax and enjoy our time on the slopes together. We also loved the evening childcare so we could have a stress-free dinner – the unlimited wine and amazing food also helped!
If you're planning a family ski holiday and you're going with the hotel option, here's what to look out for when booking your hotel or package holiday.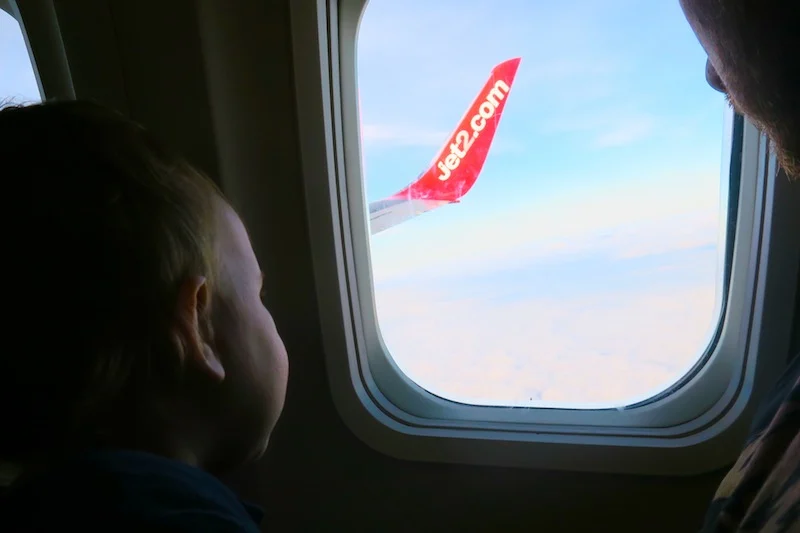 Early Children's Dinner
An early children's dinner is the best idea ever. Most hotels and restaurants don't start serving dinner until around 7pm but this is far too late for most little kids. By this time they're over-tired and over-hungry and you've probably ended up feeding them in your hotel room because they couldn't wait until 7.
Mark Warner offer an early Kidz High Tea beginning at 5pm. It's a casual atmosphere so parents don't need to worry about their children being noisy or making a mess.
Kid's dinner time also means there aren't any children at the main evening meal meaning parents can relax and romantic meals won't be interrupted by screaming kids.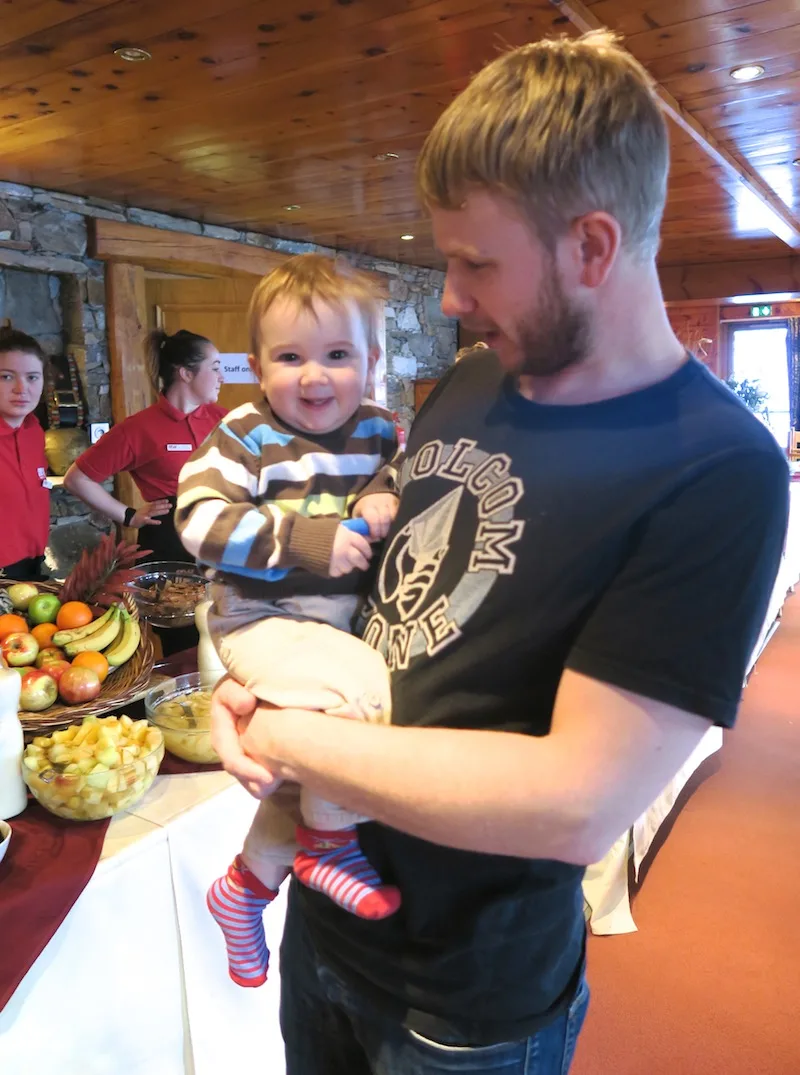 Evening Childcare
Most hotels offer babysitting for a fee but this can work out expensive if you're having to hire a babysitter every evening. It's also a bit frustrating if you know your child won't wake up!
Mark Warner have an evening 'Listening Service'. I initially thought this meant they'd place a baby monitor in your room and someone at reception would listen out to see if your little one wakes up. Some hotels do this and they'll then come and get you when they wake up.
But Mark Warner's service is even better.
They have a film on in the nursery each evening and set out little cot beds and sleeping bags for all the kids. There are two nannies there who mainly make sure all the kids stay quiet during the film and settle any of the younger ones. The lights are switched off and most of the kids fall asleep during the film.
There is also a dark and quieter area where cots are put out for the babies. I'd go in there and give George his milk and he'd go to sleep in a cot. Occassionally he wouldn't settle straight away so the nannies would settle him.
You have to tell them where you're going for the evening (usually the hotel restaurant as meals are included) and they'll come and get you if there's anything wrong with your child.
Evening listening runs from 7.30pm-10.30pm. Our hotel had a 'chalet night off' where there was no dinner offered and everyone goes out for the night. On this night the Evening Listening runs until 11pm to give you a bit longer on your night out.
Mark Warner do offer babysitting for 14 euros an hour and it works on a first come first served basis. Children have to be over one to go to Evening Listening.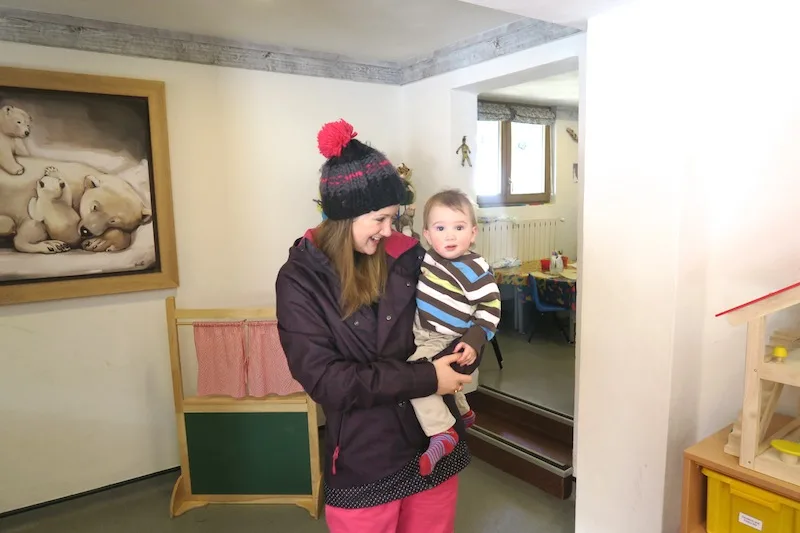 A great hotel restaurant
If you're on holiday with little ones, chances are you'll want to eat in the hotel restaurant – even if the kids won't be eating with you. It's easy and it's convenient and it means you're never far away. Check out reviews online to see what the food is like as a good hotel restaurant can make your evening so much easier.
We ate in our hotel restaurant 6 out of the 7 nights and it was brilliant. Each evening was a 3 course dinner (except the first night when it was a buffet) and you had 3 choices for each course.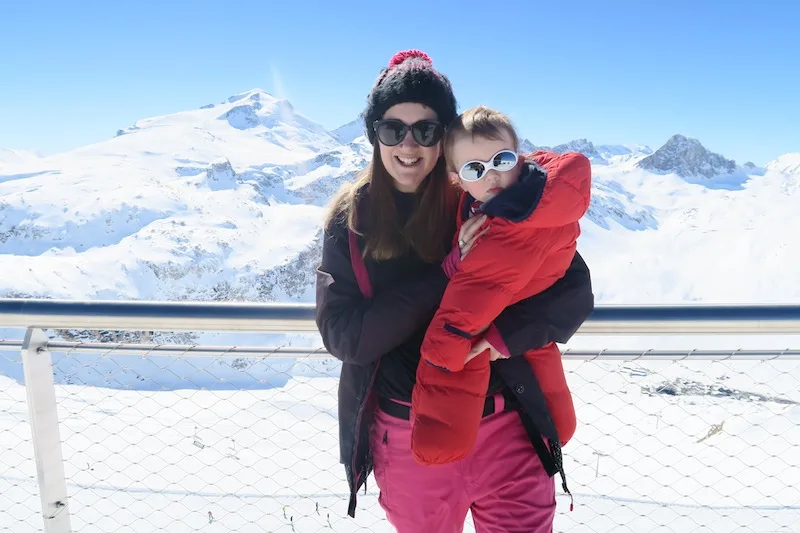 On-site childcare
Having a nursery within the hotel makes life that bit easier. You don't need to bundle your kids up in the morning to take them outside and it makes mornings quick and easy – especially if you're going to be rushing off to lessons.
One day I forgot to pack enough nappies and wipes for George (bad mamma) but the nannies could easily let themselves into our room to get some more.
Afternoon childcare for kids in ski lessons
Most kids have their lessons in the morning and then childcare will pick them up and take them for their lunch and some afternoon activities.
Mark Warner will pick up children over the age of 4 but if they're 3 you need to pick them up yourself and take them back to the hotel. I'm guessing this is for legal reasons.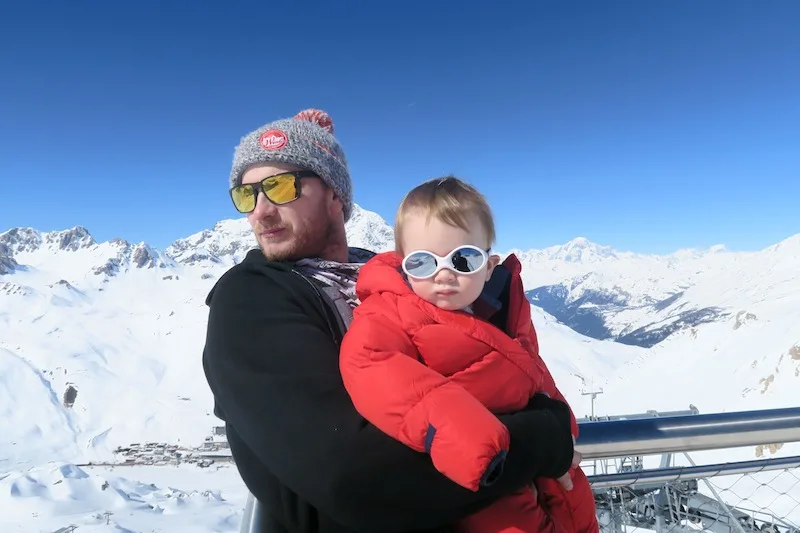 Friendly staff
Having friendly, helpful staff in a hotel just makes life so much easier. The Mark Warner staff made a massive fuss of George so he loved going for meals where he knew lots of people would be smiling and waving at him.
Is there anything else you'd recommend for a family friendly ski trip?
Read more:
Swapping apres ski for afternoon tea: What it's really like to go skiing with a baby
Ditching my snowboard and learning to ski (best decision ever!)
A mini guide to skiing in Tignes