Today's blog post has been written in collaboration with Holafly and is all about how to avoid data roaming charges while we travel. It's something more and more of us will need to consider as many UK mobile operators will be reintroducing roaming charges from 2022.
We're all reliant on using our phones while we travel these days. Whether it's to check in for your flight, show your boarding pass, show your covid pass or your passenger locator form, taking an Uber, checking into hotels, getting directions, finding places to eat, booking activities or researching the closest bar that serves a good Espresso Martini! We all need our phones and constant internet connection to ensure all of our apps run smoothly.
Not only do we need them for everyday searches and activities but many of us need a reliable connection to work from the road. Digital nomads, bloggers, influencers and remote workers don't just need a little bit of data, we need a lot!
But what do you do if you're visiting a country where you don't have data roaming!?
I'm sure I'm not the only one who accidentally used their phone abroad, only to find that the WhatsApp photo I downloaded has cost me £2.40! Oh and now my emails are automatically downloading and argh I'm getting more updates. Stop, stop! By the time you've turned your mobile data off you've spent £7.50 and you're scared to turn your phone back on again!
The reintroduction of European data roaming charges
We've been pretty lucky for the past few years in the UK because many of our mobile operators have included data usage around the EU. I'm with EE and it was actually very rare that I didn't have data included when I travelled somewhere new – so this isn't something I've had to even think about for years!
But starting from next year, many of the big UK mobile operators will once again be charging for roaming, both in Europe and further afield.
Read more from the BBC: Mobile roaming charges in Europe: What you need to know.
So what's the solution?
I'd like to introduce you to international eSims…
Holafly and international eSims to avoid data roaming charges
Holafly are a company who provide international eSims for an inexpensive way to roam the internet while you're abroad.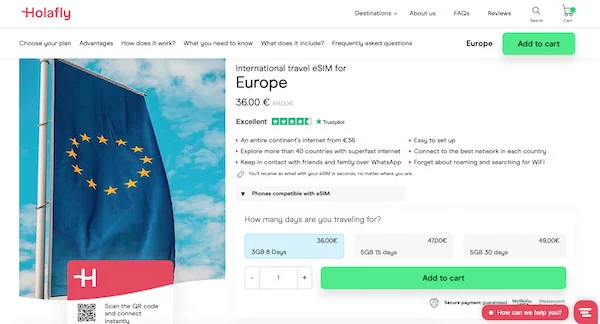 What's an eSim?
Sim cards have moved on and you no longer need an actual physical sim card, you just need an eSim if you're just wanting data abroad.
eSims are the latest in SIM card technology and they're activated by scanning a QR code. After you've purchased your sim online, the QR code is instantly emailed to you so you can begin using it.
An eSIM doesn't require a contract or a subscription.
It doesn't give you another phone number so you need to make calls and send messages online via WhatsApp or Skype (something I'm sure many of us do already anyway)
It's better for the environment because there's no plastic or physical products needed to produce it.
You can't break or lose an eSIM.
The eSIM is a pre-paid plan. The sim isn't linked to your bank account so you can't overspend or accidentally make a £100 phone call! When you've used all the data on one eSIM, you buy a new one.
The current downside to eSIMs is that they only work on the latest high end mobile phones. There's a list of compatible eSim devices here. If you've got a fairly current Apple, Samsung, Google or Huawei phone then you're probably fine but it's worth checking. Your phone will also need to be unlocked so it's not connected to a specific network.
Using Holafly in Lithuania to avoid data roaming charges – My review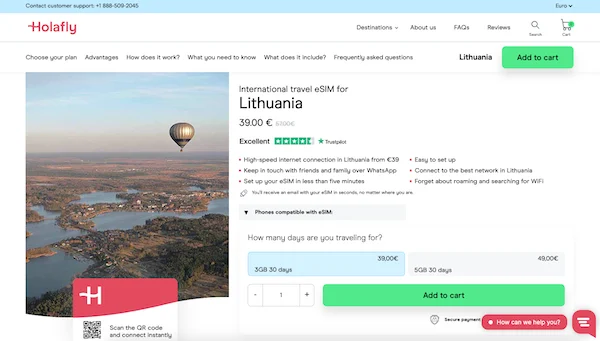 I wish I had a long and detailed summary to share about using Holafly in Lithuania recently but it was honestly so simple that I don't have much to say.
It took me less than a minute to activate my Holafly eSIM and then that was it, I was done. I didn't even notice the changeover and the way I use my phone didn't need to change at all. I use Whatsapp to message and call my friends and family while I'm away so that didn't change and everything else was exactly the same.
Here's how easy it is to activate your eSIM
I might be a blogger but I don't consider myself to be very 'techy' when it comes to things like this so I thought it might be quite complicated. But trust me, it isn't!
(Note that these setup instructions are for iPhones so won't apply to other phones but it will be very similar.)
All you do is go to:
Settings – Mobile Data – Add Mobile Data Plan – Scan QR code – Add plan.
In total, this takes about 20 seconds.
Set up your plan before you leave but activate it when you arrive
If you're travelling with just your phone and your QR code is on your phone you're not going to be able to scan it, so I recommend you add your plan before you leave. But don't activate it before you arrive or you might start eating into your data plan!
If you're travelling with a laptop or tablet or a friend who can store your QR code on their phone then you'll be fine activating it all when you arrive. Alternatively, you could print out your QR code.
Add the plan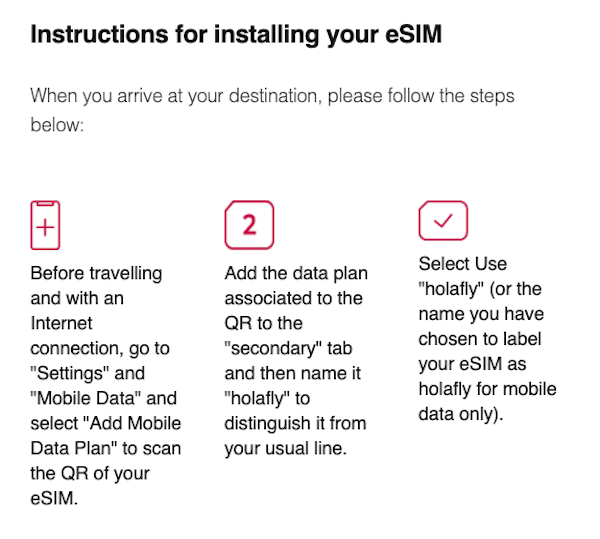 Once you've scanned the QR code you can add the plan and rename it 'Holafly' so you know which is which.
And then you select Holafly and you're good to go!
It literally takes less than a minute.
After I'd activated Holafly I couldn't quite believe it was so simple. I was waiting for some kind of glitch or extra things to fill in but that's it.
Using my data in Lithuania
I had 3GB of data to use in Lithuania and it was more than enough. I also used the WiFi at my hotel so I was only using it when I was out and about during the day but I was out from 8am-6pm each day so I wanted to make sure I had enough!
It worked perfectly and was never slow.
Data sharing
I even used it to share data to my laptop while I was at the airport.
I arrived at the airport really early AND my flight was delayed so I was there for about five hours! The free airport wifi kept dropping out so I used my Holafly data to keep me entertained during the five hour wait!
Data plans available
There are a range of plans available depending on how much data you need.
I know it can be really hard to know how much data you'll need, especially if you have unlimited data at home and don't keep track of how much you use!
Holafly have a handy breakdown of how much data is used doing certain activities on your phone so that's worth checking out: How much data do I need when travelling?
I personally feel that 3GB for a week is enough data, provided you do anything video related while connected to WiFi. So any video calls, uploading videos to social media and downloading/streaming videos shouldn't be done on your data plan unless you've got a huge plan or you're going to incur those nasty data roaming charges!
Final thoughts on Holafly
Holafly was so simple and is a great option for anyone who wants to continue using their phone while they travel and avoid any data roaming charges from their service provider.
I can't recommend it enough and with the new changes to international roaming coming in next year I can see this being something we all need to use.