Did you read Tuesday's post? The one about the incredible new travel brand called Lintenair?
Lintenair promised an amazing new way of travelling where you don't have to queue, get an unlimited luggage weight allowance, can travel directly from city-centre to city-centre terminals throughout the UK and Europe, and can use mobile tickets with the app.
Sounds too good to be true, doesn't it? Or does it? It might actually be a way you travel all the time…like train travel!?
Sorry guys! I'm here today to tell you that there is no such travel brand as Lintenair.
Lintenair is an anagram of Trainline!
This was Trainline's cheeky way of highlighting all the benefits of travelling by train.
Check out Eleanor Tomlinson's video and she'll explain all…

I travel by train all the time because it's so convenient. There are often times when I could drive to my destination but I choose to get the train as it's much easier. I travel down to London at least twice a month and I love those two hours on the train. I get myself a little picnic before I board and a couple of magazines to read with a chocolate bar and a cup of tea. Sometimes I'll sit back and relax for the journey, a rare and indulgent two hours where I do nothing and not feel guilty about it. Other times I'll take my laptop and get loads of work done as I'm sat in a distraction-free bubble!
My train to London is also so much faster than it would be driving. It takes about 5 hours for me to drive to London, and that's without any traffic jams or the nightmare of trying to park! But it takes me two hours from Chester train station directly into London Euston and from there I can hop on the tube to anywhere in London.
I used to work with a lot of clients in London so I'd travel down for the day. It blew my mind that I could get from my home in North Wales to the office in London in less than 2.5 hours. Even when I lived in London it could take over an hour to get to work!
I love the speed, the ease, the relaxation and the fact you can get from one city centre to another so quickly. There are no queues, no liquid or device restrictions, you don't need to pay extra to take a suitcase and there are no restrictions on how much shampoo you can take! Oh and there's plugs! Let's not forget how useful it is to sit next to a plug on a long journey.
As you can see, I'm a big fan of train travel and today I'd like to share some of my travel hacks for travelling by train. If you have any more train travel tips, please do add them in the comments below!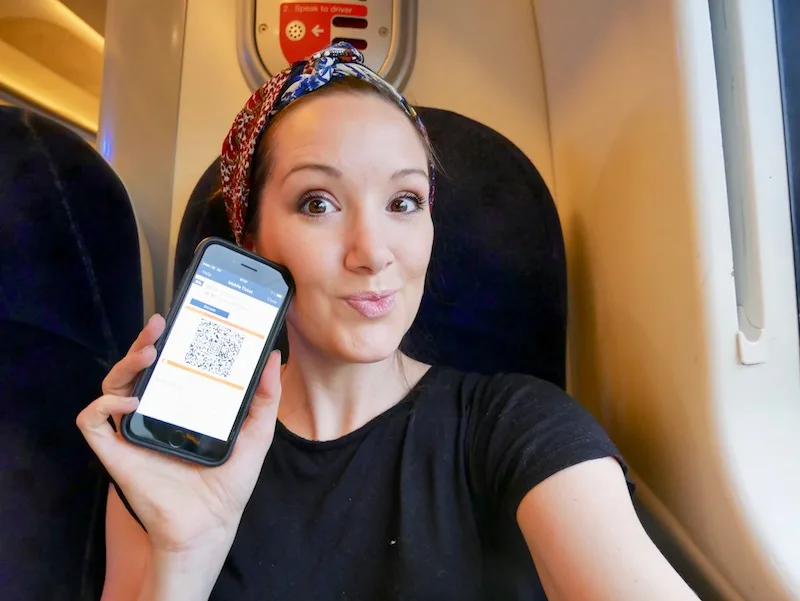 Book your tickets 3 months in advance & pick specific times
Around 12 weeks in advance is the best time to book your train ticket for the cheapest deals. It really does pay off if you can be this organised! And while you're at it, try to book trains at specific times rather than open return or off-peak returns. If you pick the times it's so much cheaper!
Travel Hack Tip: But if you aren't sure what time you'll be coming home, an open return probably is your best bet. There's nothing worse than missing a train and having to fork out for the next one – or arriving at the train station two hours early and having to hang around for your train home!
Use the Trainline app and mobile ticketing service
The Trainline app makes it quick and easy to find the best value ticket and book it. You can now use mobile tickets on 50% of routes in the UK,so you don't need to worry about arriving early at the station and queuing to print out your ticket. It's just another little bonus that makes travelling by train that bit smoother.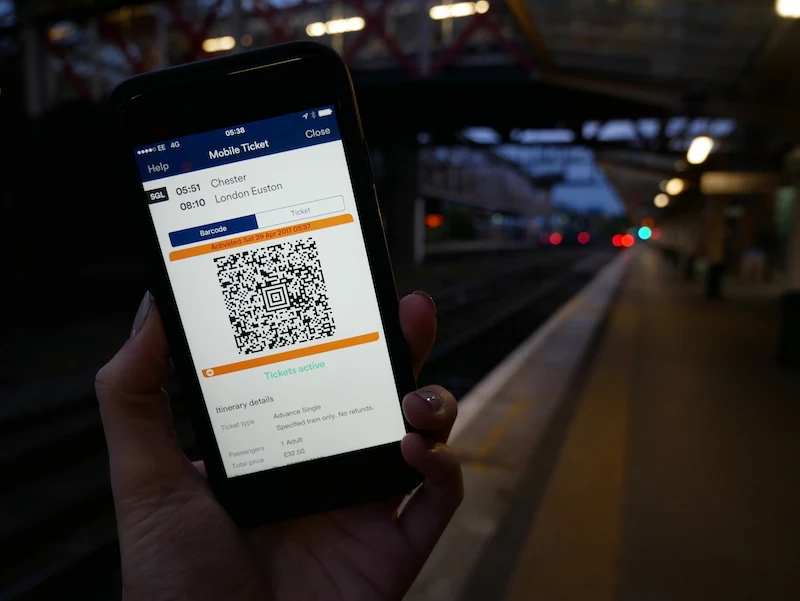 Get a railcard
Railcards aren't just for students and pensioners you know! There are loads of railcards you might be able to use to save big bucks on your train fares. You do have to pay for most railcards but you get 1/3 off your ticket so they usually pay for themselves within a couple of journeys. Plus for ease you can save your railcard booking preference in the app, don't forget to take it with you though!
Here are just a few of the railcards you might not know about:
16-25 Railcard – You can buy this the day before your 26th birthday and get a whole extra year out of it!
Annual Gold Card – Available for season ticket holders who travel in central London so look into this if you live and work in London.
Two Together Railcard – If you usually travel with the same person this is a good one! Lots of couples could benefit from this one.
Family and Friends – When an adult and child travel together. Can be used for up to 4 adults and 4 children on one card!
Groupsave – When travelling with 3-9 adults
Regional railcards – Such as the Cambrian Railcard, Cotswold Line Railcard, Dales Railcard, Devon and Cornwall, Esk Valley, Heart of Wales, Highland, Pembroke.
Never buy from the ticket machine
Never ever buy from the ticket machine. Ever!
If you're using the Trainline app you might as well use a mobile ticket. But if this service isn't available, use the app to book your ticket and then pick it up from the machine you're probably stood next to. It's almost always cheaper to book an advance fare, sometimes available up to 15mins before, so its nifty to use the app, and you avoid the queuing too.
Listen out for upgrade tickets
When you board the train listen for an announcement telling you whether or not you can upgrade to first class. It's often really cheap to upgrade and well worth it if you've had a tough day.
Don't bother upgrading after the hot food has finished
But it's not worth paying for an upgrade for evening services when the hot food service has finished. You might get a cold snack but it's usually pretty rubbish and definitely not worth paying £20 for!
When can your off-peak tickets be used?
Make sure you check when your off-peak tickets can be used. When you're leaving London, you can't use an off-peak ticket between 15.01 and 18.44. I don't know about you but I don't consider 3pm to be 'peak travel time' so this one has thrown me a couple of times.
Travel hack tip: Don't try and sneak onto the train with the wrong ticket. They will ask you to get off the train at the next station or pay for the appropriate ticket.
Avoid the first off-peak service
This tip is especially true for the weekend but often applies for the week too. My train from Chester to London is often £80-£100 more expensive during peak hours. If you're travelling at 08:35 it's £140 but if you wait until 08:55 it's £60. So, naturally, a lot of people wait for the 08:55 to save themselves £80 meaning that train is chocker! It's ridiculously busy so you're better off waiting for the second off-peak train which is nice and quiet again. The same applies for return journeys, especially the first off-peak train out of London in the evening.
Always book a seat
Always, always, always. You often won't need it but occasionally you will and you'll be so pleased with yourself. There's nothing worse than having to stand for a long journey. Not all journeys have bookable seats, so this is where BusyBot on the Trainline app comes in – it crowdsources data and lets you know if you're more likely to find a seat at the front, middle or end of a train.
If the train is full, sit in first class
Having said that, when the train is full and there really are no seats, they'll usually allow you to sit in first class for free. If they don't allow you to, speak to the conductor and they'll usually tell you where there's a seat. If you're on a long train, people often congregate in one area and the rumour spreads that there are no seats left so people don't bother looking – but there are often seats further down the train. Again, BusyBot on the Trainline app can help you with this, too!
Always buy your food at the station
Train food is always bad. If there's an exception to this rule I want to know about it! But train stations usually have a great selection so stock up on goodies at the station before you get on the train.
Pin this for your next train journey…
[one_half]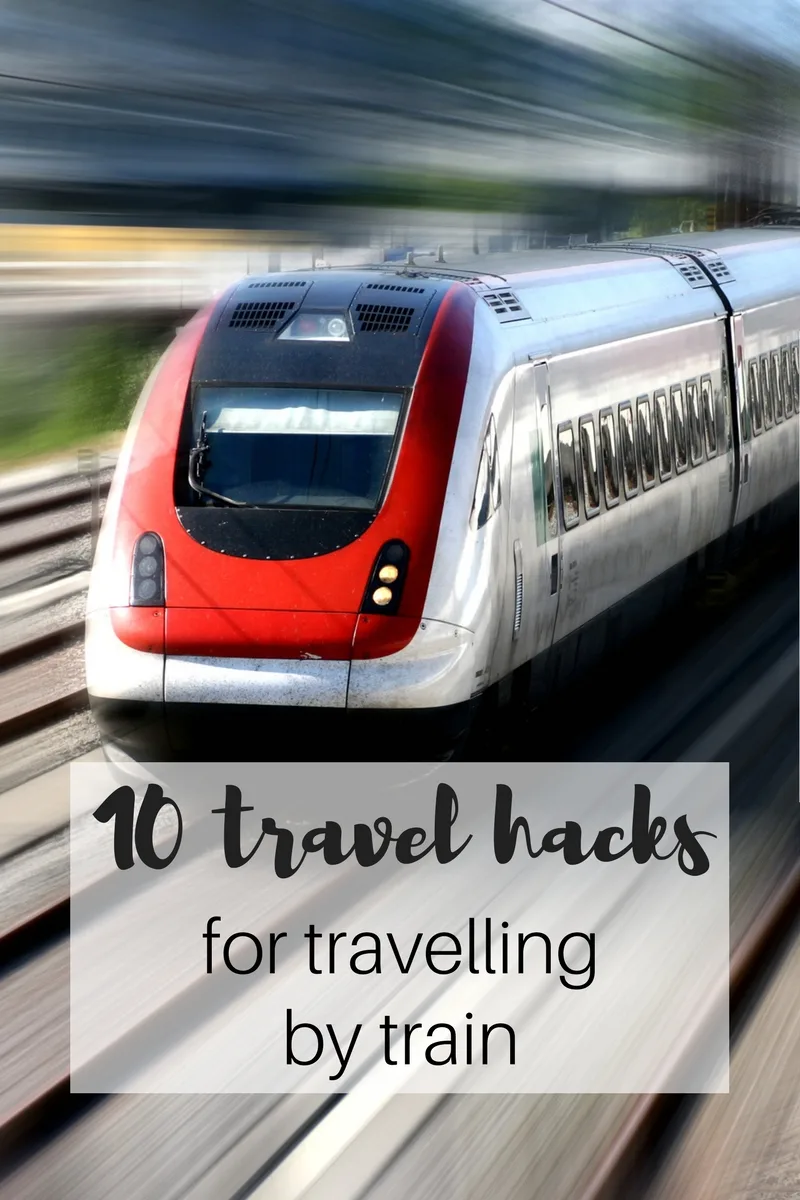 [/one_half]
Do you have any more tips for travelling by train?