Flying long-haul with a baby can be a bit daunting. Most people actually thought that we were crazy for flying with a baby but, while they can be difficult, they aren't impossible! Today's post is full of all of my tips for flying with a baby and will, hopefully, help to put your mind at ease about the whole process.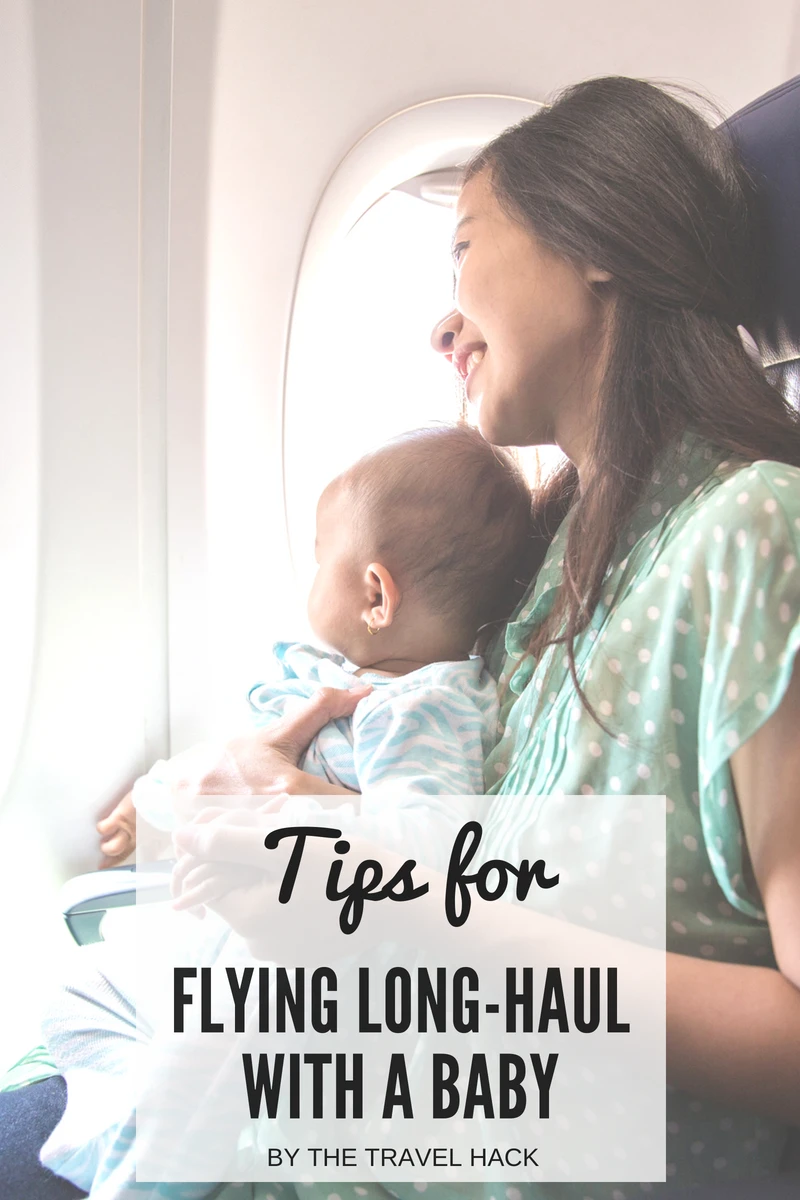 Many people thought we were crazy flying long-haul with a baby – especially all the way to the Maldives! But if you read my last post about how awesome it was to visit the Maldives with a baby then you'll know it was well worth it.
I'm not going to lie, long flights with babies can be difficult. I'm one of the rare people who actually loves long-haul flights. I love being disconnected from the internet and being able to sit back and relax for 10 hours without worrying about emails and clients and social media. I wrap myself in a blanket, order a G&T and sit back to a marathon of movies. It's bliss. I honestly don't know why people hate it so much.
And then along came George and I already know it's going to be a fair few years before I can enjoy relaxing plane journeys like this again. Ahhhh, sigh.
Our flight to the Maldives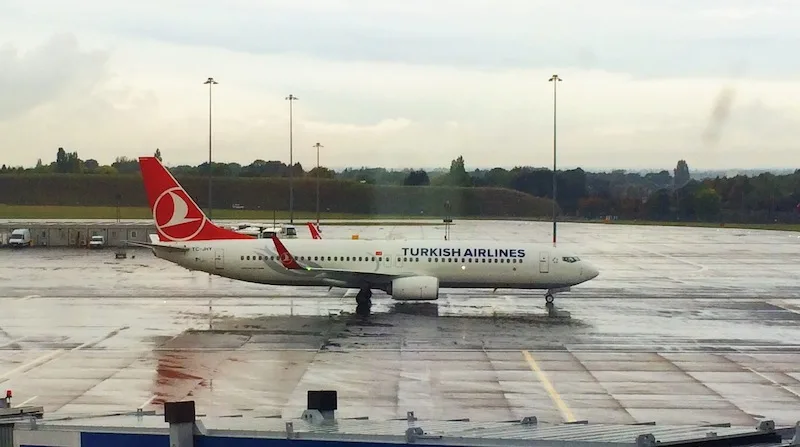 We travelled with Turkish Airlines to the Maldives. We flew from Birmingham and began with a 4-hour flight to Istanbul. There was a 2-hour layover before a final 8-hour flight to Male, the capital of the Maldives.
We experienced the short-haul European flight with Turkish Airlines and then the long-haul transatlantic flight – which is important to note because they were very different.
Turkish Airlines have been awarded the best airline in Europe and it's not hard to see why. The food is amazing (yes, I just said plane food is amazing!), the staff were lovely and the whole experience is simple and enjoyable. For the Istanbul to Male leg of the journey it felt like a different airline. The food was still delicious and we still had some very tasty Turkish Delights but the service just wasn't the same.
Flying out to the Maldives was an absolute dream. George was awake for the first leg of the journey and spent a lot of the flight watching films, eating and playing with the couple sat behind us. The lovely lady who checked us in made sure we had 3 seats between us – even though we hadn't paid for George to have his own seat. There weren't many free seats on the flight so we really appreciated this. I'd asked to have a bulk head seat so we had the extra leg room but we actually found that having a spare seat was better than leg room.
On this second flight we had the bulk head seat with the extra leg room and space for a bassinet. George was brought a bassinet but he wouldn't settle in it at all. He realised that he could poke his head out and look at everyone on the flight. This was a fantastic game – especially because the other passengers found it funny and were laughing at him. So eventually I just held him and he fell asleep on my lap. He slept for the entire 8-hour flight and woke up just as we landed. See – I told you it was a dream!
Flying home from the Maldives was a very different story and George barely settled for the entire flight.
He whinged and wined and niggled for virtually the entire 12 hours. (OK, that's an exaggeration but that's what it felt like).
To my surprise, everyone sat around us was amazingly lovely. No one was rolling their eyes, no one huffed and puffed and no one groaned whenever he made a noise. People did their best to make him smile and would play peekaboo with him from behind their seats. I am so grateful for all of those people.
Read more: What to pack for a toddler on a plane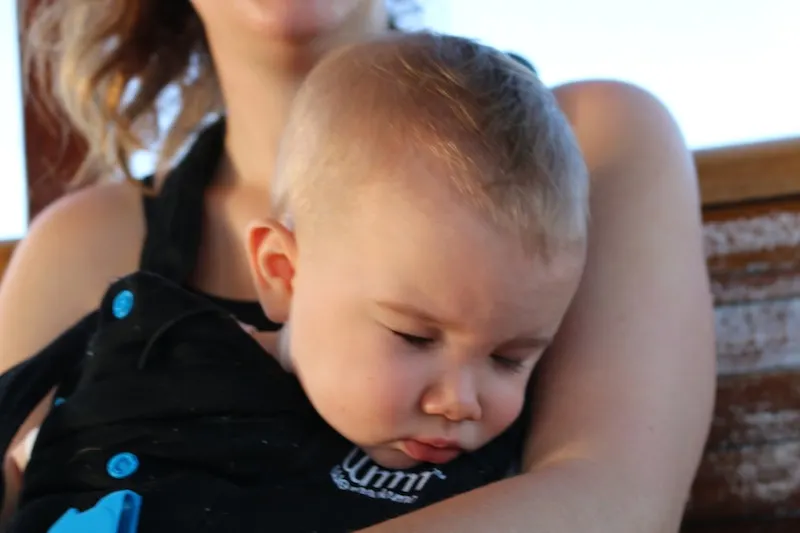 My tips for flying long-haul with a baby
Relax!
Babies pick up on our feelings so if you're feeling tense and anxious then baby is going to feel it too. I know, it's not easy to relax and enjoy the flight if you're nervous about having a screaming baby but if you can, it will making flying with a baby so much easier. I found the thing I was most nervous about was what other people would think – but I quickly realised I didn't need to worry about the other passengers at all…
Most passengers will be really nice
Our flight was full of couples on their honeymoons and I didn't want to ruin their flight. It turned out that I didn't need to worry at all about what others thought because almost everyone was really, really nice – on all 4 flights! We always seemed to latch on to a kind, elderly couple who had lots of stories about their own children and grandchildren on holidays.
A lot of people will have been in your shoes before and will only be too happy to help – or at least give you a kind smile to reassure you that they're not mad about your crying child.
Of course, there might be a few people who are mad but reassure yourself that you'll never see them again – and if you do, let's hope it's in 10 years time and they're the ones squished in a seat with a screaming baby on their lap.
Speak to the air stewards as soon as you get on the plane
When you get on the plane, have a cheeky word with the air stewards and let them know you'd really appreciate a heads up if there's a spare row anywhere on the plane. I've seen a family do this before and they were lucky to get two whole rows between them.
Passengers are usually asked to sit in their allocated seats until takeoff so they'll then come and get you and let you know you can move.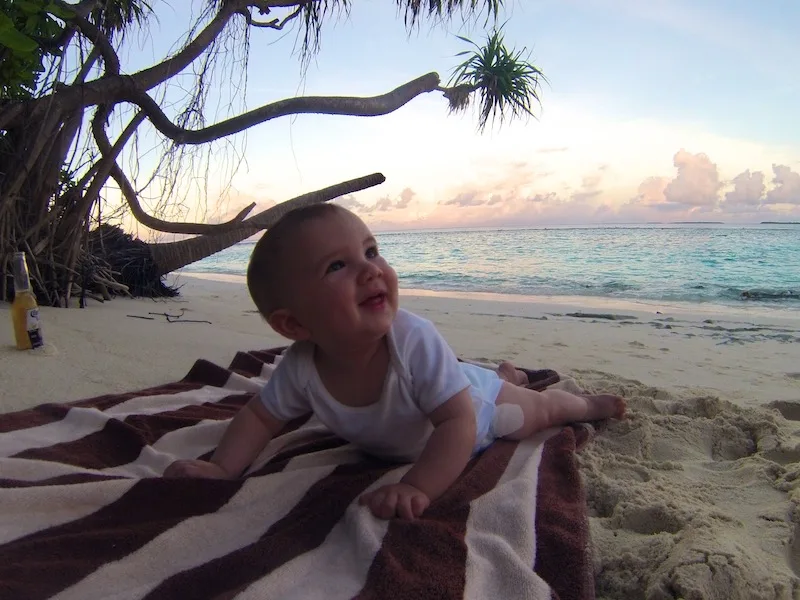 Give baby a drink for takeoff and landing
If you can, encourage your baby to drink during takeoff and landing. The swallowing action when they're drinking will help them to equalise their ears.
Having said this, I've had a couple of flights where George just didn't want a bottle during takeoff and he was absolutely fine. Flying with a baby will be different each time you do it, so don't worry if your baby doesn't want to drink.
Take enough food to feed a small army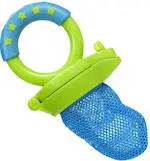 I never thought I'd be one of those parents who would give their child food to shut them up – but desperate times call for desperate measures. Our bags were stuffed with rice cakes, fruit, fruit purees, pouches of mushed meals and rusks.
I really like the Munchkin Fruit Feeder for travelling. It's basically a little net that you fill with fruit. It has a large handle so little hands won't drop it and you don't need to worry about chocking.
It can get a bit sticky if you fill it with juicy fruit so this leads me to my next point…
Pack a bib with sleeves
If your little one is at the phase where they want to stick their hands in everything and then smear it all over themselves then you'll definitely want a bib with sleeves. I like the plastic ones that are like painting bibs because you can wipe them clean. Disposable ones are even better so you can chuck them away before you land.
A spare set of clothes – for everyone!
This is probably one of the most easily forgotten tips for flying with a baby but it's also one of the most important. A spare outfit for your little one is probably a given – but don't forget spares for yourselves too. You'll at least want a spare top for all of those inevitable spills and sticky fingers.
Breastfeeding
There is no better way to keep a baby quiet than by breastfeeding. If there is and you have some other tips for flying with a baby, please tell me about it as I'd like to know!
I'm proud to say that I'm now totally comfortable breastfeeding in public, but I get really nervous about feeding on a plane. I use a big coverup if I have a window seat but otherwise I tend to express and give George a bottle.
While I've been breastfeeding I've been working with Medella on the Medella Mums campaign. It's been awesome and I thoroughly recommend all of the Medella products – but I'll be talking about this in more detail soon.
Use a baby carrier
When you're at the airport you can nearly always take your pushchair all the way to the gate – but I just find a baby carrier so much easier. Provided you have no metal on your baby carrier, you won't need to remove the baby when you go through security. George usually falls asleep in his baby carrier when I'm walking around so I'll stroll around the airport to encourage him to nod off. There was one awesome time when I was able to keep him asleep in there until more than an hour after takeoff.
We usually choose to take the pushchair through the airport anyway and use it as a trolley to push our hand luggage.
I recommend the Pao Papoose by We Made Me. You can check out my review of the Pao Papoose here.
If you're taking bottles
Be aware that if you're taking bottles of formula, breastmilk or bottles of water ready to add formula to – you're allowed to take more than 100ml. But the bottles will be taken to a special machine to be tested. This will add an extra 5-10 minutes onto your security check time.
Make sure your hand luggage is well organised so you can easily remove all the bottles that need testing.
Work as a team
If you're travelling with an extra adult then work as a team to make it easier for both of you. Sam and I tend to take it in turns where one of us looks after all the bags, passports and tickets while the other focuses on George. It just means you only have one thing to worry about at a time.
Don't worry about changing nappies on a plane!
I'm so surprised by the amount of people who ask what it's like to change a nappy on a plane. Honestly, it's not a problem. There's a large changing table that usually folds out above the toilet and there's plenty of space to change your little one so that's one less thing that you need to worry about when it comes to flying with a baby.
Use a backpack
The easiest bag to use for your hand luggage is a backpack so you can always have both hands free. I really like the Babymule as it has 6 pockets for keeping everything organised and it's easy to switch between a backpack, a messenger bag or clipped to the pushchair.
Keep your hand luggage small
You might feel like you need to pack everything AND the kitchen sink when you're flying with a baby but you actually don't need that much. For myself, all I pack is a spare top and my Kindle so the rest of our luggage is totally dedicated to George. I have the Patchwork Flight Bag from Spiral which is a perfect little travel bag for the essentials.
Don't over-do it on the toys
Every baby is different but before George was 6 months he wasn't too fussed with many toys. He had his favourite Lamaze pirate but other than that he didn't care. He had just as much fun playing with the in-flight magazine and staring at people on the plane. (Yes, this makes some people REALLY uncomfortable but it kept him quiet!)
Board the plane last
You're usually given the chance to board the plane first when you have a baby – but this is usually the last thing I want to do. It can take ages to get everyone on the plane so I try to board last. The only problem with this is that sometimes there's no where to put your luggage and you need to put it in an overhead bin at the other end of the plane. This is why I have a small backpack for my hand luggage as the Babymule is small enough to slip it under of the seat in front of me. If the air stewards take it away then that's fine, I'll just press my button and ask them to bring it back later on.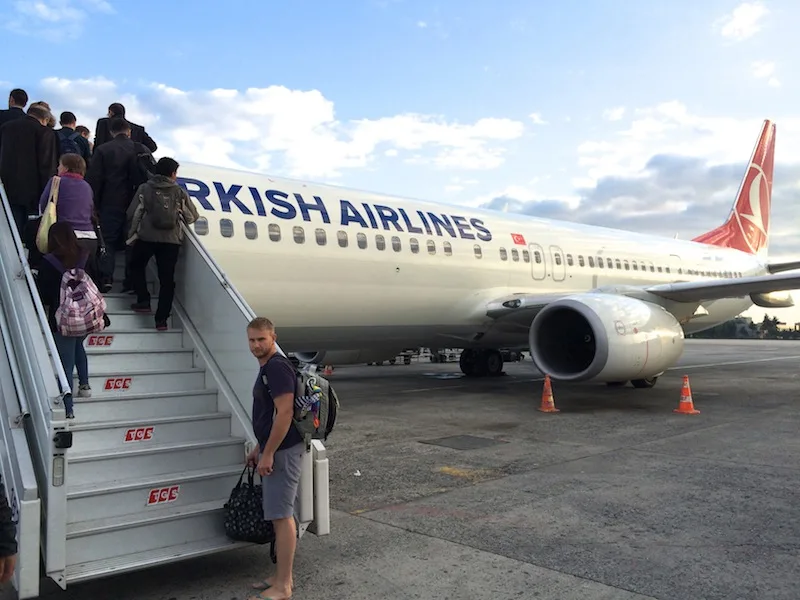 So, there you go, those are my tips for flying with a baby. If you've got any others to add, then I'd love to hear them!