I find that searching for accommodation and finding ways to save money when booking hotels to be the hardest part of holiday planning. There are so many gorgeous hotels, so many websites to book them on and lots of confusing reviews. The hotel is often the most expensive part of the trip so it's really important to find a good one.
And, if I'm honest, I'm a bit of a hotel snob. I don't mean I always want 5* hotels but I hate it when little things aren't right like noisy air conditioner units, rude staff, bad food or – worst of all – no hot water.
Scoring a great accommodation deal can be the difference between a cheap escape and pricy one and can really hike up your overall expense. Naturally, the majority of us are always looking for the best hotel prices to help save a few pennies on our trips.
There are lots strategies for helping to slash the prices of hotels or to get the maximum out of your stay. Of course, you should be using hotel price comparison sites but there are a few more hacks to get more hotel for your budget! From dodging surplus charges and expensive locations to hopping on free upgrades and seeking out special offers, here are my top tips for saving money when booking hotels…
Ask yourself what's important
Before you even begin your search, ask yourself and your fellow travellers what's important and what style of holiday you're taking. Are you planning to spend most of your time chilling out at the hotel or exploring the city? Are you looking for a comfy crash pad or a stylish retreat to recharge your batteries?
Keep this in mind during your search as you don't need a luxury hotel if you won't be spending much time in it or you won't want to be in a dive if you're planning a romantic weekend away.
Have a Budget in Mind
Write down your budget before you begin searching for accommodation.
Trawling through hotel websites and travel reviews will be a lot easier, and affordable, if you keep a nightly-rate in mind, ensuring you don't go too steep during the search process.
It can be easy to get carried away and think, 'Well, for £20 more we could get this….', and before you know it you're spending three times more than you originally intended.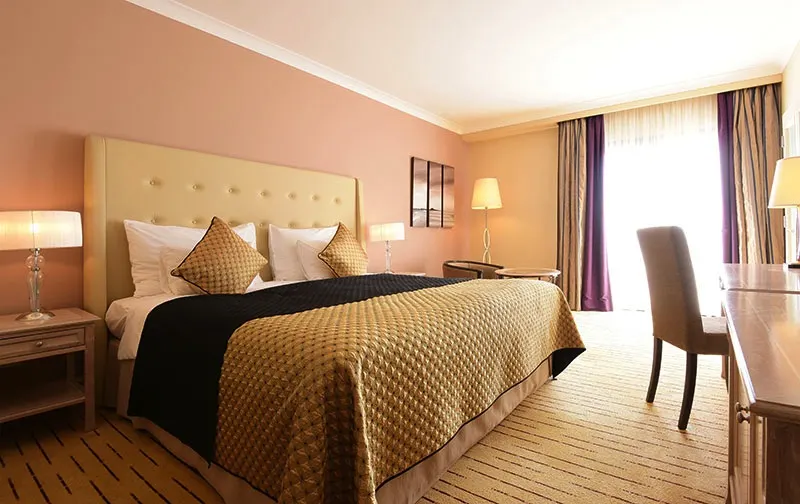 Choose your dates wisely
This might be an obvious one but the best way to save money on your accommodation is to book outside of peak periods such as school holidays, bank holidays and Friday and Saturday nights. Big events and festivals will also hike up the prices. Avoiding these times will save you a huge amount of money and you'll avoid the crowds of tourists.
It's not always possible to travel mid-week as most people are restricted to weekends due to work. If this is the case, look out for deals where you get Sunday night free if you book the Friday and Saturday. Lots of hotels offer this and you'll only need to take one day off work.
If you're taking a 3-day weekend, travel from Saturday-Monday rather than Friday-Sunday. Sunday night stays are usually cheaper than Friday night stays so you're usually better off taking the Monday off work rather than the Friday.
Look out for special deals
Speaking of deals….This is holiday booking season so it's a great time to be looking out for hotel special offers. You can use these offers to bag a bargain hotel or step up to something more luxurious than you'd originally intended.
The Corinthia Annual Sale is a great one to check out. It goes live on January 11th and you can get up to 50% off on their European hotels (which are gorgeous!) You can stay at Corinthia St Petersburg from €64 a night or Corinthia Budapest from €87 per night. The thing I like about the Corinthia sale is that there aren't 101 restrictions to the bookings. You need to book by 24th March 2016 but the offer applies to stays up until December 30th 2016 – perfect for anyone planning ahead or doing the #Take12Trips Challenge.
Location, Location
Ask yourself how important your location is?
We'd all love to be snoozing on the doorstep of one of the world's most iconic landmarks or within the heart of a buzzing old town. Sometimes you need this if you're taking a quick Weekender and you don't have much time to spend negotiating public transport.
But if your budget is tight you'll save a small fortune if you base yourself outside of the city centre. You can often get a luxurious pad on the outskirts at the same price as a 'budget' hotel in the centre. Hotels outside the main hub are also more likely to offer free shuttles or free parking to guests.
If shuttles aren't available, make sure you check if public transport is easily accessible before booking.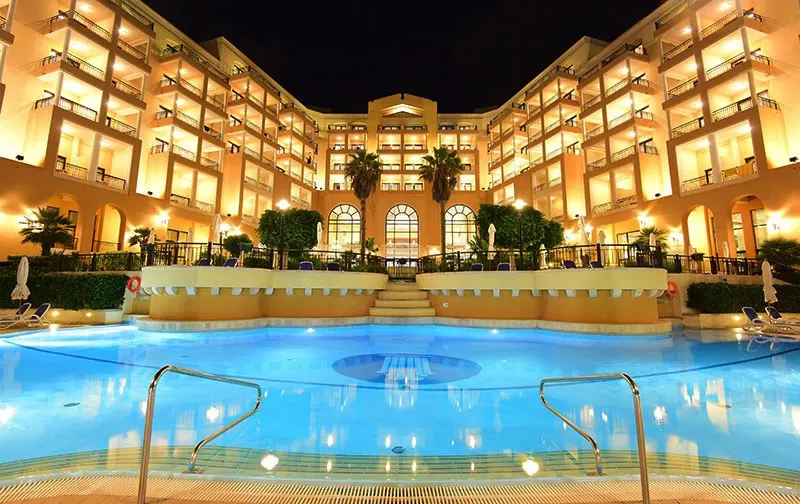 Don't be Scared to Ask For Upgrades
This is more for when you're checking in than making the booking, as you usually don't have the option to make cheeky requests if you're booking online.
I travel by the motto, 'If you don't ask, you don't get'. I used to work in a hotel and I realised there are loads of cheeky guests who will simply ask for an upgrade.
You never know, if your luck is in you could just grab yourself a perk or two when it comes to your hotel booking. Sometimes they'll just say 'no' but sometimes they'll bump you up a level, give you a better view or give you a special discount on an upgrade – if the rooms are available, it's in their interest to get them sold.
If you're travelling for a special occasion, now is a good time to drop a hint!
Avoid Extra Charges
Grabbing a hotel deal which includes extras such as breakfast is ideal for saving the pennies when you're away. Hotel breakfasts are the best and add an extra touch of luxury to your stay. Yes, you could pop out to a local café for breakfast but it just isn't the same.
Look out for other things like late checkout, complimentary use of the gym and spa or luggage storage if you have a late flight home. Make sure there aren't extra charges for these things as they soon add up.
Plan Ahead
The majority of bargains are bagged in advance, and if you have the flexibility to plan far ahead, take advantage of it. If you can book at least 6 months ahead you'll find that you can score some of ultimate cheap deals on hotel accommodation. Some websites and hotels will allow you to book as far as a year in advance, saving you some welcomed spending money when you finally jet-off later down the line.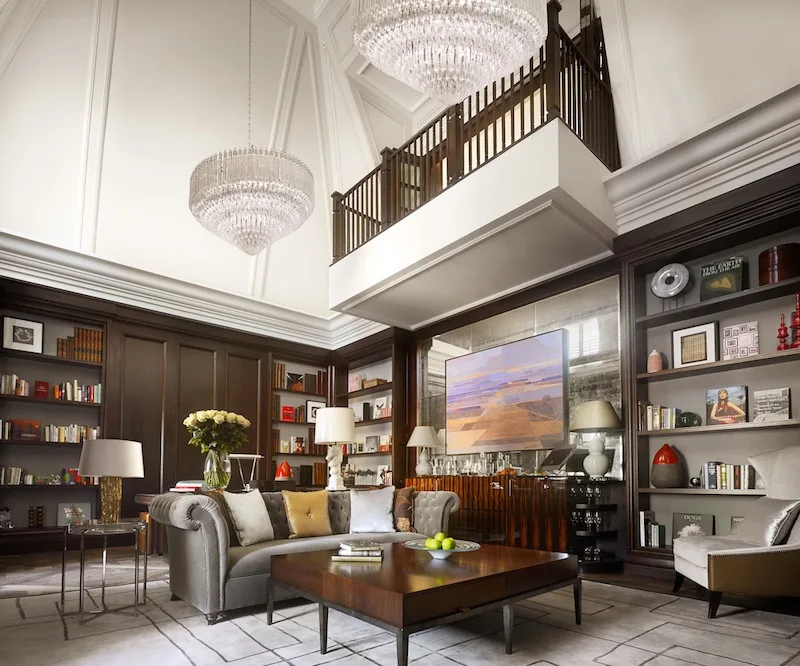 Get in Early on Sales
If you know how it works, jumping in on a sale can be a game-changer for experts. If a sale is due to start on a Saturday, chances are the bulk of the deals will be live from the early hours. If you're as committed as you should be to bagging your dream hotel bargain, having an early start is a small price to pay – literally. Coffee helps!
Memberships
Certain hotel chains offer great discounts and perks to those subscribed to memberships with them, allowing you to grab great rooms and cheaper prices at your preferred hotel chains. Hotel companies such as Marriot and Corinthia offer some of the more rewarding schemes, providing complimentary room upgrades and weekend discounts.
Business travellers often get the most benefit from loyalty schemes so if you travel for work then make sure you're signed up!
An Alternative to Hotels
If you really want to make a great saving on your next holiday, consider the possibility of staying in an alternative form of accommodation. Don't dismiss hostels such as Generator Hostels, which are known as the stylish, luxury hostels. The private rooms at Generator are really nice but, realistically, they're not much cheaper than a hotel so you'll only see the big savings on dorm rooms.
Do you have any great suggestions for saving money on hotels?
Read more:
10 things I wish all hotels had