[quote_simple]Earlier this month I travelled aboard Celebrity Silhouette cruise ship. I began in Venice followed by Koper, Ravenna and Split. I'll be sharing my experiences from these incredible destinations over the next few weeks but first of all I wanted to tell you what it's actually like to go on a cruise.[/quote_simple]
As a travel lover, being able to visit a new destination every day of the week is pretty much a dream come true. Sometimes I feel completely overwhelmed with all the places in the world that I want to visit and I wonder how I'm ever going to see them all.
I'm not the type of traveller who just wants to tick places off so I can say I've 'done a country' but I do want to see as many new places and have as many new experiences as I can.
So when Celebrity Cruises invited me aboard to try a cruising experience, I already knew I was going to love it.
You're essentially floating aboard the biggest and most luxurious hotel you could possibly imagine and you wake up in a new country almost every day, what's not to love about it?
Each evening you go to bed with those excitable butterflies and a belly filled with anticipation for your next destination. What will the weather be like? And the people and the food and all those new things to experience. It's like that first day of a holiday where you gaze at everything in awe, you take pictures of everything and you excitedly point to all the sights that you've longingly drooled over in guidebooks.
I was like a kid on Christmas day but the best part is, it happens over and over again. Every day you get this new excitement as the ship approaches land and you get your first glimpse of the country. Hillsides dotted with tiny houses, secluded beaches that can only be seen from sea, farway cities with colouful buildings and the distant cathedral spires that pierce the skyline. This new country gradually gets bigger and you can see people waving and welcoming you when they spot you tucking into your breakfast on your balcony. And then you remember that you're still in your fluffy dressing gown and you should really get dressed…
Some people think cruising is just for older people who have retired and want an easy way to see the world. Of course, I think it's a fantastic way for older people to travel, it's easy and luxurious and you can see as much or as little as you like, but cruising is really for people who love travelling to new places.
There were lots of people onboard who wanted to see as much of Europe as they could in the few weeks they had spare. We'd all love to spend months travelling around Europe but who has the time or money to do that?
Cruising makes travel simple and I soon discovered how addictive it can be.
My conversation starter with anyone on the ship would be, 'Is this your first cruise?' It's not terribly imaginative, I know, but I must have asked more than 30 people this same question and every single person was a seasoned cruiser. Most people had taken 4 or 5 cruises, with the Mediterranean and South America being the most popular destinations, and I even spoke to one couple who were on their 14th cruise!
"It's addictive," they chuckled. "There's no other way to see so much of the world in such a fantastic way."
These were some of the most interesting people I've ever met on my travels. They've literally seen the world and I'd spend the next few hours questioning them about their favourite destinations. South America is now very high on my bucket list!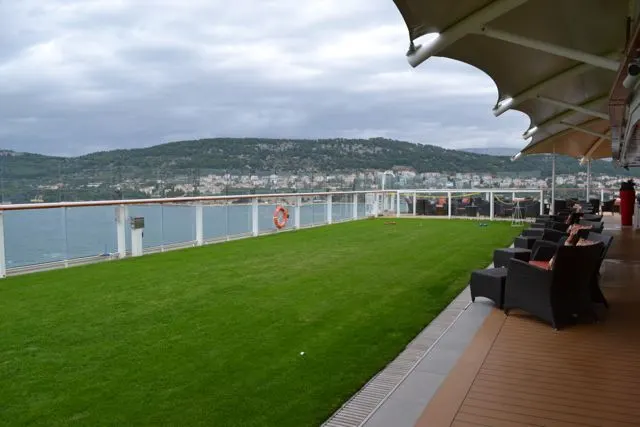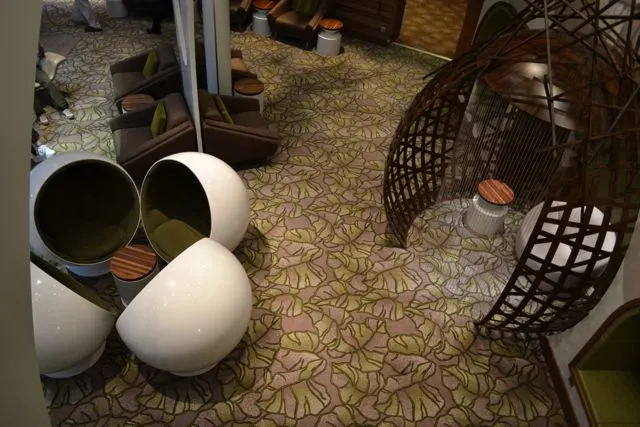 And that's another thing about cruising, it's very sociable. I found myself chatting to someone new every night at dinner or while soaking up the sun on the deck. If you'd like to find a quiet corner in a romantic restaurant then you can certainly do that but a lot of the time you'll find yourself chatting to a new crowd on a daily basis.
Oh yes, and there's the restaurants. And the bars. And the shops. It really feels like you're in a small town with so much available. You book reservations for different restaurants but go for pre-dinner drinks before your meal. After you've eaten you can take a stroll outside to walk off your dinner and you can take a seat and admire the stars. Take a look around the shops or go for a coffee, see a show or watch some live music. As you walk around you'll probably bump into a friend and head to a bar for a late-night drink. I'd head back to my room feeling like I'd had a big night out and sit on my balcony with a cup of tea while wrapped up in a blanket as I enjoyed the sea breeze and the clear night sky.
Watching the sunset in Split
Then that excitable feeling would come back. The butterflies in my belly would start fluttering as I thought about the next new destination the following morning and I realized how cruising can become so addictive!
Many thanks to Celebrity Cruises for inviting me along and hosting my trip. All opinions are, as always, my own.