Today's post is an update on our house renovations and a look at our attic conversion. It was a lot of work but it was worth it!
I started documenting the renovation of our home a few years ago and planned to do a new room update every time we 'finished' a new room. And here we are, over two years later and nothing has changed since the day we moved in!
We've hung a few new pictures and the house looks more like a home but we really haven't done a lot in terms of decorating. We (and by 'we', I mean Sam) spent nine months renovating the house while we lived with my parents and after such an intense year we were done with building and decorating.
And something I've realised is that a home is never finished.
There's always something to be done, something that's a little bit broken, something a little bit grubby and something that's 'just there temporarily until we get a proper one….'
At first I wanted the house to be perfect. I'd spent so long dreaming about what the house would look like and I expected every room to be perfect as soon as we moved in. But we moved in with barely any furniture and we'd just spent about £60,000 on renovations so, unsurprisingly, we didn't exactly have the budget to be buying the Pinterest furniture of my dreams!
Sam did all the renovation work because I was pregnant when we bought the house and then had a tiny baby by the time we were finishing things off. Now I feel like this worked out well and I was really lucky as I didn't have to get my hands dirty at all! But at the time it was the worst. I was going crazy while I was sat at my parent's house while Sam did all the hard work and I could do nothing to help. I felt completely useless and I'd often visit the house just to sweep the floors, only to get chooed away because I was in the way or there were too many dangerous things for me to fall over. I spent the vast majority of that year on Pinterest, drooling over perfect homes and making boards to create my dream home. And it is my dream home but definitely not in a Pinterest way!
One of my favourite rooms in the house is our bedroom – and that's partly because it was a bit of an accident.
When we first bought the house, Sam ventured into the attic and realised it was completely rotten and all the floors and upstairs ceilings needed to be replaced. It wasn't a big deal because most of the house was falling down, but it was my dad who through a spanner in the works by suggesting an attic conversion.
Overnight he'd barely slept a wink because he'd had a grand plan to lower all the ceilings in the house to accommodate an attic conversion big enough for an ensuite, a walk in wardrobe, a Juliette balcony and still have storage space in the attic.
I instantly dismissed the idea – partly because I didn't want to delay moving into the house but partly because all the attic conversions I'd seen in the past had been small, dark and dingy. I'm 5'3 so I'm not exactly tall but I hated the idea of having a bedroom I needed to hunch around in and couldn't stand up straight.
For obvious reasons (aka, I was the size of a whale at this point) I wasn't allowed into the rotten attic to see what a huge space it was, so I continued to say no to the attic conversion while Sam and my dad continued to do it anyway. I may have been a slightly crazy pregnant lady at this point. I just wanted to nest and get ready for my baby coming but everyone seemed to be hacking my nest apart!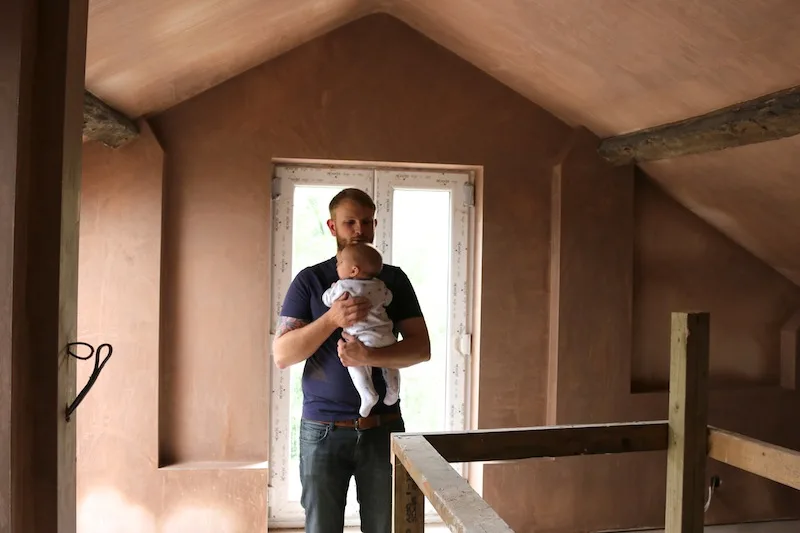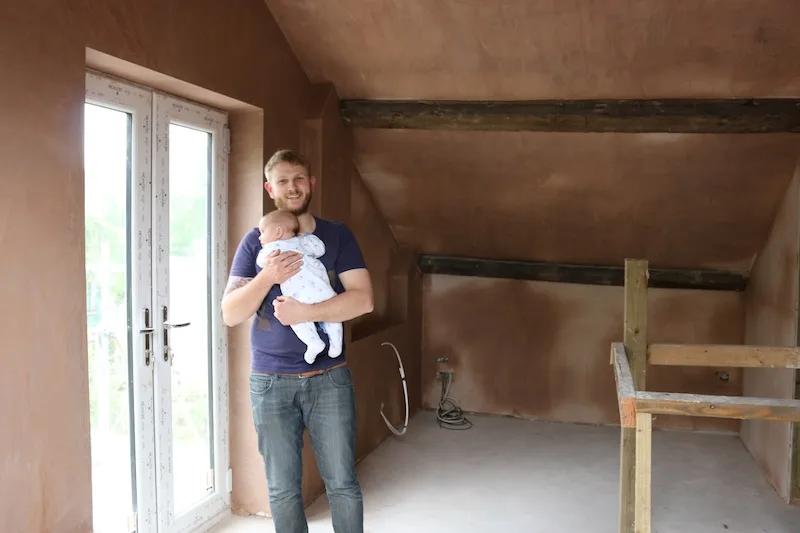 But the attic conversion turned out to be the best decided we made (OK, Sam and my dad made) during the house renovations. It's given us a huge extra room and didn't really cost too much extra because we would have been replacing the floors up there anyway. The staircase and glass balustrade were an extra expense, as well as the bathroom, balcony windows and the large Velux windows in the ceiling but it was nowhere near as much as an extension for an extra bedroom would have cost.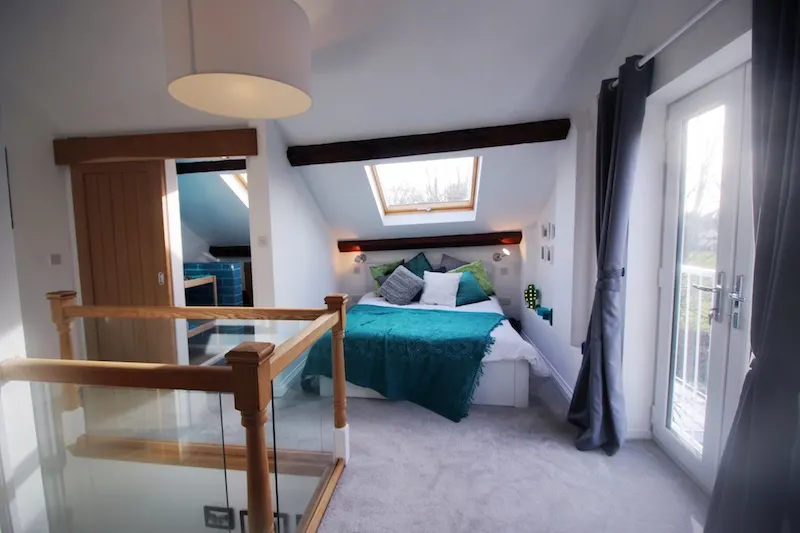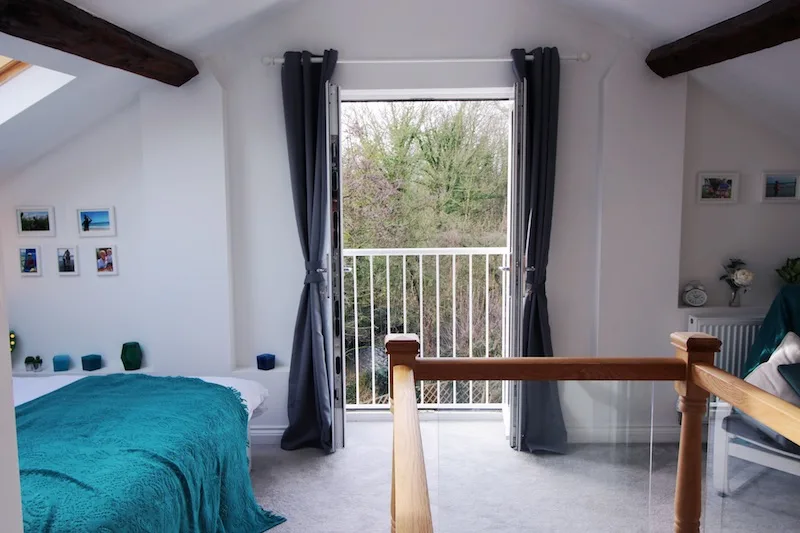 I love this Juliette balcony, especially because the garden looks down on to the river. It's also gorgeous in the summer months to be able to sleep with the doors open and have a lovely breeze through the bedroom.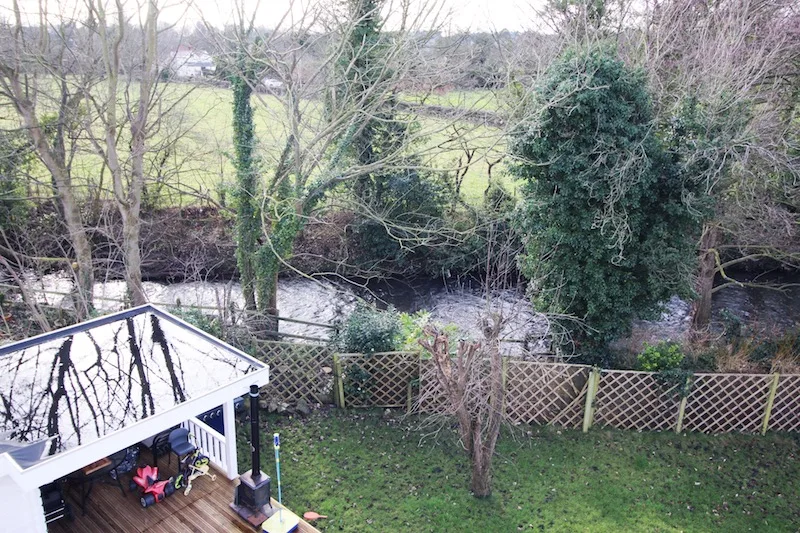 OK, the garden looks a total mess in the winter but it's lovely in the summer!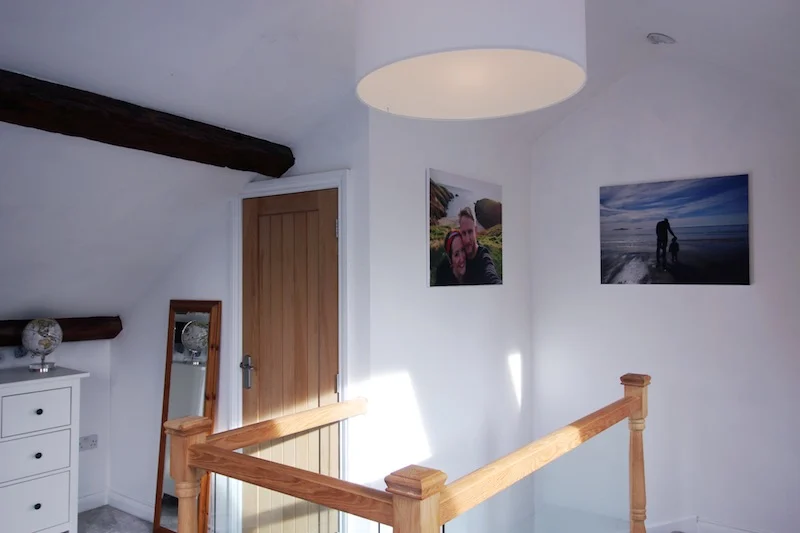 The door here leads to a walk in wardrobe – which I'm not brave enough to show you because it's an absolute mess. I'm yet to find some kind of stylish storage system so it's filled with a random assortment of draws and rails and boxes. I do love it thought because it keeps all of our clothes out of the bedroom.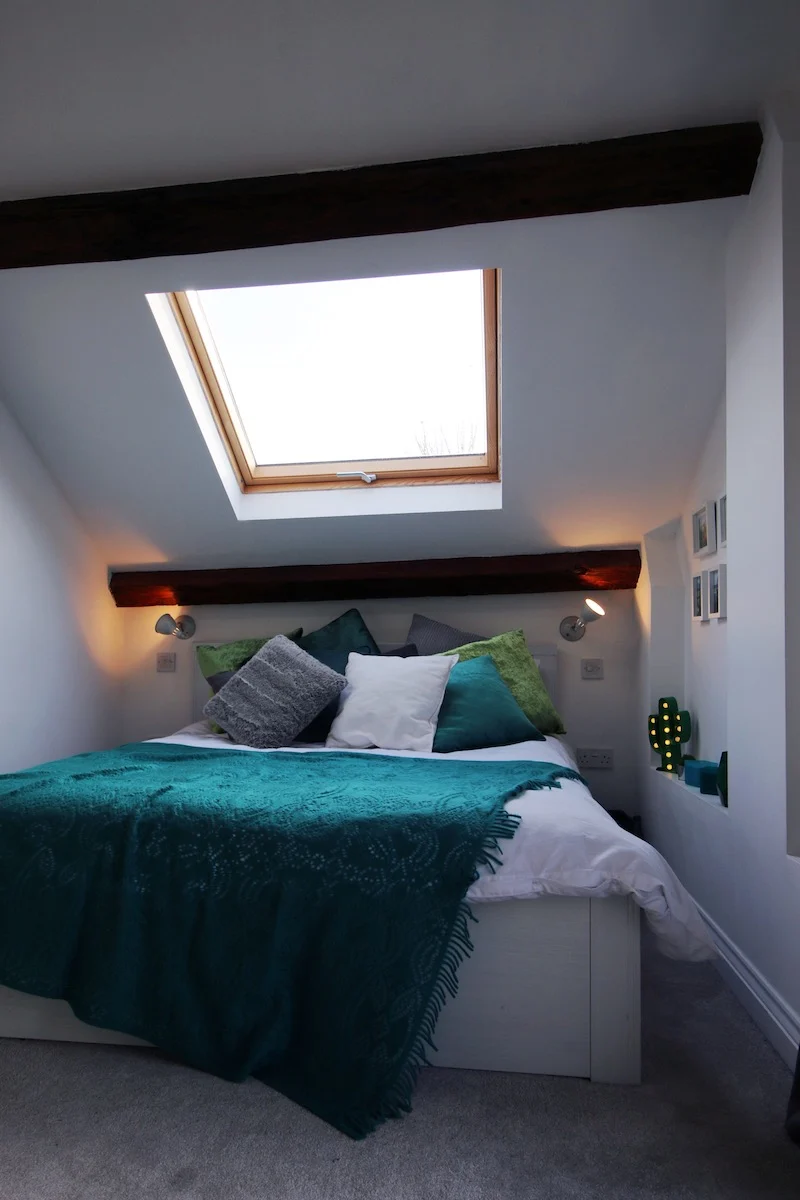 I love this huge window above our bed. We purposely didn't put a blind up because it's so nice to be able to see the stars at night.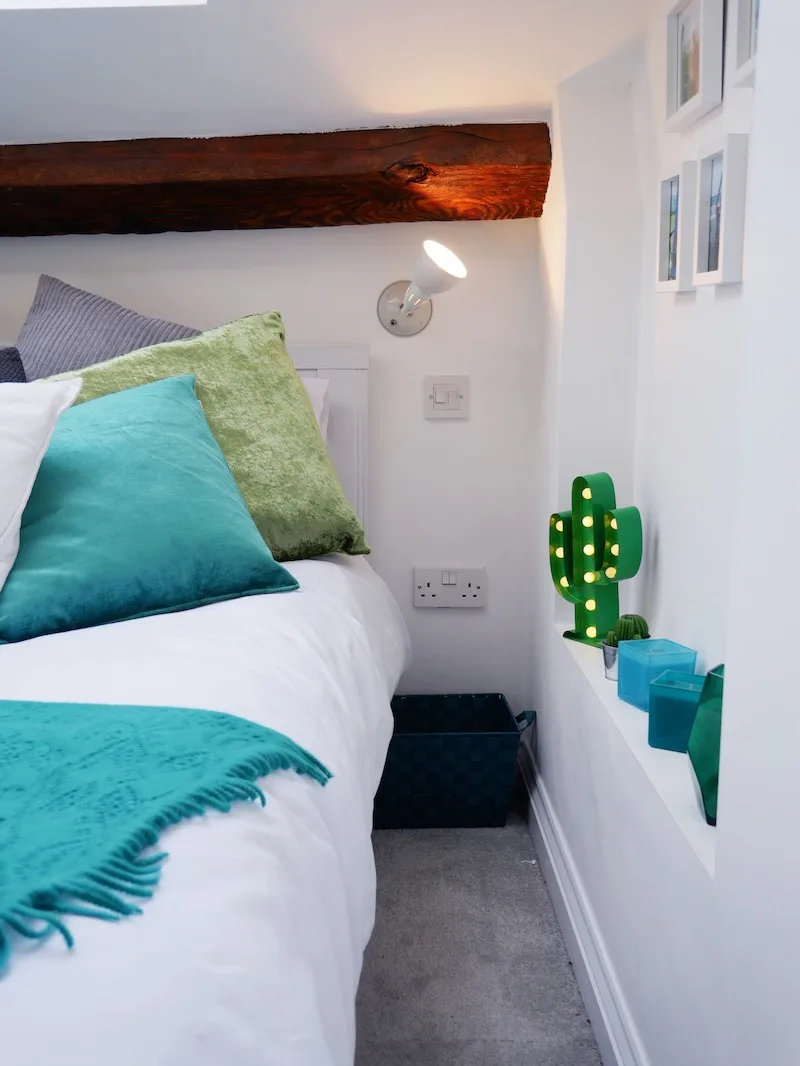 We kept the original attic beams which is why they're all so wonky. You get used to it but at first it did make me feel dizzy.
There's no quite enough space for bedside tables so we have little baskets next to the bed instead. They're handy for books and Kindles and magazines.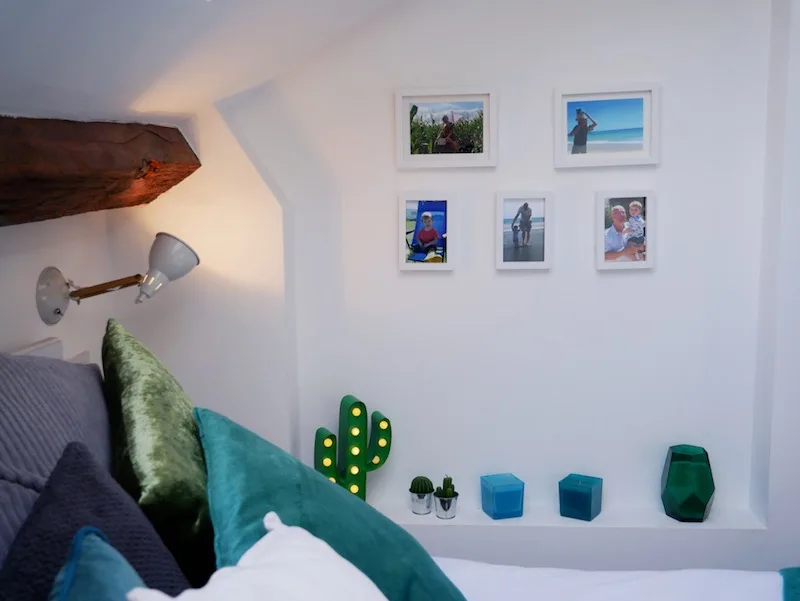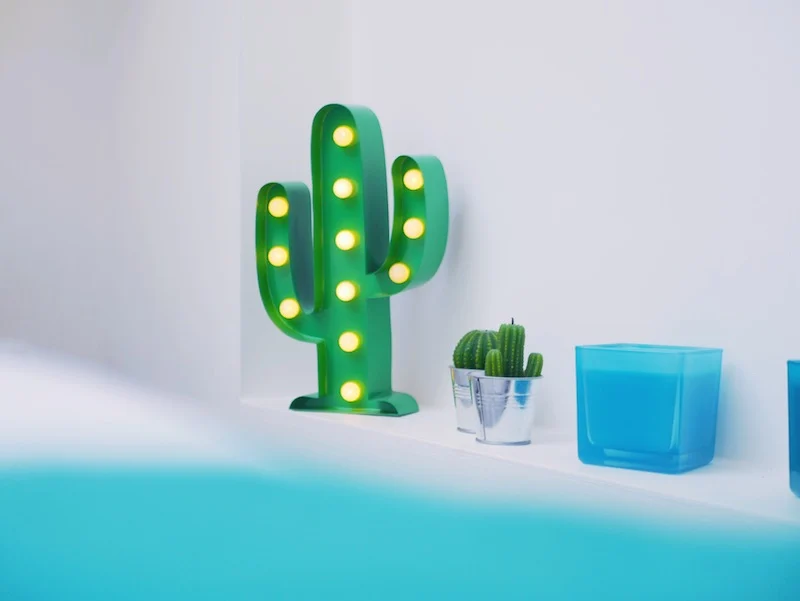 This cactus light was £10 from George at Asda and the cactus candles were about £1.50 from Primark. The square candles were £2.00 from Primark and the big green one was £12 from Home Sense and it smells amazing. One of the reasons I finally got round to publishing this post was because I was to light that candle!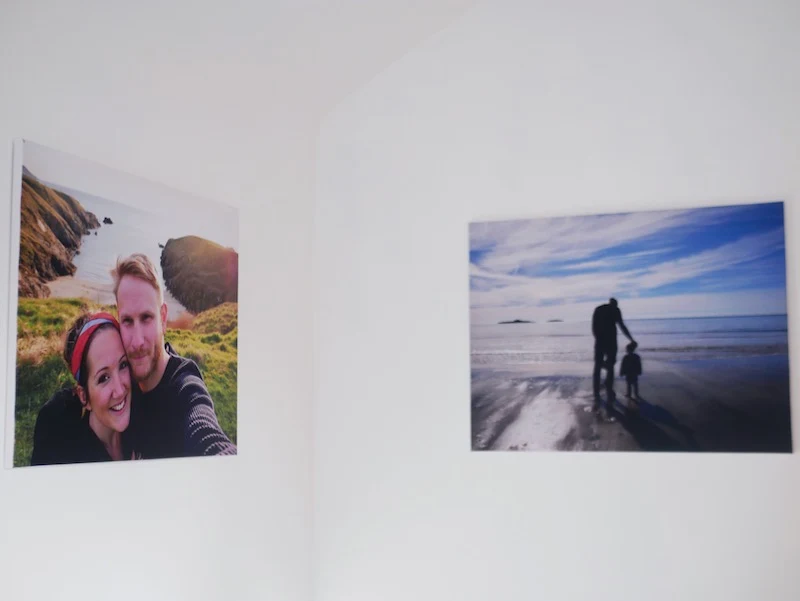 These canvases were from mypicture.co.uk. They're 80 x 60cm canvases but look tiny on this big wall. This site is really good for canvas printing as they always have a sale on so they're really cheap. These canvases are currently £33.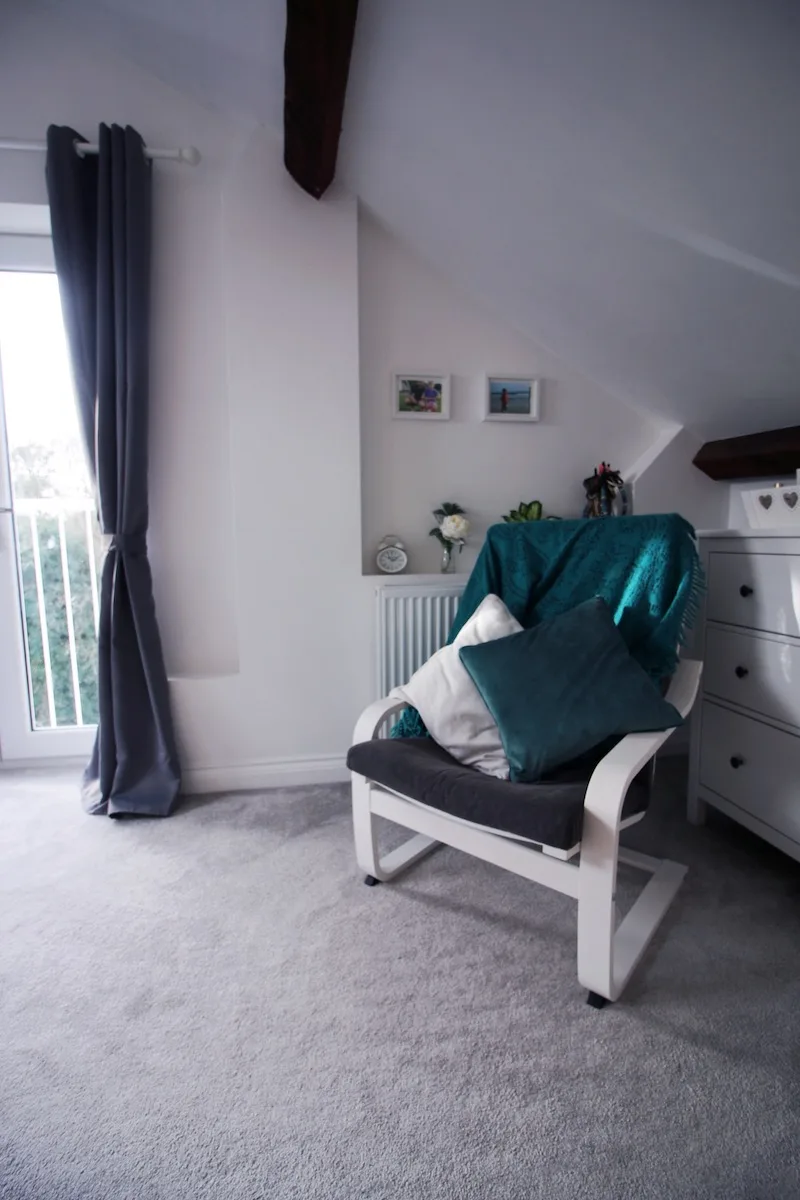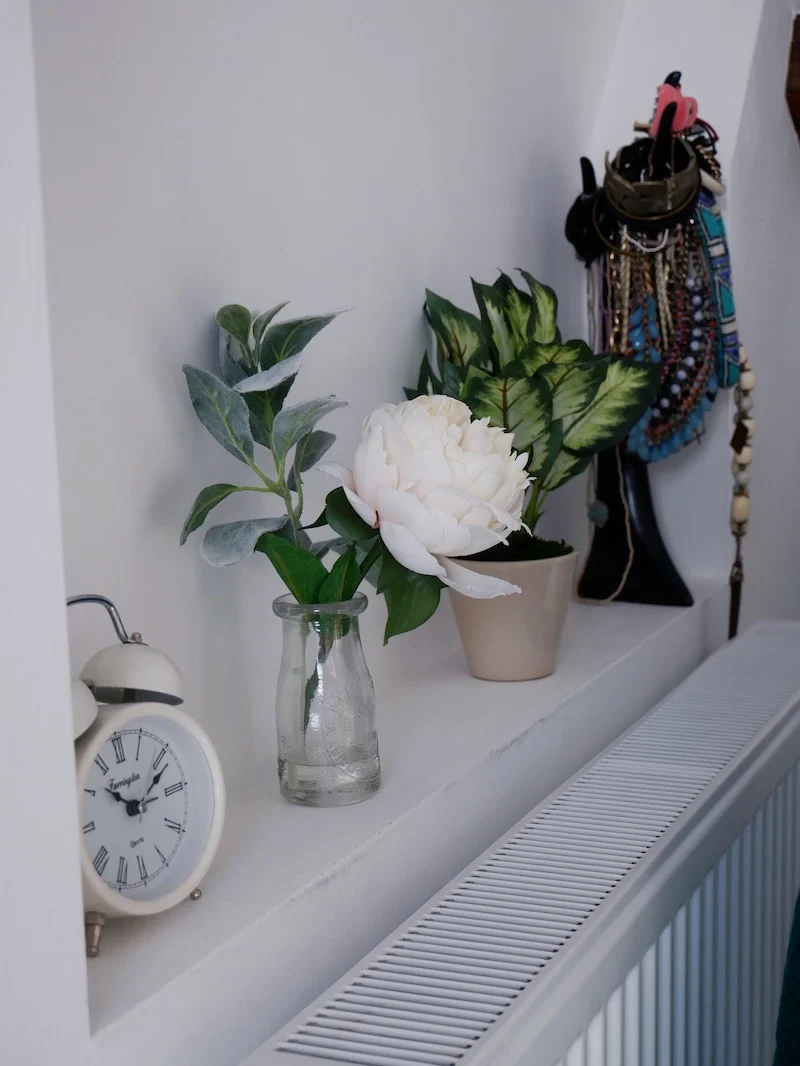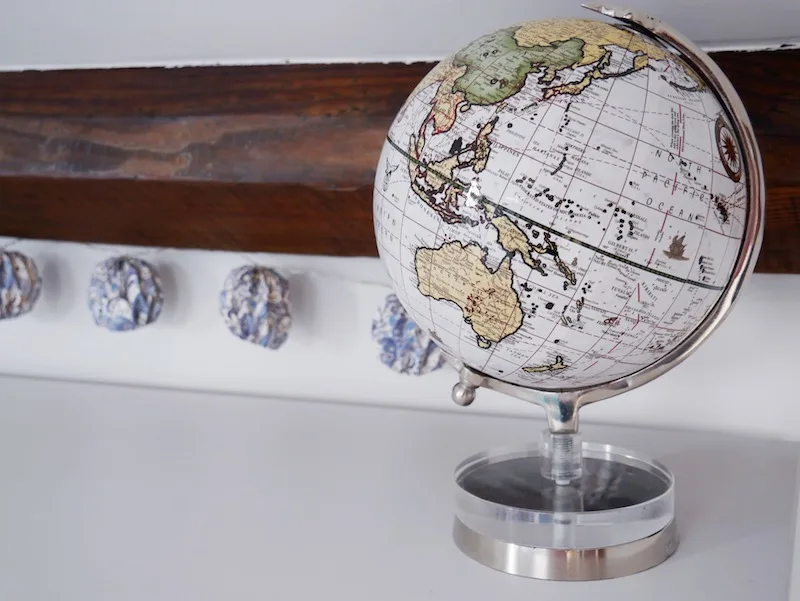 It wouldn't be my bedroom without a globe in there somewhere!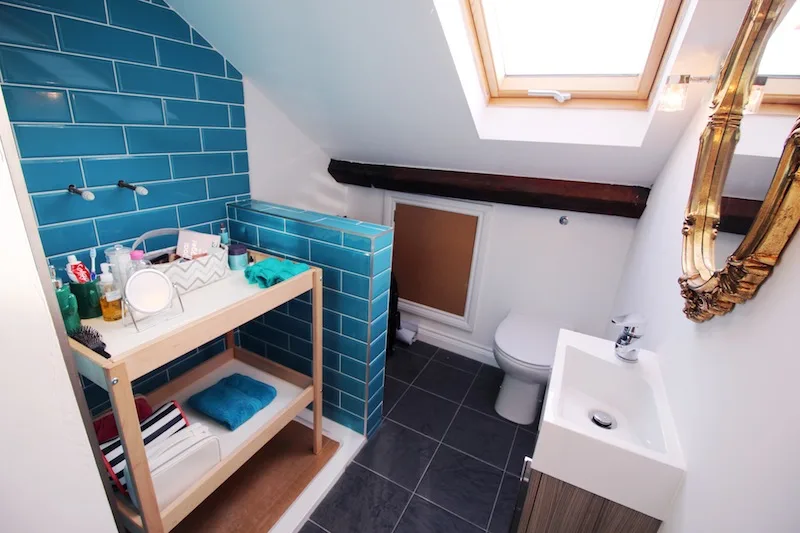 Observant parents out there will notice that this is the super cheap IKEA baby changing unit. It has some good uses when you don't need them for babies!
Other observant people will notice there's something else missing here – a shower. Because of the sloping roof in the ensuite, we need a custom made shower screen which will be quite expensive. When we first moved in we kept saying, 'We'll order it next month….' and two years later we still don't have the £800 shower screen. We've both got used to using the family bathroom for our showers so, for now, this shower space will continue to be my make-up station!
That unpainted door on the far wall is a little hatch into our attic space. We have a small space in the eaves on either side of the bedroom (the other is accessed through our wardrobe) for all our attic crap like Christmas decorations and suitcases.
[one_half padding="0 5px 0 5px"]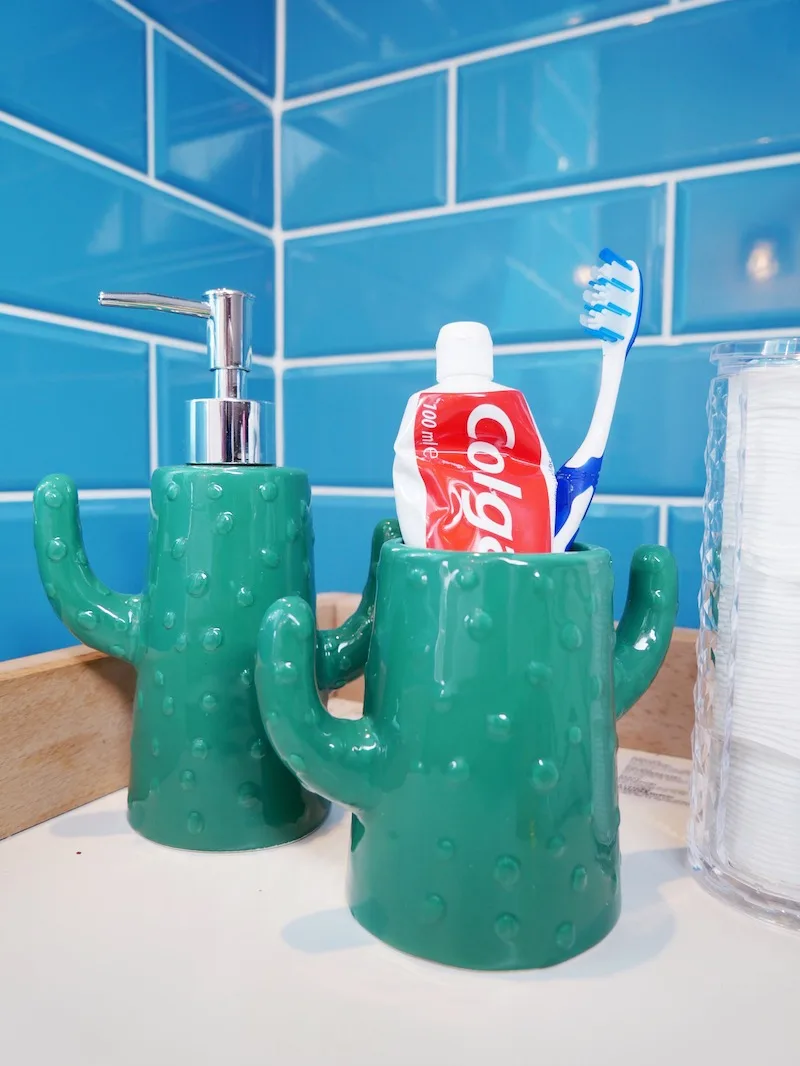 [/one_half][one_half_last padding="0 5px 0 5px"]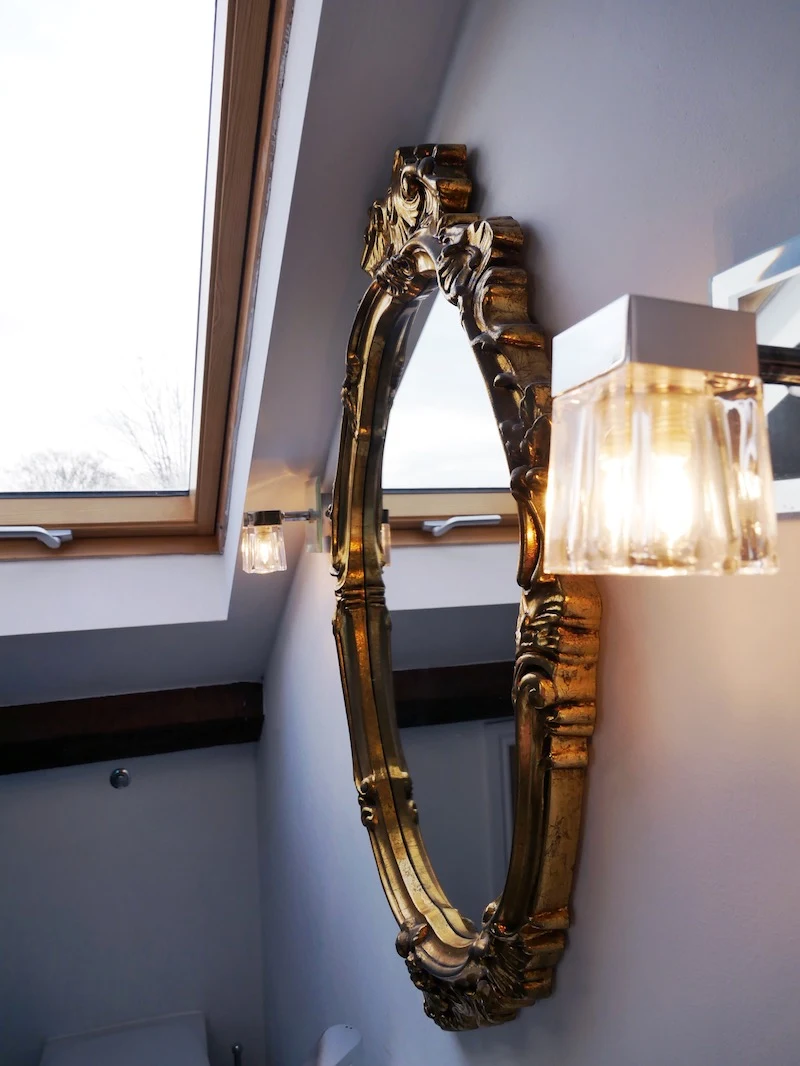 [/one_half_last]
I really love this room and we spend a lot of time up here as a family. The new addition of lots of cushions and blankets also make it the perfect place to build dens!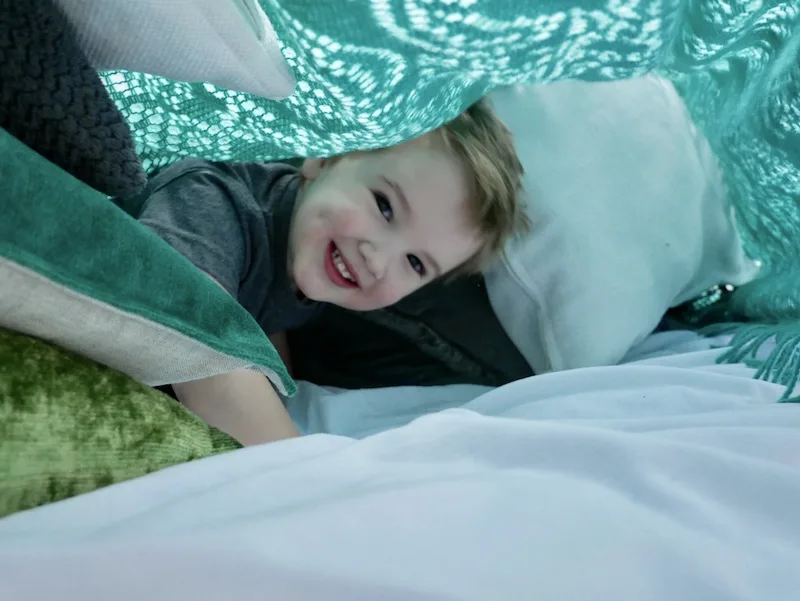 Read more about our house renovations
The house renovation project: 8 months on
Decorating a travel themed kitchen