It's been forever since I've written any kind of personal update and I've had a few lovely emails asking how I'm getting on with the epic renovation project.
It was the end of last year when I told you about my house. Yes, we bought a house! But it's not just a house, it's the house. The house of our dreams.
The only problem with the dream house was that it was basically derelict as it had been empty for years. When I said it needed some work doing to it, I think a lot of people thought I meant it needed a new kitchen and a lick of paint. If only!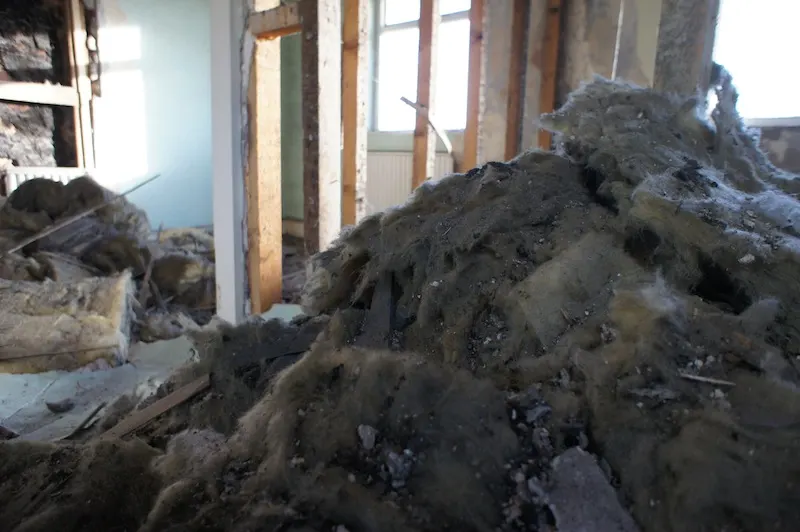 But it's perfect. It's in the center of a lovely little village. Lots of our friends live here but, most importantly, there are some great pubs and restaurants! It has a big garden that backs onto the river and has a little outhouse that will become my blogging office.
We picked up the keys just before Christmas and Sam has spent virtually every day there ever since. The house was stripped back to a bare brick shell and everything was removed. That took a couple of months and then Sam and my dad began the slow process of putting our home back together again.
When we got the keys, the garden was so overgrown we didn't actually know how big it was. We hired a digger to tear through the garden and remove all the brambles that were as thick as my arms. We suddenly realised we had a huge outdoor space and one day it's going to make a lovely garden.
Everything that could go wrong with the house did go wrong. Literally, everything. I was nine months pregnant through the worst of things and it felt like we'd never get it finished. To make things worse, the house is in a conservation area so we need to apply to the local council before we do anything. Anyone who has ever had to deal with local councils will know what a painfully slow process everything is. There was many a time I wanted to gauge my eyes out in frustration.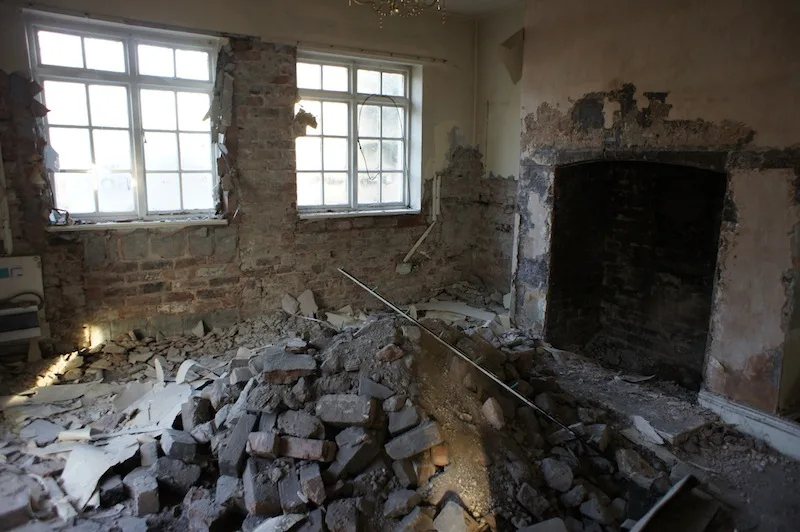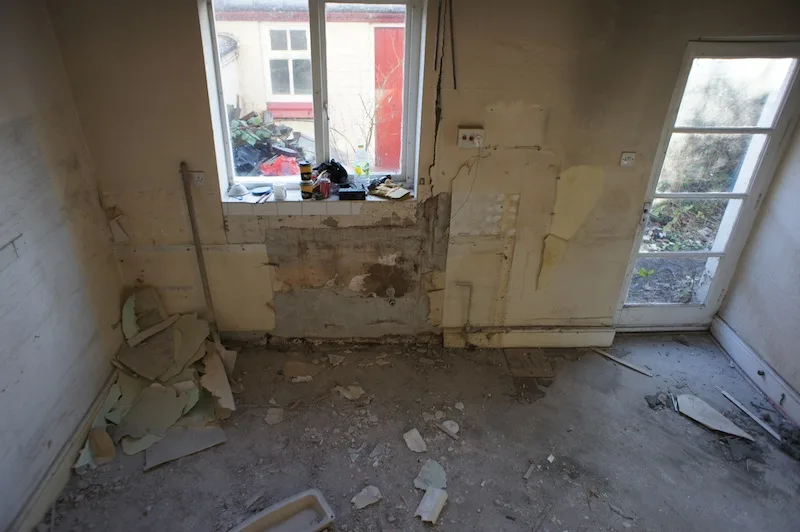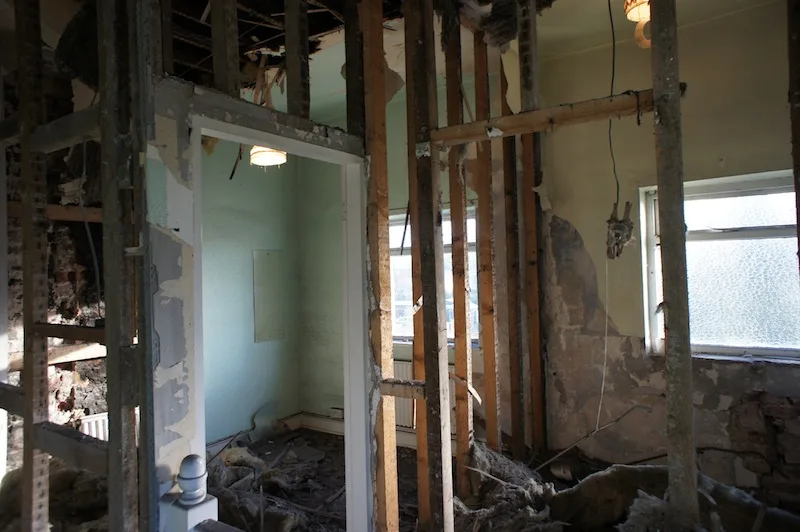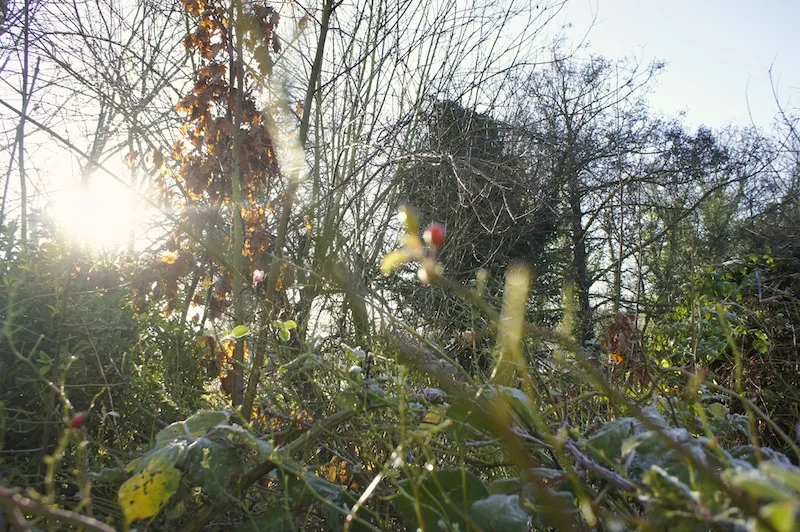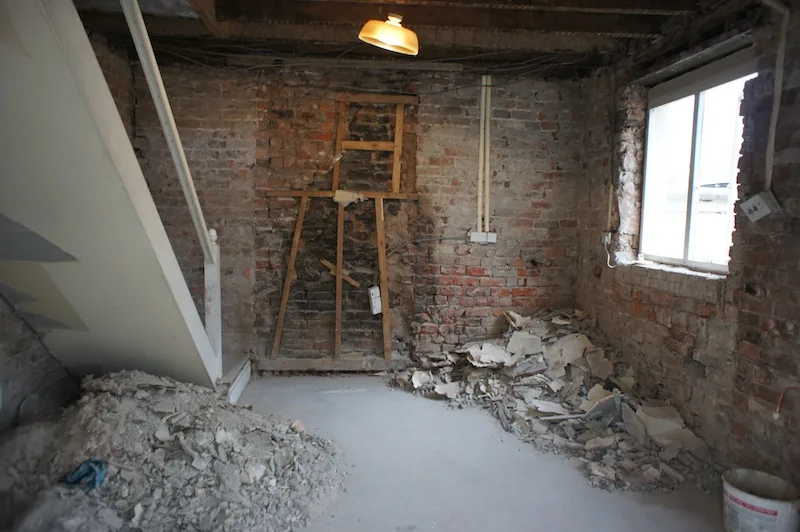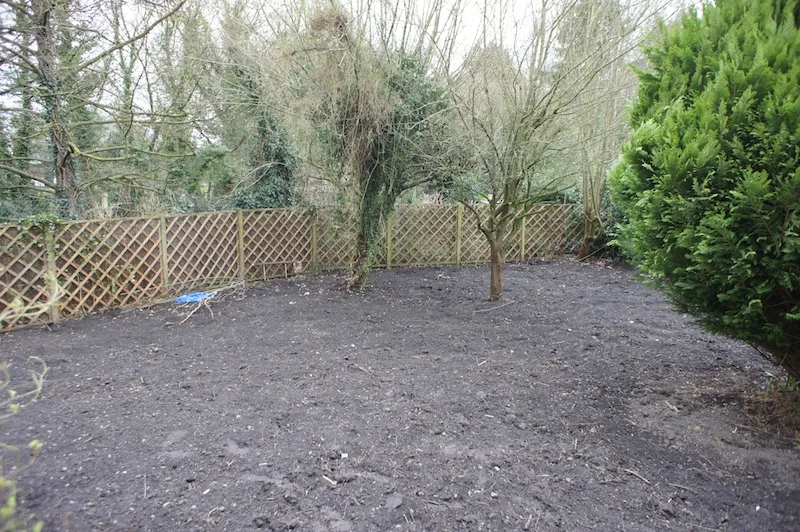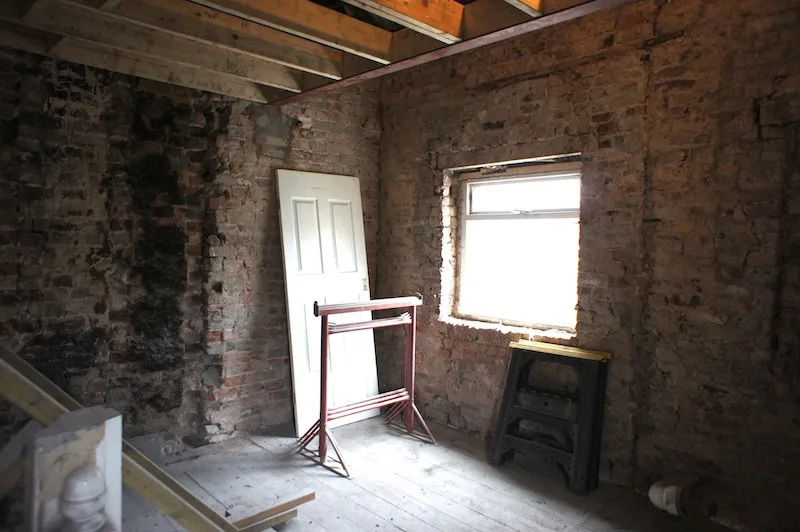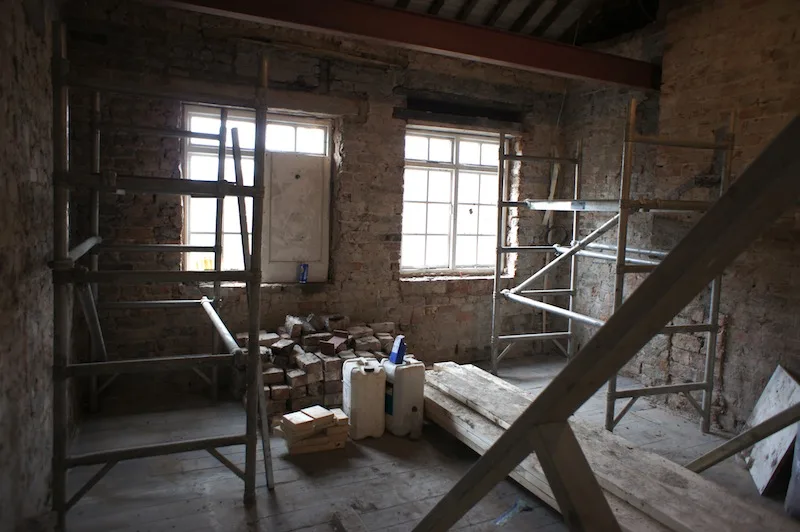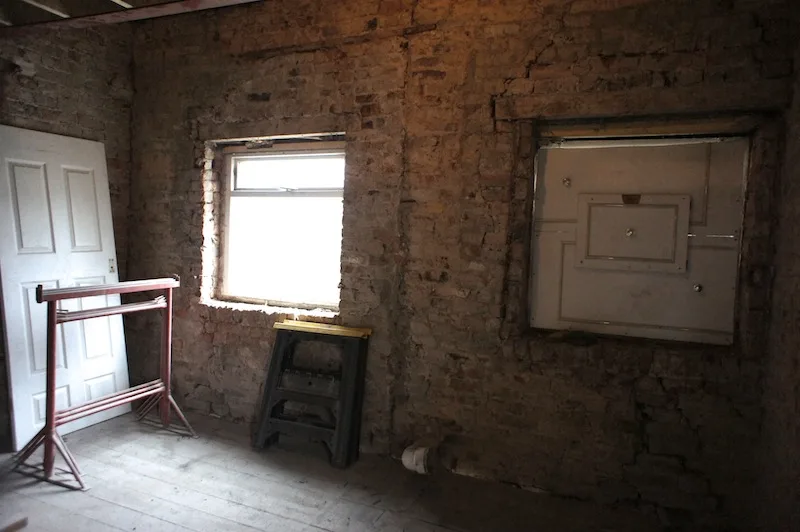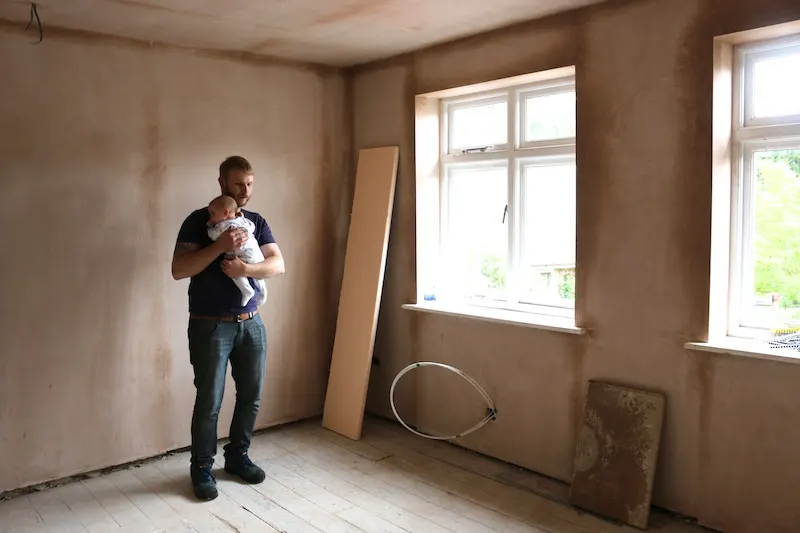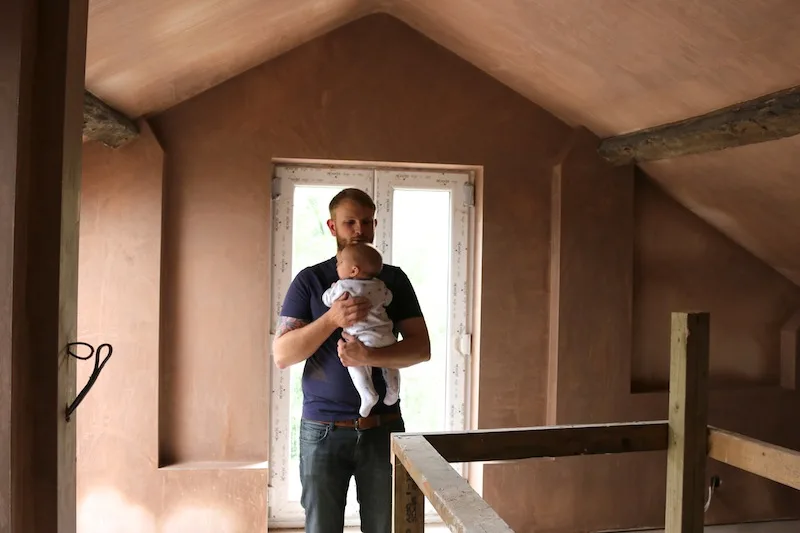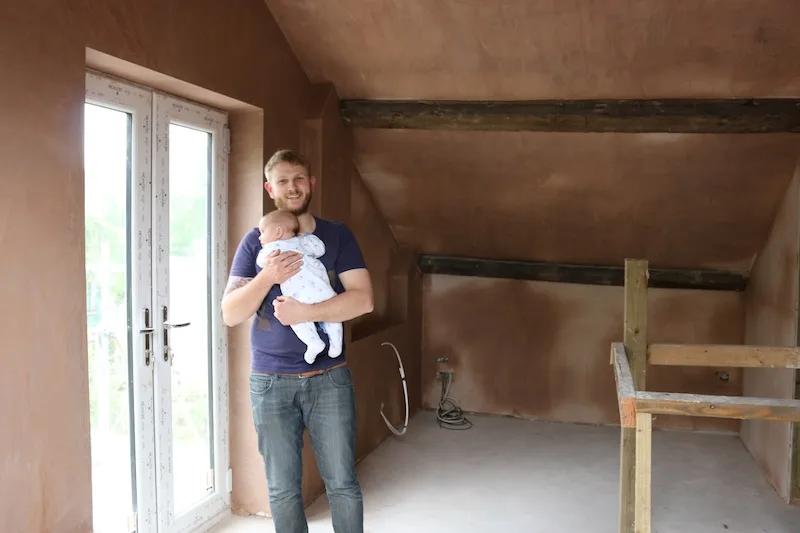 The house still isn't finished but we're much closer to getting there.
We lowered the first floor ceilings and created a large attic conversion that will be our bedroom. We added double doors and a Juliette Balcony from the attic and it overlooks our garden and the river. It's such a beautiful space and I'm already dreaming about doing yoga up there and getting all zen. I even have a walk-in wardrobe!
We discovered a gorgeous fireplace in the living room behind a lot of plaster and horse hair. After a lot of work to remove the tar-like paint, it's looking fabulous and we're getting a log burner to go inside.
In the meantime, we've been living with my lovely parents who have been a godsend for the past year. It hasn't been easy but I don't know what we would have done without them. It also means that George is now super close to his Nain and Taid (that's Welsh for Grandma and Grandad – they live on the border of Wales and they think that makes them Welsh!) My dad and George are already partners in crime, constantly giggling together and getting up to mischief.
Sam's parents have been looking after our dog, Louie. I had one reader email and ask if we'd got rid of him because they hadn't seen him on Istagram for so long! Don't worry, he'll be back on Instagram soon! The reason we don't have Louie is because my parents have a Springer Spaniel and they fight like crazy. It's Louie's fault because he's a bully and the springer is so soft he won't defend himself. Poor little thing.
Surprisingly, the hardest part of this whole renovation project hasn't been the fact we've had no money for over a year. It's not even the fact we live with my parents. It's not even having a baby in the middle of all of this! It's the fact that we never actually see each other. We're like ships that pass in the night with Sam constantly working on the house and me trying to sneak in an hour or two of work whenever George falls asleep. We've had a few weekends away but we've spent each trip talking about building costs, the best quality insulation, how to get rid of Japanese Knotweed (yes, we've got that bastard too!) and generally feeling guilty about not being at the house and working on it. I cannot wait to be a normal couple again.
I also can't wait to start decorating! I've been scouring Pinterest for travel themed design ideas and my Home and Travel Pinterest Board is looking pretty chocker.
I'd like to say a big thank you to everyone who has sent encouraging words. Thanks for all the 'don't worry, it'll be worth it in the end' or 'I've been there and it'll be finished before you know it' type messages. They're all very much appreciated 🙂
Read more about our house renovation project
Our cheap conservatory makeover
Decorating our travel themed kitchen
Decorating a travel themed child's bedroom