If you're looking for things to do in Aberdeen then you're in for a treat because this unique city has so much to offer! Here are 30 of my favourite things to do in Aberdeen, Scotland.
Aberdeen is Scotland's third-largest city (after Glasgow and the city of Edinburgh) and shouldn't be missed if you're visiting Scotland. It's also a fantastic choice for a city break because there are so many amazing things to do in Aberdeen due to its historic cultural heritage and young, adventurous residents.
I visited recently with Jurys Inn but it was my third time to Aberdeen! My first trip was a weekend break many years ago and my second was a quick stop before catching a ferry to the Orkney Islands. I was excited to get back and see if anything had changed and discover some new sites in the city!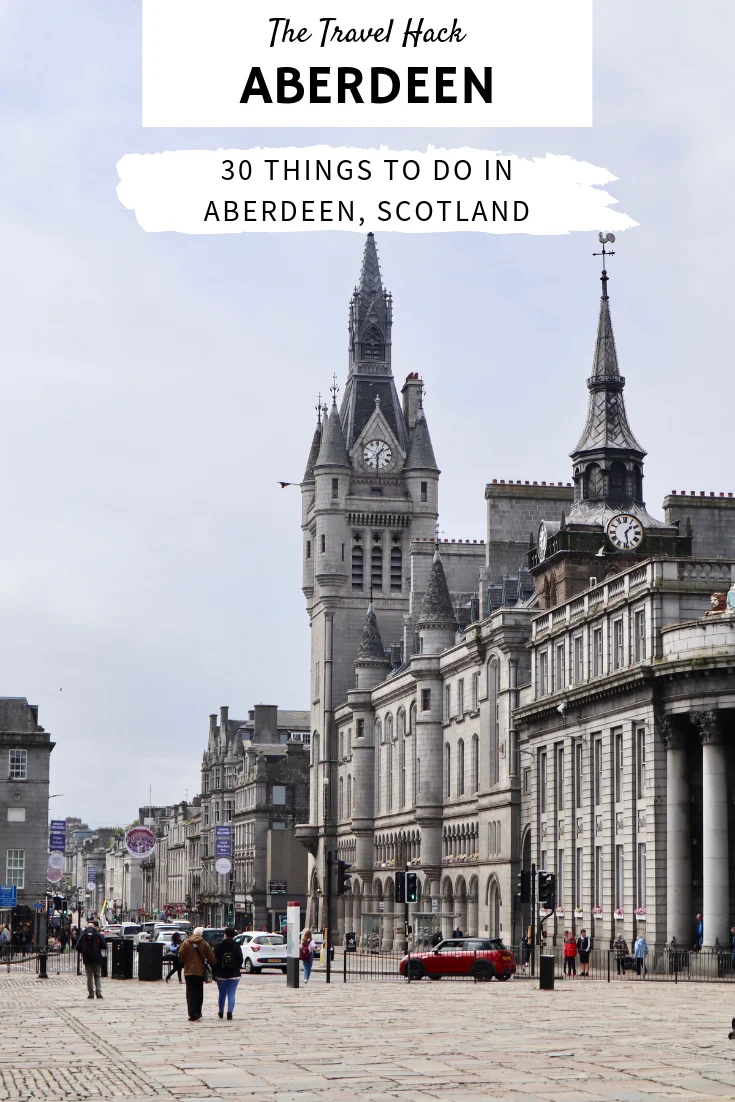 For many people outside of Scotland, Aberdeen is known as the 'off-shore oil' city where hundreds of thousands of oil workers descend on Aberdeen Airport every year to fly by helicopter out to the North Sea. And for others, Aberdeen is merely a gateway city to the Scottish highlands because it's situated so far up Scotland's rugged Northeast coast. But to the locals and everyone who's had the pleasure of already visiting Aberdeen, they'll know the city has so much more to offer.
Whether you love medieval castles, wild beaches and long stretches of coastline, museums and galleries, eclectic eating and drinking options and incredible architecture that you can spend hours and hours walking around and admiring, Aberdeen has all of this and more. You'll wonder why other cities in Scotland are visited again and again when Aberdeen is just a couple of hours further north by train. Here are all the best things to do in Aberdeen and my mini guide to Aberdeen.
How to get to Aberdeen
Getting to Aberdeen needs its own section in this guide because, for most of us, Aberdeen is a long way away but thankfully it's very easily accessed. Here are your options:
Car – This will probably be the cheapest option if you're travelling in a small group. So if affordability is the most important thing then it's time for a road trip. But if you don't fancy a long drive then there are other options which I personally prefer.
Fly – It's not very often we Brits get the chance to fly within the UK as it's such a small country it usually makes more sense to drive or take the train. But Aberdeen is an exception and flying is the best option for most of the UK. Flights are very affordable, particularly when booked in advance, and they're quick and easy. The downside is that you have luggage restrictions, airport stress and if you don't live close to an airport it could be a hassle (or cost a lot to get there/park there). Once you arrive at Aberdeen Airport though it's very easy to get into the city centre either by bus or taxi.
Train – I caught the train during this visit to Aberdeen as I actually love a long, slow, relaxing train journey. I wouldn't have done this if I were travelling with my kids though as it took 8 hours each way and cost over £120. As a solo traveller with plenty to keep me occupied during the long journey (aka – work!) it was perfect, but for many people the cost and time involved isn't practical.
Where to stay in Aberdeen
While I was in Aberdeen I stayed at Jurys Inn Aberdeen and I cannot recommend this hotel enough!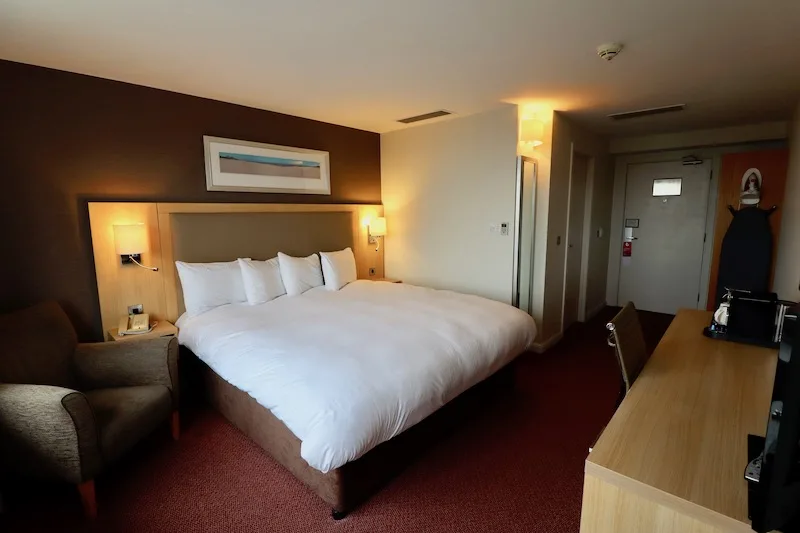 [one_half padding="5px 5px 5px 5px"]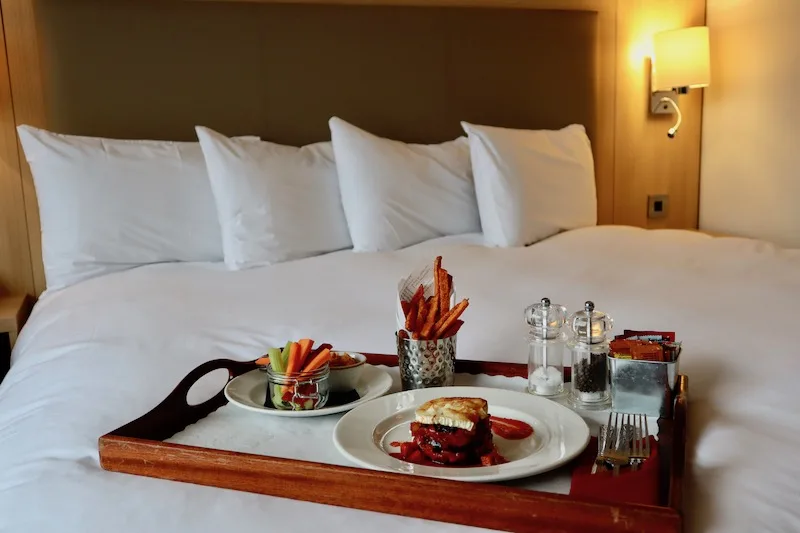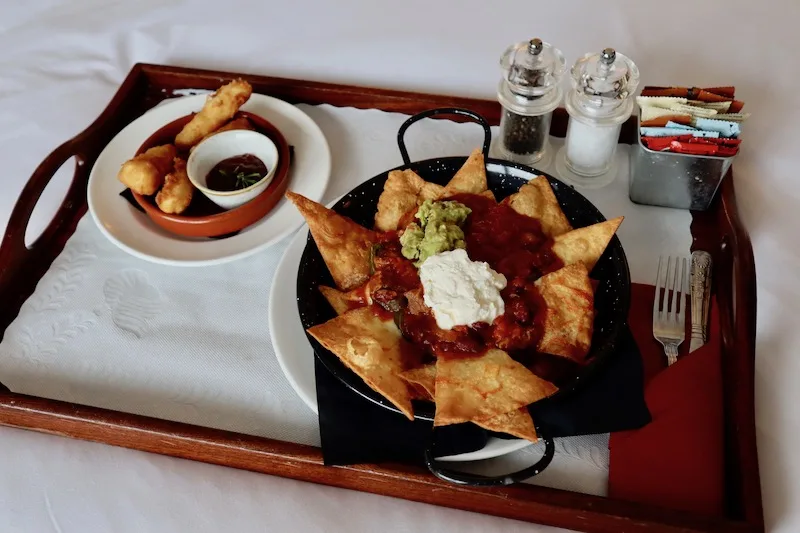 [/one_half][one_half_last padding="5px 5px 5px 5px"]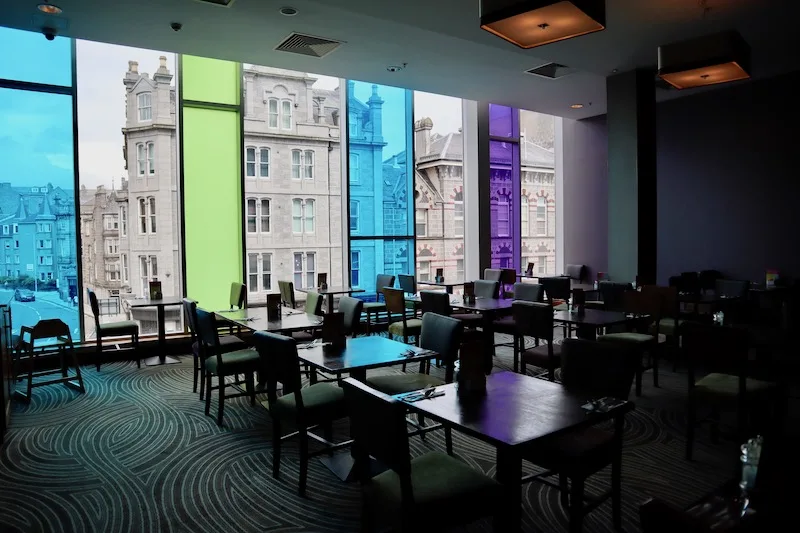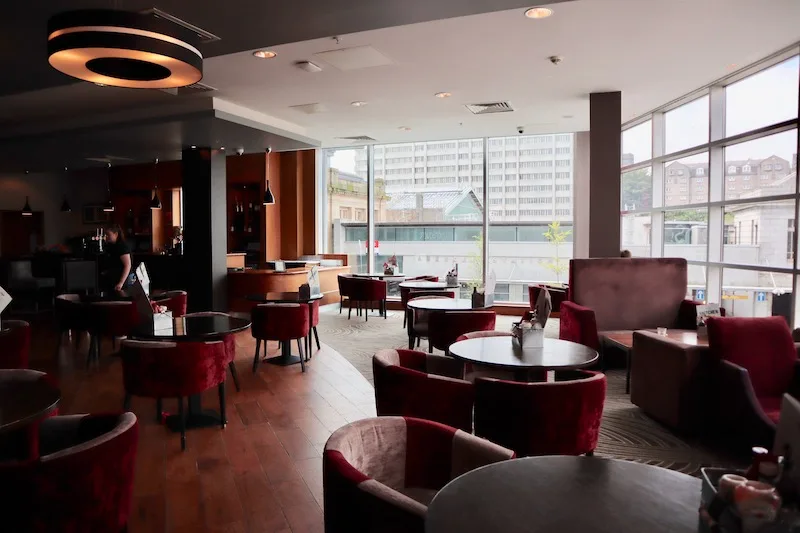 [/one_half_last]
As you already know, I'm a massive fan of Jurys Inn Hotels thanks to the ease and reliability of them all. They're always comfy, clean, modern and spacious with great food and lovely staff, but the real selling point during a city break is that they always have great locations and Jurys Inn Aberdeen was the best location I've come across yet – especially if you're getting the train to Aberdeen.
Aberdeen train station is connected to Union Square Shopping Centre, a large shopping centre with all your usual high street brands downstairs. Upstairs is all the stylish eateries you'd expect on the high street, the slightly nicer ones like Prezzo, Las Iguanas, Zizzi, Yo Sushi, Wagamama, Bar Burrito and Coast to Coast etc. And tucked away in this top corner is Jurys Inn Aberdeen! It couldn't be more perfect.
The double doors of the hotel slide open and you step into a quiet, calm hotel reception, away from the noise and bustle of the shopping centre. And there's that smell. Jurys Inn have a signature air freshener in all their hotels and it smells incredible as you walk through the doors! The smell and the atmosphere and the fact there are loads of staff (so no queues!) make all the Jurys Inn hotels feel really tranquil, you'd never guess there are 203 spacious rooms in this hotel! I was greeted by super friendly staff who reminded me just how lovely Scottish people are before I made my way up to my room which would be my home from home for the next two days.
As always, the hotel had the delicious and exclusive DREAM beds which are just divine and during this trip I really made the most of the room service available! I was 27 weeks pregnant during this trip to Aberdeen so I was starting to feel pretty tired and I loved my evenings in my room watching Netflix (oh yes, there's super fast and efficient WiFi too) and working my way through the room service menu. As a busy mum, I very rarely get the chance to order food to my bed and spend an evening watching trashy TV before having a big bubble bath! I know it's not exactly the adventurous blogger thing to do but it was bliss!
Things to do in Aberdeen
There's lots to keep you busy, here are some of my favourite things to do in Aberdeen based on my three trips to the city.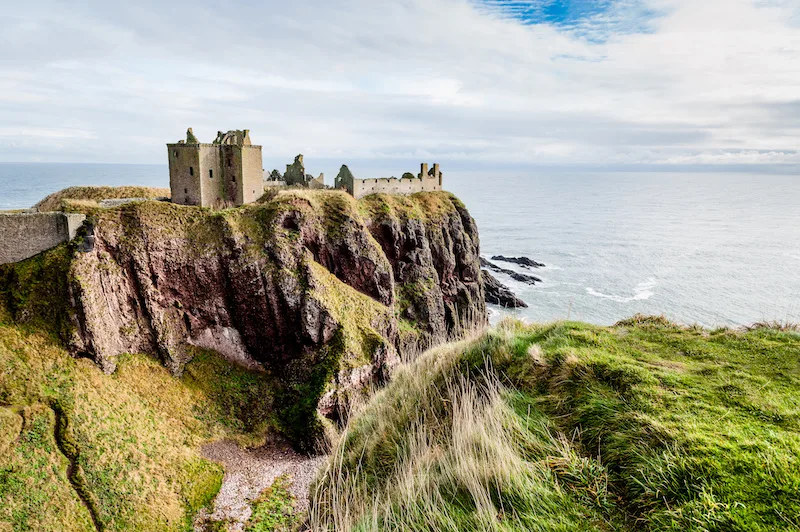 You can't visit Aberdeen without making the effort to see Dunnottar Castle which is just a short journey down the coast from Aberdeen in Stonehaven. Dunnottar Castle's history starts 440 million years ago when the rock that Dunnottar Castle sits on was formed at an imposing position away from the coastline.
Since the 4th Century when the first iteration of the castle was built, its famous visitors are basically the who's who of Scottish history: William Wallace captured the castle and Mary Queen of Scots and her son James VI visited to name a few. The castle was saved from ruin in 1925 when it was bought and restored by the Pearson family.
Dunnottar Castle is an important relic of Scotland's history and it's less than a 30-minute drive from Aberdeen. Or, you can catch a bus from Aberdeen's Union Square which will take you straight to the castle (use Google Maps to navigate the public transport system).
---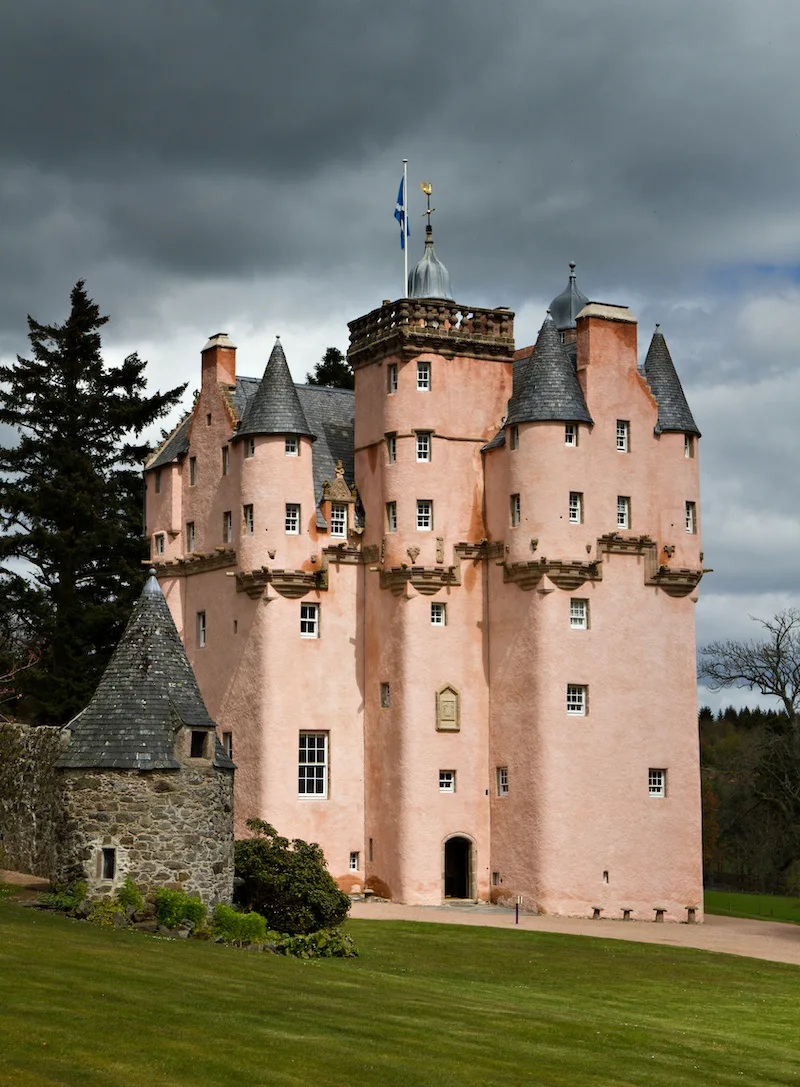 If you prefer your castles less 'ancient ruins' and more 'Disney princess' then you can afford to be picky in Aberdeen because the Craigievar Castle will be right up your street. It's a 17th-century pink (yes, pink!) castle which has been owned by the same family for the last 350 years.
The castle is only open from April-September so if you really want to visit Craigievar Castle during your trip to Aberdeen then that's the time of year to visit. Also, to preserve the castle's interiors and because of the modest size (you know, for a castle!), visits inside the castle are by guided tour only. Just a couple of things to keep in mind as you may want to book in advance or show up earlier in the day.
---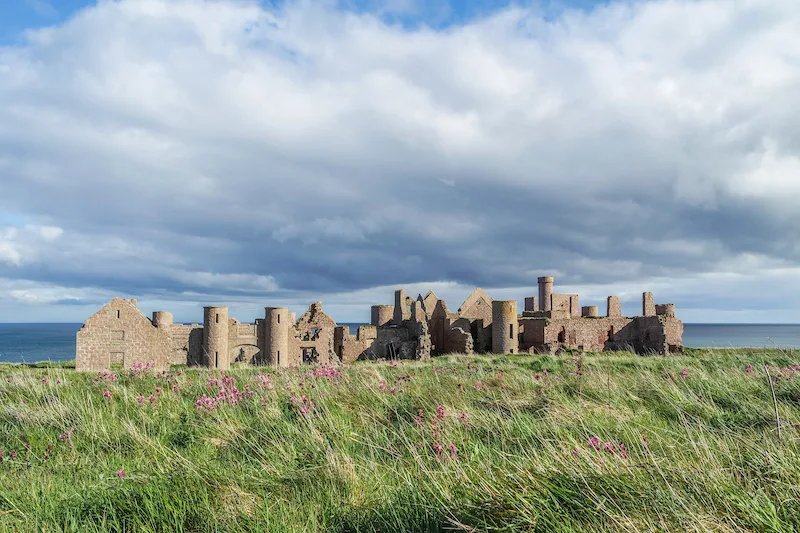 Castle-spotting is without a doubt one of the best things to do in Aberdeen. Because of Aberdeen's proximity to the North Sea, Scotland's Northeast coast is a prime location to defend. Slains Castle is one of the most famous castle ruins in Scotland and it's one of the best things to do in Aberdeen for literature obsessives!
In 1895, the author Bram Stoker stayed in a cottage in Cruden Bay and may have visited the castle. It's very widely believed that Slains castle was the inspiration for Dracula's castle. Slains Castle was first built in the 16th century and has undergone several renovations since then and is currently waiting on further renovations. But as it stands today, Slains Castle is still a definite must-visit in Aberdeen and is situated on a beautiful part of the Aberdeenshire coastline.
---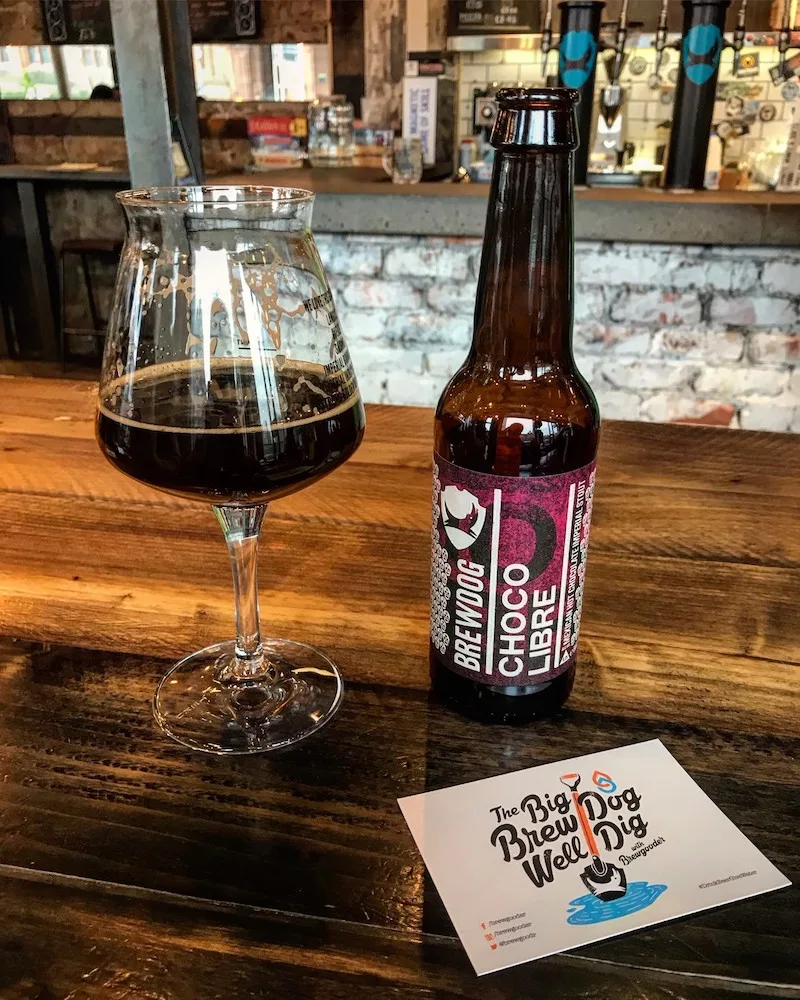 If you live in the UK, you've probably heard of BrewDog. They're one of the most successful and popular craft beer breweries in the UK and they were founded in Aberdeenshire, where their headquarters are still based. If you're partial to a beer or two then visiting BrewDog's main brewery in Ellon is one of the top things to do in Aberdeen for you.
They have an onsite taproom called DogTap which serves some of the freshest BrewDog beer in existence (considering it's brewed only metres away) and the DogWalk Brewery Tour is a walking tour around their brewing facilities. Tours are only available a couple of times a day so definitely book ahead to avoid disappointment and you'll be pleased to know the tours include tastings!
---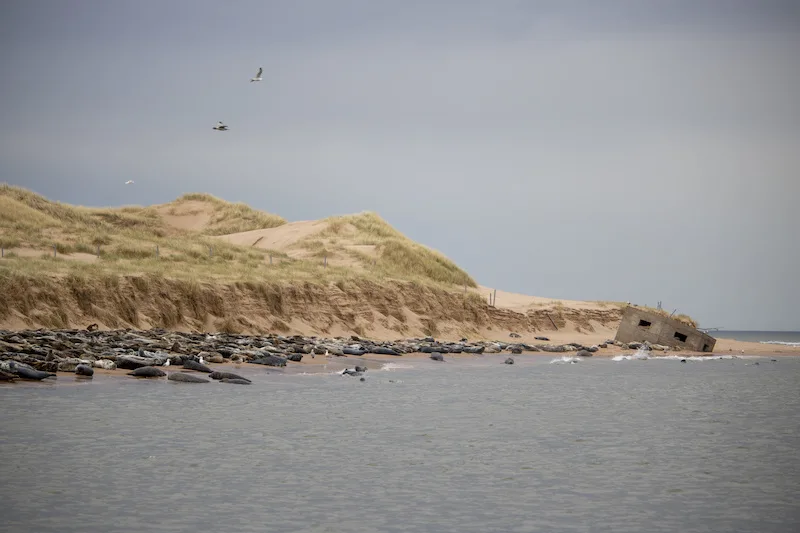 Newburgh Beach is possibly one of the best-loved beaches in Scotland and an absolute must-visit for animal lovers. Not only does this beach have epic scenery with the surrounding sand dunes, but the Forvie National Nature Reserve at the beach is home to eider ducks, diving terns and oystercatchers. Oh, and a seal colony made up of roughly 400 seals also calls Newburgh Beach home.
And whereas other beaches only experience fleeting seal sightings depending on the season, you might be surprised at just how many seals you can see on the coastline. As the numerous reviews on Tripadvisor suggest, people are astounded at seeing so many seals up close in their natural habitat! Definitely an experience you won't forget in a hurry.
---
If you'd rather visit a beach that may not have any seals but is a great place to take the kids and has a few bars and cafes in the area and a promenade you can walk along, then Balmedie Beach is the beach for you.
Depending on the weather, Balmedia Beach offers hikers and walkers paths over the imposing sand dunes and a huge stretch of coast for sunbathers and sandcastle builders. The promenade is perfect for a sunny winter stroll if it's a bit too cold for a bikini and in summer there's even a funfair! One of the best things to do in Aberdeen that's fun for the whole family.
---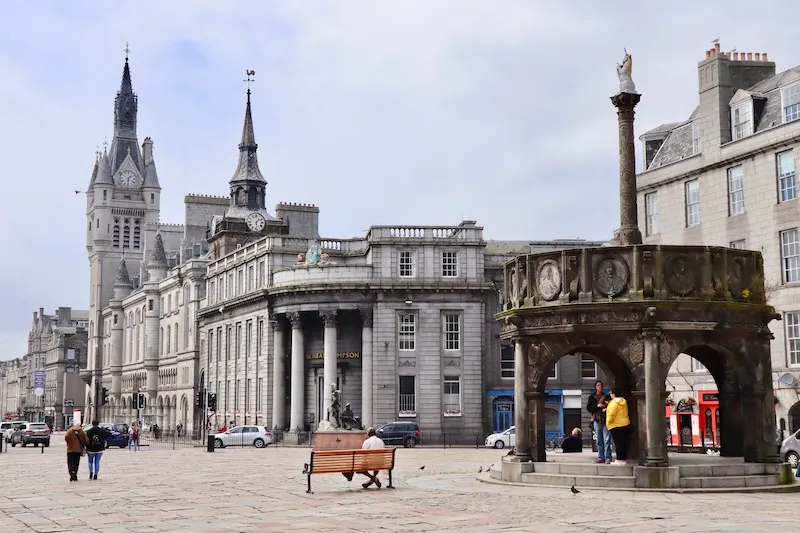 Old Aberdeen isn't just your average 'old town' or historic city centre that you might find in other European cities, it's got a slightly different back story. Old Aberdeen was founded in 1489 and was originally separate from the Aberdeen that exists today. They only became part of the same city in 1891 and it is still very much its own separate community.
As you'd expect, this is one of the best things to do in Aberdeen for really impressive architecture. It's also home to the old University of Aberdeen buildings, Seaton Park and the River Don.
---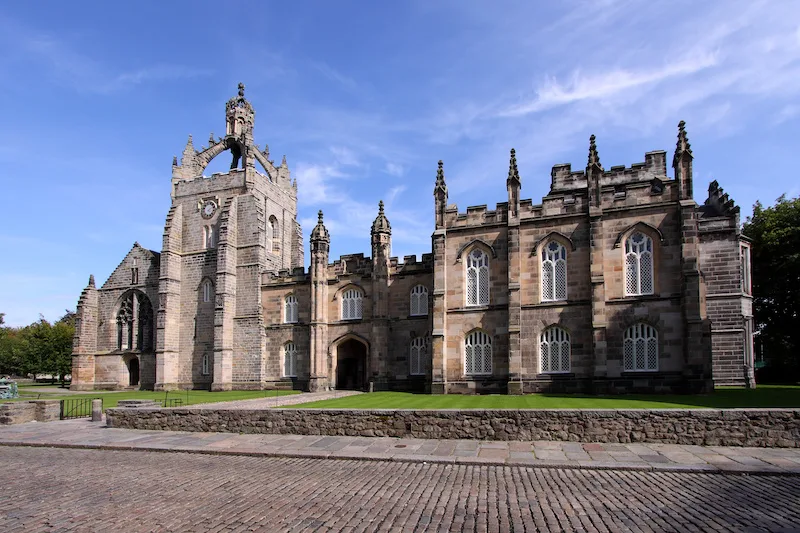 Oxford and Cambridge aren't the only university buildings in the UK worth touring around. King's College at the University of Aberdeen has some pretty spectacular buildings worth wandering around.
This self-guided tour of Aberdeen's King's College takes you on a journey from 1495 (when the University of Aberdeen was only King's College) right up to present day via memorial gardens, chapels and halls. This college is still the University's beating heart and the 600-year-old buildings have been carefully preserved at the centre of an ever-growing modern campus.
---
Seeking out independent coffee shops, book shops and little boutique businesses is something we should all be doing on our travels to support the locals who live in these cities we love visiting. One place you should not miss on your trip to Aberdeen is Books and Beans, a cafe right in the centre of Aberdeen which also doubles up as a second-hand book store!
Opening in 2003, Books and Beans are a completely independent business and they serve a huge range of hot and cold drinks, sandwiches, soups and breakfast dishes. Leave some room in your suitcase to take home a few bargain books, too!
---
Literally just across the road from Books and Beans is the Belmont Filmhouse, Aberdeen's most popular independent cinema. They have three cinema screens showing the latest in mainstream and independent cinema and often screen classic films too. The Belmont Filmhouse also have a small kiosk cafe and bar you can relax in before or after catching a film.
---
Aberdeen has many different parks and green spaces but one of the best is Hazlehead Park for all of the beautiful gardens and facilities it provides. The land was first gifted to the city by none other than King Robert the Bruce in 1319 making it one of Aberdeen's oldest historic properties.
The enormous park has two rose gardens, a mini zoo, golf courses, a cafe, a large children's playground and even a maze! So there's enough at Hazlehead park to keep the kids for an afternoon at least, and there are several nature trails too.
---
One of the most eclectic things to do in Aberdeen is visiting this pretty little fishing neighbourhood (that looks like its own tiny village!) by the sea. Pronounced 'fittie' by the locals, this is exactly where Popeye would live if he moved to Scotland.
The Footdee Mission Hall, play area and war memorial are all highlights in the area. But the main attractions are the old little cottages with brightly painted doors and some shops have nautical trinkets and decorations like anchors, light rafts and other kitsch embellishments like bunting and painted lighthouses. You'll feel like you're in a different world, not just a 30-minute walk from Aberdeen train station.
---
Why visit a fishing neighbourhood without sampling some of the amazing, local fish? The Silver Darling in Footdee is one of the top restaurants in the area serving the best local seafood. The modern restaurant overlooks the River Dee and across the water to a park on the other side.
Their food meets very high standards but it's far from a stuffy posh restaurant. The Silver Darling is more 'relaxed fine dining': they have a kids' menu and they have their own spin on a chippy favourite by serving jumbo battered haddock and chips alongside a range of other seafood dishes.
---
Duthie Park isn't just any city park, it's a park with priceless Victorian features like it's bandstand, fountains and boating ponds that have been beautifully restored rather than crumbling to ruin.
Duthie Park is also well-known for its play areas: one for very young children and another award-winning play area for older, adventurous children. The park also hosts Tai Chi classes and group meditation.
---
The David Welch Winter Gardens found in Duthie Park deserves extra recognition! The Winter Gardens are one of the most visited indoor plant collections in Scotland for its sizeable collection of local and exotic plant life all housed in what is essentially an enormous, fancy greenhouse. And what's even better is the Winter Gardens are completely free to visit!
Because of Scotland's predictably wet, windy or generally poor weather for most of the year, the Winter Gardens are not only a popular place for visitors but also for couples looking for the perfect all-weather wedding venue.
---
Stonehaven is a small harbour town to the north of Aberdeen and is home to the famous Dunnottar Castle. Unlike so many other small towns who's fishing industries have diminished, Stonehaven's working harbour is still thriving with sailing yachts.
Aside from Dunnottar Castle, other attractions in Stonehaven include the Tolbooth Museum, the beach, and it's Hogmanay (New Year's Eve) fireballs ceremony.
---
Foodstory cafe is as independent as they come. Since their humble beginnings as a Kickstarter campaign in 2013, they've put community spirit and inclusivity at the heart of everything they which includes welcoming all dietary requirements. Foodstory regularly hosts events and encourages anyone to perform and share their art.
Foodstory doesn't just have strong ethics but serves amazing food, too. For breakfast, lunch and dinner, Foodstory serves a variety of vegan and gluten-free dishes such as vegan lasagne, soups and hotpot. This is definitely a fantastic small business to support when you visit Aberdeen!
---
For the last couple of years, Nuart Aberdeen street art festival brings artists and art out of the studio and on the streets. Scottish and international artists are invited to rejuvenate Aberdeen's facades with diverse and eclectic urban art.
The art is available for all to see but you can book a free street art tour with a member of the team from the Nuart festival who will be extremely knowledgeable about the artists and the intention behind the art. Or, you can download the map of the Nuart murals here and see how many you manage to locate as you wander around Aberdeen on your own self-guided tour.
---
Oxford Street in London, Buchanan Street in Glasgow… Every city has a high street which becomes the pulse of the city centre and Aberdeen's is definitely Union Street. But it's so much more than just high street stores. The locals call it the Granite mile and the construction of Union street (built to take the pressure off small, cramped side streets) almost bankrupted the city in the early 1800s.
Today, you'll find all the big high street names as well as galleries, museums and gift shops.
---
Castlegate is a small neighbourhood situated at the east end of Union Street right in Aberdeen's city centre. The area has many restaurants and shops but also has historical importance for the city of Aberdeen. Castlegate is named after the medieval Aberdeen castle which was situated where The Salvation Army Citadel now stands.
This neighbourhood is also home to Aberdeen's Mercat cross which was traditionally given to any town in Scotland with the right to hold a market, which Aberdeen received in 1686. Castlegate is also the former site of the city's gallows and the Castlegate Well.
---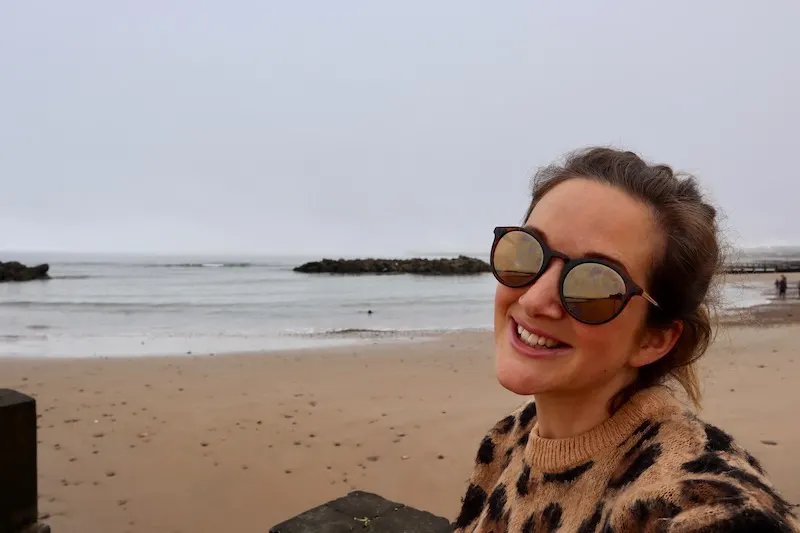 You don't need to travel far from Aberdeen's city centre to find a beach. Though Aberdeen's beach is known for being a tad windy most of the year, there's a long promenade you can walk down and there are several cafes and restaurants nearby so you can enjoy the view out to sea.
---
I don't know about you, but I love finding the best ice cream shops when I travel to new places. It doesn't matter if it's somewhere like Aberdeen that isn't 'known' for ice cream, there is always one really great ice cream shop in every town and city.
In Aberdeen, it's got to be Mackies 19.2. They have a unique range of delicious ice cream flavours (banana rainbow and black vanilla are my favourite names!) as well as waffles, crepes and other choices of dessert.
---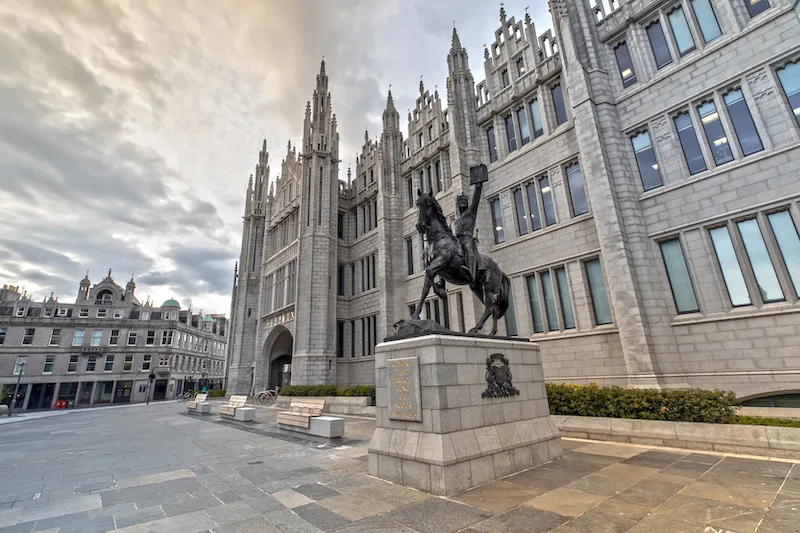 The Marischal College building is an icon of Aberdeen's granite industry and a beautiful, eye-catching piece of architecture. I don't know how anyone could visit Aberdeen without making a point of visiting Marischal College and it's got to be one of the top things to do in Aberdeen. It's the second-largest granite building in the world and formed the University of Aberdeen in 1860 with King's College.
Now, the building is leased from the University to Aberdeen City Council and even though visitors can't really go inside, the exterior alone is worth seeing and will make for some impressive photos.
---
Seals and other wildlife can be found at Newburgh Beach, but bottlenose dolphins can be seen from Torry Battery in Aberdeen Harbour! Head there between April to August to find volunteers on hand to help you with binoculars and telescopes to spot the dolphins in the harbour.
Aberdeen is actually one of the best places to spot the bottlenose dolphin so you don't miss out!
---
Another of Aberdeen's picturesque green spaces is the Donmouth Nature Reserve and the historic Bridge of Don (known locally and historically as Brig O'Balgownie). Situated just north of Old Aberdeen, the bridge dates back to the 14th century with significant restoration in the 17th century. The bridge was essential for locals to cross the 'Black Neuk' as the water below was called from Aberdeen to other coastal towns to the North.
The bridge was also featured in Lord Byron's poem Don Juan and is an important monument in Scottish history.
---
Aberdeen Science Centre was Scotland's first science and discovery centre and has to be on your list of things to do in Aberdeen if you have primary school-aged children. The science centre offers interactive, hands-on exhibits and live science shows.
It's always worth checking their website before you plan your visit as sometimes they offer free entrance on random days!
---
As you can probably imagine, a city like Aberdeen that's situated on the sea in a prominent location has an extremely important maritime history. If you're at all interested in learning more about Aberdeen's fishing industry and connection to the oil industry then you need to visit Aberdeen Maritime Museum.
The museum's exhibitions cover the early 1900s when Aberdeen's fishing industry was thriving all the way up to the present day. The museum is deceptively huge inside so put aside a good couple of hours to make your way around the whole exhibition!
---
Right in the centre of Aberdeen, St. Nicholas' Cemetery is an eerily calm place which offers respite from the bustle of Union street. It's an extremely old churchyard with inscriptions written in Latin and some impressive mausoleums. Because of its many benches, the cemetery has become a popular place for locals and office workers to eat their sandwiches on weekdays.
---
Believe it or not, the number one attraction in Aberdeen on Tripadvisor is the Gordon Highlanders Museum. Personally, I love a museum that seems like it's about an obscure subject but is actually exceptionally important for the local area's history.
In this case, the Gordon Highlanders were a military regiment who fought well in numerous British battles since their inception in 1794 by the 4th Duke of Gordon which makes for a pretty extensive and patriotic museum exhibit. Nowadays, the Gordon Highlanders have merged with the Seaforth and Camerons to form The Highlanders regiment but their impressive military history lives on in the Gordon Highlanders Museum.
---
I think every kid who grew up in the UK has fond memories of playing in arcades gambling away 2ps for hours on end and Codona's Amusement Park just off the Aberdeen beachfront offers the same thrills and much more.
As well as the usual arcade games, Codona's has a Ferris wheel, crazy golf, bowling and several other funfair rides. It's the perfect thing to do in Aberdeen to round off a fun afternoon at the beach. You've also got Smuggler's Cove (a pirate themed adventure park) next door and plenty of family-friendly restaurants along the esplanade, such as Pizza Hut and Frankie and Bennies.
And if you're visiting Aberdeen on a rainy day then keep the kids entertained at Innoflate, it's Scotland's first indoor inflatable theme park and is the perfect place to jump off some energy! It's just next to the amusement park and Smuggler's Cove.
Pin these and save the post for your trip to Aberdeen!
[one_half padding="5px 5px 5px 5px"]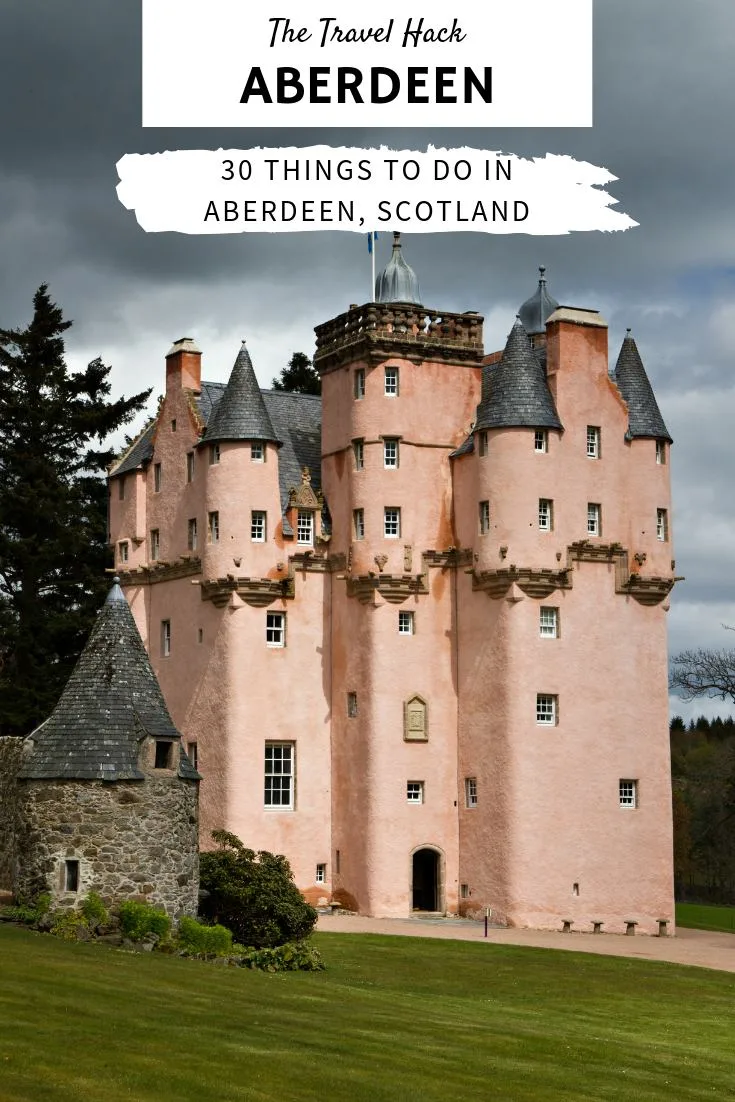 [/one_half][one_half_last padding="5px 5px 5px 5px"]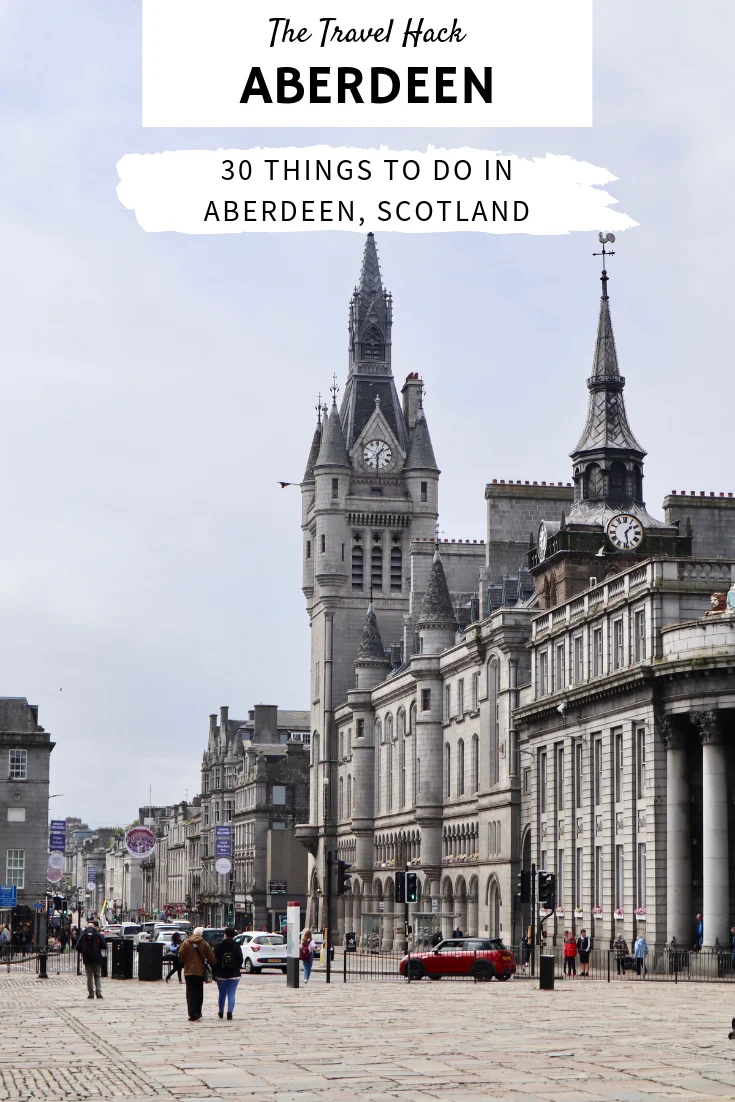 [/one_half_last]
Have you visited Aberdeen? Would you add anything to this list of things to do in Aberdeen?