Last weekend I was in Dublin for the city's annual Bram Stoker Festival. I went to this festival last year too and I loved it so much I knew I had to go back with Sam.
If you're unsure, Bram Stoker was the author of Dracula and was from Dublin. There are lots of horror and literary events in Dublin during the festival but there are also lots of hands-on, gory activities too.
One of the best things I did all weekend was the Domestic Godless Cookery Course.
This was a cookery class with a Halloween twist as we created edible but gross sounding creations. Here's a quick video peak…
The course was hosted at Cooks Academy on William Street South with Domestic Godless. The Domestic Godless are known for being the thorn in the foot of Irish gastronomy as they push boundaries, experiment with new flavours and create horrifically good food.
I'm pleased to say they succeeded!
Cooks academy looks small from the outside but once inside it's a huge space perfect for a cookery workshop. Benches were laid out with all the equipment you'd expect; the only difference was the ingredients.
There were piles of licorice and sticky red sauce that looked so much like blood I didn't even want to stand near it. Metal bowls were filled with hearts of all sizes and ranged from chicken hearts right up to enormous cow hearts.
I did spot a few tasty treats with plenty of dark chocolate and popping candy so I knew I had a back-up plan if I got too hungry!
We all sat down and got to know each other while a chili vodka shots were passed around. Being pregnant I had to decline and act like I was disappointed, but after seeing the pained look on most people's faces I was glad I had a good excuse.
We were split into groups and I ended up in the meaty group ie. I would be dealing with all those hearts!
On our menu today was:
Chicken hearts dipped in strawberry puree and dark chocolate and topped with popping candy
Lamb's hearts stuffed with licorice rice
Surf and turf with cows hearts and octopus
Have you just pulled an involventary, 'Urgh, that sounds so disgusting I was nearly sick in my mouth' kind of face? Yeeea, that's exactly what I did too. But if I'm 100% honest, it was actually all pretty good. I won't be swapping my fillet steak for anything on the Domestic Godless Menu but it was actually really tasty.
Everyone was assigned a job but we all ended up pitching in and watching/helping/grazing/washing/sampling and testing. Yes, there was a lot of sampling and testing going on.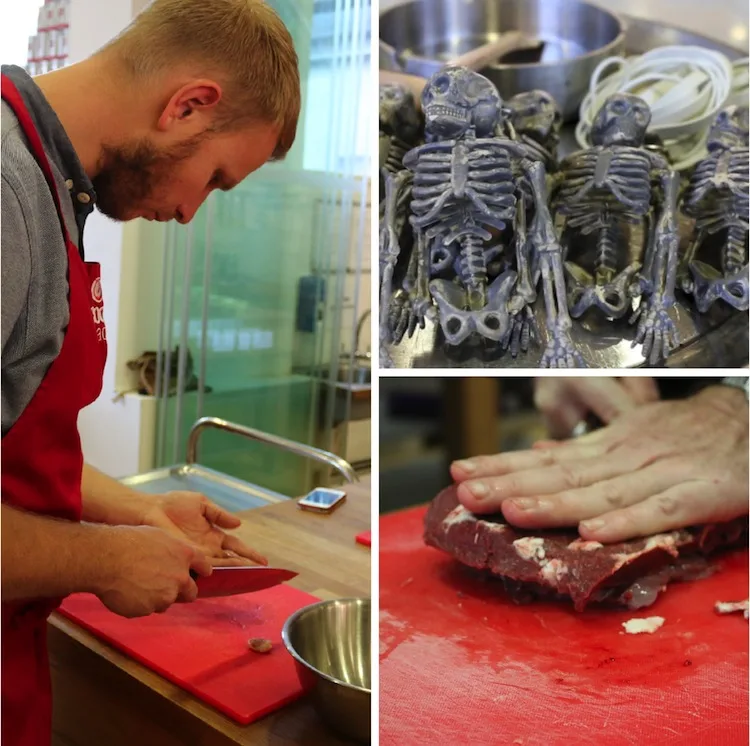 1. Sam chopping chicken hearts and removing any fatty bits
2. Skeletons for decoration
3. Learning the correct way to cut a cow's heart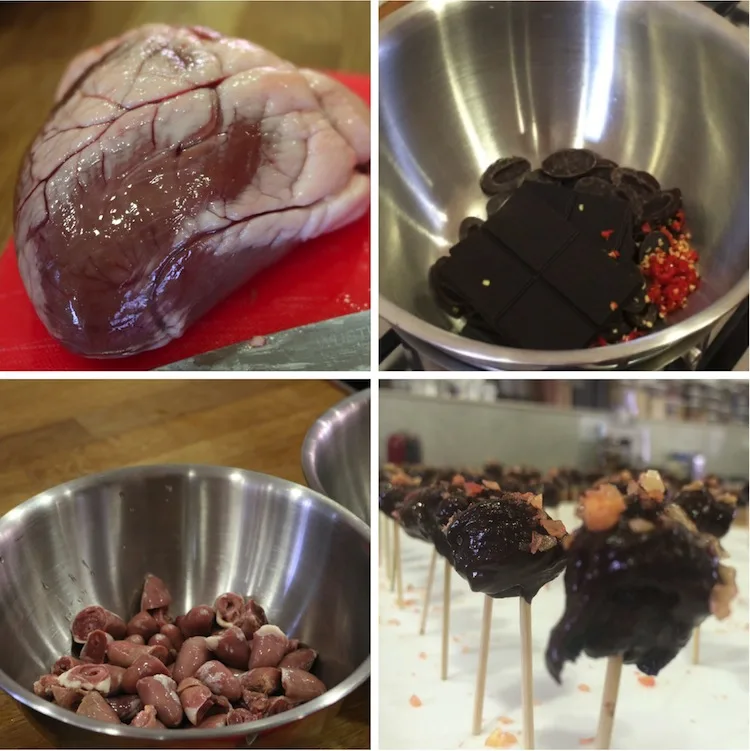 1. A lamb's heart
2. Chocolate and chilli waiting to be melted
3. Chopped chicken hearts (the look like chipolatas, don't they?)
4. The cooked chicken hearts dipped in strawberry puree, melted chocolate and popping candy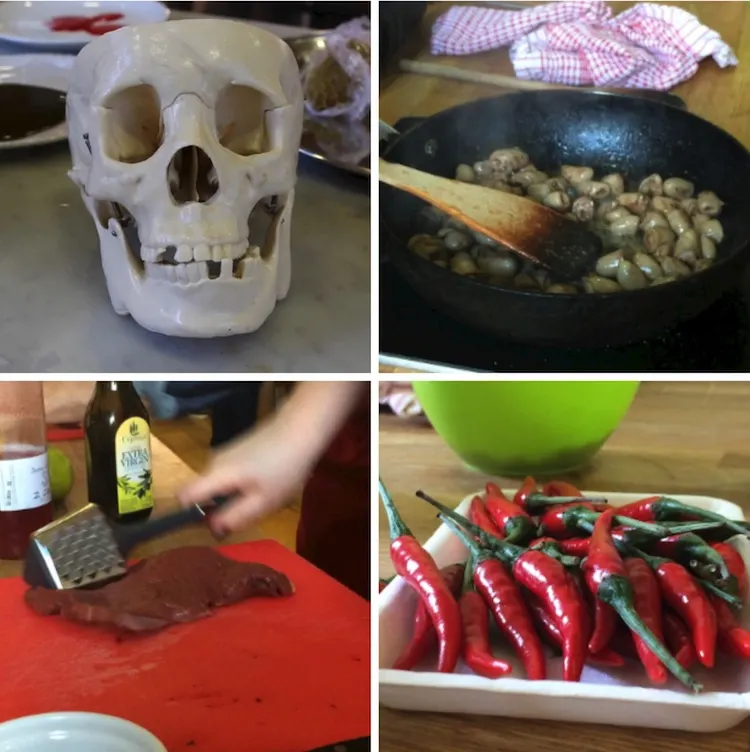 1. Eeee, creepy skull
2. Cooking chickens hearts
3. Bashing down the cow's heart
4. Spicy chillies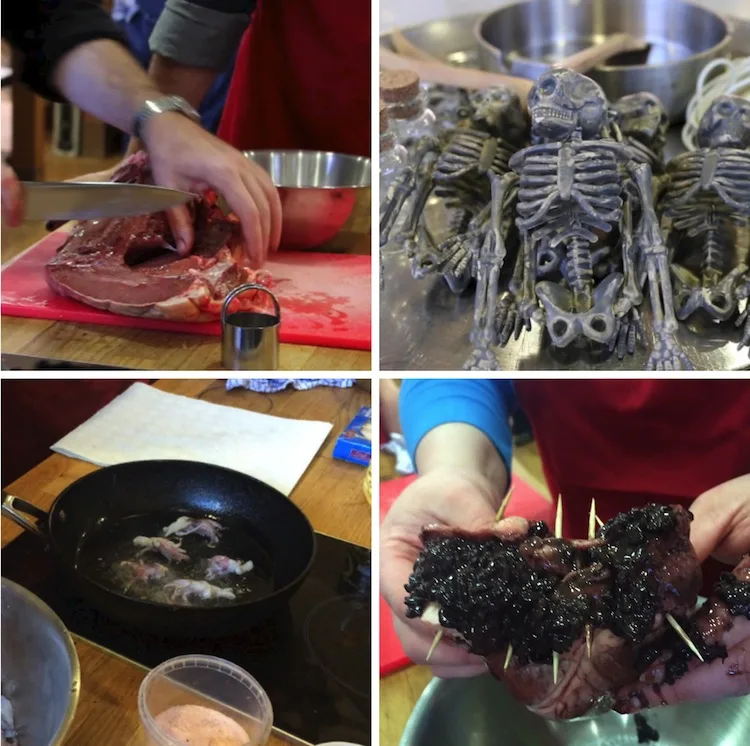 1. Cow's heart
2. I don't know how they made it in the twice
3. Frying octopus
4. Stuffing lambs heart with liquorice rice
What I really liked about the class was that it wasn't sterile and all about health and safety (although it was very healthy and very safe – it was just more like you'd act in your own kitchen). Everyone was licking the same spoon and chocolate bowls were cleaned with fingers before soap and water.
Tasting was a big part of the workshop with extra ingredients and new ideas added as we went along.
I think everyone was surprised to find that we loved the chicken hearts. They were fried with onions and garlic and when they were hot and sizzling they were delicious.
They were later cooled and dipped in strawberry puree and dark chocolate and then topped with popping candy. I won't lie, this was just plain weird. The texture of cold chicken heart is similar to liver. This was mixed with strawberry sweetness and bitter chocolate and then that weird sensation of mini explosions in your head from popping candy. It would make a fantastic Halloween party treat but I wouldn't order it for dinner.
Massive thanks to Tourism Ireland and Failte Ireland for inviting me along for another fabulous weekend in Dublin.