There's no denying Ryanair has a bad reputation in the airline industry. The staff are rude, the additional fees are outrageous, they're always late and an annoying horn sounds every time you land.
You know how it goes:
"Dooo do dooloooo, that's another on time flight!"
Me: "Yes it might be on time but you predicted the flight would take 45 minutes longer than it should so it's not really on time at all!"
Everyone has a Ryanair horror story but at the end of the day, Ryanair are cheap. Really cheap!
Ryanair have enabled many of us to travel more when it was previously too expensive. By cutting down on extras they've made flights irresistibly affordable and who am I to argue with a £30 return flight to Paris or Oslo or Milan?
A lot of people hate Ryanair because of their 'hidden costs' but if you read the small print you'll find they're actually not that hidden after all. But, let's be honest, no one can be bothered to read the small print so I've made things easy with my Ryanair Survival Guide.
Here's everything you need to know about flying with Ryanair, how to avoid Ryanair's hidden fees and how to have a stress-free flight.
1. Check where the airports are
Before you even think about booking a flight, check where the airport you'll be landing in will be. Ryanair and other budget airlines often use regional airports because they're cheaper. This means the airport might be a long way out of the city center and you'll end up paying extra to travel into the city.
I did this with a flight to Oslo. I paid £35 for the flight but my bus transfer from Torp Airport in Sandefjord to Oslo city centre cost almost as much as the actual flight and took an additional 2 hours.
Don't rule out regional airports completely because the savings are often worth it and they usually have excellent transfer links and shuttle buses.
2. Don't rush…but don't take too long when booking online with Ryanair
Now this is a tricky one because you can't rush your Ryanair booking…but at the same time you can't take too long because it'll time out and you'll have to start again. And when you start again there's a high chance your flight will be more expensive!
Check and double check and check again that you've got the correct times and dates because if you book the wrong flight it's unlikely you're going to get a refund.
Make sure everyone's names are entered correctly and everything is spelt right or you'll have to pay to change it.
Make sure you untick the insurance box and get your own insurance because it's cheaper.
Untick the reserved seating or preselected seats unless you're absolutely desperate to sit together or you're travelling with children.
If you're going to need to check-in baggage then make sure you do it now and pay the extra for it. If you find your bag is too big or too heavy to take as cabin baggage on the day then you'll pay a small fortune to get it on the plane. (More on baggage later).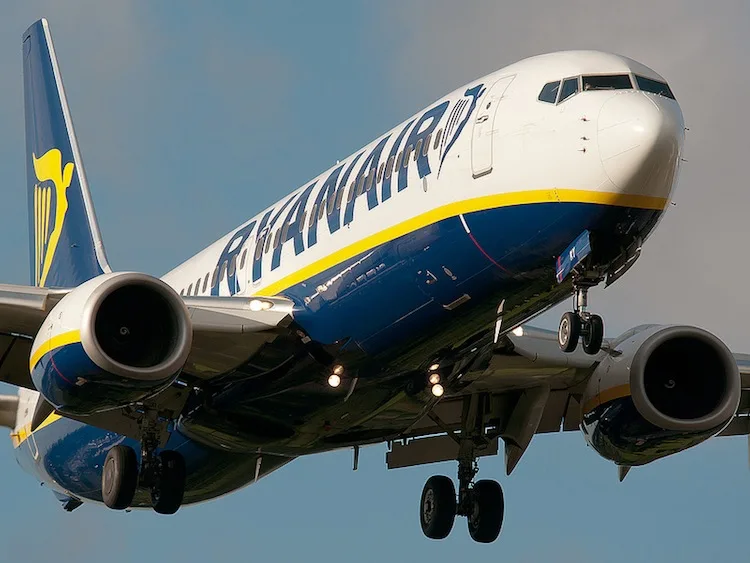 Before you get to the airport
Check-in online and PRINT OUT YOUR BORDING PASS or use the app!
You cannot check-in at the airport!
Sorry to get all bold and capital on you there but this is the most annoying thing about Ryanair. If you forget to print out your boarding pass they will charge you a small fortune to do it at the airport (about £60 I think)– it could even cost you more than the actual flight.
If you don't have a printer you need to get someone else to do it for you.
The easiest thing to do is get the Ryanair app. You then check-in via the app and have your boarding pass on your phone. I've done this a few times with Ryanair and I've never had a problem. You do need to make sure you have plenty of battery on your phone because you'll be screwed if your battery dies.
Baggage on Ryanair: A simple guide and the best bags to avoid fees
You'd be forgiven for feeling a little confused by the Ryanair baggage policy. Baggage allowance for Ryanair seems to change so often and is unnecessarily complicated!
So I'm here today to break it down and simplify everything you need to know about baggage on Ryanair!
What do you get for free?
Your FREE Ryanair Personal Baggage
OK, let's start with the free Ryanair bag.
This bag can be 40x25x20cm.
That's roughly the size of a normal school-bag style backpack or a large handbag.
This is sometimes referred to as your 'personal bag' and should fit under the seat in front of you.
Something like The Travel Hack Backpack is ideal and I have a blog post over here about how I pack it for a one-week holiday.
Read more: Small carry on luggage and how to pack EVERYTHING in your free bag!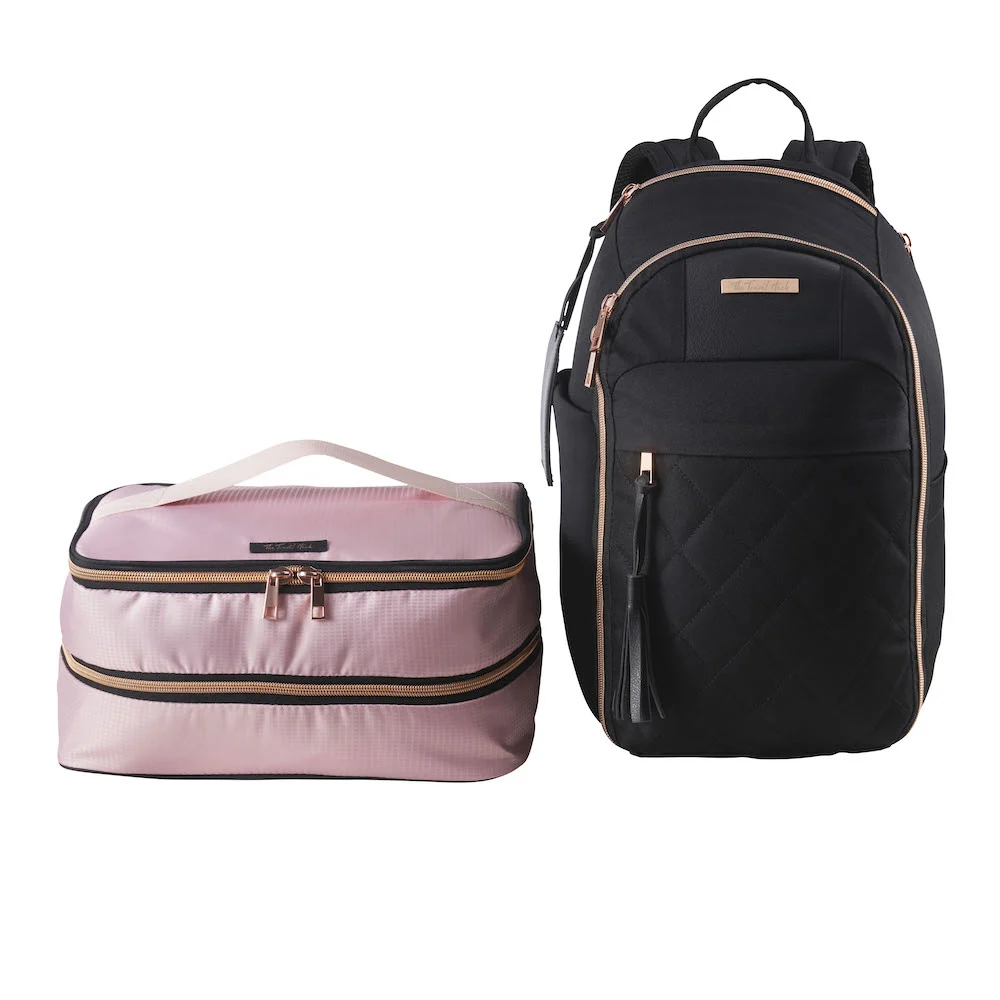 10kg Cabin Bag
You can then opt to add a 10kg cabin bag onto your ticket.
This will give you a bag sized 55x40x20cm. It must weigh 10kg or less.
For most people that's going to be a small suitcase or a large backpack or duffle bag.
You will get this and still have your personal baggage too.
The Travel Hack Pro Cabin Case is ideal for this option as it's designed to be those exact dimensions, meaning you get the biggest case you possibly can!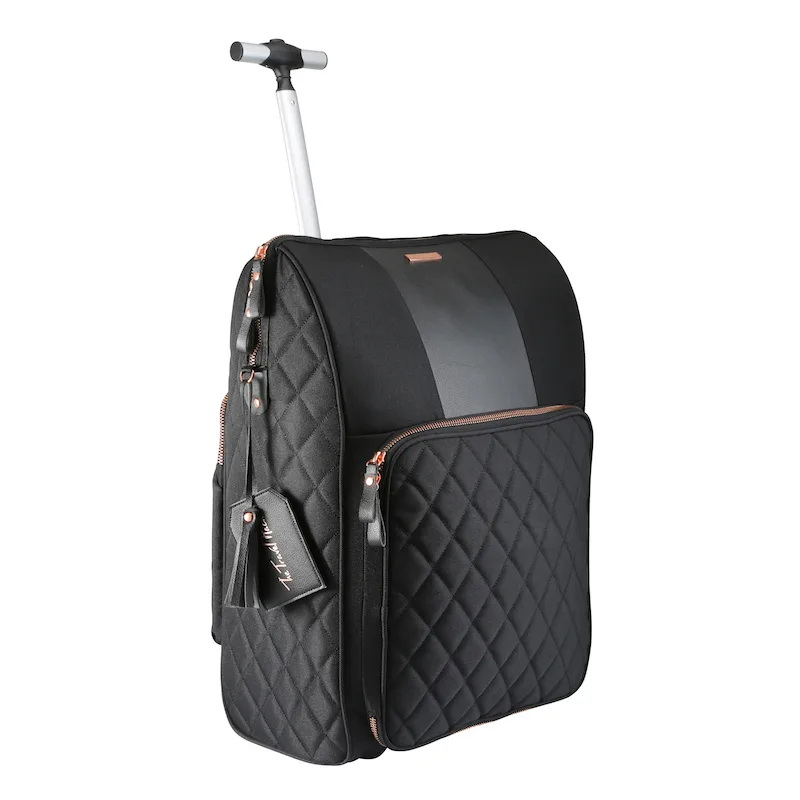 10kg Check-in Bag
You can also opt to have a 10kg bag – but instead of taking it on the plane with you, you'll check it in and it'll go in the hold.
There does not seem to be a size limit on this 10kg checked bag.
This is a good option if you don't want to carry your suitcase through the airport and don't want the hassle of taking it through security.
But on the downside, you will need to queue to check it in and you'll have to wait for it at the baggage carousel.
20kg check-in bag
You can also check in a 20kg bag.
Each customer can add up to 3 x 20kg bags.
There is no size limit to the bag, provided it weighs 20kg or less.
Personally, I'd always recommend getting a large suitcase with 4-wheels as they're much easier to wheel around the airport. I have these large Z-Frame suitcases and they've done well for the past 8-9 years! They're extremely lightweight and easy to pull so I'm really happy with them.
Sports and musical equipment
Sports and musical equipment can also be added. There is no size limit but it must weigh 20kg or less.
Baby equipment
You can take 2 items of baby equipment on the plane free of charge (which seems uncharacteristically kind of Ryanair!)
For most people this is going to be a pushchair and a car seat.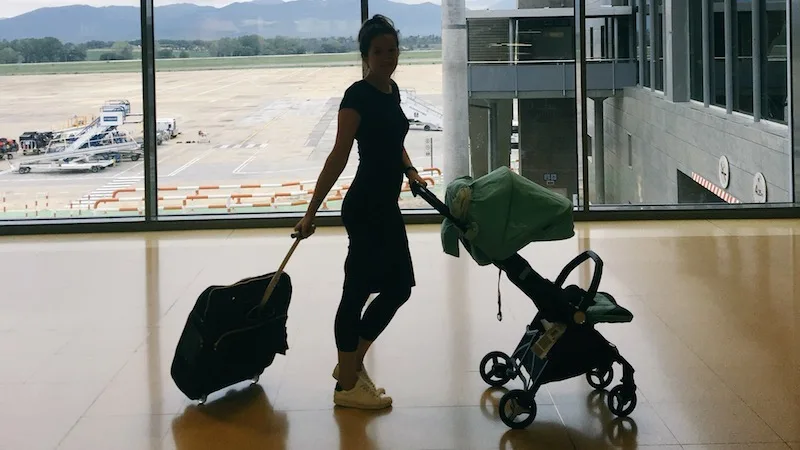 Personally, I've never stayed anywhere that doesn't have a travel cot so we've never travelled with a travel cot.
We have hired car seats with our car hire but they're often grubby and old so we prefer to travel with our own.
When it comes to a pushchair – it must fold down into one piece. So if you have a travel system where the seat clips off the frame then this is two pieces of baby equipment unless you have a special travel bag to put it all in together. You're best off getting a simple, lightweight travel stroller such as an umbrella stroller or the Babyzen Yoyo+. I have a list of the best travel strollers here.
Other baggage options for Ryanair
I recommend taking a look at the Cabin Max Store for more luggage options. Cabin Max design their luggage to fit certain airlines so you know you can trust them.
There are no if's, no but's, no arguments and no excuses when it comes to luggage on Ryanair flights.
Please, please, please don't complain when you're told you need to pay extra for an overweight or oversized bag. OK, another airline may have let you off but Ryanair WON'T.
Drinks and snacks
As you would expect, you don't get any drinks or snacks included on your Ryanair flight. They do sell them onboard but they're expensive and the hot food is gross. You also often find that they run out of food and drinks, so if you're at the back of the plane you might not get the option to buy anything. Stock up at the airport or take your own from home.
Remember you can take 100ml liquid bottles through security so you can take very small drinks provided you have space in one clear plastic bag. Most airlines allow just one bag for your liquids and it's the size of a small sandwich bag so you won't have a lot of space.
But there are no limits on food so take as much as you like – provided it isn't liquid!
Pack your headphones
Another annoying thing about Ryanair is the amount of announcements they make. There really is no need. They're constantly trying to sell you something, so make sure you pack your headphones and have a good play list to drown out the announcements!
Line up early
Because so many people only take cabin baggage on Ryanair flights there often isn't enough space on the plane for all the cases. This means that the last people on the plane have to put their bags in the hold.
You don't need to pay for this but it's just annoying as you'll have to queue at the baggage carousel and wait for it to be loaded off the plane.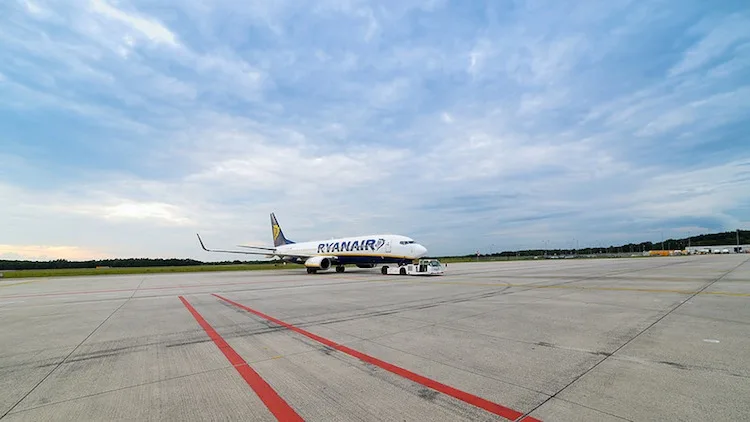 Do you need to pay to use the toilet onboard?
No, of course not. That was just a PR stunt to get people talking about Ryanair. I think it would be illegal to charge to use the toilets.
Ryanair might seem like a lot effort but once you've flown with them a few times you soon get the hang of it. If there's another airline offering similar flights for £20 extra then I'd probably pay the extra but most of the time the difference will be over £100 so it's well worth the annoying extra effort to fly Ryanair.
Disclaimer: This suitcase was gifted to me from Cabin Max. As always, I would never recommend a product I didn't genuinely love. Big thanks to Cabin Max, this is my new favourite for hand-luggage.
Do you have any more tips to survive a Ryanair flight?