There's no denying Ryanair has a bad reputation in the airline industry. The staff are rude, the additional fees are outrageous, they're always late and an annoying horn sounds every time you land.
You know how it goes:
"Dooo do dooloooo, that's another on time flight!"
Me: "Yes it might be on time but you predicted the flight would take 45 minutes longer than it should so it's not really on time at all!"
Everyone has a Ryanair horror story but at the end of the day, Ryanair are cheap. Really cheap!
Ryanair have enabled many of us to travel more when it was previously too expensive. By cutting down on extras they've made flights irresistibly affordable and who am I to argue with a £30 return flight to Paris or Oslo or Milan?
A lot of people hate Ryanair because of their 'hidden costs' but if you read the small print you'll find they're actually not that hidden after all. But, let's be honest, no one can be bothered to read the small print so I've made things easy with my Ryanair Survival Guide.
Here's everything you need to know about flying with Ryanair, how to avoid Ryanair's hidden fees and how to have a stress-free flight.
1. Check where the airports are
Before you even think about booking a flight, check where the airport you'll be landing in will be. Ryanair and other budget airlines often use regional airports because they're cheaper. This means the airport might be a long way out of the city center and you'll end up paying extra to travel into the city.
I did this with a flight to Oslo. I paid £35 for the flight but my bus transfer from Torp Airport in Sandefjord to Oslo city centre cost almost as much as the actual flight and took an additional 2 hours.
Don't rule out regional airports completely because the savings are often worth it and they usually have excellent transfer links and shuttle buses.
2. When booking online with Ryanair…
Don't rush when you're booking online with Ryanair.
Check and double check and check again that you've got the right times and dates because if you book the wrong flight it's unlikely you're going to get a refund.
Make sure you untick the insurance box and get your own insurance because it's cheaper.
Untick the reserved seating or preselected seats. Unless you're last on the plane it's unlikely you won't be able to get a seat with your nearest and dearest.
If you're going to need to check-in baggage then make sure you do it now and pay the extra for it. If you find your bag is too big or too heavy to take as cabin baggage on the day then you'll pay a small fortune to get it on the plane. (More on baggage later).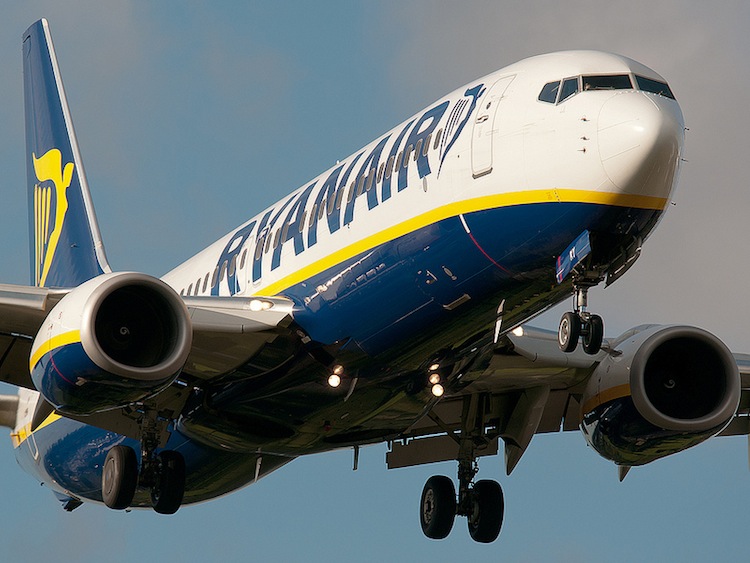 Before you get to the airport
Check-in online and PRINT OUT YOUR BORDING PASS or use the app!
You cannot check-in at the airport!
Sorry to get all bold and capital on you there but this is the most annoying thing about Ryanair. If you forget to print out your boarding pass they will charge you a small fortune to do it at the airport (about £60 I think)– it could even cost you more than the actual flight.
If you don't have a printer you need to get someone else to do it for you.
The easiest thing to do is get the Ryanair app. You then check-in via the app and have your boarding pass on your phone. I've done this a few times with Ryanair and I've never had a problem. You do need to make sure you have plenty of battery on your phone because you'll be screwed if your battery dies.
Luggage
For check-in luggage on a Ryanair flight you are allowed:
Size: 81cms (height), 119cms (width) and 119cms (depth)
Weight: Either 15kg or 20kg
There is a £10 fee for each additional kilo
Checked bagged must be checked in 40 minutes before flight departure. I'd give yourself an hour just in case!
Ryanair will not accept bags weighing over 32kg, no matter how much you're prepared to pay.
For carry-on luggage for a Ryanair flight you are allowed:
Size: 55cm x 40cm x 20cm
Weight: 10kg
+1 small handbag
Size: 35 x 20 x 20 cms
Weight: Not stated
The one extra small handbag is a recent addition, previously you were only allowed one bag. This is a little vague because it has no weight limit but it's basically a lady's small handbag or possibly a camera bag. It's the kind of small bag where you'd keep your purse, passport and phone.
DO NOT exceed the luggage limitations. Ryanair staff have the most amazing talent for spotting overweight bags and they will not let you on with a bag that exceeds the size limit.
If you're looking for a suitable carry-on bag, take a look at Cabin Max. They make bags that are the exact dimensions for particular airlines so you know you're within the size guide but have the biggest bag you possibly can have.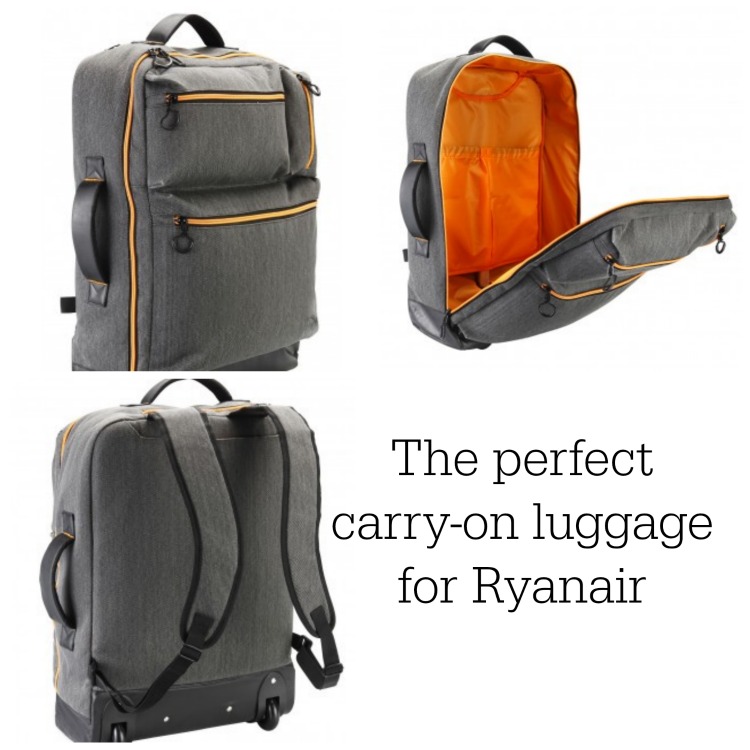 I'm currently using the Oxford Trolley (£50) which is surprisingly big but is suitable to be used as cabin baggage for Easy Jet, Air France, Wiz Air (large), Monarch, Flybe, American Airlines, Ryanair and Jet2. As long as you don't go over the weight limit it's really reassuring knowing you won't have any arguments over your luggage.
There are no if's, no but's, no arguments and no excuses when it comes to luggage on Ryanair flights.
Please, please, please don't complain when you're told you need to pay extra for an overweight or oversized bag. OK, another airline may have let you off but Ryanair WON'T.
Drinks and snacks
As you would expect, you don't get any drinks or snacks included on your Ryanair flight. They do sell them onboard but they're expensive and the hot food is gross. Stock up at the airport or, if you're a real cheapskate, stock up at the Pound Shop and take them with you!
Pack your headphones
Another annoying thing about Ryanair is the amount of announcements they make. There really is no need. They're constantly trying to sell you something so make sure you pack your headphones and have a good play list to drown out the announcements!
Line up early
Because so many people only take cabin baggage on Ryanair flights there often isn't enough space on the plane for all the cases. This means that the last people on the plane have to put their bags in the hold.
You don't need to pay for this but it's just annoying as you'll have to queue at the baggage carousel and wait for it to be loaded off the plane.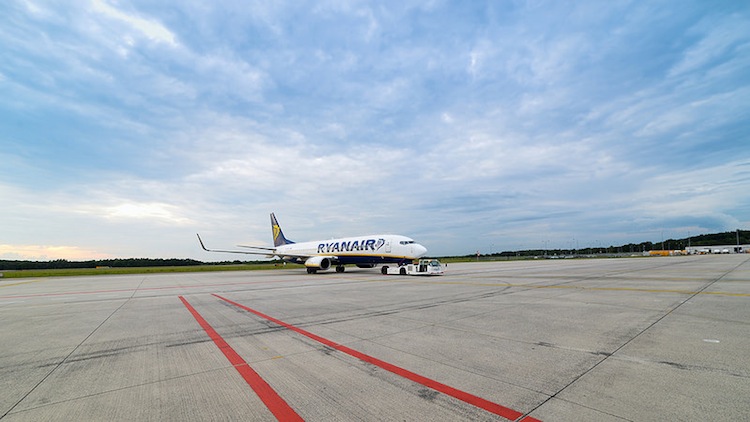 Do you need to pay to use the toilet onboard?
No, of course not. That was just a PR stunt to get people talking about Ryanair. I think it would be illegal to charge to use the toilets.
Ryanair might seem like a lot effort but once you've flown with them a few times you soon get the hang of it. If there's another airline offering similar flights for £20 extra then I'd probably pay the extra but most of the time the difference will be over £100 so it's well worth the annoying extra effort to fly Ryanair.
Disclaimer: This suitcase was gifted to me from Cabin Max. As always, I would never recommend a product I didn't genuinely love. Big thanks to Cabin Max, this is my new favourite for hand-luggage.
photo credits: "Stròlic Furlàn" – Davide Gabino, ekidreki, hartlandmartin 
Do you have any more tips to survive a Ryanair flight?