Bristol is famous for a few things: street art, a stunning harbour, cider, hot air balloons, and…Caribbean food?
It may not be the first thing you think of, but Bristol is home to an up-and-coming Caribbean food scene that's been simmering under the surface while other food trends have come and gone. When Jamie Oliver visited Bristol in 2011, he made sure he sampled local Caribbean flavours, and since then there's been a growing demand for the spices that make your tastebuds sing.
Elle and I made it our mission to taste as much Caribbean cooking as we could while we were in Bristol this summer, and we're pleased to report back that our mission was officially accomplished!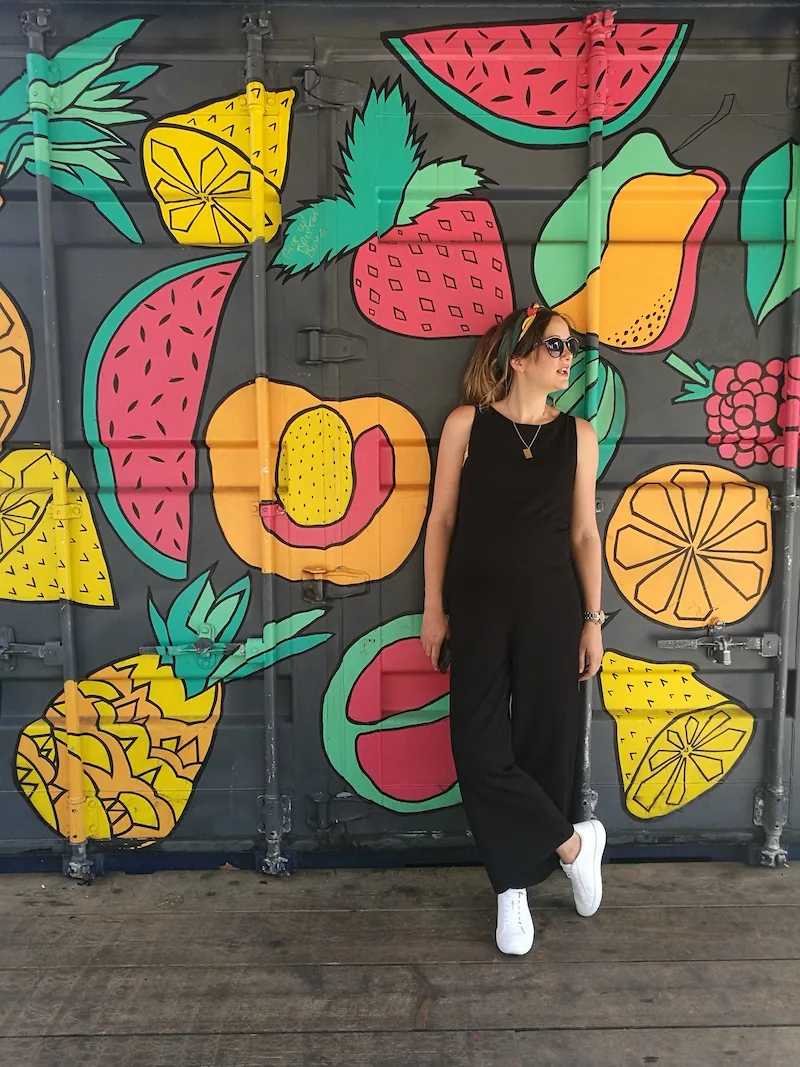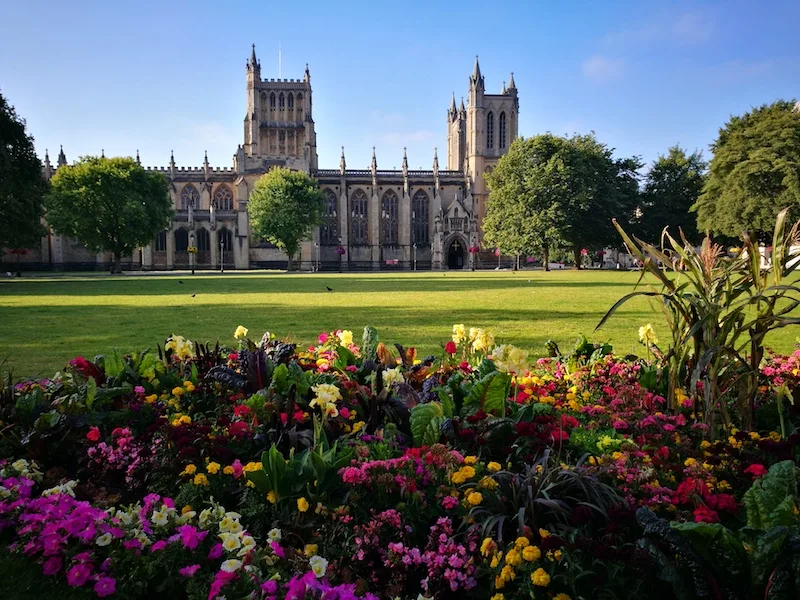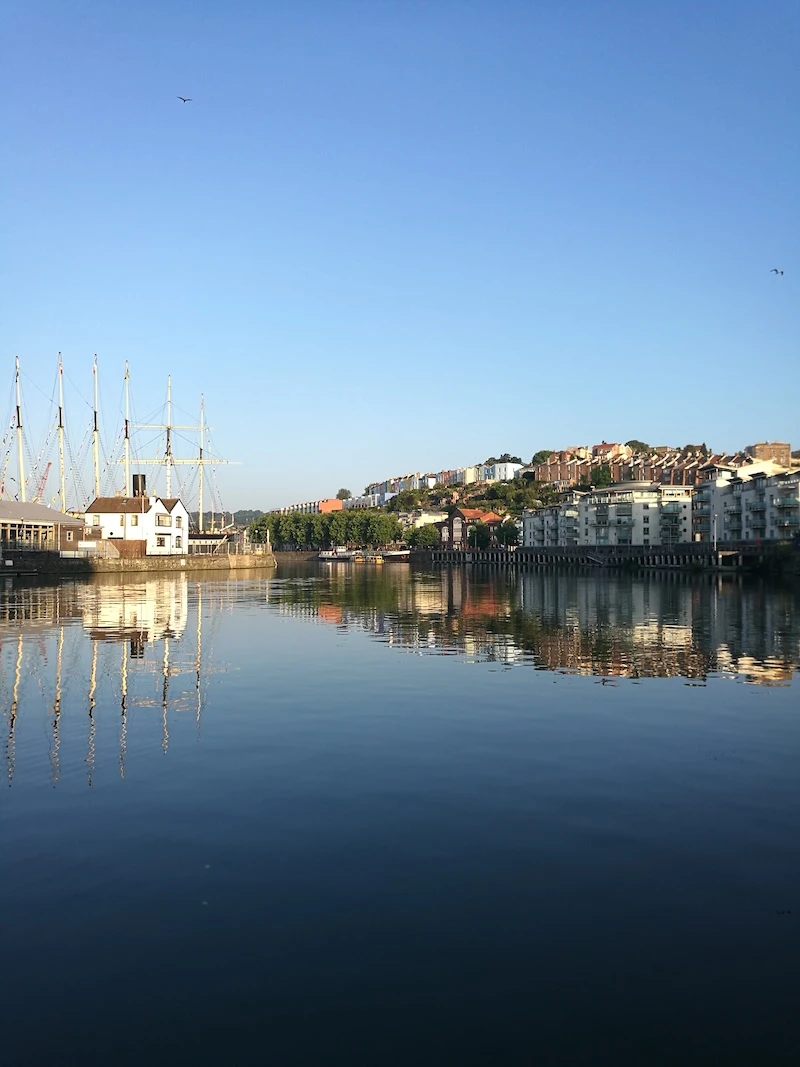 We were travelling around the UK in search of up and coming food trends as part of a challenge set by Huawei. The Chinese mobile phone brand recently launched the Huawei P9, a phone co-engineered with Leica with the most incredible camera. Huawei challenged us to seek out these new foodie trends and capture our adventure on the P9 with photos and videos. Not a bad challenge, right 😉
Here's how we got on!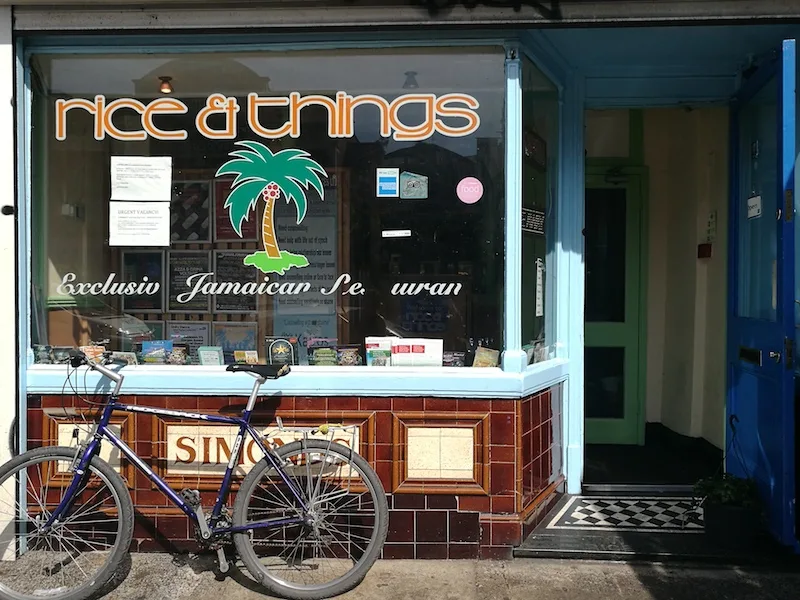 This tiny 12-table restaurant and takeaway spot in Bristol's trendy Stokes Croft area has one big claim to fame: it was featured in Jamie Oliver's 2011 cookbook, 'Jamie's Great Britain', as well as appearing in the accompanying TV show.
The chef at Rice & Things, known simply as Chef, cooks traditional Caribbean food that was hailed by Jamie as a 'new British Classic'.
We arrived just after the lunchtime rush and had the dining room to ourselves, although there was a steady stream of takeaway food ordered at the small entryway booth during our visit. The lunch menu was simple, with just a handful of main dishes to choose from, each priced at just £10. We asked for the two most popular options, and then waited for our curry goat and brown stew chicken.
Our plates showed up quickly and, although not necessarily the most photogenic of meals, the food was perfectly spiced and absolutely loaded with flavour. We ordered both dishes with rice and peas, and before long we were using this side dish to mop up as much of the tasty sauce as we could.
It was too difficult to pick a favourite of two incredibly memorable dishes, but the even tougher decision came when we had to order our dessert.
Let me help you out in case you ever find yourself faced with the same choice: when there are banana fritters available, always get the banana fritters. They're like crispy little banana bread pancakes, and they're worth every indulgent bite.
Rice & Things is a truly authentic Caribbean food experience in the heart of Stokes Croft – make sure you don't miss it if you're in town!
Rice & Things: 120 Cheltenham Rd, Bristol BS6 5RW
[/one_half_last]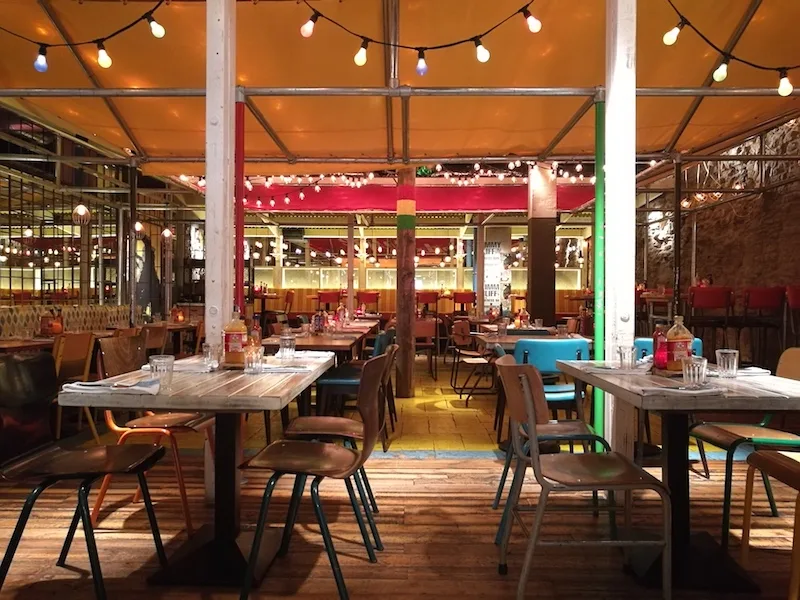 If Rice & Things is the father of Caribbean food in Bristol, then Turtle Bay is its trendy cousin.
In true Caribbean style, Turtle Bay is located by the water – except instead of sparkling blue ocean, it's right beside Bristol's picturesque harbour, on Broad Quay.
The outdoor tables were all taken when we arrived in the early evening, but we snapped up a table near the bar and relaxed to the sound of reggae music, rum cocktail (or coconut mocktail, for me!) in hand. The vibe inside Turtle Bay is casual and colourful, with bright murals, a wall of speakers, neon signs scattered around the huge dining room and enormous windows letting the summer evening light stream in.
The menu was extensive, so we chose a selection of starters to share, each based on Caribbean beach shack fare.
We loved the sweet plantain, the spicy jerk chicken wings and the jerk pit prawns, but our favourite was definitely the pulled pork salad. The jerk seasoning had a real kick to it, which was offset by sweet mango and orange, and the coconut shavings offered a welcome crunch in each mouthful.
Aside from the plantain, each of the dishes was pretty spicy – we enjoyed it, but those with a sensitive tongue might want to stick to milder options here.
[one_half]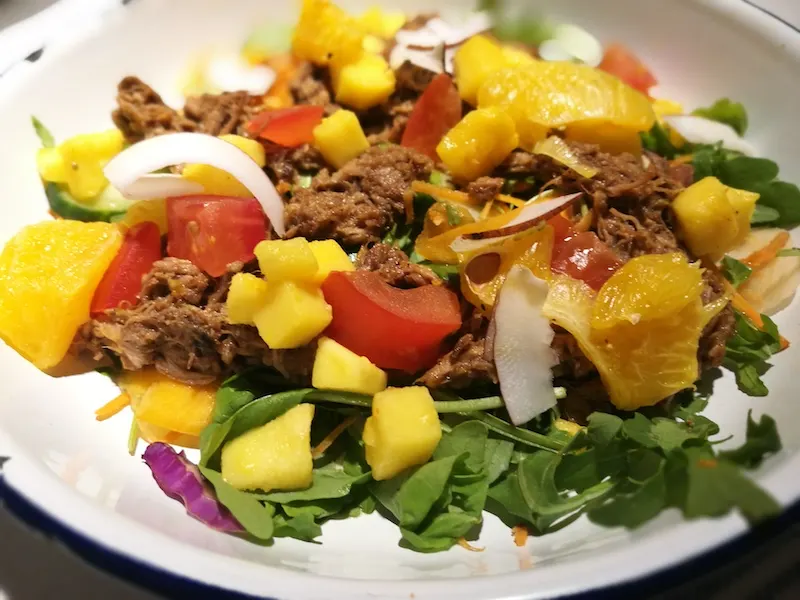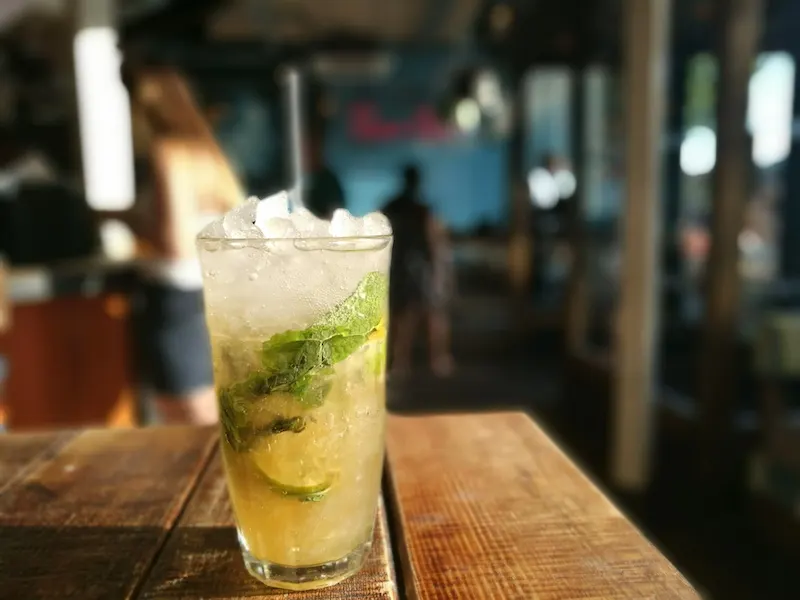 [/one_half]
[one_half_last]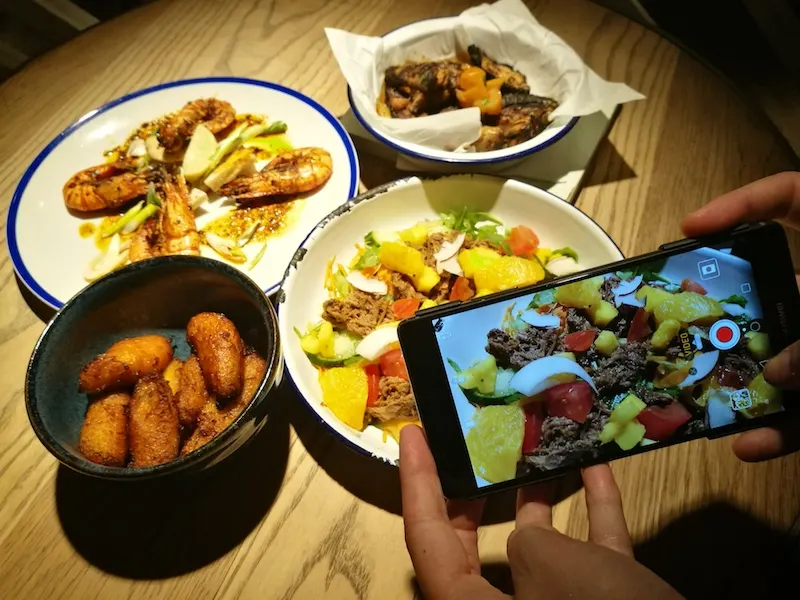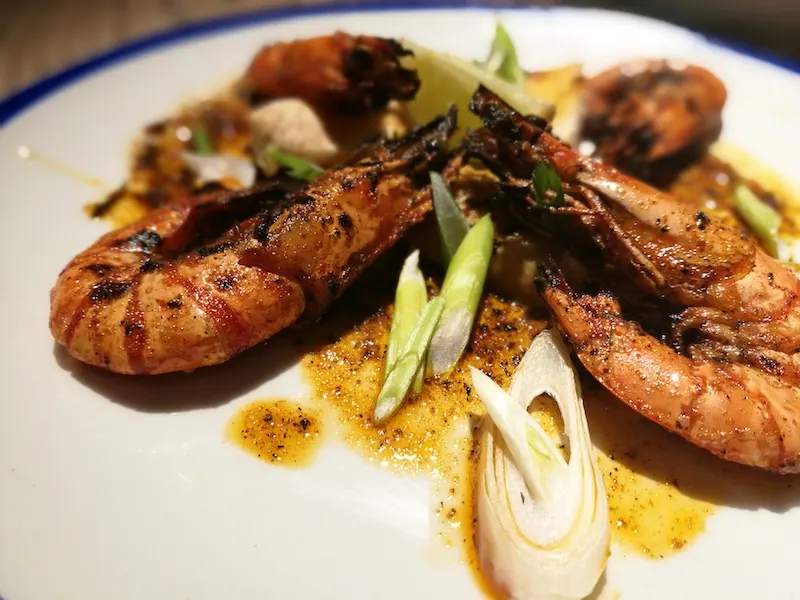 [/one_half_last]The starters, perfect for sharing, were just £5.10 each but there are plenty of larger and heartier choices, like their one pots and jerk pit BBQ dishes.
Although Turtle Bay is a chain restaurant, it's got plenty of soul, and the food is so tasty it's a relief to know that you can find it all across the UK!
Turtle Bay: 8 Broad Quay, Bristol BS1 4DA (and newly opened at 221 – 223 Cheltenham Road, Bristol, BS6 5QP)
Caribbean Wrap
I love eating street food in a new destination. Not only is it cheap and easy, it's often some of the most authentic food you'll eat in a city. Bristol's no exception, with St. Nicholas Market (known as St. Nick's to locals) being the city's mecca for food stalls serving international cuisine.
Tucked under the market's Glass Arcade is a small shack of a restaurant called Caribbean Wrap. You can't miss it – it's the stall with the long line spilling into the walkway as locals wait for their lunch, either to eat in at the small tables around the hut or to takeaway.
The menu is pretty big for such a tiny kitchen. As the name suggests, you can find wraps (including a vegetarian option) or larger meals like curry. Elle went with a jerk chicken wrap, which was huge, and loaded with salad and a mango dressing.
I ordered the jerk chicken with rice and peas, and the portion size was enormous. The whole lot was filling and tasty, and while it wasn't quite as good as the other two Caribbean options we tried in Bristol, it's perfect for a tasty, cheap and filling lunchtime takeaway.
Caribbean Wrap: Unit 33 St Nicholas Market, Bristol BS1 1JQ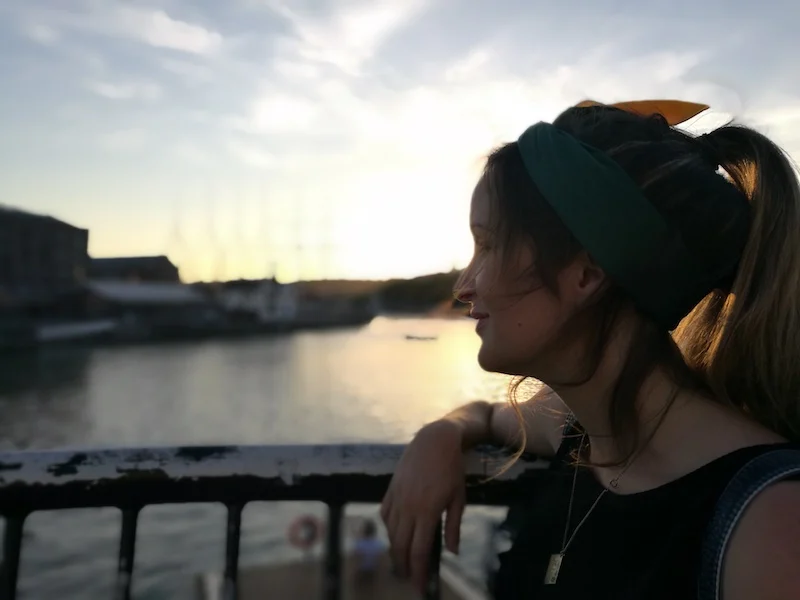 All photos taken with the Huawei P9 Plus, co-engineered with Leica camera technology.
*******************
The first stop on our foodie challenge was New Malden in London where we sampled some of the best Korean food in the area. Check out how we got on.
London's undiscovered foodie trend: Korean food in New Malden