I'm sure many of you already know that I'm a massive fan of glamping. Today I want to tell you about my latest glamping trip at Amber's Bell Tents. This trip was in collaboration with my shiny, new Dacia Duster.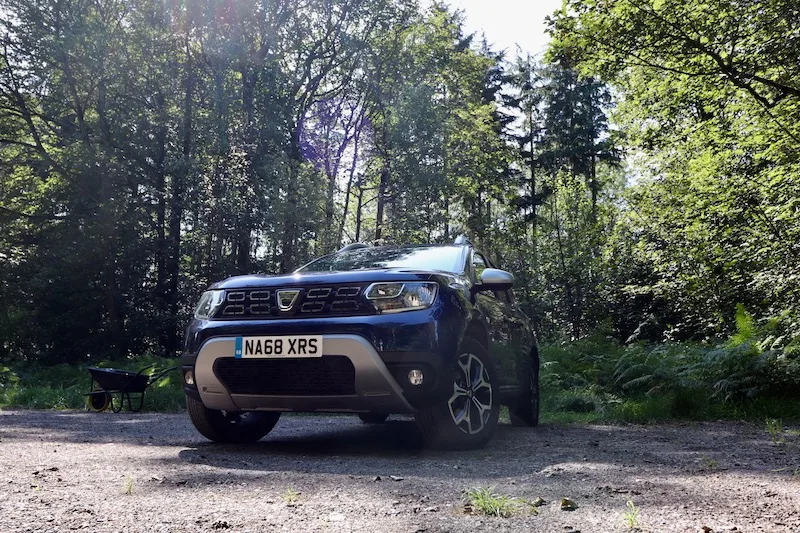 If you're new to the world of glamping then let me tell you all about it! The word 'glamping' comes from 'glamorous camping' and it's all the best parts of a camping trip with an extra splash of luxury.
Glamping is outdoorsy, you're close to nature, you get back to basics and have fun with your friends and family without WiFi and iPads and TVs. But glamping offers something you don't get from camping (other than heating and comfy beds and an electric kettle!) Glamping accommodation is also unique and memorable. We're talking teepees and bell tents, luxury cabins, converted caravans, adult treehouses, quirky yurts and stylish huts.
One of my favourite things about glamping is that it's usually a really affordable holiday option, especially for growing families like ours! Booking a weekend break for a family of five (and the dog!) for under £500 is a difficult task, so glamping is our go-to option. Glamping gives us a holiday the whole family love without breaking the bank and without compromising on quality, style and a bit of luxury!
This blog is all about affordable luxury and finding ways to have quality holidays and experiences on a budget. That's why I'm really excited to partner with Dacia because this car brand have exactly the same ethos.
Dacia are the UK's most affordable car brand but they don't compromise on quality. Their cars might be low on price but they seriously don't look or feel it!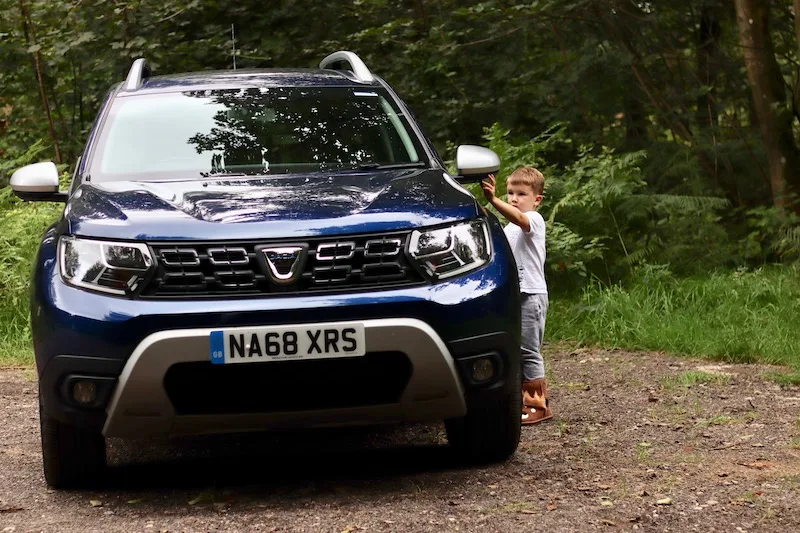 I have the Dacia Duster on loan for 3 months and I'm loving it. It's so nice to drive, I feel really confident behind the wheel and it's spacious enough for our family (and all the bags, bikes and buggies that come everywhere with us!)
While I've got the Dacia Duster I'll be putting it through its paces with three glamping trips.
You may have seen my first trip was to Amber's Bell Tents near Kidderminster. We had a long weekend there and absolutely loved it. Our enormous bell tent was plush and cosy and overlooked a pretty pond with hammocks swaying gently from the trees. Each tent has its own wet-room too, which is a massive bonus as I'm sure anyone with any camping experience will agree!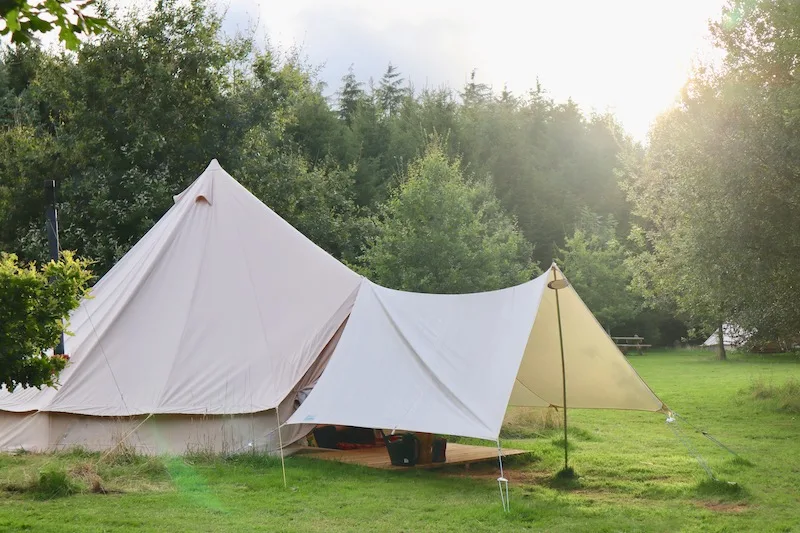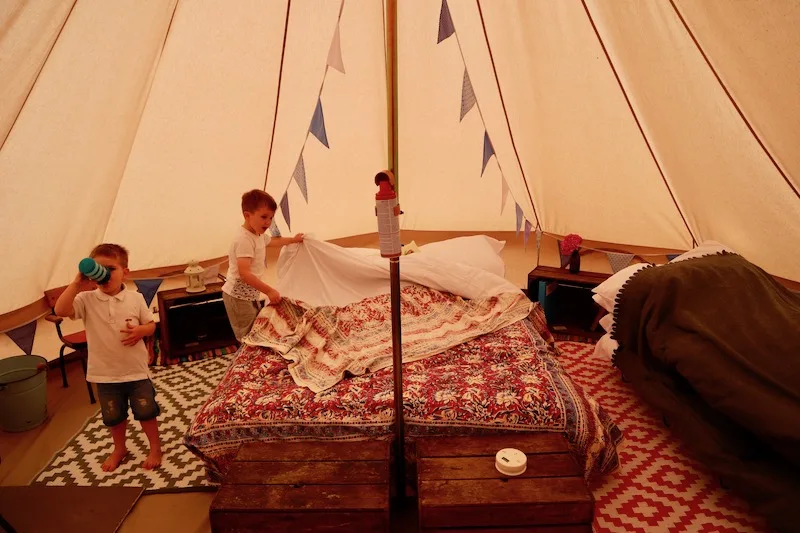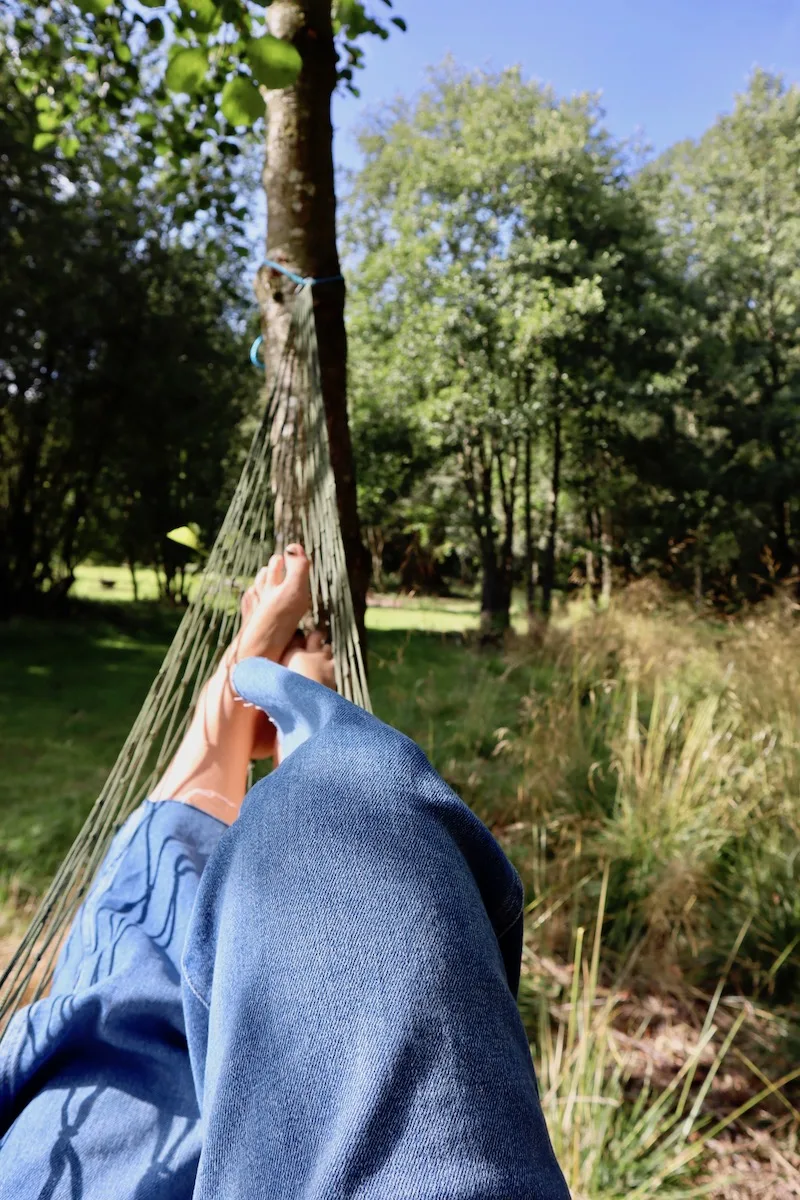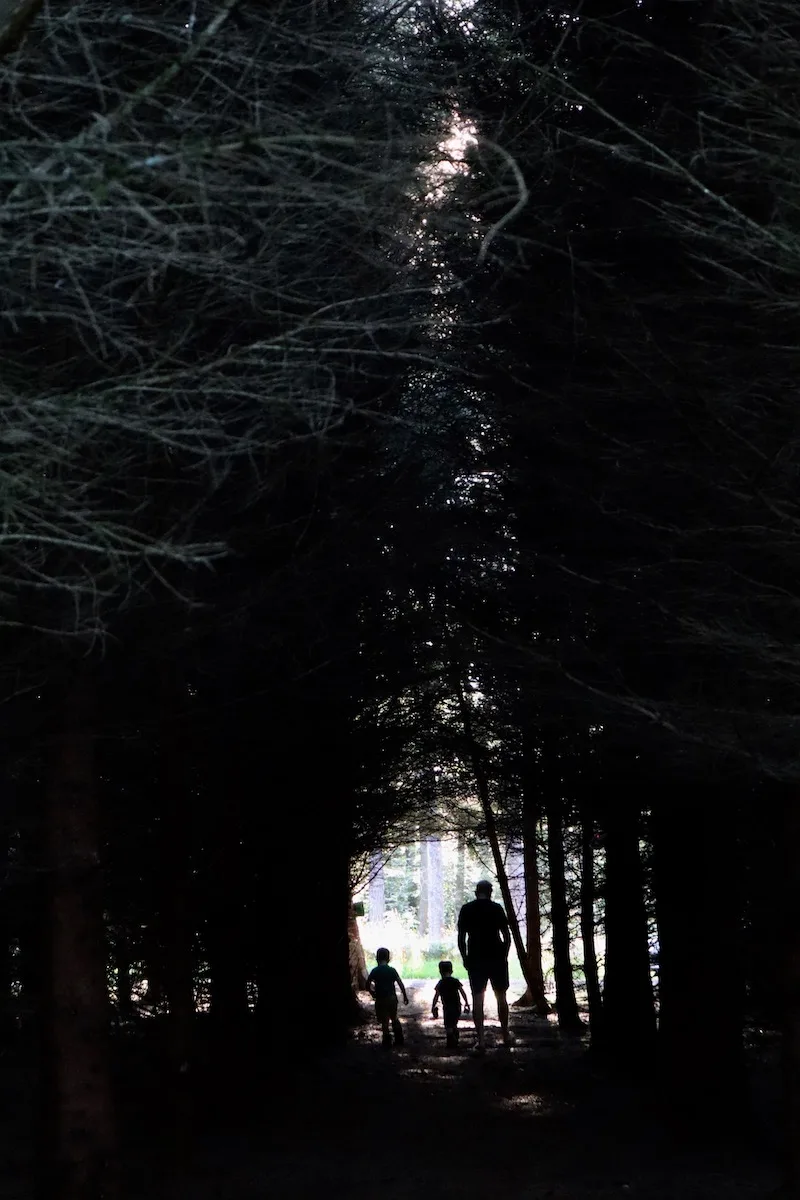 The tents were in a clearing in the forest so felt a million miles from anywhere and the boys were free to run and roam. They soon forgot about their iPads when they saw the pheasants, rabbits and squirrels and I lost them to the dens and rope swings of the forest.
With George and Joseph occupied, Sam and I were able to sit back and relax. We had uninterrupted dinners while the kids of the campsite played football, and we stayed warm by the campfire, cooking sausages and toasting marshmallows. I might be a cheap date but, for me, this is much more romantic and relaxing than a fancy restaurant (and it doesn't require £20ph babysitters!)
As the sun set, we lit the log burner inside our tent. Admittedly, it wasn't really that cold but the novelty of a log burner in a bell tent was too much to resist and we had it blazing each night.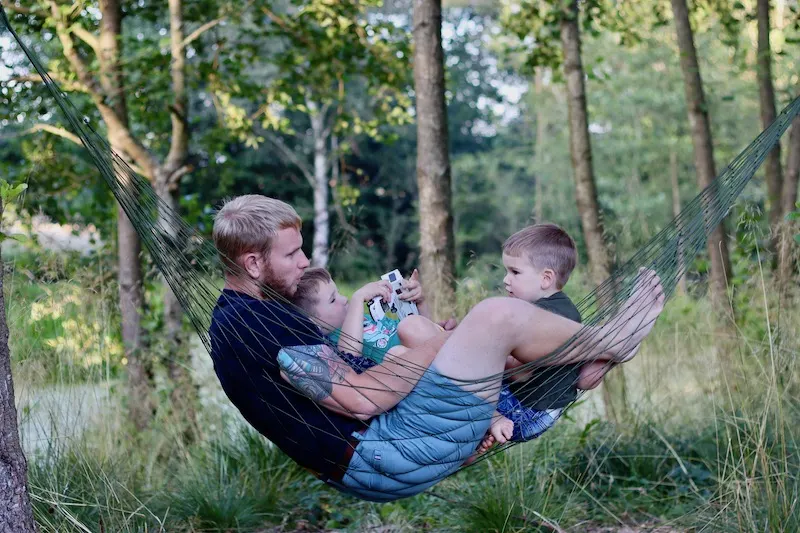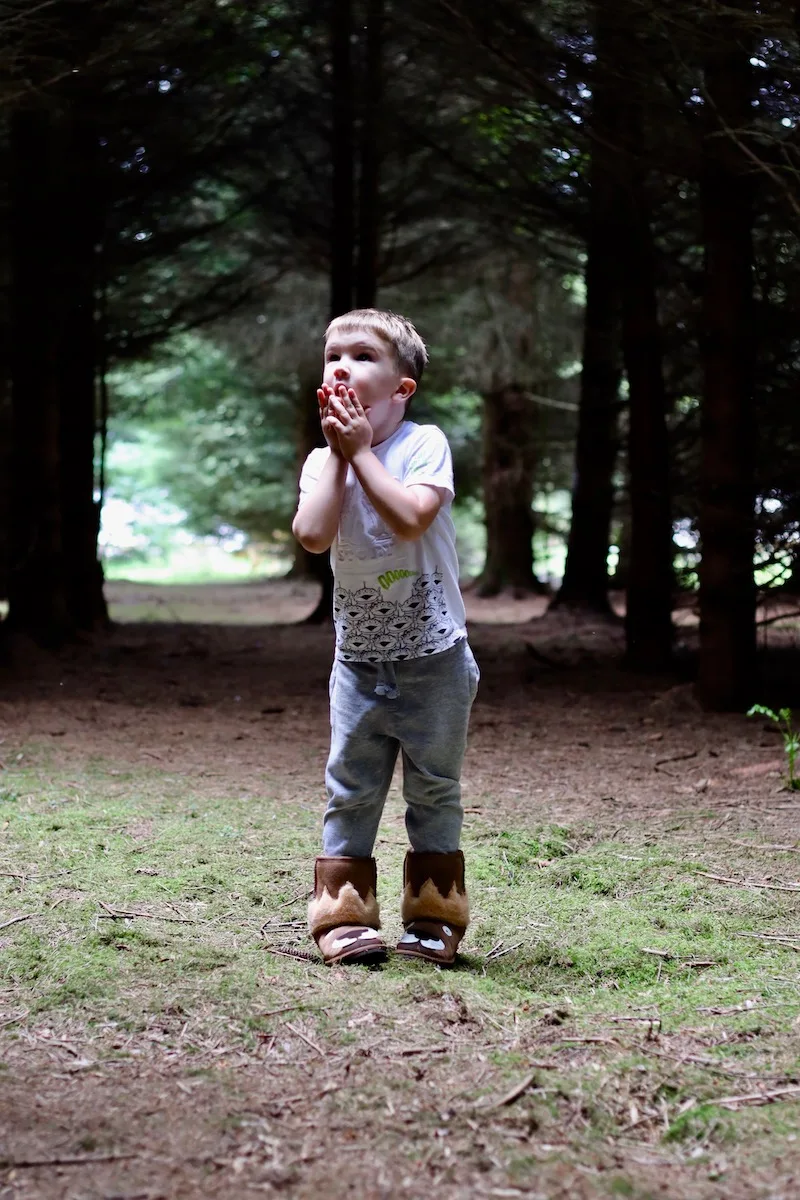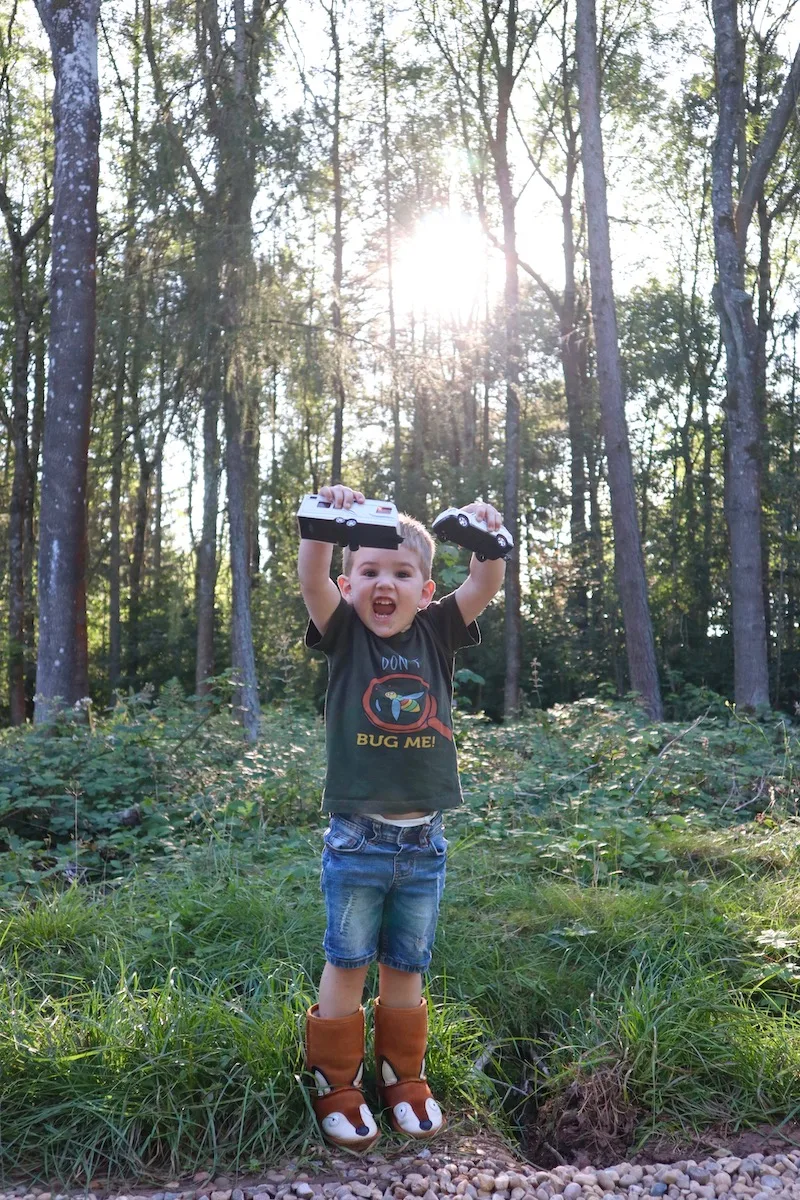 Amber's Bell Tents have a few locations but I chose the new site at Hopton Court Estate near Kidderminster as it's a two hour drive from our home (I find two hours with little kids is just about perfect – long enough for a good sleep in the car but short enough that no one has a backseat tantrum!) It's an area of the UK I haven't explored before and it was gorgeous.
Ludlow Castle
We stopped at Ludlow Castle on the way to live out those dreams of princes and princesses. If you've never been to Ludlow before then I highly recommend a visit. It's one of the prettiest and most charming little towns I've ever been to!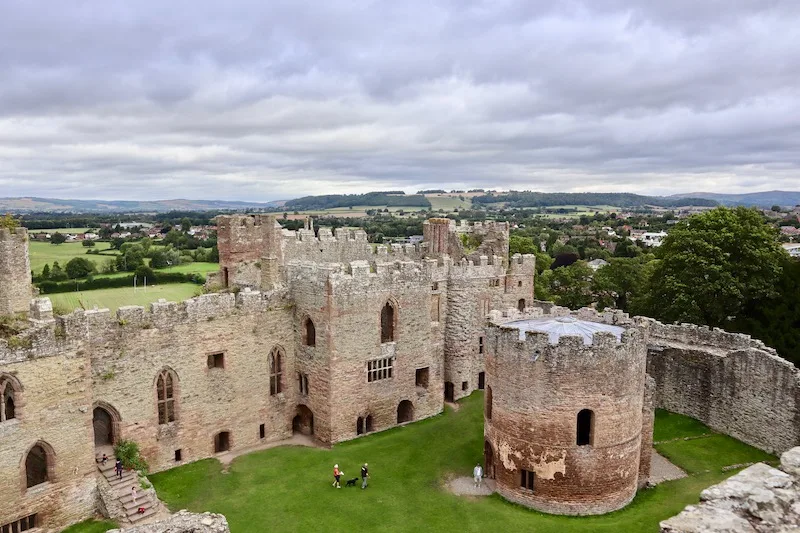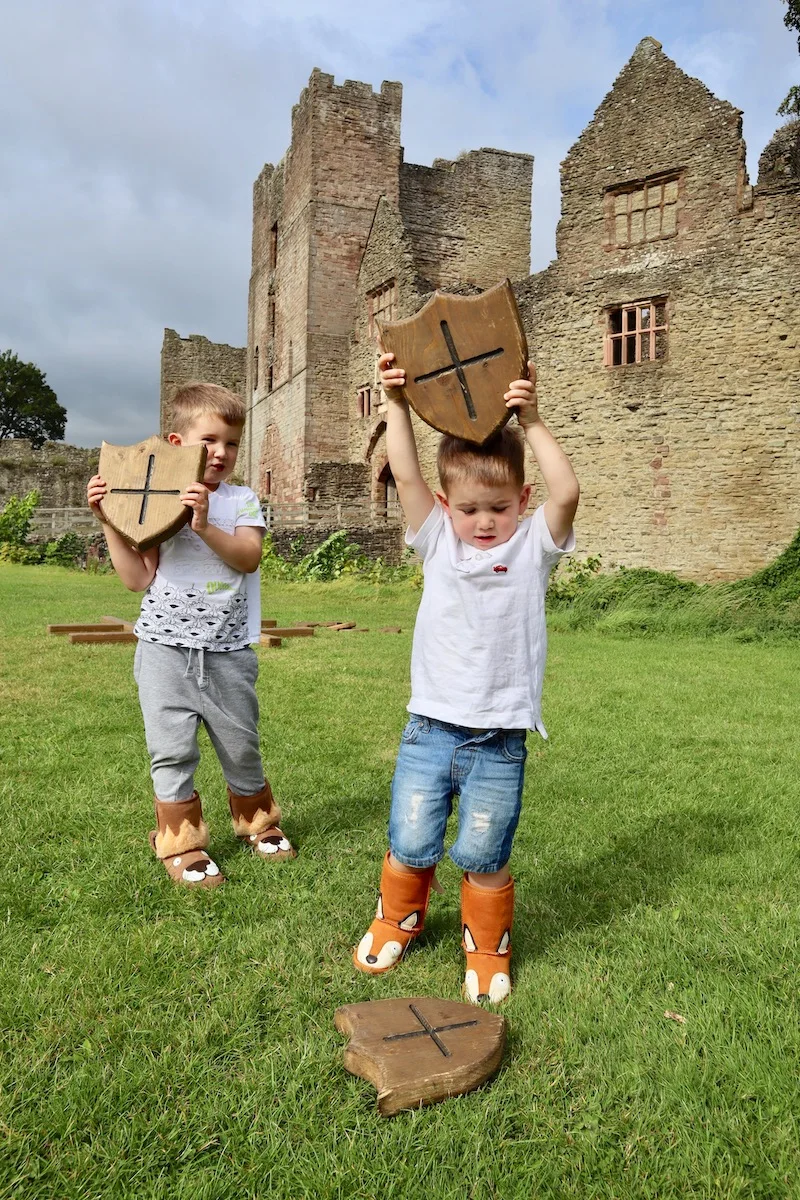 Severn Valley Railway
During our glamping weekend we also rode on the Severn Valley Railway, a heritage steam train that crosses the Shropshire and Worcestershire border. I'll be honest, this little train ride was mostly for the boys but I think I ended up loving it the most! As a Harry Potter fan, I truly felt like I was on the Hogwarts Express and I loved every second of it. We rode from Bewdley (not far from the campsite) to Bridgenorth and on our return journey I was quick to snap up a private carriage. It was so exciting and was like stepping back in time.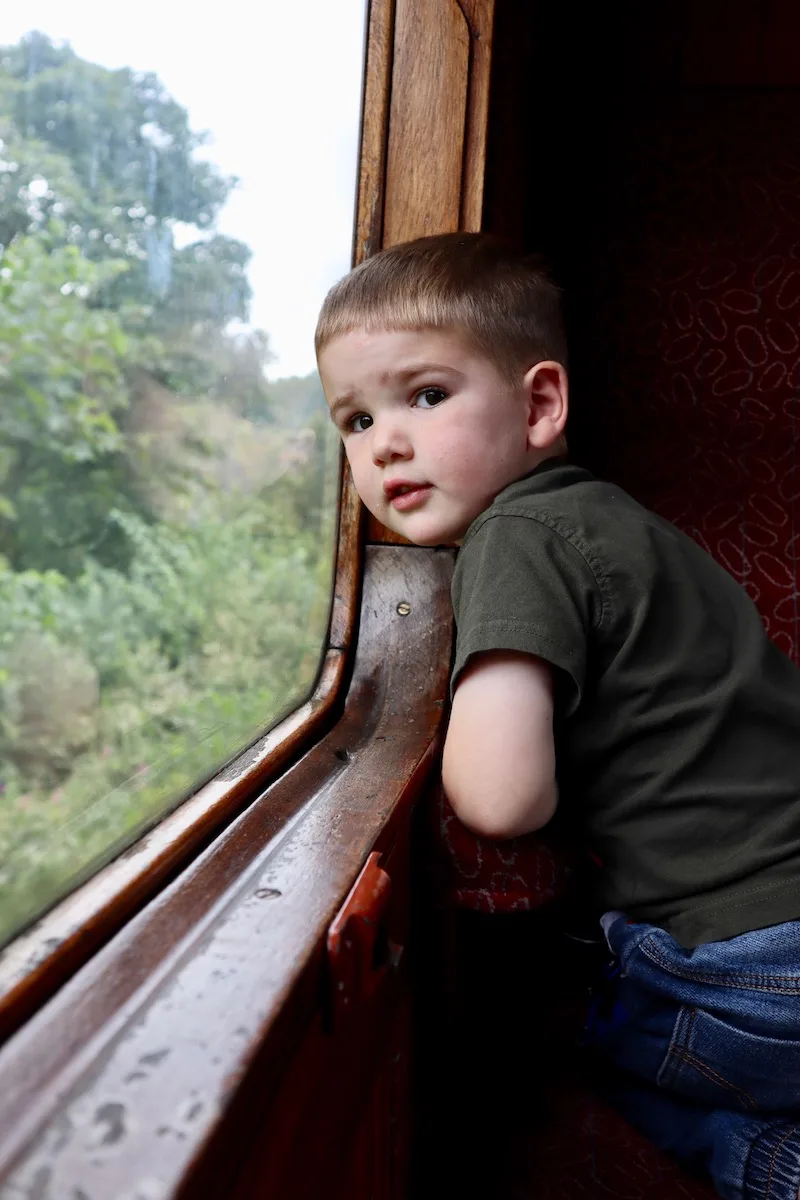 Wyre Forest
On the way home from Amber's Bell Tents we stopped at Wyre Forest Centre where there's a playpark, Go Ape treetop adventure and walking trails. And I have to mention there's an excellent cafe serving delicious pies! We did the Zog Family Trail and finished up with pies and ice cream before climbing back in the car and heading home.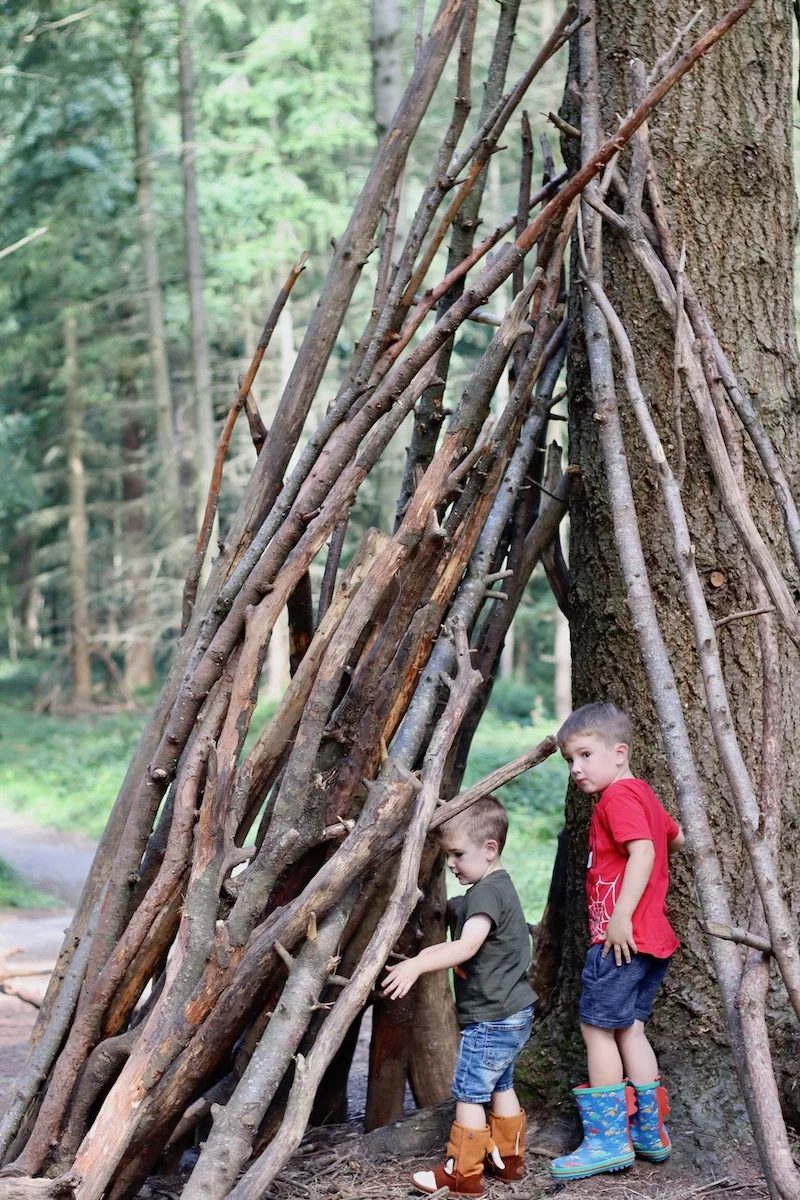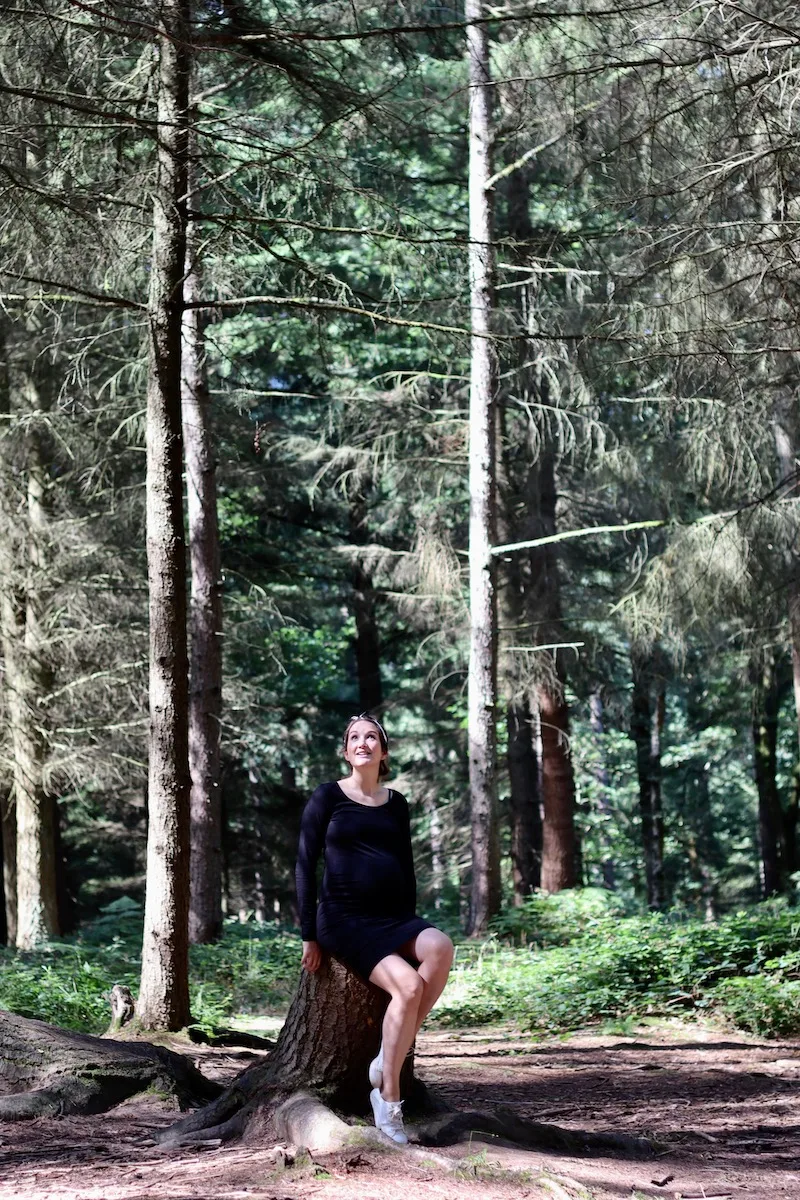 When Sam and I are together, Sam will always do the driving. I don't dislike driving but Sam really loves to drive so I'm happy to sit back and be the passenger. Well, until now…
I LOVE driving the Dacia Duster so I insisted on taking it in turns to drive. This has never happened before! I feel really confident driving it and the whole driving experience is so smooth and comfortable. I love all the cameras on it so I never feel nervous about parking or tight maneuvers and the driving position is better than any car I've driven before. I'm 5"3 and I find most cars a little uncomfortable and difficult to see, but everything is so adjustable in the Duster that I can finally see properly! Another huge benefit of the Dacia Duster is the size of the boot, it's HUGE! Having a big boot is absolutely vital for camping or glamping trips but it also makes everyday life with kids so much easier.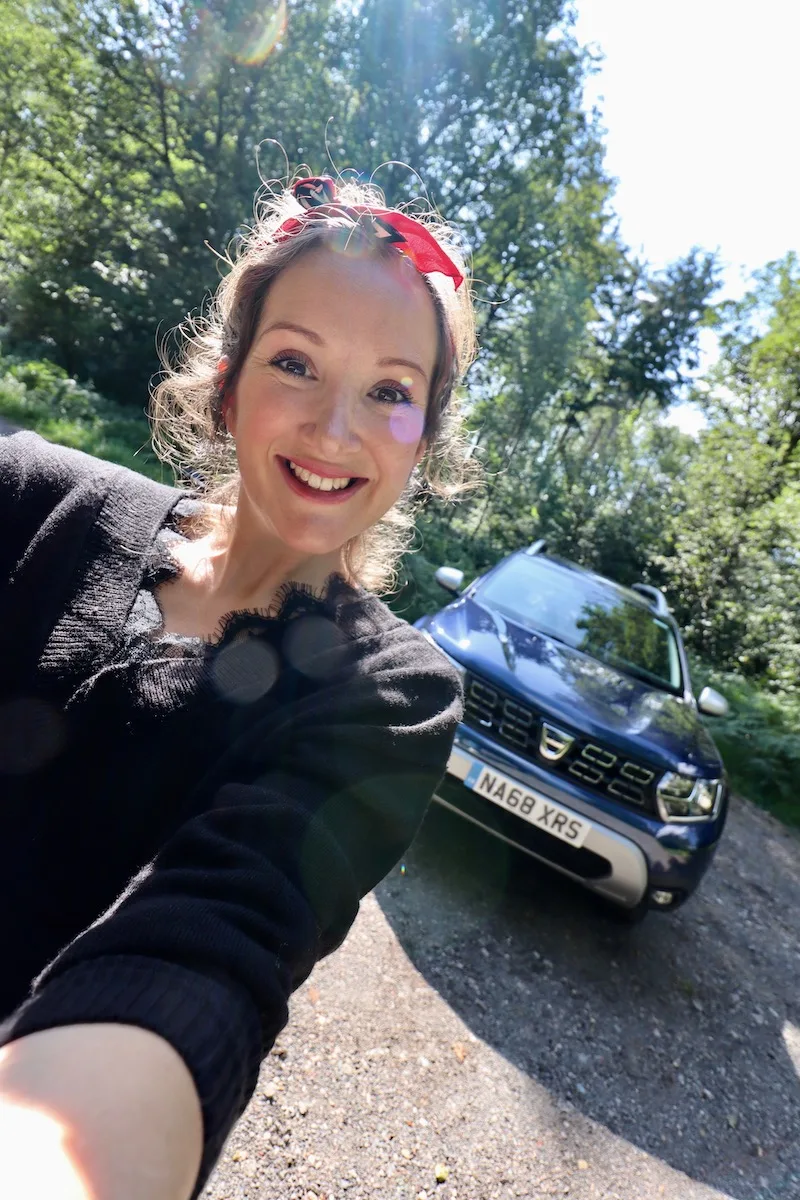 Anyway, enough about my glamping trip and my experience driving the Dacia Duster, I want to tell you how you can have the same experience!
Win a glamping trip + a Dacia Duster for your trip
Yes, that's right, you can win a glamping trip with Amber's Bell Tents AND you'll get a Dacia Duster for the trip!
Amber's Bell Tents have six locations to choose from, so you can opt for the one closest to you or drive somewhere new and exciting in the Dacia Duster you'll have for the trip!
How to enter
Entering the competition is easy…
All you have to do is follow Dacia_UK on Instagram and tag a friend you'd like to go glamping with in the competition post. While you're there you'll be able to see more from my glamping trip and see the next two trips I have lined up!
Competition T&Cs
Find out more about the competition and the T&Cs here.