Are you planning to visit Rome this autumn? I think it's the perfect time to visit because the weather in Rome in October is PERFECT! Today's post is all about an autumnal trip to Rome and what to wear and pack while you're there.
Autumn is my absolutely favourite time of year to take a city break. It's warm enough to be outside and enjoy the city, but cool enough that you're not going to be sweltering! Basking in 30°+ heat might be bliss if you're on a beach holiday, but not when you're busy visiting churches, museums and monuments with thousands of other sweaty strangers!
Take it from someone who has spent a weekend in Rome in both June and August (yes, I am probably crazy), the weather in Rome in October is spot on. There simply isn't a better time of year to plan your weekend break.
Visiting Rome in October means a slightly cooler, more manageable climate for sightseeing. It's a little harder to know what to pack and wear in Rome because the weather is less predictable. But don't worry, I've got you covered! This is exactly what to expect from the weather in Rome in October and what to wear while you're there.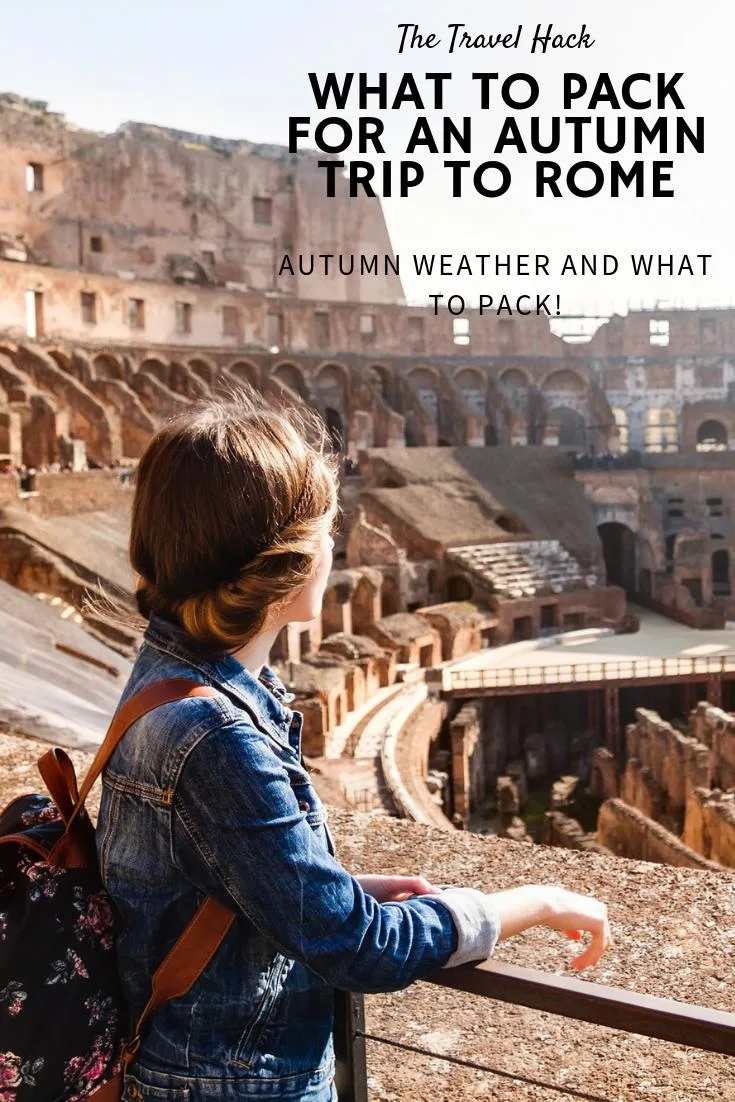 Weather in Rome in October
Firstly, always check the weather before your trip as close to your departure time as possible. We've all been there: only a couple of days before our trip we expected blue, sunny skies and instead, we're greeted with thunderstorms. Try and leave a little time before you leave to swap out a couple of items or throw in a raincoat if you need to.
The average temperature during October in Rome starts at around 19°C and drops to 15°C towards the end of the month meaning it's still warm but much cooler than summer.
Sunrise is around 7:00-7:30 (you don't have to wake up too early for those sunrise shots!) and the sun sets around 18:00-18:30 before daylight savings towards the end of the month pushes everything back an hour. So there's still more than enough hours of daylight to explore the city.
There's a small chance of rainfall during your trip to Rome in October. The city experiences rain approximately 12 days during the whole month, but it's usually just intermittently for a few hours. It's unlikely to pour and pour down for your whole trip (touch wood!)
Ultimately, the weather in October in Rome is still warm and pleasant and though there is a slight chance of rain, it shouldn't deter you from booking your trip to Rome in October.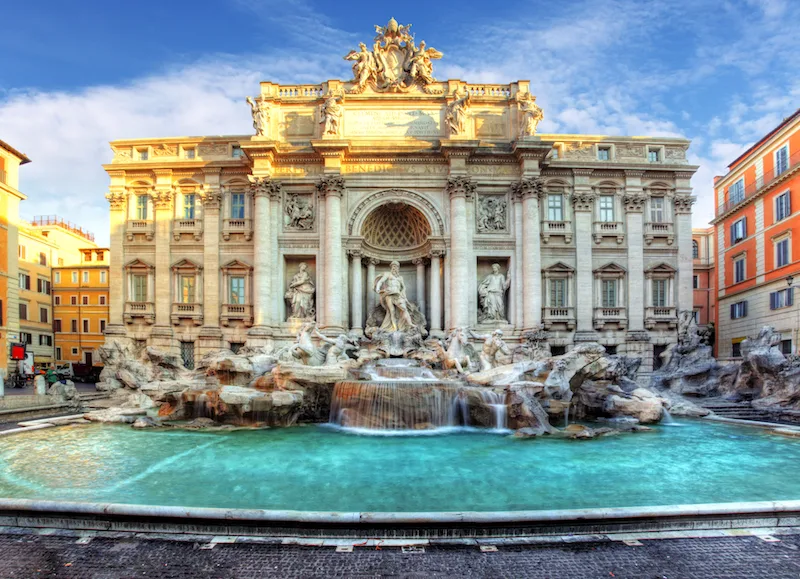 What to pack for Rome in October
Your favourite pair of jeans or trousers
If you live in the UK, I'm quite sure you'll already have most items on this packing list!
If you're visiting Rome in October then a pair of jeans or trousers is a must! The weather is gorgeous but as soon as the clouds descend you'll definitely feel the chill. The temperature noticeably drops in the evenings, too.
Make sure you pack your favourite jeans or any long trousers you find comfortable and you'll be sorted for every eventuality. A lot of churches in Rome (including St Peter's Basilica in Vatican City) prefer your knees to be covered, so that's something you won't even have to think about.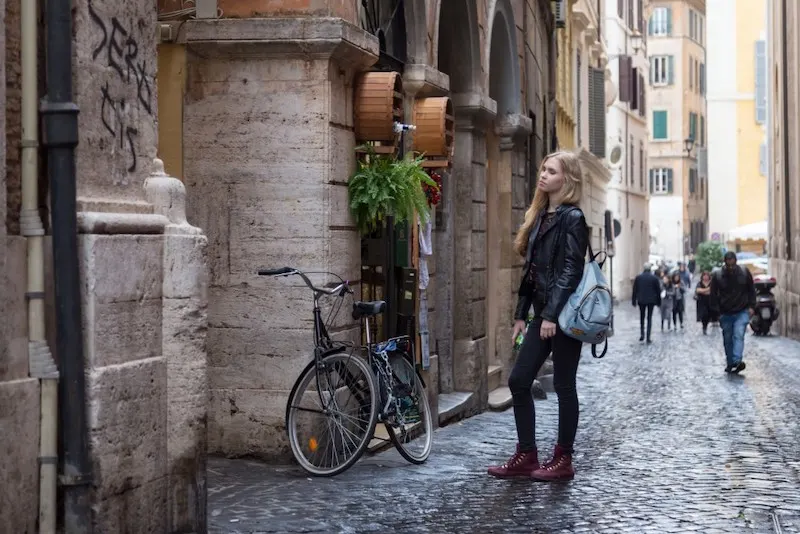 I'm currently loving bootcut leggings or straight leg leggings for a comfy smart/casual look. They also pack up really small so they're great if you're short on space in your luggage!
I also love wearing more formal 'work trousers' and dressing them down with trainers and t-shirts. This is a nice smart/casual look that's a nice alternative to jeans.
No products found.
If you want to be bang on trend this autumn, opt for 90's style cargo pants.
Maxi dresses and midi skirts
If you want to feel a little dressier in the evenings or simply prefer dresses and skirts, I'd stick to maxi and midi styles. It's very easy to slip on a cardigan or light jacket if you start to feel cold in a t-shirt but no ones invented a cardigan for your legs yet, unfortunately!
And if it's towards the end of October in Rome, tights might be a good idea to wear with dresses and skirts. I'm a complete wuss in the cold so I always seem to wrap up more than others but I always feel comfortable which is the important thing!
Lighter jackets like a denim jacket or packable insulated coat
If your trip to Rome is in early October, a light jacket like a bomber jacket or denim jacket might be all you need when the temperature drops at night. As I said before, the average temperature for the beginning of the month is 19° but if you're lucky enough it might soar to the mid-20°s during the day and you can try and top up your summer tan before winter kicks in.
However, if you visit Rome at the end of October, it's a slightly different story. I'm kind of obsessed with these packable down or synthetic insulated coats that pack into a pocket. They're fantastic in shoulder seasons when you're not quite sure what the weather is going to do! Even if you don't love the style, it's worth taking one and popping it under a cuter jacket.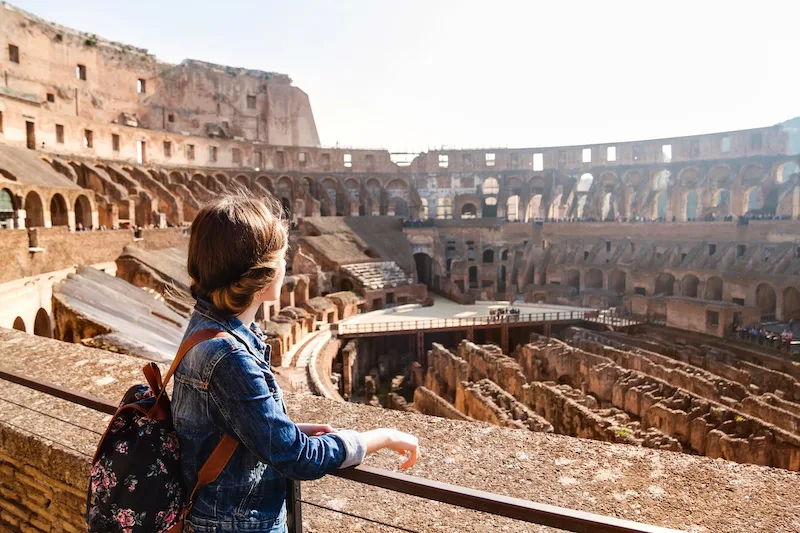 Hoodies, cardigans, knits you can layer
One of the best packing tips anyone could give you: don't bring one huge, chunky coat but instead bring a few layers. Chances are you'll be walking around in a t-shirt, cami or vest for most of your weekend in Rome but the temperature can change quickly if the sun isn't beaming, so you'll need a cardigan or light hoodie.
It's always a good idea to bring a layer out with you to cover your shoulders in Rome anyway as many churches will require you to cover up if you're wearing a strappy top.
A light scarf and a thin, knit hat
I know, I told you the weather was perfect in Rome in October and now I'm telling you to bring a scarf and hat! Well, you might only need a light scarf and perhaps a thin beanie hat towards the end of the month when the temperature really does start dropping, especially in the evenings.
They take up such little room in your bag and you may even like to wear them on your flight to Rome.
Raincoat and/or small umbrella
As soon as grey clouds appear over Rome, street sellers wheel out carts packed with umbrellas so you'll never be stuck in Rome if it suddenly starts raining, but it's better to be prepared. Bring a small, packable umbrella or a pack-a-mac style raincoat (can you tell I love packable items?) with you in the unlikely, but possible, event that it rains during your trip to Rome in October.
And remember Rome is filled with museums, galleries and cafes so there's always going to be somewhere close by you can duck in for a while until the rain passes.
A small backpack as a daypack
And how are you going to carry these extra layers and small umbrella? In a nice, stylish daypack! I definitely suggest a stylish backpack. If you don't have a favourite backpack already, check out The Travel Hack Backpack!
I know some people prefer to carry less and use crossbody bags for safety, and sometimes I do too, but you will want to carry another layer in your daypack. The weather is far better in October in Rome than it is in the heart of summer but it is more unpredictable.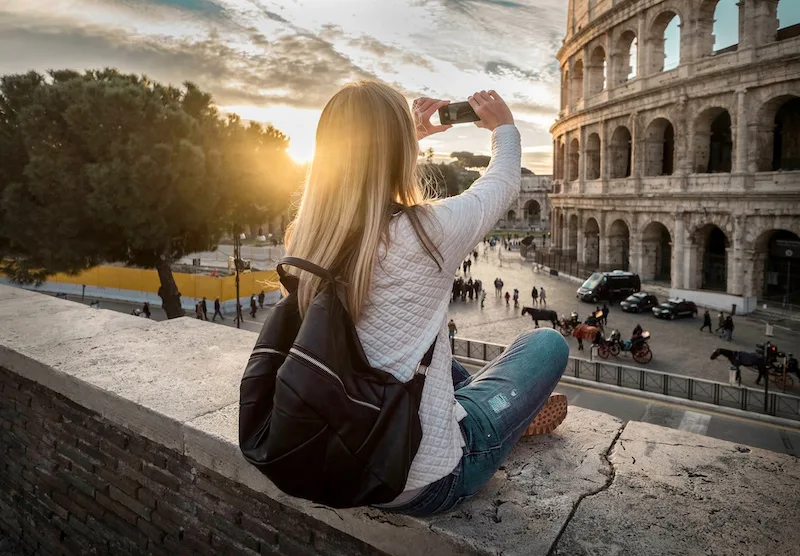 Comfy trainers (but maybe a pair of sandals, too)
Wearing comfortable shoes for sightseeing in Rome is a non-negotiable in my opinion! If you're visiting Rome, especially for the first time, there's going to be so many amazing landmarks and museums all over the city and you're going to rack up a lot of steps. In order for your feet to survive the trip, wear comfortable trainers.
But, this may be the last slice of warm weather your feet will see for the rest of the year if you live in the UK! I completely understand if you want to pack your sandals to get as much out of the warmer weather as possible. No matter what the weather in October in Rome is doing, I'm sure it's a heck of a lot better than it is back home so why not make the most of it!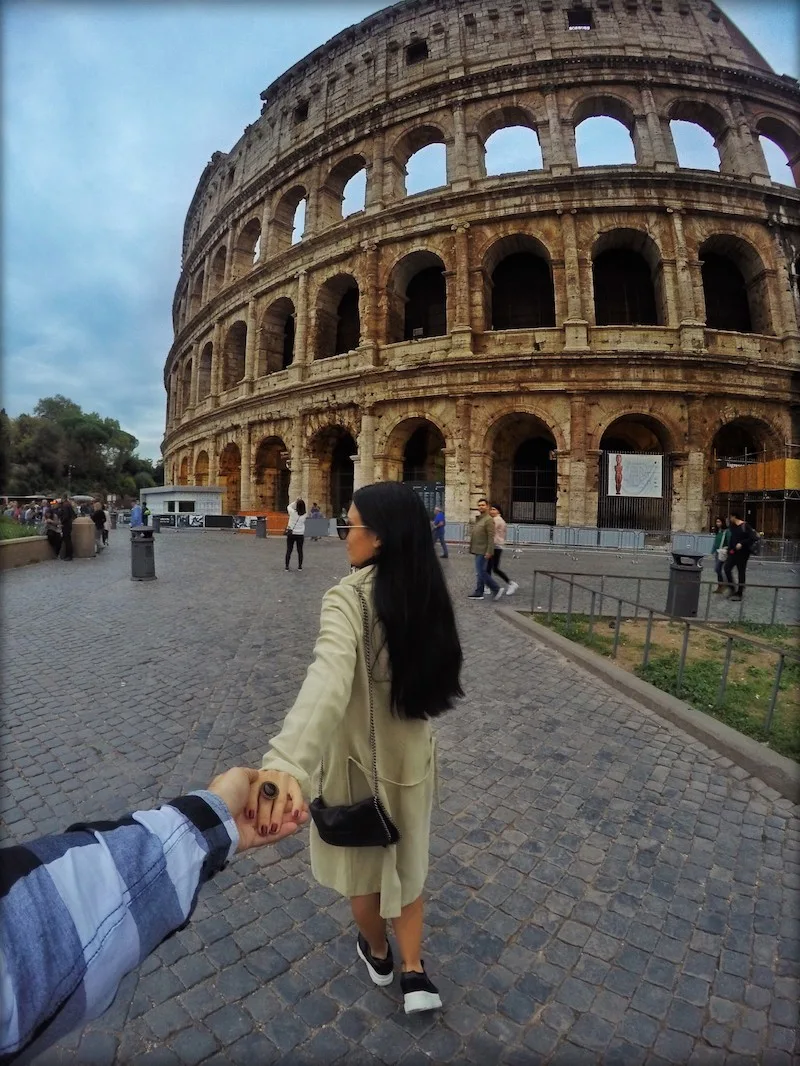 Have you spent a weekend in Rome in October? What did you pack for Rome?
Read all of my blog posts about Rome here, which include:
10 essential travel tips for a first-time visit to Rome
5 stunning places to watch the sunset in Rome (perfect for romantic trips!)
5 unique tours to take in Rome