The sun was blazing as I drove along the North Wales coast with my windows down and the radio blaring. I perched my elbow on the open window whenever I could, partly to catch some rays but also to feel the sea air and the warm breeze whipping past.
I never normally do this. The windows are normally tightly shut while the air-con lets out a stale stream of cold air. I'm usually running late and my mind is frantically running through my to-do list, reordering and rescheduling things according to priority. I wondered to myself why on earth I'd ever use air conditioning when I can have the real deal created by Mother Nature herself?
And this trip was all about Mother Nature. It was all about enjoying my beautiful surroundings without the interference of technology or mod-cons. It was about flickering candles over bright lights. Wood burning stoves over central heating. Tea slowly boiled over a fire with a whistling tea pot rather than a quick brew with the kettle. It was about reading a book rather than binging on Netflix and taking a couple of hours to prepare and enjoy dinner. It was about long walks next to the stream, skimming stone across the shore, wandering between quaint boutique stores and enjoying ice cream next to the sea.
It was about all those lovely, slow, relaxing, old-fashioned activities that we never have time to do because we're so busy with modern stuff. So busy buying things, cleaning things, replacing things, upgrading things and fixing things. Sometimes it's good to put all of these things to the side and just enjoy life.
I was spending the next few days glamping with Wonderfully Wild near the seaside town of Beaumaris on Anglesey.
If you aren't familiar with 'glamping', let me explain. Glamping is my favourite type of holiday at the moment. It's like camping in that you're usually in the countryside, often in a field surrounded by mountains and trees. There's no electricity, no wifi, no TVs and no games consoles. There's no oven so meal times are slow and relaxing. There's not even an electric kettle so even making a cup of tea becomes a ceremony of stoking the fire and waiting for that high pitched whistle of boiling water.
You feel cut off from the world, but in the best way possible. In the way that allows you to truly relax and stop thinking about your to-do list and next week's work project and all those chores.
So you've got this camping side to it but with a luxury twist.
You swap the tiny, soggy tent for something bigger, sturdier and quirkier. You swap a skinny mat on the ground for a four-poster bed and that rickety camping stool is switched for a snuggly sofa. Add a hot water shower, proper toilet, a fully equipped kitchen and plenty of space and you've got the makings of a perfect glamping hideaway.
Wonderfully Wild is Anglesey's finest luxury glamping site with six beautiful safari lodges. It's run by Victoria and Robin, a lovely couple who make you feel at home the second you arrive.
I'd just pulled into the parking area when Victoria arrived to greet me and show me to my lodge. We grabbed a colourful wheelbarrow and loaded it with my bags made our way across the field with my dog, Louie, happily trotting at my heels.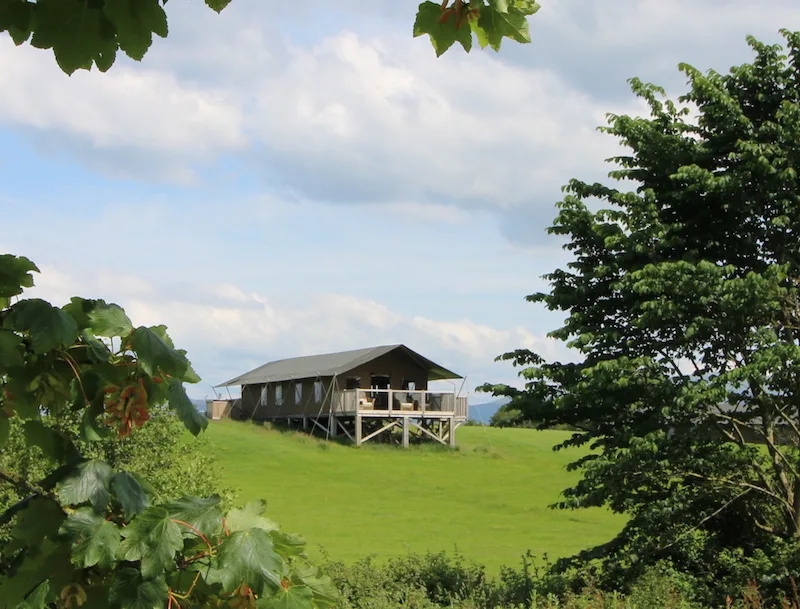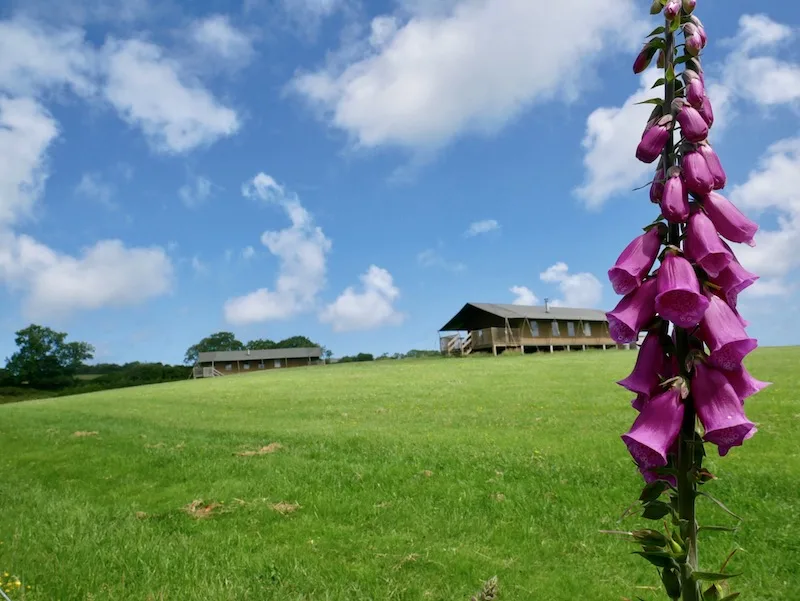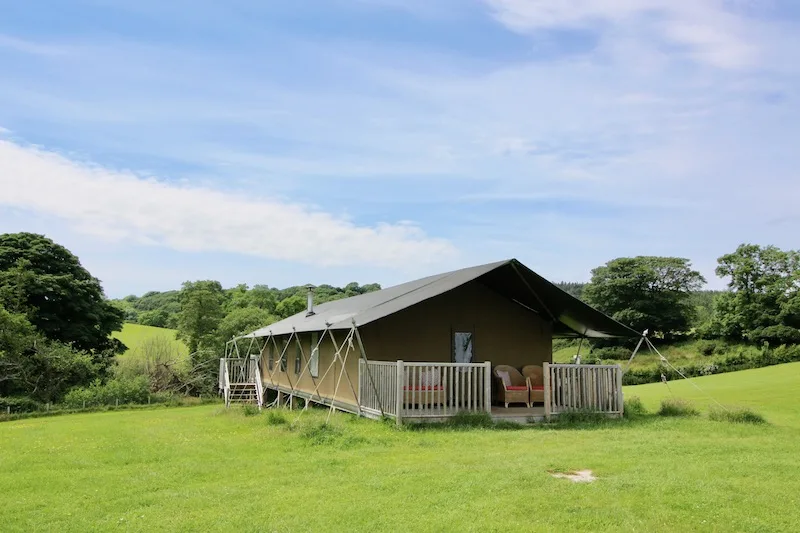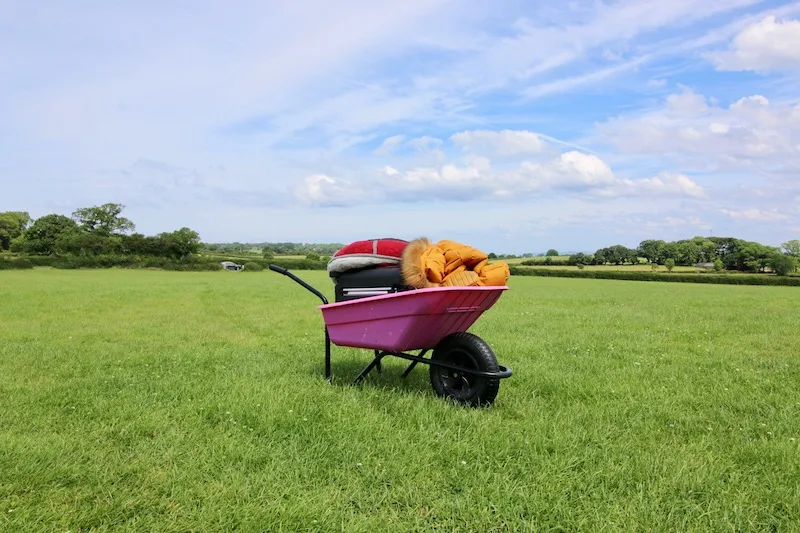 I knew this was going to be extra luxurious as we approached the huge safari tent. Victoria steered me away from the back door and towards the front entrance where an enormous raised veranda looked out over the countryside. Stepping inside the tent and you're hit by that lovely, warm scent of wood. It's outdoorsy but sweet and deliciously cosy.
I was greeted by plush sofas, a large dining table, a log burner with a basket of chopped wood, a spacious kitchen with shabby chic touches and everything I could possibly need. There were two bedrooms, one double and one twin, and a fun cabin bed with a den beneath. A bathroom was at the back with a toilet and washbasin on one side and a shower on the other.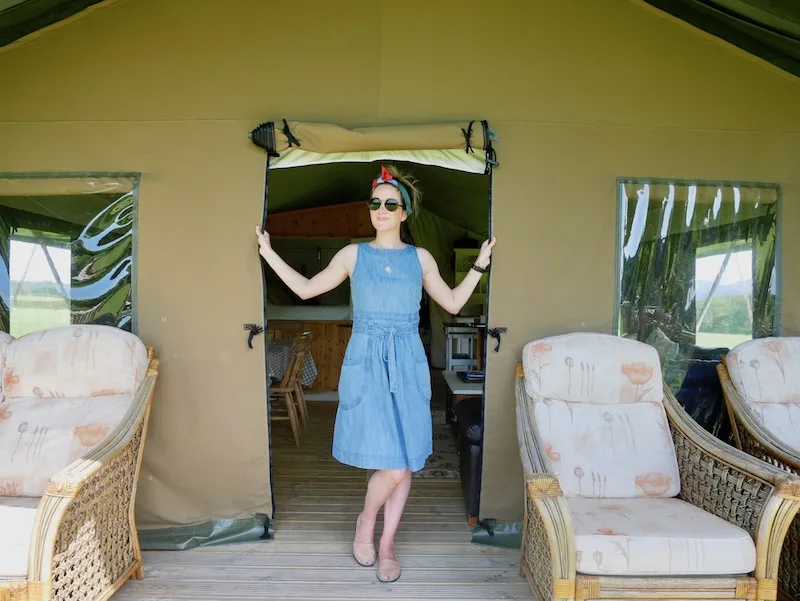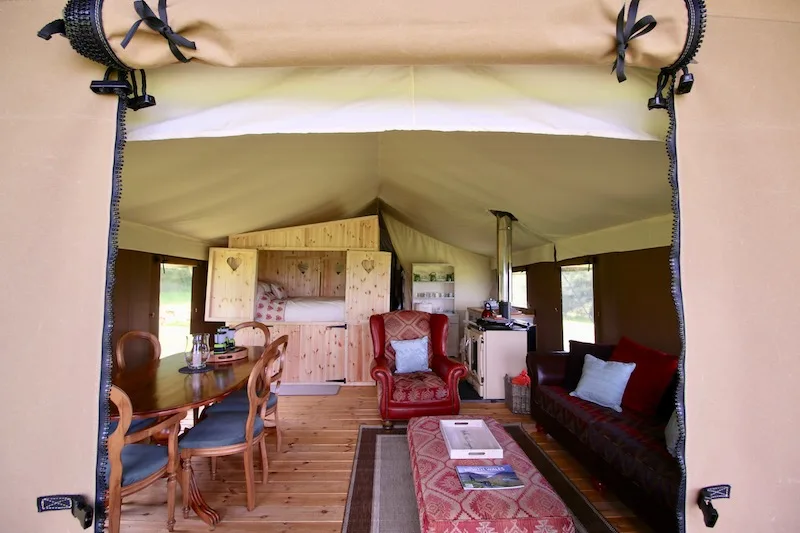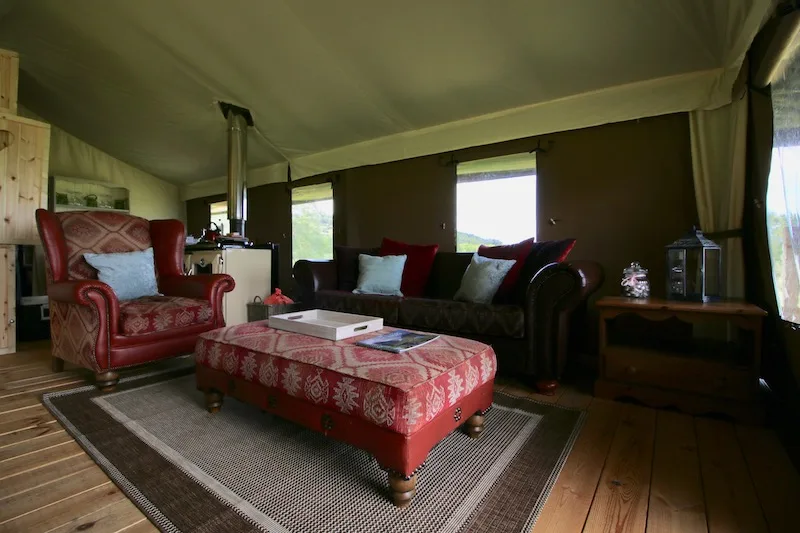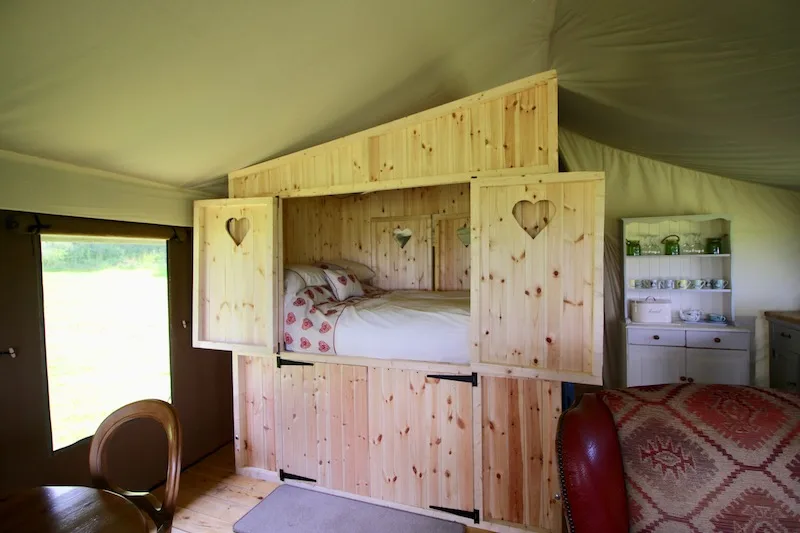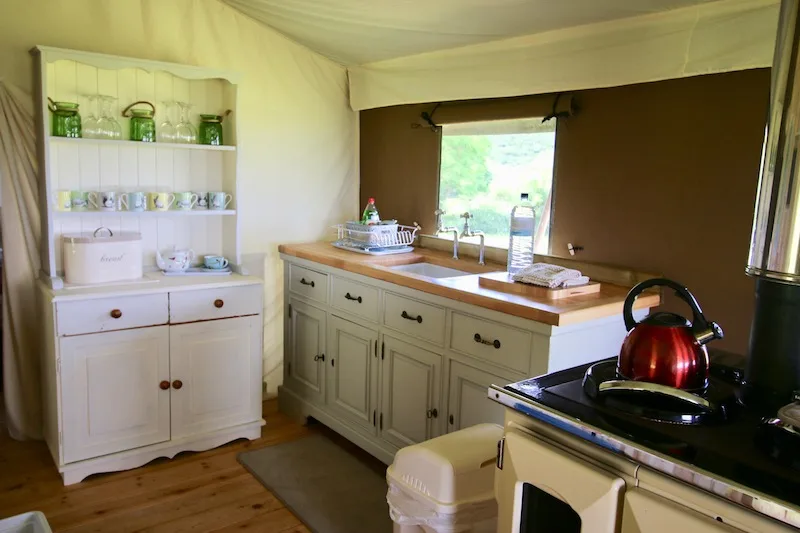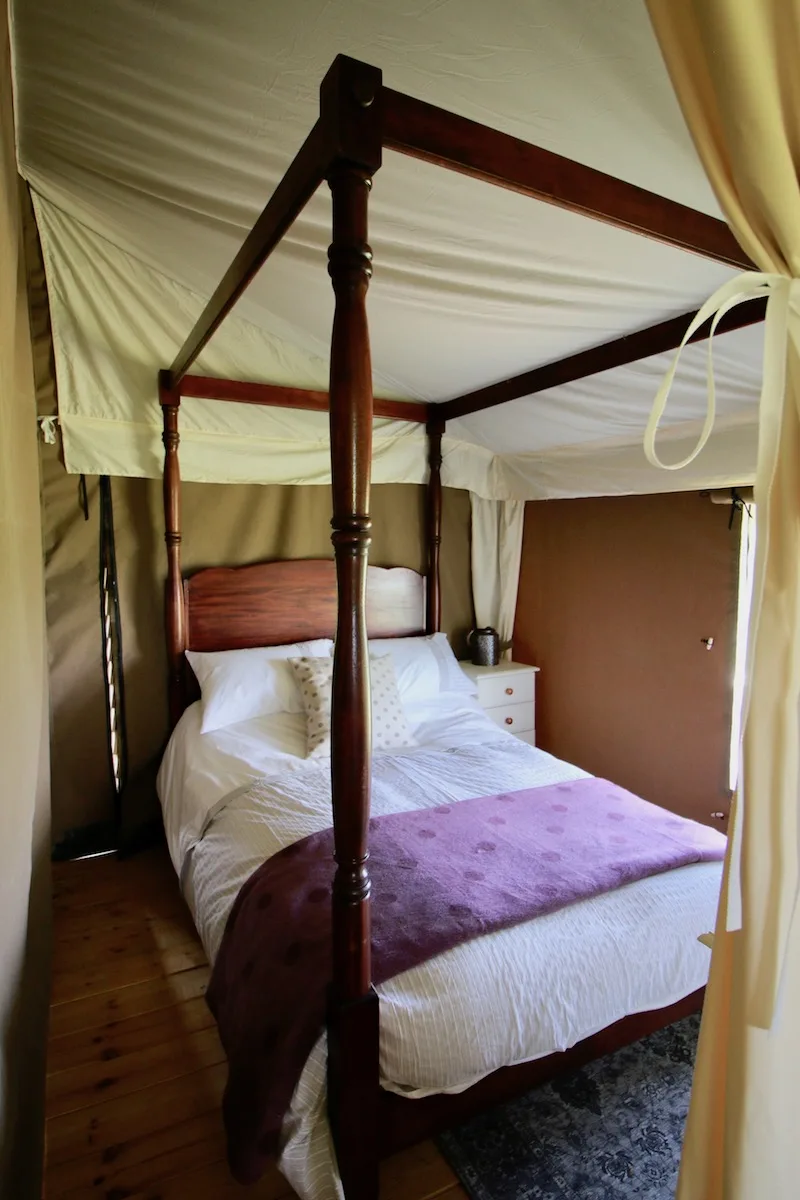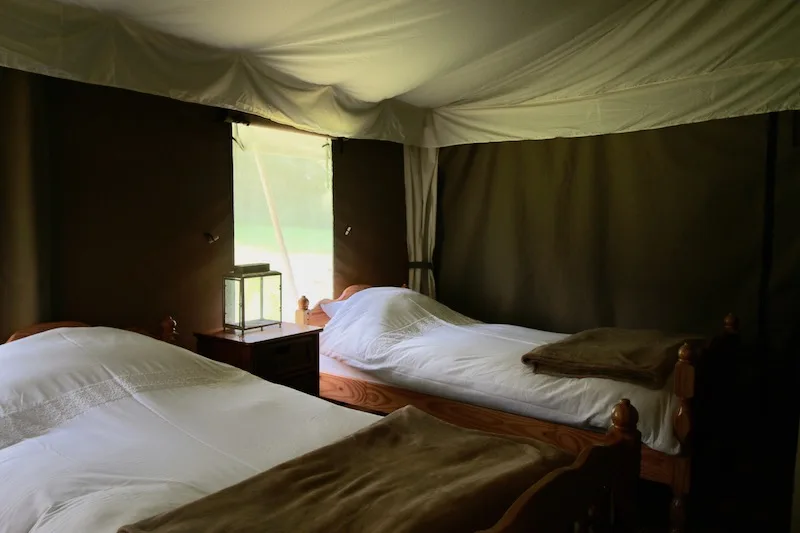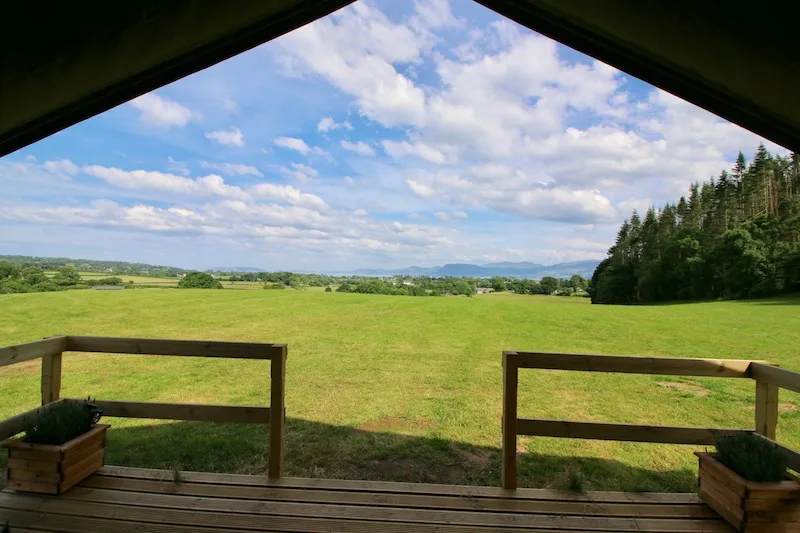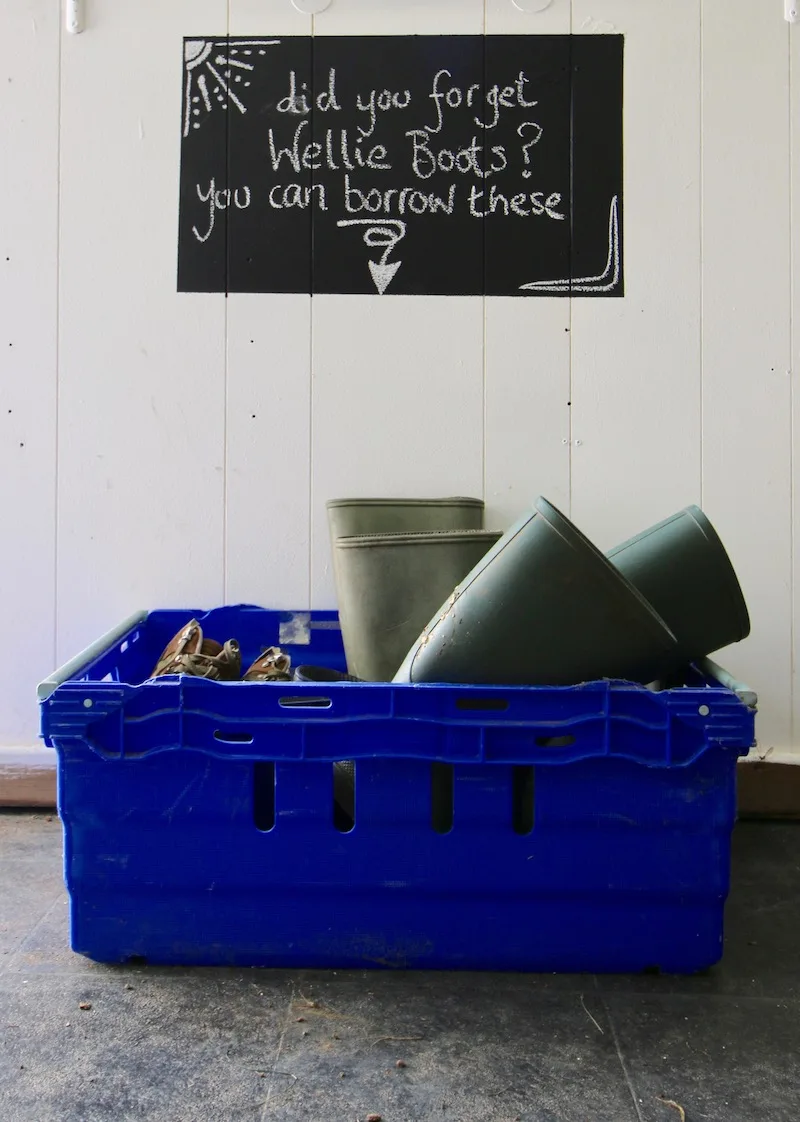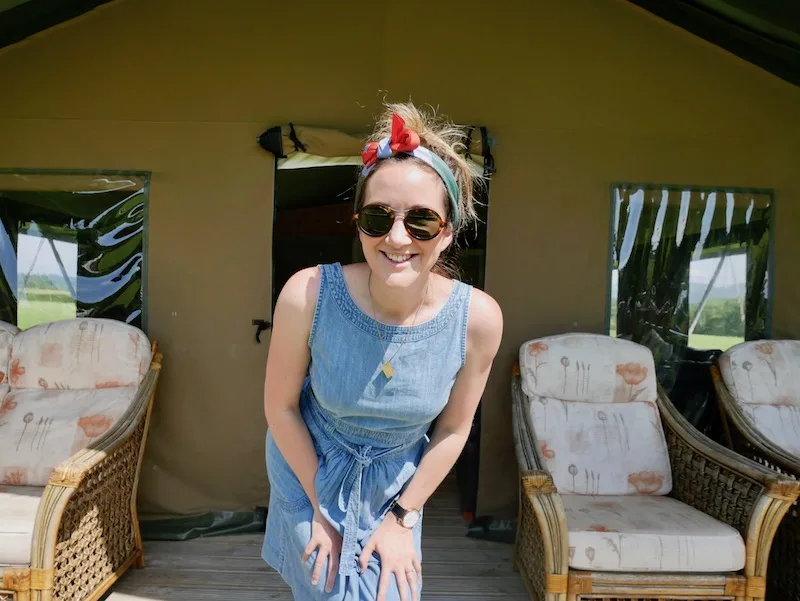 Dress | Sunglasses (which I adore!) | Headscarf (similar) | Watch
Once I was settled in my lodge I had this weird conflict I never normally have. When I arrive at a hotel I usually dump my bag and rush out to explore my new destination. But once I was in my lodge I didn't want to leave!
I lingered for a while but finally dragged myself away to head out and explore the pretty little town of Beaumaris.
I think Beaumaris must be the most Instagrammable town in Wales. Think cute cottages in every pastel colour you can imagine. Think tiny boutique stores with enticing shop fronts and quirky buildings that are wonky and charming. Think sea views and palm trees, ice cream shops, pebble beaches, blue seas and rolling mountains in the distance. There's even a castle! Come on Instagrammers, it doesn't get much better than that!
Louie and I strolled around and walked along the beach as I soaked up as much charm as I possibly could. I popped inside a few little shops and left Louie tied up outside. Every time I returned he'd have a new crowd of admirers and kids who stopped to pet him and play with him. I think it's fair to say that Louie enjoyed Beaumaris as much as I did!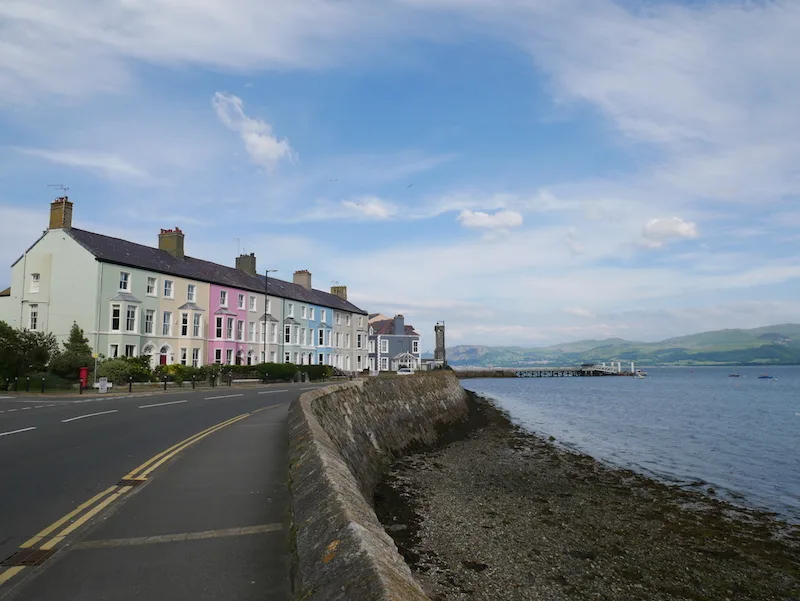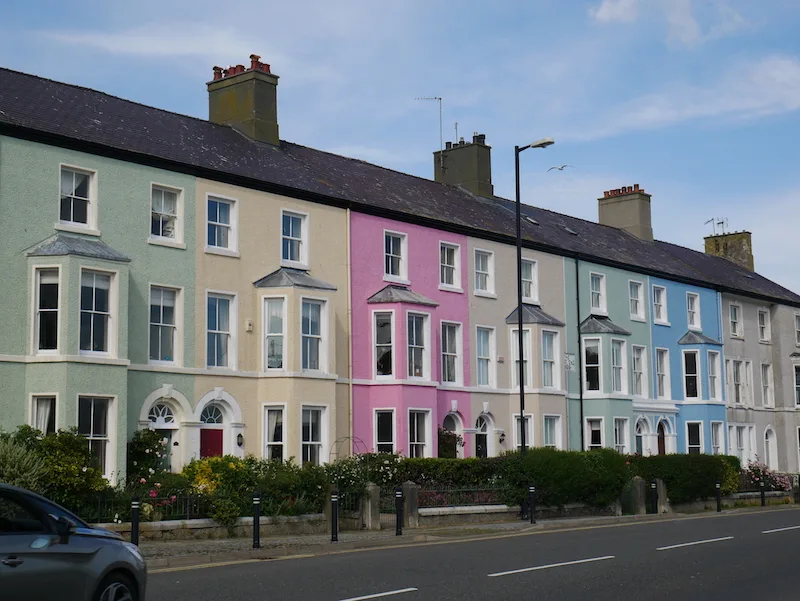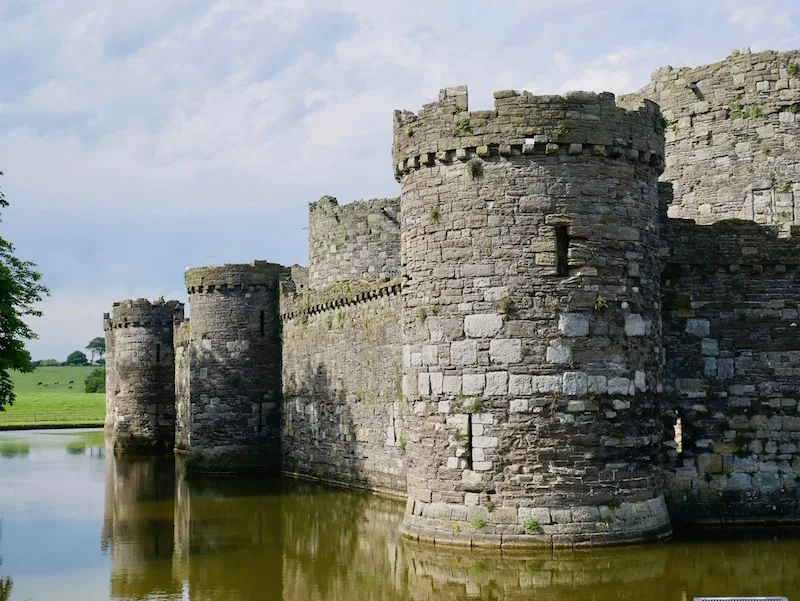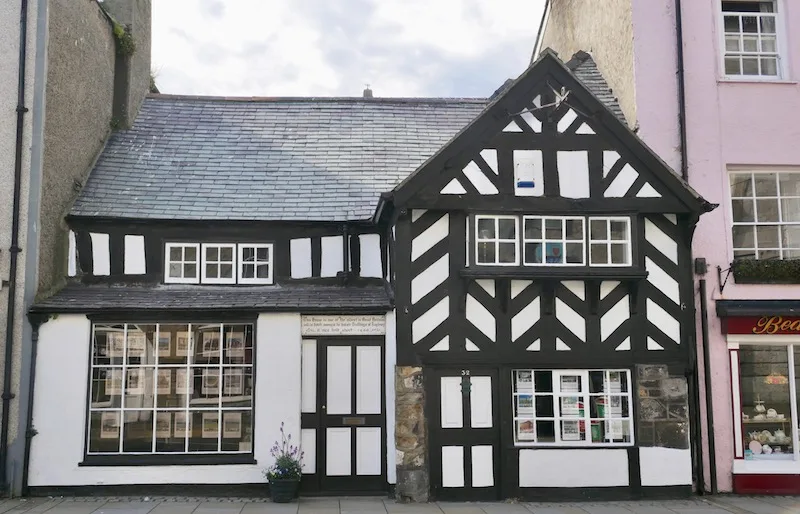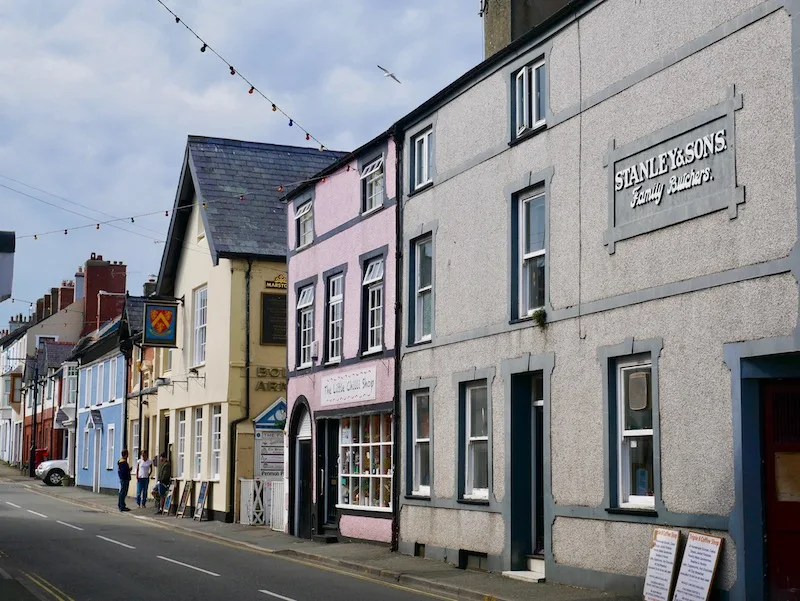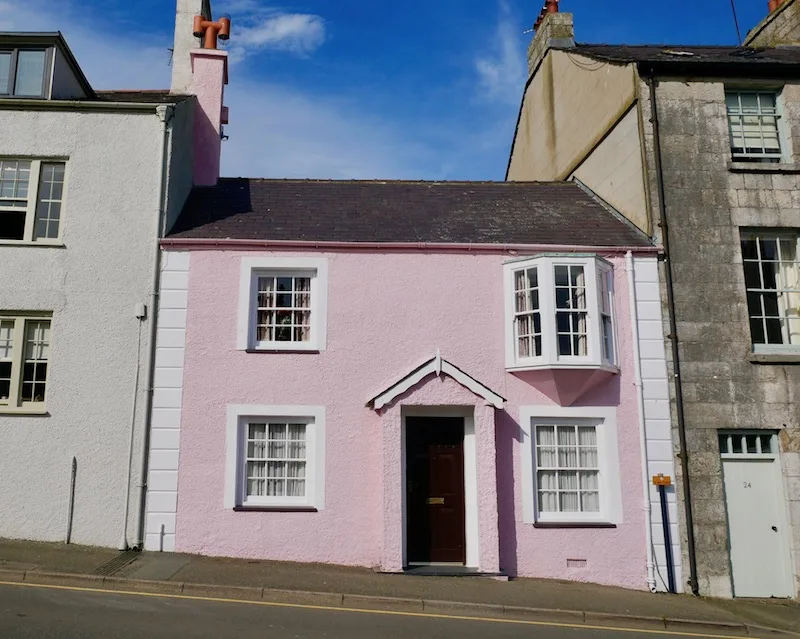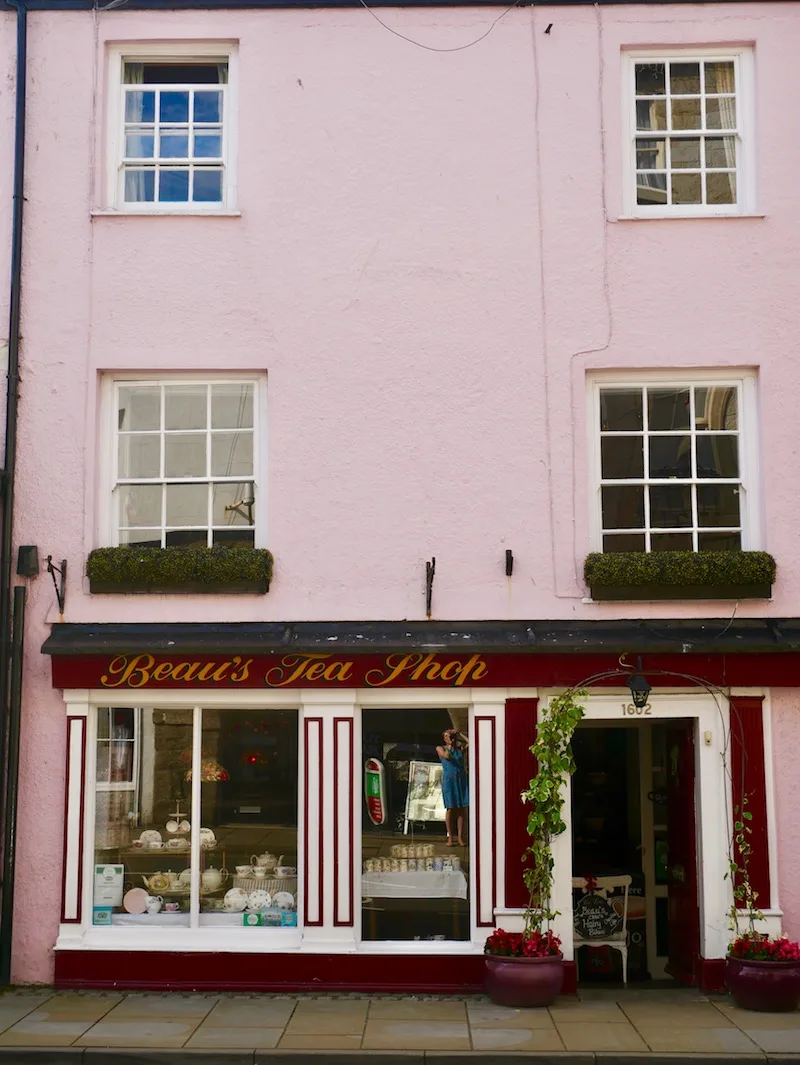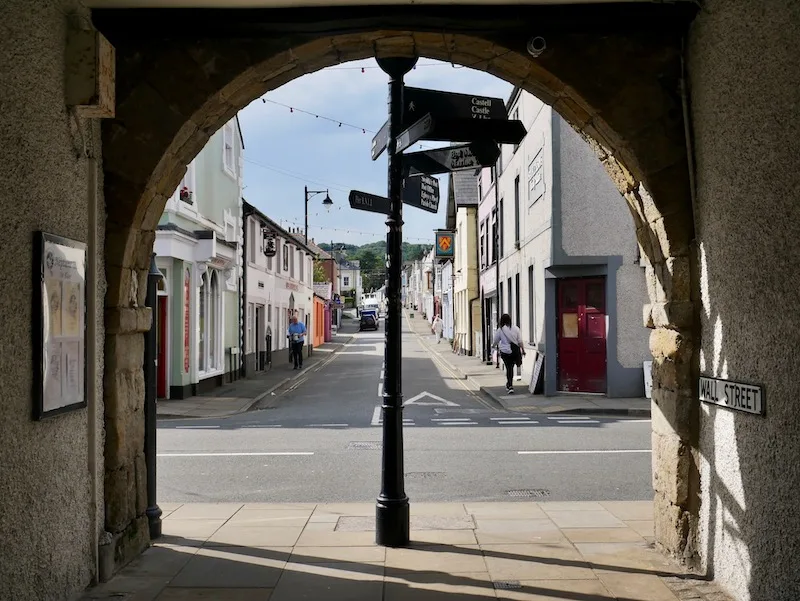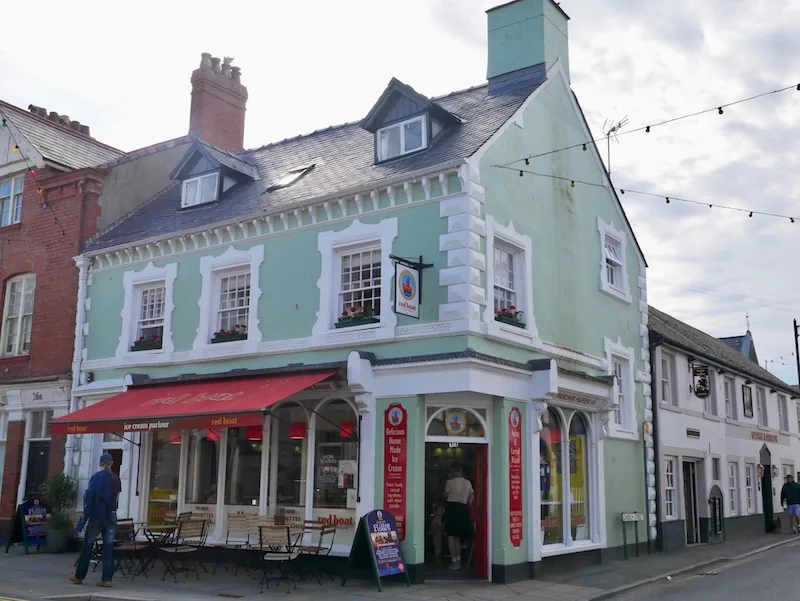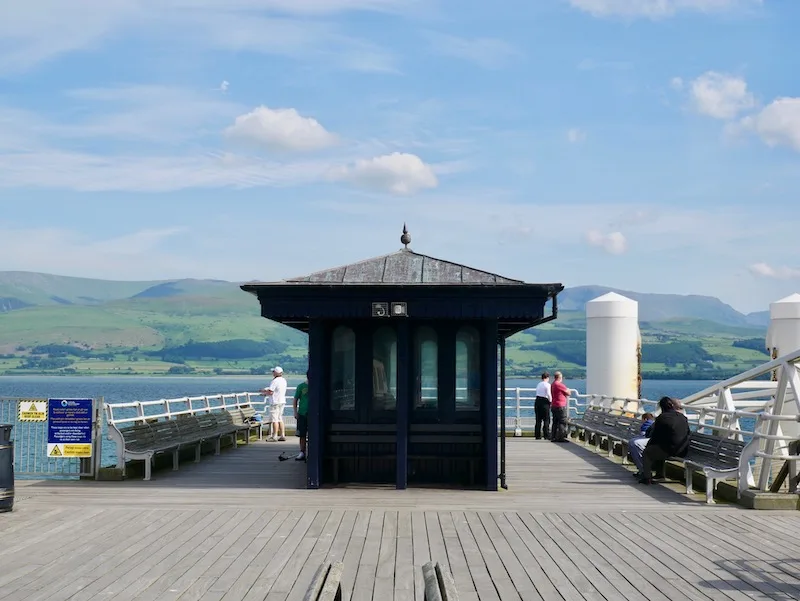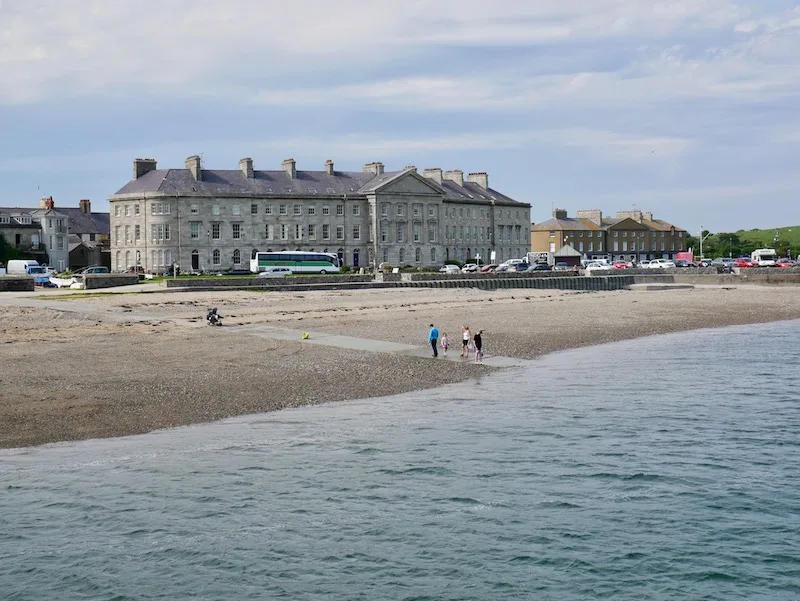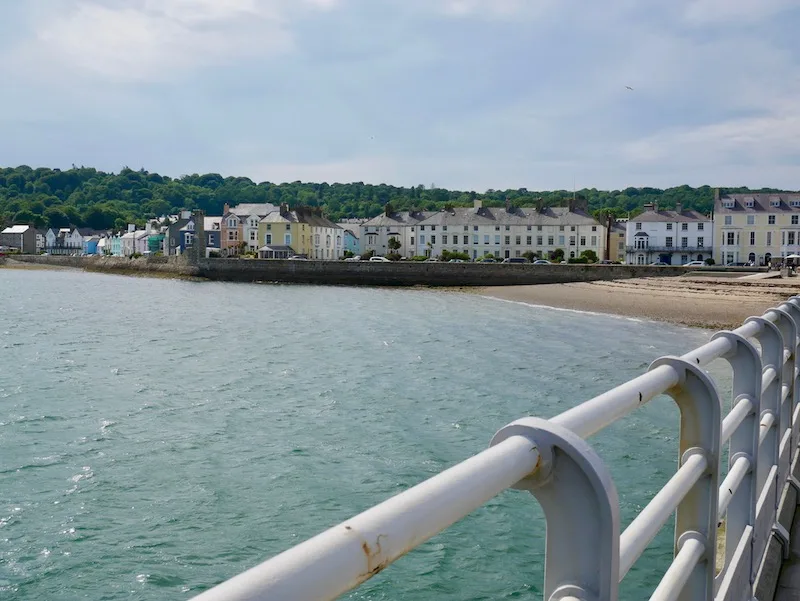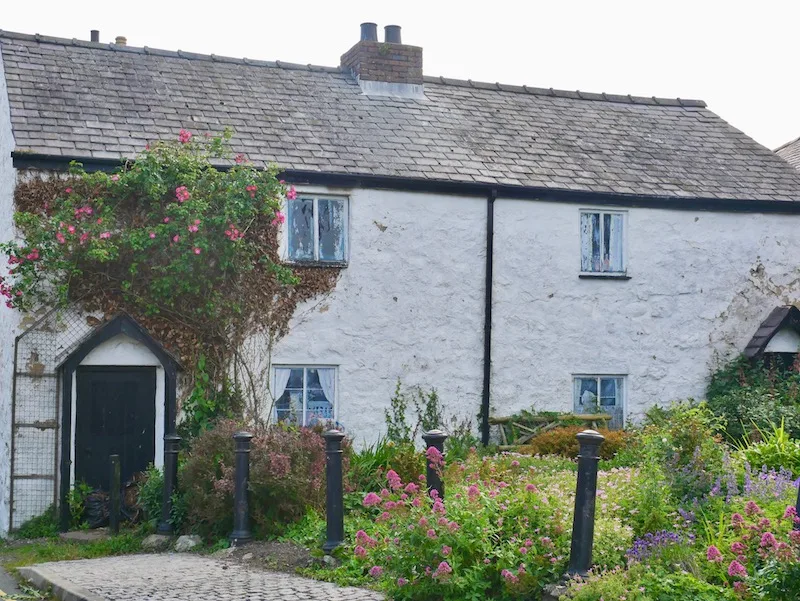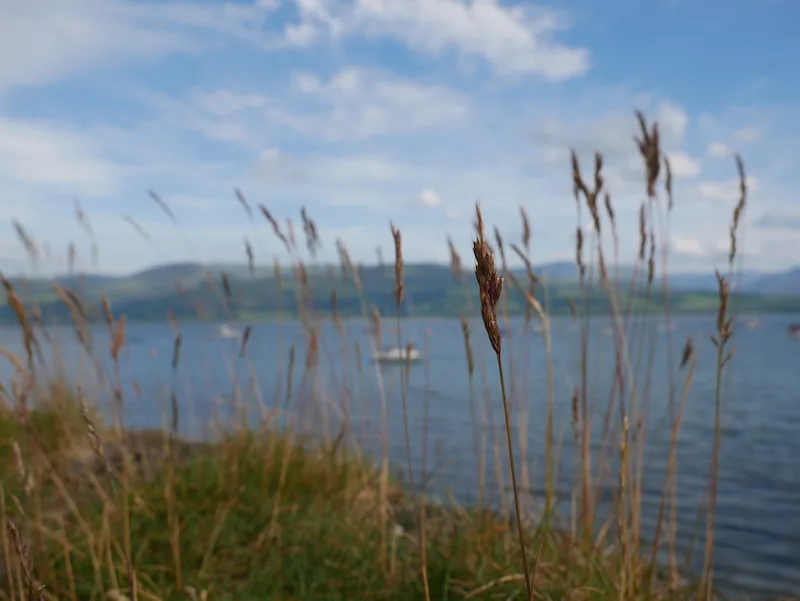 As dinner time approached we made our way back to the lodge to prepare a fire and get cosy for the night. I'd picked up some Bara Brith and Welsh Cakes and spent the evening curled up next to the fire as I devoured these Welsh goodies. Bara Brith is a soft and delicious fruit cake and Welsh Cakes are like flat scones – I really must share a recipe here on the blog one day as they're pretty much the only things I can bake!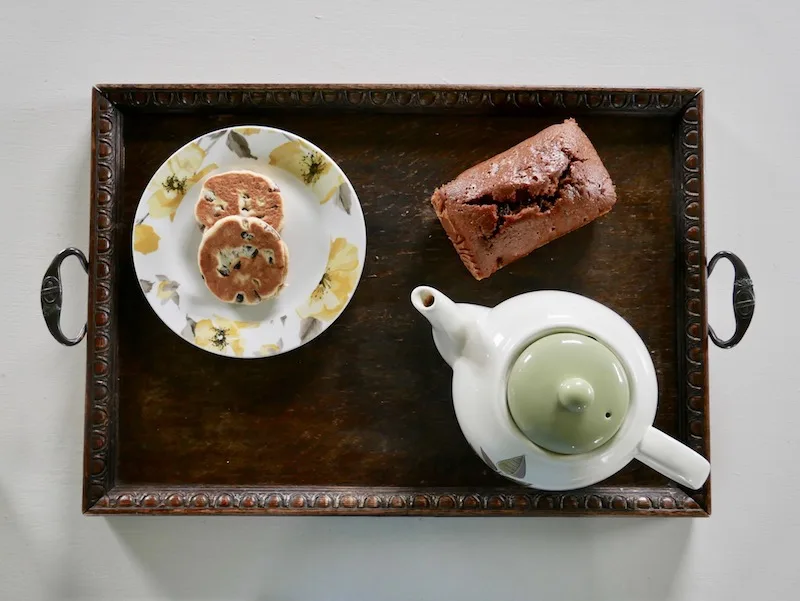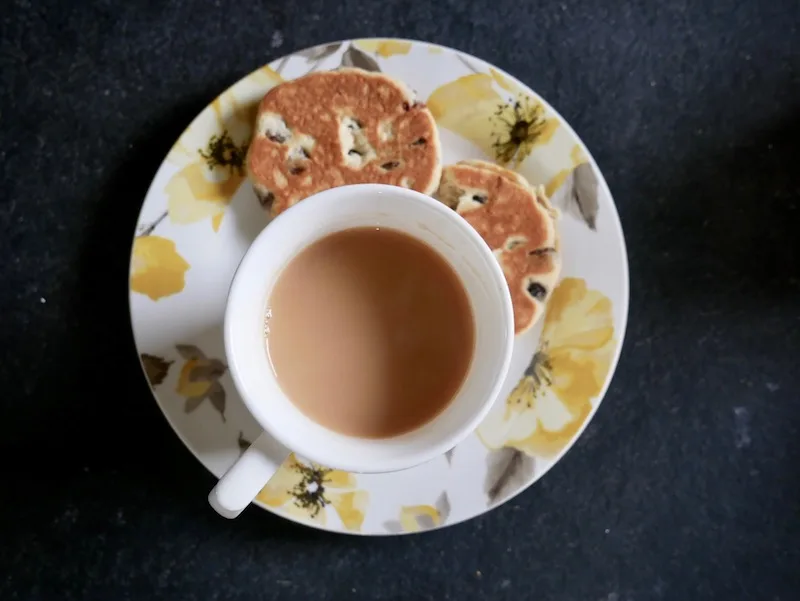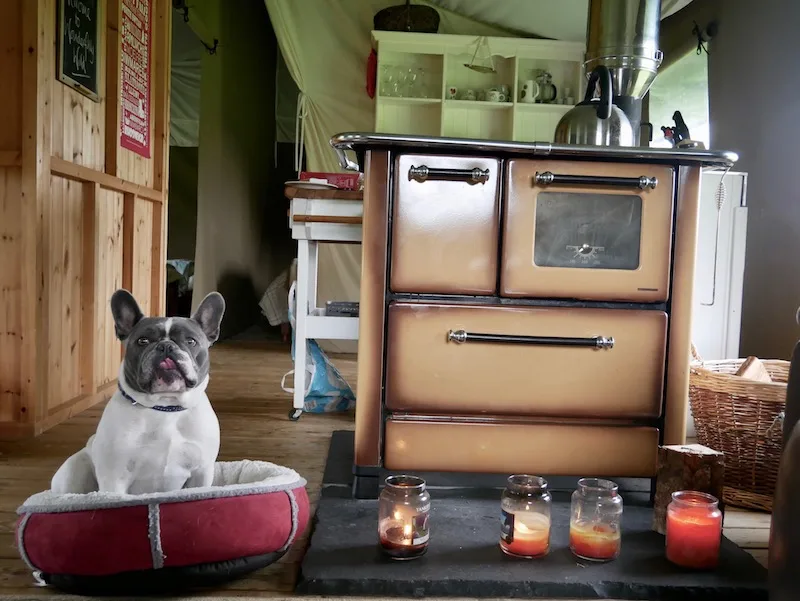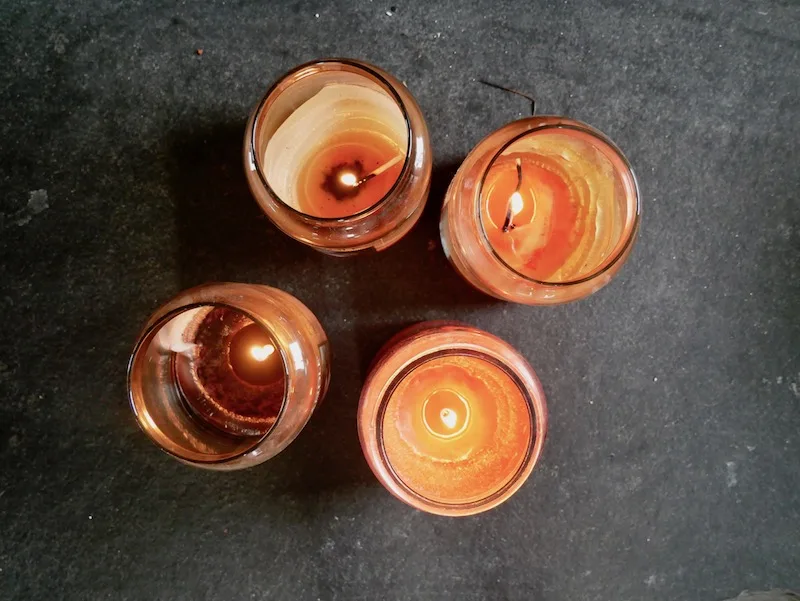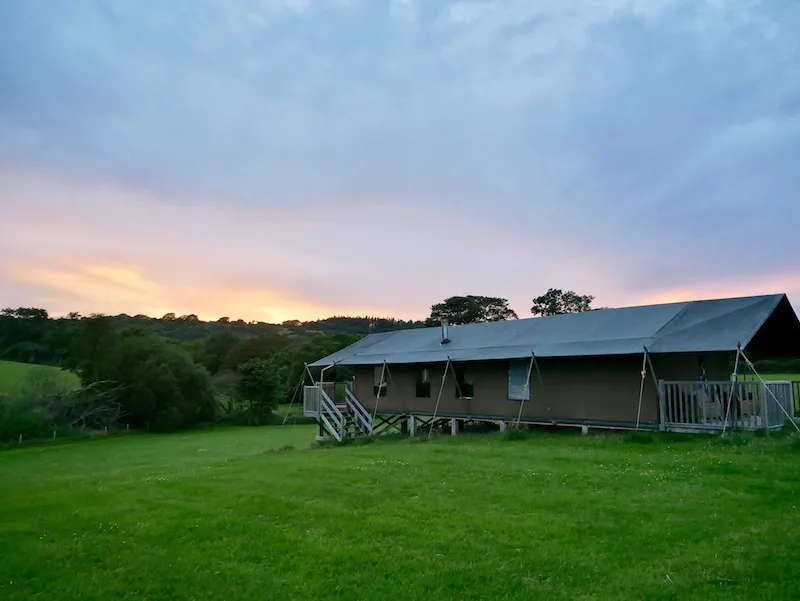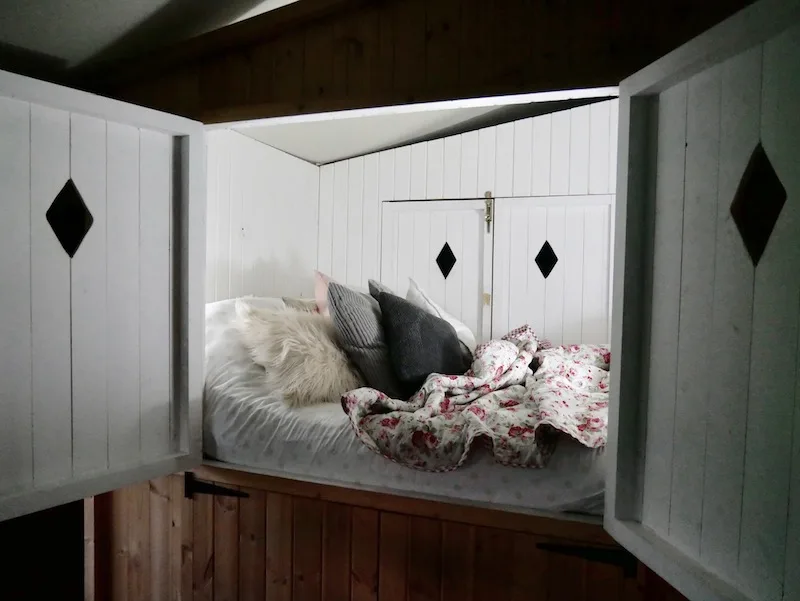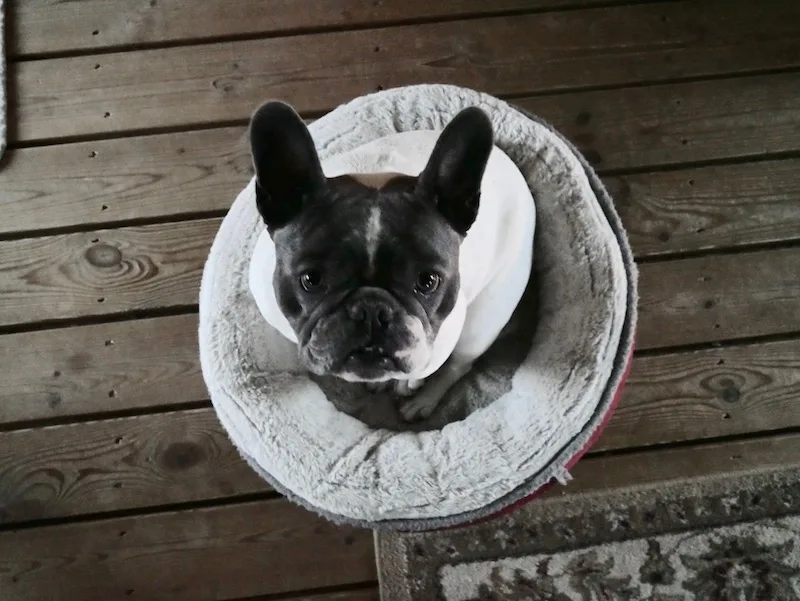 At about 8pm the battery on my phone died. I felt an instinctive pang of fear as I realised I was uncontactable. But was it fear? Or was it FOMO? I'm so used to be constantly connected, always sharing things, taking photos, tweeting, WhatsApping, Facebooking, Instgarmming and scrolling, scrolling, scrolling. Always scrolling.
And then I stopped and I just sat.
I sat and enjoyed my book. A glass of wine. The gentle roar of the fire and the crackle of a candle as it flickered. Louie sitting warm and heavy on my feet. For the first time in ages I felt peaceful. Relaxed.
I was in bed by 10pm. Mostly because I couldn't wait to get into this cosy little cabin bed. OK, it might be intended for children but, come on, look how cosy it looks!
I think I was asleep by 10.01pm and woke up at….wait for it…10am the following morning. 12 hours sleep. Anyone who has little kids knows this is the ultimate dream! It was pure bliss and I woke up like a new person!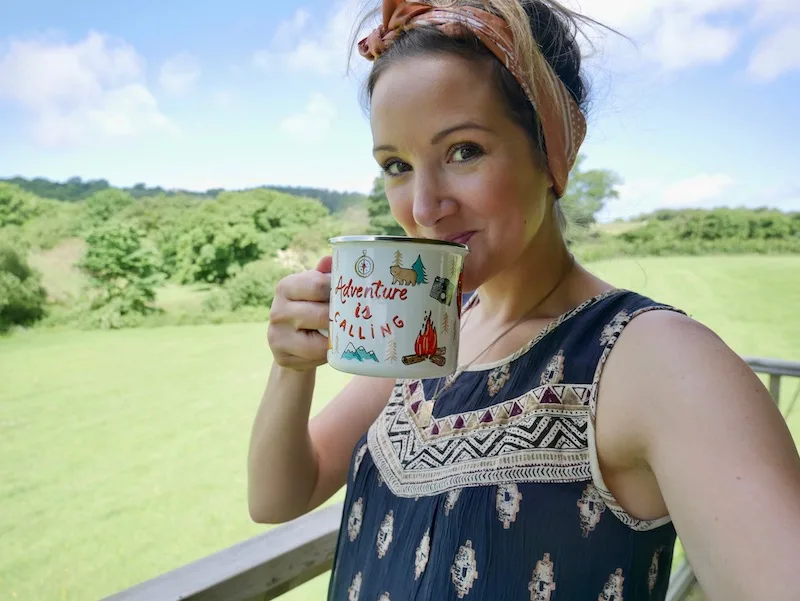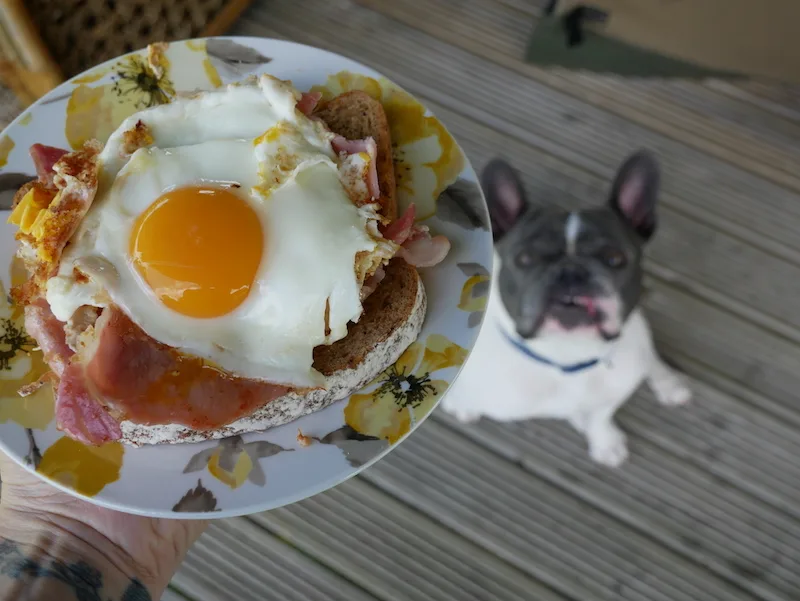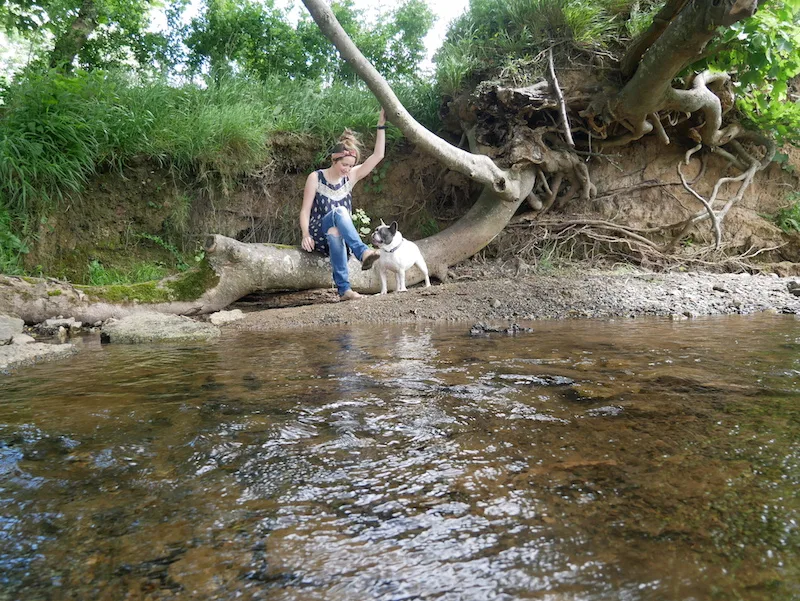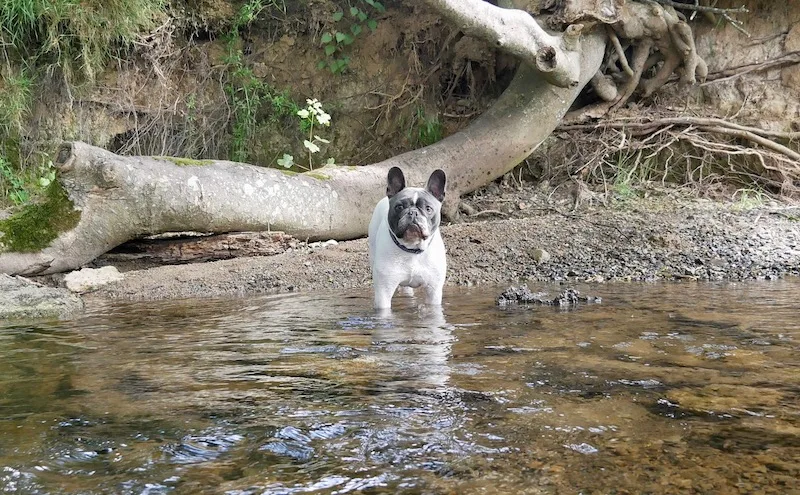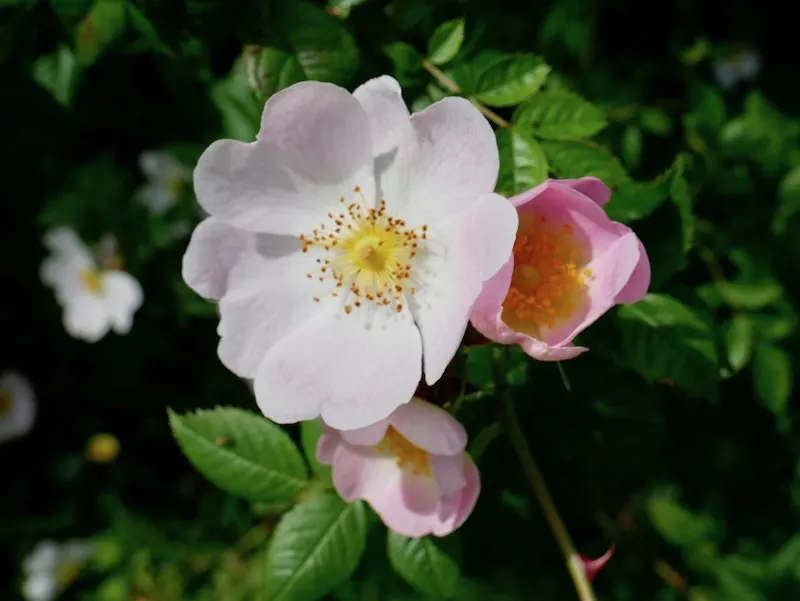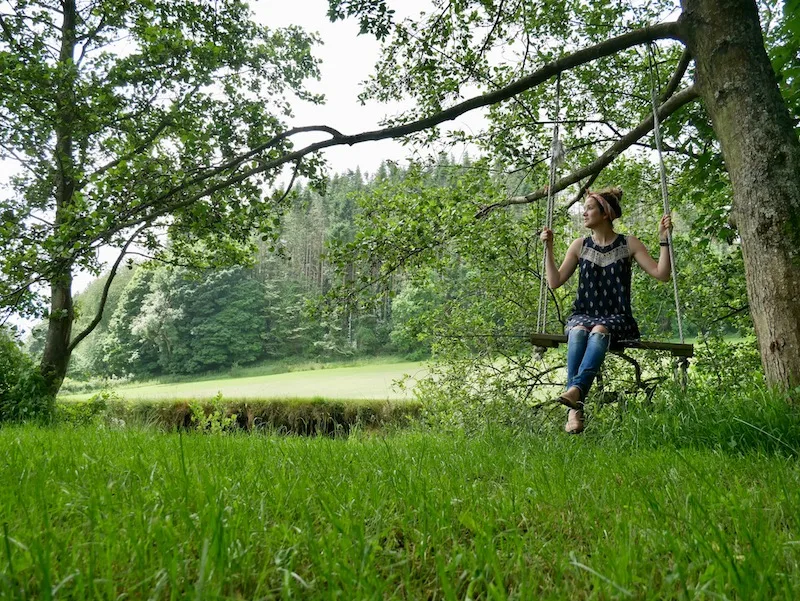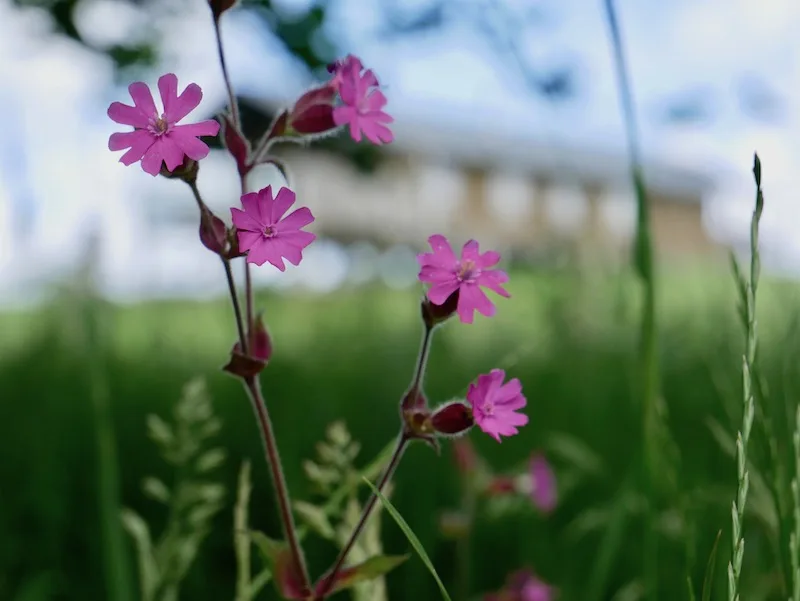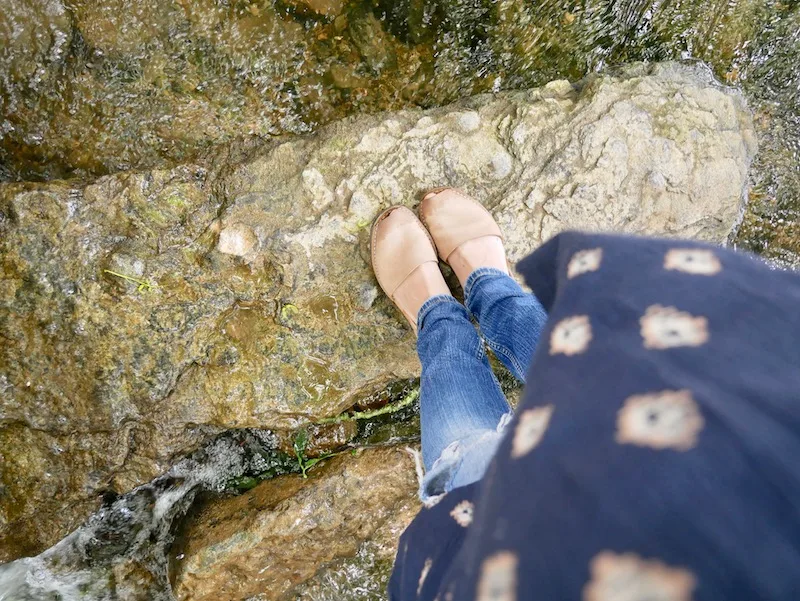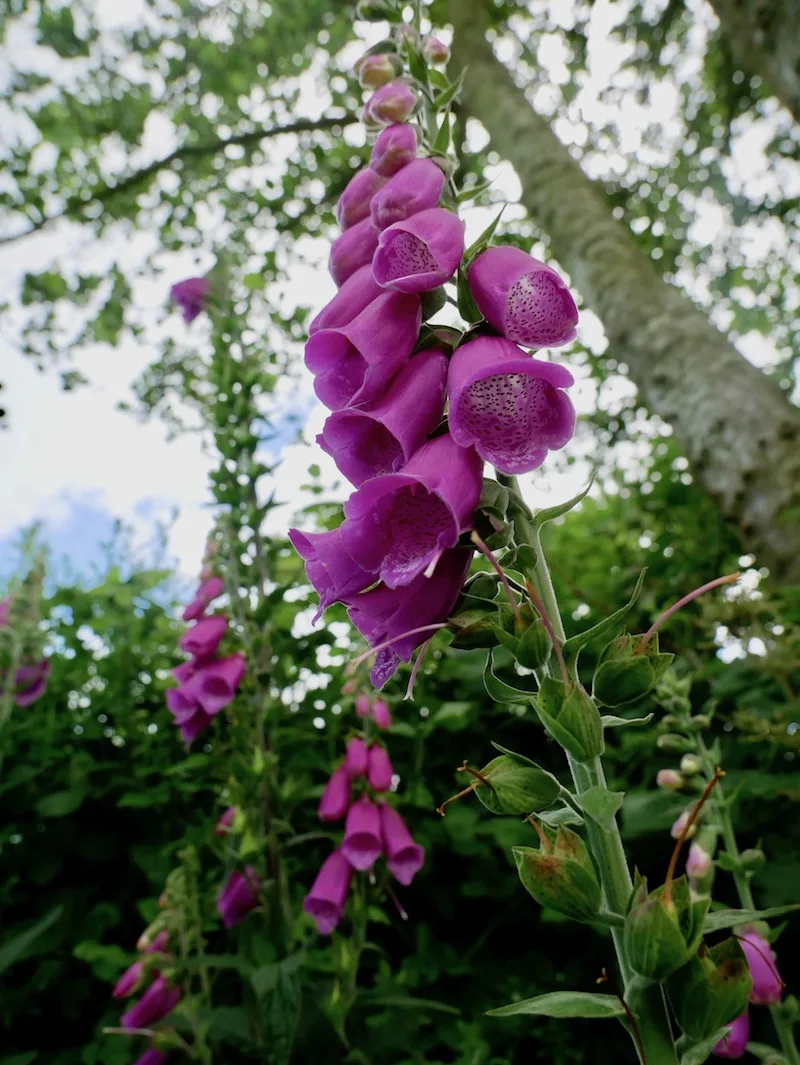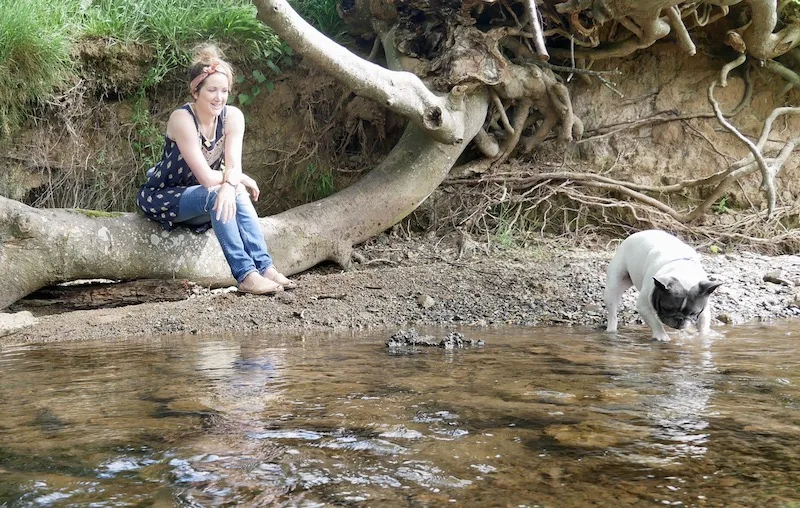 I cooked a big breakfast of bacon and eggs before taking a final stroll around the fields. Louie splashed excitedly in the stream, dragging sticks and branches to my feet so I'd throw them into the water for him.
I took a detour on the way home, not wanting my trip to be over so soon. I'd had a recommendation from Sophie Cliff (who just got married in the area so congratulations Sophie!) to visit Penmon where there's a gorgeous stripy lighthouse. Unfortunately, I got lost somewhere along the way and I didn't find the lighthouse but I did find some gorgeous beaches and beautiful countryside.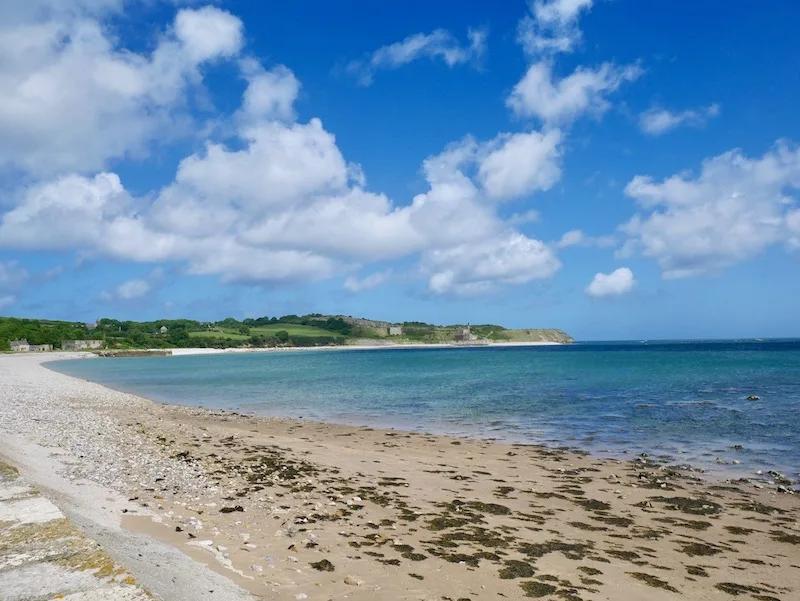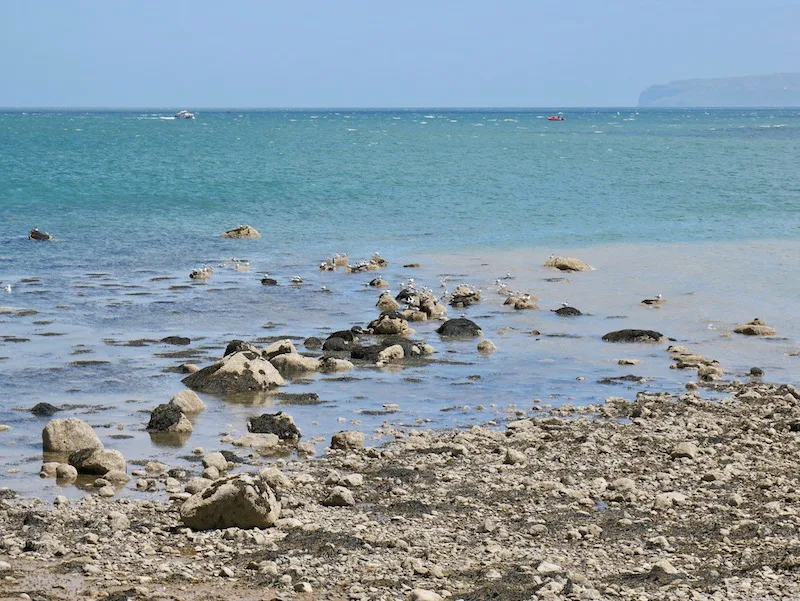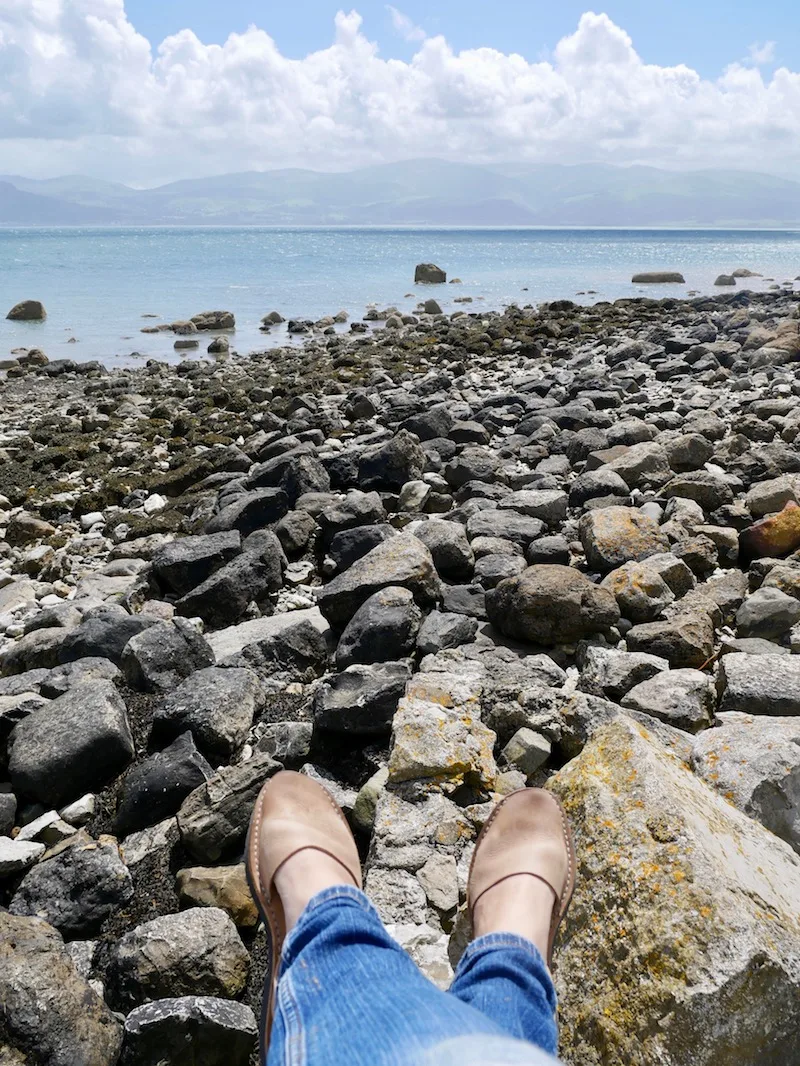 I'd like to say a massive thank you to Wonderfully Wild for hosting my stay. Find out more about Wonderfully Wild here.
I also recommend following them on Facebook for their latest updates. They have two new lodges and some new hot tubs and they've posted some updates.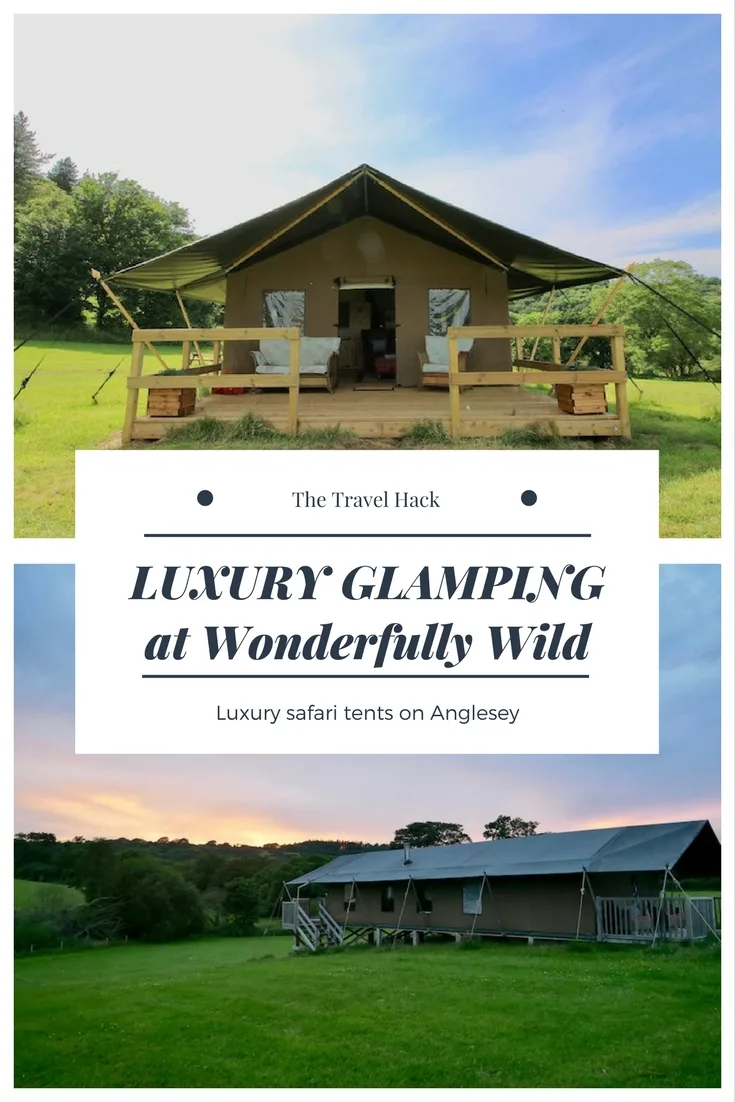 Read more about glamping and Wales:
Staying in a treehouse in Wales
Luxury glamping weekends in Wales
Glamping with Featherdown Farms
Glamping in a shepherd's hut in Swansea Bay, Wales