I'm very excited today to have Laura from Wander with Laura sharing her travel guide to Liverpool with us. I went to Liverpool University and I absolutely loved this colourful and creative city. The main thing I feel about Liverpool is that it's a fun city. No one takes themselves too seriously and there's a laidback vibe that's undeniably inviting. Liverpool might be a city some people overlook as a city break destination but I beg you to think again because this fab little city is one of the UK's hidden gems! Despite living 45 minutes from Liverpool and visiting all the time, I still haven't written a Liverpool guide so I'm really pleased Laura has and I love all of her Liverpool recommendations!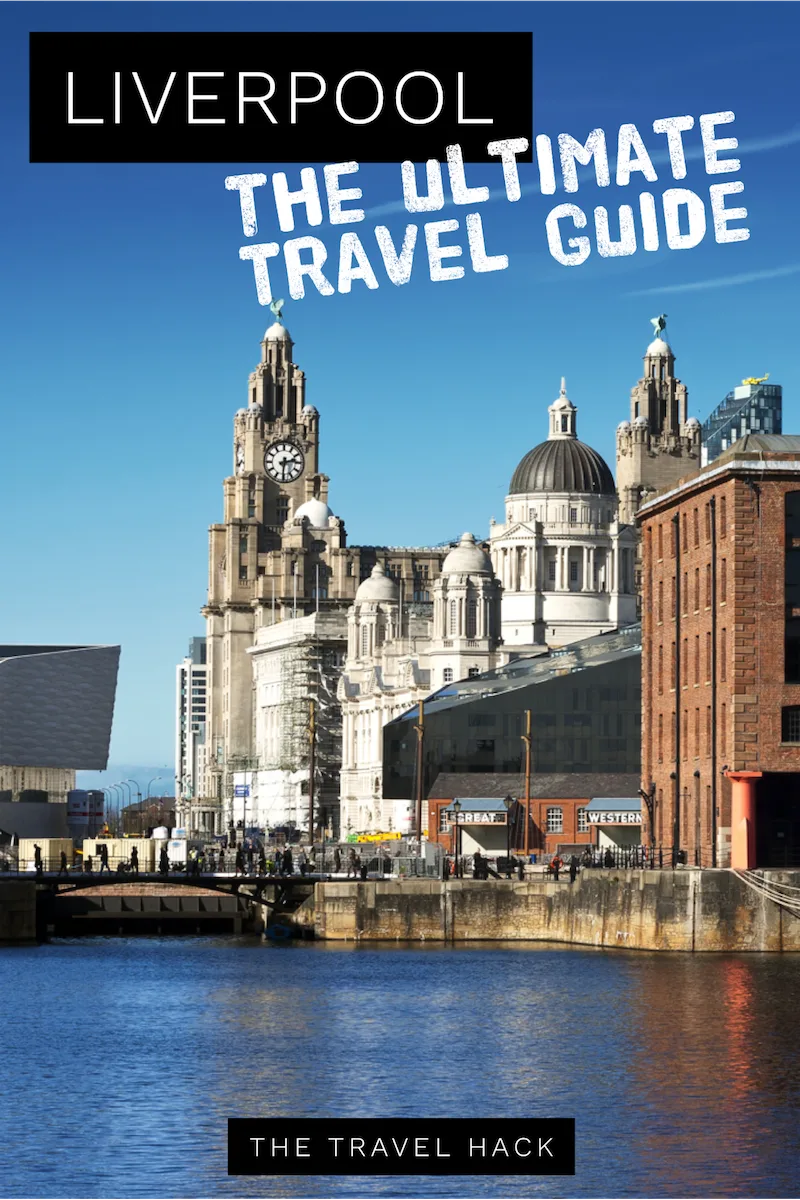 Located in the North West of England, Liverpool is a coastal city with a rich history thanks to its maritime past and musical heritage. The people are famously friendly, the accent is either passionately loved or passionately hated and of course, it wouldn't be a travel guide to Liverpool without mentioning The Beatles. But it's since Liverpool was named European Capital of Culture in 2008 that the city has really began to thrive and over the last ten years, it's become one of the top must-visit destinations in the country.
There's so much to do in the city centre that it's perfect for a city break – especially if your main hobbies are discovering great new bars and restaurants! With a two hour express service to London, it's got pretty good train links to many other cities across the UK and you can easily do day trips to Manchester and Chester at the same time. But let's be honest…once you visit Liverpool, you won't want to leave!
So, why am I so passionate about Liverpool? I grew up just 20 minutes from the city centre, over on the other side of the River Mersey, so really, I guess it's home. But as I've travelled the world, visiting some of the most incredible cities along the way, it's made me realise just how special Liverpool is. There's so much going on: from a vibrant arts scene full of independent businesses to fantastic shopping and nightlife, I just never get bored of exploring the familiar streets. Here's my travel guide to Liverpool from a local's perspective!
10 things to do in Liverpool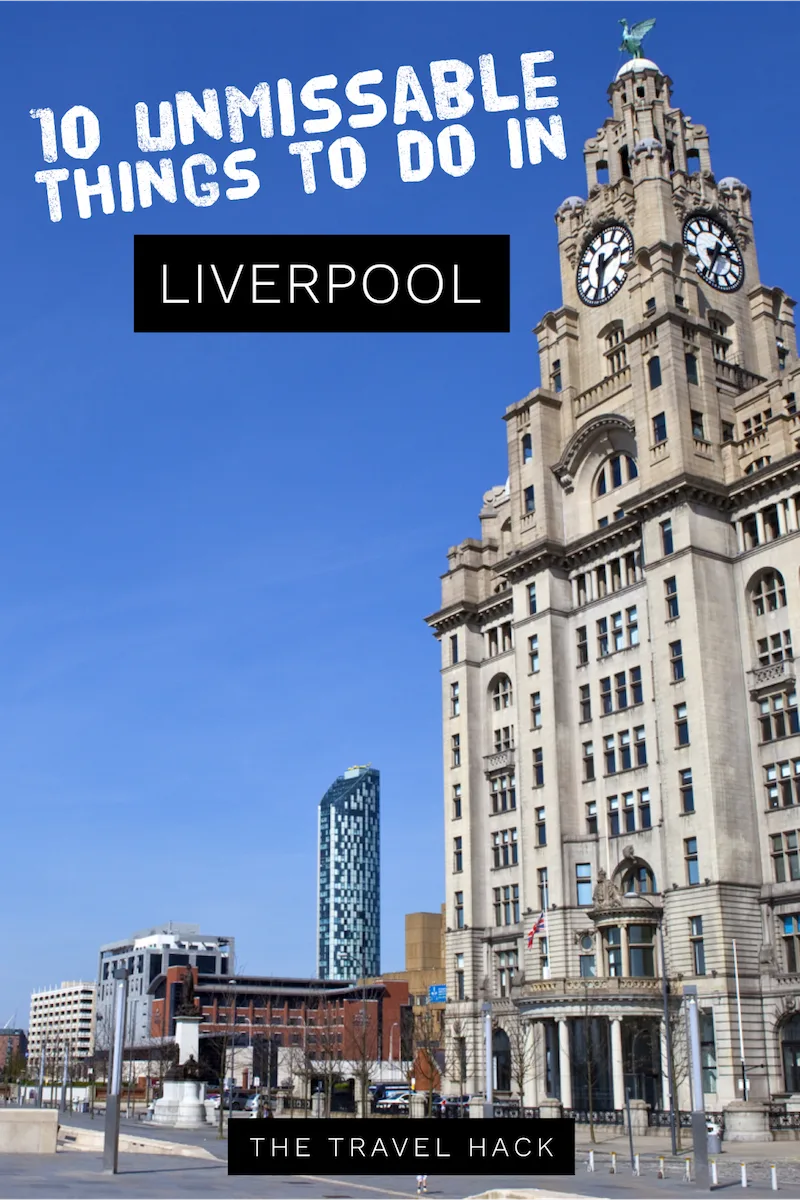 Take in the view from the Anglican Cathedral Tower
Liverpool is home to not one but TWO beautiful cathedrals. Design-wise, they're both very different and while lovers of modern architecture may fall for the newer Metropolitan Cathedral, the tradionally beautiful Anglican Cathedral just about pips it to the post thanks to the amazing tower experience. While it's unfortunately not completely accessible for everyone (think 108 steps as well as two lifts), if you can make it up, the views from the top are so worth the £5.50 entrance fee.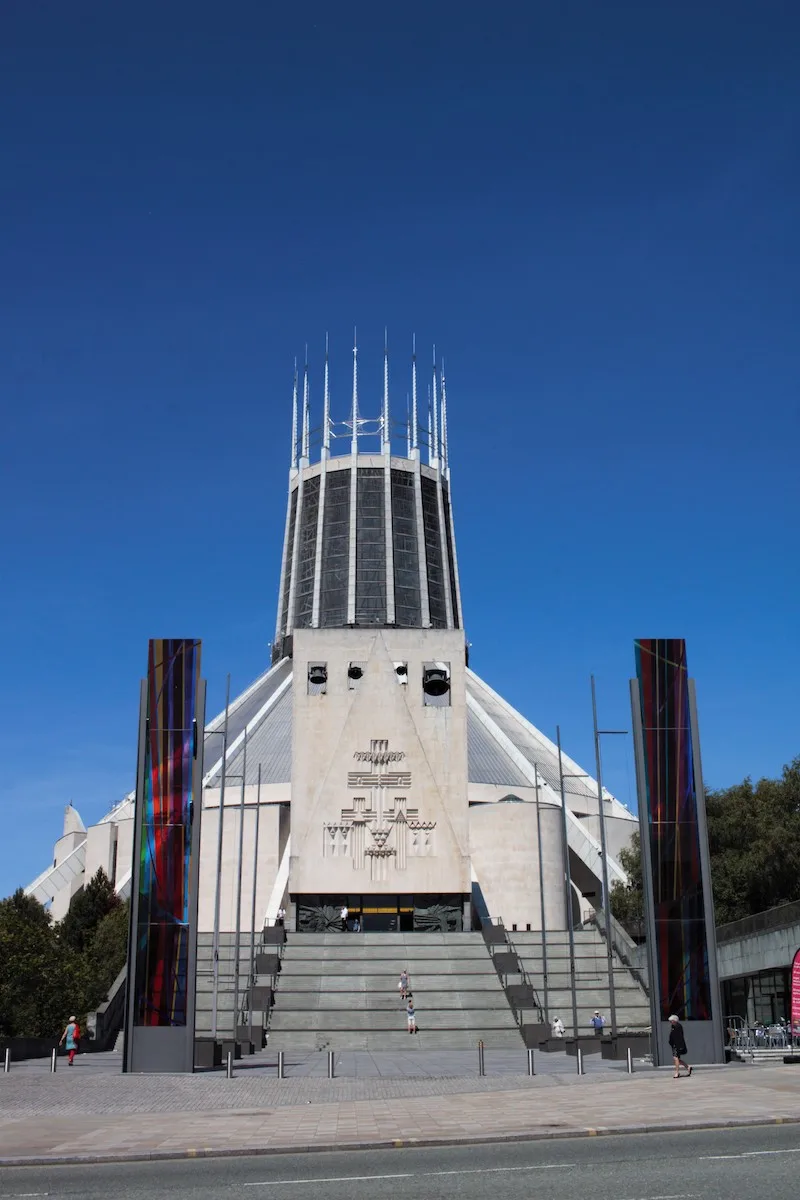 Check out the museums
No matter what your interests, Liverpool is home to some fabulous museums so if you're visiting on a rainy weekend, never fear because you won't be bored! The World Museum has some great permanent exhibits including an extensive Egyptian collection and planetarium – plus, it's currently home to the magnificent Terracotta Warriors! Visiting the Museum of Liverpool is an excellent way to learn more about the beautiful city itself and I've got a soft spot for the International Slavery Museum which delves into Liverpool's maritime past.
Ferry across the Mersey
Yes, that Gerry & the Pacemakers song is based on reality and the Mersey ferry is possibly one of my favourite tourist experiences in the city. Along with a great view of Liverpool's impressive skyline, you can hop off in my hometown of the Wirral for some exploring outside the city. In fact, that leads us rather nicely onto my next recommendation…
Get to the beach
One of the things I love most about Liverpool is that it's so easy to feel like you're miles away from the city in no time. On a sunny day, some great beaches are within a stones throw of Liverpool including New Brighton (reachable using the above Mersey Ferry) and Crosby Beach which is home to Antony Gormley's exhibition 'Another Place'. 100 cast iron figures stand along the beach, looking out to sea and basically waiting for you to take a snap for Instagram.
Shop, shop shop
Since Liverpool was Capital of Culture in 2008, it has massively stepped up the shopping game and if retail therapy is your thing, get yourself there ASAP. I'll delve into the fantastic shopping destinations that you can enjoy in Liverpool a little later on so keep reading to find out more!
Stay out all night
If you love a party, this is the city for you. There are venues catering for virtually every taste, from the nightclubs of Concert Square and Matthew Street to relaxed bars with stellar cocktails and live music. Most of the clubs are free to enter so you can expect a cheap night out but I've been known to lay down a few quid for the sake of listening to some emo classics in the Krazyhouse. Don't judge me.
Wander around the Albert Dock
You can't be a tourist in Liverpool without spending a few hours wandering around the Albert Dock. The area is home to an array of shops, cafes and museums by day and by night, some of Liverpool's more upmarket bars come out to play. Summer is by far the best time to visit as the area springs to live with events taking place most weekends – for example, if your heart's desire is to see a full-scale reenactment of a pirate battle, you can find it here each year. In more recent years, the dock has become home to the Liverpool Eye so take a spin if you please but I'm going to be real with you; the cathedral view is way better.
Enjoy the independent food scene
While Liverpool is home to some of the UK's most popular chain restaurants, I suggest you steer clear in favour of the thriving independent food scene. Centred around the Bold Street, Castle Street and Baltic Triangle areas, you can discover amazing cuisines from around the world including Lebanese street food, fiery Mexican dishes and Indian food like you've never tasted it before – all within just a few feet of each other. Keep reading to discover some of the best places to test out on your trip…
Discover what's on at FACT
FACT (or Foundation for Art and Creative Technology) is a media arts centre just off Bold Street in the city centre. Home to a Picturehouse cinema, The Garden Cafe and rotating installations, it's always fun to pop in and see what kooky exhibit they have on at the moment. From surreal light experiences to an immersive installation about video games, you can always expect something to find something thought provoking, cool and a little bit random.
Spook yourself with a Ghost Tour
Because when you come to a new city, you always want to be scared witless, right? In all seriousness, Shiverpool Ghost Tours have won awards for their awesome spooky tours around the city centre and if you like a little bit of history about the area thrown in with your frights, this is a truly unique way to spend a few hours in the city. If you're interested, I'd recommend booking this in advance to secure your spot!
5 unusual things to do in Liverpool
Ok, so you've ticked off the usual tourist sights, hit the shops and now what? Thankfully, Liverpool is home to some amazing, quirky attractions and activities that really add to the vibrant nature of the city. Here are a few of my favourites:
Punk Afternoon Tea at the Baltic Social
Liverpool's original afternoon tea – with a twist. Forget dainty sandwiches and scones piled high with clotted cream and raspberry jam: the Baltic Social is all about sticky wings, halloumi and salted caramel brownies. Even better, they have a veggie and vegan option so everyone can enjoy the fun together!
Ghetto Golf
While Liverpool ONE is home to the city's original mini golf course, adults will want to head into the city's creative hub, the Baltic Triangle, for Ghetto Golf. You're surrounded by neon graffiti as you putt your way through the course, accompanied by some thumping DJ sounds and a cocktail or two, of course. They're also home to Apocolypse Cow, a truly dirty street food outlet full of BBQ goodness for the meat lovers with a handful of pretty great veggie options too. If you plan to eskew the nightlife scene, make this your evening out instead!
Bongo's Bingo
While this phenomenon is spreading across the country and beyond, it's so incredibly popular in its hometown that you have to be fighting fit with a high speed WiFi connection (think Glastonbury ticket time) in order to get tickets for Camp & Furnace's Bongo's Bingo. Forget clutching markers in a brightly lit bare hall; this Bingo experience is more about dancing on the tables, cardboard cut outs of celebrities and the occasional 90's special guest!
Light Night
You'll have to time your visit to Liverpool carefully to experience this one but it's definitely worth it. The cultural takes place on a Friday night in May each year with venues like the Anglican Cathedral, Central Library and more full of exhibitions. In the years I've attended, I've watched everything from light shows with a soundrack of thumping electronica to traditional fire dancing in front of St George's Hall. In 2019, Light Night takes place on 17th May so get your hotel booked in early – there's tons of family friendly exhibits and best of all, most of them are free!
Discover the Secret Bars
While most of Liverpool's nightlife is loud and proud, there's an understated side to the evening drinks scene too. Literally hidden behind closed doors, Berry & Rye serves up prohibition era-inspired cocktails with great service and a chilled out atmosphere. It's a great date night location or one if you're after delicious drinks in an intimate setting. There's also Ex Directory, a tiny little bar accessible only through a phone box!
The Best Places to Eat in Liverpool
And we've arrived at my favourite topic. I genuinely feel like I spend the majority of my time thinking about food and luckily, Liverpool is home to some incredible restaurants. Narrowing this down to just a few places has been quite a challenge but if in doubt, head to any of the restaurants on Bold Street and you'll be in for a treat.
Mowgli
This isn't your typical Indian restaurant. Forget sloppy curries and greasy takeaway containers, Mowgli was formed from a love of how real Indian food is supposed to be: healthy, packed with flavour and often vegan. Spice lovers will be in their element! If you eat here, make sure you try the unique flavour explosion of chat bombs. While Liverpool will always be its hometown, the Mowgli love is fast spreading to other cities across the UK so you might even be lucky enough to have a local branch coming your way. Oh, and the gentle decor, complete with fairy lights and duck egg blue walls, looks great on your Instagram feed too.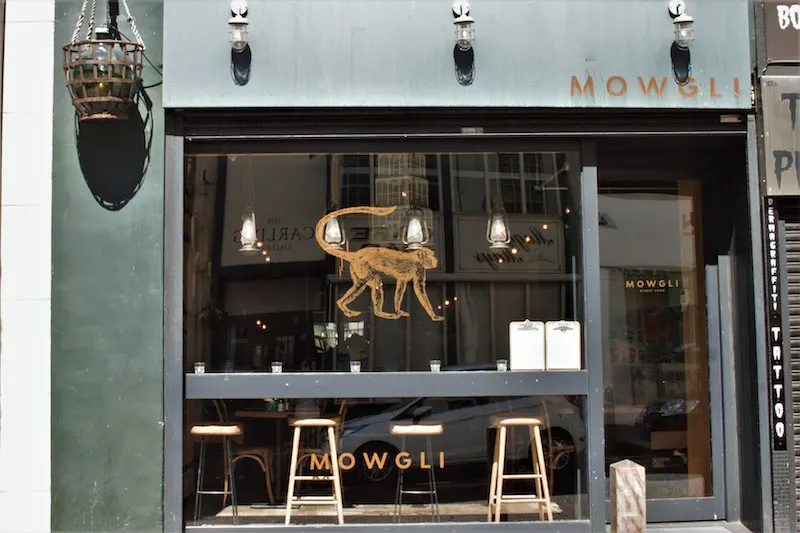 Baltic Market
If you and your other half are constantly arguing about what type of food you fancy, get yourselves down to the Baltic Market. The former brewery is now home to a thriving street food market and bar, complete with live music, rotating weekend markets and special events scattered throughout the year. There's an amazing atmosphere in the place, as it allows people of all ages to sit together on benches enjoying fantastic food from vendors that switch every few months. Almost every vendor has a delicious veggie / vegan option and best of all, dogs are welcomed with open arms!
Amalia
The restaurant is tucked away in Campbell Square (just off Duke Street) but it's worth seeking out as it picked up the award for Best Pizza in The Italian Awards for two years running! That's right, Liverpool officially has the UK's best pizza. Go with an empty stomach because their huge menu will have you salivating like no-ones business – my favourite pizza comes topped with sweet potato fries – or if you're feeling brave, check out their 5lb calzone challenge!
Chicha
There's something about this Peruvian street kitchen that keeps me going back from more and while I can't quite put my finger on it, you'll just have to see for yourself! For a cuisine that's still relatively unexplored in the UK, it could seem like a more daunting choice but the tapas-style menu and knowledgable staff make it easy to choose an absolutely delicious meal.
The Best Places to Drink in Liverpool
Liverpool's nightlife is renowned but however, I'm going to confess right now that I haven't set foot in the city's many nightclubs once this year. So, while I may not have many current suggestions for hardcore partygoers, I do enjoy a good gin cocktail and these delightful venues will have you covered for civilised drinks by day and night.
Leaf
Another Bold Street institution, Leaf is a much-loved venue that you can visit at virtually any time of day. By day, their brunches and fantastic tea selection are perfect for a chilled out morning with friends while at night, their two floors come to life with live music, poetry nights and even a monthly book club! It's the original hipster hangout that manages to make anyone and everyone feel welcome.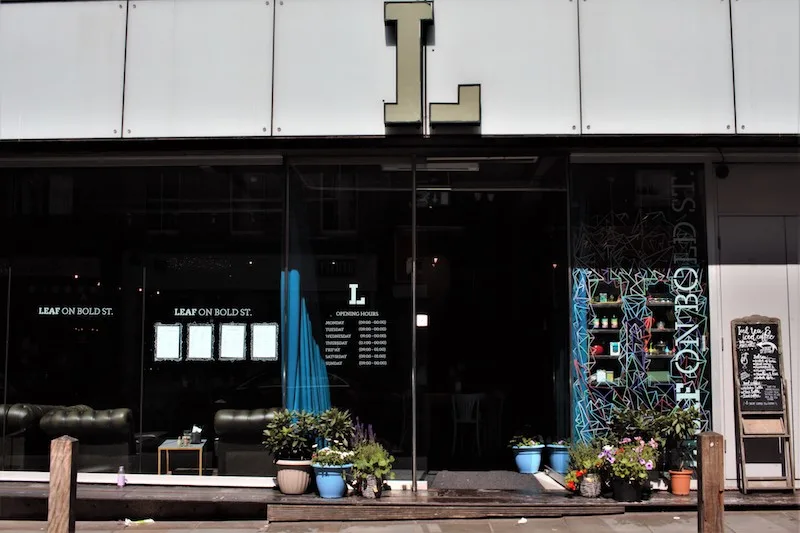 Botanical Garden
You've almost certainly been to a beer garden or two, but what about a gin garden. You can read my review of Liverpool's Botanical Garden here. This is my favourite place to drink in the entire world and in my opinon, no trip to Liverpool is complete without stopping by for a few hours. Hidden away on New Bird Street, the relaxing outdoor space is filled with graffiti, flowers and an incredible gin selection, all to a chilled out soundtrack that hits the nail on the head. It's usually open between March and September each year so if you're lucky enough to visit Liverpool during the summer months, head over for a Gin in a Tin on the park-style benches.
Rococo
I discovered this understated cafe, located up an unassuming flight of stairs on Lord Street, during my university days when it was made up of just one room, friendly staff and a great, affordable menu. I'd spend too many days perched on their window streets, reading (well, mainly people watching) accompanied by a hot chocolate and a toasted teacake. Since those days, this hidden gem has become a neighbourhood favourite, expanding into more rooms and even a second floor! Swerve Costa, Starbucks and Caffe Nero – this is the place you want to be.
Neighbourhood
This Castle Street hangout is achingly hip, there's no other way to describe it. This is the perfect destination for a few hours with the girls: whether it's a bottomless brunch accompanied by their amazing drinks menu or even a hen party, complete with sharing platters and great music. Neighbourhood is said to be inspired by the New York 'vibrant dining' trend and its popularity is testament to the concept! The food here isn't so great for us veggies out there but even if you aren't dining, it's worth a trip for the cocktails alone.
Where to get the perfect Instagram shots in Liverpool
Because we all love to share our favourite travel memories on the 'gram, I'm pleased to tell you that Liverpool is home to some stunning places that are bound to get the likes rolling in.
Love thy Neighbour
Among the Bold Street stalwarts, Love Thy Neighbour is a relatively new addition to the group but an incredibly photogenic one. It was basically created to be Instagram gold with the most beautifully arranged plates of food, cool grey and milennial pink interiors bedecked with plants and even a huge avocado mural on the wall outside. Need I say anymore?
"For All Liverpool's Liver Birds"
Since Liverpool-based artist Paul Curtis painted a huge green pair of wings on Jamaica Street last August, you can usually spot a steady stream of people heading in that direction to grab the perfect snap. Once you've got your shot, keep walking and you'll reach the Botanical Garden and Baltic Market for some food and drink heaven!
The Florist
As one of Liverpool's newest food and drink hubs, The Florist has already made a name for itself as one of the most photogenic spots in Liverpool. If you're looking for the perfect flower wall to take a snap in front of, it's right here! But it's not just about the pretty face, the excellent drinks selection and tasty food make it somewhere you want to go back to again and again.
Georgian Quarter
In fact, the entire of Liverpool's Georgian Quarter is completely stunning. Sadly, my dream of owning one of the stunning townhouses is almost certainly never going to come to fruition now that most of them are either businesses or flats but if you're looking for the perfect background to your city break outfit photos, head to any of these streets and you won't be disappointed.
Where to stay in Liverpool
Considering Liverpool is such a great city for nightlife, it's surprising that there aren't more budget options in the city centre. However, if you're looking for a more stylish break, Liverpool is absolutely packed full of options. From aparthotels to independent boutiques, alongside all the popular chains, you'll be spoiled for choice. Best of all, it can be pretty reasonable to get a really lovely room in a great location.
Hatters Hostel from £12 per night
Oneof the most popular budget options is Hatters Hostel and with both dorms and ensuite dorms available, you can benefit from an amazing city centre location on Mount Pleasant at a great price. Plus, they include a decent cooked breakfast from just £3, free wifi, fairtrade tea and coffee as well as social bar crawls! What else could you want in a hotel?
Hope Street Hotel from £105 per night
Hope Street is well known in the city centre as it famously links Liverpool's two cathedrals, plus there are some pretty great restaurants nearby. While I've never ventured inside the hotel, a few friends have raved about weddings they've been to here; particularly the delicious food in the AA Rosette restaurant and the stunning views from the rooftop terrace. Check out their stylish rooms for a city break that won't break the bank.
Titanic Hotel from £105 per night
If you're looking for a hotel that'll wow, Titanic Hotel on the docks is one to check out for a romantic break. Their standout feature is the stunning underground spa: I'd highly recommend pre-booking access to their thermal suite if you want a touch of relaxation after pounding the city streets. For beautifully designed rooms with wonderful views, this is the place to go.
Where to shop in Liverpool
So, I may be biased here: as you can already tell, I think Liverpool is one of the best cities in the world but seriously, it's potentially my favourite place to shop in the whole UK. It's easy to navigate and packed with a mix of well-known stores and quirky independents so there's an option to tickle everyone's fancy.
Liverpool ONE
This is the place to shop in Liverpool. Considering that Liverpool ONE is only celebrating its 10th anniversary in 2018, it's pretty strange to think back to shopping in Liverpool before – even if they were the days I'd head into town with a tenner for a Primark outfit and Maccies. Home to 170 of your high street favourites, including a cinema, restaurants and a chilled out garden, Liverpool ONE is the largest open air shopping complex in the UK and a fabulous place to indulge if you ask me
Metquarter
Liverpool's original shopping centre plays host to aspirational brands like Hugo Boss, LK Bennet and Urban Calm spa. If you like your shopping experience to be relaxed, this is a great place to browse but there's not a huge amount of stores to keep you entertained.
Bold Street
As well as the cacophany of cafes and restaurants, Bold Street is also a great place to shop for quirky bits and pieces. If you're into homewares, don't miss the two Utility stores – one's all about larger pieces of furniture while the otheris full of cards, gifts, books and many more – as well as Mi Vida, another gift shop with an amazing collection of plants! For the stylish among you, you can often pick up bargains in the vintage and charity shops dotted up the road and food lovers will want to pop into Matthas International supermarket.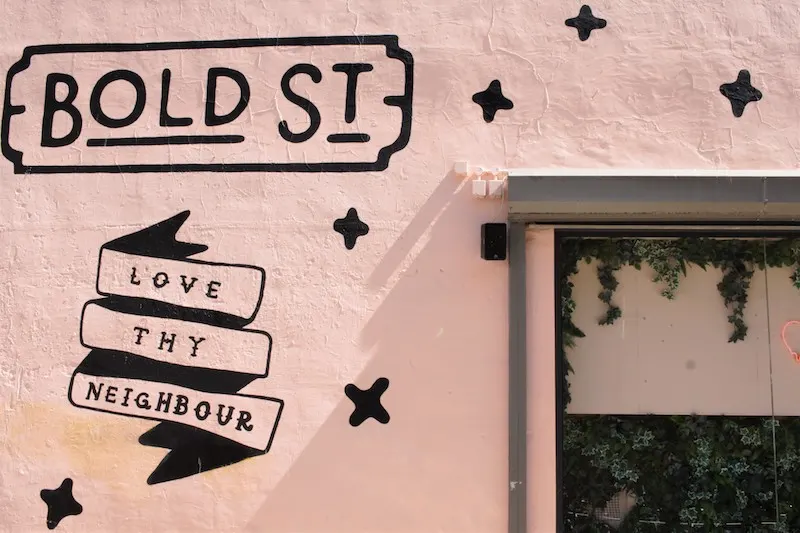 Bonus travel tip for Liverpool
Liverpool City Centre is REALLY walkable so don't worry about splashing out on one of those city bus tours. The only places you might need to hop on public transport for – aside from the Mersey ferry – would be Sefton Park and Penny Lane for Beatles fans – so unless these destinations are on your bucket list, stick to flats and just enjoy the great, friendly vibe of the city centre.
So there you have it! I hope that you enjoyed reading my guide to Liverpool as much as I've enjoyed creating it and if I've inspired you to visit, I'd love to hear from you!
---
Wander with Laura
Laura is a self-confessed wanderlust addict, trying to live a more sustainable life from her home in Liverpool. Wander with Laura was born out of an unquenchable love for travel and aims to shed an honest light on how to see the world without a huge budget. If you want to read stories, find out how to budget and discover great vegetarian food spots, head over to check out her blog.
---
You may also like to read…
A spontaneous weekend in Manchester
How to spend 2 days in Glasgow
A perfect 1 week itinerary for North Wales
Read the rest of our UK travel blogs here