Do you travel hack? And by 'travel hacking' I mean collecting points and putting them towards flights to get upgrades or even whole flights for free?
Despite the name of this blog I'm very ashamed to admit that I don't travel hack. Shock horror, I know.
There are a couple of reasons why I don't travel hack.
It all seems so confusing and complicated and I've never known where to start
Travel hacking in the UK doesn't seem as simple or beneficial as travel hacking in the US
I'm not sure it's worth it and it seems like such a hassle to get a slightly discounted flight
I often travel with budget airlines like Ryanair and easyJet and I'm not sure you can redeem points with them
I like to travel Business Class or even First Class but it doesn't ruin my holiday if I'm in economy
I often fly with my kids and I'm not sure about taking them in business class. I'd be a bit annoyed if I wanted a relaxing flight and ended up sat next to a toddler!
I'm not a huge spender so I'm not sure I spend enough to earn lots of points
But what if someone told you that you don't need to alter your spending habits to earn points that could help you get massively discounted flights or free upgrades?
I don't know about you but I'd feel silly not to take this opportunity and this is exactly what Anne said to me a few weeks ago. Why wouldn't you make a few small adjustments that could potentially lead to a huge chunk of money off your annual holiday or a more luxurious flight!?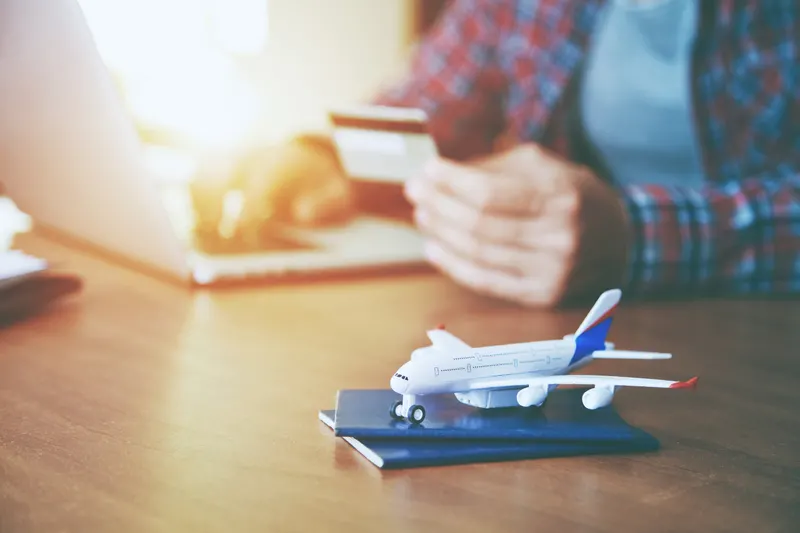 So without further ado, I'd like to introduce The Travel Hacking Challenge with Anne from Travel the Globe for Less.
The Travel Hacking Challenge
I went to Brussels with Anne a few weeks ago during a trip for The Blogger Course. During the weekend we had a few conversations about travel hacking. Anne is a travel hacking guru and she's written loads of incredible guest posts on The Travel Hack about travel hacking.
But even after meticulously reading every post she's written, I still don't get it. It still feels confusing and overwhelming and I wonder if it's worth the effort.
During our flight home from Brussels, Anne was telling me about an upcoming holiday she has with some friends. They're going to Vegas and Anne and her husband will be using the points they've collected through travel hacking to upgrade their flights to first or business class. To ensure the couple they are travelling with can do the same, Anne wrote a little guide for her friend to ensure they can travel hack and upgrade too. Anne's friend was prepared to pay for the upgrade because it's a special holiday for a big birthday – but why would you pay for it if you could get it for free?
Anne's guide for her friend was basically 'The Idiots Guide to Travel Hacking' and Anne made it as simple as possible. She told her exactly which credit card to sign up to and gave her some really simple tips to ensure she collects enough points.
By the time Anne and I arrived back at Manchester Airport we both knew this was something we needed to share on The Travel Hack and we've decided to work together for 12 months on a travel hacking challenge and I'd love for you to be a part of it too.
Anne will be sharing a series of posts over the next 12 months with very simple step-by-step instructions on how to travel hack in the UK. I will then be following her instructions and I'll be writing a response blog post sharing how I got on.
Our aim after the 12 months is for me to have enough points to bag myself a great flight somewhere – preferably First Class! My birthday is in October so it would be lovely to treat myself to a fabulous holiday in October 2019.
How will this be different to other travel hacking guides?
This step-by-step travel hacking guide will be aimed at couples with an average income. I've read a lot of guides that assume you're spending £3,000-£4,000 a month, but we don't want exclude people who spend less. High earners can quickly rack up a lot of points but what about people who don't have that kind of disposable income? Is it possible for average income families to travel hack?
Anne thinks it is!
Anne believes that if you spend about £1,000 per month you can earn enough points to travel hack.
That £1,000 needs to be spent on a credit card so it probably can't include things like your mortgage or rent or household bills as you usually can't put these expenses on a credit card. This is a shame because, for Sam and I, our mortgage, bills and childcare are our biggest expenses, but I've looked through our bank statements and we easily spend £1,000 a month on food, drink, clothing, fuel, eating out, days out and random expenses that quickly mount up without you noticing.
Anne is the first to admit that she does so well with travel hacking because she can put so many of her work expenses on her credit card. Regular trains to London and nights in hotels mean her expenses quickly creep up so I'm intrigued to see how I get on with a more modest spending budget.
If you're interested in joining me on this travel hacking challenge then keep your eyes peeled for Anne's first post about diverting approximately £1,000 a month to a credit card which will earn you points.
You can read Anne's introduction to the challenge here: Travel Hacking UK SOS: Why does it have to be so painful?
You can sign up to my newsletter below or follow along on Bloglovin' to make sure you don't miss an update from the challenge!