The city of York brings to mind all things British.
Proper cups of warming tea, cakes at world-famous Betty's Tea Rooms and quaint Tudor architecture are just a few of the quintessentially English things associated with this town.
So would it surprise you to know that York's origins are totally international? It was founded by Romans in 71AD, who established a fortress and the town that remains today. Originally named Eboracum, it was later stormed by Danish Vikings who renamed it Jorvik.
Of course, the walled city we know now is a far cry from either a Roman or a Viking settlement, but it should come as no great shock that there's plenty of international cuisine to be found here, including some unexpected choices…
It was the unexpected side to York we were here to explore as Elle and I continued our foodie journey around the UK. We were on a challenge set by Huawei to seek out undiscovered foodie trends. We'd already been to New Malden in Southwest London for Korean food followed by Bristol for Caribbean food. Now we were in York to try some of the city's best Nepalese food. Surprised? Yes, so were we!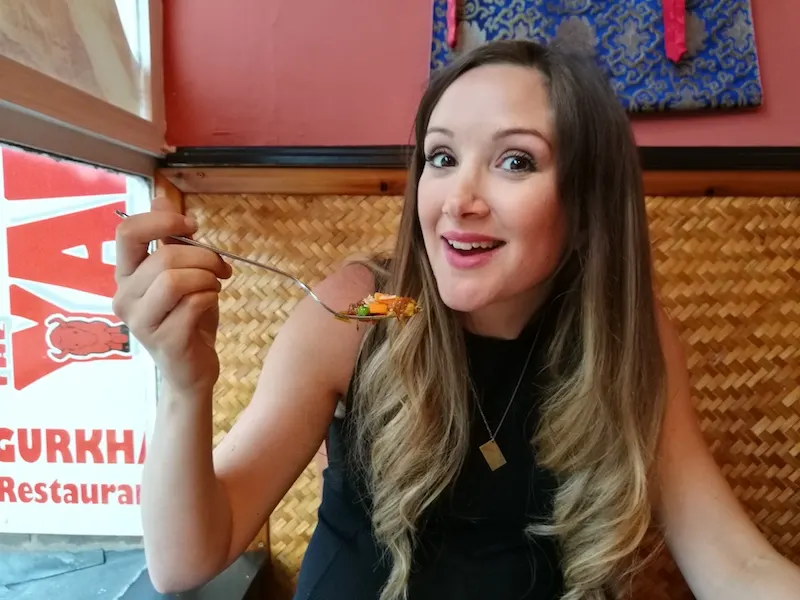 Exploring York
Nepalese food arrived in the small city of York in 2013 with the opening of the city's first Nepalese restaurant, Yak & Yeti. In just a few years, it's received plenty of glowing reviews, including one from the Yorkshire Evening Post that sent their customer numbers skyrocketing. It's become so popular that the city's second Nepalese restaurant, Everest, opened earlier this year.
So what brought such an unusual cuisine to this unlikely destination?
Gurkhas, or Nepalese soldiers, have made up part of the British Army for over 200 years, and with the Imphal Barracks, where many Gurkhas serve, based about a mile from the centre of town, it's no wonder this cuisine has become popular in and around York.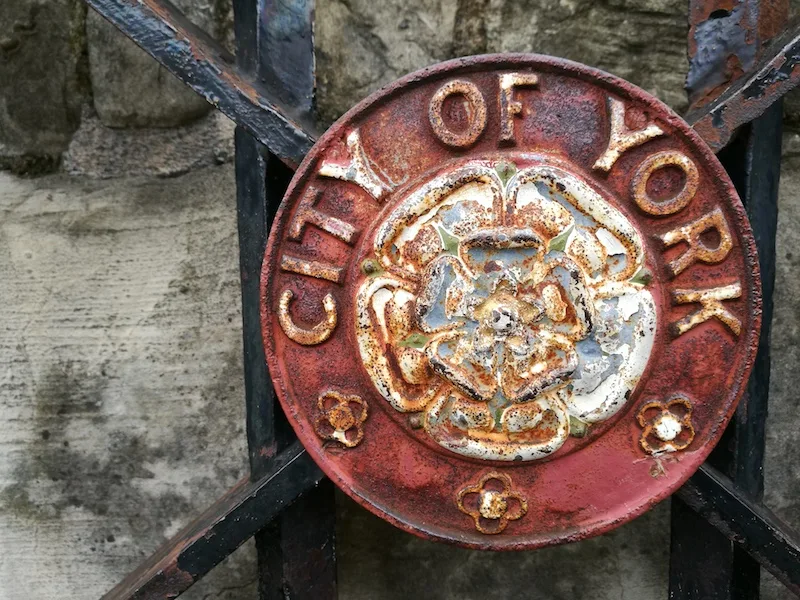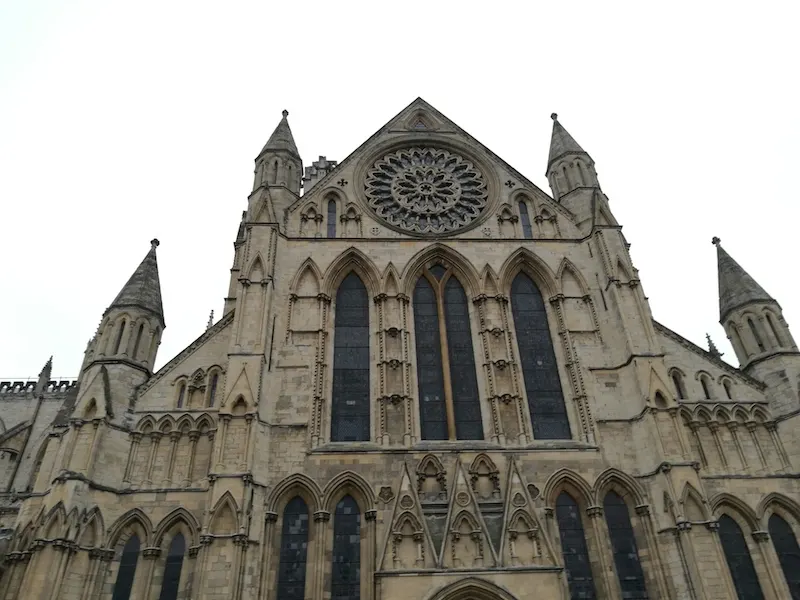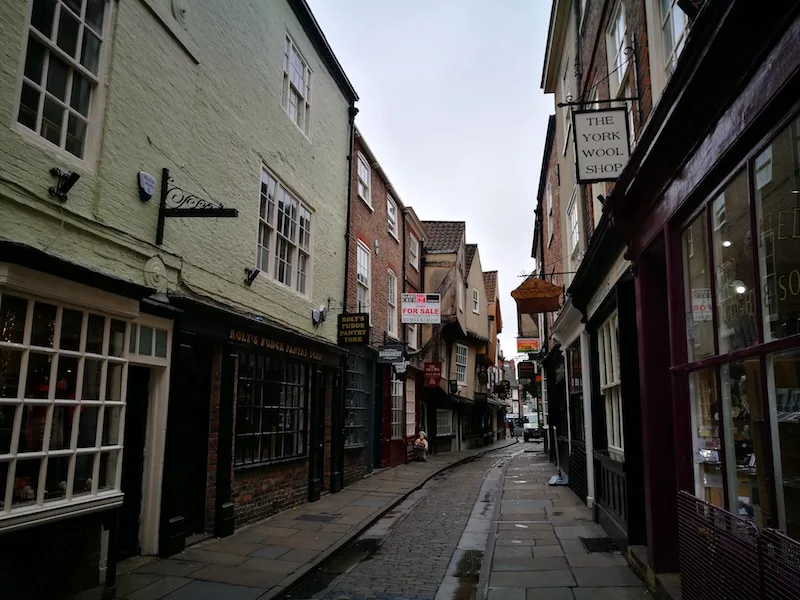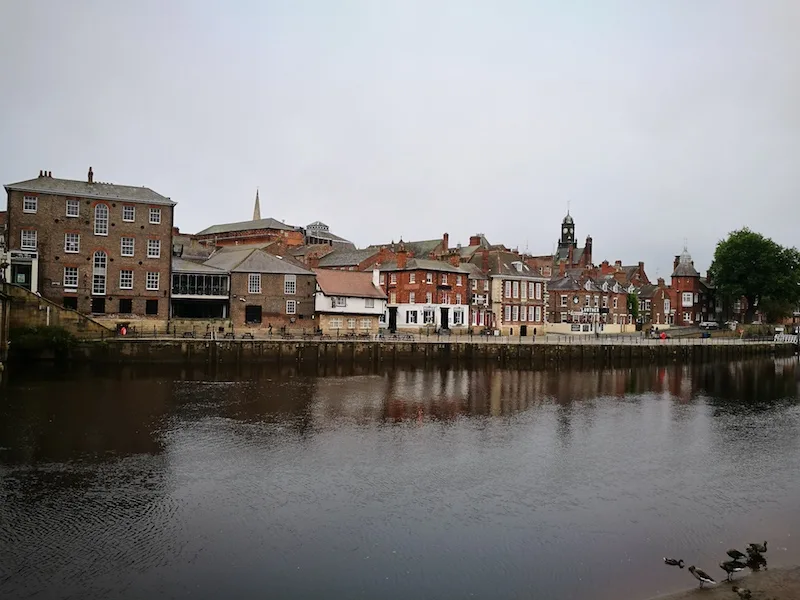 Yak & Yeti
Located on the same row as York's oldest houses which, at 700 years old, jut and lean over the road, is the highly recommended Yak & Yeti Gurkha restaurant.
It's easy to miss, with just a small entrance visible from Goodramgate, but make your way upstairs and you'll find a large, warm dining room complete with a few low tables surrounded by cushions, for an authentic Nepalese experience.
Yak & Yeti isn't fancy, but the menu, service and flavours more than make up for the simplicity. And the mini yaks along the walls are bound to put a smile on your face!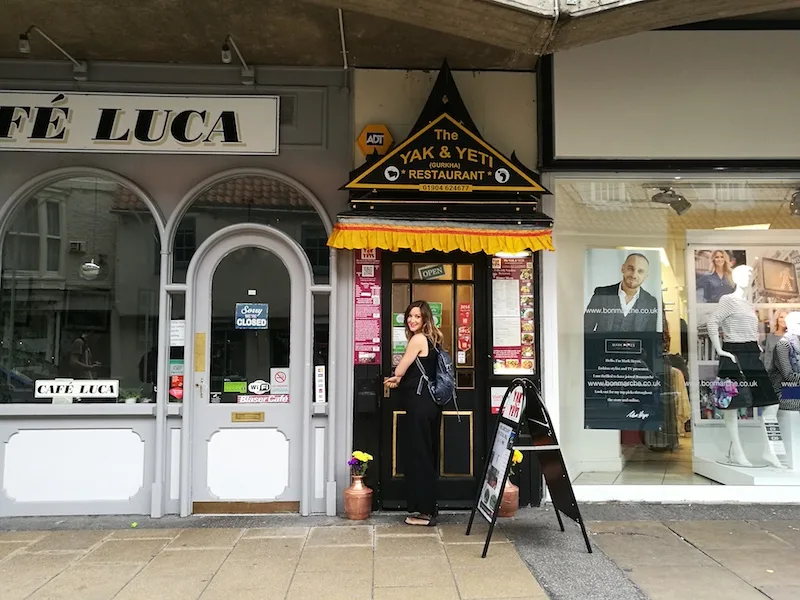 Nepalese Food
Tucked between India and Tibet, Nepal's flavours take inspiration from both of these cultures, with loads of delicious and aromatic spices used in many of their traditional dishes.
We ordered a bunch of things from the menu to see what we liked best, as neither of us have eaten Nepalese food before. We started with vegetable pakoras, Kukhura ko Sapeta (marinated chicken drumsticks) and pork Momo, or dumplings. The pakora were good, but the real flavour came from the spicy chutney it was served with. The chicken drumsticks were roasted and deep fried, so the meat was tender and falling off the bone. Plus, it was served with that same chutney so there was much dipping being done.
Momo, which is one of the most popular foods in Nepal, is a Tibetan-style dumpling, filled with aromatic meat or vegetables. Our pork ones were stuffed with deliciously spiced meat and onions, and the dipping sauce once again proved to be a hit.
We moved onto mains, and ordered as much as we thought we could manage: Everest lamb, Yak and Yeti chicken, Jhhinge Machha KoTarkari (tiger prawns – and no, we couldn't pronounce it, either!) along with Nepalese fried rice, called Bhuteko Bhat, Masurko Dal made with red lentils, and of course, some more of that incredible chutney.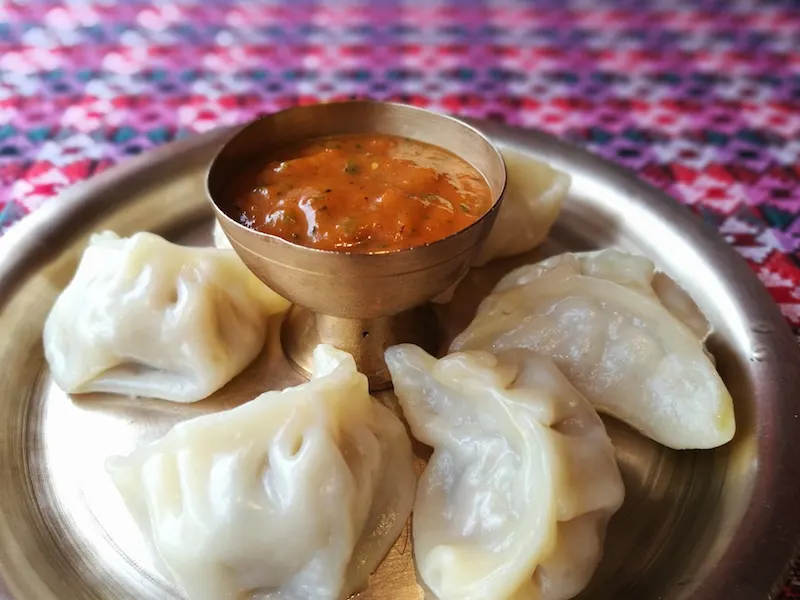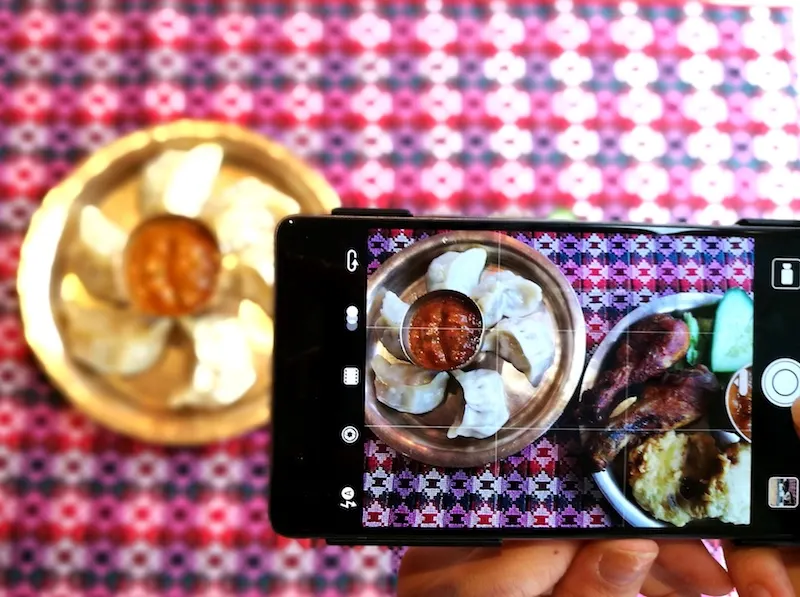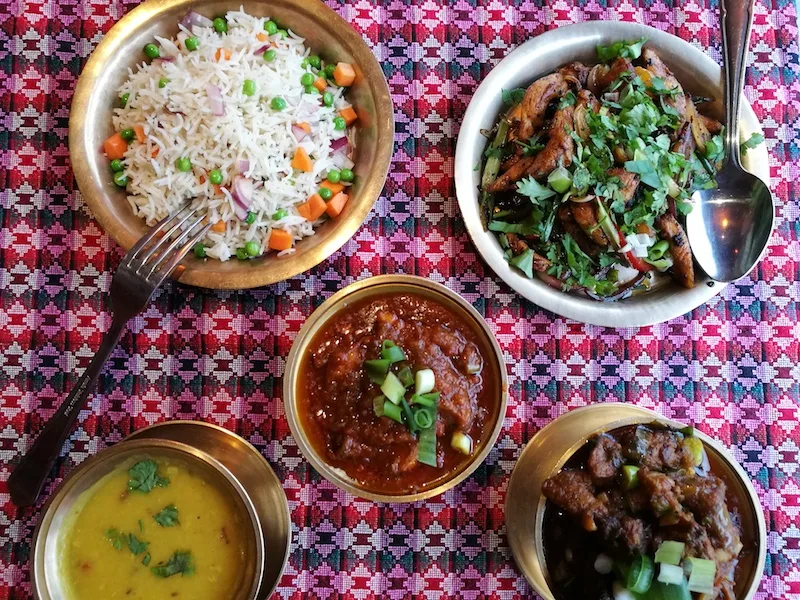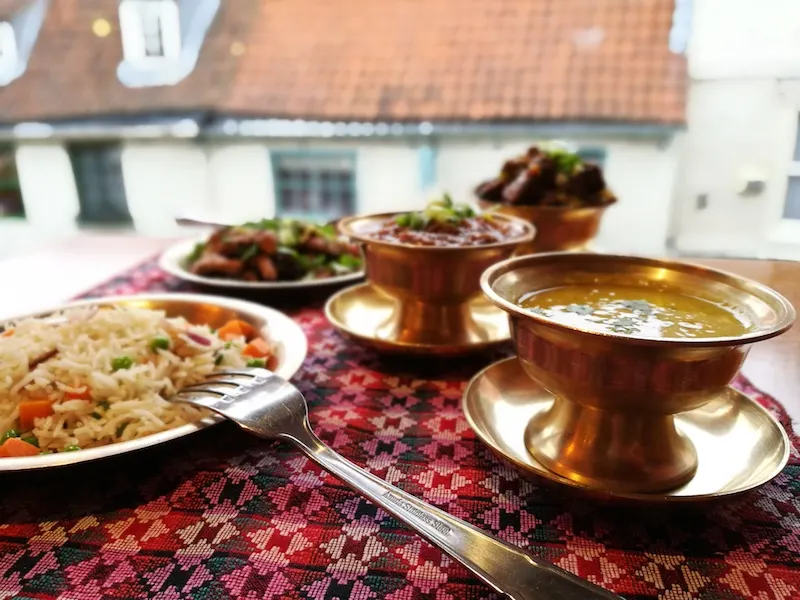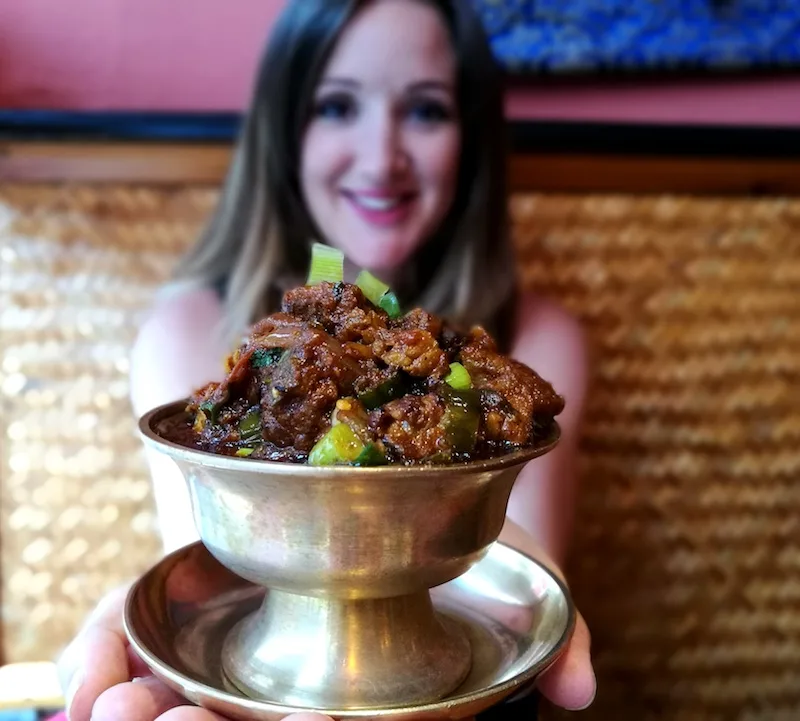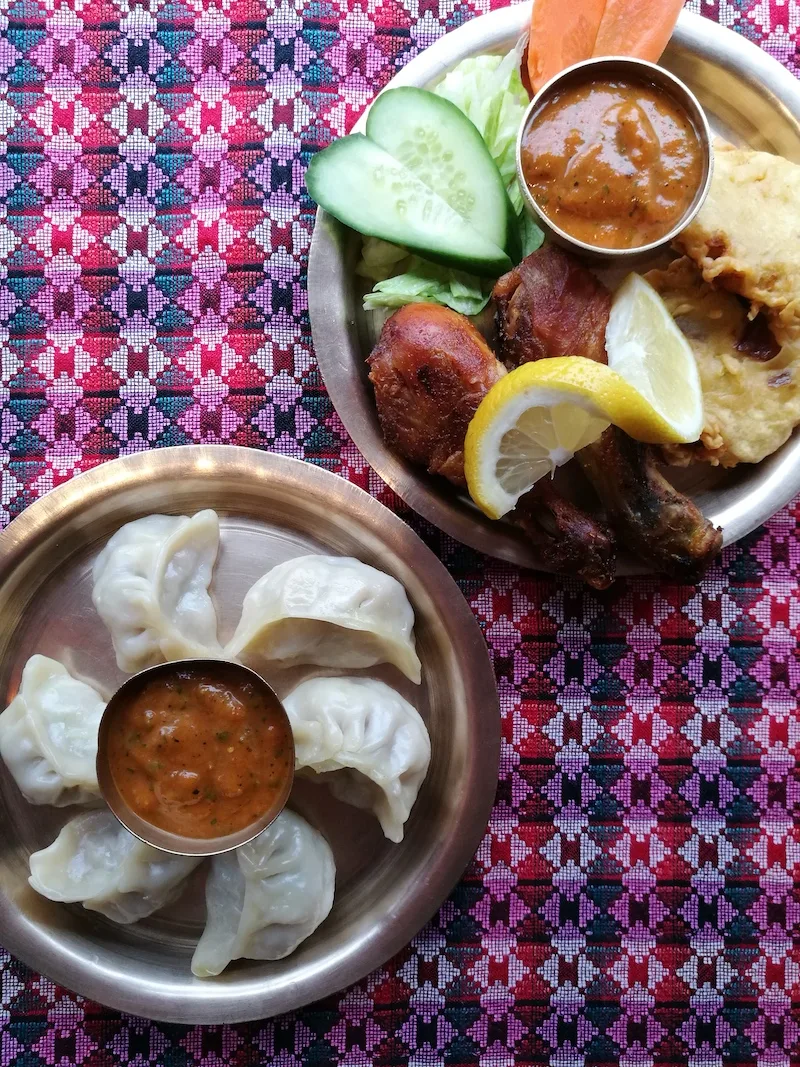 I'm not exaggerating when I tell you it was all incredible, and each dish had its own unique flavours and textures. The Yak and Yeti chicken was a kind of stir fry, not altogether different from a Mexican fajita style chicken – small, spiced strips served with plenty of fried green peppers and onions. The Everest lamb, slow cooked in a sauce of masala spices, ginger and garlic, was brimming with flavour, and the locally-sourced lamb was so tender you could break it apart with the back of a fork. Exactly how lamb should be.
But our favourite was the king prawn dish, an aromatic, saucy curry cooked in a homemade spice mixture that packed just the right amount of punch.
The fried rice wasn't anything special, but it was perfect for soaking up all the curry sauce and creamy dal. The lentils were much more runny than the Indian version I'm used to, but it was a nice side dish to cool off the spices of the curries we'd ordered.
Dessert isn't the strong point of Yak & Yeti. The menu features chocolate cake, ice cream or fruit salad, none of which are traditionally Nepalese. But with a main menu so full of deliciously authentic meals, there's absolutely no reason to be hungry enough for dessert, anyway.
All photos taken with the Huawei P9 Plus, co-engineered with Leica camera technology.