Llanbedrog Beach – Everything you need to know about visiting my favourite beach on the Llyn Peninsula!
Llanbedrog Beach has quickly become one of my favourite beaches on the Llyn Peninsula. This one-mile stretch of gorgeous, golden sand is spectacular and whenever I visit I feel like I'm on a tropical island, not in Wales!
When you arrive there's a short road leading down to the beach and it instantly gives you the lush, tropical vibes. With a stream on the right racing you down to the water and the leafy canopy overhead creating dappled light, you're quickly transported to somewhere exotic!
And then the beach comes into view and you won't be disappointed by this large but cosy bay.
The long beach is sheltered so it's often much warmer and the water is calmer than other beaches on the Llyn Peninsula. The beach overlooks Cardigan Bay so the views are incredible and the water is crystal clear!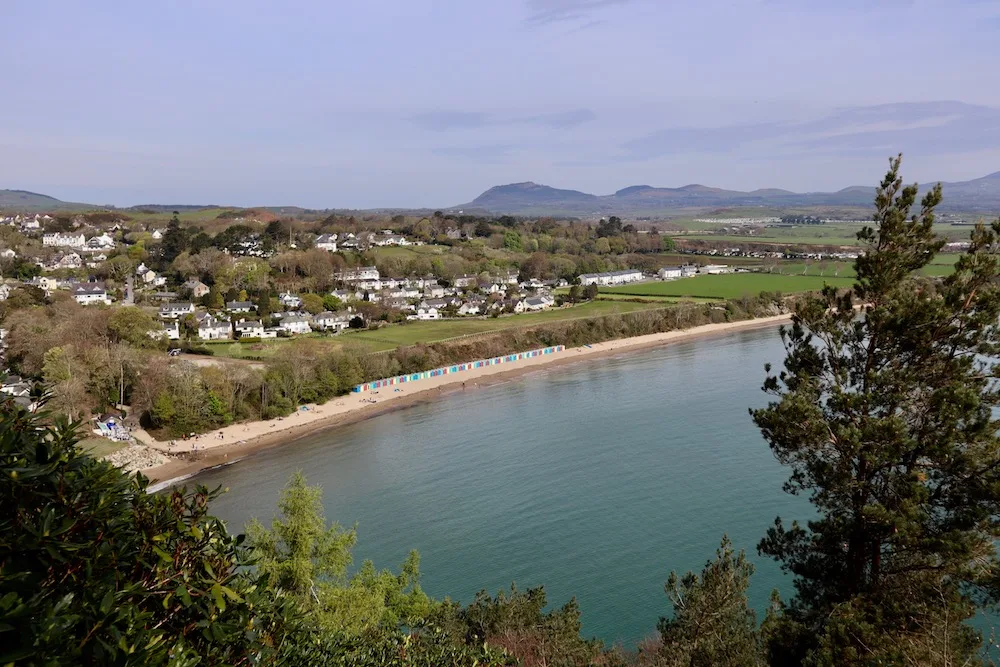 Let's start with the basics…how do you pronounce Llanbedrog Beach?
If you're an English speaker and haven't heard much Welsh then this might seem like a very unusual word, but let me assure you that it's actually quite easy to say!
Let's start with that double 'L' at the beginning of Llanbedrog.
Double L in Welsh is pronounced by placing the tip of your tongue on the roof of your mouth, just behind your teeth, and blowing out so the sound comes out the sides of your mouth.
Try and say an almost 'cl' sound but without moving your tongue.
Welsh speakers don't like me saying this but if you say 'cl' really quickly then it is similar to the 'll' sound.
So it's Ll-an-bed-rog.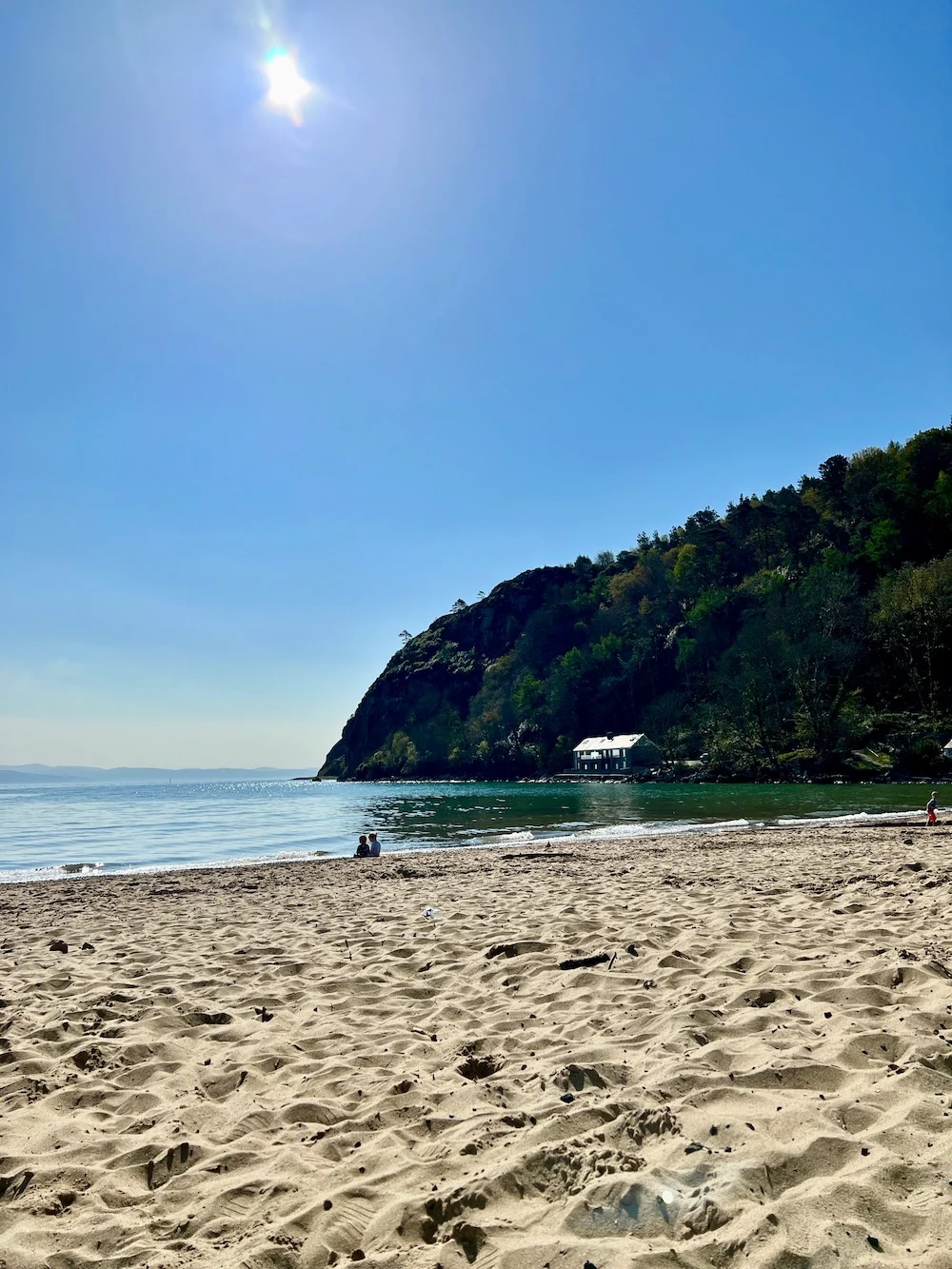 Llanbedrog Beach Huts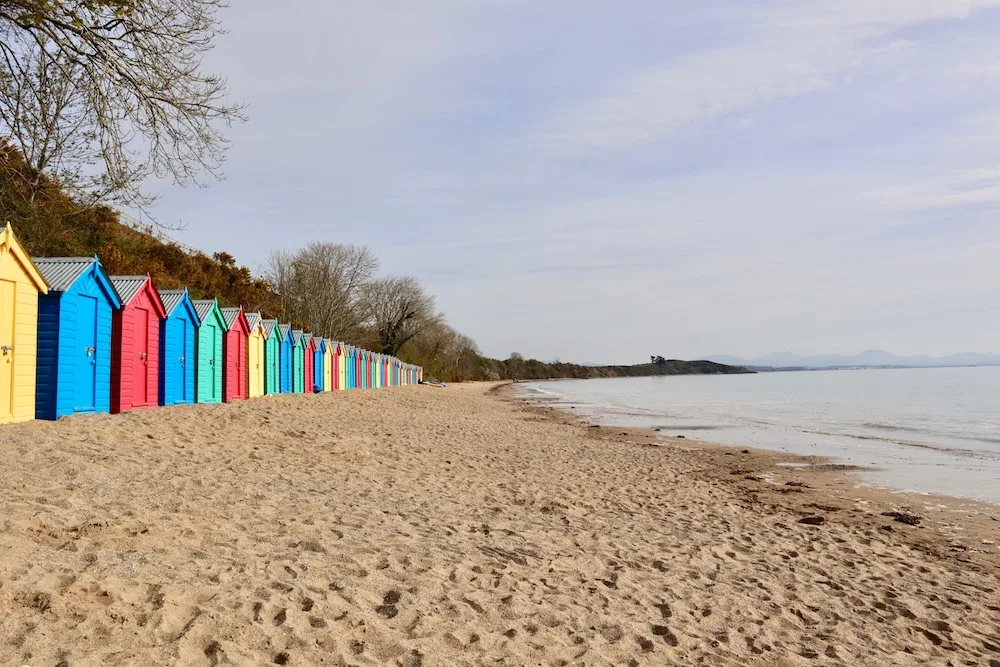 You may have already seen photos of these gorgeously vibrant huts. The Llanbedrog Beach huts are an iconic part of the beach and they give it such a fub vibe.
The Llanbedrog beach huts are owned by the National Trust and they're available to rent for £450 for the season. You can't rent them just for the day or a week so they are intended to be rented by locals or people who visit regularly.
You need to apply to rent one of the Llanbedrog Beach huts.
Llanbedrog beach bar
As you walk down to Llanbedrog Beach you'll spot the Llanbedrog Beach Bar on the right hand side. The bar is called Aqua Beach Bar and it really is just the most spectacular spot for a beach cafe!
Aqua serves food and drink, alcohol and ice creams.
It's open from 9am and serves breakfast until 11am.
From 12pm they serve a beach bar menu until 6pm.
Aqua is currently under new management (as of spring 2022). The bar previously had very mixed reviews so it's best to ignore them as, from what I've seen, the new management is doing a much better job!
You can't reserve tables at Llanbedrog beach bar and it does get busy during peak times so a queue normally forms for a table. I'd suggest getting there a little earlier than you really want to eat, just in case it takes a while.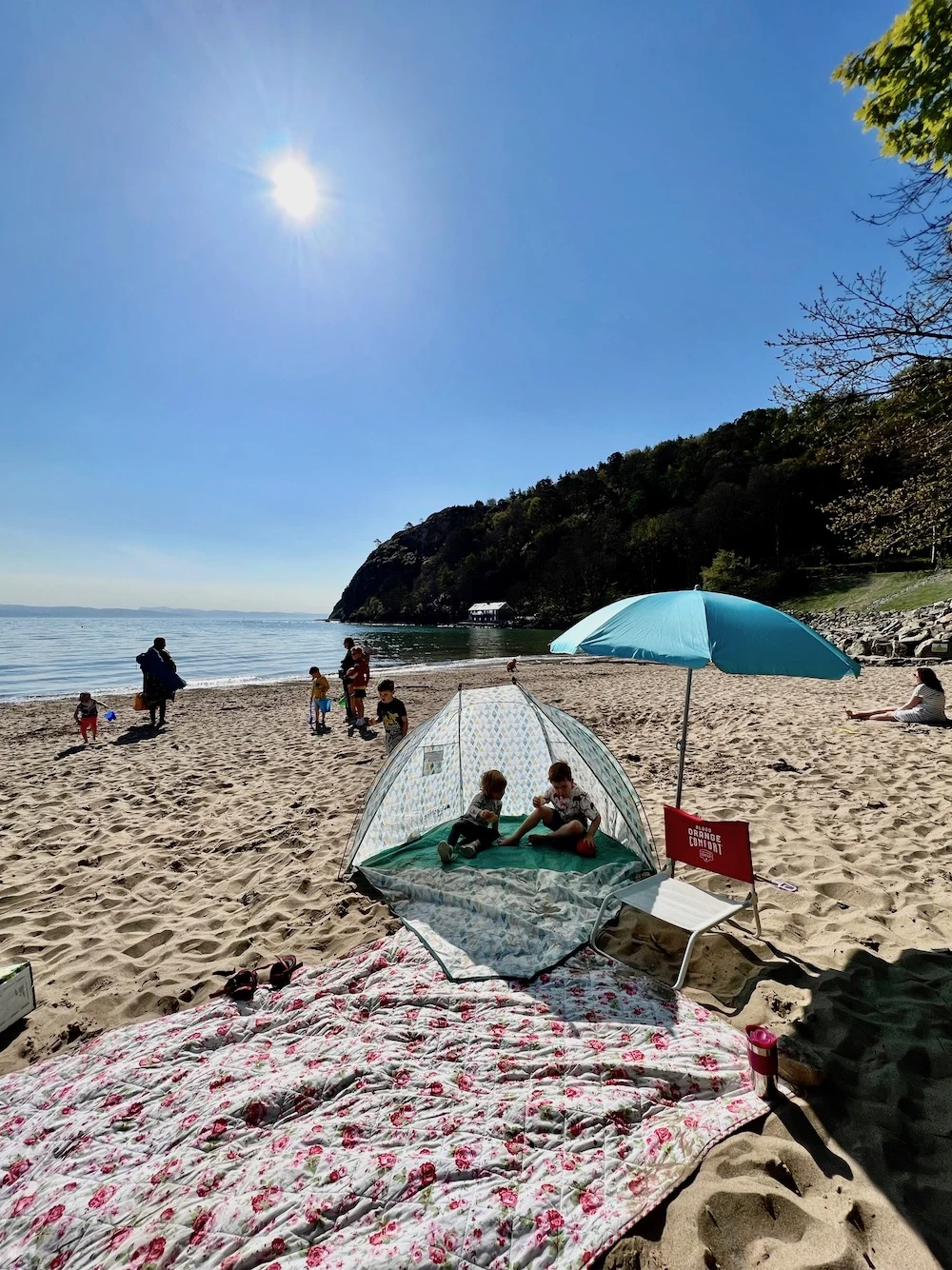 Parking at Llanbedrog Beach
Parking at Llanbedrog Beach couldn't be easier as there is a large National Trust car park run.
If you are a National Trust member then parking is free, you just need to scan your card at the machines and you'll get a ticket.
If you're not a member then you'll need to pay £5 for a full day of parking.
This £5 to park at Llanbedrog Beach is payable via five £1 coins or using the online parking app, PayByPhone.
Phone signal is pretty good at Llanbedrog Beach but I recommend downloading the app before you arrive for convenience.
The car park is then a very short walk down to the beach. There are steps from the car park to the beach but it's a fairly easy staircase and isn't steep.
If you need step-free access down to the beach then you can walk around as there is a short road leading down to the beach at the entrance to the car park. This road has a gradual incline.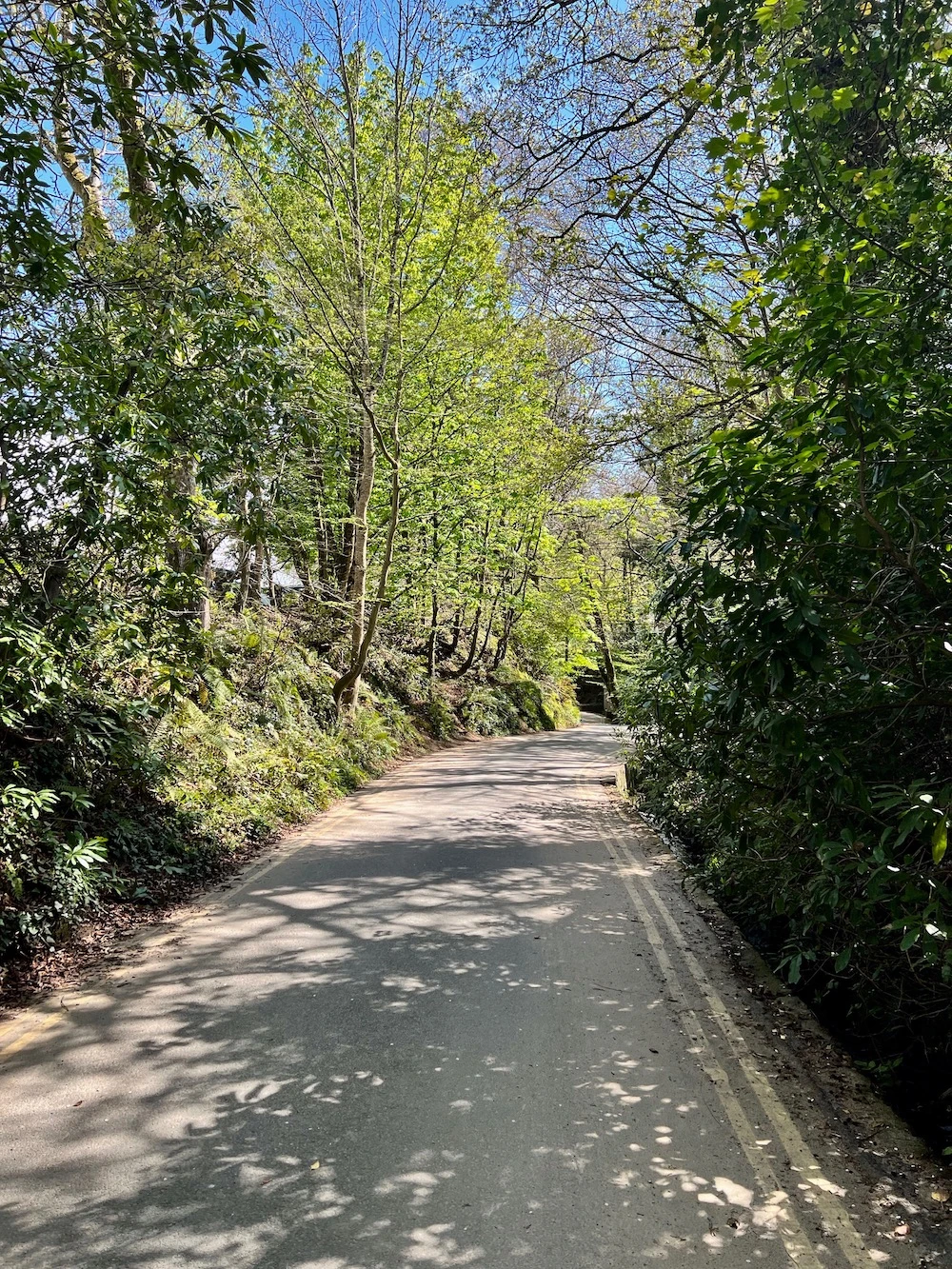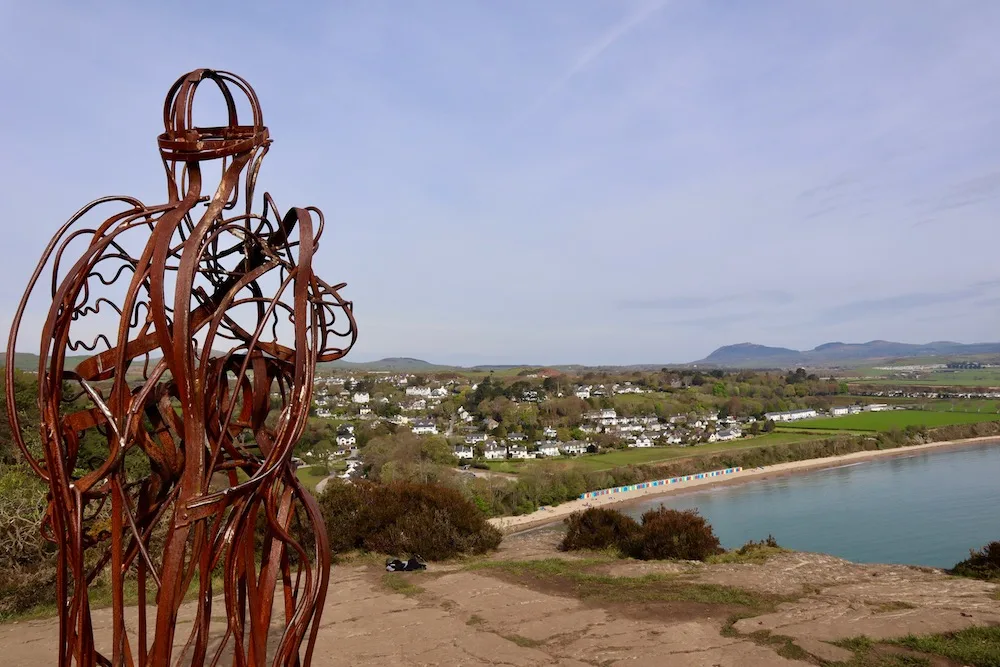 National Trust Adventure Packs
At the entrance to the Llanbedrog Beach car park you'll see a small National Trust hut. Hanging outside the hut you'll often see 'Adventure Packs' hanging on hooks. These green backpacks are filled with goodies for families to explore the beach.
The packs are free but must be returned by 3pm.
Inside they have worksheets and activities to help you learn more about the beach and get more from your trip to Llanbedrog.
If you're a National Trust member, be sure to read my post about the best National Trust sites in Wales.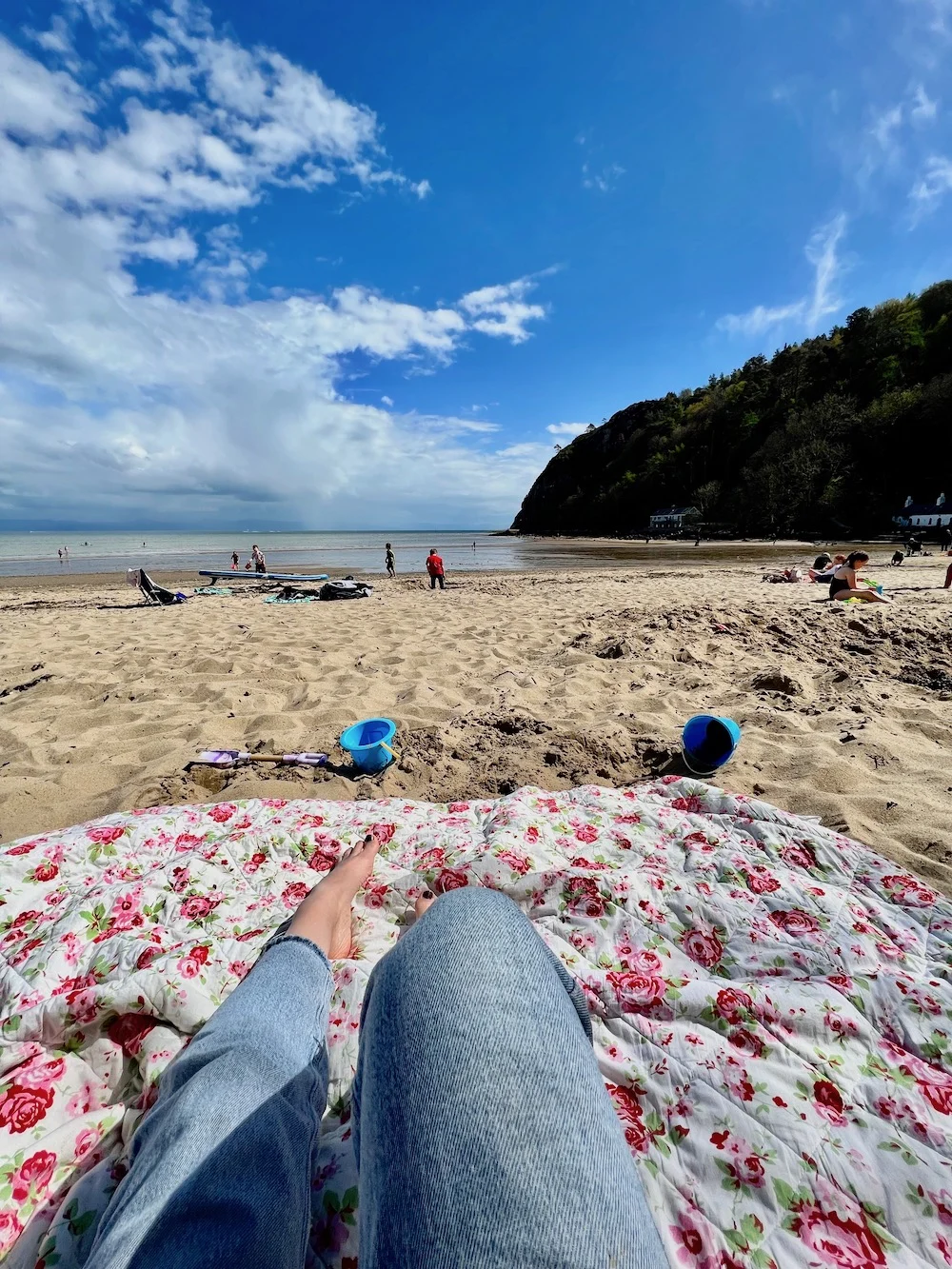 Are there toilets on Llanbedrog Beach?
Yes, there's a great toilet block with male and female toilets.
I'm not going to pretend the toilets on Llanbedrog beach are luxurious but, by British beach toilet standards, they're really good.
Every time I've been, the toilets have been clean and stocked with toilet roll.
There are no disabled toilets and no baby changing facilities.
If you're travelling with a baby or a toddler then I recommend setting up a little baby changing station in the boot of your car.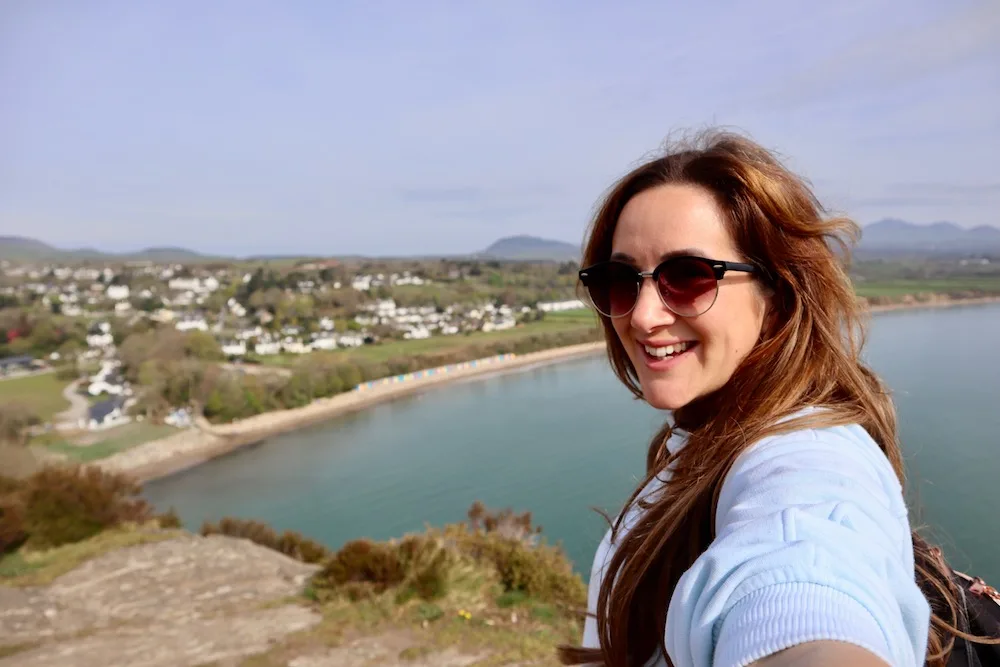 Is Llanbedrog Beach dog friendly?
Yes, well behaved dogs are allowed on Llanbedrog Beach.
Is Llanbedrog Beach sandy?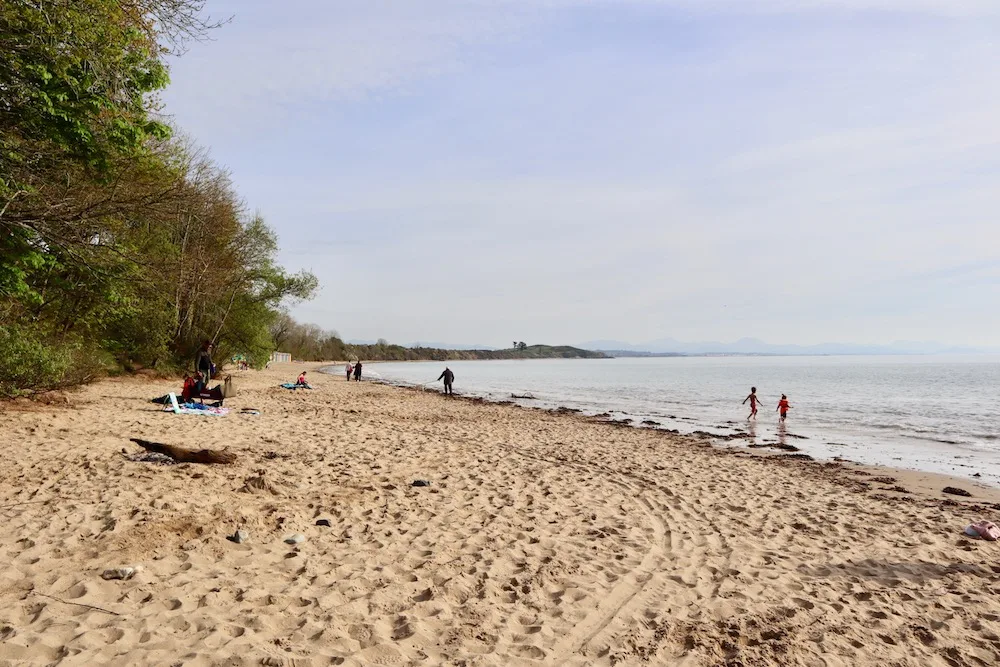 Yes, Llanbedrog beach has beautiful golden sand. It's actually one of the most beautifully sandy beaches in the area and it's always clean and gorgeous.
As the tide goes out, some areas of the shore are pebbly, but you can always hop around these and opt for sandier areas.
Can you sleep in the Llanbedrog beach huts?
No, you can't sleep in them. They're actually probably too small to sleep in them anyway but you're definitely not allowed to sleep in them.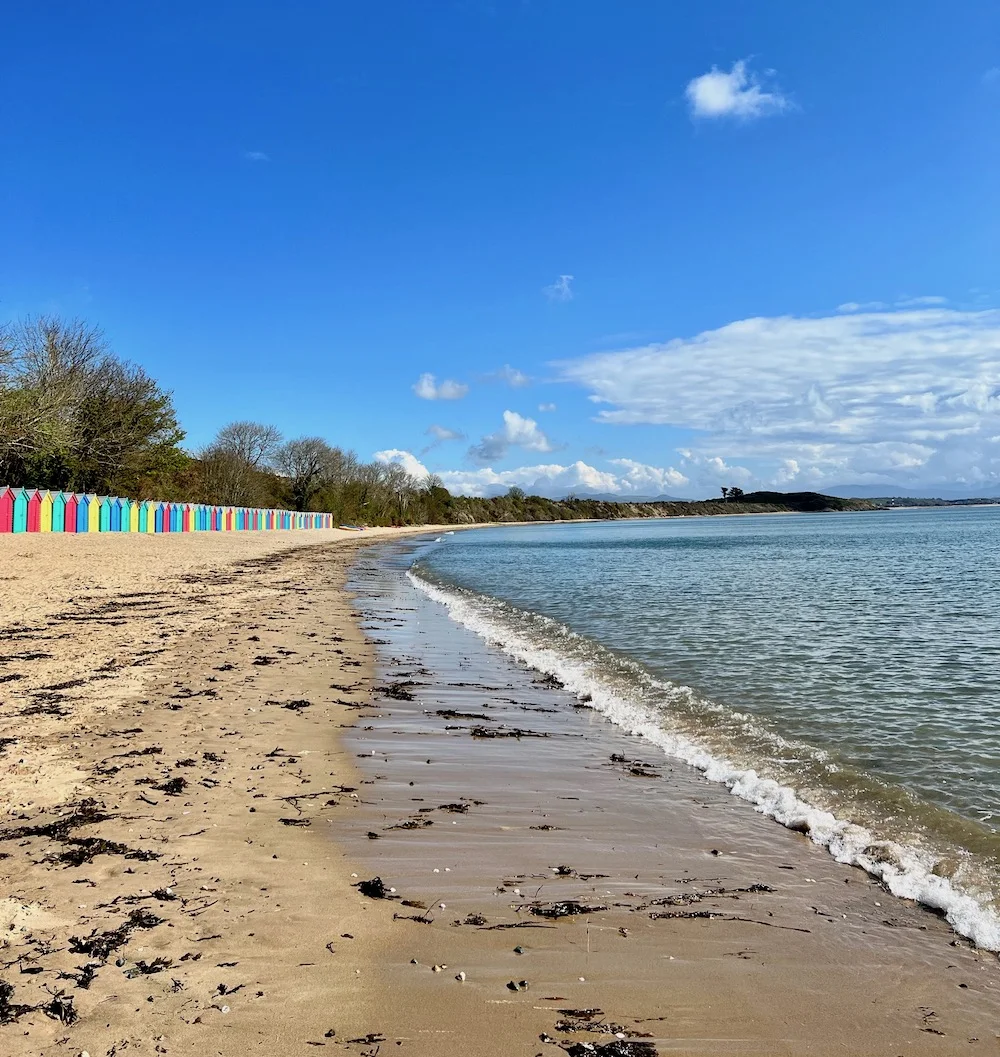 Walking to the Tin Man from Llanbedrog Beach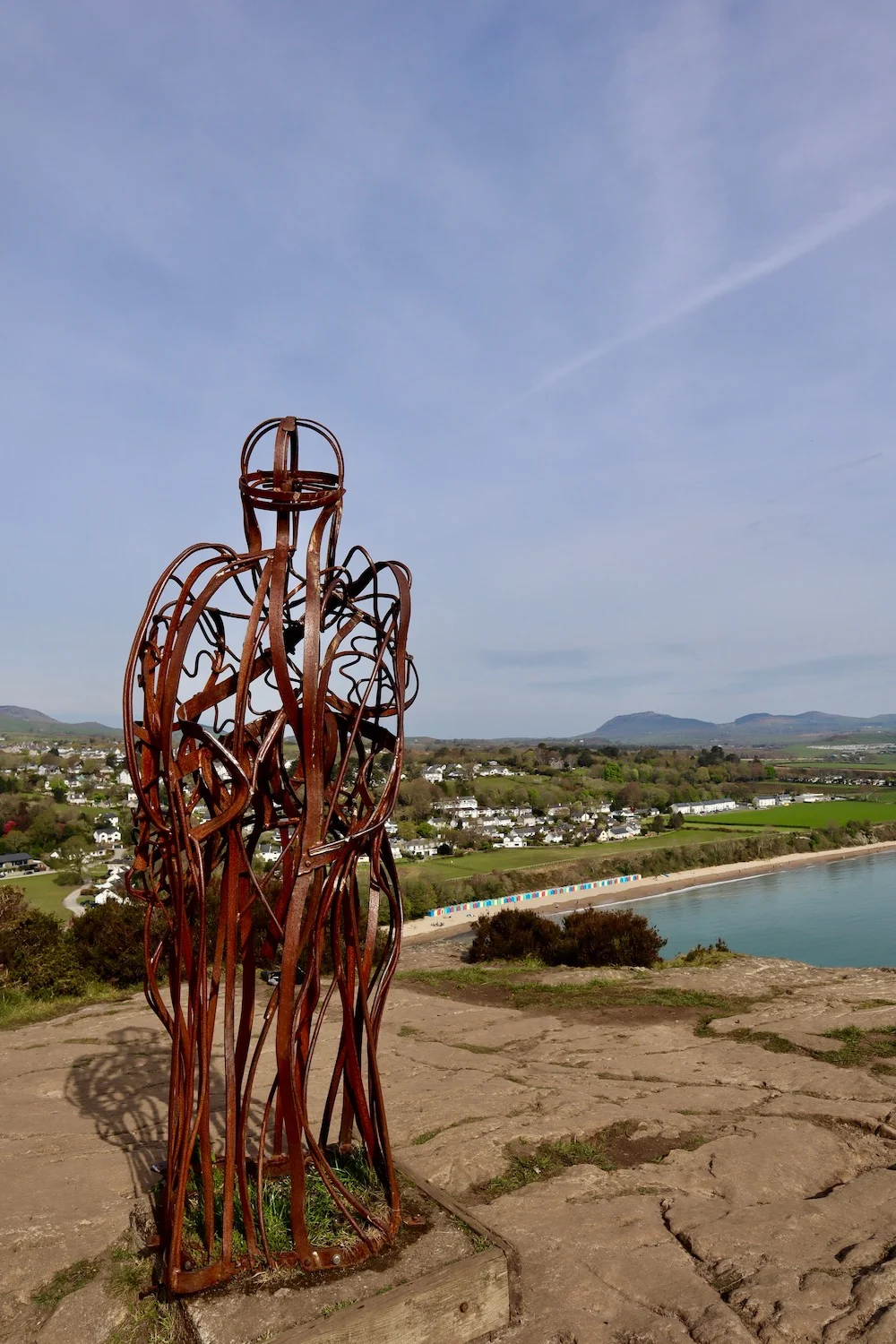 A very popular walk from Llanbedrog Beach is up to the Tin Man.
The famous Tin Man sculpture stands on the headland and looks out across the bay.
There are two routes to walk up to the Tin Man.
The first leaves from the beach and is a steep, rocky staircase up to the top. When you arrive at Llanbedrog Beach, walk to the right and you'll come across this path. You will need to wait for the tide to go out a little if you want to take this path. The path is short and steep but my kids manage it. My sons (aged 5 and 7) manage it no problem but my daughter (age 2) needs a little help. My mum is scared of heights so finds this path a little scary!
The second route leaves from Oriel Plas Y Weddw. Walk past the hall and the path begins on the right of the car park. This path is much more gentle and my two year old can manage most of it up to the Tin Man.
Neither of these paths are suitable for pushchairs or wheelchairs.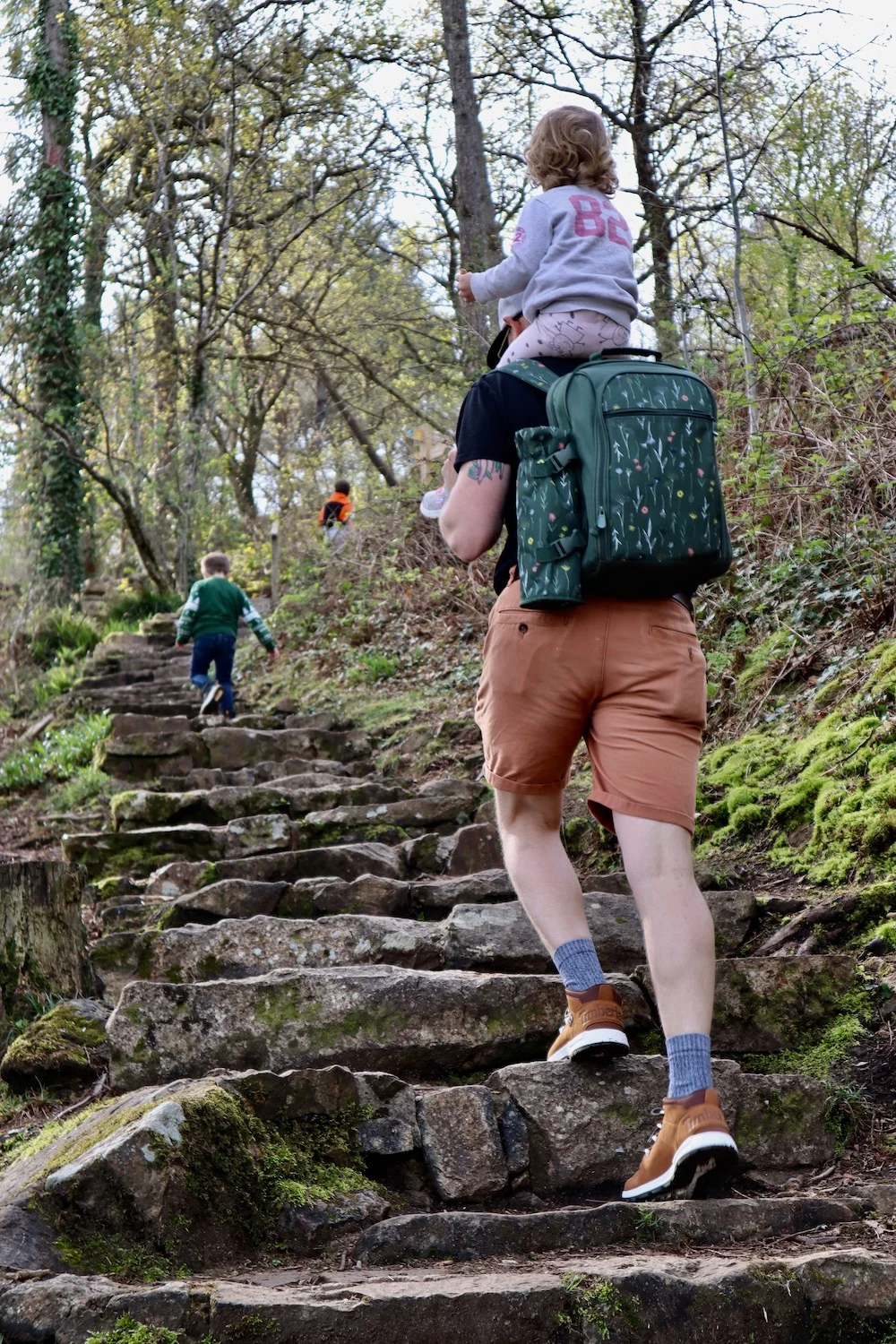 Circular Walking Route from Llanbedrog Beach
If you'd like to walk a little further then keep going past the Tin Man and you can do a 3-mile circular walking route which is just stunning.
Here are the details for the walking trail.
It's a really lovely walk and I highly recommend it!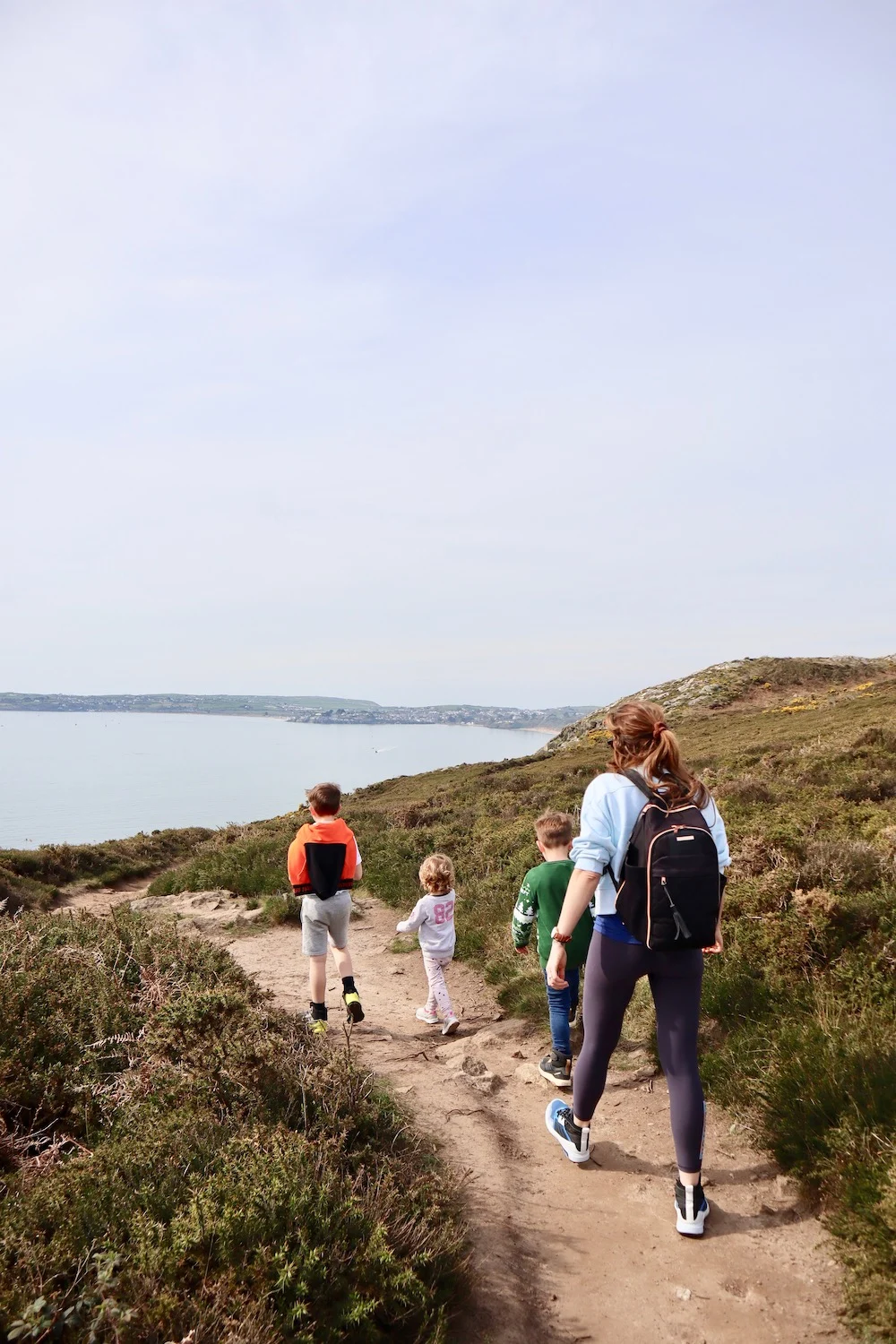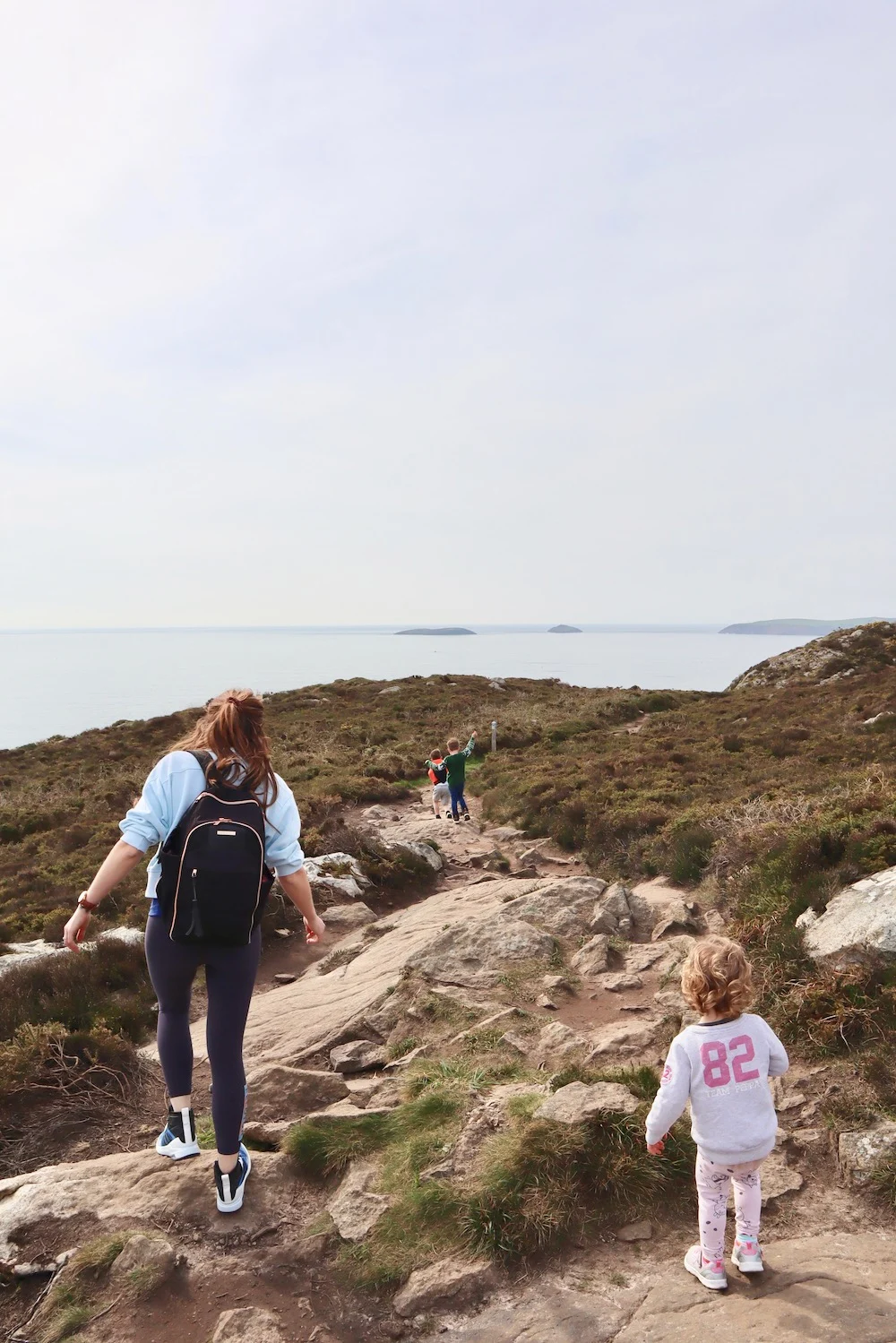 Glyn-y-Weddw pub near Llanbedrog Beach
If you're in need of refreshments, either after some time on the beach or after doing the circular walking route, then Glyn-y-Weddw pub is a really nice option. This cosy pub serves standard pub food and is well known for it's Sunday carvery.
There's a large outdoor seating area and a nice play area for the kids.
The Spar and pharmacy
There is also a small but well-stocked Spar next to the pub. This shop sells ice creams, cold drinks and all your basic convenience food. The shop looks a bit basic but it's actually really good and the staff are lovely.
There is also a pharmacy on the other side of the car park in case you're in need of any medication or suncream.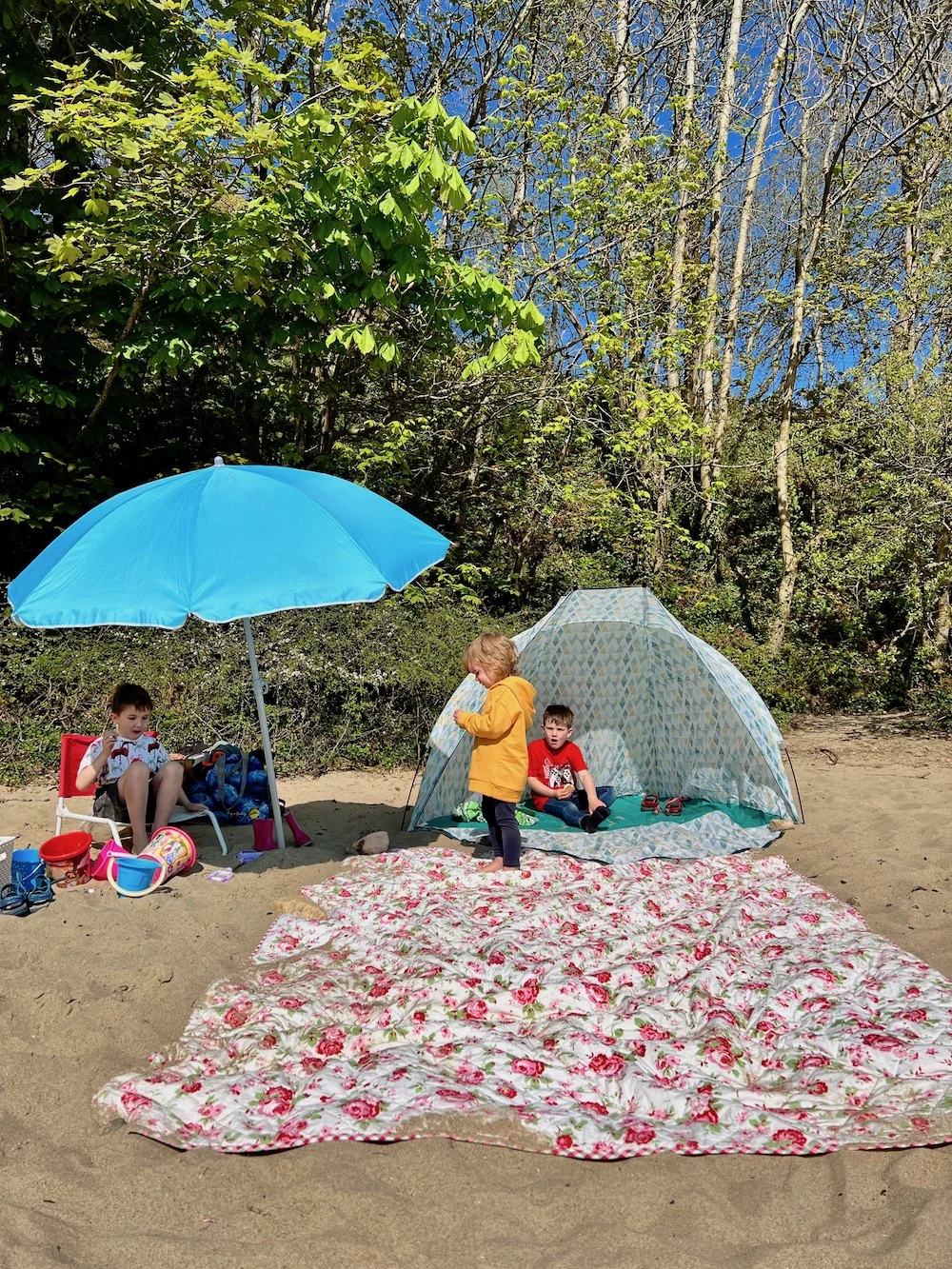 Llanbedrog Beach Shop
There's also a small shop near the entrance to Llanbedrog Beach. I've got to be honest, this shop has got to be one of the prettiest yet most disappointing shops I've ever been in!
They do sell ice creams and a few overpriced beach toys, but they don't stock much else.
Oriel Plas Y Weddw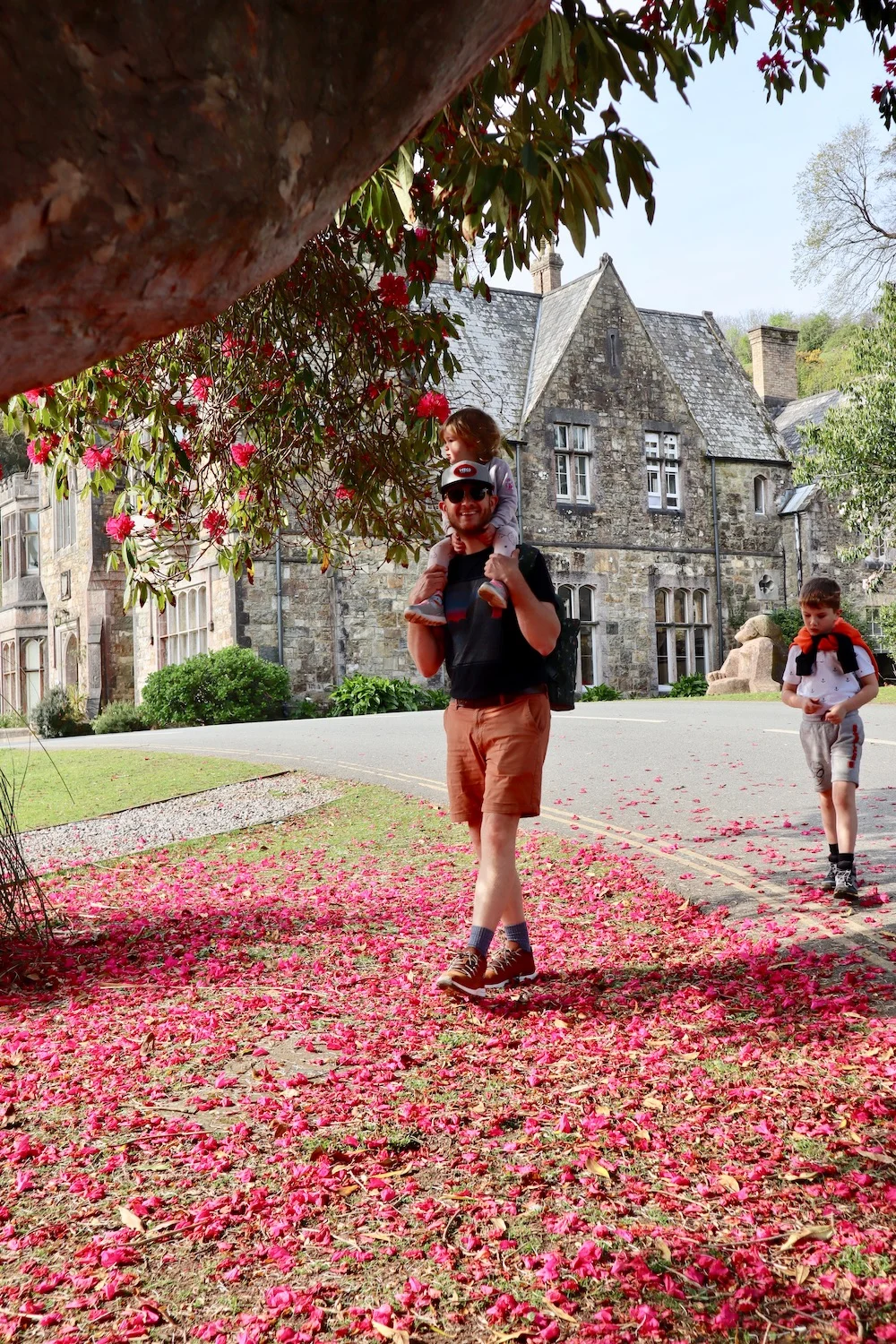 Near the entrance to the beach car park you'll also spot the stunning entrance to Oriel Plas Y Weddw.
Oriel Plas Y Weddw is a beautiful art centre with a cafe, gallery, woodlands, gardens and outdoor theatre. It's one of the oldest art centres in Wales and you can't leave Llanbedrog Beach without a look around!
Paddleboarding at Llanbedrog Beach
Llanbedrog Beach is my favourite place for paddleboarding on the Llyn Peninsula. I like it so much because the water is so calm and the 1-mile beach means there's always plenty of space to get into the water.
I also like it because the car park is so close to the beach, meaning I haven't got far to walk with my board!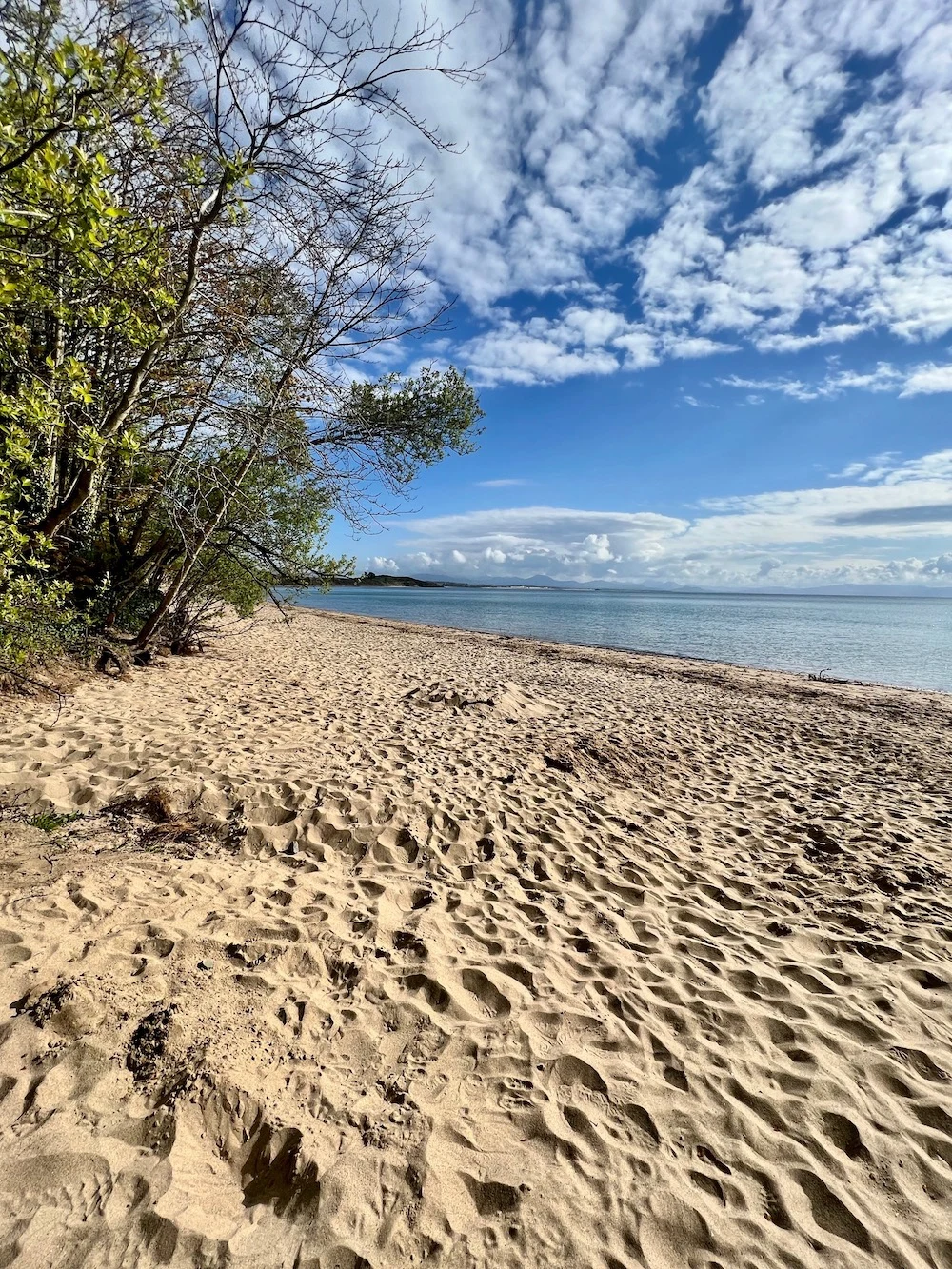 Things to do nearby
Other places worth visiting near Llanbedrog Beach include:
Abersoch
Pwllheli
Aberdaron
Whistling Sands
Nefyn
Criccieth
If you're looking for more day trip ideas for North Wales, here are some of my favourites….
And another of my favourite beaches in North Wales is Porth Iago so be sure to check that out too!
10 things you need to know about visiting Aber Falls
The best places to camp in North Wales
Visiting Harlech in North Wales, it's more than just a castle!
1 week itinerary for North Wales
A mini guide to Llangrannog, West Wales