If you're looking for things to do in Chester then you've come to the right place! I've lived on the outskirts of Chester for most of my life so here are some of my favourites!
Chester is one of the country's most important heritage cities and, in my opinion, it's also one of the most underrated cities in the UK! It's gorgeous and there are so many things to do in Chester on a day trip or weekend break.
Chester is a fantastic mix of old and new. It's a city built by the Romans almost 2,000 years ago with many ruins still dotted around the city centre, not to mention meticulously preserved Tudor and Victorian buildings. We have those gorgeous black and white buildings, Chester's famous 'rows', the River Dee and an amazing choice of traditional pubs, stylish bars, friendly cafes and great restaurants.
One of the best things about Chester is the modestly sized city centre. It means you can walk everywhere and see everything in just a day or two, making is perfect place for a weekend break!
This is my list of things to do in Chester city centre but if you're looking for things to do around the whole city you have to check out my post: 100 things to do in Chester.
If you'd like to see a little more of the area, I have a great post about spending a weekend in Chester and North Wales.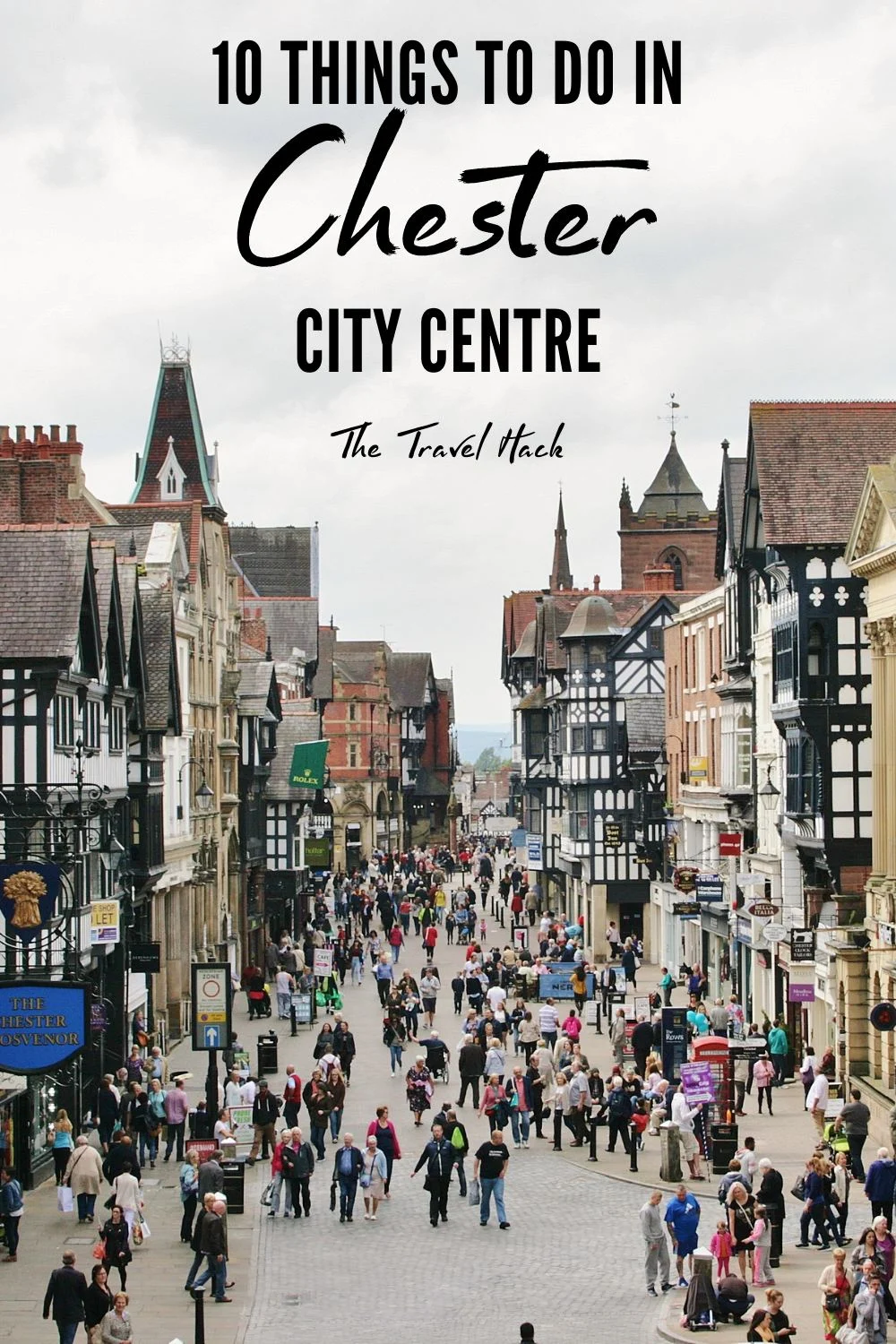 Where to stay in Chester?
If you're spending a few nights then you've got loads of options for holiday rentals in Chester. There are lots of hotels, apartments, houses, flats, hostels, guesthouses and unusual places to stay! I highly recommend taking a look at cozycozy, it's an accommodation search engine that brings together all the accommodation types in one search and makes it really easy to narrow down your search and find the best price.
Looking for things to do in Chester city centre? Here are some suggested places to check out on your city break to Chester.
1. Visit Grosvenor Park (and check for Open Air Theatre tickets!)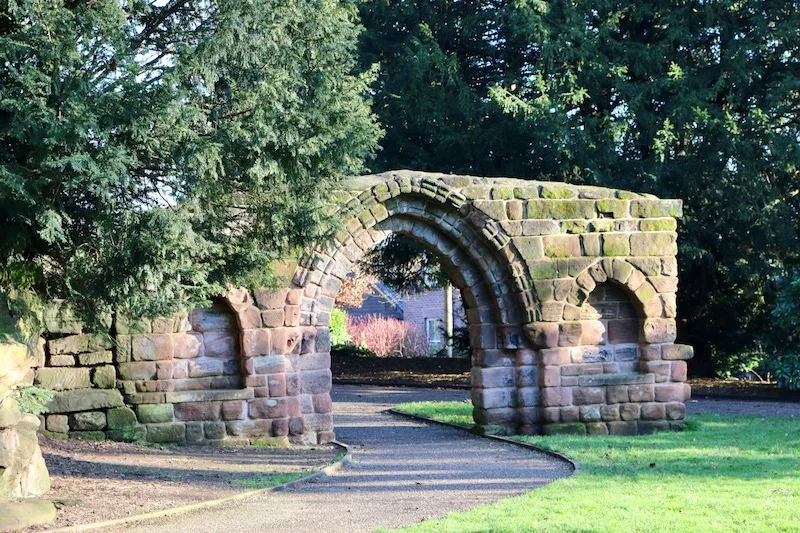 Grosvenor Park is a beautiful open space dating back to the Victorian era and in 2014, the park received millions in funding to be restored to its former glory. It sits right next to the River Dee so it really is a wonderful place to take a stroll, relax or bring the kids to make the most of a sunny day in Chester city centre.
Grosvenor Park also has plenty of other activities and community-led classes such as the miniature railway (my kids LOVE this!), craft workshops, poetry classes and Tai Chi. Every summer during July and August, Grosvenor Park hosts Open Air Theatre with a capacity of 500 seats. Productions include Shakespeare plays and Children's book adaptations and fairytales.
Take a boat trip up the River Dee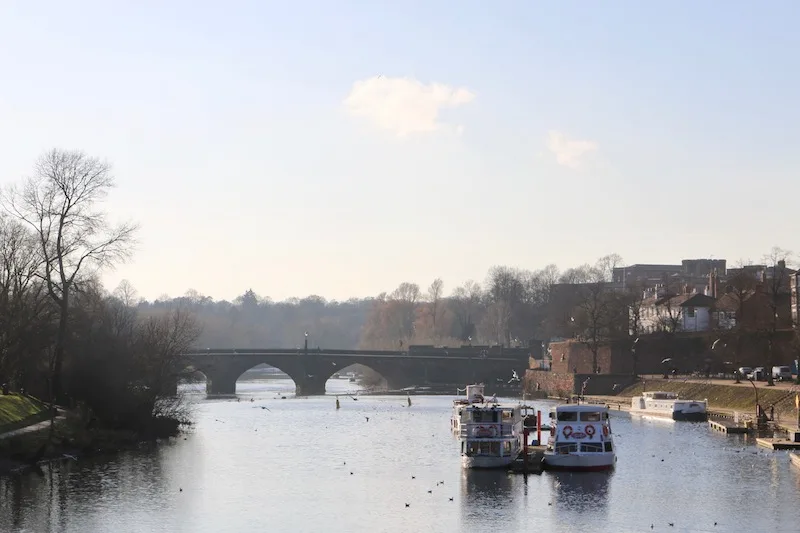 After you've spent time leisurely walking through Grosvenor Park, why not take a boat trip up the River Dee? This river runs right through Chester city centre and is actually 70 miles long and crosses the Welsh border.
You can take an informative boat cruise along the River Dee with a guide, or you can hire a pedalo or a rowing boat and do it yourself!
Don't forget to check out the Chester canals on the other side of Chester city centre which is also a nice, quiet part of the city for a walk. For such a bustling city, Chester still has lots of serene places to relax.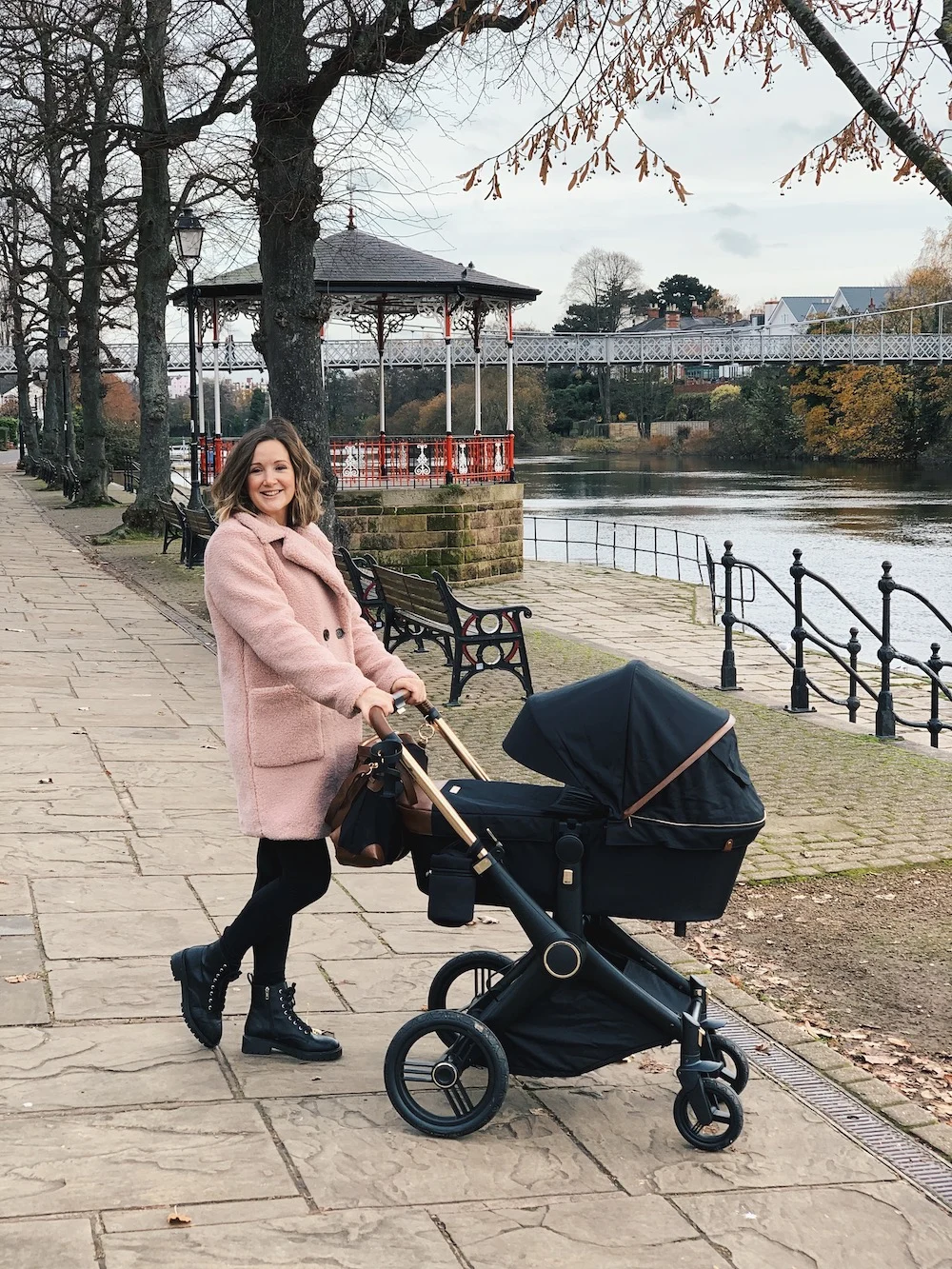 Walk along the Chester City Walls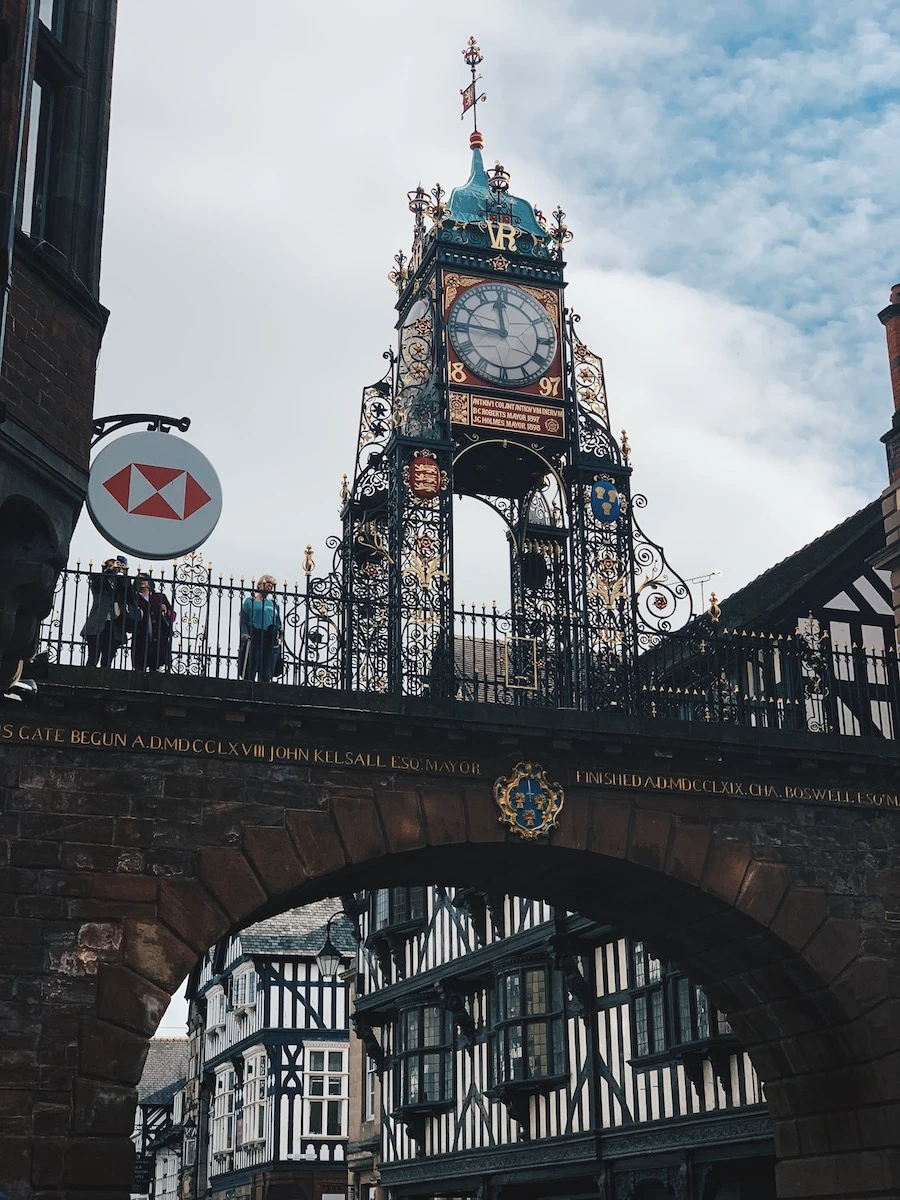 A methodical way to walk around Chester is to follow what remains of the Chester walls around the original city centre. The Chester City Walls were first built by the Romans around 70/80 AD as a defensive structure made from wood, earth and grass. Over the years, the Chester City Walls were improved and strengthened, first with sandstone and then in the 12th Century, the wall was completed to make a full circuit after the Norman invasion.
Today, some parts of the wall are missing or aren't safe to walk along but it's still one of the top things to do in Chester and it's fascinating to see Chester from a higher vantage point and how the city has grown beyond its original size. You don't even have to walk around all of it – you can climb up whenever you fancy seeing Chester from a different angle.
Roman Tours Chester: If you're a self-confessed history nerd, definitely book a place on a Roman Tour in Chester where an informative guide will lead you around all of Chester's historic sites while dressed as a gladiator. Sounds cheesy but these tours have been running for years and there isn't a better, more well-loved walking tour in Chester. If you've got kids then they will love it and they get the chance to dress up too!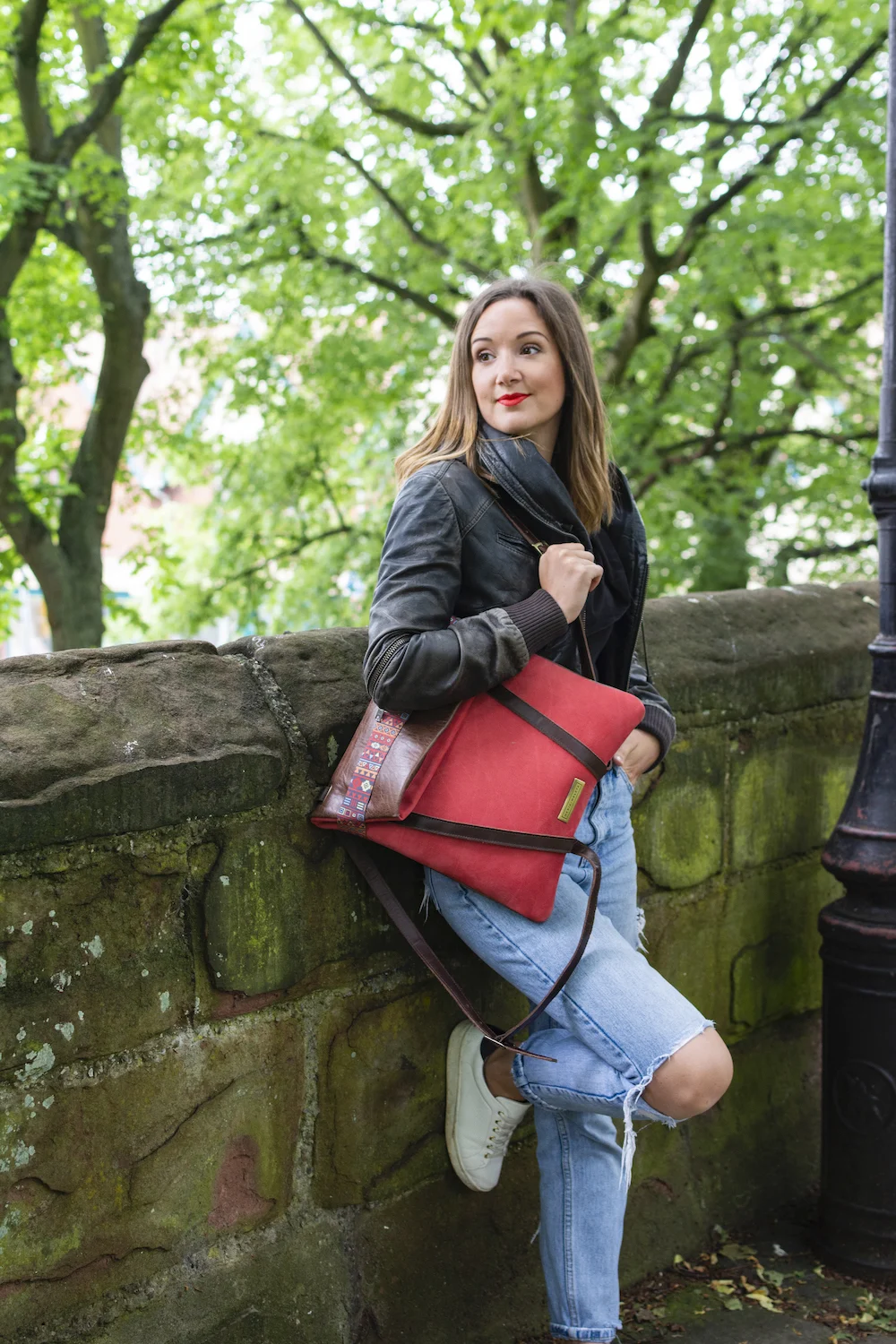 Check out the Eastgate Clock and the historic Chester Rows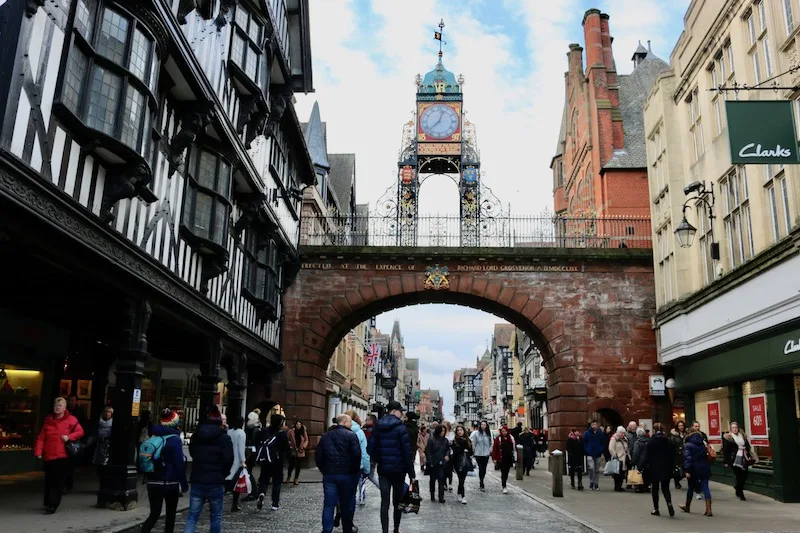 Every city has it's own high street or main shopping district, but I can say quite confidently that few are as pretty and historic as Chester's high street. The Eastgate clock in Chester city centre is the most photographed clock in England, after Big Ben of course. It's located at the original entrance to a Roman fortress and, much like the Chester City Walls, has had many facelifts over the years. The most striking is the addition of the clock to celebrate Queen Victoria's 60 years on the throne.
The Chester Rows describe the Victorian, covered second-floor shops in Chester's main shopping area. No one's really sure why they were built in this way as they're completely unique to Chester. While high street shopping in any other city might not be a 'cultural' experience, in Chester it definitely is!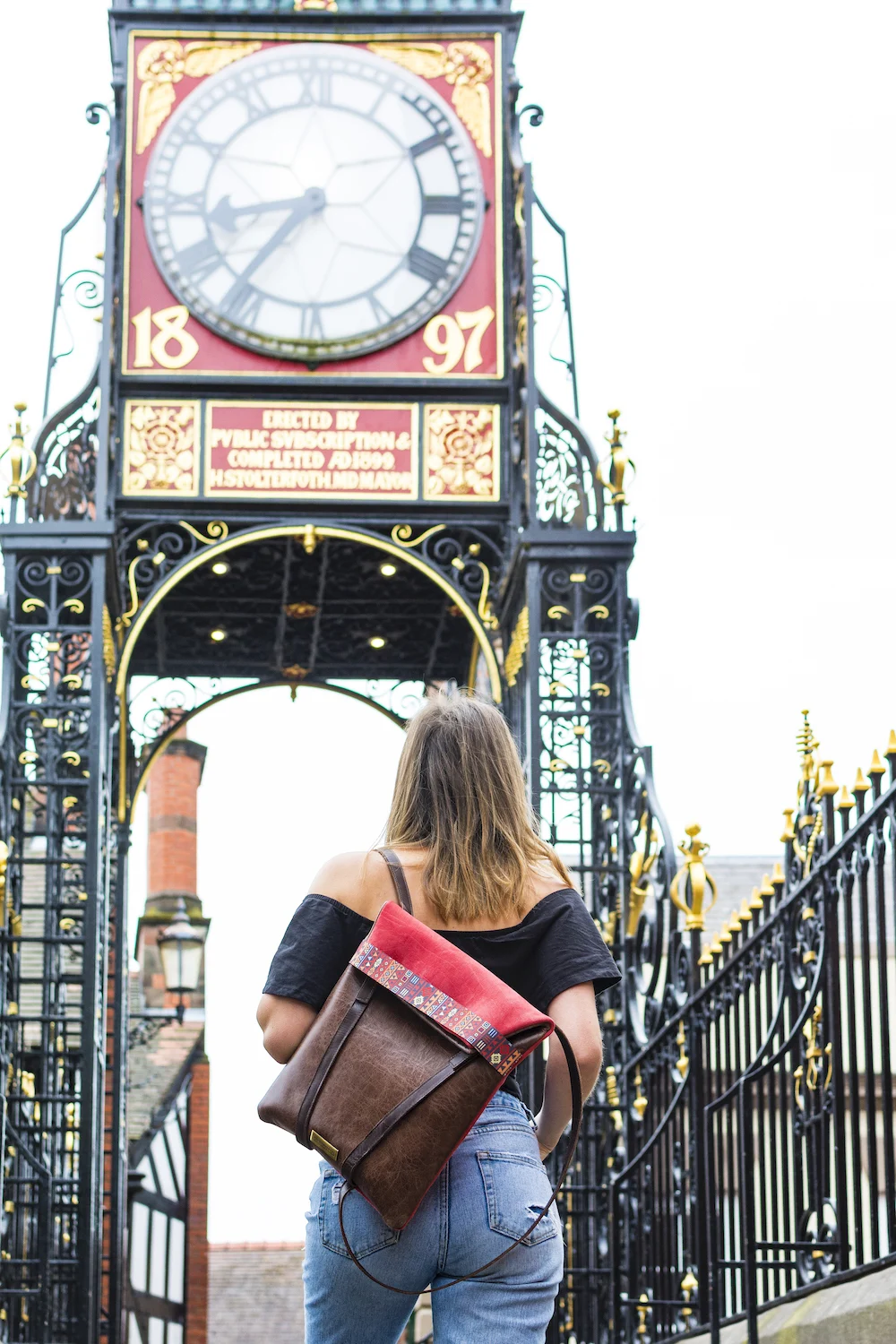 Visit the impressive Chester Cathedral and Castle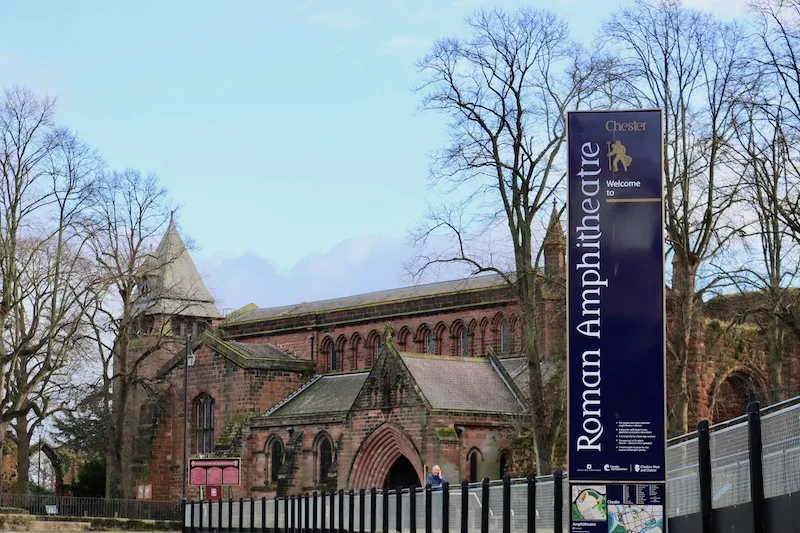 Two of Chester's most important and historic buildings are the Cathedral and the Castle. If you're not quite finished learning about Chester city centre's past then you need to visit the Cathedral and Castle.
Chester Cathedral was first built in 1092 before being rebuilt into the Gothic style you can see today in 1250 which took an eye-watering 275 years to finish. I think everyone should visit just to see what they managed to achieve in that amount of time.
Chester Castle isn't quite as impressive but it's still worth a look! dates back to a similar time period of William the Conqueror and then rebuilt in the 12th Century.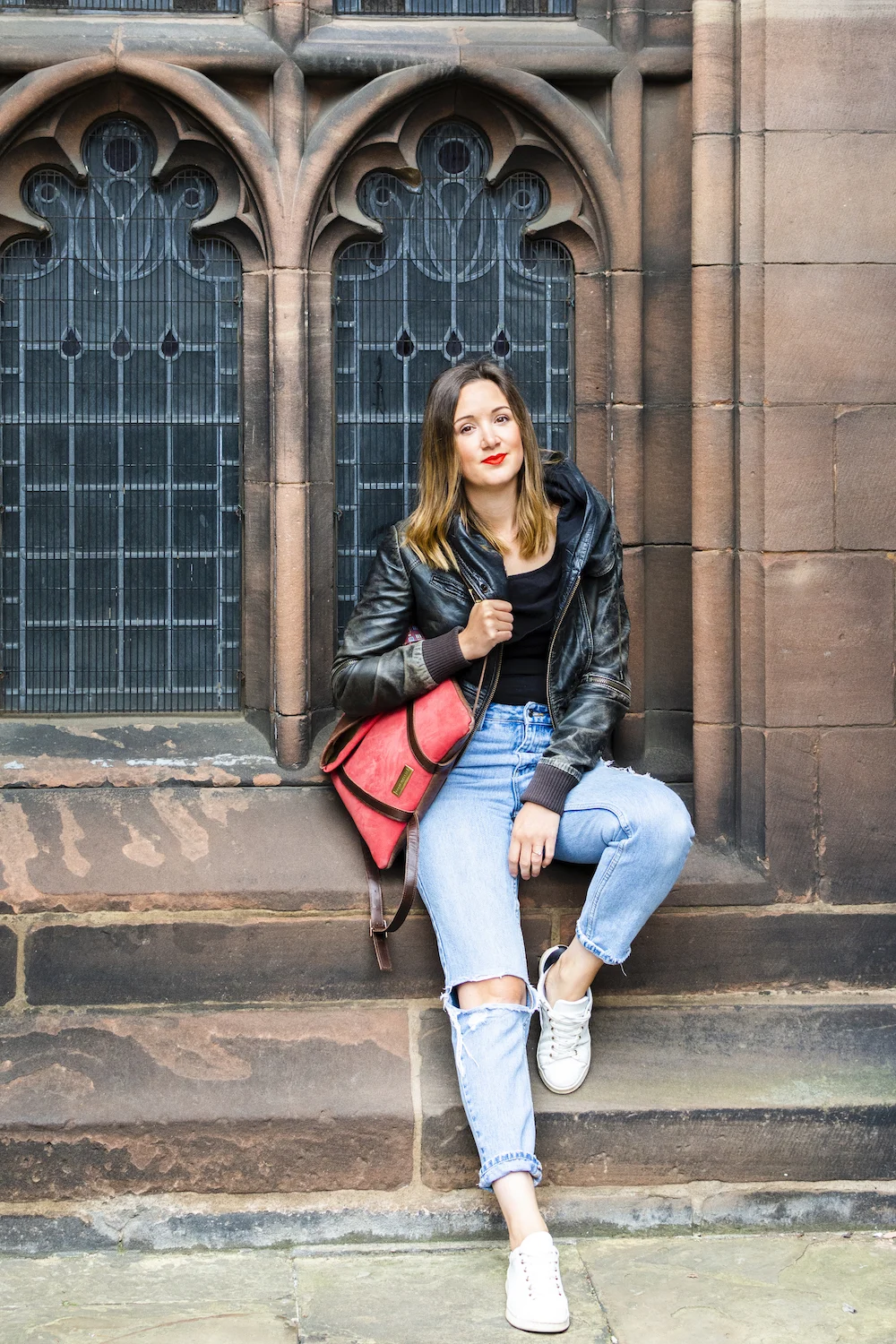 Visit Storyhouse
Storyhouse is an old cinema converted into a theatre, cinema, library, restaurant, bar and general cultural space. It's a gorgeous place to relax after lots of walking around the city and there are often great activities scheduled. It's a nice place to visit with kids as there's a hidden place space near the cafe with a dressing up box and toys.
Chester Market
If you're planning your trip for the future then keep an eye on the new Chester Market project which is opening in the summer of 2022. It's going to be an amazing indoor market space and it will be a modern take on the traditional market. I can't wait for it to open.
But for now, we do have the indoor market on Princess Street and there is a Sunday market held near the train station. The best way to find these events is often via Facebook events.
Watch outdoor cinema in the Roman Gardens
If outdoor theatre in Grosvenor Park doesn't sound like your cup of tea, then why not try outdoor cinema in the Roman Gardens. Moonlight Flicks screens classic and popular films throughout the summer and you just need to bring your own deck chair and snacks!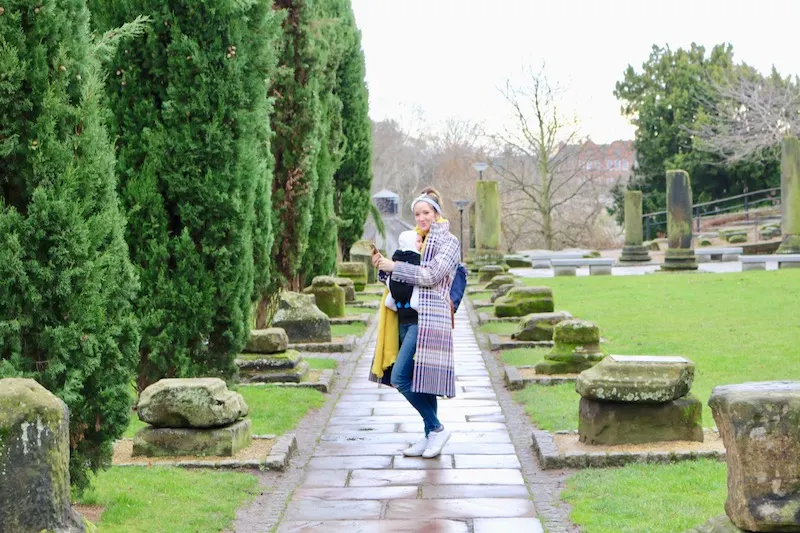 Join in Chester's fabulous afternoon tea scene
They say that every single person living in Helsinki could all be in a sauna at the exact same time because there are just so many saunas. Well, I wouldn't be surprised if the same were true of Chester and afternoon tea. There are so many amazing places to go for afternoon tea in Chester!
Among the best are the Madhatter's Unique Afternoon Tea at Oddfellows Hotel for an eccentric, entertaining option and Traditional Grosvenor Afternoon Tea at The Chester Grosvenor Hotel if you want a more classic, luxury afternoon tea. They even serve a 'Gentleman's version' if you're more of a savoury than a sweet lover.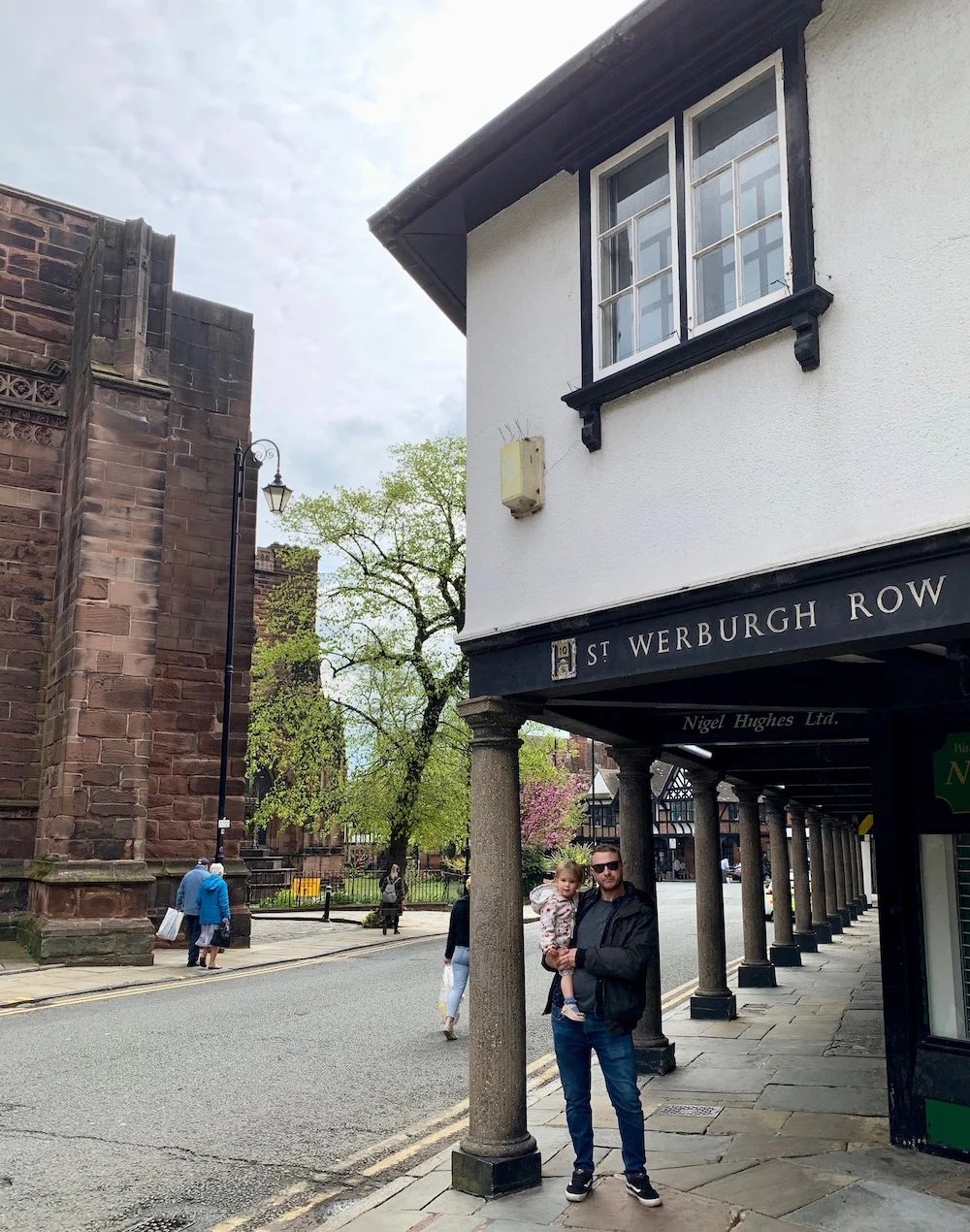 Spend a day at the Chester Racecourse
Chester racecourse is simultaneously the oldest working racecourse and possibly the smallest racecourse in the country. The main racing season is between June – September and they have plenty of themed days like Family Funday and Ladies & Gents Evening.
If you like to watch racing then definitely book tickets to one of Chester Racecourse's events and don't forget your stiletto heels and fascinator for a day at the races!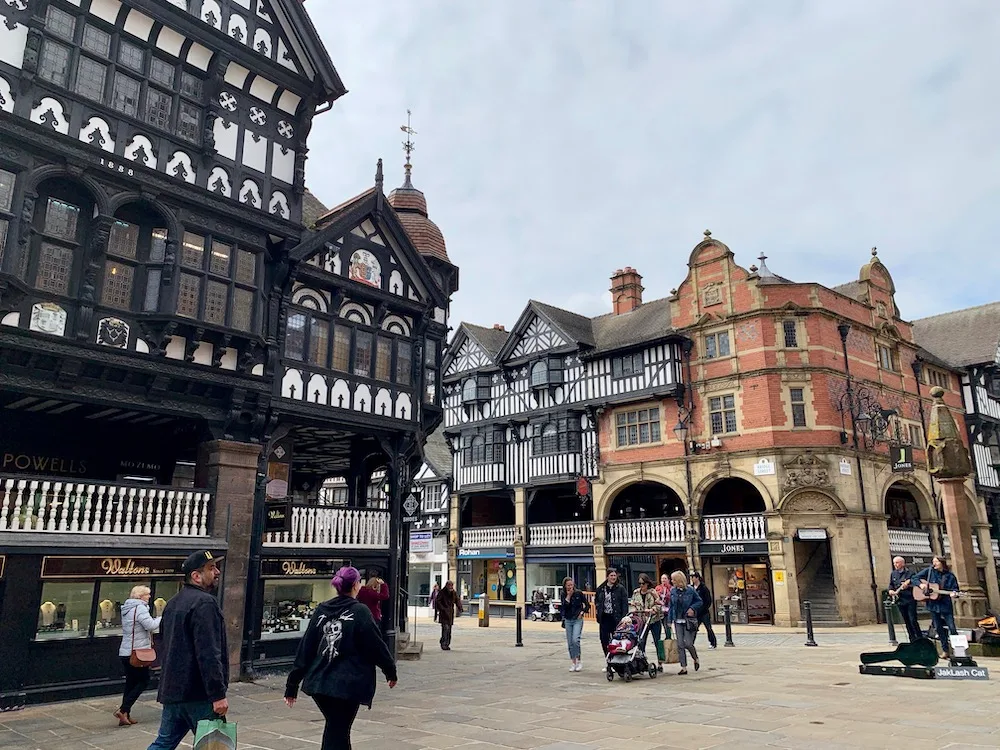 That's my guide of what to do in Chester city centre! Have you visited Chester?