Whether you're visiting Rome for the first, second or seventh time, there are so many things to do in Rome I doubt even the locals have seen, visited or eaten everything on this list! They say Rome is the eternal city and I honestly think you could spend every day of your life in a different museum or church and try to visit every stylish boutique and delicious gelateria in the city and still not see it all.
And that's the beauty of Rome, there are so many things to do that you couldn't possibly do everything. You can explore the city at your own pace and pick activities based on your interests as well as all the top things to do in Rome based on the touristy attractions! Whether you're a foodie, history enthusiast or maybe you're a self-confessed gelato expert (I think I'm starting to become one of those!) Maybe you're a shopaholic or Italian film fan or you're simple looking for a romantic weekend in Rome, there are countless things to do in Rome just for you!
So here are 50 of the best things to do in Rome to start you off with…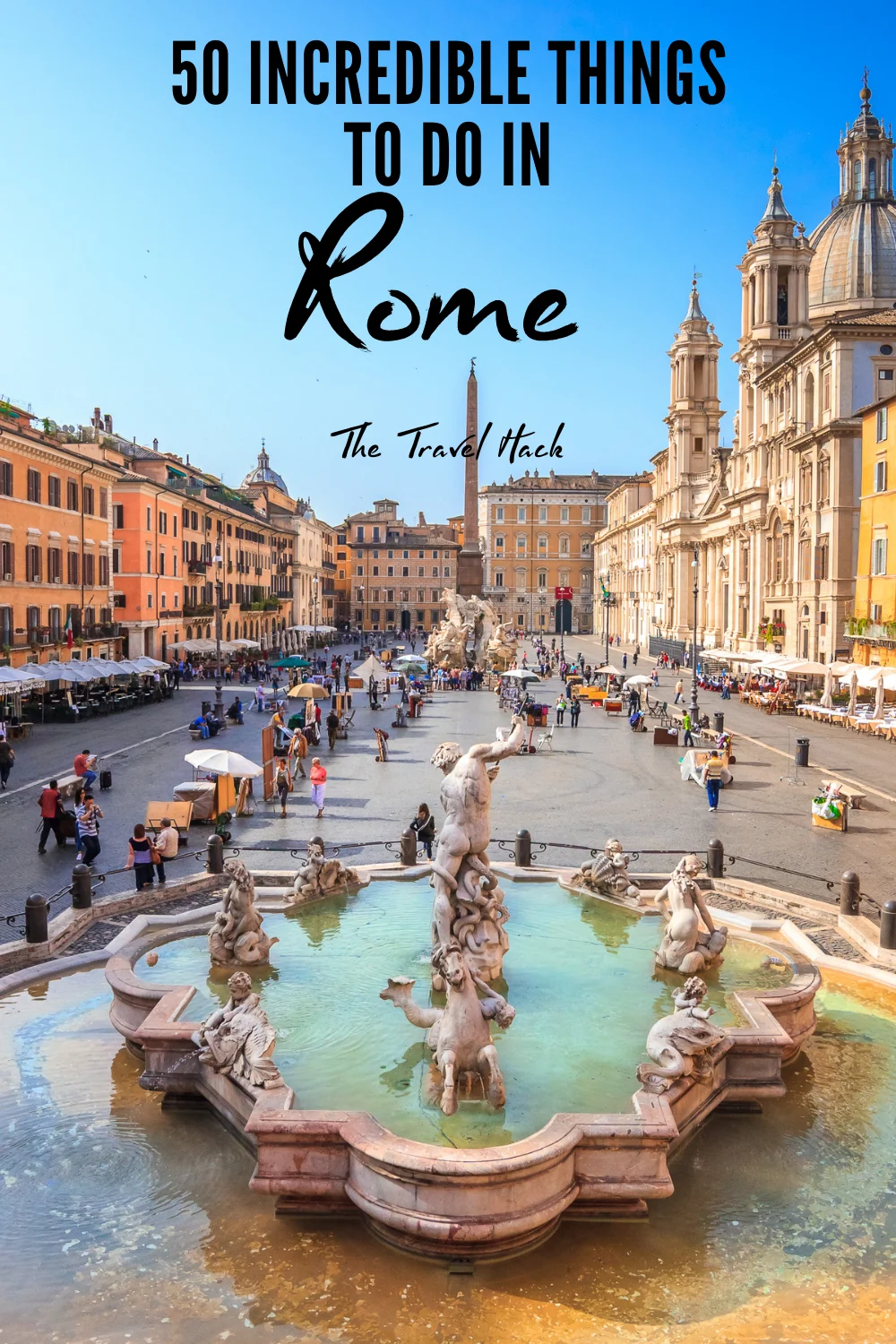 50 things to do in Rome
Let's start with Rome's top sights and landmarks
If it's your first time visiting Rome, you cannot miss these top sights and famous Roman landmarks.
It's almost 2,000 years old, but in 2018 the Colosseum was the most popular tourist attraction in the world with 7.4 million visitors. The largest amphitheatre ever built, the Colosseum is one of the seven new wonders of the world and it's an iconic symbol of the Roman Empire and one of the top Roman landmarks. Basically, a must-see for anyone's first-time visit to Rome!
Travel Hack Tip: If you'd like to get more from your visit then I'd highly recommend booking a tour of the Colosseum. I have another blog post with our recommended tours to take in Rome.
Originally a temple before the Catholic religion really took off (my fellow Angels and Demons fans will already know this!), the Pantheon finally became a church in the 7th century and is known as the oldest Catholic church in Rome.
The Pantheon is famous for its round dome and opening in the centre of the roof so that when it rains the water streams right through the centre of the building!
The Trevi Fountain is the largest Baroque-style fountain and one of the most famous fountains in existence. The saying goes that you should throw three coins in the Trevi Fountain: one guarantees your return to Rome, the second will ensure you fall in love and the third guarantees you'll get married. Almost €1.5 million is collected every year and is currently given to Catholic charities.
Travel Hack Tip: To see the fountain less crowded, you need to be there just before sunrise. In summer, if you visit at 7:00 in the morning you'll still be too late!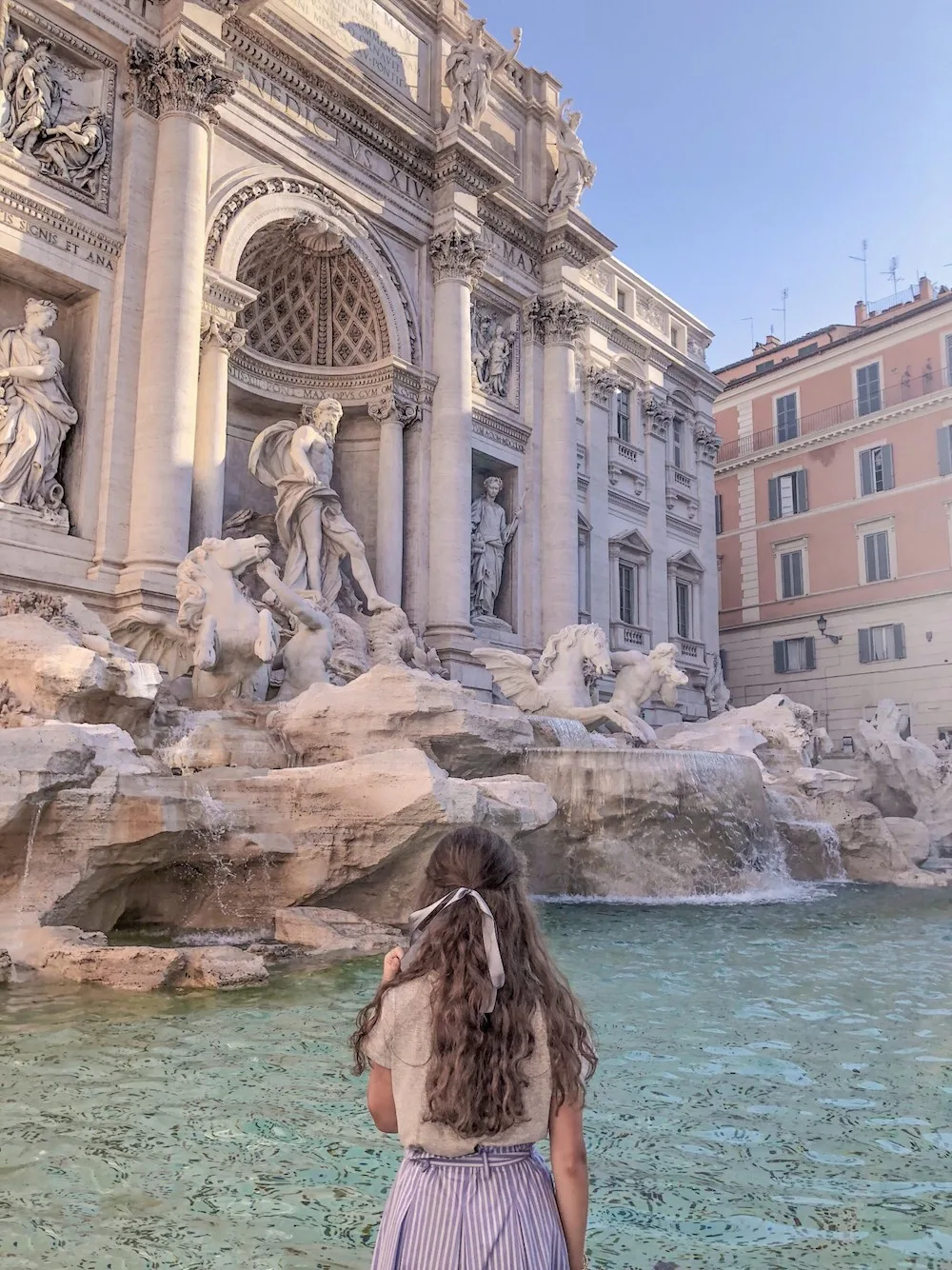 It's surprising that the Roman Forum and Palatine Hill are often listed as separate tourist attractions because they're part of the same complex and only require one ticket to see both, but that just goes to show how important both individual sites are! The Roman Forum is an ancient plaza and the site of many public speeches, trials and other Government business during the Roman Empire.
Nearby, Palatine Hill is one of the seven hills Rome is said to be built on and has been the site of many palaces, temples and houses of Roman Emperors over the years.
Across the River Tiber and the Ponte Umberto I bridge is Castel Sant'Angelo, originally built in 134AD by the emperor Hadrian as a mausoleum for him and his family. The castle has remained in relatively good condition due to it being repurposed over the last 2,000 years including as a military fortress, a castle and now a museum.
It's definitely one of my favourite things to do in Rome just for the views at the top as it's situated perfectly between Vatican City and Rome and there's so much you can see.
A trip to Rome automatically includes a trip to Vatican City, especially if it's your first time in Rome! The Vatican Museums are a selection of Christian and art museums all in one complex, which includes the Sistine Chapel and Michelangelo's famous The Last Judgement painting on its ceiling. The Vatican Museums is one of the largest museums in the world, so don't overstretch yourself and try to see everything.
The largest church in the world, St Peter's Basilica in Vatican City should be high on your list of things to do in Rome. It's one of the most important churches in the Catholic faith and where the Pope gives most public speeches and leads many holy ceremonies. The dome also offers fantastic views over Vatican City and Rome, though be aware there are quite a few steps to the top!
Travel Hack Tip: The queues for the Vatican Museums and St Peter's Basilica can be horrendous and some visitors choose to book in advance to skip them which is a good idea if you're short on time. But if you haven't booked ahead, head to the Vatican Museums in the morning and then St Peter's Basilica in the afternoon. Generally, the queues to both are busier in the morning than in the afternoon, and at least you can queue in the shade for the Vatican Museums.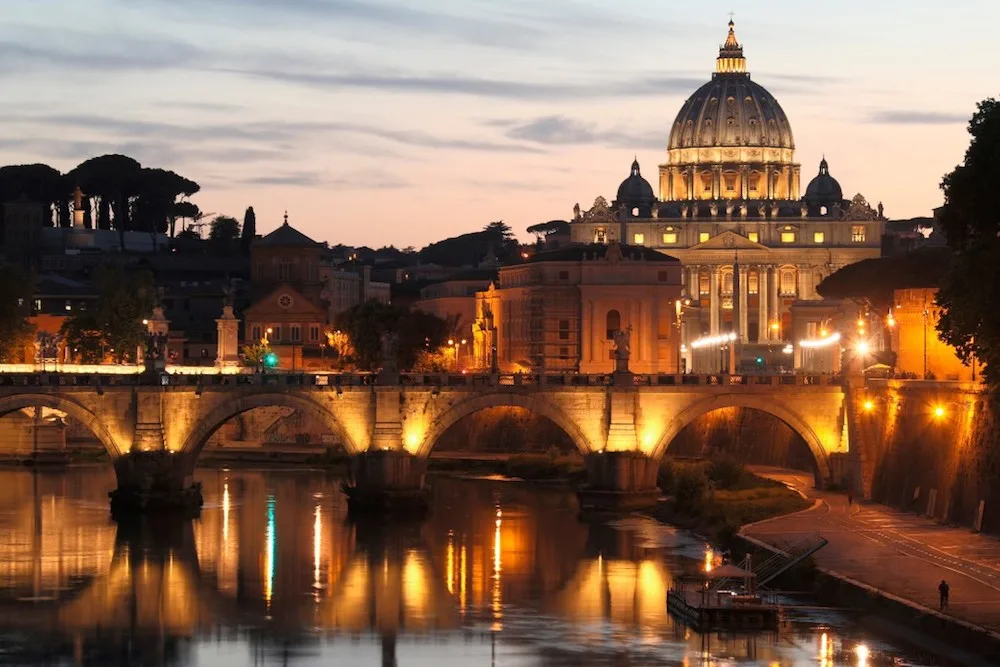 Museums, galleries and culture in Rome
Things to do in Rome to learn more about the city's history
Can't get enough of museums and galleries? Rome has around 100 museums and they cover all manner of subjects from incredibly important historic art to ruins, food and cultures.
Villa Borghese is a beautiful, landscaped garden and the third largest park in Rome. It contains a number of buildings and museums but the most prominent is Galleria Borghese, an art gallery showcasing paintings and sculptures by many prominent Italian artists such as Bellini and Caravaggio.
9. MAXXI (National Museum of the 21st Century Arts)
It's so easy to focus on the ruins from 2,000 years ago that we forget there are so many new things to do in Rome, including the MAXXI art gallery. Housed in an appropriate contemporary building, MAXXI is the place to visit for all things modern art including workshops, conferences, performances and installations.
Personally, one of my favourite things to do in Rome. The Keats-Shelley Memorial House is a museum dedicated to English Romantic poets who all spent a significant amount of time in Rome, particularly John Keats whose house the museum now resides in, and of course his friend Percy Bysshe Shelley.
It's a modestly-sized museum which reimagines what the house might have looked like in the early 19th century and exhibits work by Keats, Shelley, Lord Byron, Wordsworth, Oscar Wilde and many other writers from the same era.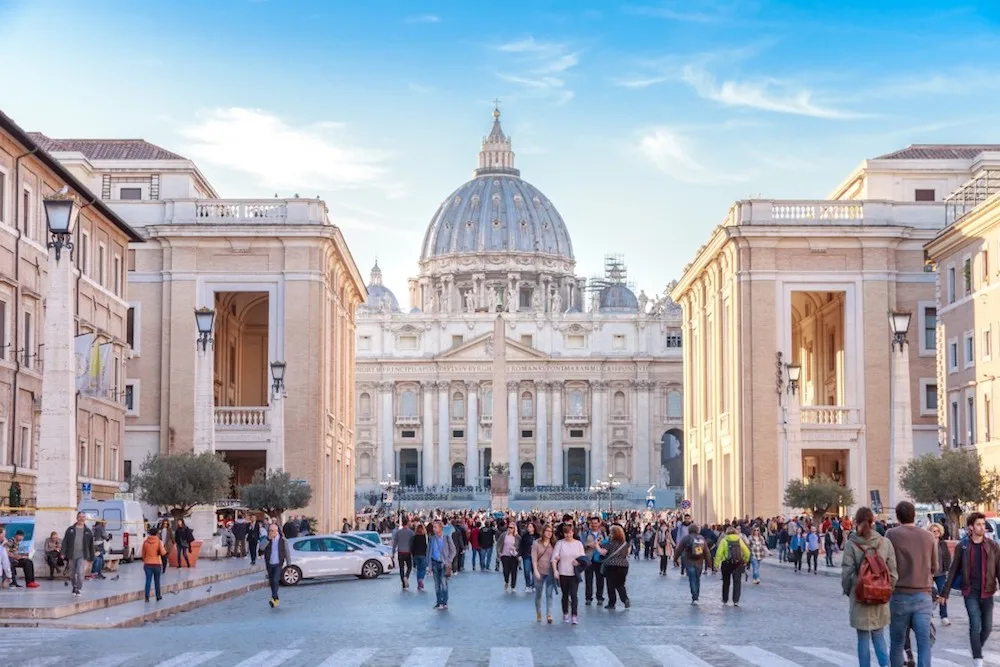 Set on another of Rome's famous seven hills, the Capitoline Museums are a group of art and archaeological museums. In 1471, the Pope donated a collection of bronze coins to the people of Rome and kept them at this location on Capitoline Hill.
The museum is thought to be the very first museum in the world as art was usually kept in private collections and not on display to the public in this manner.
One of the most well-located things to do in Rome, the Doria Pamphilj Gallery is yet another fascinating and important gallery in Rome. The gallery is situated inside Palazzo Doria Pamphilj which is still owned by the Doria Pamphili family and the collection includes artwork and furniture.
If you're not normally a big fan of museums, I might be able to twist your arm with this one. Yep, there is a National Museum of Pasta Foods in Rome. It's a cute little museum that won't take up too much of your time and you can learn about the history of pasta, see artworks made out of pasta and there is even a gift shop where you can buy… You guessed it, pasta! Definitely a good one if you're visiting Rome with kids.
If the Colosseum, Palatine Hill and the Roman Forum don't fulfil your Roman ruin requirements, then you need to pay a visit to the National Roman Museum's four ancient archaeological sites around the city. The museum covers the sites themselves and the artefacts at the Baths of Diocletian, Crypta Balbi, Palazzo Altemps and Palazzo Massimo Alle Terme.
Out of all the things to do in Rome, this is one museum that cinema fans shouldn't miss! Just a short metro ride to the south of Rome is Cinecittà, Europe's biggest film studio and museum. Here, you can see an exhibit dedicated to Italy's most revered filmmaker Federico Fellini and tour the backlot (which includes sets of ancient Rome and the film Gangs of New York) with an informative tour guide.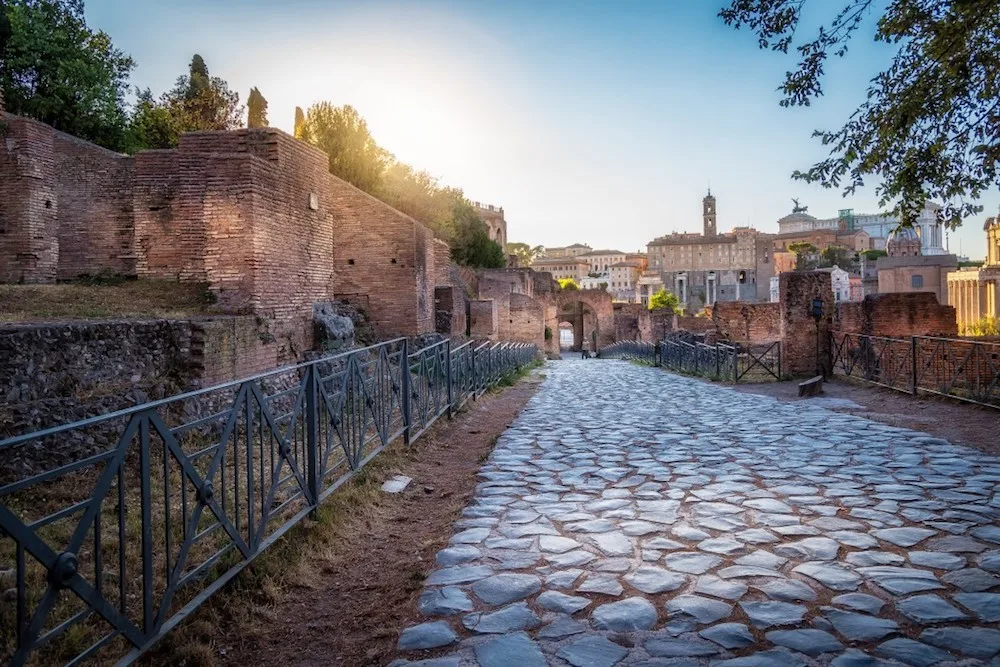 Piazzas and neighbourhoods in Rome
Where to wander around Rome
You will probably spend a lot of time walking between all the museums, galleries and other things to do in Rome. To get the most out of all this walking, make sure you wander down the most beautiful little side streets and grand piazzas along the way.
Centro Storico or 'historic centre' is the name given to the heart of a city. In Rome, this is where visitors can find shaded cobbled alleyways and local cafés down side streets as well as lavish palazzos and stately museums.
Most of the top things to do in Rome's Centro Storico are on this list, but it's the neighbourhood to head to if you're a bit lost and aren't sure what to do next! Just walking around Centro Storico is one of the best things to do in Rome.
This piazza is one of the best (and also the quietest) piazzas in Rome. It has lots of little cafés and restaurants but it's also home to Bernini's famous Fountain of Four Rivers.
Piazza Venezia is a huge piazza very near the Roman Forum and is the former embassy of the Republic of Verona in Rome. There's a prominent statue of King Vittorio Emmanuele II just outside of the building, too.
One of the most famous (and popular) piazzas in Rome, the Piazza di Spagna is home to the Spanish steps and the Fountain of the Boat which is one of the many great places around Rome to fill up your water bottle!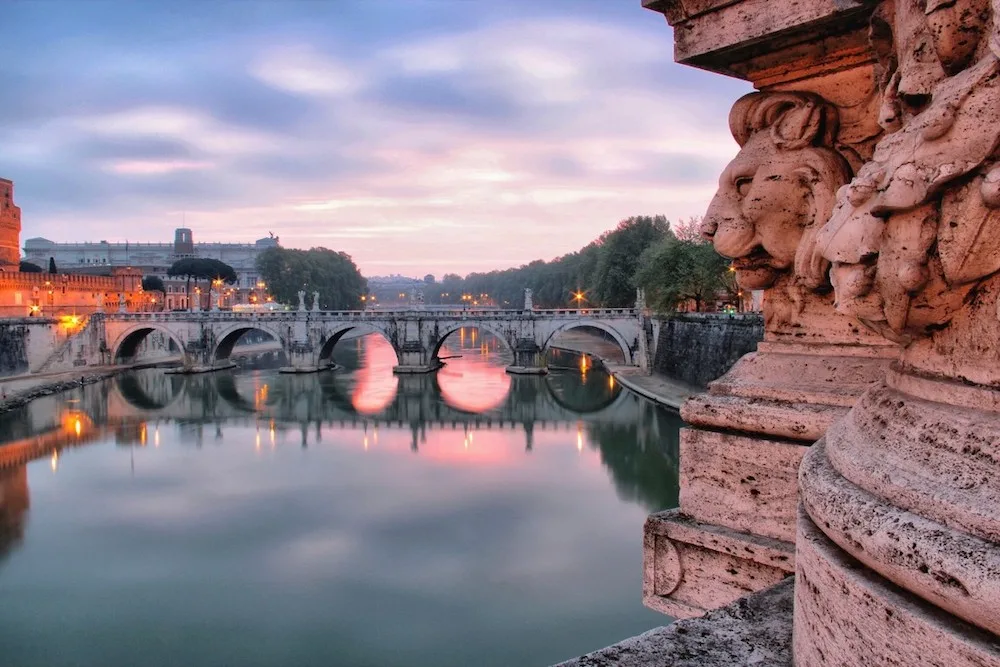 More urban and less quaint than the other piazzas in Rome, Piazza del Popolo is towards the north of the city near Villa Borghese. Public executions used to take place here and, because of the piazza's proximity to the ancient road of Via Flaminia, this would be the first part of Rome travellers would see.
If you want to experience a more local feel to Rome, then you need to hop across the River Tiber to Trastevere. All the best restaurants and hangouts are in Trastevere making it a great base for your trip to Rome.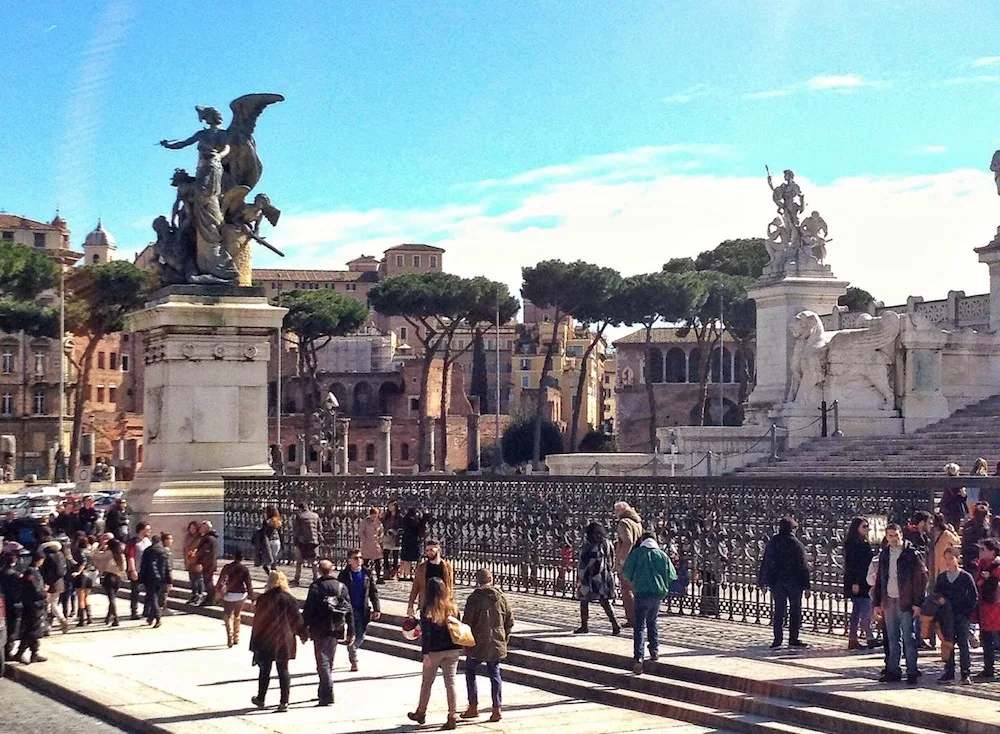 Churches in Rome
The most beautiful, ornate Roman Catholic churches
For me, I haven't visited Italy if I haven't set foot inside at least one church and I haven't been to Rome if I haven't set foot in at least five. Here are some of the best churches in Rome but honestly, any random church in Rome is usually hundreds of years old, ornate and incredibly beautiful!
This Basilica is one of the most visited churches in Rome, after St Peter's Basilica in Vatican City of course. It's one of seven pilgrimage churches in the world and is where famous architect Bernini is buried.
Interestingly, St Peter's Basilica isn't a Cathedral and therefore isn't the Cathedral of Rome, it's actually Arcibasilica di San Giovanni. Even more interesting is that this church is situated in Rome but technically belongs to the Vatican and has the same kind of priveledges as an embassy.
One for devout Catholics on a pilgrimage to Rome, this minor Basilica definitely doesn't look like much on the outside but is an important Roman church. It's home to one of Michelangelo's best-loved statues of Moses and houses the partial remains of Pope Julius II.
The San Clemente Basilica is actually not one but three whole churches built just under 1,000 years ago. They were actually constructed on the ruins of older churches which date from the very beginning of the Christian religion.
I'm not sure the Santa Maria in Cosmedin church would be so popular if it's 'mouth of truth' statue weren't featured in the classic film Roman Holiday starring Audrey Hepburn and Gregory Peck. According to the myth, you're supposed to put your hand into the mouth of this big stone face and it will eat your hand if you're a liar.
Where to eat Gelato in Rome
One of the best things to do in Rome, in my opinion…
You can't go to Rome and not eat gelato! And nowadays it's super easy to find vegan options too, so everyone can partake in some delicious gelato in Rome!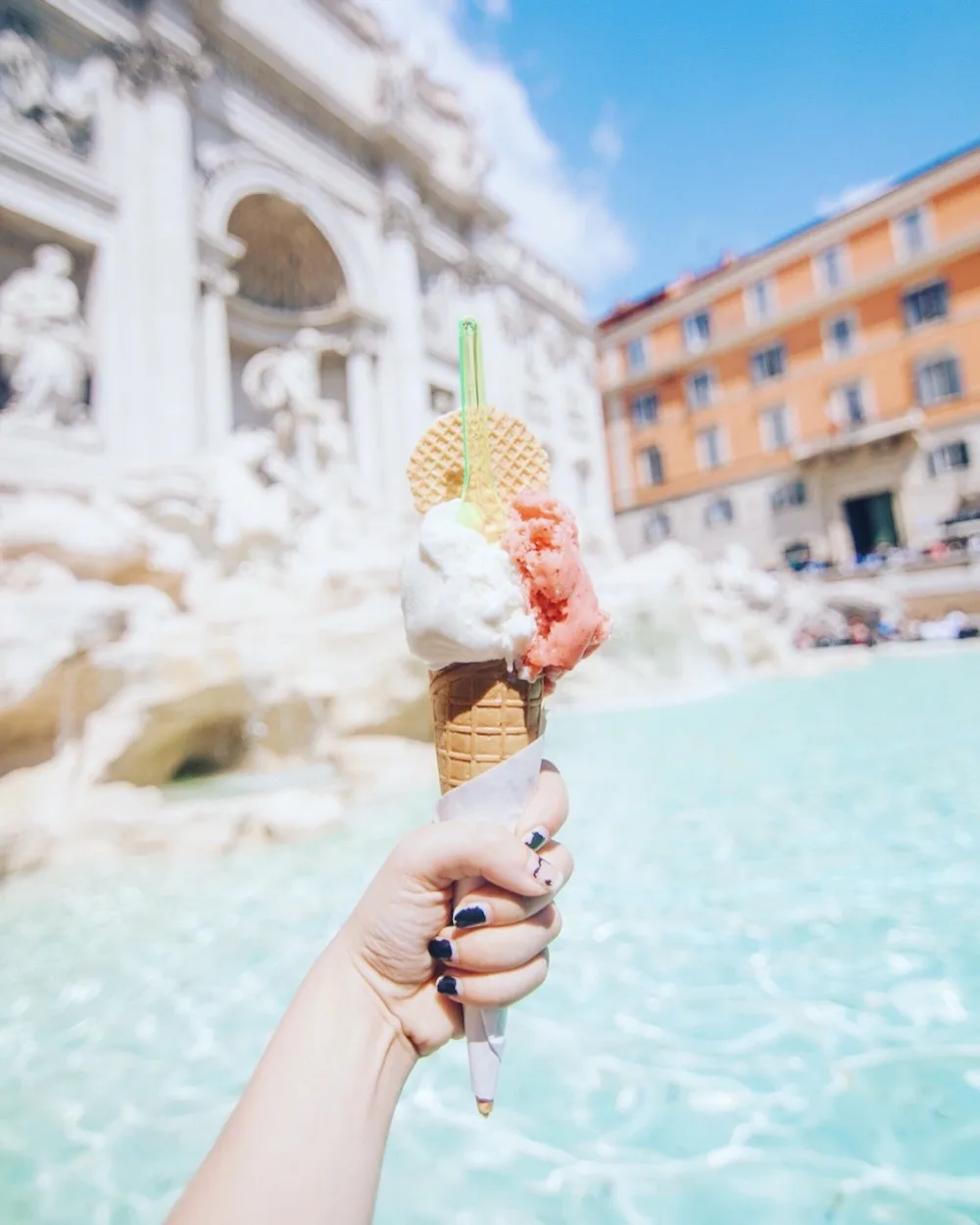 A lot of the best gelaterias in Rome are annoyingly far away from any of the main landmarks. Fortunately, Il Gelato di San Crispino is possibly one of the best places to eat gelato and it's right near the Trevi Fountain. It's also famous for being featured in the book Eat Pray Love too.
There are a few different Old Bridge Gelaterias around Rome, but the most prominent one is in Vatican City as it might be the best gelato shop in the independent city-state. Plus, it's on the way from the Vatican Museums to St Peter's Basilica, talk about prime location!
One of the most prolific and well-loved gelaterias in Rome. They have a huge range of seasonal flavours and you can see behind the counter into the kitchen so you know the gelato is made fresh every day on the premises.
It's not a 100% vegan gelateria, Il Gelatone Roma more vegan gelato flavours than most other gelaterias. Be aware that gelato is made from milk, sugar, cream and sometimes eggs, and often signs only say 'milk free.' The same goes for sorbet, not a lot of people are aware that traditional sorbet recipes sometimes include egg whites. Just something to keep in mind as you may need to ask to be 100% sure it's vegan!
This gelateria is reportedly the oldest in Rome. It's a little pricier than other gelaterias but they serve big portions and actually have tables and chairs outside.
Found in the Trastevere neighbourhood, this gelateria also caters to vegan diets and has more eclectic gelato flavours than most traditional gelato shops in the rest of Rome.
Where to eat and drink in Rome
Drink espresso, eat pasta and do as the Romans do!
Italian is everyone's favourite cuisine, right? Pizza, pasta, coffee… They're all crowd favourites and you need to try the best of everything Italian while you're in Rome.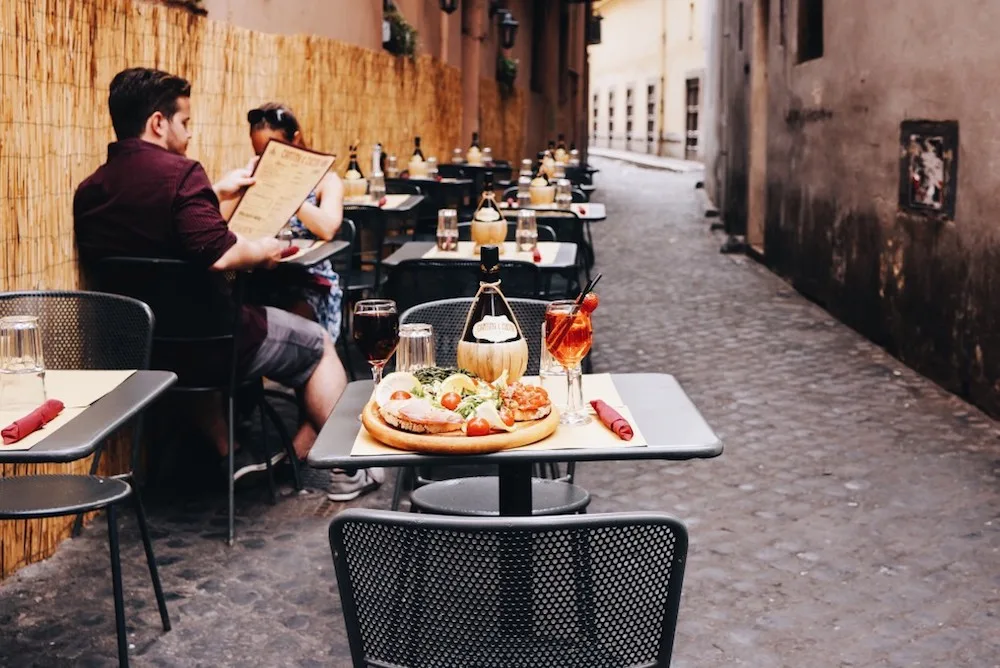 Drinking espresso at the local cafe is how so many Italians start their day. These are two of the best cafes in the city and they're practically rivals – try one of each to see which you prefer!
34. Buy local produce at Campo de' Fiori Market
Even if you're not staying in an apartment in Rome and can't cook with the fresh fish and local produce sold at this market, it's definitely worth a visit and there are bags of locally made dried pasta you can take home with you.
Like most of Rome's best-loved restaurants, La Tavernaccia da Bruno is in the Trastevere neighbourhood and is a fantastic restaurant for local, Roman cuisine which isn't as sophisticated as the north of Italy. Just good local comfort food!
36. Partake in Apertivo at SALOTTO 42
Apertivo (a pre-dinner drink with some snacks) is a Northern Italy tradition which is so ingenious it's made its way across the rest of the country. One of the best bars for apertivo in Rome is Salotto 42, which provides snacks and is just a stone's throw from the Pantheon but isn't overly crowded this time of the evening.
Cocktails in Rome usually mean modern, trendy and a little bit hipster. That's definitely the case with Black Market Hall, one of the coolest bars in Rome for cocktails.
Another restaurant in the Trastevere neighbourhood, this is one of the best pizzerias in Rome for traditional, Napoli style pizza.
Not even Rome has escaped the craft beer boom in Europe! Open Baladin might be a little bit of a walk away from the very centre of Rome but it has one of the biggest selections of imported craft beer and local Italian microbrews.
There is one of the top things to do in Rome if you want to enjoy the best pasta available on a budget. Pastificio Guerra sells fresh, takeout pasta and as you can imagine it's quite popular so be prepared to wait!
If you're looking for more places to eat, check out this post: 5 of the best places for brunch in Rome.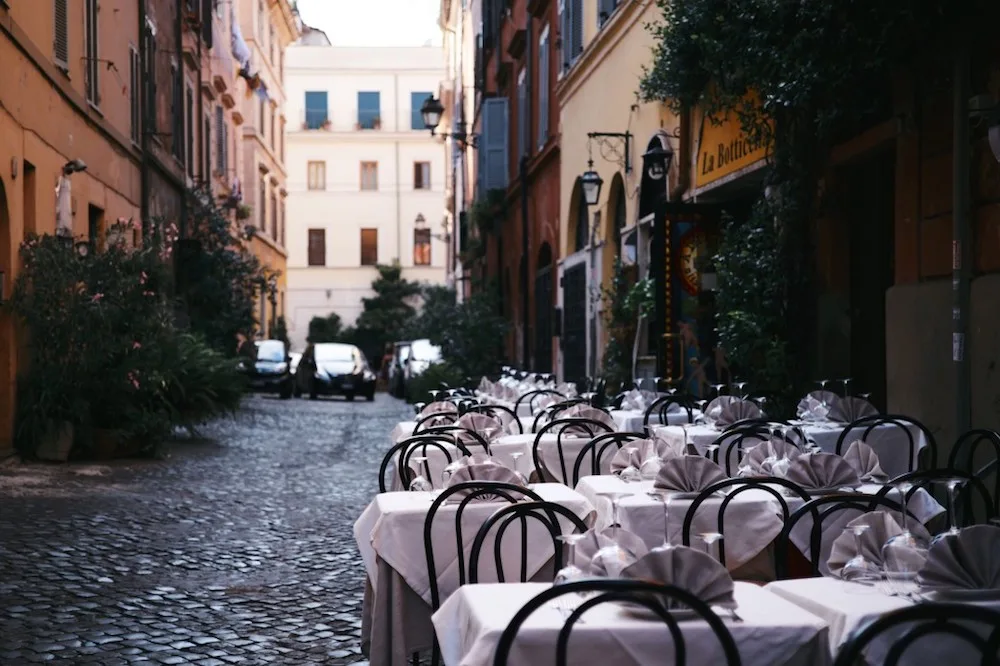 Other fantastic things to do in Rome
The best shopping, viewpoints and other things to do in Rome
This is the best of the rest of the awesome things to do in Rome. A few viewpoints, a few shopping haunts and a few surprises!
Essentially a shopping mall, but since it's in Rome it's undercovered and built in the early 1900s in the Art Deco style. Definitely not a place to miss if you love shopping abroad!
Another of Rome's seven hills (I think this is only the fourth on this list!) and a fantastic viewpoint over Rome. You may have seen the 'Aventino keyhole' on Instagram which is where St Peter's Basilica can be seen peaking through trees on the hill.
As well as Galleria Alberto Sordi, the Mercato Monti Urban Market is a treat for luxury vintage accessories and jewellery. It may look like a pre-loved jumble sale from the outside but all of the small businesses inside sell fairly high-end items around the €100-€150 range.
This is technically the hill that Villa Borghese is on, but it's worth mentioning by itself as a fantastic place in Rome for views. It's a great place to sit and read a book on a bench all the while having an incredible rooftop view of Rome in front of you.
Travel Hack Tip: This is a great place to watch the sunset over Rome. I've got another blog post with all the best places to watch the sunset in Rome.
46. Street Art in Ostiense
Just to the south of Aventine Hill is the neighbourhood of Ostiense. There aren't tonnes to do in Ostiense for tourists, but recently the street art culture in Ostiense has really taken off and cannot be missed if you're a street art fan visiting Rome. The murals take over whole buildings for streets on end!
This is definitely one of the more unique things to do in Rome. Largo di Torre Argentina is the ruins of the Pompey theatre and where Julius Ceaser was thought to be killed. The site was excavated in 1929 and almost immediately, the city of Rome's stray cats descended on the site and claimed it as their own. Now, the ruins are home to a cat sanctuary and yes, you can visit the cats!
Did you think there would be nowhere to hike in a huge, built up city like Rome? Well, the Appian Way is a 2,000-year-old pilgrimage route from Rome to Brindisi on the Southeast coast of Italy. The route is remarkably well-preserved and you can walk or cycle on the part of the path nearest to Rome.
In a few decades, I predict this will be one of the most popular ancient Roman ruins to visit in Rome. In the first century, the Domus Aurea was an enormous palace built by Emperor Nero in 64AD. The lavish palace was said to be an embarrassment to Nero's successors and was stripped of its marble and jewels and completely filled in with earth and built over.
Today, the palace is still being painstakingly excavated but what has been uncovered is fascinating. Domus Aurea is only open to visitors on weekends and advanced booking is necessary.
Did you watch Russell Crowe in Gladiator and think it would be quite cool to be a Gladiator yourself? Whilst in Rome, you can sign up to the Gladiator School of Rome and learn how to sword fight as well as learn more about the real-life Gladiators and their daily lives. At the end of the session, you're given a certificate and Gladiator name! One for kids and big kids alike.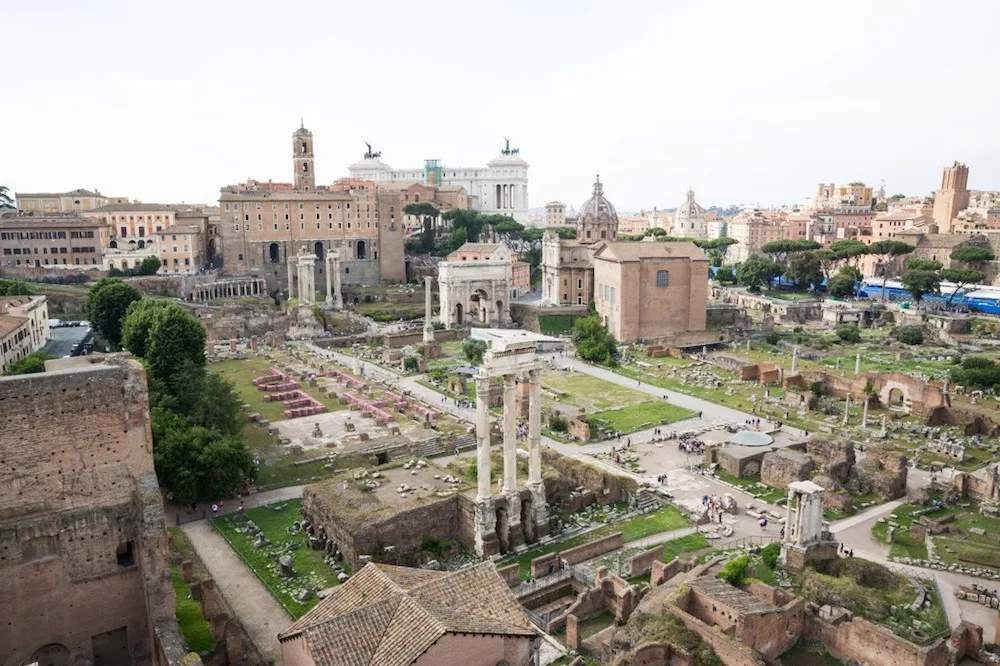 And those are 50 incredible things to do in Rome! How many have you ticked off your Rome bucket list?
If you're ready to pack your bags for Rome then make sure you read our packing guide for an autumn trip – What's the weather like in Rome in October and what should you pack?
If all this information feels a bit overwhelming then I have a simple travel hack to make planning your trip to Rome easier. Pick a few things on this list that you'd like to see and add them a Google Map. Make sure you have the app on your phone and you'll be able to see all the places you want to visit pinpointed on the map. For a guide on how to do this, read: How to REALLY use Google Maps while you travel.