I've been using a beach trolley for nearly two years now to cart the ridiculous amount of stuff we take to the beach. When my kids were little, I loved having a double pushchair to load up with beach paraphernalia but we, stupidly, got rid of it when they got bigger and had to invest in a beach trolley!
Below are 5 of the best beach trolleys you can buy on Amazon.
But before you read more, please read my mini guide to buying one!
Here are some things you need to know before buying a beach trolley:
Get one with big chunky wheels that will wheel across wet sand. Don't get one with skinny wheels because it will just sink in the sand and you won't be able to pull it across any uneven surfaces such as rocks or grass. Don't forget that it's even harder to pull once it's full and heavy so the big wheels are a must.
Will a small child ever sit inside it? If so, get a strong one.
Does it need to fit in the boot of your car? Mine doesn't fit in my car so we're limited to where it can actually be used!
Do you have somewhere to store it or does it need to collapse? Unless you have a massive garage, I'd always get a collapsible one. Your beach trolley might not get used during the winter months so it's handy to be able to pack it away. Also handy if you have a smaller car and you'll want to transport it to places.
Here are 5 of the best beach trolleys!
Best all-round beach trolley
The Sekey Beach Wagon is one of the best sellers on Amazon thanks to the chunky wheels, reasonable price and folding function.
This beach trolley ticks all the boxes. It even comes in a variety of colours and currently has nearly 800 4.6* reviews on Amazon.
---
Best budget beach trolley
While this isn't THE cheapest beach wagon, the Nasscarts Foldable Beach Cart is the best value at £89.99. It's got chunky wheels, it's collapsible, can comfortably carry up to 80kg and even comes with a matching cooler bag!
There are cheaper ones available but they have such flimsy, skinny wheels that I can't imagine they'll last long.
---
Best heavy duty beach trolley
If you aren't bothered about what your beach cart looks like then the Amazon basics heavy duty beach trolley is a great option. In fact, I quite like the look of the metal mesh design.
It's foldable and has chunky, sturdy wheels too.
---
Best beach trolley with young children
If you have young children then there's a very high chance one of them will jump in the trolley at some point! Whether it's a long walk or they're tired after a busy day on the beach, they will want to hitch a ride in the trolley!
This is a great option from Outsunny because it comes with an overhead canopy to keep little ones shaded. It also has two handle styles, one to pull and one to push. I personally find it much easier to push when you've got a heavy load so this extra push bar is a great addition.
It also has those vital chunky wheels, it's foldable and has handy pockets for drinks and other essentials.
---
Best beach trolley with a vintage look
I have this Toby Wagon. And yes, it's cute and I love this vintage look. It's also really great quality and I know it will last us for years and years. This is the kind of thing you pass on from generation to generation!
While I do love the look of it, it isn't perfect.
Like I said above, it doesn't fold and it's too big to fit in my car. I drive a Kia Sportage which actually has a big boot but this beach cart is too big. This means I'm limited in the amount of places I can take it.
I also find that it's heavy and the handle is just a little bit too short to comfortably pull it. It's an ideal size for a child to push or pull but it's not great for an adult, and I'm only 5'3 so that's saying something! My kids will pull it for a bit but they lose interest pretty quickly.
Despite its imperfections, it does look cute so if you won't be pulling it far and you're all about the aesthetic then this is a good quality option.
Which beach trolley would I buy?
If I didn't already own one, I'd buy the Outsunny beach cart with the canopy and the push handle.
I like that it's:
Foldable
Has a push handle (easier to push)
The push handle also makes it easier to control on hills as it doesn't run away from you as easily
It has a shade canopy (good for kids and picnics)
There is a slightly cheaper one on Amazon which is virtually the same, it just doesn't come with a canopy. It's the Beau Jardin camping cart and it has that same push handle.
Can you buy a beach cart canopy separately?
Yes, if you like the look of a beach cart canopy but don't want the Outsunny cart, you can buy a beach cart canopy separately.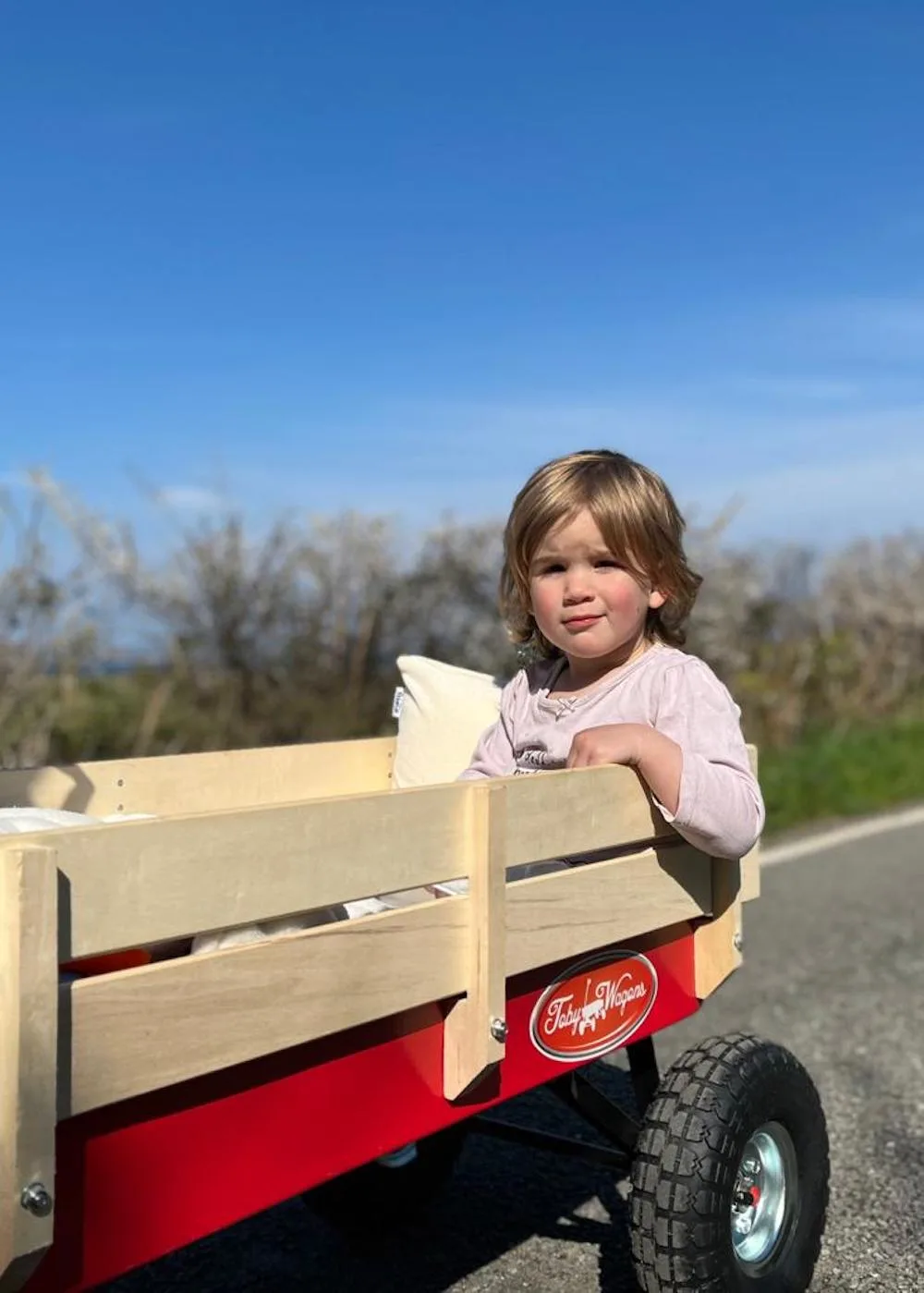 What do you put in your beach trolley?
Towels
Big beach mat
Buckets and spades
Other beach toys
Beach umbrella
Sometimes a windbreak or pop-up tent
Picnic bag (I've got a post about the best picnic cooler backpacks here)
Sunscreen
Kids wetsuits
Beach chair (but my beach chair has backpack straps so I'll often carry it on my back)
Usually a small child and/or our dog!
Lots of pebbles and shells!
I have a full blog post with a list of things to take to the beach.
Would you recommend a beach trolley or is it easier to carry things in bags?
A beach trolley is brilliant if you have lots of carry and you have a fairly long walk to the beach – which, let's be honest, is most people because you can rarely park right next to the beach and we all seem to take so much stuff with us!
I often go to the beach on my own with my three children who are currently ages 3, 6 and 8. My 3 year old is obviously no help and often wants to be carried and I put my middle son in charge of the dog – which leaves me with a lot of stuff and an 8 year old to help!
So yes, a beach trolley is the best option.