Today's post is a 9 day Scotland itinerary if you want to see the best of the Scottish Highlands by Katie from Best Scottish Tours. This is such an epic Scotland itinerary and it's got me wanting to book a campervan and hit the road!
You're planning to spend 9 days in Scotland and you're researching all the top places to visit… and it's totally overwhelming! There is so much to see in Scotland; ruined castles and royal residences; tiny fishing villages and remote beaches; rugged mountains and glistening lochs.
Over the past few years I've made it my mission to explore every little town and climb to the top of every mountain in our beautiful country. For those of you a little shorter on time, here is a varied Scottish highlands tour that will let you experience the very best of Scotland in 9 days.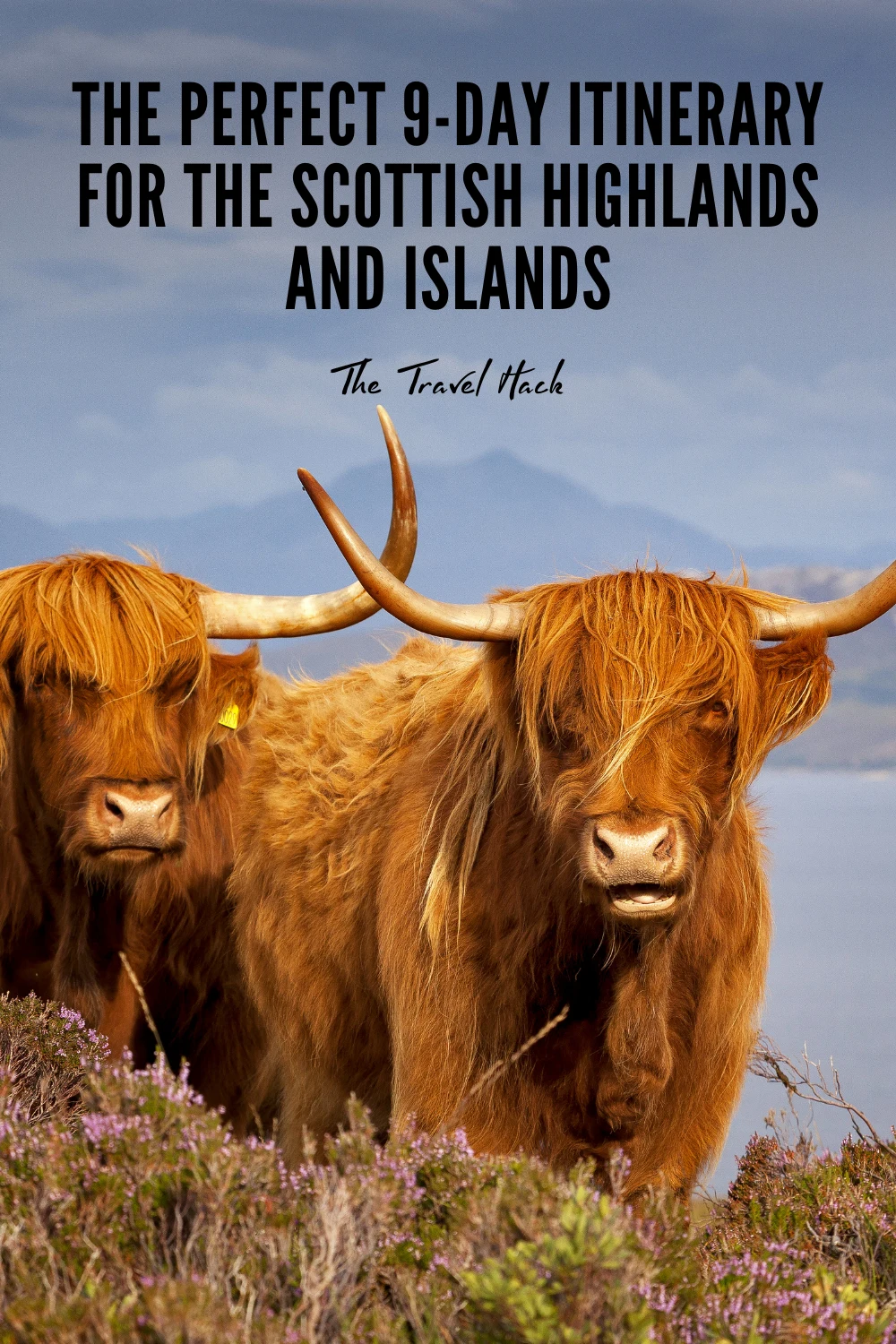 Day 1 of your Scottish Highlands tour | Loch Lomond, Inveraray & Glencoe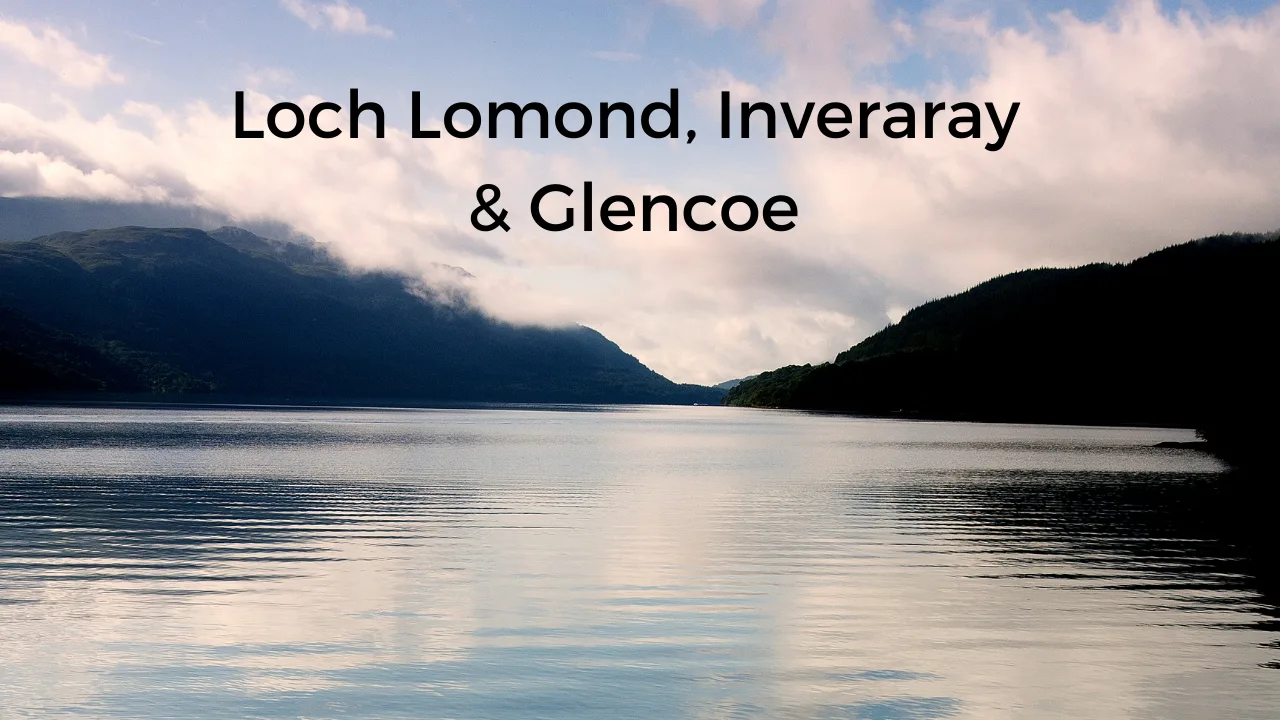 Our 9 day itinerary for Scotland begins with an early morning start at Loch Lomond and the Trossachs, Scotland's first National Park.
In just a 40 minute drive from Glasgow (or 1hr 20 minutes from Edinburgh) you will find yourself on the 'bonnie, bonnie banks' of Loch Lomond.
It is the UK's largest freshwater loch and, in the opinion of many, its most beautiful. Once its waters would have been a busy thoroughfare – the remains of dugout canoes have been found, along with clinker-built, birlinn galleys in use from as early as the 13th century.
Spend some time exploring the picturesque village of Luss on the shores of the loch. This is a great place for an early lunch in one of the local cafes – I'd recommend the Coach House Coffee Shop (which has a nice patio for a warm day) or The Village Rest.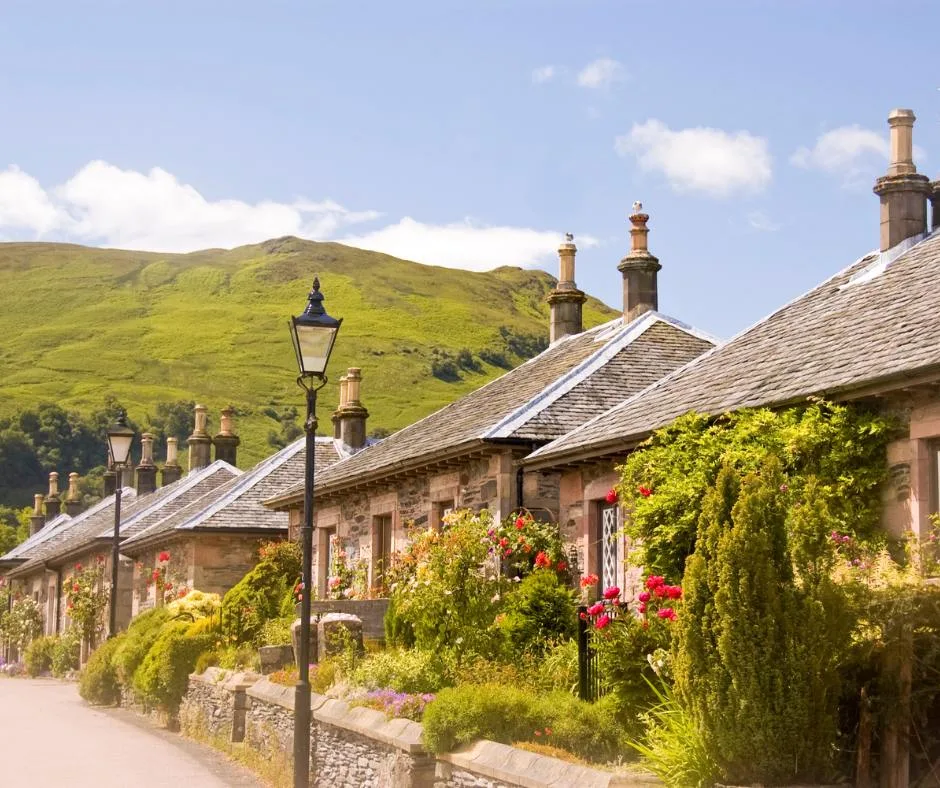 Next make your way to the charming town of Inveraray nestling on the banks of Loch Fyne. Just a half hour drive over the 'Rest and Be Thankful' – a breathtaking road in the heart of the mountains. Stop at the viewpoint parking area and take a very insta-worthy photo!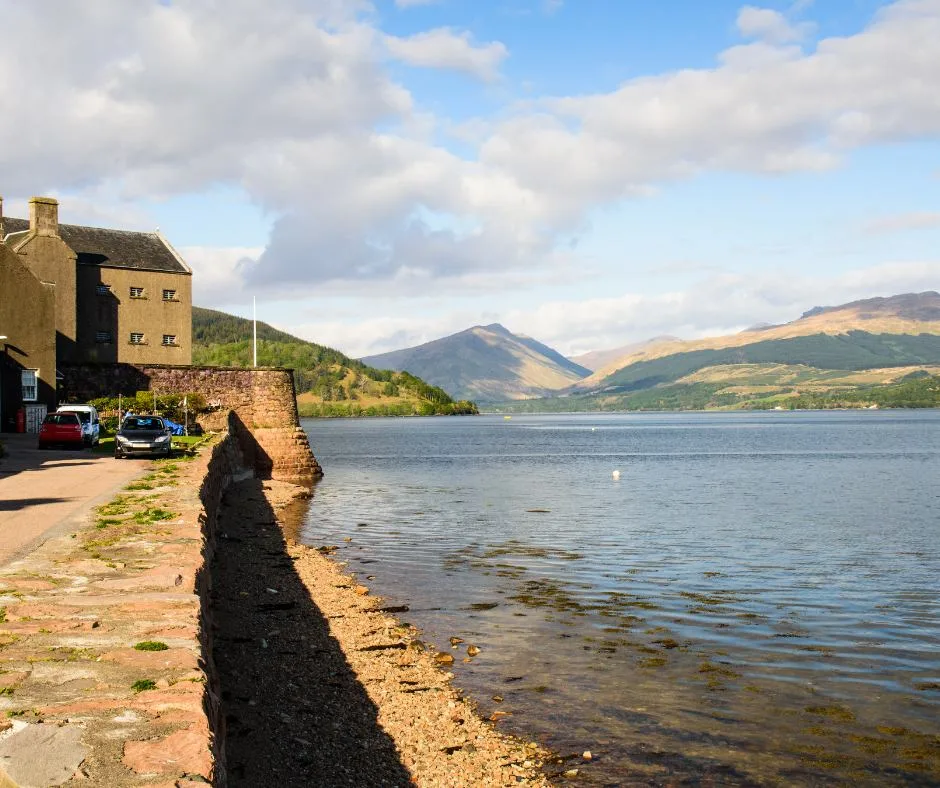 Inveraray is Clan Campbell territory and home to the romantic, fairytale Inveraray Castle. Sitting on the shores of Loch Fyne, it is one of Scotland's finest stately homes and the ancestral seat of the Dukes of Argyll, Chiefs of the Clan Campbell who have resided there for generations. It is perhaps better known today as the setting for a special Christmas edition of Downton Abbey! The famous Armoury Hall will be of great interest to any history buffs, with hundreds of relics including Brown Bess muskets, Lochaber axes and 18th century Scottish broadswords. Also on display are swords preserved from the Battle of Culloden – I've included a visit to the site of this pivotal battle on day 8 of our Scottish Highlands tour. Spend an hour or two visiting the castle and gardens and don't forget to try the homemade scones in the café.
Then make your way north to Glencoe for a drive you won't ever forget…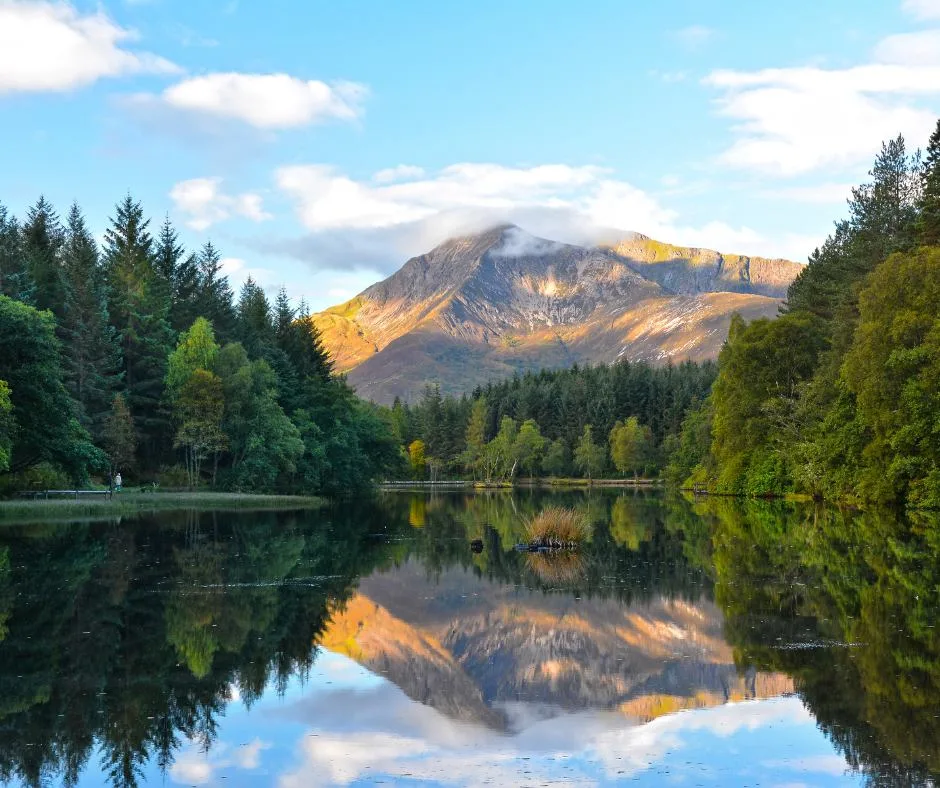 A vast eerie wilderness awaits travellers heading into Glencoe from the south, the hauntingly beautiful Rannoch Moor. This is one my favourite places in Scotland and the fading light of the late afternoon sees it at its mysterious best. The drive through Glencoe is equally dramatic with impressive mountains flanking each side of the narrow road. Again, there are plenty of places to park your car and take in the views.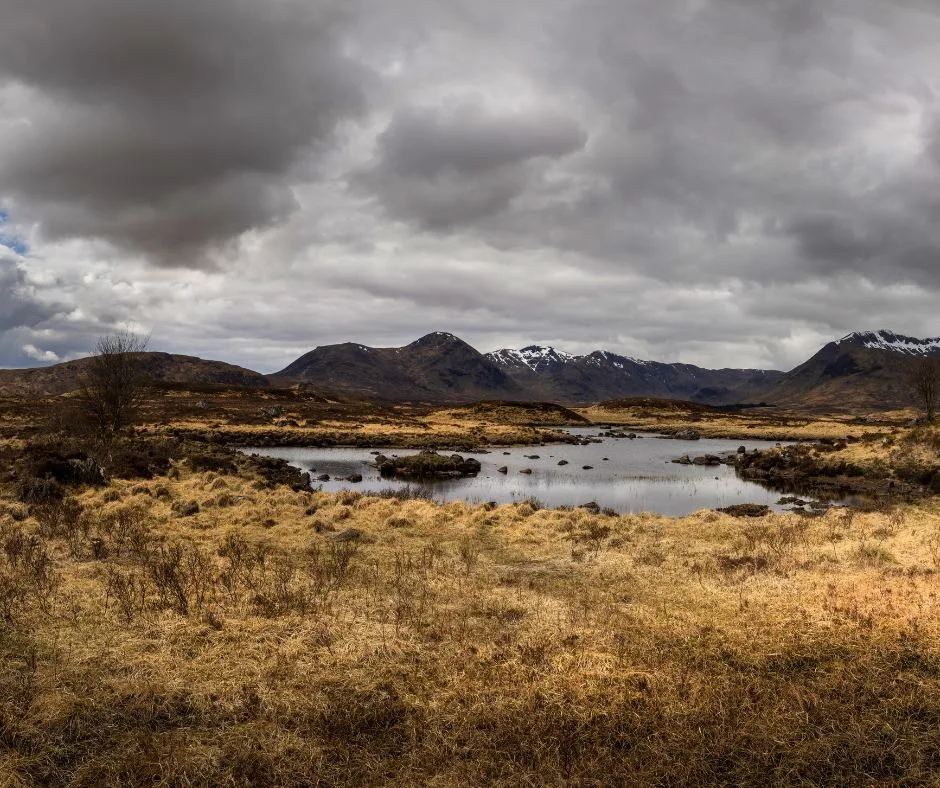 Much of Scotland's early recorded history is full of violence – battles, feuds, and treachery. But the incident which to this day still arouses the strongest passions is the massacre of the Clan McDonald of Glen Coe in 1692. In Glencoe village you will find the Glencoe Massacre Monument built in memory of the clan's fallen members. You can read more about what happened here: https://discoverglencoe.scot/key-information/history/about-glencoe/glencoe-massacre/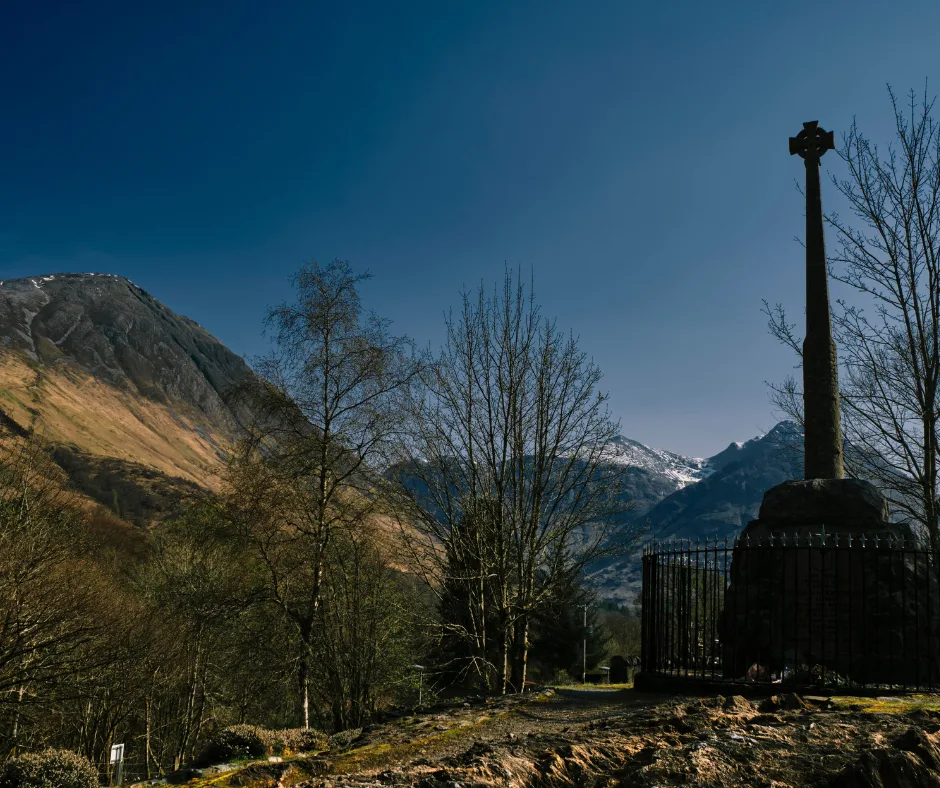 After an exhilarating first day in Scotland you will likely be ready for an early night, but if you have some energy left, be sure to visit the Clachaig Inn at the northern end of Glencoe – one of the best pubs in the Scottish Highlands. They have a huge selection of Scottish whiskies and there is often a live band so you can hear some of our traditional Scottish music.
Read more: How to spend 48 hours in Glasgow
Day 2 in Scotland | Jacobite Steam Train, Mallaig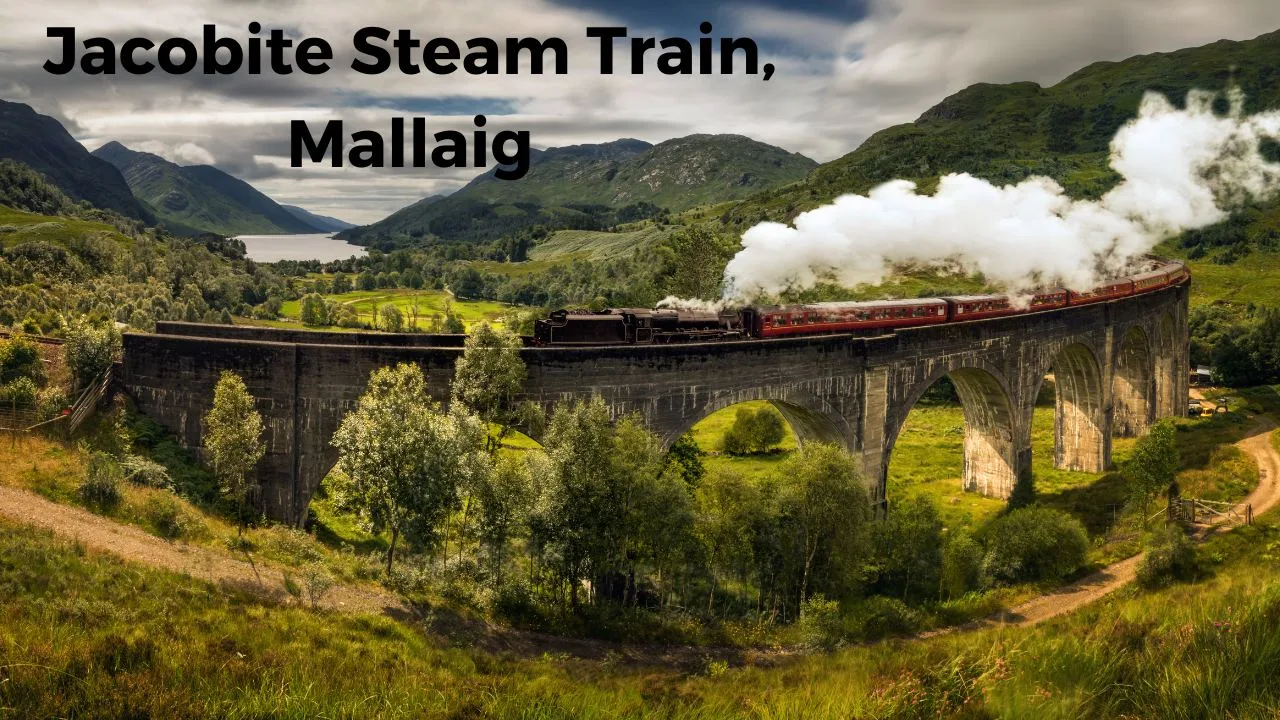 Day 2 of our tour is definitely a highlight for any Harry Potter fans. All aboard the "Hogwarts Express"! The Jacobite Steam train is located in Fort William and the train itself travels from Fort William to Mallaig and back again. Your seats will give you tremendous views as you steam past stunning scenery including Ben Nevis – the UK's highest mountain. When I rode on the steam train a tour company dropped me off at the train station in Fort William and picked me up at the other end in Mallaig. You can take a round trip to and from Fort William but this will take up most of your day. If you would just like to see the train steaming past, head to Glenfinnan situated at the head of Loch Shiel.
There are several viewpoints in Glenfinnan where you can see the train – it only goes twice a day so make sure you check the departure times: https://westcoastrailways.co.uk/jacobite/timetables. Not only is there a great view of the train track from the main Glenfinnnan viewpoint, but the view out across Loch Sheil in the other direction is just as spectacular. The Glenfinnan Monument was erected here in 1815 and marks the place where Prince Charles Edward Stuart, 'Bonnie Prince Charlie', raised the royal standard at the beginning of the 1745 Jacobite Rebellion.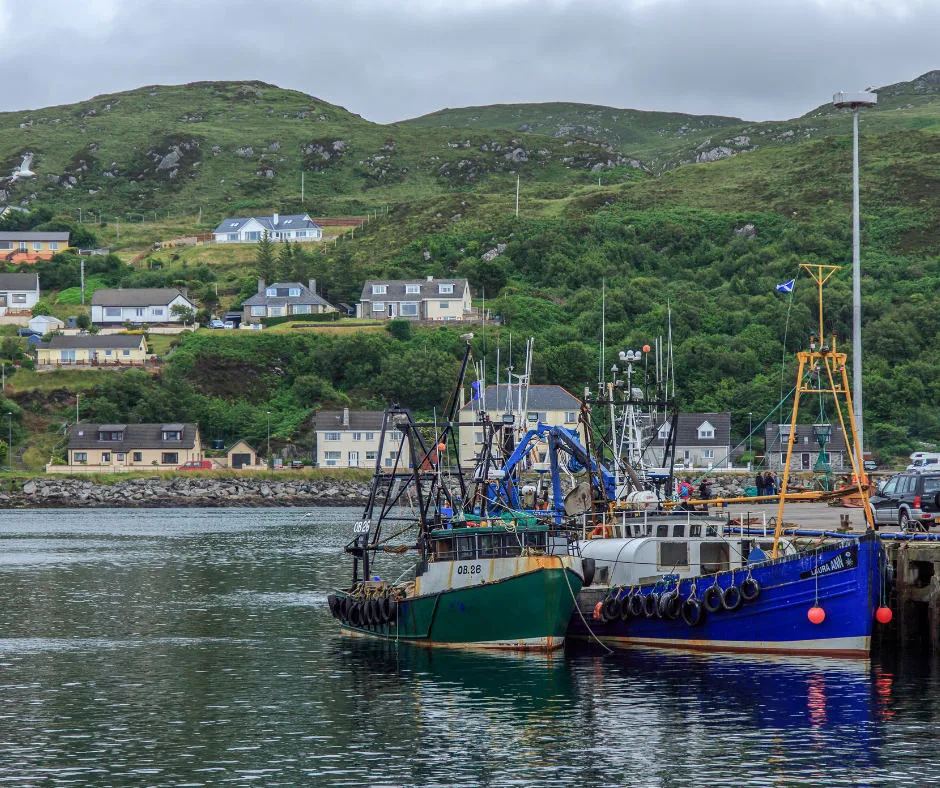 At the other end of the train-line, the seaside village of Mallaig is a charming fishing village where you can board the ferry to take you "Over the Sea to Skye". There is also a bridge over to Skye now… but ferries are way more fun! Depending on when you arrive in Skye, you may have some time for sightseeing before dinner. If so, I'd recommend a visit to Armadale Castle & Gardens.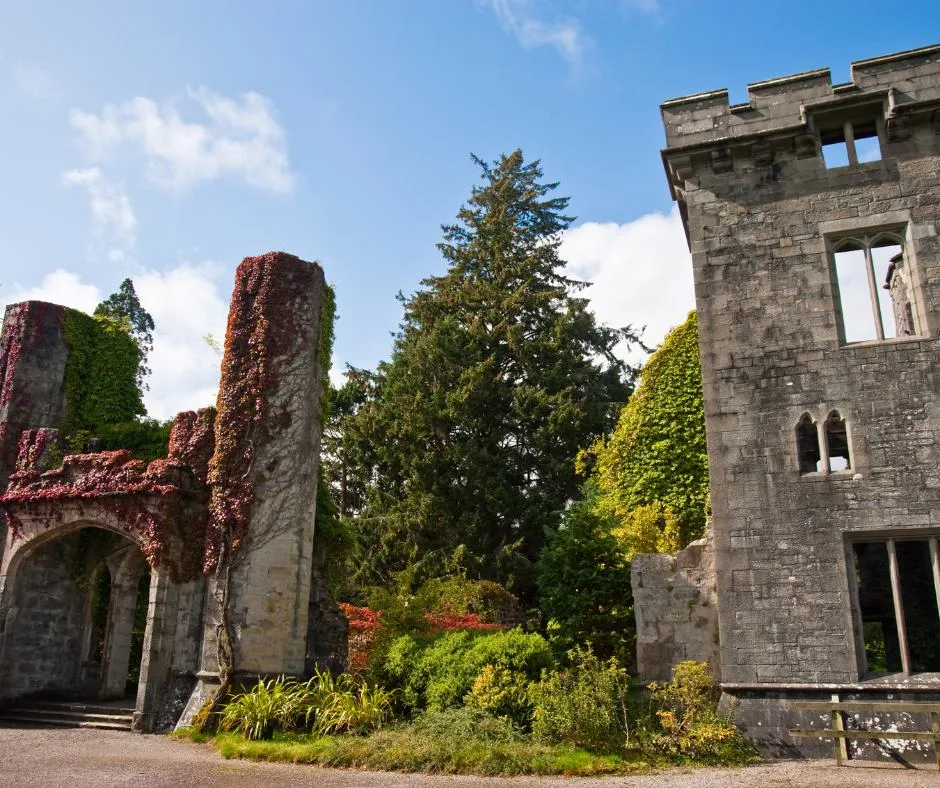 Day 3 | Isle of Skye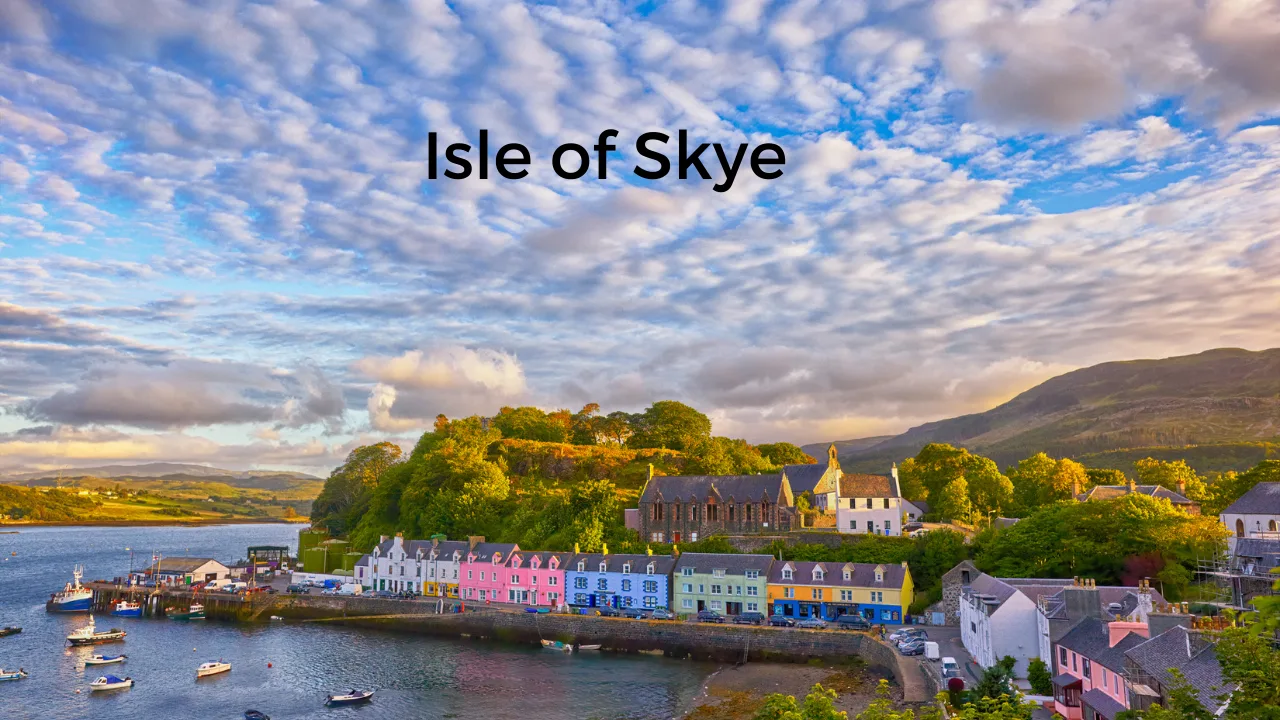 Waking up to the splendid scenery of the Isle of Skye will make you feel truly alive and is one of the highlights of a Scottish Highlands tour.
Commonly known as "the misty Isle", there really is no place like it. The jagged Cuillin ridge mountain range towers above picturesque greenery and white sandy beaches. Everywhere you look, will be a feast for the eyes.
There are many famous 'must-see' places on Skye, one of these being the Fairy Pools. Yes, they are lovely but they are often busy with visitors which can take away from the magic.
When I last visited the Fairy Pools in August 2020 the car park was being extended and toilets being built so the situation should improve. My recommendation – go early! A bit of walking is involved but the paths are good. Not sure I would pack my bathing costume though. The water is freezing and strictly for experienced wild swimmers!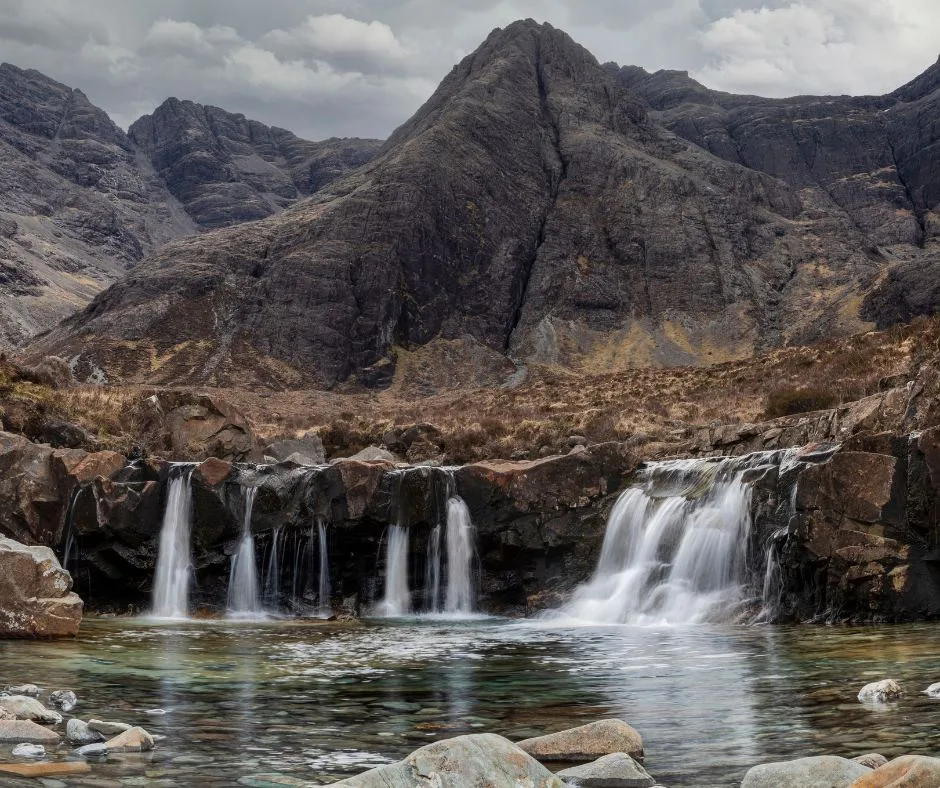 Did you know that the original Fairly Pools are actually a few miles down the road at Glenbrittle? Instead you could visit this equally beautiful collection of waterfalls and pools. Locals say that the reason the Fairy Pools were 'moved' was because there isn't a lot of parking spaces in Glenbrittle and access to the pools is a little more dangerous so the local community was worried about visitors getting injured trying to go for a swim. Do be very careful if you choose to visit these.
Some other great places to visit are the town of Broadford and the capital of Skye – Portree. Here you will find a traditional harbour with colourful houses running along the seafront. If you visit the north of the island you will be greeted with fabulous scenery and seascapes including Kilt Rock Falls (yes these are meant to look like a traditional Scottish kilt!) and the Old Man of Storr rock formation.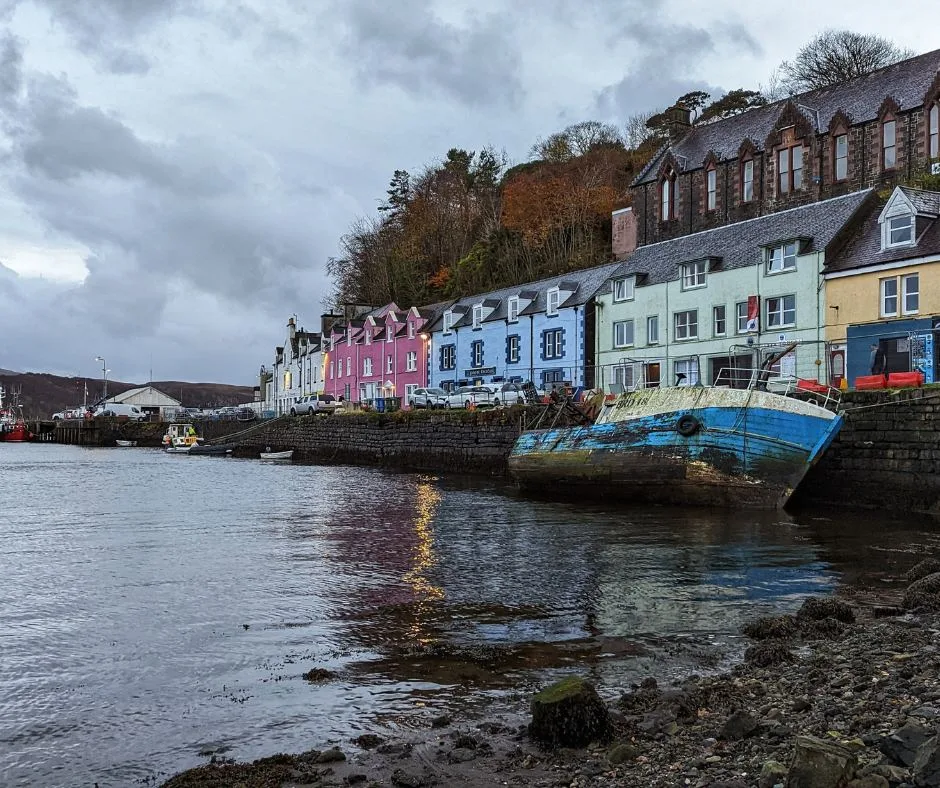 You can see the Old Man of Storr from a distance or you can walk right up to it… but be warned, this can be a very slippy and muddy walk, especially after heavy rain. If you are travelling with kids, try and make sure they don't run here, or you may end up with some very mucky children.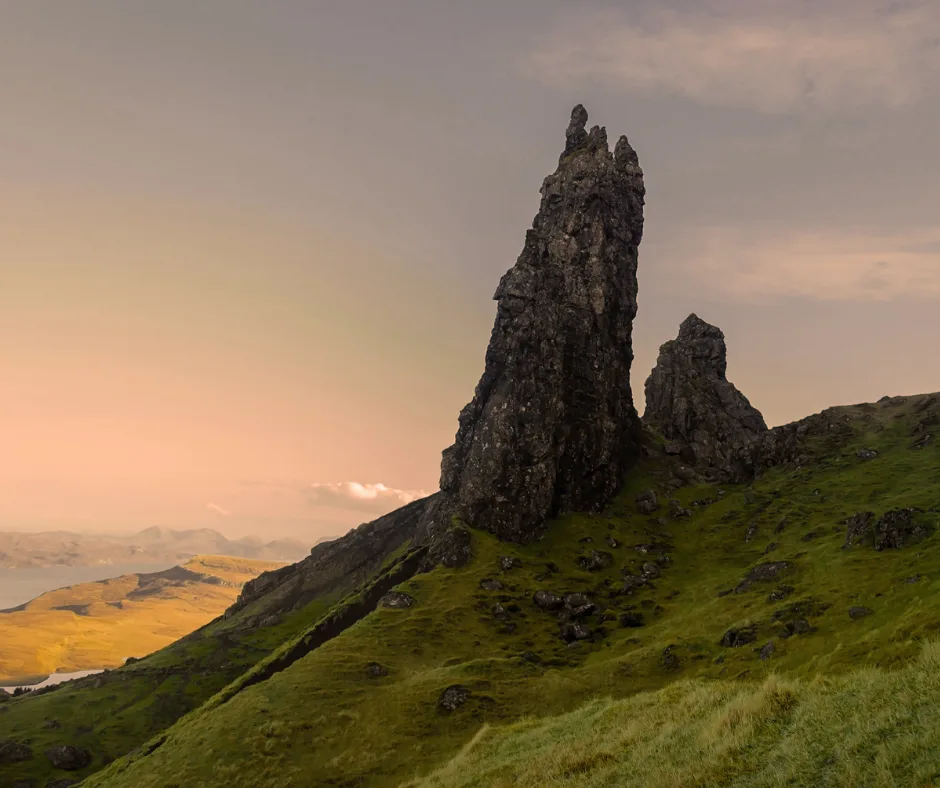 Day 4 of your Scottish Highlands tour | Outer Hebrides – Harris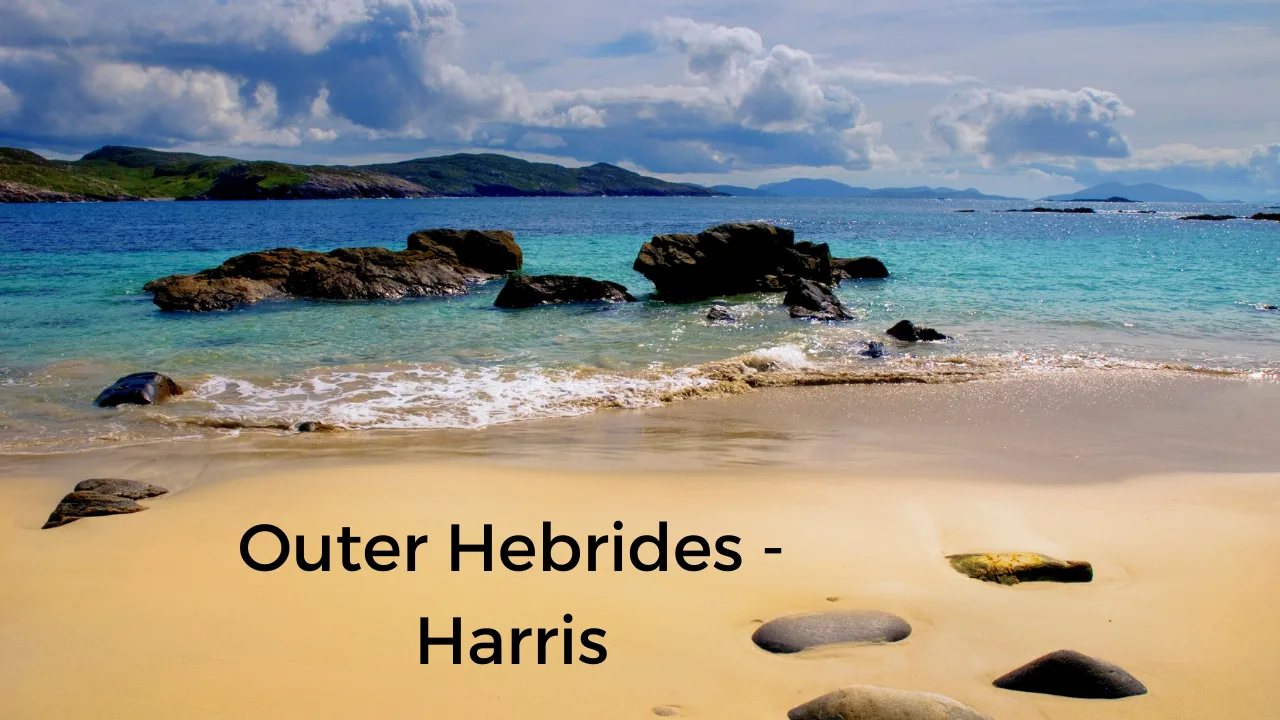 Why not spend your next two days exploring the Outer Hebrides? The ferry from Uig in the north east of Skye over to the Isle of Harris takes less than two hours.
There are over 100 miles of beaches stretching around the Hebrides, some of which regularly feature in listings of the world's most beautiful beaches. The southern part of Harris is almost completely unspoiled so take time to enjoy its wild and windswept scenery.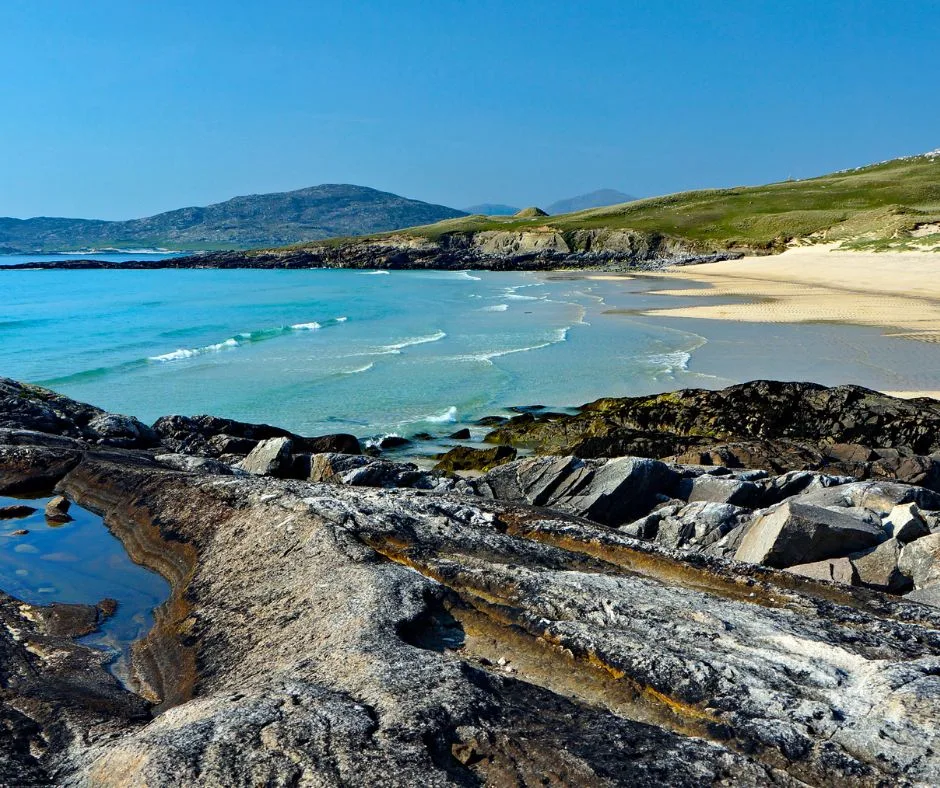 The most famous of the Hebridean beaches is right at the southern tip of Harris – Luskentrye. The north of Harris is lovely too and it is where you will find the highest 'mountain' in the Hebrides – An Cliseam, although at 2,621 feet it's still pretty small. I haven't actually climbed An Cliseam, but I am sure that, despite its small size, the views of the surrounding islands are out of this world.
Day 5 | Outer Hebrides – Lewis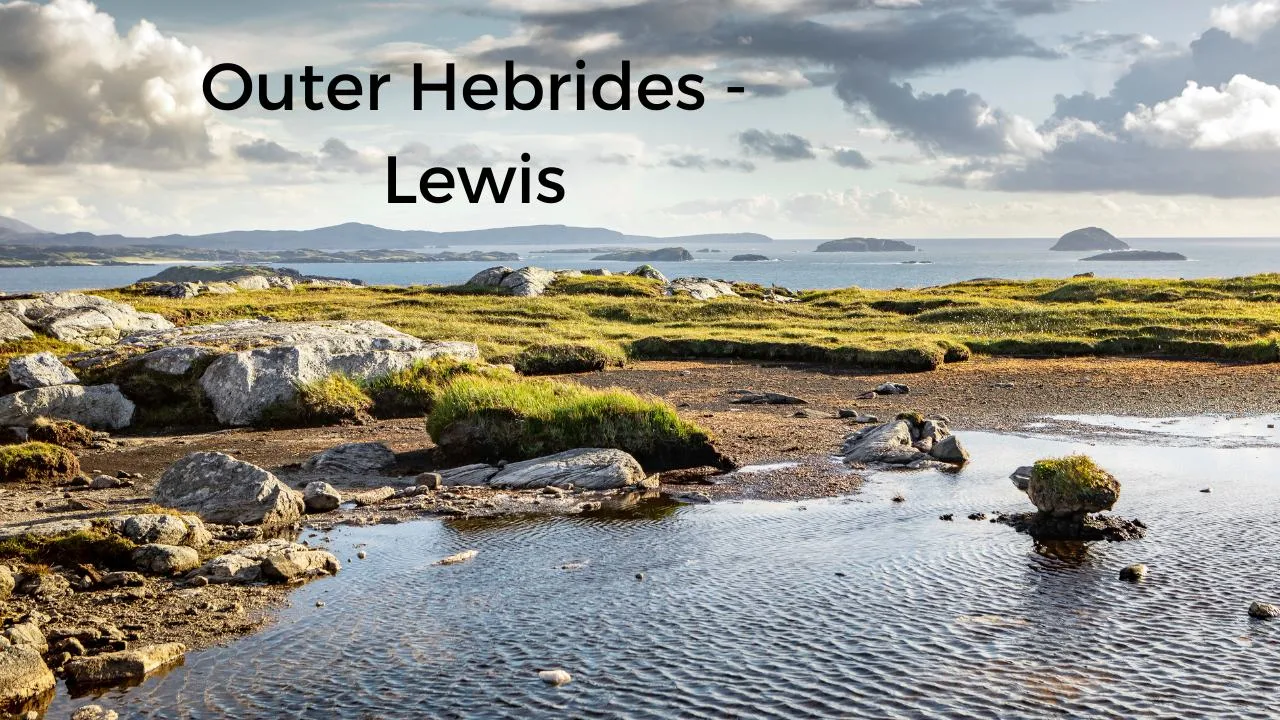 Harris's neighbouring island (connected by road) is Lewis or "Leodhas" in Gaelic which translates to "marshy". People have lived on Lewis for 5,000 years or longer so it has a great history. Harris Tweed clothing, bags and other items are sold all over the world and the production is mostly based on Lewis rather than Harris itself. You can visit shops on both Lewis and Harris – a great place to pick up some authentic Scottish presents for family and friends back home.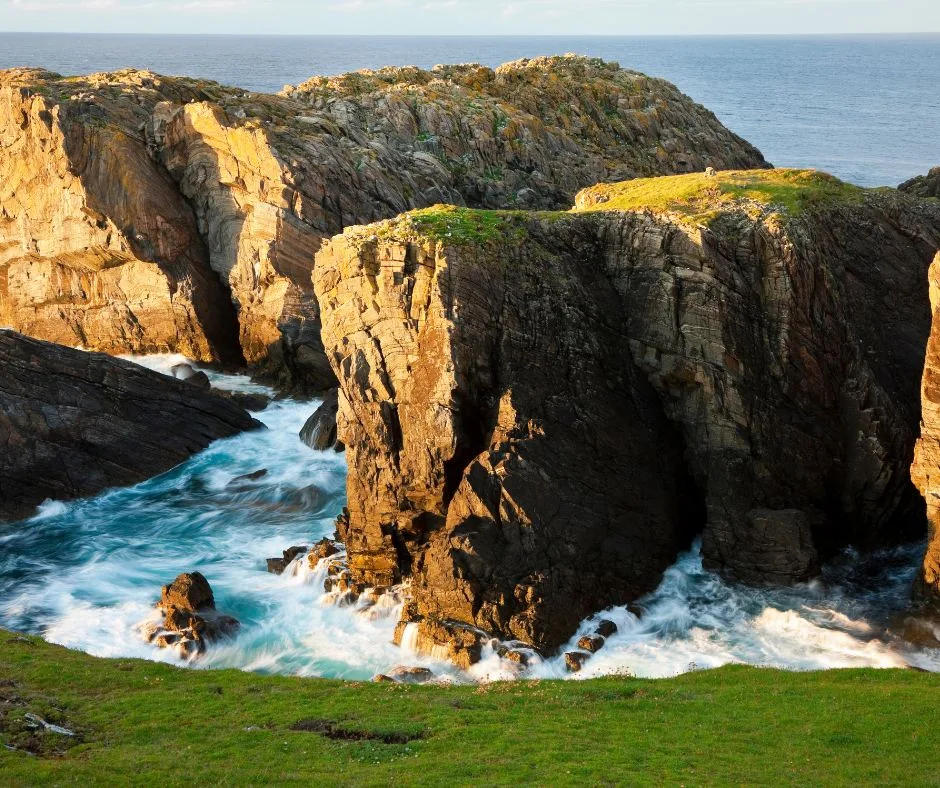 One of my very best friends from University was brought up in Lewis and when I first visited her family home I got a fantastic local-led tour. I spent a few days roaming around the coast, enjoying marvellous sunshine, visiting quaint little cafes and historic sites. My two favourite sites were the mysterious 5,000 year old Calanais Standing Stones and the traditional Blackhouse village at Gearannan.
Day 6 | Inverness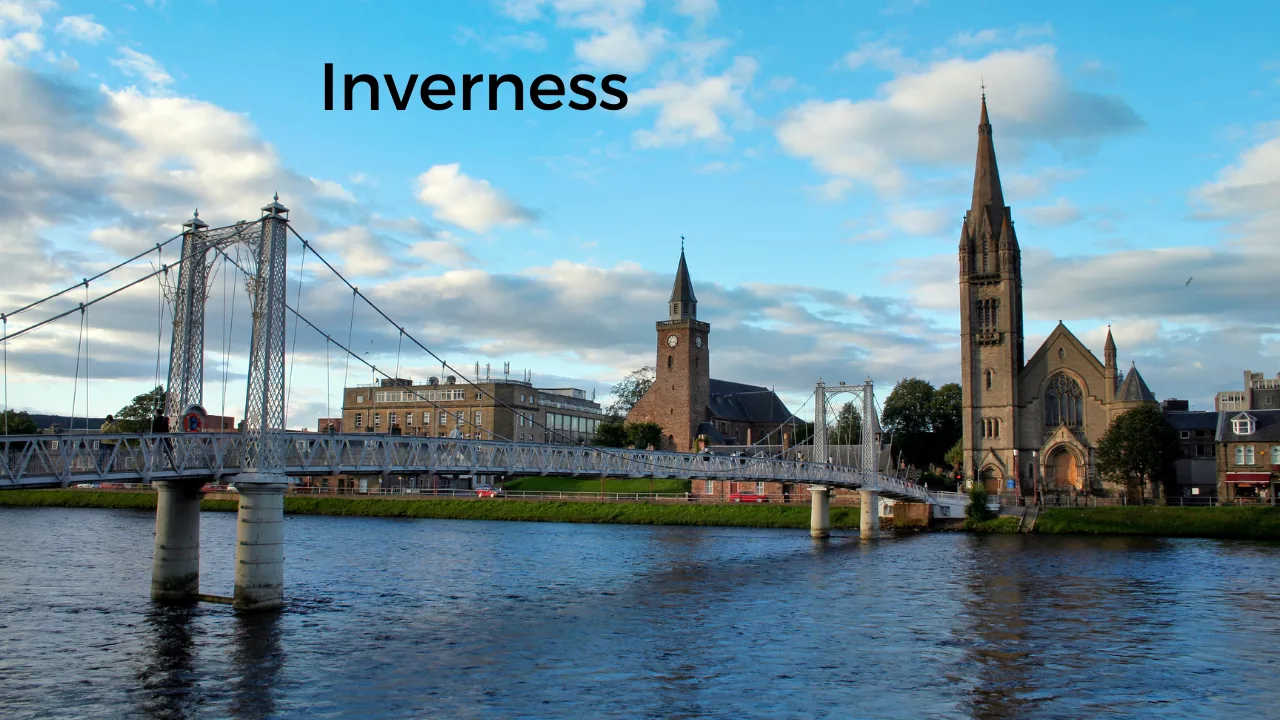 Take a few hours in the morning to explore more of Lewis – wander around the shops in Stornaway where you can buy handcrafted goods or visit Lewis Castle which has exhibitions showing life in the Outer Hebrides from prehistory to the present day.
After lunch it's time to sail to Ullapool back on the mainland and then drive onwards to Inverness, Capital of the Highlands. If you have some daylight left when you arrive, I'd recommend a visit to Rogie Falls on the Black Water river – you may even come across the bizarre sight of salmon jumping upstream.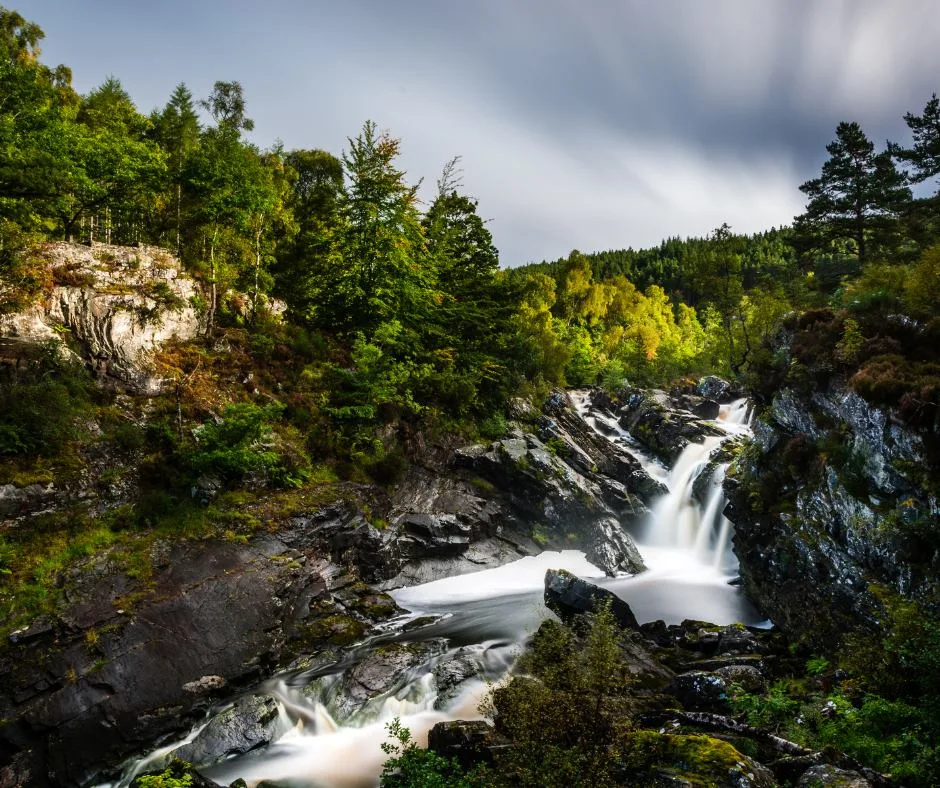 Day 7 | Loch Ness & Whisky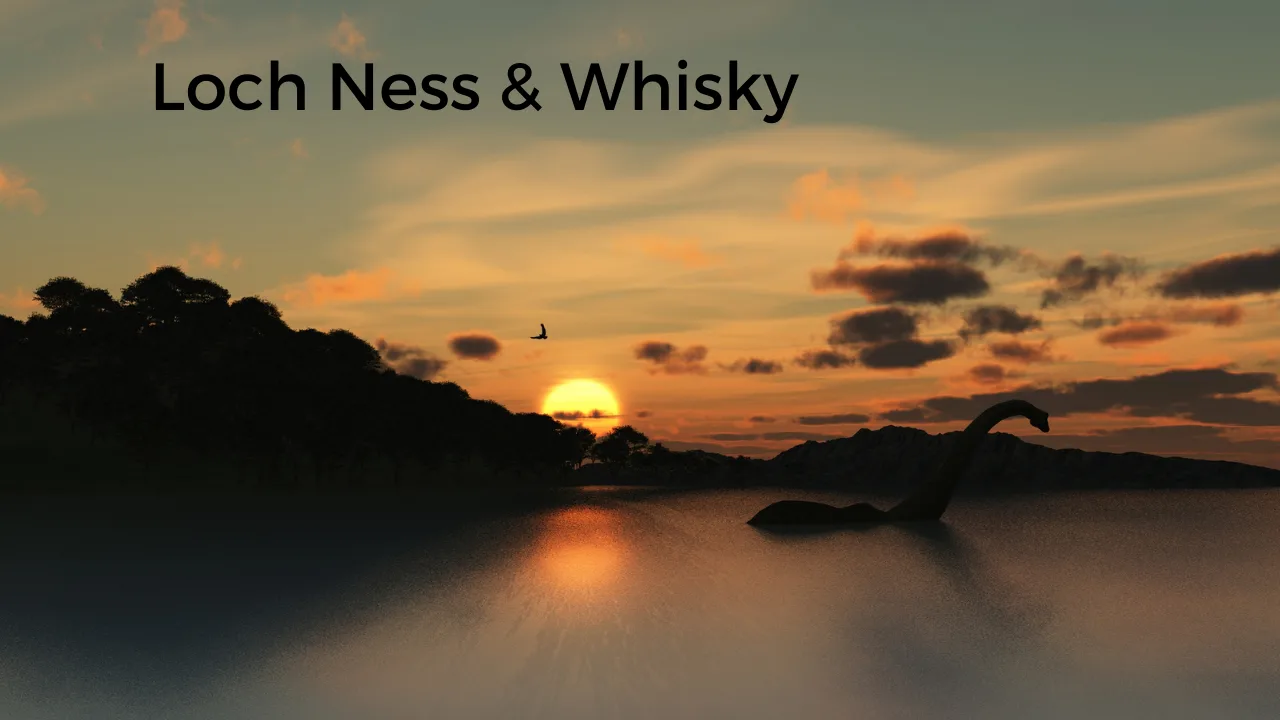 After an early breakfast, enjoy some time in the highland capital. Inverness is a thriving city and the Old Town is home to plenty of historic buildings. There is a nice walk you can take from Inverness Castle which passes St Andrew's Cathedral, along the River Ness.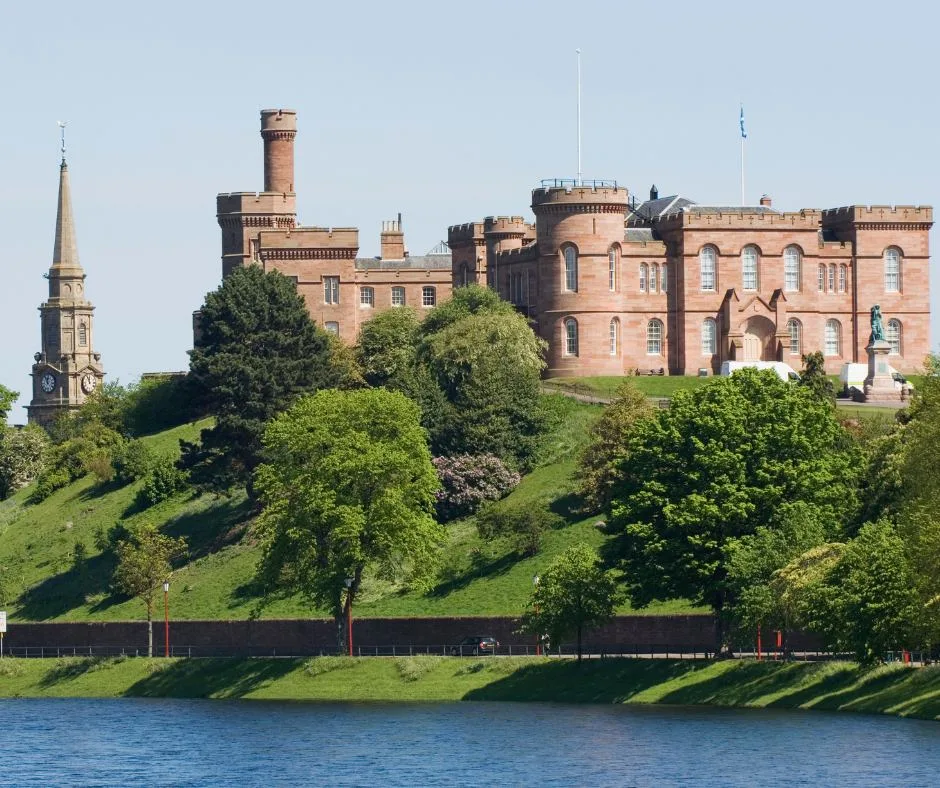 No trip to Scotland would be complete without a trip to a whisky distillery and not too far north from Inverness you will find the Glen Ord distillery who do a brilliant tour and tasting. Glen Ord was founded in 1838, making it one of the oldest in Scotland and it continues to use the long fermentation and slow distillation methods which have been used there for generations.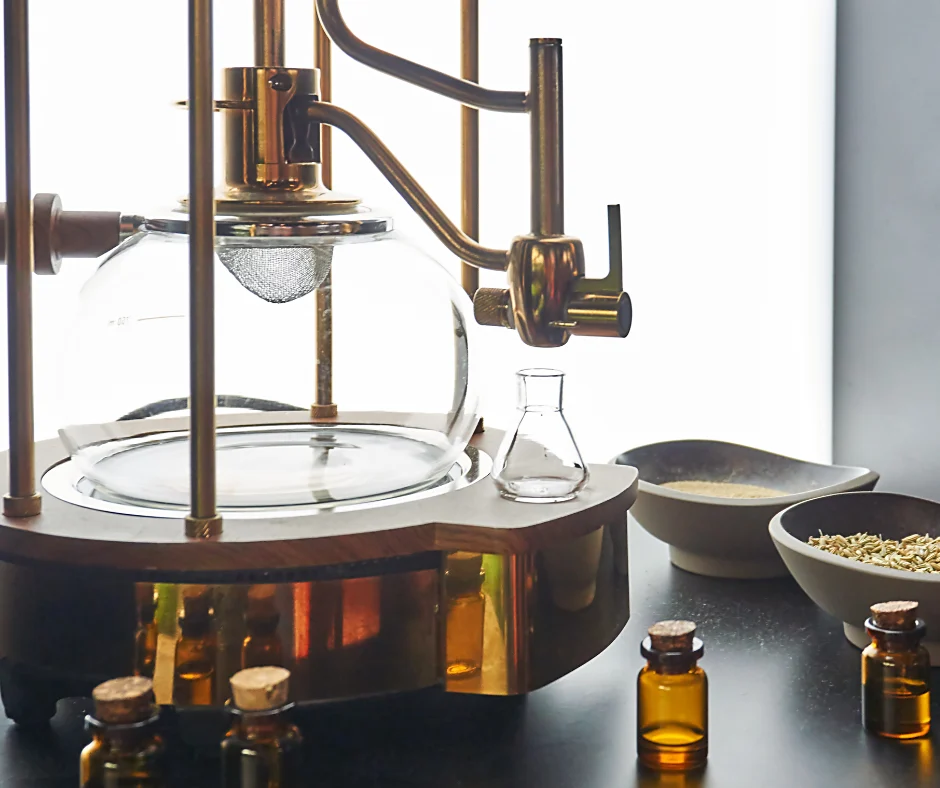 By now I am sure you're starting to wonder… when is Nessie going to make an appearance?! A drive along the 23-mile Loch Ness is a great way to view our most famous Loch. Although I can't promise you will catch site of our elusive prehistoric monster, there are plenty of other interesting sites along the way.
The spectacular Castle Urquhart is halfway down the lochside and well worth exploring. There is also a visitor centre and café. Further down the loch is Fort Augustus, a picturesque village lying on the southern tip of the loch at the entrance to the Caledonian Canal.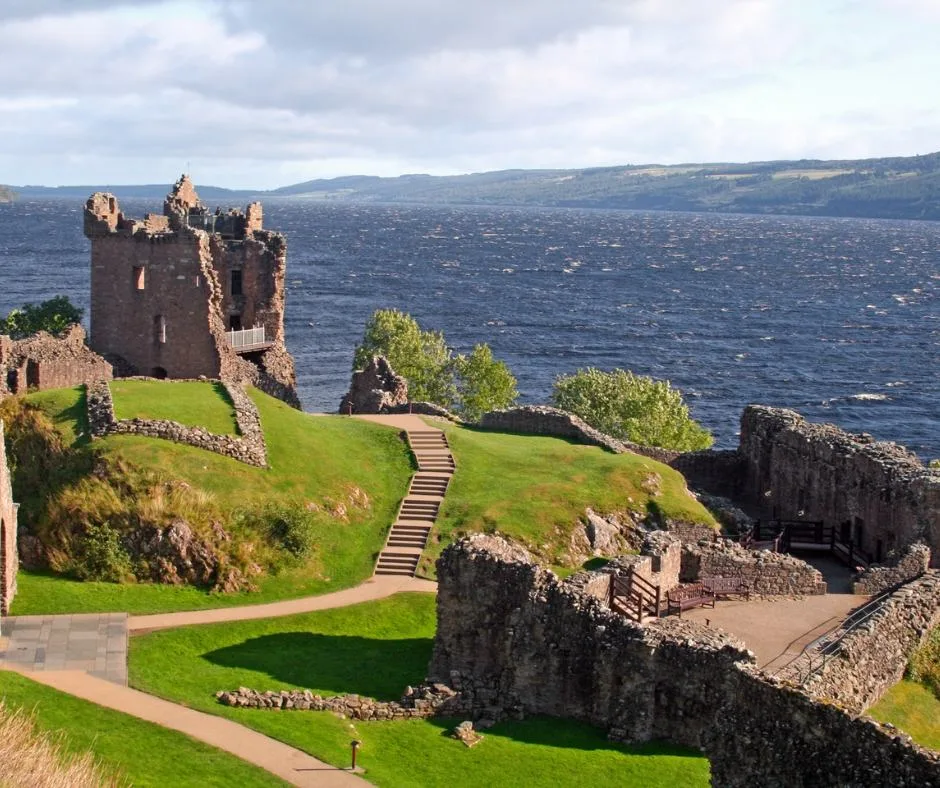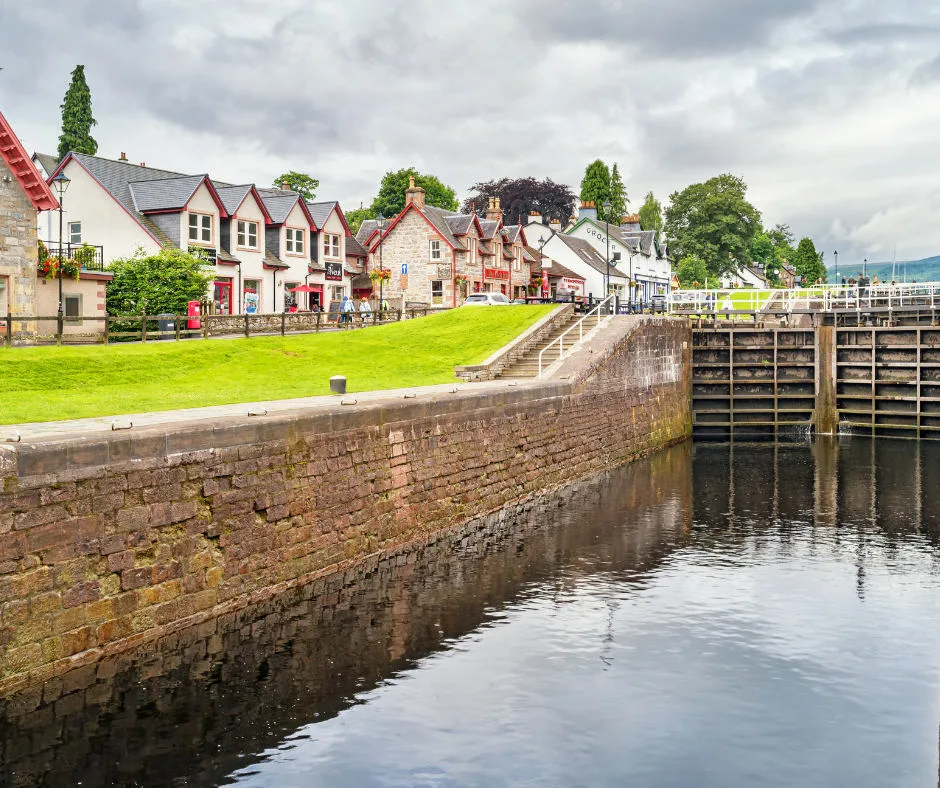 Day 8 | Central Highlands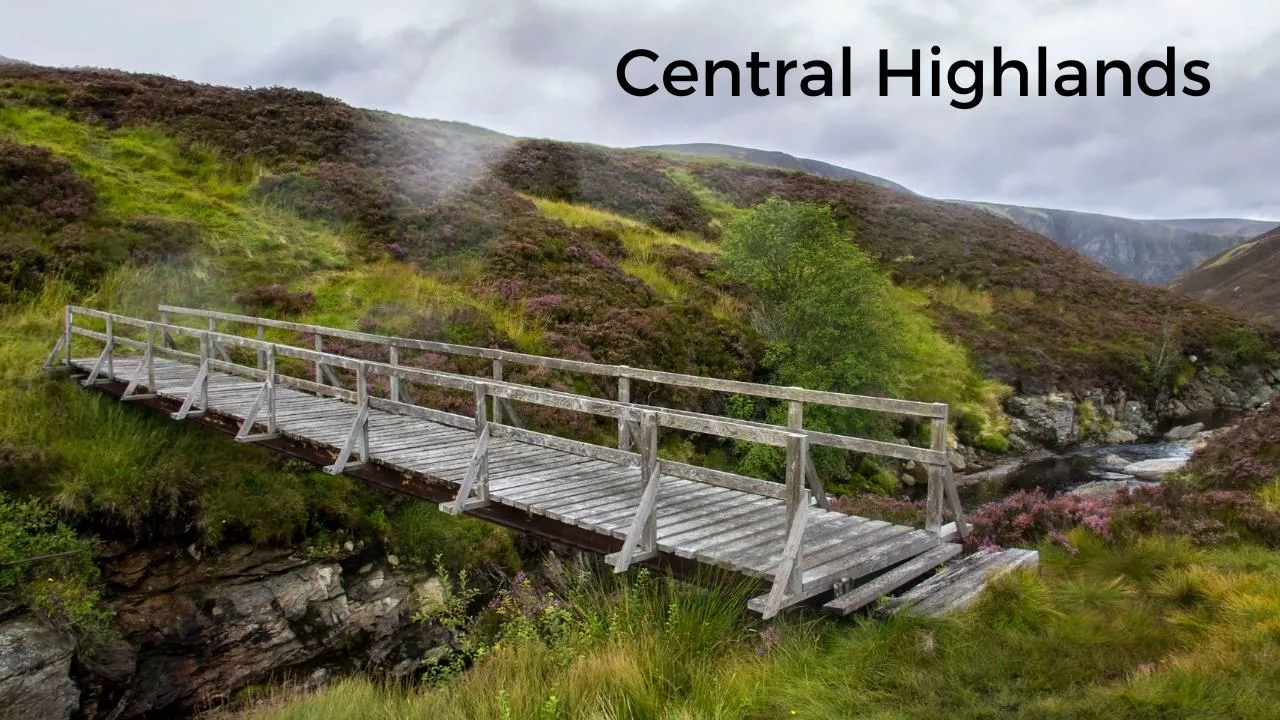 Earlier I mentioned the infamous battle of Culloden… on the penultimate day of your 9 day Scotland itinerary, it is time to uncover the tragic events of 16th of April 1746. Culloden Moor is just east of Inverness, and is the site where the 1745 Jacobite Rising was crushed with around 1,500 to 2,000 Jacobites killed or wounded in this short but devastating battle. As you walk around the battlefield, try and picture that day, where the fiercely proud Scots made their final attempt to defeat the English army, only to have their dreams of freedom snatched away.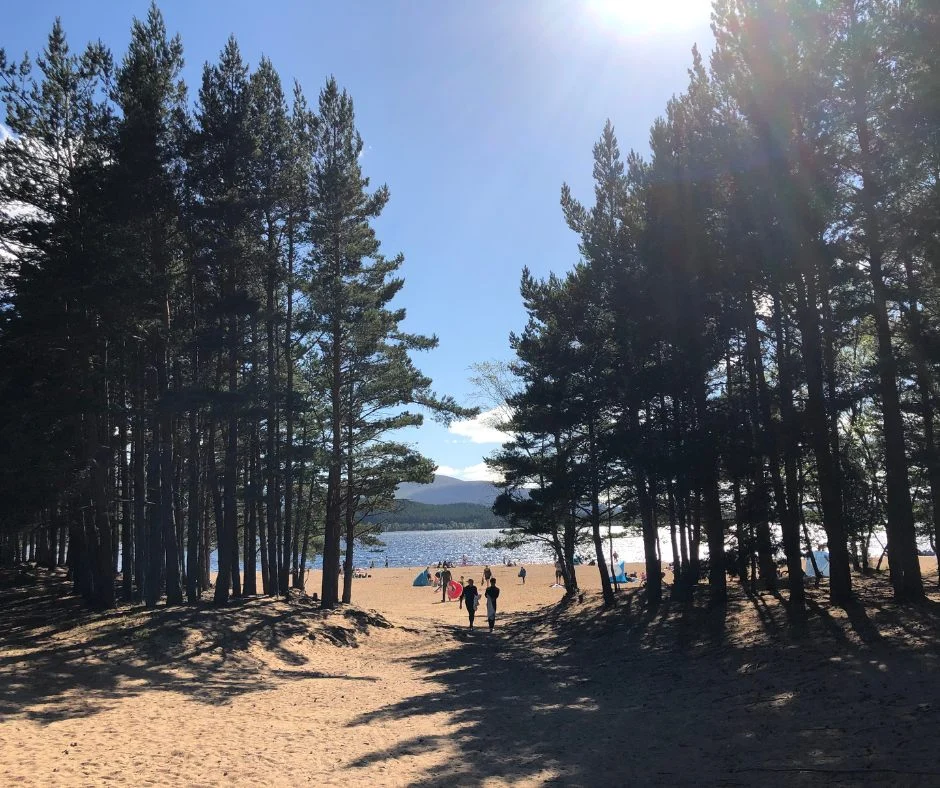 On your way back to central Scotland, pass through the majestic Cairngorms National Park and enjoy views of the Monadhliath and Grampian mountain ranges. The Cairngorms are home to the beautiful evergreen Caledonian pine forest which includes a rare kind of pinewood tree found only in Scotland and Norway. The Cairngorms heather moorlands are the perfect home for much of Scotland's best wildlife. Keep an eye out for golden eagles, ospreys and red deer.
There are so many great walking routes in the Cairngorms, from scaling the tall mountains to a gentle wander along the banks of Loch an Eilein, the highlight of which is the ancient, ruined castle situated on a tiny island in the middle of the loch.
The beach on Loch Morlich is one of my favourite spots with its wonderful pine forest backdrop and views of the snowy mountains. If you have a little extra time and you decide to spend a night here, head to Loch Morlich to watch the sun set.
Not too far from the Cairngorms is the lovely Victorian town of Pitlochry where there is plenty of great accommodation for you to stay the night.
Day 9 and the final day of your Scottish Highlands tour | Edinburgh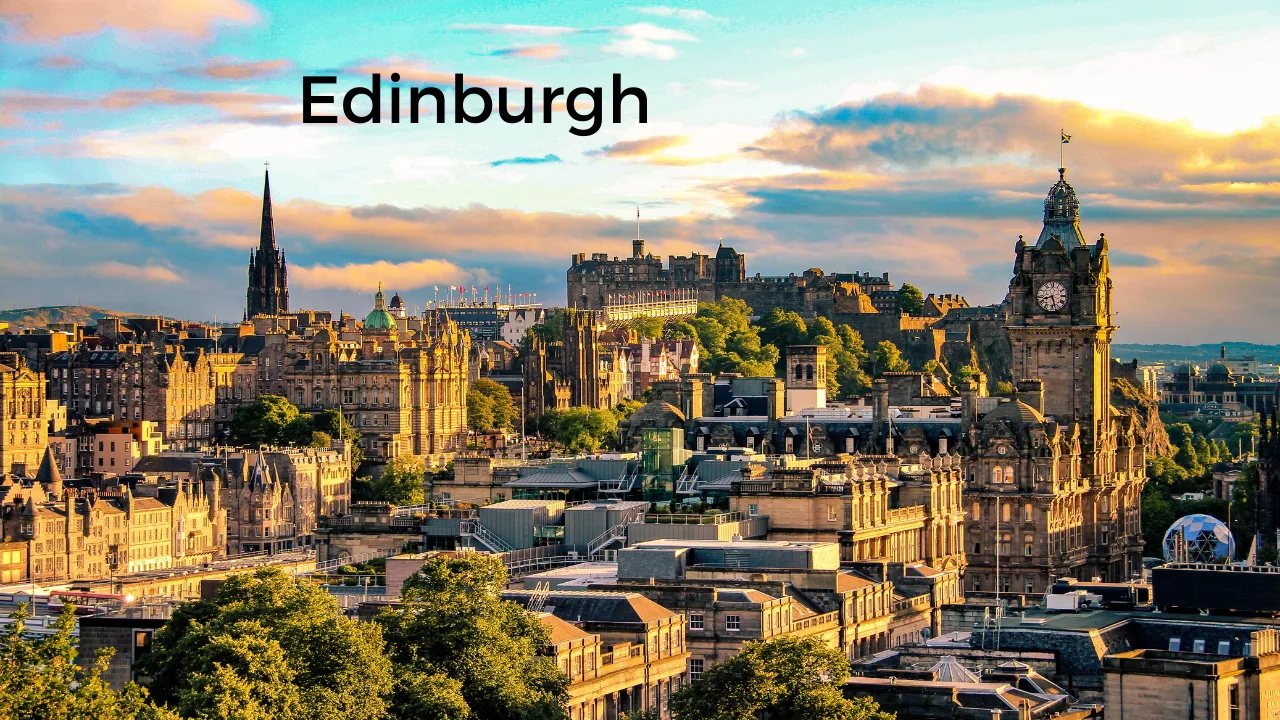 Ah the final day! How has our 9 days in Scotland come to an end so soon?
Make the journey south to our magnificent capital city – Edinburgh. You will find a city bursting with heritage, stunning architecture, great dining and nightlife, and an Old Town with World Heritage Status. I dare you not to fall in love! Although I grew up in Glasgow, I spent 5 years living in Edinburgh studying and working. I live closer to the mountains now which I love, but whenever I think about Edinburgh I get a pang of longing. It is such a lively and romantic place; cobbled streets; lush gardens; and summer festivals that bring in the world's best performers. And who could forget Edinburgh Castle, towering above the city, best viewed from Princes Street at nighttime lit up in marvellous colours. My fellow Glaswegians will give me into trouble for saying this… but Edinburgh is by far the coolest city in the whole of Scotland.
Sights outside the city include the famous Forth Rail Bridge in South Queensferry and Rosslyn Chapel made famous by Dan Brown's book (and the film starring Tom Hanks) The Da Vinci Code. Built between 1446 and 1484, the chapel has been described as an "Architectural Wonder" and a "Library in Stone" as practically every surface of is covered with carvings of individual figures and scenes. Both are really worth a visit… if you can drag yourself away from the lure of the city.
Read more: A beginner's guide to Edinburgh: 11 unmissable things to see during your first trip to Edinburgh
And Edinburgh's Underground Secrets
And that dear readers, is what I believe to be the best 9-day Scottish Highlands tour that showcases the best of our varied landscapes, our fascinating history, our highlands, our islands and of course our lochs. If this sounds like your dream vacation… take a look at the tour which inspired this blog here: https://www.best-scottish-tours.co.uk/custom-tours-of-scotland/9-day-highlands-islands-tour-incl-jst
So, get those flights booked if you haven't already! We can't wait to welcome you to Scotland.