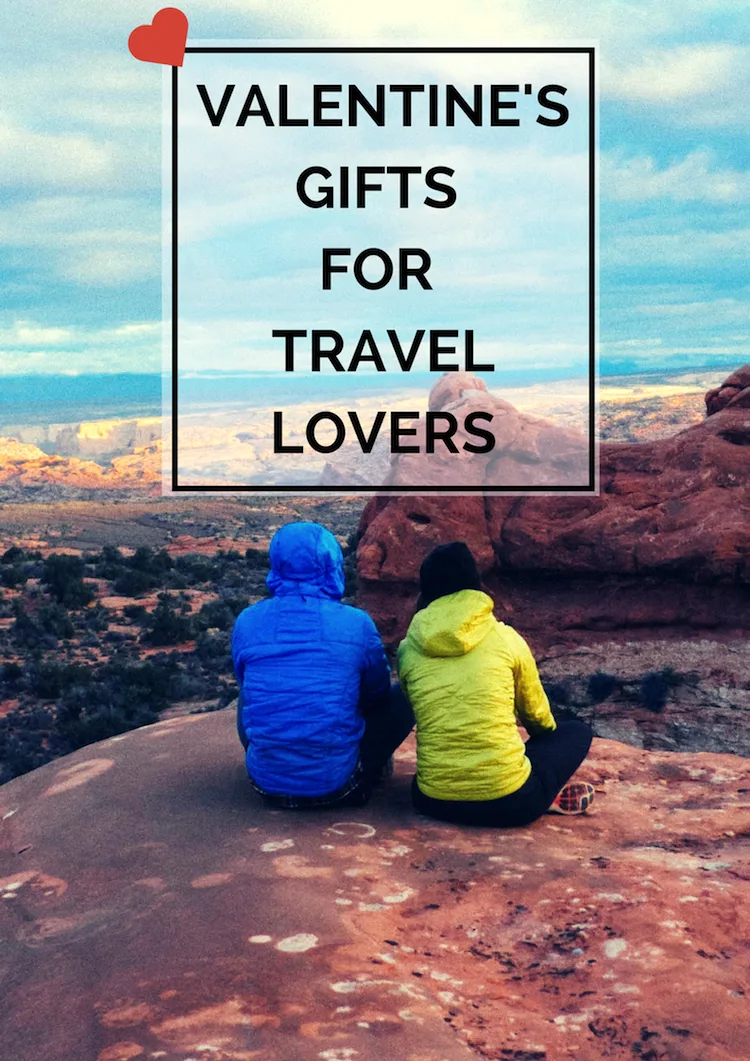 Whether you love it or hate it, Valentine's Day is just around the corner and it's that time of year to spoil your better half.
Flowers and chocolates are all well and good (what girl doesn't love a bouquet of red roses!?) but a true travel lover will be blown away with a travel inspired Valentines gift.
I've scoured the web for romantic travel gifts that won't break the bank. Because, let's face it, we'd all rather save our money for a holiday than a tacky present. If your budget won't quite stretch to a romantic weekend away, here's the next best thing…
Best for: Couples who have travelled together
If you've travelled together a lot then this is a great present to remind you of all your trips together. Have the print personalized with the places you've been or even of places you plan to go together in the future.
Best for: People who love to plan
I have this book and I'm pretty sure it's designed for children but I LOVE it. Buy it for anyone who loves planning future travels or reminiscing about past trips.
Best for: Outdoorsy couples with a sense of humour
If you love long walks and holding hands then you need these mittens in your life. Holding hands while wearing gloves just isn't the same so grab yourself a pair of Smitten Mittens. One mitten is a regular mitten while the other is one you wear together and it allows your hands to meet in the middle for a real hand-holding experience. Ahhh, how sweet.
Leather World Map Wallet
Best for: Men (because you blokes are really difficult to buy for on Valentine's Day!)
It's difficult to buy romantic presents for men that aren't too soppy or tacky. I love that it comes in a world map tin too.
Best for: Romantics
Who doesn't love receiving a love letter? OK, I haven't had one since I was about 11 but I'm pretty sure I'd still love it. And if it comes in a piece of jewelry, even better.
Best for: Those who love to be pampered
Don't ask me why but all girls love miniature toiletries. They're super cute, they allow us to try lots of new products and they're really handy if you're travelling with hand luggage only.
Best for: Book worms
There is no better gift for a bookworm than a Kindle. I know a lot of people are purists when it comes to books and they like the good old fashioned paper and ink but, trust me, once you've tried a Kindle you won't go back.
Kindles are great for travelling because you can download guidebooks and avoid lugging around any heavy books.
There are fancy Kindles available now but I'd still go for the standard one. If it ain't broke and all that. Also, if your Kindle does lots of fancy things, you get distracted from your book with social media and email notifications. Keep it simple.
Best for: Anyone with a long flight coming up
Best for: Snappy happy travellers
Most travellers like to get snappy happy. If your loved one has a DSLR take a look at ONA's gorgeous range of camera bags. I love the fact they look like regular bags rather than camera bags so you're not advertising the fact you're carrying an expensive camera.
Best for: Crafty types and budget buyers
Do you remember when I made an Instagram collage for less than a tenner? No? Go and check it out. This collage makes a thoughtful and unique gift and is also really cheap!
Best for: Getting brownie points
I've left the best till last because what could be better for a travel lover than a flight to somewhere new. Even if you're on a budget, buy a really cheap flight and then you can worry about booking accommodation, meals and activities with a shared budget.
Read more: How to give a holiday as a gift
If all else fails, make them a card. Get a piece of printer paper and a felt tip pen and go nuts. The more hearts and soppy poems the better.
Do you have any more Valentine's presents for travel lovers to add to the list?