The Gothic Quarter, or Barrio Gotico, is at the heart of Barcelona's old city, and plays host to some of the most beautiful historic sights the city has to offer. For today's post I caught up with a friend of mine living in the city to find out some insider tips on exploring the Gothic Quarter in Barcelona. So, if you're looking for places to eat, drink and explore in the Barcelona Gothic Quarter, this post is for you!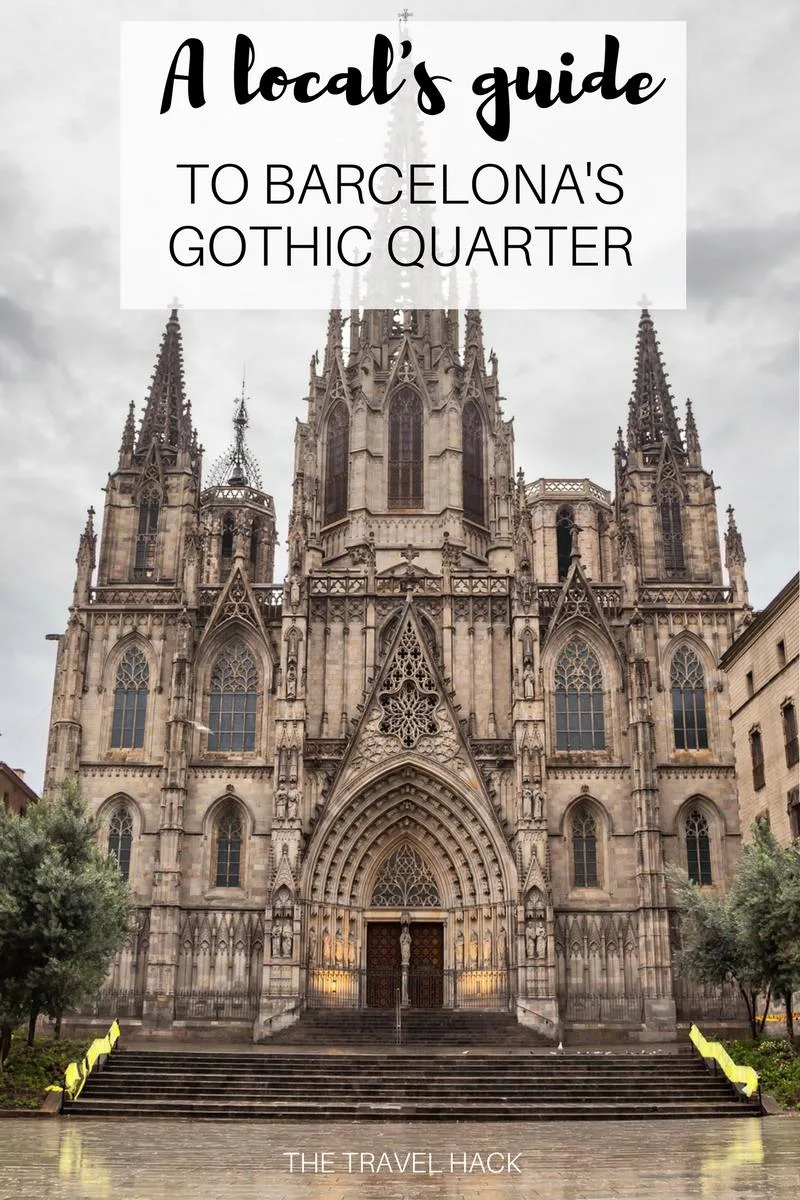 A patchwork of architecture from the 19th and 20th centuries, complete with Roman and medieval sights to see, you can almost feel the history as you stroll through its labyrinthine cobbled streets on a hot, sunny day. But Barcelona's Gothic Quarter isn't just one for the history-seekers – with its diverse and colourful array of tucked-away bars and authentic restaurants, music venues and brunch spots, it's a one-stop-shop for all things characterful and charming in Barcelona.
This post is written by a friend of mine who moved to Barcelona when we finished uni – nearly nine years ago (that's a scary thought!) – and she offered to write some blog posts about her home city. She has that unique perspective on the city, seeing Barcelona as both a local and an outsider. I think these people are the best city guides as they appreciate all the little details around the city like a tourist would but know it as well as a local.
Barcelona's Gothic Quarter is a must-visit for all tourists to the city so we thought we'd start here with her first local's guide to Barcelona.
Here are some things you can't miss in the historic
Barrio Gotico
with the ultimate guide to the Gothic Quarter Barcelona.
Places to eat and drink in the Barcelona Gothic Quarter:
Go for tapas at Els Quatre Gats
When it first opened in 1897 on the famous Carrer de Montsió, Els Quatre Gats was a popular hangout of Barcelona's very own Pablo Picasso, who hosted his first exhibition there in 1899. It became the meeting place for Barcelona's thriving artistic and bohemian scene at the turn of the century. Though it remained boarded up for most of the 20th century, in 1989 it threw open its doors to the public again – keeping its historic and artistic character in tact. Nowadays, it's a bustling, colourful restaurant and bar serving authentic Catalan tapas and drinks, with the occasional live music too. We'd heartily recommend a visit to this historic artists' hangout – it'll transport you back in time into Barcelona's vibrant past.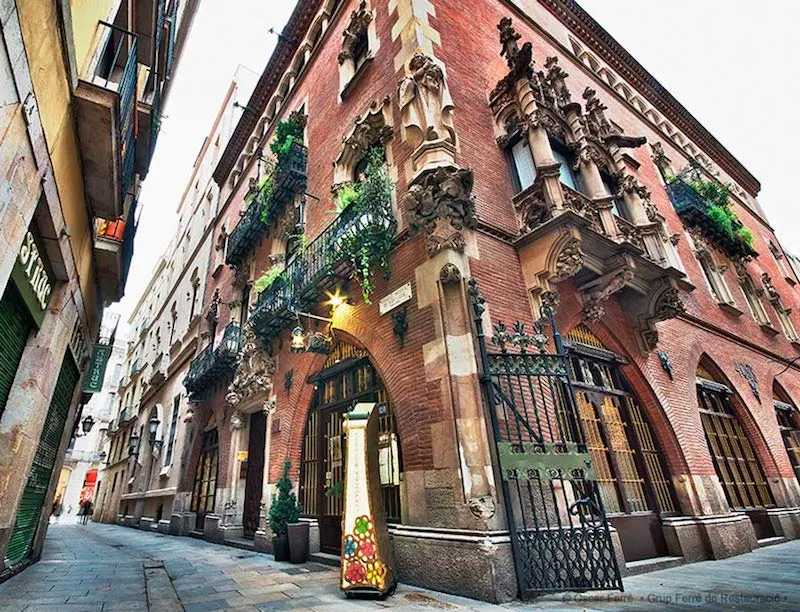 Drink Vermouth at El Refugi
Drinking Vermouth, or Vermut as the locals refer to it, is practically a religion in Barcelona – so it would be foolish not to give it a try while visiting! A fortified wine, it became a popular drink among the working classes during the Spanish Civil War when it was served from casks with local seafood in Barcelona's coastal tavernas. Be sure to ask for the vermut casero – the house version, rather than the Italian alternative. The best house Vermouth around is made at El Refugi, a tiny bar run by an eccentric but very welcoming couple tucked away in the beautiful Passatge de la Pau just minutes from Las Ramblas. When you're sitting mid-afternoon amongst their family portraits drinking a Vermouth in the Gothic Quarter Barcelona, you'll feel just like a local.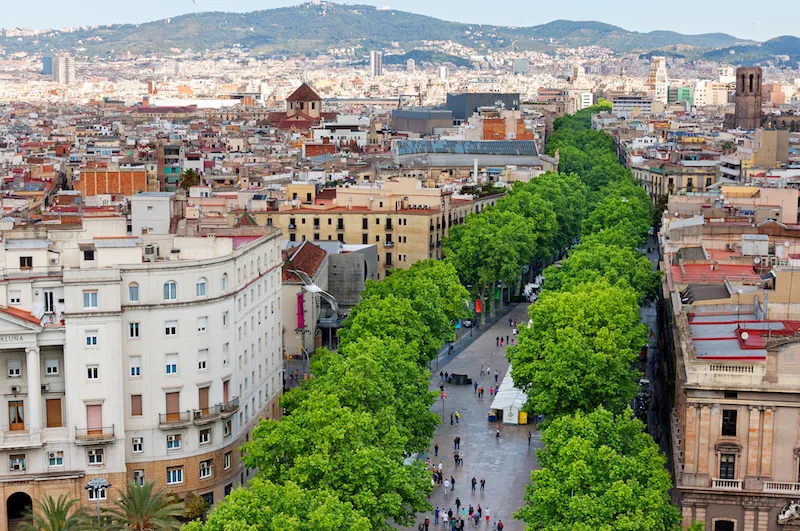 Las Ramblas
Try Leche De Pantera at Tasca El Corral
Leche de Pantera, or 'Panther Milk', is a milk and alcohol based concoction, rumoured to have been invented by the Spanish Legion who mixed medical spirits with condensed milk to aid their recovery in hospital. It was then famously brewed in great quantities at the long-closed La Barretina (in reference to the traditional red Catalan cap) in the Gothic Quarter. Just round the corner from the infamous La Barretina, 'Panther milk' is still served at the cute and characterful Tasca El Corral on Carrer de la Merce. The famed sprinkling of gunpowder that is said to have provided an extra 'kick' during the war has been replaced with cinnamon, and it comes in a mysterious shade of pink – but the drink is surprisingly delicious and will take you back to the more raucous days of this part of the Barrio Gotico.
Go for brunch at Federal Cafe
On a lazy Saturday morning, especially if you've had a few glasses of vino the night before, head to Federal for a brunch that's full of flavour, and sets you up for a full day of sightseeing ahead. With outside seating in a pretty little courtyard, a whole host of vegetarian and vegan brunch options and coffee to die for, a visit to this stylish but hearty cafe is a must whilst wandering around the tiny streets of the Gothic Quarter. They've even got a shared working table if you're bringing your laptop along for a working breakfast. We particularly recommend the eggs al horno – baked with all kinds of delicious vegetables and spices.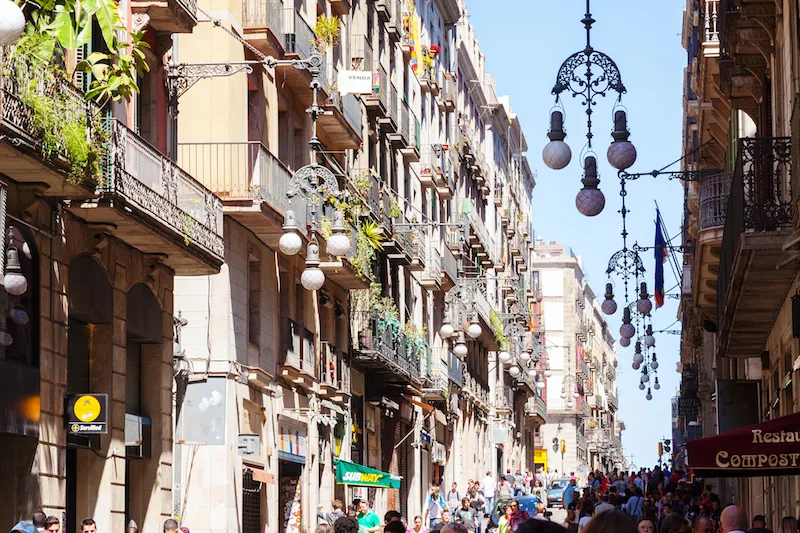 Sample the seafood at the authentic La Plata
For an authentic taste of the sea, La Plata is a charming little street corner tapas bar is a great spot for a quick and inexpensive lunch, in particular if you're on your way to the beach. It's still got the same four classic dishes that it had when it opened its doors in 1945, but when you try their fried fish you'll see why! It has a selection of local beers on tap and Catalan wines too, which you can have a go at drinking from a traditional Catalan porron (think somewhere between a wine bottle and a watering can) – if you dare. Simple and unassuming, this tiny tapas bar will welcome you with open arms and promises tastiest seafood you've had in a while.
Things to do in the Gothic Quarter in Barcelona:
See the historic Barcelona Cathedral
Barcelona Cathedral, or the Catedral de la Santa Creu i Santa Eulàlia, is a must-see on your visit to the Barcelona Gothic Quarter. Head down to the crypt to see the tomb of Saint Eulalia, the patron saint of Barcelona, who is said to have been brutally tortured and killed by the Romans for her faith. Built between the 13th and 15th centuries, inside you'll find a beautiful cloister with a garden, complete with fountains where you can make friends (or not) with the cathedral's 13 resident geese – one for every year Eulalia lived. It's awe-inspiring interiors feature gargoyles carved into the roof, numerous chapels and a crucifix rumoured to have helped defeat the Turks at the Battle of Lepanto.
Travel Hack Tip: When visiting the Cathedral make sure to cover your shoulders and wear modest clothes if you don't want to be turned away at the door!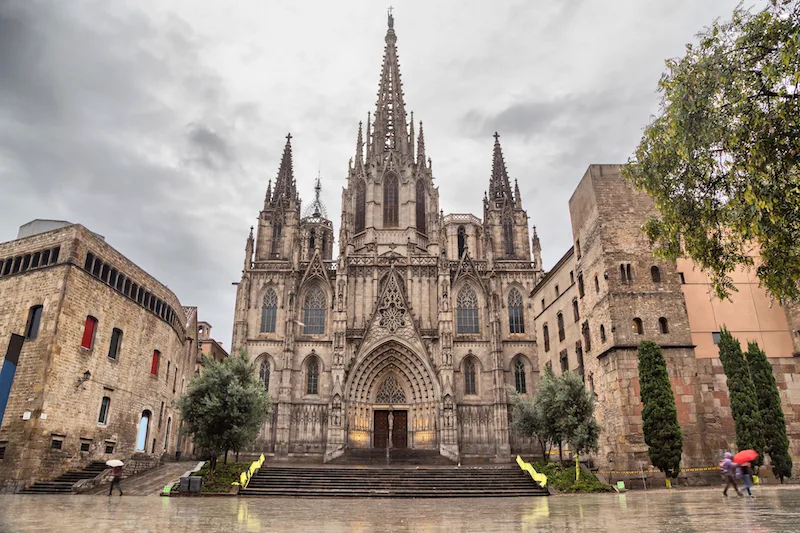 Barcelona Cathedral
See some live jazz at the cosy Jamboree club
Located in the magnificent Plaça Reial just minutes from Las Ramblas (which features one of Gaudi's lesser known works – the lampposts!), a visit to the Barcelona Gothic Quarter is nothing without a trip to Jamboree Jazz. Often lauded as the best jazz club in Spain, this atmospheric underground joint with brick walls and sloped ceilings has been graced by the likes of Ella Fitzgerald and Chet Baker, and continues to attract a fun and funky crowd of local musicians to this day. Snatch the opportunity to see world-class jazz musicians in an intimate setting, or head down on a Monday night to witness the completely improvised jam session with up-and-coming local talent. The music doesn't stop there though: when the gigs finish, it transforms into a nightclub where you can dance the night away!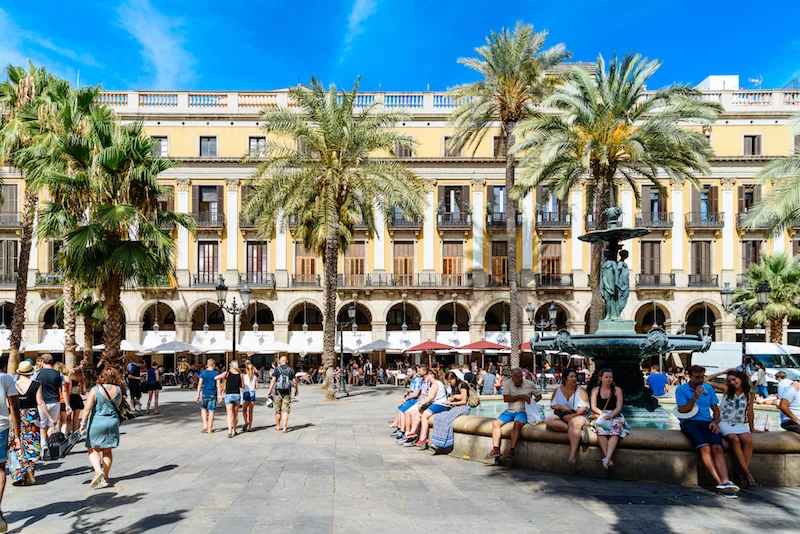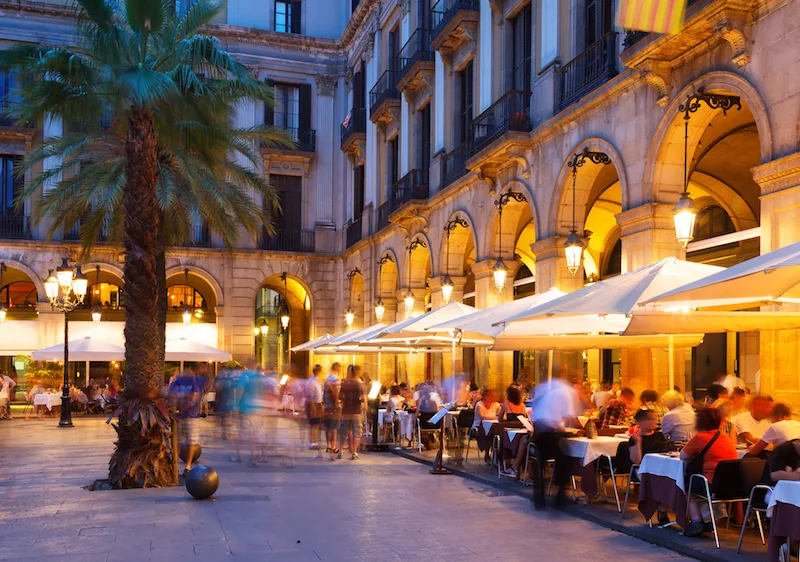 Plaça Reial
Lose track of time in Placa del Pi
The little square which surrounds the church of Santa Maria del Pi is the perfect getaway from the hustle and bustle of the city for a few moments of tranquility. Literally named 'The Square of the Pines' after the huge tree which used to stand at its centre, the square hosts an artisanal food market every first and third Friday, Saturday and Sunday of the month where you can sample some Catalan culinary delights. Explore the gothic architecture of the church itself, or head to one of Barcelona's best churrerias just off the square in Carrer Petrítxol. Equally, just sit on a bench and take in the calmness of this secluded little square, right in the heart of the old town.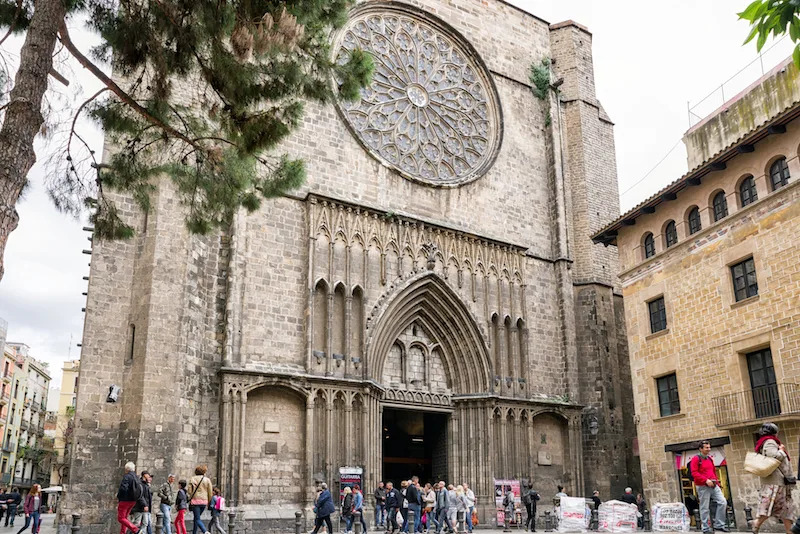 Santa Maria del Pi
Discover the Roman ruins beneath the streets
When carrying out some renovation works in the 1930s, a whole network of Roman ruins were discovered underneath the heart of the old city. Witness for yourself these 1st-6th century AD ruins that lie preserved within the Musea d'História de la Ciutat. The museum is situated just next to the Plaça del Rei, a medieval courtyard thought to have been used by King Ferdinand and Queen Isabella to celebrate the return of Christopher Columbus from the Americas in the 15th century. And it's directly underneath this courtyard that you can explore Roman baths, factories, living quarters and artefacts that used to make up the city as we know it. There's no better way to get a sense of the layers upon layers of history of the Barrio Gotico!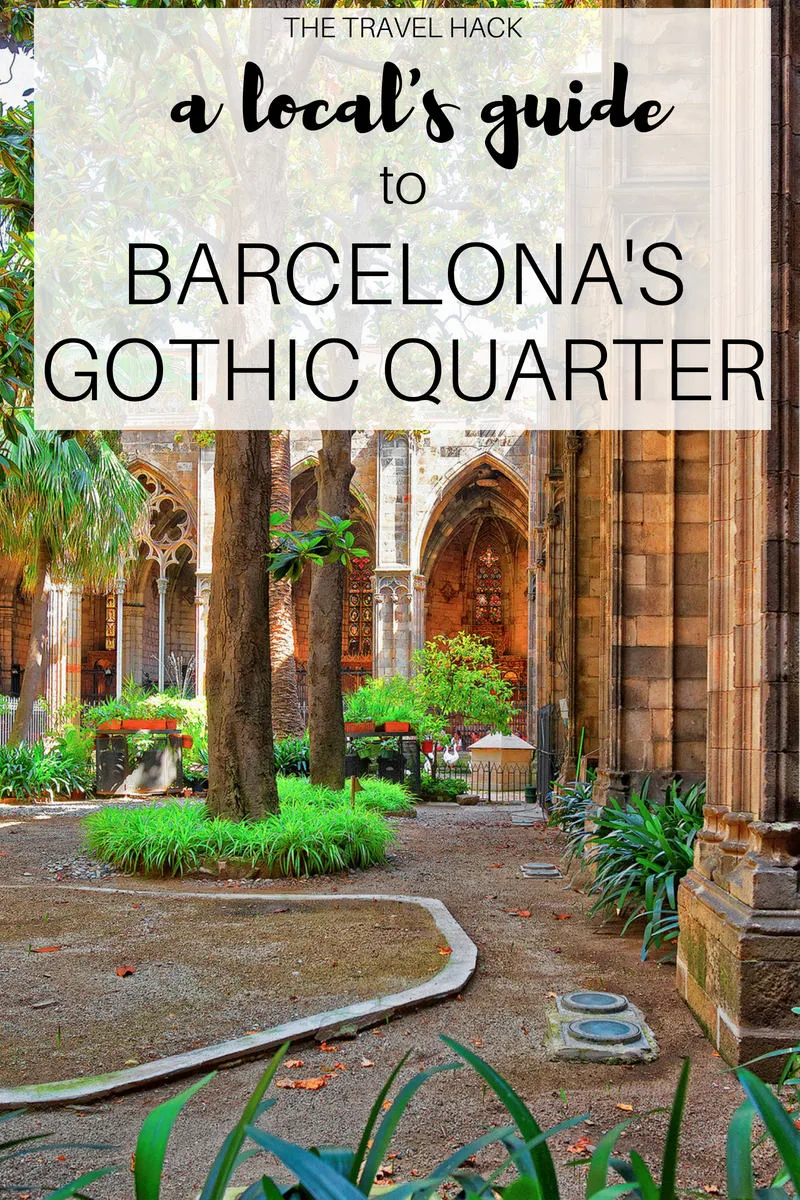 Do you have any more suggestions for things to see and do in the Gothic Quarter Barcelona?