I've just returned from an amazing weekend in Barcelona. I went with my partner, Sam, and our baby boy, Joseph, who was 12 weeks old when we travelled.
Since getting home I've had a few readers ask me what it was like to travel to Barcelona with a baby and if I thought it was worth it.
I'm always trying to encourage people to travel with their kids. I'm a cheerleader for young families getting out and about as much as they possibly can and I like to show that your exciting life doesn't have to stop when you have kids. You're not restricted to Centre Parcs and package holidays to Spain once you pop out a baby, you can still do really fun and exciting things!
But can you go to Barcelona with the little ones in tow? I'm not so sure…
There are so many destinations around the world that are so baby friendly, I'm not sure if it's worth the extra effort needed to take them to Barcelona.
Shock horror, I know.
I just want to highlight that we travelled to Barcelona in January which meant we couldn't enjoy the beach or the parks in the same way you would in the summer. This will have definitely effected our experience and I imagine the city is more child-friendly in warmer months. But in the winter months, I feel like we missed out on some experiences that we would have enjoyed if Joseph wasn't with us.
Here are my thoughts about travelling to Barcelona with a baby..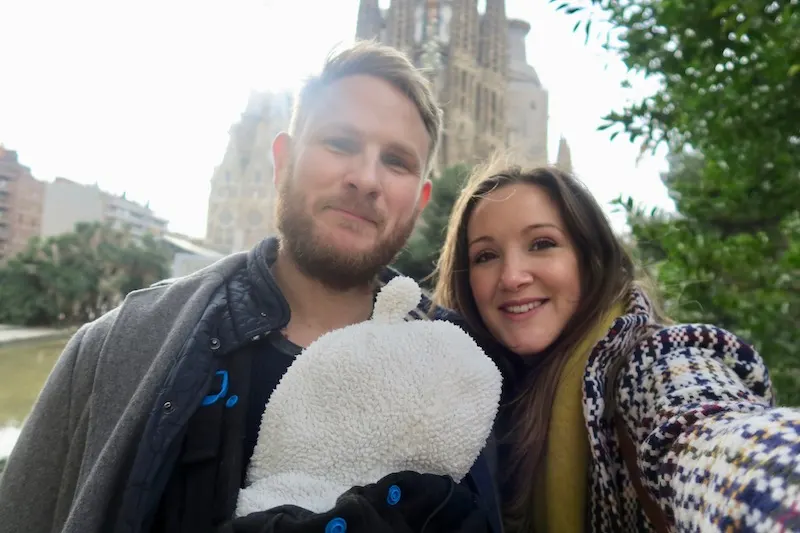 Barcelona is all about the food and wine
There are actually loads of things to do with young kids in Barcelona but one of the best ways to spend your time in the city is hopping between tapas bars. Yes, Barcelona is all about the food and wine and exploring these traditional little bars with their delicious little dishes. It's not that you can't take babies into a tapas bar…it's just…well it's just much more fun without them.
In some ways, tapas bars are great for babies because you can pop in, have a tiny glass of wine and one little tapas dish and be in an out in 10 minutes before moving on to the next place (and before your baby wakes up and starts crying!) This works really well if your little one isn't settled as you can leave before they have a meltdown or become irritable for staying still for too long.
But, on the other hand, most of these tapas bars are small so they have a cosy, intimidate and romantic feel. The staff were all lovely and friendly but I don't feel like it's a baby-friendly environment. Also, you're going to struggle to get in there with a pushchair.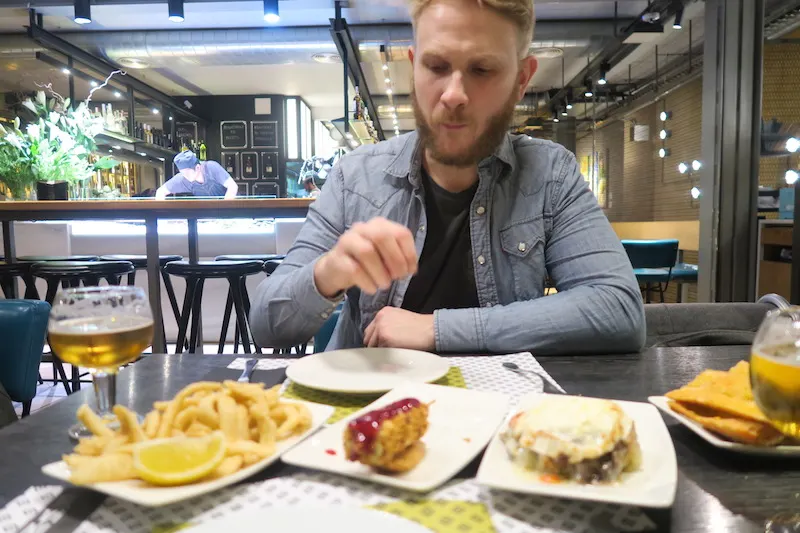 There are lots of outdoorsy sights to see
Now this where Barcelona becomes great for travelling with a baby. I personally find that babies are happy and relaxed when you're walking and moving and constantly on the go – so walking to different sights, monuments and attractions is going to keep them settled. They're not exactly going to appreciate Guadi's finest work but they'll definitely enjoy the walk as you stroll from Casa Mila to La Sagrada Familia to Park Guell.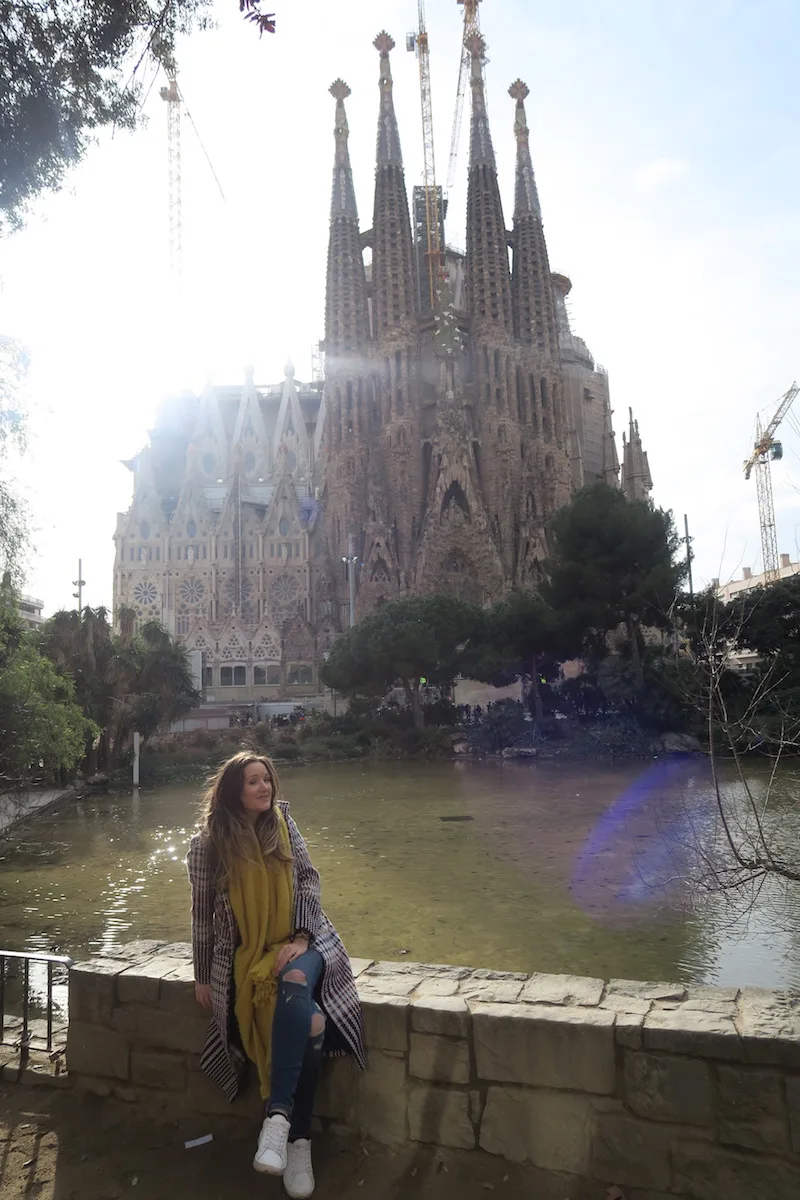 My tips for travelling to Barcelona with a baby
Take a sling/baby carrier
Our baby carrier was a total lifesaver in Barcelona. It made getting around really easy and you never need to worry about the bumps, cobbles, steps, busy streets, public transport or tiny shops and bars. Joseph also falls asleep the second he's put in a baby carrier but even when he's awake he's happy to sit in there for ages.
We have the Pao Papoose from We Made Me and I really recommend it. It's comfortable to wear for hours and Sam and I are both happy wearing it. Sam feels a lot of the baby wraps and slings are a bit 'girly' but apparently this one is masculine enough 😉 You can read my full review of the Pao Papoose here.
If you are taking a pushchair to Barcelona and you're not sure what type to take, I'd opt for a simple umbrella stroller. I wouldn't recommend the small, lightweight 'travel' strollers because they're often expensive and usually miss the features you need for city streets. Look for something with chunky wheels, a comfortable ride, a big shopping basket, a huge hood and a reclining back so little ones can lie flat.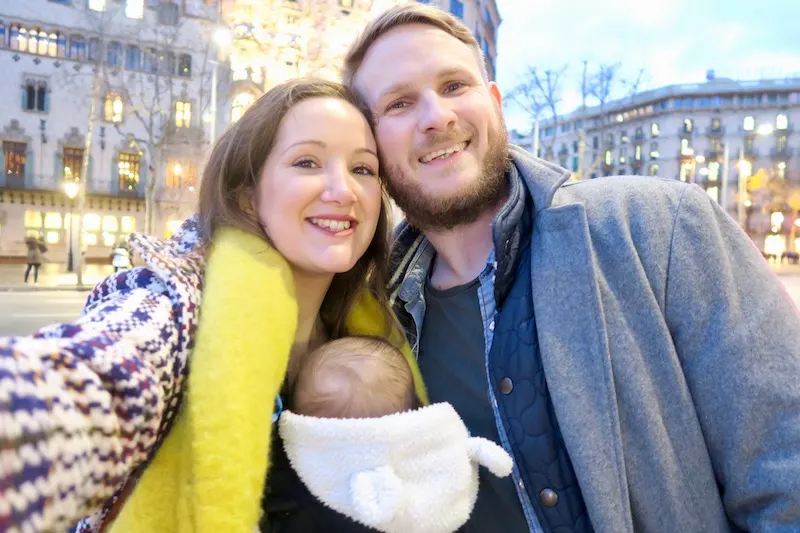 Go for dinner early
This is an easy one as the Spanish tend to eat very late so if you go for dinner at normal dinner time then that will still be considered early.
Eating at around 7pm is perfect if you have a baby with you. It's going to be quieter and the atmosphere will be more family friendly. It feels a little inappropriate to have a baby in a restaurant at 10pm when everyone else is getting drunk or trying to enjoy a romantic meal.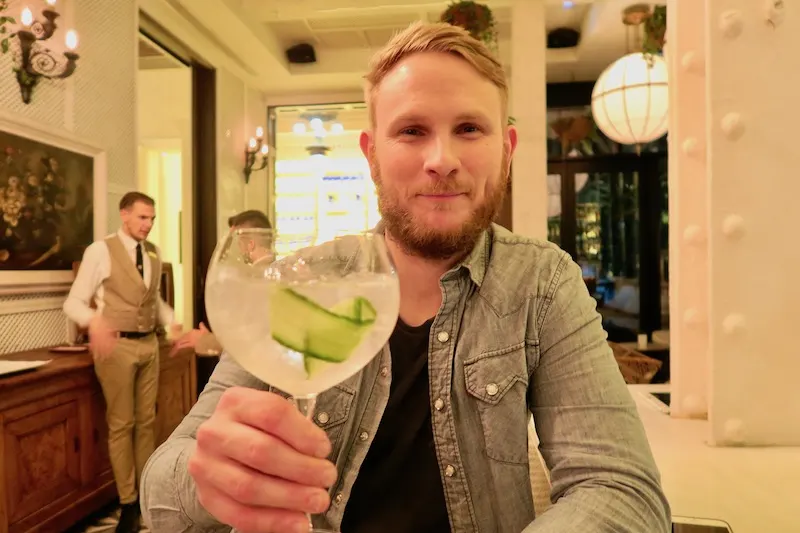 Tiny babies are best
If you're going to go to Barcelona with your kids at any age then the younger the better. At 12 weeks old, Joseph slept pretty much ALL the time. Tiny babies are easier to carry around in a sling all day, they're easier to fly with, you don't need to worry about them making a mess with their meals or find restaurants that serve kiddie meals.
First time parents are probably a bit nervous about travelling with young babies – I know I was! But second time around I'm embracing it and getting away as much as we can.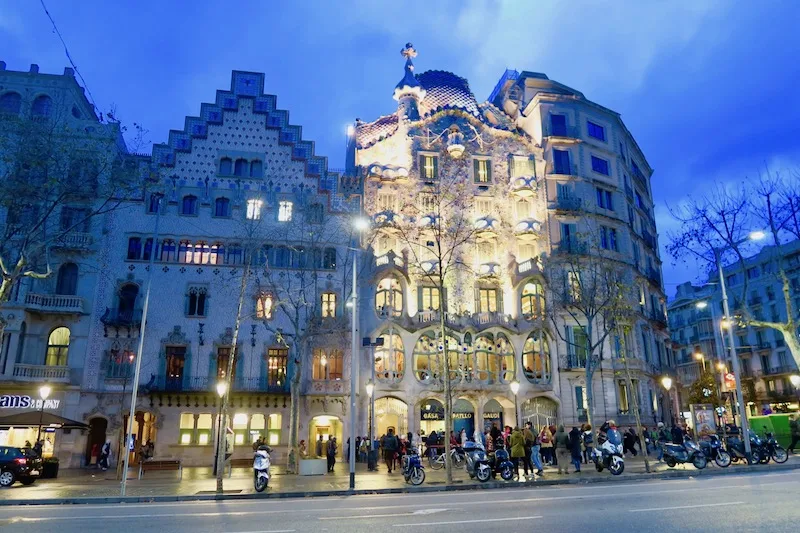 Don't dismiss the posh hotels
We stayed at The Cotton House hotel (uber posh!) and it couldn't have been better. I'd never stayed at a fancy hotel with a baby before and it actually turned out to be great. The staff were so lovely and welcoming, the room was enormous and spacious, we had a terrace so we could sit outside while Joseph slept and there weren't any other rooms next to us so we didn't need to worry about the noise.
Final thoughts
I'm 100% not saying you shouldn't take your baby with you to Barcelona. But I am saying that it's a bit of extra effort and you're going to miss out on some experiences when you have your baby with you.
For me, there are hundreds of baby friendly destinations so I'd rather travel to one of those and save Barcelona for an adult-only weekender. The kind of weekender where you drink too much wine, eat too much food, stay up late, have breakfast in bed and enjoy the sights without thinking about nap times and feeding times.
---
Read more about travelling with a baby
What it's really like to travel with a baby: The good, the bad and the ugly
Why it's so important to travel with babies
The best travel hacks for travelling with a baby
Top 10 family friendly holidays in Europe
Tips for flying long-haul with a baby
How to get your baby's first passport