When I visited Fuerteventura and Lanzarote in the Canary Islands, I thought packing would be a breeze.
I pride myself on being an efficient packer, and have been known to travel with just a handbag for a winter weekend away. So an island holiday? No problem.
Or so I thought.
The Canary Islands were a surprise to me in many ways. I expected beaches, but I never knew there would be lava fields, cave restaurants and sand dunes that stretched as far as the eye could see. I definitely didn't expect wind that buffeted trees and buildings for hours on end.
I found out the hard way that I'd packed all wrong. Floaty dresses meant plenty of Marilyn Monroe moments (without any of the glamour), and wearing flip flops while trying to walk across lava boulders was, to put it mildly, not ideal.
The Canary Islands are spectacular and well worth a visit, and packing properly will only make your holiday more memorable. Be sure to use this guide on what to pack for the Canary Islands to make sure you're totally prepared.
Pin this for later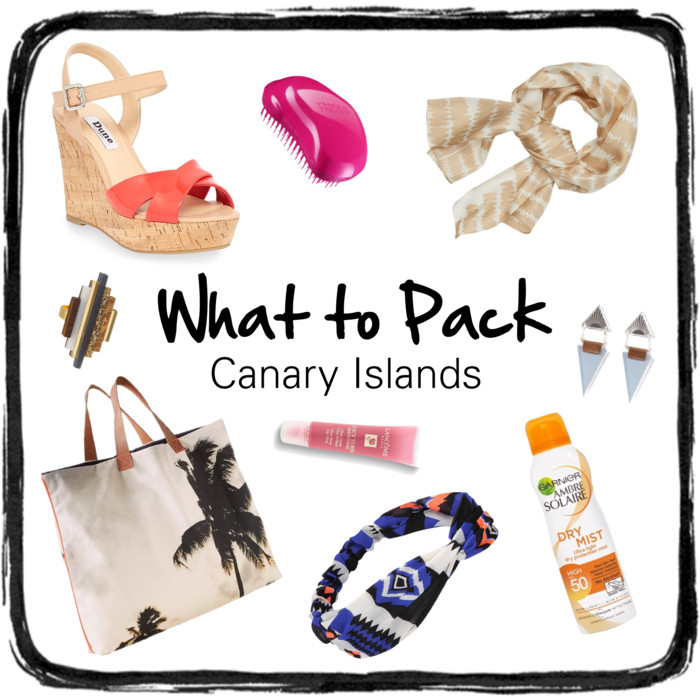 Sun cream
As an Australian, I am pretty obsessed with sun safety. And before you even think it, yes, you still can get a tan with sun cream on (well, I can't tan ever, but reliable sources tell me it's possible). The Canary Islands may experience unpredictable weather, but the sun is strong and hot. Be sun smart and pack some good-quality sun cream (like this one, which doesn't count towards your carry-on liquids).
Headband
The wind on Lanzarote is no joke. Some days are calm, but when the wind picks up, you're going to want to be prepared. Having a good headband in your handbag means you'll be ready when the breezes pick up, and you won't have to spend hours de-tangling your hair later. Speaking of hair…
Detangling brush
You'll thank me for this suggestion later.
Triple shoes
Obviously you're going to need flip flops or sandals for the beach. That's a given. But you'd also be wise to throw in some trainers, for walking across uneven ground and through black volcanic sand.
And when the sun goes down and you're heading out for some drinks or a nice dinner, you'll want a fancier option than flip-flops and trainers. A cute pair of wedges is my evening shoe of choice.
Scarf or light jacket
When I visited Lanzarote and Fuerteventura in October, the weather was still incredible. The daytime was perfectly warm, and the evenings were balmy. Still, a scarf or a light jacket are essential for those cooler evenings, and they're easy to pack.
---
Not sure how to put together a cute and practical outfit for your holiday to the Canary Islands? Here's one that I picked out. Shorts are definitely a must to avoid those Marilyn moments!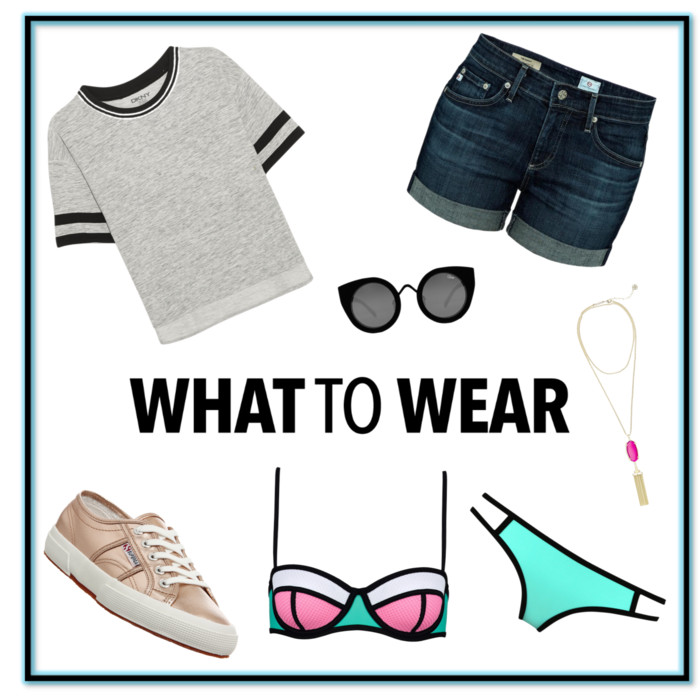 DKNY T-shirt | Similar shorts | Sunglasses | Everly necklace | Superga rose gold trainers | Triangl bikini
Have I missed anything? What else should you pack for the Canary Islands?
Huge thanks to the Spanish Tourist Office, Lanzarote Tourist Board and Fuerteventura Tourist Board for showing me around these two spectacular islands.