I was getting really nervous about visiting the Maldives with a baby.
When I told other people we were coming here with a six-month-old they all had one of two responses. It went like this…
"Are you crazy!? It's such a long flight and it isn't very baby friendly."
Or
"You're brave. It's such a long flight and it isn't very baby friendly."
So, naturally, I was getting pretty worried with people thinking I was either really brave or completely crazy. I'm neither of these things (I hope!?)
There were two lovely people who told me I had nothing to worry about. One was Nellie from Wild Junket who had recently visited with her five month old daughter. The other was a friend who'd spent her honeymoon on the Maldives.
I then realised that all these other people who were making me nervous had either never been to the Maldives or had never spent more than an hour with a baby.
So the reason I'm writing this post is because they were wrong, so, so wrong! If anyone else is considering visiting the Maldives with a baby, it's the best place ever for so many reasons. Let's start with that long flight.
Flying to the Maldives with a baby
With flew with Turkish Airways from Birmingham to Male with a 3-hour layover in Istanbul. We took off at 4pm so the majority of the flight was overnight.
George didn't sleep on the first flight but for the second flight he slept with no problems all the way there.
It turns out that the long-haul section of the flight is much easier than short-haul. The planes are more spacious and passengers with babies are given priority for the bulk head seats where bassinets can be used. The toilets were also bigger so it was easier to change George's nappy and we had plenty of pillows and blankets to make him comfortable.
I'd been so worried about the flight but it turned out that I really had nothing to worry about at all.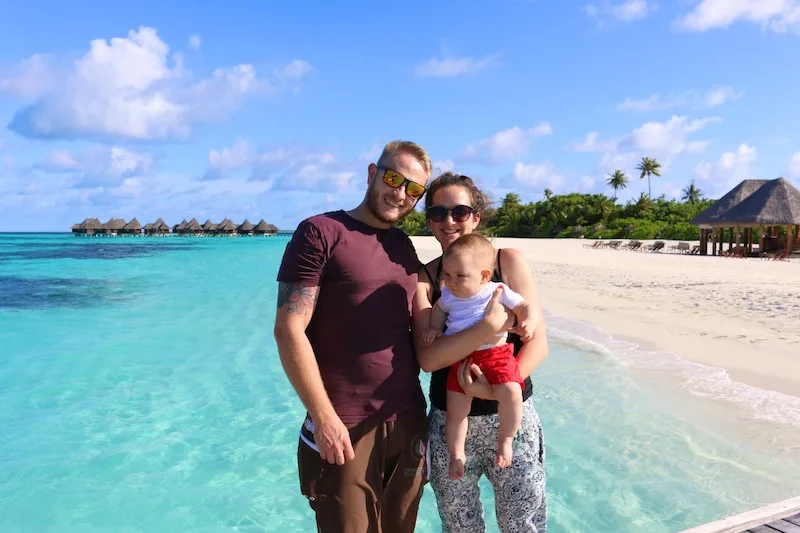 Maldivians
I'd never met anyone from the Maldives before so I had no idea what expect. We found them all to be warm, friendly and kind but when you're travelling with a baby this multiplied by about a million times. Everyone was just so lovely.
What really surprised us was how lovely the men were with George. In the UK, it's really unusual for a man to make a fuss of an unknown baby but the culture is so different in the Maldives. When we arrived we were ushered through the fast security lanes at the airport. We actually didn't get through much faster because three guys came over to coo over George. They had him belly laughing in seconds and the three guys were in stitches.
Everywhere we went people would stop and chat to him. George is a smiley baby so this would spur them on to make him laugh. Whenever we took a boat to or from Coco Palm Dhuni Kolhu the guys on the boat would hold George and keep him safe while we got on and off. The waiters would keep him entertained while we ate our dinner and they remembered the best ways to make him smile.
It was a dream for us and made the holiday so much easier. We always felt so welcome and often found that George was the perfect ice breaker to get chatting to local people. On average, it would take about 30 seconds before people would get their phones out and start sharing photos of their own children.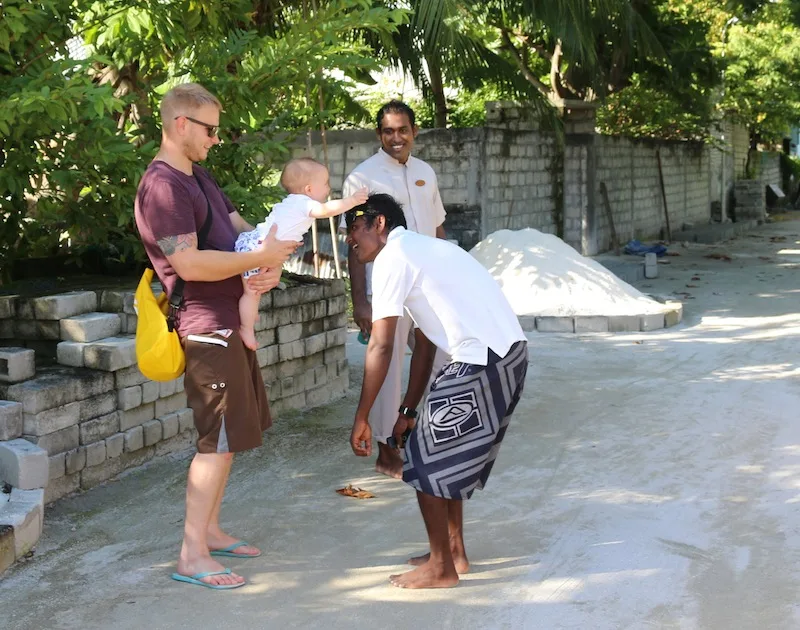 Taken during a visit to a local island
The time difference
The Maldives is 5 hours ahead of the UK. I thought this would be a problem but it actually worked out well. It meant that George could easily stay awake until 8.30-9pm without getting tired and naggy while we were eating dinner. I think it's mean to take babies for dinner when they're really tired and they usually end up whinging throughout the meal. It also meant he'd lie in in the mornings which was a bonus for us!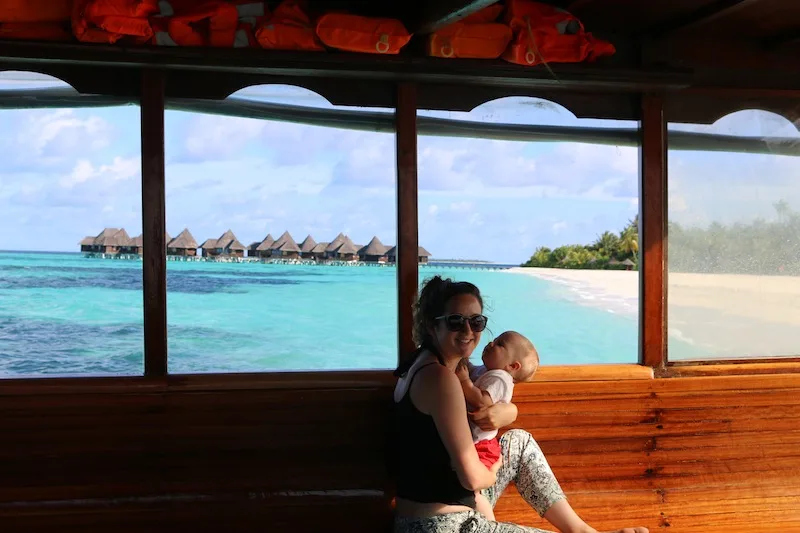 A small, friendly island
Coco Palm Dhuni Kolhu is a small island resort. Guests get to know one another quickly and everyone gets to know the staff. As for George, well he just knew everyone. I'm not joking, all of the front-desk staff knew him by name and loads of the guests knew him too. Everyone was so friendly.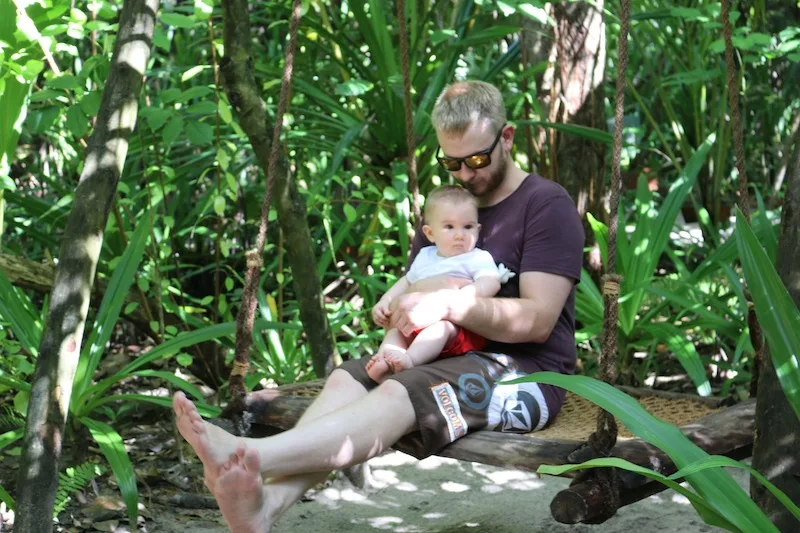 Babysitting facilities
We used a babysitter once when we went on a snorkelling excursion. It was lovely to get away and not worry about George as we knew he was in safe hands. His babysitter was a young lady from the reception desk who he absolutely adored. She looked after him in our room but also took him for walks around the island – which is one of the reasons why everyone knew him!
When we returned from our snorkelling trip George was happily asleep in his cot – which is a sure sign he was happy. He doesn't usually sleep unless he's totally happy and relaxed (yes, we got one of those babies!)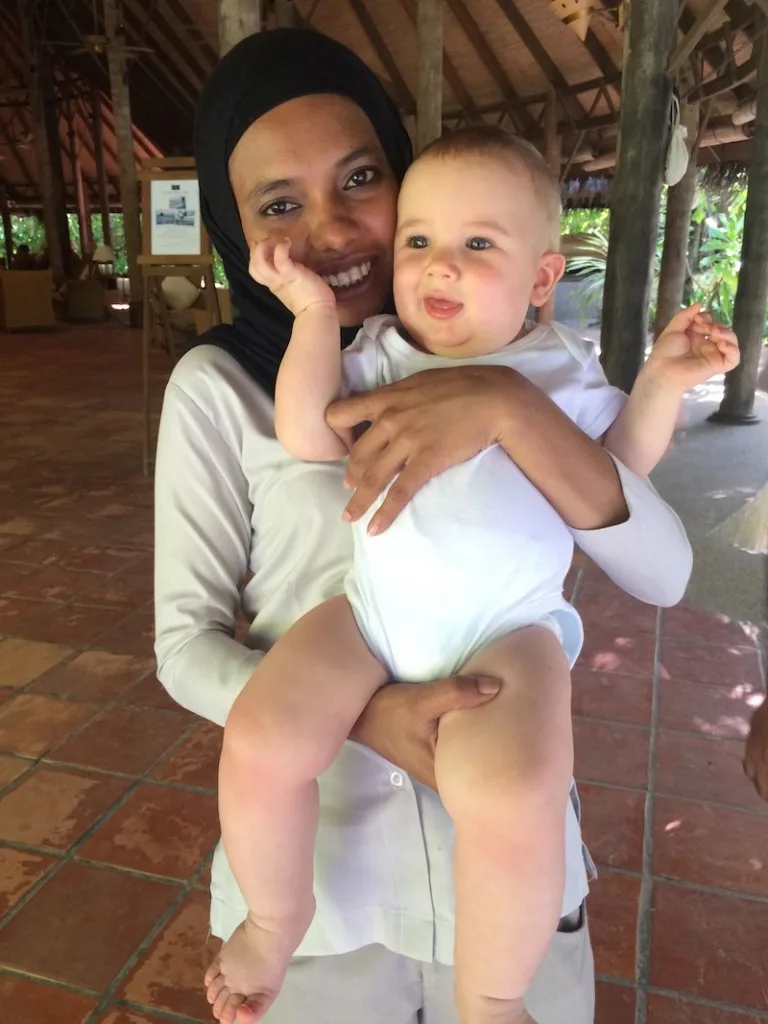 A chilled out pace of life
Like most islands, the Maldives are so chilled out. Babies don't cope well with stress, strict itineraries and busy schedules but this laidback lifestyle suits them perfectly.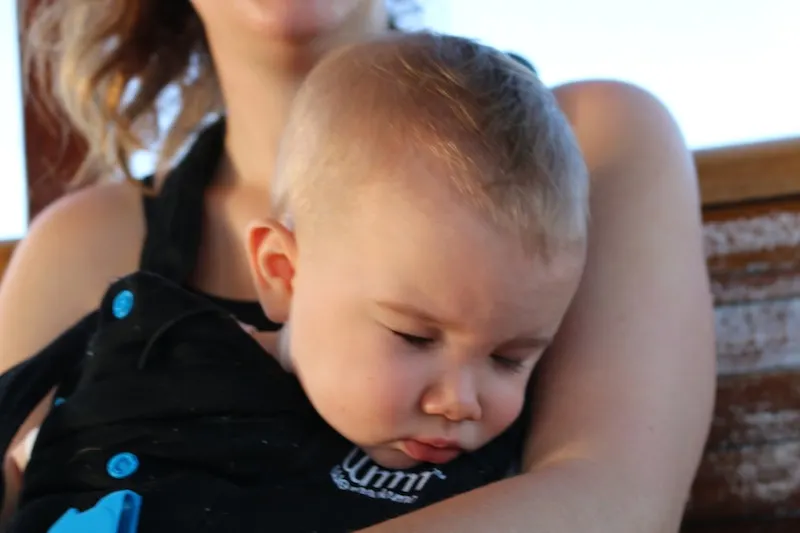 It doesn't get much more chilled than this
Buffet dining
We enjoyed eating in the island's restaurants but the open-air buffet was best for George. He could try lots of different food and if we needed to take it in turns going up to the buffet it didn't matter. It also meant we could eat when we were ready and take as long as we wanted – or quickly grab a meal if George wasn't in the mood to be quiet.
We were really conscious that a lot of people were on their honeymoon at Coco Palm Dhuni Kolhu and were enjoying romantic meals in the evenings. The last thing they'd want is a baby shouting at the table next to them! Because of this we did have room service on our last two evenings. This was when George had adjusted to the time zone and was ready for bed at 7pm. Room service was great and it was lovely to eat our dinner under the stars next to the swimming pool.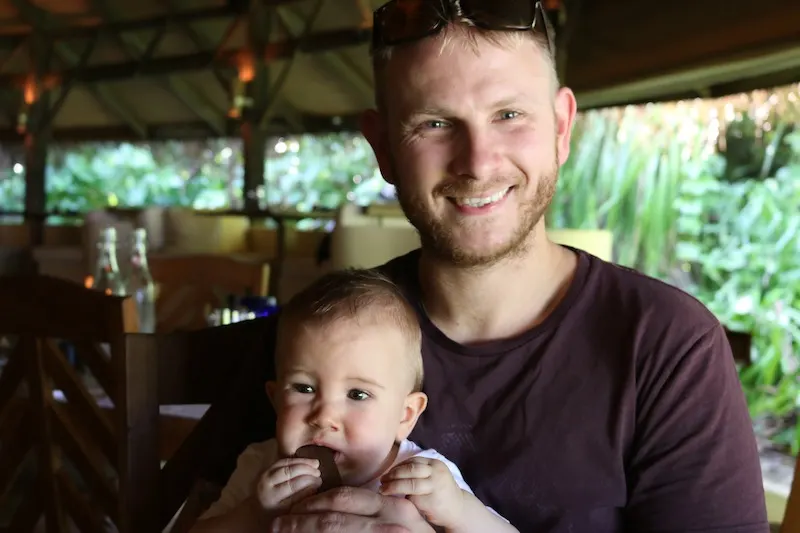 Our private garden area
We had a deluxe villa so we had a small, private pool and a private sandy area looking out to the beach. This was all shaded so it was great for George. As it was all next to our room we could put a baby monitor outside and relax in the sunshine while George was happily napping inside. We could also do this in the evening. This was a huge bonus for us – if we were in a hotel, one of us would have had to stay in the room whenever George was asleep.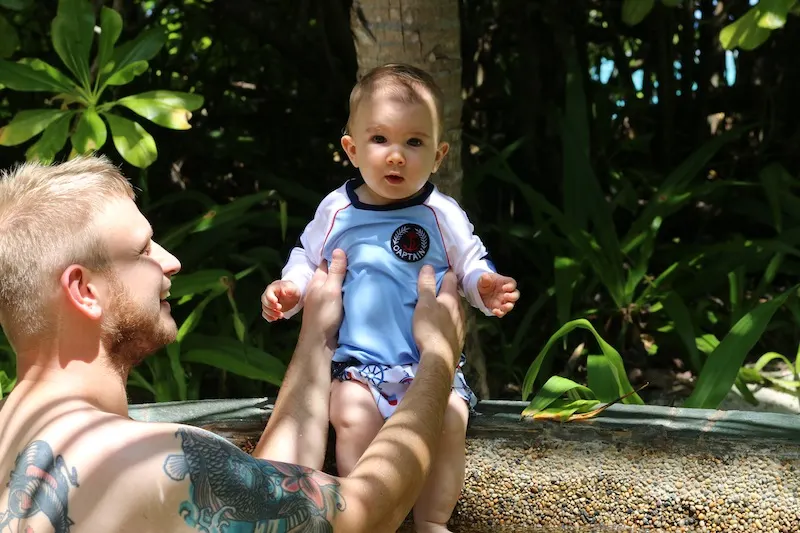 If you're thinking of visiting the Maldives with a baby but you're worried it isn't suitable or is too much hassle – think again because I think this is one of the best destinations you can visit with a baby!
Read all of my blog posts from the Maldives here, including tips for flying long haul with babies and a packing list for travelling to the Maldives with a baby.
Read more: My ultimate baby and toddler holiday packing list! (It's a biggy!)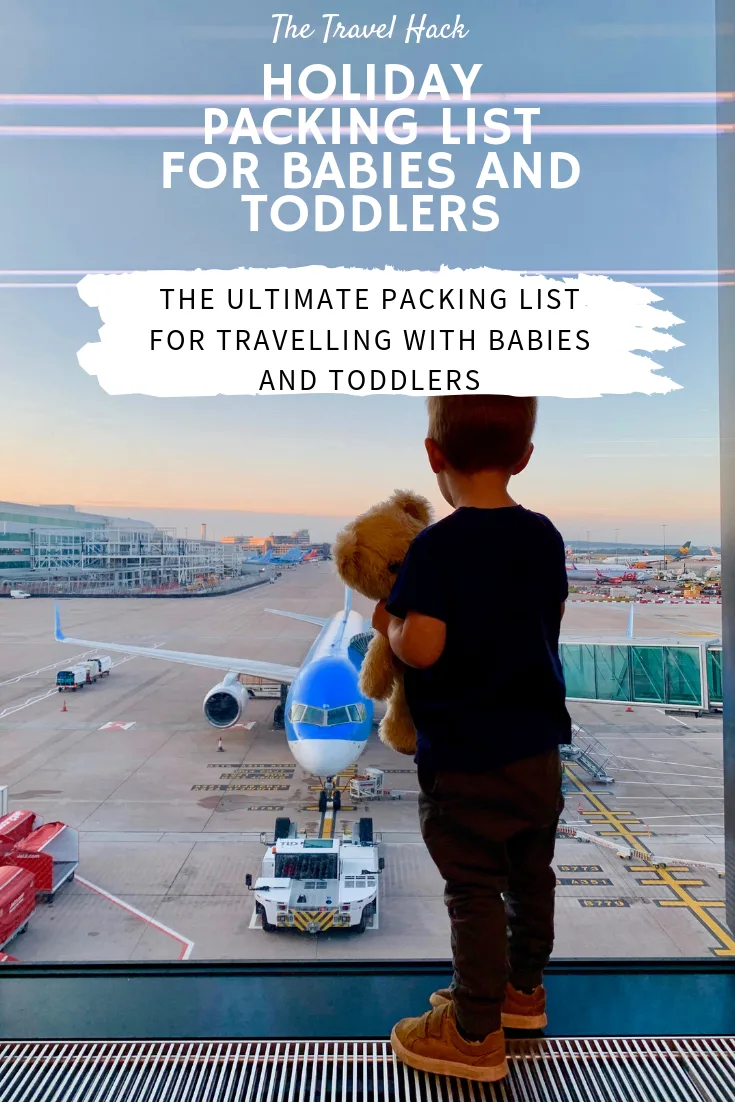 ---
The holiday low-down
I flew to Male with Turkish Airlines. I departed from Birmingham with a 3-hour layover in Istanbul – a good choice if you're travelling with little ones!
I stayed at Coco Palm Dhuni Kolhu for 6 nights in a Deluxe Villa on a full board basis.
Massive thanks to Visit Maldives for helping to organise my trip