*This baby holiday packing list has been created in collaboration with The Gro Company.
I'm not going to lie, it took me a long time to get the hang of packing for a holiday with a baby and a toddler! On our first holiday we took way too much, on our second holiday we took way too little, on some trips we forgot vitally important things and on other holidays I genuinely have no idea what we were thinking!
Over the years, we've managed to refine what we pack for a holiday with babies and toddlers and we've gradually perfected our baby holiday essentials.
Luggage allowances can control how much we pack but we'll usually take two large suitcases between the four of us. We try to not take more than this because it's so difficult to juggle suitcases, hand luggage, the travel stroller, car seats and two children!
Here's my ultimate baby and toddler holiday packing list.
Some of these items are for any holiday and there's a section for summer holidays with items specifically for the beach, swimming pool and hot weather. We've always found that our kids cope surprisingly well with the heat and it doesn't bother them nearly as much as it bothers us, so don't worry about packing too many fancy gadgets to keep them cool!
Before you begin, I highly recommend writing your own 'baby holiday checklist' so you can tick items off as you pack them. This makes packing so much faster, means you won't forget anything and you're not tempted to overpack because you know you have everything you need on your checklist.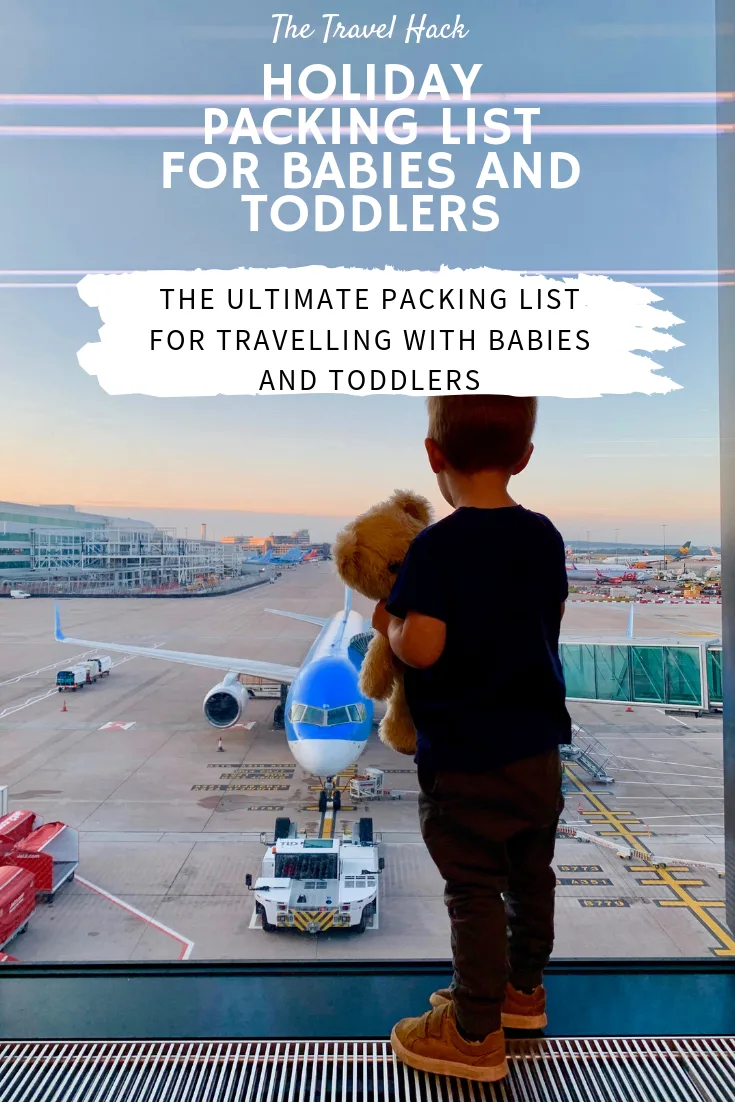 Getting around while you're on holiday
Pushchair
Even if you have an older toddler who rarely uses a pushchair at home, I still recommend taking one. Holidays can often mean long days, late nights and (if you're lucky) afternoon naps in the shade, so a comfortable, reclining pushchair often comes in handy.
A simple umbrella stroller will do the job, just make sure it has a large hood/canopy to keep your little one in the shade. We also like to have one that fully reclines and has a large shopping basket for all our beach things!
If you're travelling with two little ones then I highly recommend the Mountain Buggy Duet. It is heavy to lift and bulky when folded but it's a doddle to push, the seats are spacious and the pushchair isn't too wide. You can get through a normal doorway and it also folds down in one so it only counts as one piece of baby equipment for the flight! Despite the extra bulk of this pushchair, we still take it on holiday with us because we know both the boys will nap in it and it can deal with sandy beaches, cobbled streets and tight spaces in restaurants.
Another pushchair I like for a single child is the YOYO+ by Babyzen. It's the only lightweight pushchair I've tried that will also comfortably carry a 4 year old (yes, I have a very lazy 4 year old and a 2 year old who insists on walking!) It also folds down small enough to be taken onboard the plane as cabin baggage or easily slipped into the footwell of a car, which is great when you have a tiny hire car filled with suitcases! We also have the Silvercross Jet which is great for travelling but I do find the Babyzen to be better as it's much sturdier, easier to fold and has a bigger storage basket.
Read more: What's the best travel stroller?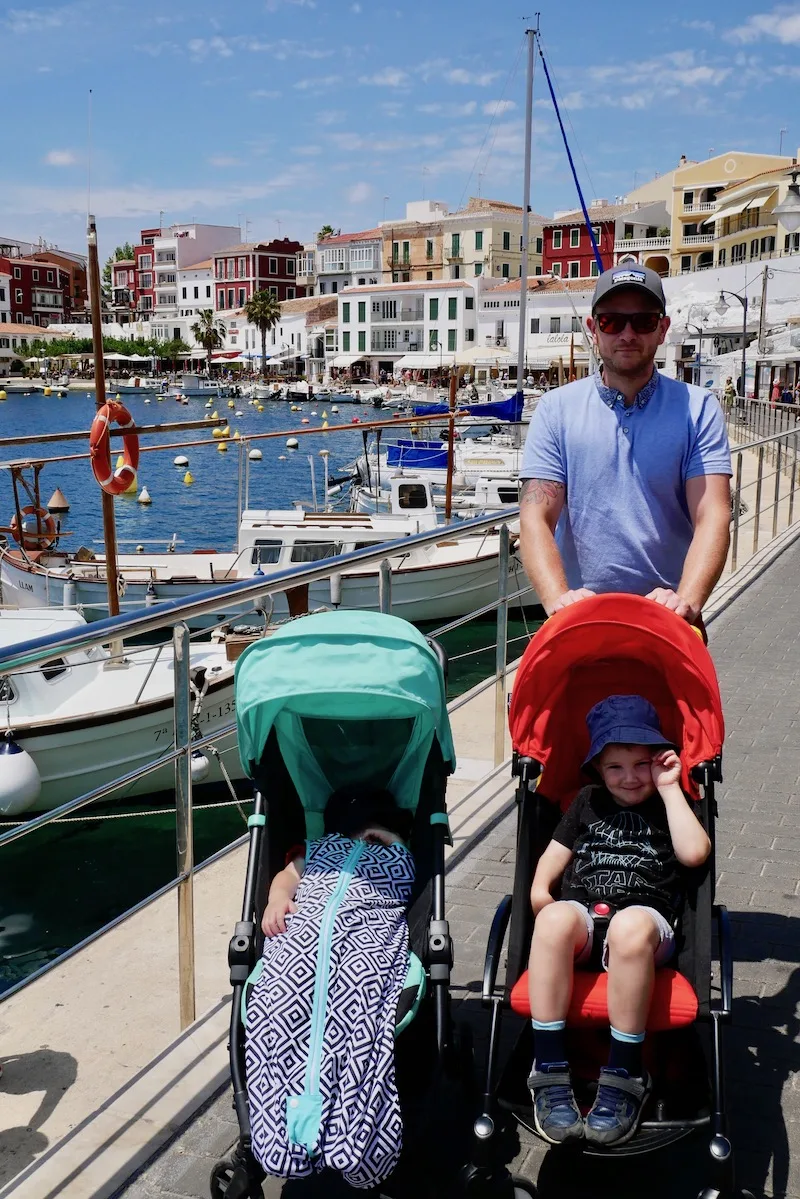 Car seat
You can hire car seats when you arrive but they're often expensive, the quality can be dubious and they're often just a bit grubby! We prefer to take our own seats as we know how to safely install them.
It is a bit awkward to juggle bulky car seats at the airport but we usually just struggle and take our normal ones from home.
If you want to avoid the struggle then take a look at the Trunki BoostApak. It's only suitable from 15kg (which is usually around 3 years old) small enough for a child to carry it as a backpack, it can go on the plane as hand luggage and can also be used on the plane and as a booster seat in restaurants too.
For babies, I really like the Doona car seat/pushchair as it's a carseat with wheels. It can't replace a pushchair as it doesn't fully recline so you shouldn't keep a baby in it for more than two hours, but it's very handy for quick outings and whizzing around the airport. We had one and used it while all three of ours were babies and we loved it and travelled with it lots! (It's also worth noting that we used it for 3 children, loaned it to 3 friends for their babies and then sold it for £150, so it really does keep it's value!)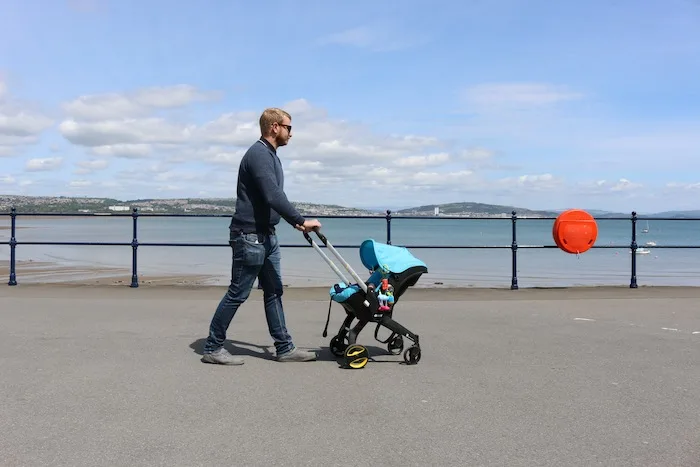 Baby carrier
Baby carriers are really handy for airports and planes so you can have both of your hands free when you have lots of things to carry! You can usually keep your baby in a carrier when you go through security so it makes that stressful part of the airport a little easier!
I like the Izmi carrier because it folds away into a little pouch so is easy to pop into your changing bag.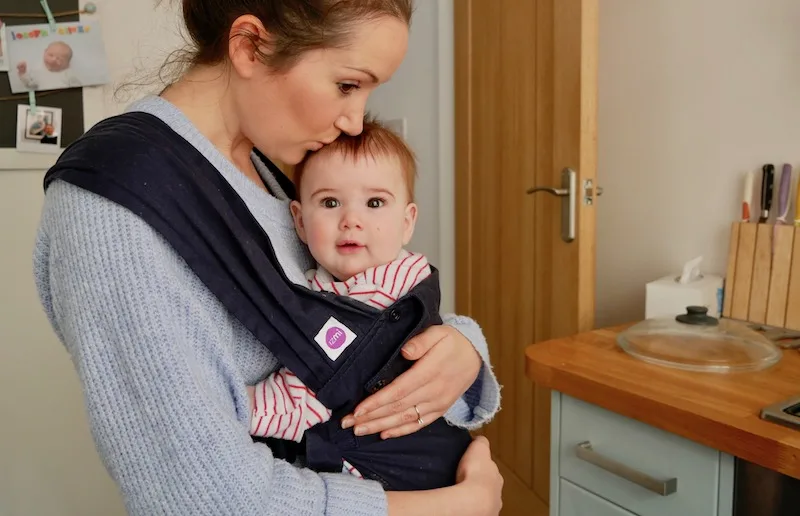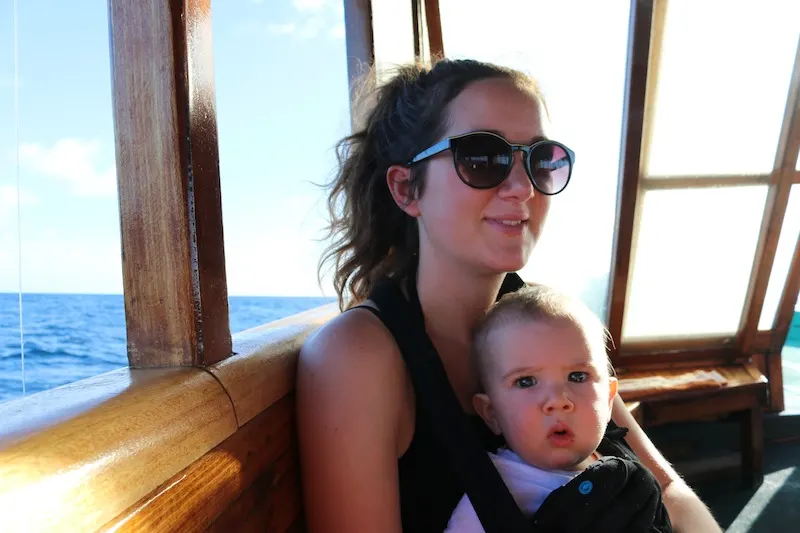 Sleeping
Black out blind
A black out blind like the Gro Anywhere Black Out Blind is particularly handy if you're travelling long haul and your kids might be suffering from jetlag.
Pop up a blackout blind and cross your fingers that they'll sleep for a few extra hours without the sunshine pouring in through their window!
They're handy even if you're not dealing with jetlag. The curtains at our apartment in Menorca weren't great and a dark room definitely makes bedtime routines a little easier and you've got more chance of a lie-in!
I would definitely recommend getting the large one over the small one. We have both and find the small one is usually too small.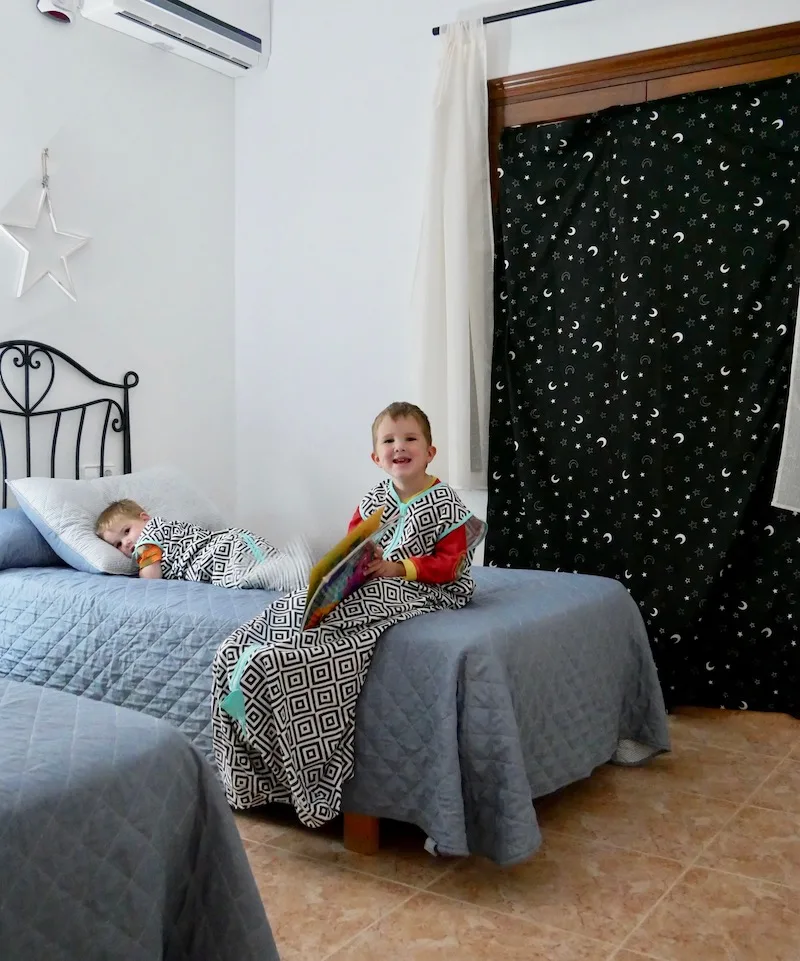 Sunshade for pushchair
It's also worth getting a ventilated sunshade that goes over a pushchair, not just an umbrella one but an elasticated cover to go over the whole pushchair. Something like a SnoozeShade is brilliant!
It keeps the pushchair cool, dark and shaded and we've always found them to be great when we're going out for dinner with babies as they're less likely to wake up just as your steak arrives! Just make sure you get one that's well ventilated.
Sleeping bag
We've always used GroBag sleeping bags so having this cosy familiarity on holiday really helps get the boys to sleep. The travel Grobags are great for holidays as they're nice and cool and come with really cute holiday designs.
They also have space to use a 5-way harness so you can put little ones into their Grobag and then safely strap them into their pushchair or car seat – making it very easy to later transfer them to bed while they're sleeping and generally avoid the faff of blankets.
For older children you might prefer to use the Grorompers (which are absolutely adorable!) as these have legs in them, making it easier for your little ones to walk around in them.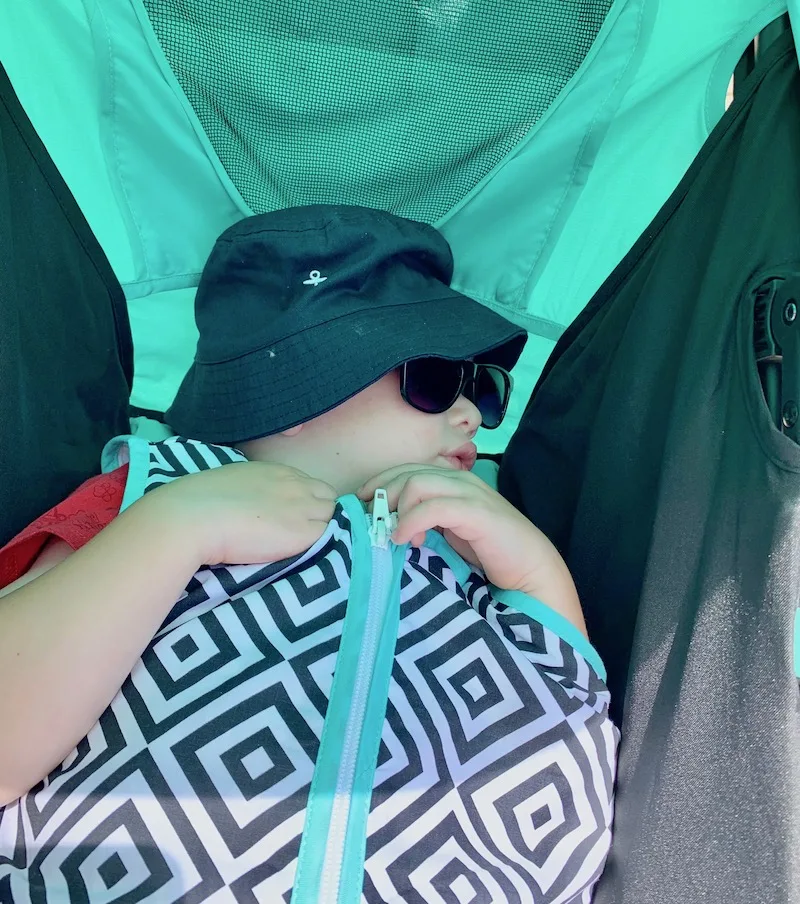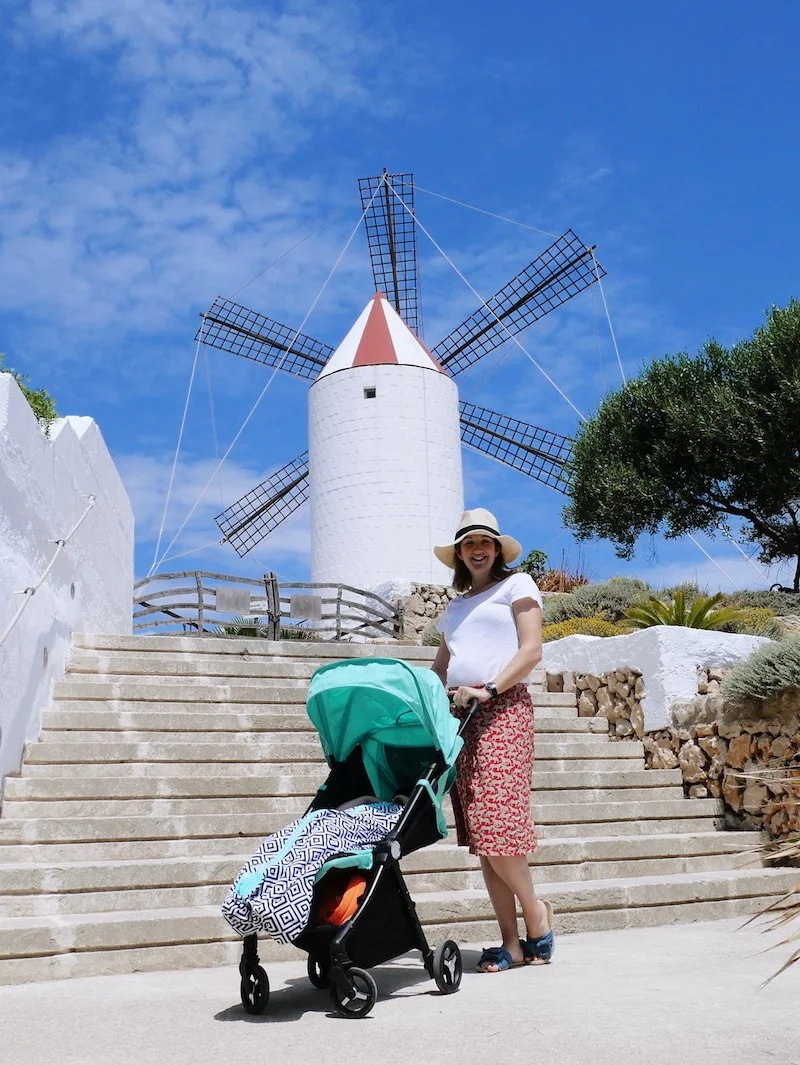 Cot sheet
It's worth double checking but accommodation providers rarely give you bedding for cots. Just don't forget to take them home, I always end up leaving them!
I've had a lot of people ask if you should take your own travel cot? We never do and I've never stayed anywhere that doesn't have a cot. It's personal choice but I find a travel cot is a large and bulky thing to travel with so we avoid taking it whenever possible.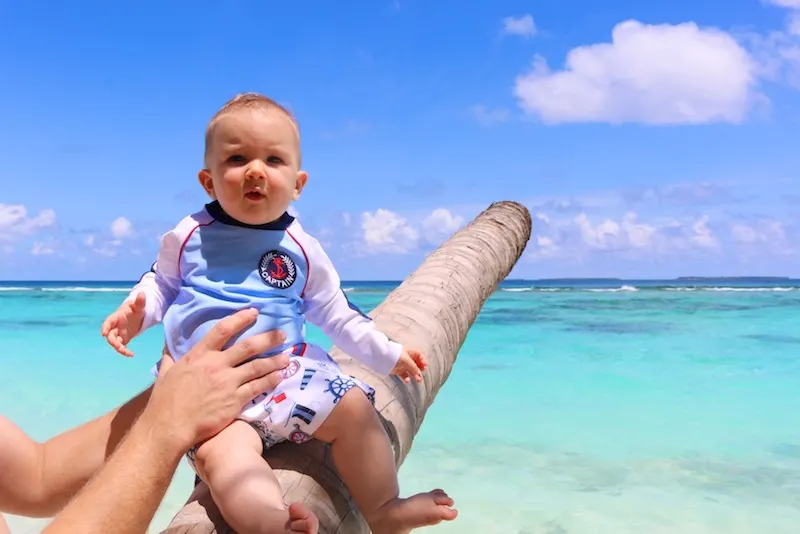 Eating and Drinking
Bibs
Opt for a silicone wipe-clean bib so you can use the same one for your whole holiday – and not come home with a suitcase full of soggy, soiled bibs!
Sippy cups
We use no-spill sippy cups such as the Munchkin 360 cups for ease while we're travelling. These save the hassle of spilt drinks on planes, in restaurants and hotel rooms!
Microwavable steriliser bags
If you're bottle feeding then I highly recommend taking some microwavable steriliser bags to sterilise your bottles, dummies and maybe plastic spoons too. It's quick and easy and I've always found hotels are happy to do this in the hotel kitchen.
Plastic tupperware
Little lunch boxes are especially handy if you're self catering to make it easier to take sandwiches and snacks out with you for the day.
Even if you're not self catering, they're great if you sneak a few things away from the breakfast buffet!
Beach Time & Swimming Pool
Silicone buckets and spades
These are a new find and I think they're amazing. I've been trying to reduce the amount of plastic we waste so I've got some silicone buckets and spades from Scrunch. We seem to buy new buckets and spades every holiday but these ones are great because they won't crack and they can also be squashed/rolled/folded into your suitcase so they're not awkward to travel with.
Buckets and spades are holiday essentials for toddlers but you can always pick some up when you arrive and then pass them along to other kids when you're leaving!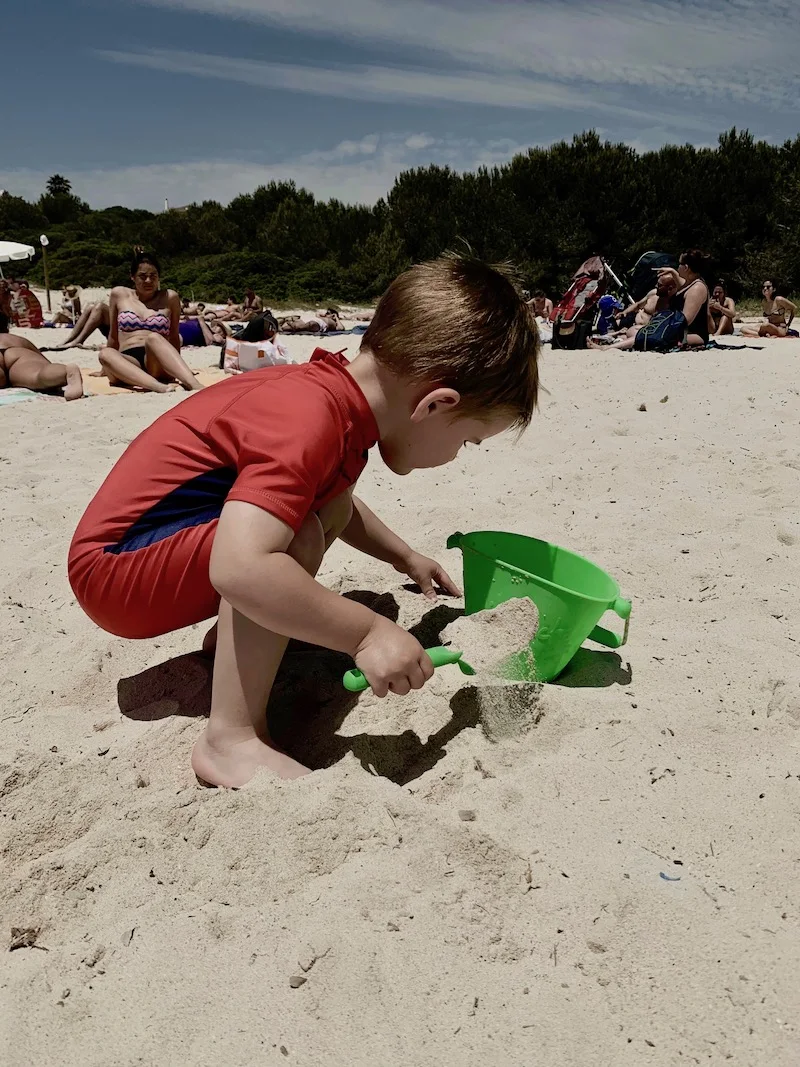 Swimsuits
We find full swimsuits easiest so you've got less skin to worry about burning and less chance of a nappy full of sand!
I usually buy them from the supermarket but Harry Bear have a great selection on Amazon.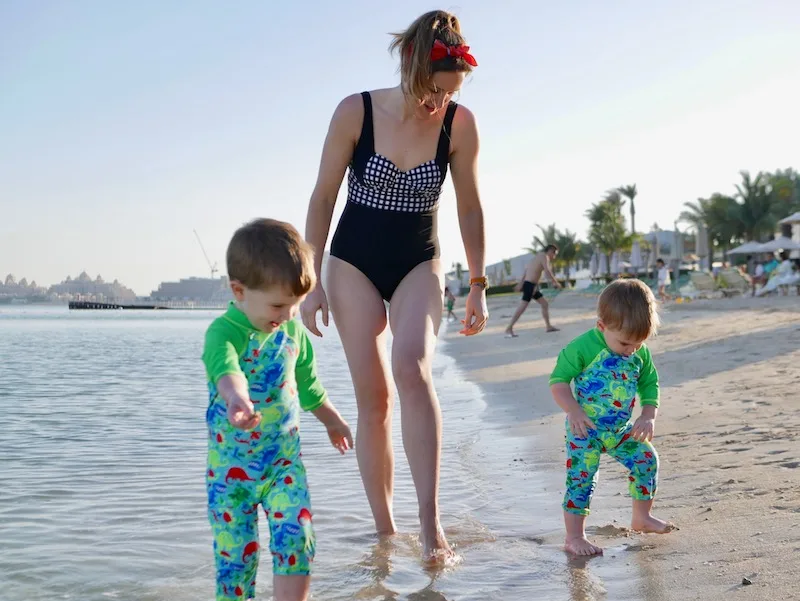 Kid's wetsuits
If you're going somewhere where the water won't be warm then I highly recommend getting little wetsuits for toddlers. My kids always feel the cold and wetsuits help them to play in the sea for a little longer.
I bought the ones pictured below from Aldi but they're a similar price online.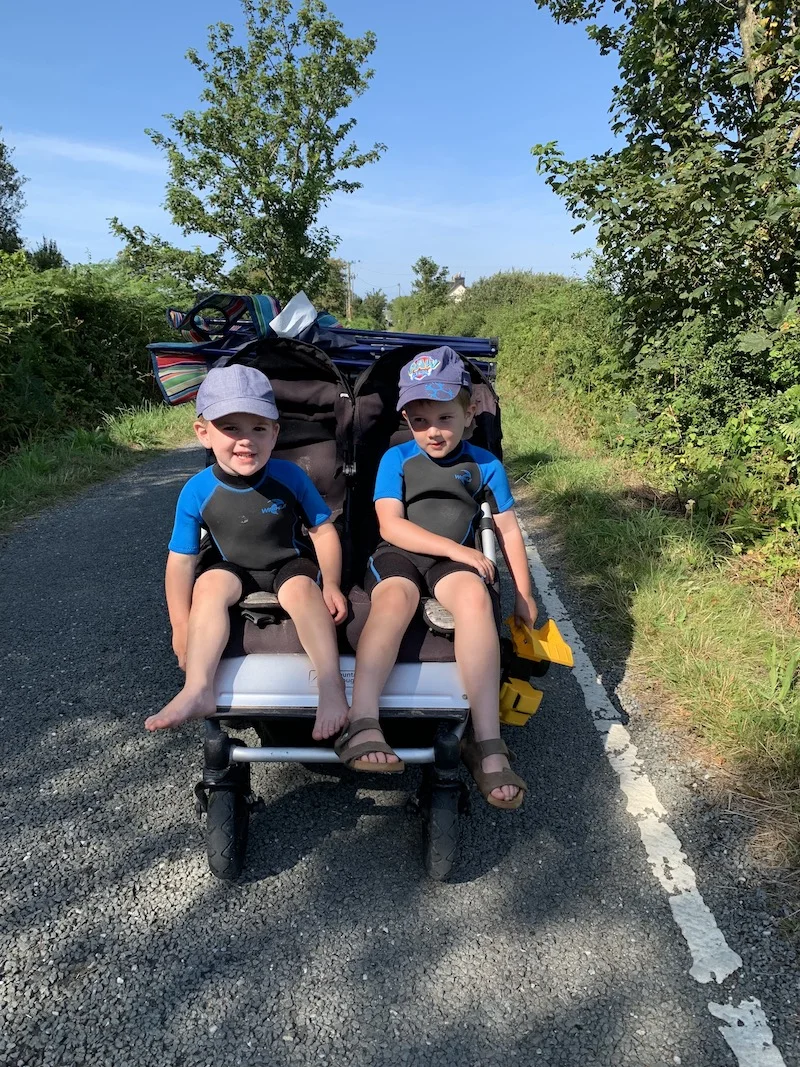 Sun hats and sunglasses
If you've tried to get your baby to wear hats and glasses at home and they pull them straight off, don't worry! We had the same but both our boys would keep them on when it was actually hot and sunny and the glasses made it easier for them. Make sure you get bendy ones for babies to avoid them being snapped. Our kids have all had Babiators and they've been great!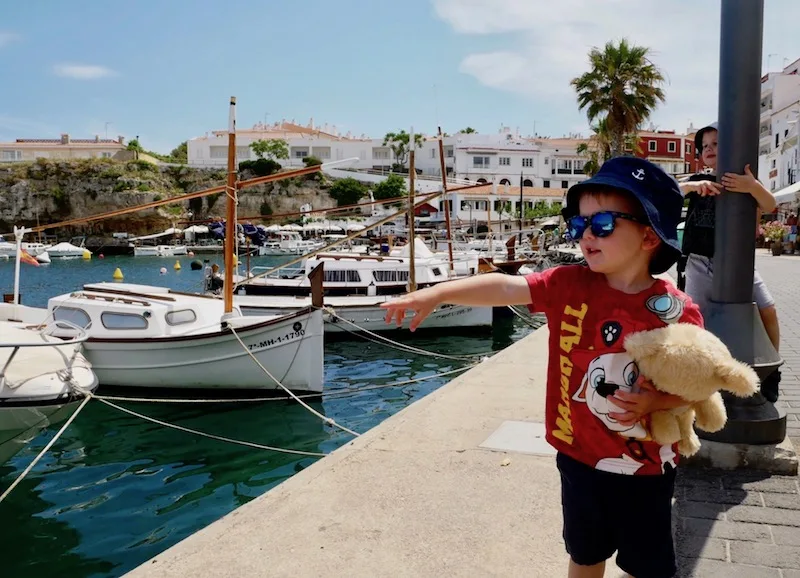 And let's be honest, these little heart shaped Babiators might just be the cutest little things ever! Babiators comes with a headstrap to keep them on but when Alba was a baby we found it easiest to keep them on with a hat. She wore these little turbans when she was a baby.
Sunscreen
I was always a firm believer that the cheapest sunscreen would do but since having children I've changed my mind – I'll buy anything if it means I can avoid chasing them around trying to apply it!
We opt for greaseproof sprays that absorb immediately. If you're looking for SPF 50 then I recommend the Ambre Solaire Aerosol. This stuff needs to be on every toddler holiday essentials list! It's so easy to apply and the sand-free formula makes it easy to top up on the beach.
I tend to slather my kids in cream in the morning and then touch up with an aerosol through the day.
Joseph likes to have a sensitive cream for his face after a traumatic incident where he sprayed himself directly in the eye and he's been a bit nervous about sunscreen on his face ever since!
Travel Hack Tip: Make it a morning routine where the whole family will apply sunscreen from head to toe before getting dressed.
Sandals
Simple sandals that toddlers can get in and out of themselves will be ideal. My kids really like Crocs and Home Bargains usually have fake Crocs with their favourite TV characters on them. They do like the cute little Havaianas too but they're quite expensive considering they'll grow out of them so quickly.
Pop-up beach tent
OK, this can be a bulky item to travel with (although smaller than I thought it would be!) but it can make a day at the beach so much easier. A pop-up beach tent is much better than an umbrella as it provides you with some shade, a place to store your things, an escape from the sand and a little den to keep little ones happy.
Travel Hack Tip: You can make a 'beach cot' by digging a hole in the sand, placing a towel over the hole and placing your beach tent over the hole. Then you've got a snug, sand-free and cool spot for a baby to sleep.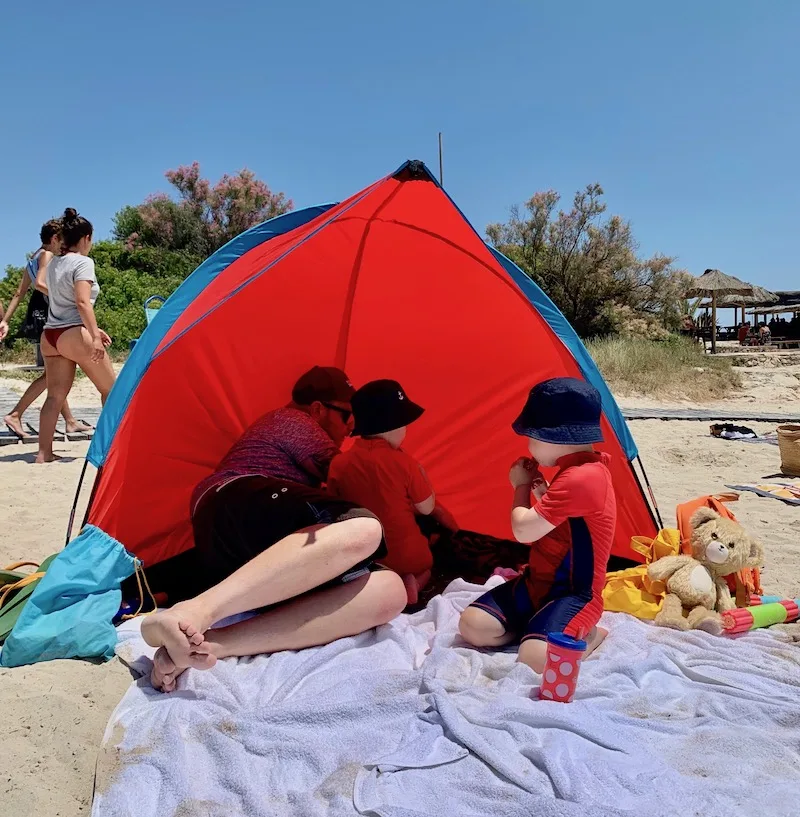 Swimming aids
This is going to be parental preference about whether you want to use any inflatables or floats in the water. It also comes down to the kids too.
George won't even look at the swimming pool without his armbands on, a rubber ring, a life vest, goggles and about 15 layers of sunscreen! Joseph on the other hand can strip his clothes off and dive into a pool in seconds.
My preference is a float vest (we like the ones from Splash About) and the kids seem to like wearing them too. We paid about £20 for ours and all of our kids have used it and I'm sure we'll pass it along to another family when we're done with it.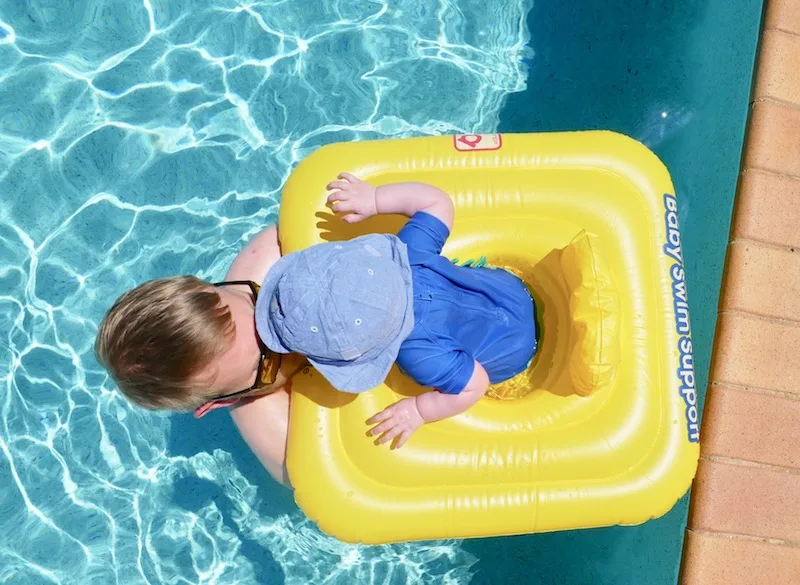 Paddling pool
This might sound like a weird one if you'll have access to a swimming pool and the sea! But a little paddling pool is great if you're travelling with babies and toddlers – especially if you have more than one and they can't swim. Our boys can't swim so it's quite stressful being in the pool alone with them both!
You can place a paddling pool in the shade, sit nearby and let them play.
It's also handy for the beach so babies can have a splash around and sit in the shade. It's also handy to have some clean water to wash sandy babies!
Travel Hack Tip: Don't forget to add a rock into your paddling pool when your child isn't in it. If it doesn't have much water in it then it can blow away in the wind so easily!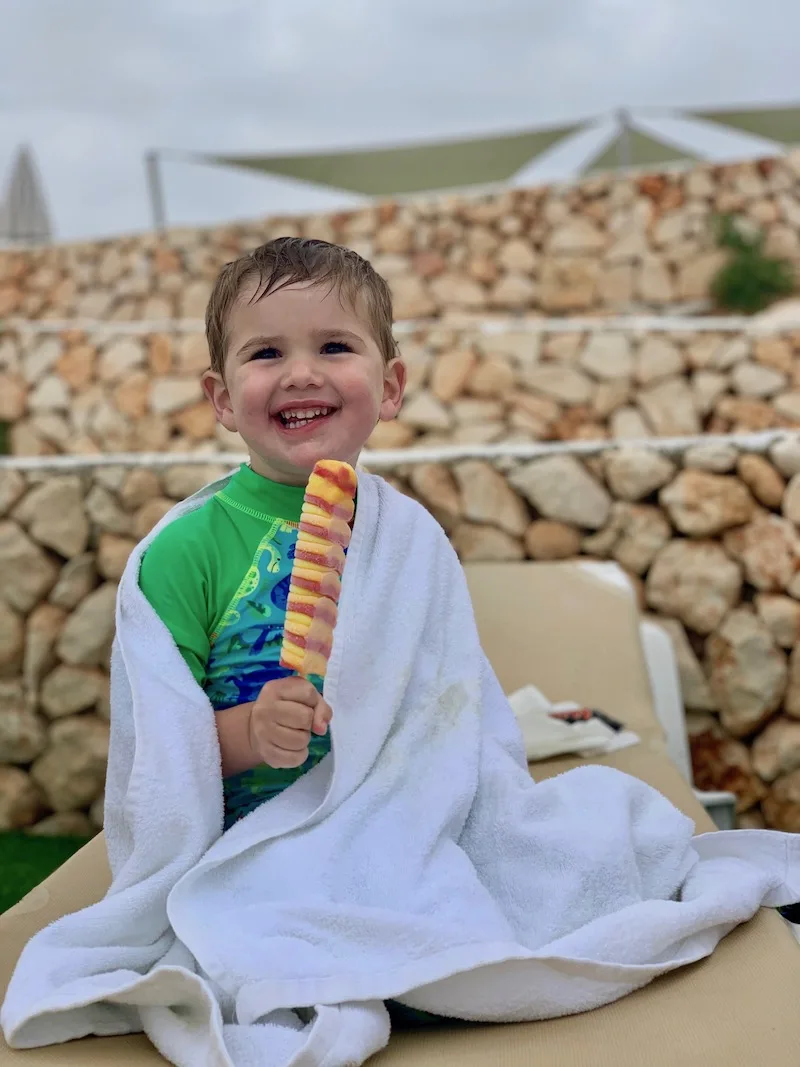 Clothing
Simple outfits
I always try and keep holiday clothing as simple as possible. I'll pack a handful of cotton shorts and a huge stack of colourful t-shirts (I like the multipacks from Next) then loads of pants and a hoodie and that's pretty much it. As you can see, your suitcase will be so full of other things that there isn't a lot of space for clothes!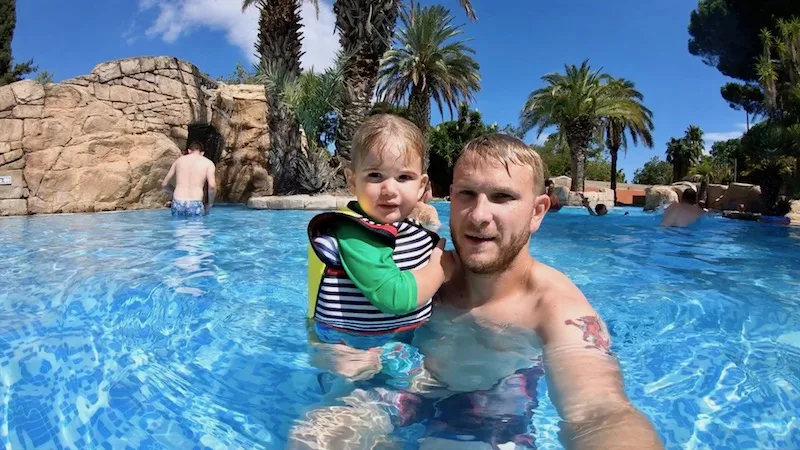 Normal PJs
During our first few holidays I took little shorts and t-shirts for bedtimes but I'd forgotten than we'd had the air conditioning on at night time so it's not actually that warm in a hotel or apartment. Now I just take their normal long sleeve and long legged PJs.
Travel Hack Tip: Don't forget that many hotels and apartments in hot countries will have tile floors so if you're little one is walking avoid onsies with slippy feet in them – unless they're the type with sticky bits on the soles.
Other extras
Hand wash detergent for clothes
If you're short on suitcase space then leave all the extra 'just in case clothes' at home. Some days my youngest will get through 5 T-shirts in a day, but you can't pack 35 T-shirts for a 1 week holiday! Instead, take some detergent so you can hand wash a few items in the hotel sink. It's unlikely you'll need it but it saves you panic-packing every item of clothing they own.
If you're staying in a villa or apartment then you'll probably have a washing machine there so pack some of your normal detergent (pods are easiest to travel with) to avoid having to buy a big box of detergent when you arrive. I also feel very smug if I arrive home with a suitcase full of clean clothes!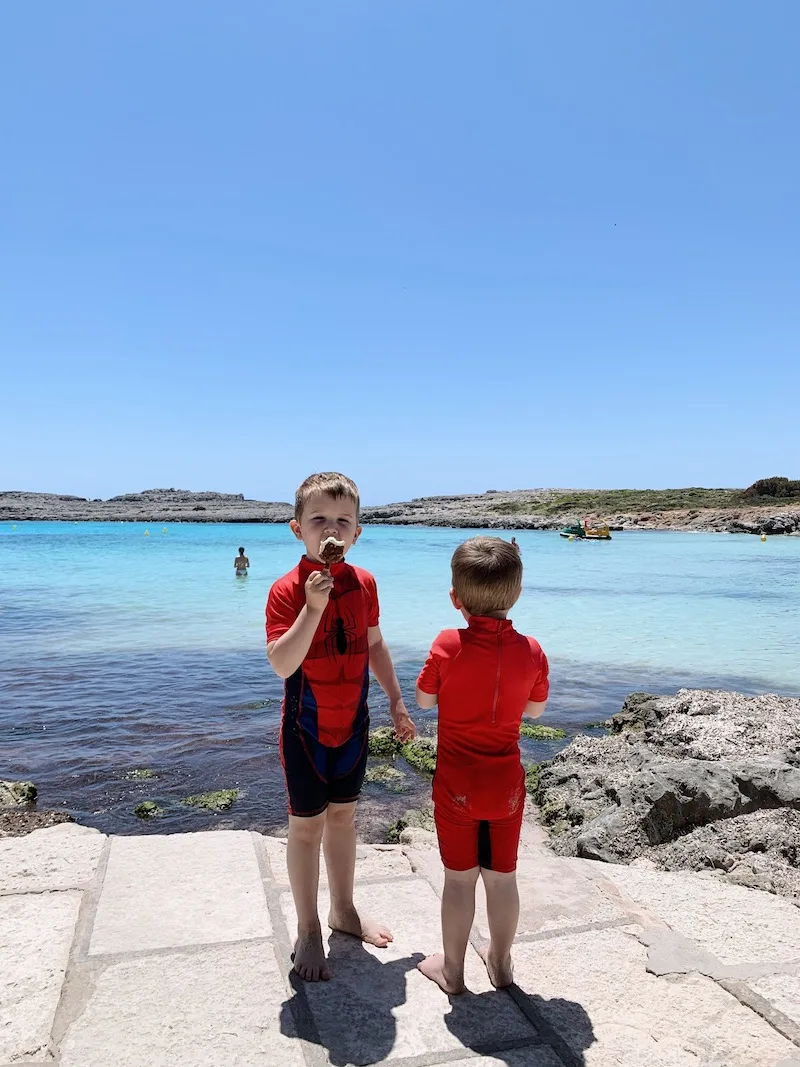 iPad or tablet with a bumper case
It's time to let your screen-time standards slip on holiday!
A tablet makes flights so much easier and they're also great for evening meals with toddlers. I'm sure we'd all love our kids to sit nicely for every meal but it doesn't always happen – especially if you're in an all-inclusive hotel and don't have any option but to have a later dinner than normal.
Travel Hack Tip: We've recently discovered audiobooks for our boys and their tablet is full of Julia Donaldson books on Audible. If we go for a walk in the evening, they'll both sit in the double pushchair with the hoods down and their seats reclined and they'll listen to audiobooks until they fall asleep. I'm often very jealous of their setup because it looks so cosy! It means we can then enjoy a quick sunset drink (in peace!) before taking them back to the hotel to bed.
A fun alternative to audiobooks is a Toniebox, a great kid's gadget and it's something my kids love! You can read my Toniebox review here.
Comfortable, unisex changing bag
I usually opt for a backpack changing bag that we're both happy to carry. OK, what I really mean by this is 'a bag Sam will carry because it ends up really heavy!'
I always use The Travel Hack Backpack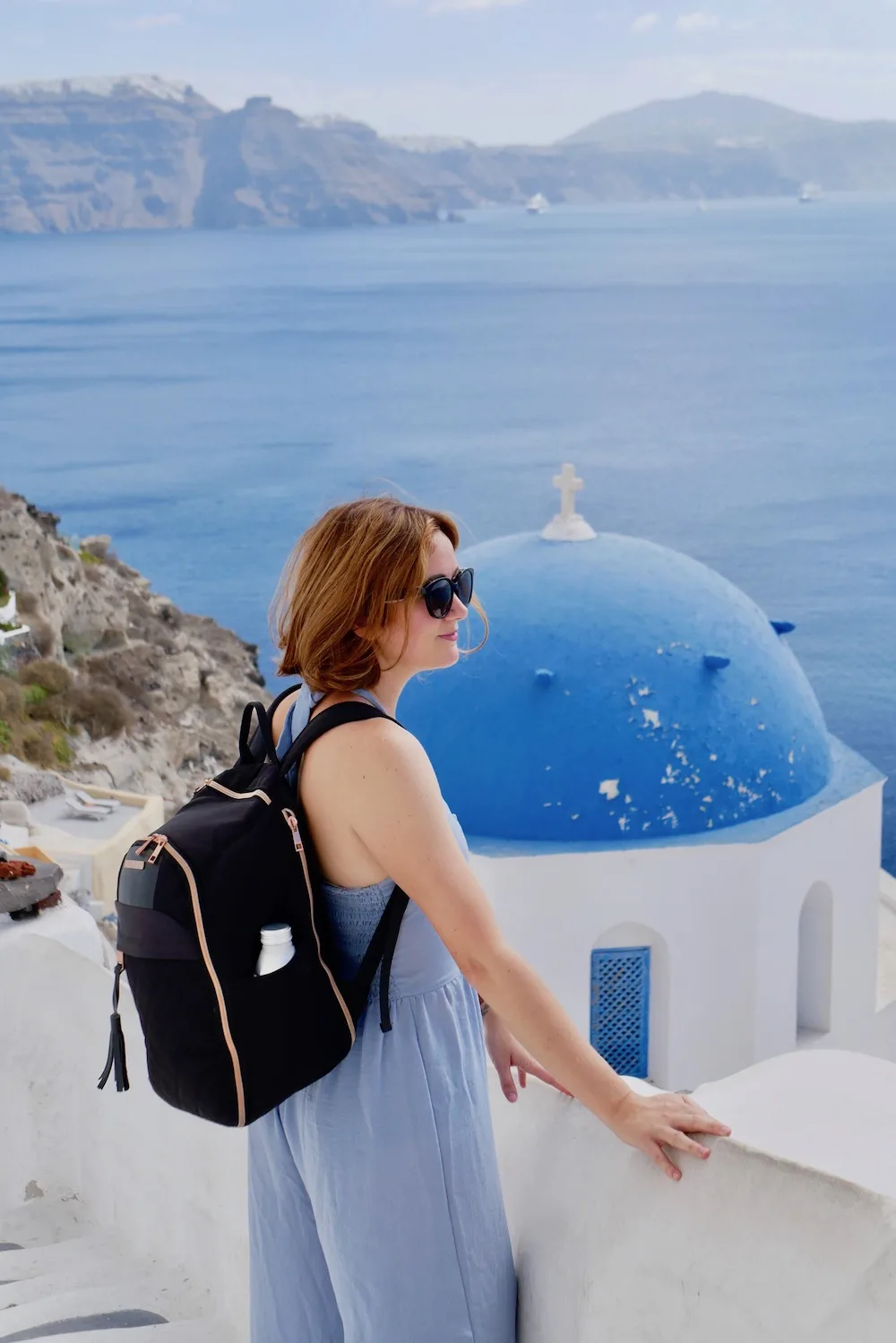 I also really like to have a buggy organiser when we're travelling. It's a pocket/bag that Velcro's onto the pushchair handles for things like our phones and wallets, snacks, water bottles and wet wipes. It's really handy and I highly recommend getting one!
Baby toiletries and prescription creams in miniatures
Babies and toddlers use such tiny amounts of their toiletries that you definitely won't need to take full size bottles, so decant your favourites into travel-sized bottles. You can buy travel-sized bottles from all high-street beauty stores and they have them in Primark too.
If you're going to get a lot of use out of them then I recommend buying some good quality silicone ones because the cheap ones do crack after 2-3 years.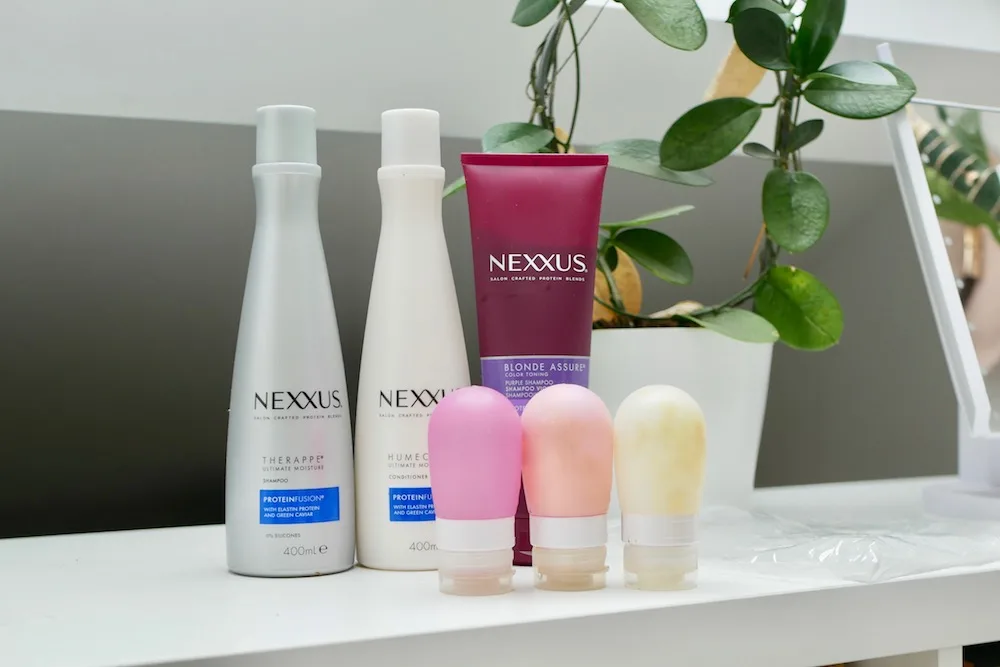 If you have any prescription creams then they'll usually come in enormous bottles so decant these. My boys both have eczema and their cream comes in the biggest, heaviest tubs imaginable! I always take some with me, even though their eczema always clears up within a day or two of being on holiday.
It's also worth noting that I've struggled to find Sudocrem (or anything similar) on holidays to Spain and Portugal so I always take some just in case.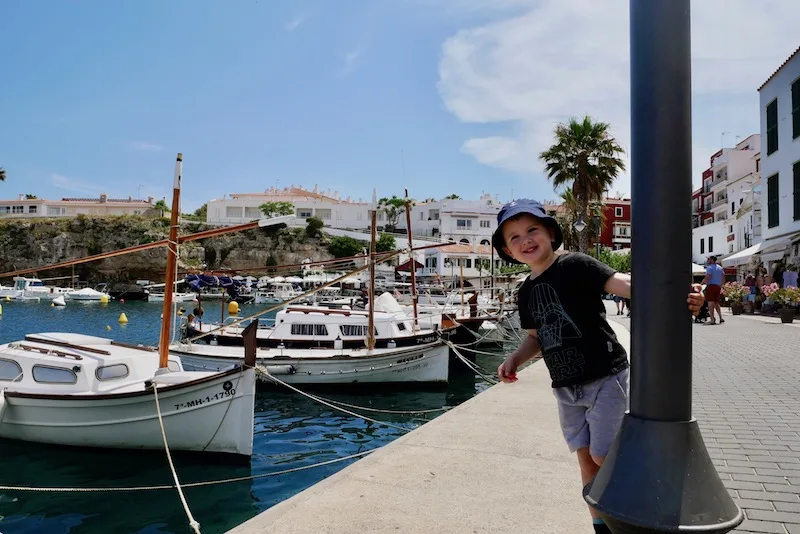 Inflatable duck
This inflatable duck has come on so many holidays with us and it quickly became one of our holiday essentials for baby!
I originally bought it as a fun inflatable for the swimming pool but it works as a baby bath too. It's great for hotels that don't have showers or just enormous baths that can be tricky with little babies. It also has a temperature gauge on it so you'll know if the water is too hot and it has a non-slip surface.
It's worth noting that you absolutely can't leave a baby or toddler alone with the duck because it can tip over.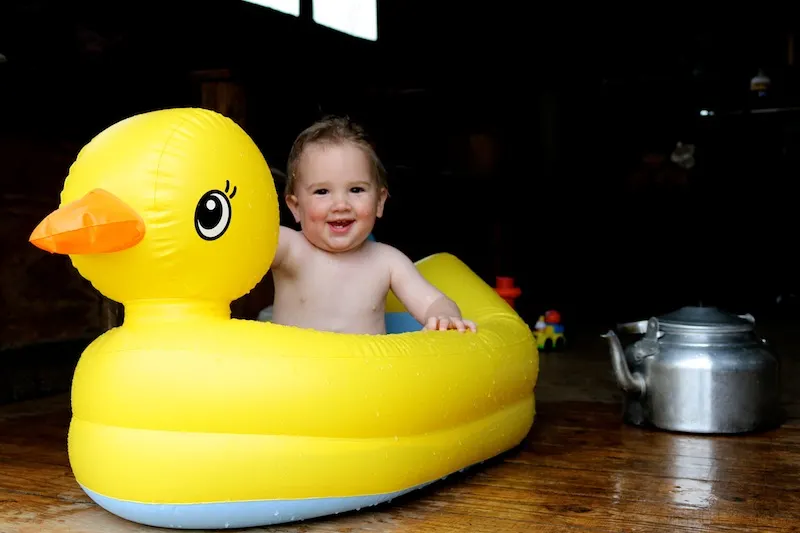 Baby monitors + plug adaptors
If you're staying in an apartment or have a balcony/veranda at your hotel then don't forget your baby monitors.
I know most parents wouldn't sit too far away anyway but it means you can relax without hearing phantom crying and constantly saying, 'Shhh, it's that the baby crying!?' every time you hear a nearby child (which can happen a lot if you're in a family-friendly area!)
Formula
If your baby has specific formula then I'd recommend taking that formula with you. If you're going to a holiday resort then you probably will be able to find it when you arrive but there is a risk you'll only find local brands and it could be more expensive.
Travel Hack Tip: Take a small roll of sellotape with you (or plasters would work if you're taking them anyway) to tape down the lid if you'll be coming home with leftover formula. We once had a formula explosion in our suitcase and it was everywhere!
Insect repellant for children
I always pack some kid's insect repellent but I really just try and avoid being anywhere with lots of mosquitoes at dusk.
Pull ups
If you've got a toilet-trained toddler who has the odd accident then consider taking some pull ups. It can be easier for the plane and especially handy for nighttimes when you won't have access to clean sheets. If you've got an older child who refuses to wear pull ups then consider getting some washable training pants. They're not particularly absorbent but they're perfect for little accidents.
Toys
Don't forget that despite having so much to do on holiday, your kids will probably get bored at some point or will just need a few hours of quiet time in doors. We always pack a bag filled with little cars, lego men, plastic animals, duplo etc. and we take it with us everywhere we go!
What to buy when you arrive
Despite this baby and toddler packing list getting very, very long, there are a few things you can leave at home and pick up when you get there.
If you're travelling on a package holiday then you'll probably have a really generous luggage allowance so you might want to pack these things anyway but these are all really easy to pick up when you arrive.
Nappies

Wipes

Baby food

Cow's milk (I wouldn't fancy travelling with cow's milk!)

Snacks
Things to leave at home
There are a few extra things you might have seen on other baby packing lists for holidays. I've tried some of them and these are the ones I don't rate.
Portable high chairs – it's easier to feed them in their pushchair if there is no where else

Headphones for babies and young toddlers – George would wear these from around age 3 but we've found babies and young toddlers won't keep them on

A potty – They learn to use the toilet pretty quickly when they realise it's their only option.

Stair gates – A very bulky item and it's easier to just keep a close eye on your kids

Changing mat – Personal preference but we just use a towel when we travel

Trunki suitcase – They're quite small and they just get in the way

Plastic cutlery – We use this at home but the kids are happy to use metal teaspoons while we're away

Breast pump – I've always packed mine and never used it as I'm with the kids 24/7 anyways so it's easier just to breastfeed them. Breastfeeding on a plane sounds a bit daunting but it's actually the best!

Universal sink plug – I've seen a lot of holiday packing lists include a universal sink plug so you can bath a baby in the sink or use it to wash clothes. But I can honestly say I've never stayed anywhere where the washbasin doesn't already have a plug!
Read more
Since writing this blog post we've had another baby! I've written about what it's like to have 3 kids here.
You can read about my recommendations for what to pack in your carry on (the adult version!) and suggestions for a toddler carry on packing list!
My ultimate guide to travelling with a newborn.
If you're really short on space in your luggage then you might want to check out the VAGO Luggage Compressor to squeeze the air out of your clothes and make more space.