Happy New Year everyone!
I hope you all had a fantastic 2013, enjoyed the New Year celebrations and you're now looking forward to a fresh start in 2014.
For my New Year's resolutions this year I want to find the perfect balance between travel, work and spending time with friends and family. And, like most people, I want to get eat healthily, get rid of the Christmas podge and get fit!
So while we're on the topic of getting fit it's about time I told you about my incredible yoga retreat to Azul Fit in the Canary Islands.
In November I took the four-hour flight to Fuerteventura, the second largest of the Canary Islands and I was here for a week-long yoga, Pilates and detox retreat.
You see, I love a classic 'beach holiday' but I also want to come away from my holiday feeling refreshed and re-energised. I want to have a glow that makes people say, 'You look well, have you been on holiday?'
I want to relax around the pool, spend evenings enjoying good food and good company, explore the area and try something new but I also want to go home feeling healthier and more relaxed than I have all year. I know, it's a big ask, but I managed to find all of these things at Azul Fit.
The Yoga, Pilates and Detox week was one of the many specialty weeks hosted by Azul Fit. Sometimes they will focus on yoga, sometimes just Pilates or meditation but I was attracted to the mixture and particularly to the detox element.
The specialty weeks are hosted at Villa Azul, perched on a hill overlooking the rocky landscape of Fuerteventura. It's a short drive to the beach but up in the villa you feel like you've escaped the world and you're in a blissful bubble of healthy relaxation. It's warm, cosy and safe. It's a place filled with delicious food and massages, cat naps in the sun and yoga classes that make you feel healthier than you have in years.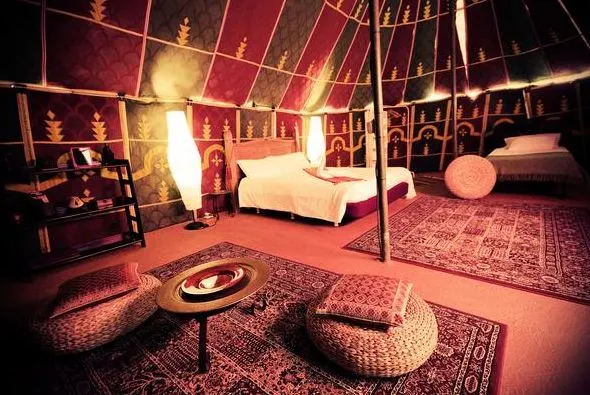 The villa feels like one giant family home with different types of rooms from basic to luxury. I lucked out with this incredible Sahara Tent that made my stay even more incredible.
Most guests at Azul Fit are professional women who want to relax and need a break from their busy lives. Most travel alone or with a friend but there are couples and small groups too.
There were 11 women and 1 man during my stay with ages ranging from about 25-65. Our nationalities were mixed, as were our health levels and fitness abilities, but we got along brilliantly.
We were all here to relax and focus on ourselves for a week and although that may sound selfish it was a much needed break for us all.
Yoga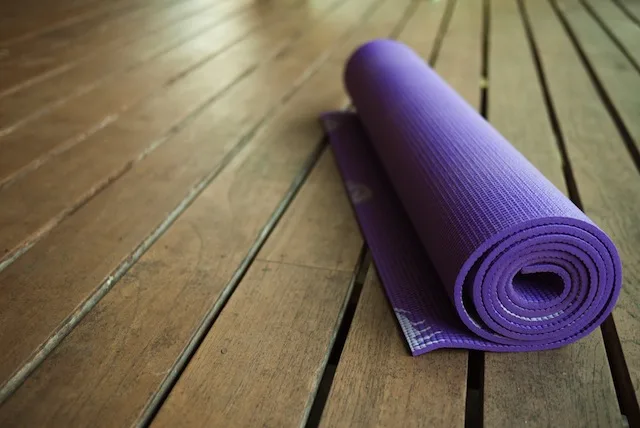 I think it's fair to say that most people are either yoga OR Pilates people and I fall into the yoga camp. I got into yoga when I was at The Yoga Barn in Bali and I've been disappointed with every yoga retreat since then because they've never been as good. I had very high hopes for Azul Fit and it didn't disappoint!
Valentina and Manuel were our brilliant instructors for the week and between them they reignited my love for yoga and made it a firm resolution to practice regularly in 2014.
A good yoga teacher inspires you and pushes you but knows your limitations and weaknesses. They can readjust a posture by just a millimeter but in a way that makes everything feel natural and slot into place. You come out of their classes feeling full of energy and like you're walking on a cloud. Any yogis out there will know that this relaxed energy quickly becomes addictive!
Pilates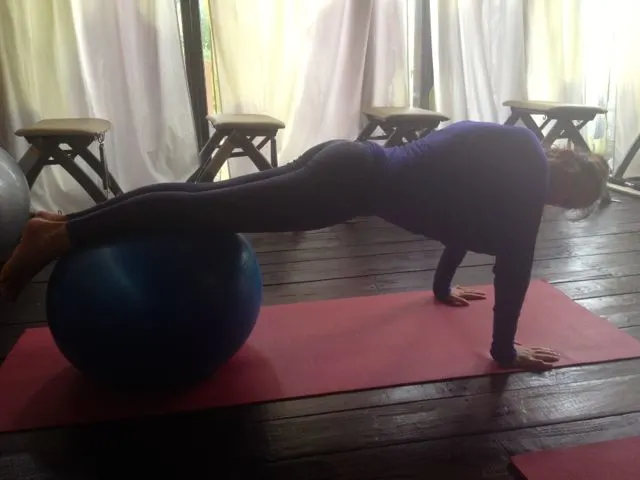 Jo, the Pilates teacher was equally as brilliant and with a figure like a model she was a walking billboard for Pilates. Yoga may be my thing but I loved the core exercises and the burn from Pilates. You feel like Pilates is the kind of exercise that will have long-term benefits for your body and you walk away feeling two inches taller.
The detox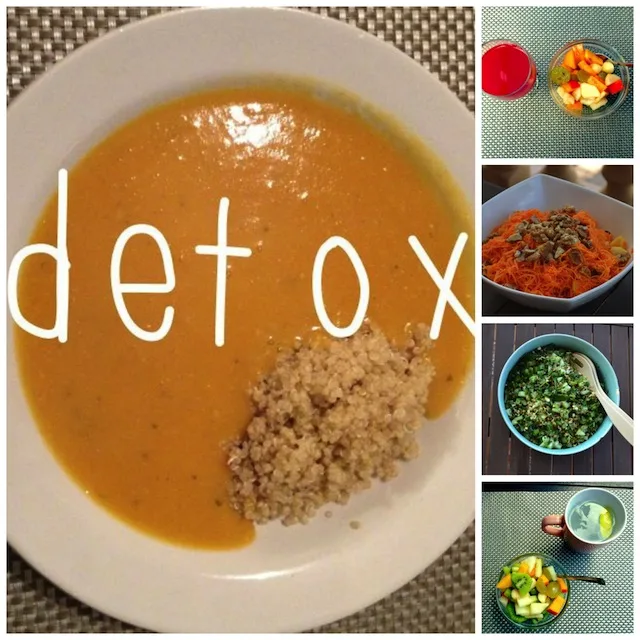 The detox wasn't one of those ridiculous cleanses but was basically the healthiest food you could possibly imagine. Jo, the Pilates teacher, is also the food specialist and prepared incredible, healthy meals that were tasty and filling but completely free of gluten, meat, dairy, sugar, alcohol or caffeine.
Jo gave two nutritional workshops and she also has a cookbook so she was always sharing healthy tips and recipes.
Breaking habits and addictions was the toughest part of the week for me. I previously thought of myself as being healthy, despite being a caffeine fiend and wine guzzler. It wasn't until we were two days into the detox that I realised how unhealthy I must really be.
My sugar cravings were so strong that it was all I could think about. I fell asleep by the pool and actually dreamt about jam donuts (Best. Dream. Ever!) I had a headache like an elephant had trampled on my head and I felt sick, shaky and exhausted.
At this point I was so glad to be tucked away in our little retreat, away from the temptations of the outside world. I know I would have given up if I was at home but we were all in it together and you wouldn't want to be the one to let the team down.
Thankfully, I woke up the next day feeling fantastic. I felt light and full of energy with a flat stomach and none of my usual cravings so I could already feel that the detox was working.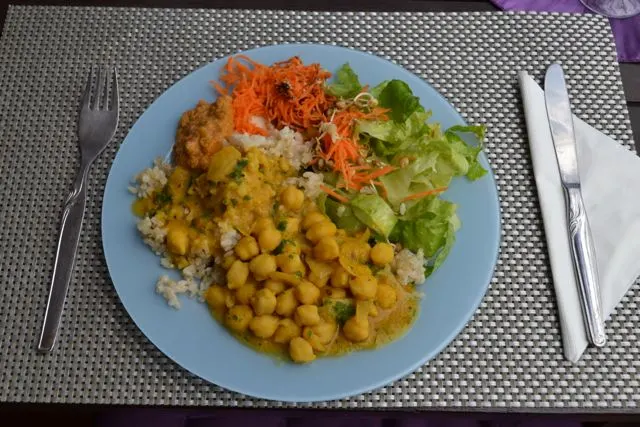 Aside from breaking my bad habits and addictions, the detox made me much more aware of what I eat. I'm never going to a gluten-free vegan who lives on chickpeas and fresh-air but thanks to our nutrition sessions I'm much more thoughtful about my meals.
Jo spoke a lot about pesticides, genetically modified wheat, hormones injected into called and preservatives that are added to virtually everything. It's kind of terrifying when you think about how much shit we eat.
People didn't used to be intolerant to dairy products or wheat but now it seems that every other person has an allergy and it must be something to do with the way our food is now produced.
Jo wasn't trying to push this uber healthy lifestyle on anyone but she did recommend buying meat and veg from farm shops and buying organic, seasonal products whenever possible.
A typical day at Azul Fit
The first class would begin at 8.30am and after 10 hours of sleep I'd be bouncing out of my bed in a way that I haven't done since I was eight years old. The class was usually yoga but we also had some early morning Pilates and one Thai Chi class.
After a quick cup of hot lemon we'd begin the yoga class with sun salutations and gentle stretching.
I'm always surprised by how physically demanding yoga can be and it's a strange but brilliant feeling when you're really relaxed but your sweating and your heart is pounding like you've been running a marathon but, you know, without that horrible running bit.
The sun would start to warm up the open-air yoga room as we lay down for the final relaxation session and I'd think to myself that I really should do this everyday.
A breakfast smoothie and fresh fruit salad would be served in the sun while we sipped endless cups of fruit tea. We were free to do as we pleased for most of the day. You could choose from reading by the pool. Going for a bike ride, heading to the nearest town of Corralejo, going to the beach or trying one of the many famous water sports that the island is famous for. There were also plenty of spa treatments to try like massages, Reiki and foot detoxes.
Our healthy lunch would be served at 1pm or we'd have a lunchbox to takeaway and eat when you're ready. We'd have a huge salad that seemed to contain every vegetable under the sun. One day was a juice day so we had a massive smoothie that was surprisingly filling but, I'm not going to lie, totally gross.
At 4.30pm the second round of exercise would begin with two back to back classes of either yoga, Pilates or meditation.
I was skeptical about meditation as it's something I've never quite mastered or understood. There were different types of meditation with some being relaxed and others energetic and fun. I still don't 'get it' but I enjoyed giving it a go.
At 7pm the evening meal was served and after such a healthy and energetic day we'd be as excited as puppies waiting to be fed.
Everyone would drift off to bed pretty early, mainly to read and relax before doing it all again the next day.
Many thanks to Azul Fit for hosting my stay during the detox week. It really was the staff who made it such a great experience and I can't recommend it enough.
Prices start from 490 euros for a week which includes two daily classes of yoga and meditation, seven nights accommodation, breakfast every day and one massage. For the Yoga, Pilates and Detox retreat prices start at 800 euros or 950 for a private room. My flight cost £150 with EasyJet from Gatwick to Fuerteventura Airport.