Our travel hacking expert, Anne, has embarked on a different type of journey as she heads to India to restore her mind, body and soul with Ayurveda.
The Ultimate Stress Head
It's been a stressful year. Hassles at work, step-mom anxieties, and a long suffering back injury which limits running (my usual stress antidote!) My usual healthy routine has been replaced with comfort eating, chocolate loving, and wine drinking to ease the stress and pain, so I'm visiting Devaaya to get myself back on the straight and narrow.
Devaaya is an Ayurvedic retreat marooned on Divar Island a short distance from the Goan coast. It is a world away from hedonistic Goan beaches with emphasis on rest, rejuvenation and healing. In short, it's a fast track to a healthier lifestyle, and at a fraction of the cost of a similar retreat in the UK.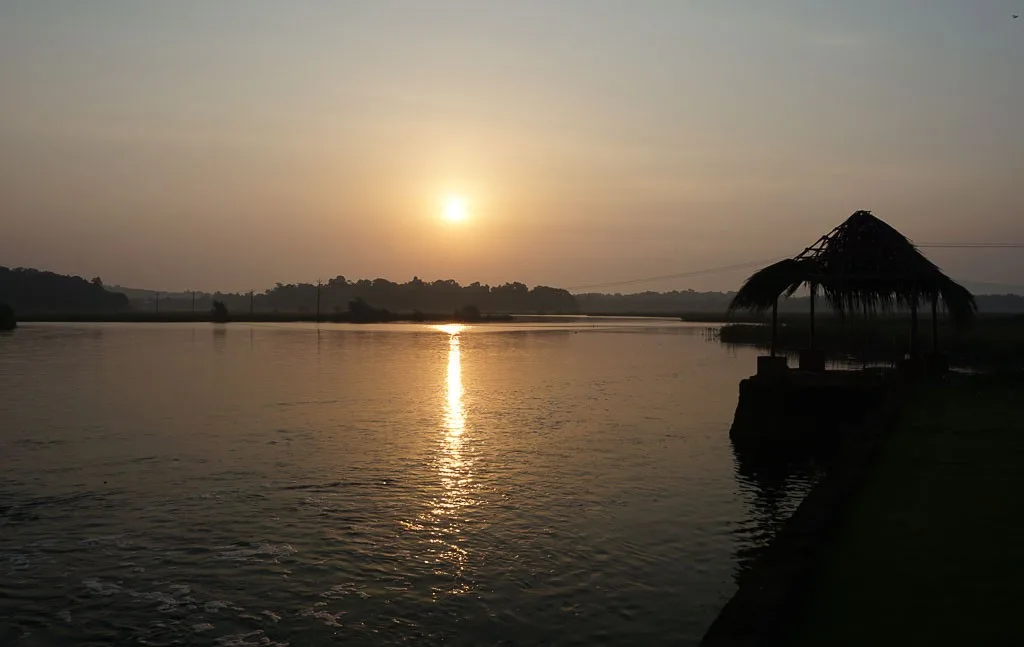 You can indulge in a 'De-Stress' week at Devaaya for the same cost as a weekend retreat in the UK. Admittedly, you do have to invest in flights too (unless you have a tardis) but what better excuse could there be to head off to the heady scents and sounds of India?
The Ultimate Health Hack – A.K.A Ayurveda/Naturotherapy Package
If you are unfamiliar with Ayurveda, I'm sure you are thinking these are grandiose claims indeed, but rest assured these are not exaggerated. A week in an Ayurveda retreat can help eradicate bad habits, shed weight, ease pain and reduce stress in abundance.
The last time I attended a retreat, I practically skipped out of the gates with joy, feeling relaxed, invigorated and considerably lighter!
What is Ayurveda?
Ayurveda is an ancient Indian medicine which focuses on health through balancing the mind and body.
So how does it work?
Whether your goal is to ease pain, recover from injury or lose weight, after an initial consultation with the Ayurvedic doctor you will receive a tailored treatment plan.
This may consist of a specific diet, facials, massages, wraps, saunas and a variety of treatments with no equivalent western name. Some will seem downright bizarre, as massages involve a sea of oil, rice, or a beach full of sand..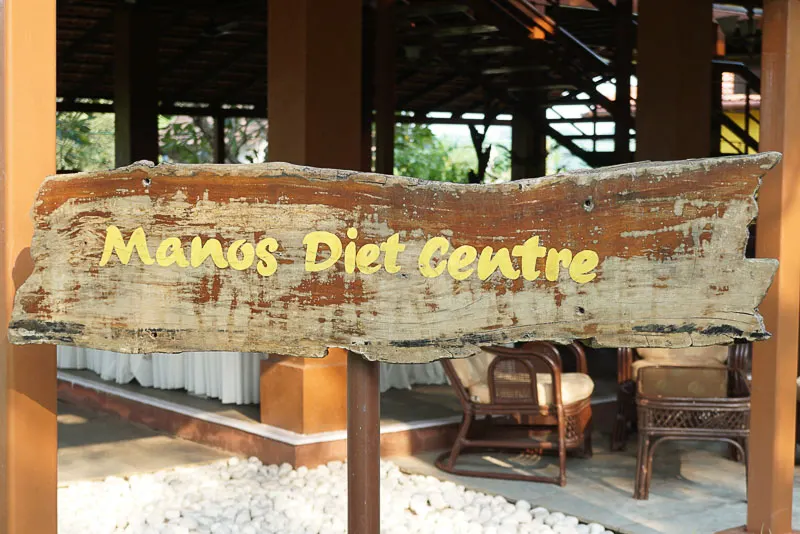 As odd as they may seem however, they are surprisingly effective at relieving tension and stress.
I love a good massage, what girl doesn't?
However, it is usual for me to be planning my evening, shopping, work list, or next holiday whilst stretched out on the massage table. I NEVER switch off! Yet something bizarre happens with these massages; the luxuriant four hands (did I mention you usually have two therapists?!) swirling up and down my body in soothing, rhythmic moves has me daydreaming in no time, such that I virtually wobble off the table at the end (not dissimilar to how I look after a few wines!).
This time round, the back problem is the focus of all my treatments with specially prepared oils designed to ease the pain. For the duration of the treatment, they absolutely do, but given that I currently feel like I've been transported into the body of a ninety year old, it's going to take a while longer before I can clamber off the table like a sprightly squirrel. For now, embarrassingly I'm helped off by the very sweet, youthful therapists who I'm sure are secretly giggling about me!
The Ultimate Health Hack For Body and Mind
Each retreat includes yoga designed both for mind and body relaxation.
The yoga classes are gentle, and with just a little adaptation I can happily join in. They include some pranayama (different breathing techniques) exercises which are particularly effective for calming the mind. This may sound a little black magic, but anyone who has been in a stressful situation, and told to take deep breaths will be able to testify to how powerful deep breathing can be in triggering the relaxation response.
There will be a few 'OM's chanted at the beginning and end of the class, which can be a little strange for the uninitiated, however go with it, as the vibrations from a group of enthusiastic people chanting loudly can be pretty mind blowing (perhaps I should have warned you about my inner hippie!).
The Ultimate Health Hack For Your Mind
Retreats also include daily meditation classes.
Now I have a confession to make, I've been a regular meditator for a number of years, but frankly it can often feel like cockroaches attacking my body. In short, I have a love/hate affair with meditation.
Sometimes it is incredible, and I am whisked away to a world full of fluffy rabbits, pancakes and waffles which don't make you gain weight, and endless turquoise waters lapping delicate white sands.
Tragically however, this is a volatile relationship, and on many occasions, meditation makes me feel like my skin is on fire, and crawling with ants.
Then of course there is the middle road meditation days, where try as I might to focus on my breath/candle/colours, all I can focus on is that long list of bloody things I need to do.
Sit still without moving for thirty minutes? Are you kidding me? How about five if I'm lucky?
I think you get the message, meditation and I do not have a marriage made in heaven. Like Liz Taylor and Richard Burton, we have been married and divorced several times, so it's with some trepidation that I attend the meditation sessions.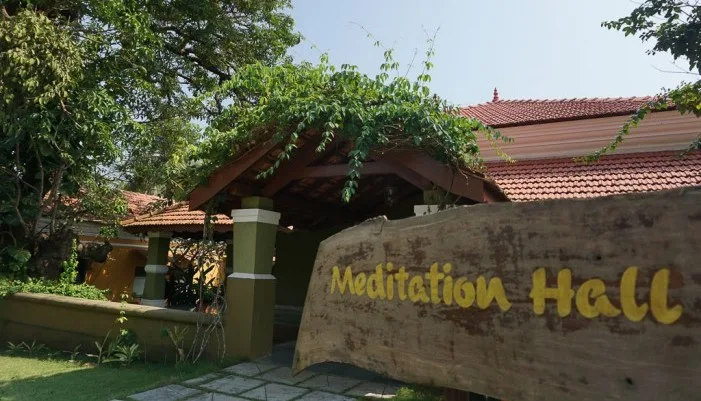 Sessions seem to be split between sitting meditations focussed on candle flames, which have me virtually falling off my chair as my head nods, and eyes blur, or lying meditations in which I struggle to avoid vivid daydreaming before I've even counted backwards from 27 to 15. Is that what they call relaxation? If so, what the hell? I am so back in love with this game.
The Ultimate Health Hack From Within
Devaaya offers a low fat, low salt vegetarian menu for guests. It is based on Ayurvedic principles, with some additions thrown in to cater for western tourists unused to curries for breakfast! Personally I'm in the 'when in India camp….' happily tucking into sambars, and dhals for breakfast with joyful relish!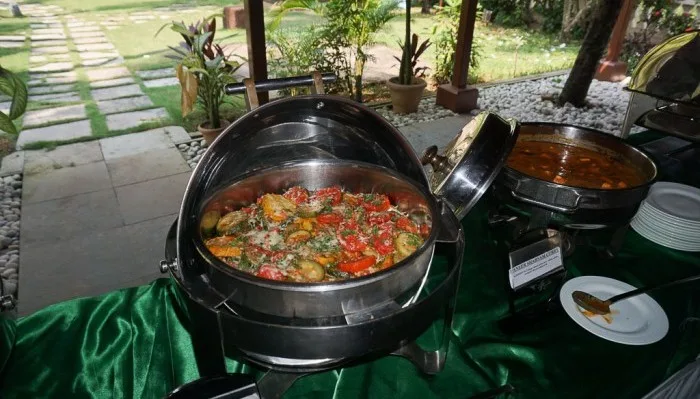 The idea is that through an Ayurvedic diet, we help rebalance the body from within. I may not lose a ton of weight this week, but I will certainly be on the path back to better eating.
And there's more
Added to all of that incredible stuff for frazzled minds and bodies, the retreat is set on the peninsula of an island surrounded by lush tropical foliage and wetlands. It's a world away from the busy West, and with a swimming pool, gym, classroom (for a variety of talks) and library there's plenty to do between treatments.
So if you have a spare week (or longer), and want to be pampered rotten in a country that is colourful, chaotic and calming all rolled into one, check out an Ayurvedic Retreat.
For more information on Devaaya you can read a full review here, and if you do decide to make the splash and book, be sure to quote ANNESBROOKS when you enquire to receive a 10% discount.
Got to rush now, another treatment beckons!
We received a 20% discount on our booking in return for a review, however all views our own own and unedited.