Bali really lives up to its nickname 'The Island of the Gods'. With its year-round sunshine, volcanic landscape, sweeping beaches and extraordinarily rich culture, it's easy to see why when given free reign of the whole world, the Gods would make Bali their home.
Predominantly a Hindu island, you'll see traces of this proud religion everywhere. Offerings to the Gods lay in the street, families fight to outdo each other to have the best looking temple and yoga is a way of life. All this paints a picture of one of the most laid-back countries in the world – just perfect for a relaxing getaway.
Ubud and Kuta are the main hubs in Bali and where most travellers will base themselves. Opt for Kuta if you're after a lively holiday and Ubud for a more chilled out scene. It's then possible to hire a scooter and explore the island at your own pace. If you don't like the idea of a scooter, you can also hire a local taxi driver for a whole day. Most drivers will speak English and will act as a mini tour guide as they show off their beautiful island.
So if you're planning a holiday to Bali, make sure you read this handy guide to make the best of your trip.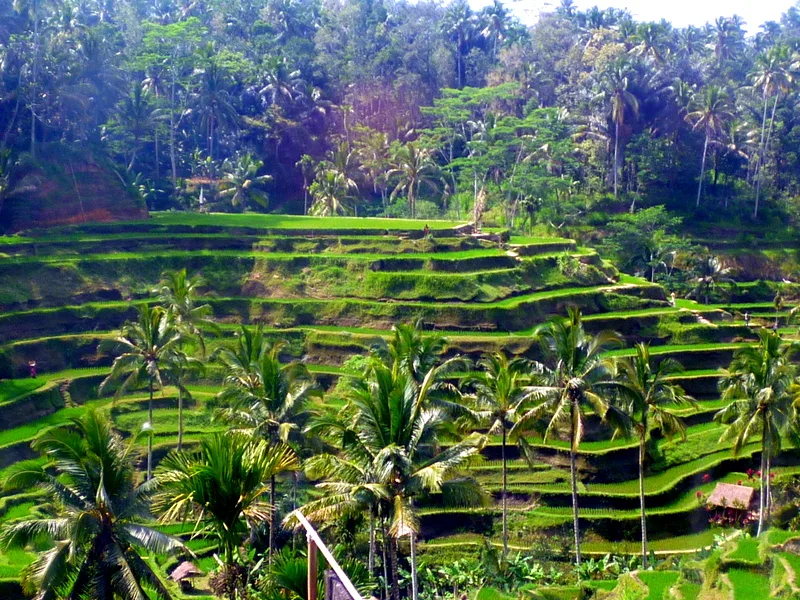 How to get to Bali
Bali is situated in between the Indian Ocean and the Pacific, in amongst the estimated 17,000 islands in Indonesia. Its close proximity to Australia means that it is a popular holiday destination for Aussies, but there are still plenty of Europeans who make the 16 hour journey to catch a glimpse of paradise.
From the UK there are no direct flights at present, but most people choose to fly via one of the big Asian hubs such as Kuala Lumpur or Singapore, or via the Middle East. Two recommended airlines to travel to Bali with are Singapore Airways and Emirates, who have the best fleet and service, in my opinion.
You'll fly into Denpasar International Airport and from there it's easy to catch a taxi to your hotel. Taxis are regulated with set fees to certain destinations so you don't need to worry about being ripped off.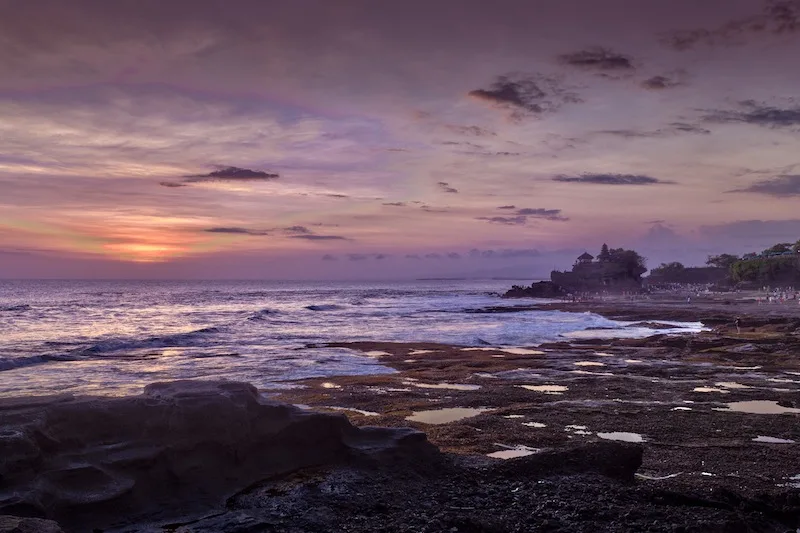 Where to stay in Bali
The quirky option and travelling with kids – Hard Rock Hotel
Each room in this luxury hotel in the heart of Kuta is themed around a different rock star, which exactly what you'll be feeling like after a stay here. There's loads to do in the hotel with a gorgeous pool area – it's actually the largest free-form pool in Bali! The Hard Rock Hotel is also well set up for kids with the Lil Rock Kids Club, a climbing wall and karaoke rooms.
Boutique Hostel – The Island Bali
If you're travelling on a budget but still want to have a touch of luxury, then The Island Bali is for you. Dorm rooms are bright and spotlessly clean, and the pool is a great place to chill out and meet people before partying the night away in Kuta.
Affordable Luxury – The Kirana Bali
The Kirana has a lovely pool overlooking rice fields and is based in quieter Canggu, just a 5 minute walk from the beach. Rooms are immaculate, and opting for a poolside room is definitely worth the extra cash.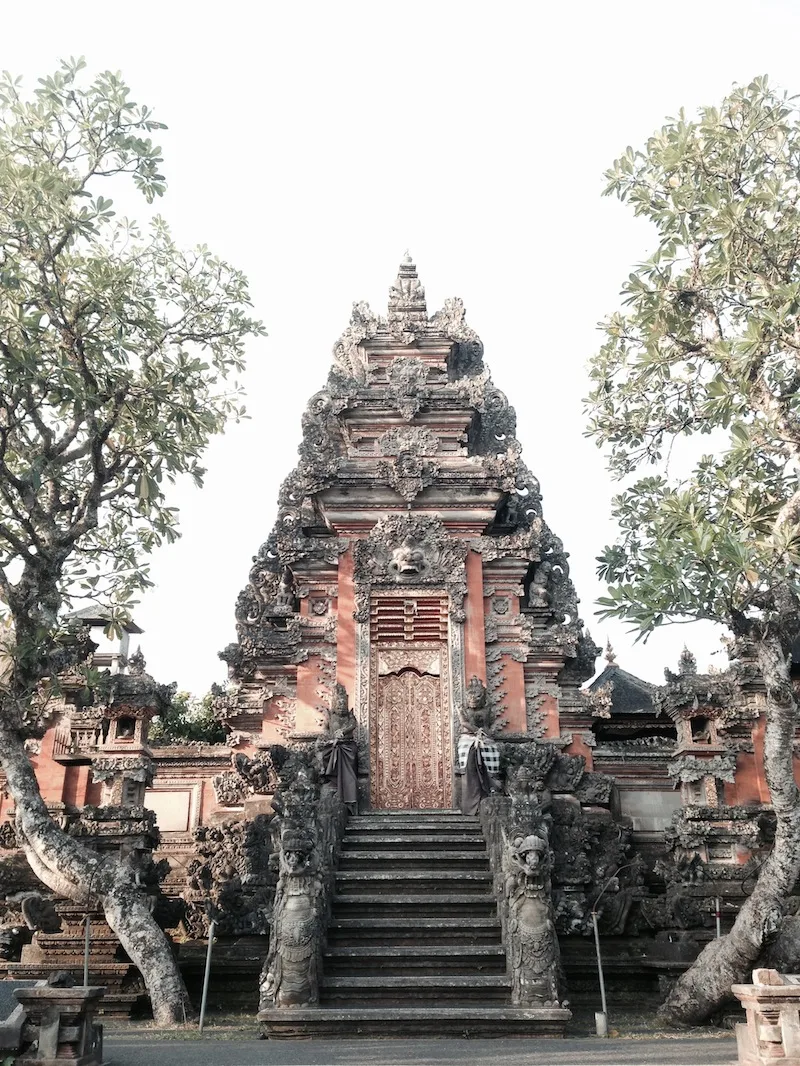 Top 10 things to do in Bali
#1. Visit the monkeys
Close to the spiritual town of Ubud lies none other than a sacred monkey forest. As well as being home to dozens of cheeky monkeys (including a few babies!), it also has one of the most impressive Banyan trees in the world.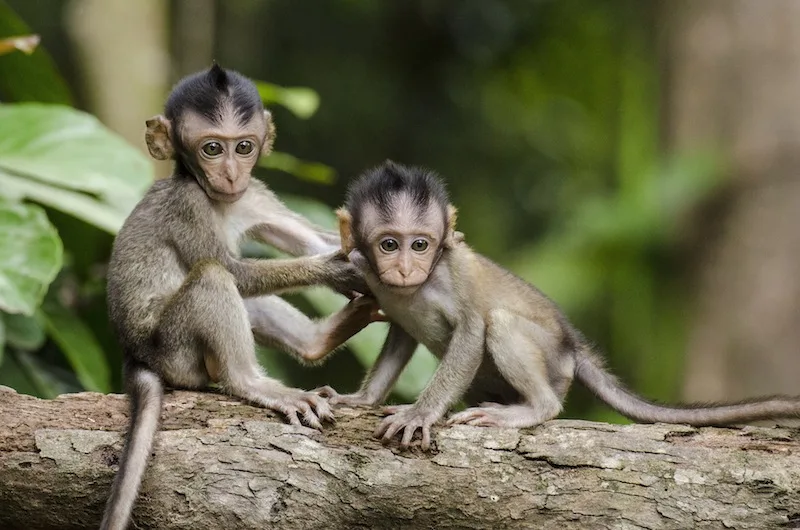 #2. See Tanah Lot at sunset
The distinct temple of Tanah Lot just has to be seen to be believed. Carved into a rock just out to sea, it's one of Bali's most treasured temples, and the views are even more magnificent at sunset.
#3. Hit the beaches
With more sunny days than almost anywhere else on Earth, there's no better place to soak up some rays. Head to Sanur's golden beaches, the wild and rowdy Kuta beach or surf-orientated Uluwatu, depending on what you're in the mood for.
#4. Mount Batur
Be prepared to be woken in the middle of the night for your transfer to Mount Batur if you want to catch the famous sunrise. It's worth every step to see the first rays of sun peek over Lake Batur and to see the steaming crater of this mystical mountain.
#5. Ubud Palace
A fine example of Balinese architecture, Ubud Palace is a sight to behold. Be sure to stay after dark for the nightly dance performances held here too.
#6. Take a dip
Bali is just as beautiful underneath the sea as above it… Perhaps even more so! Make sure you sneak a peek at the colourful reefs, sharks and sunfish with a scuba diving trip. You can even explore a sunken World War II wreck!
Read more: Diving the USAT Liberty Shipwreck in Bali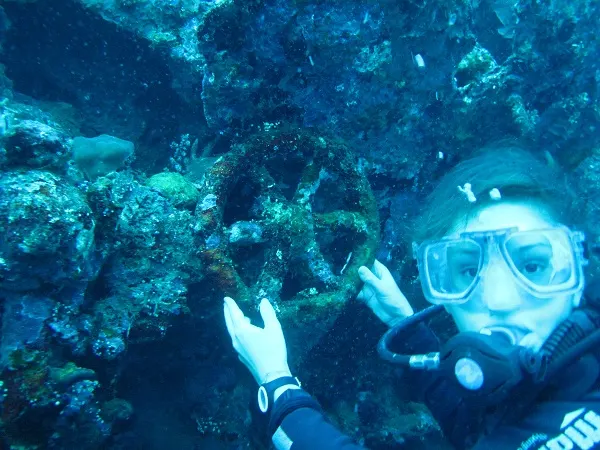 #7. Learn to cook Balinese style
One of the joys of a holiday to Bali is the sheer variety of food, and the deep flavours of the local cuisine. Learn to whip up a dish all of your own with a cooking class, and then impress your friends back home with your Nasi Goreng, Sate Babi or Gado Gado.
#8. Get pampered
You'll be spoiled for choice for spas in Bali. They are literally everywhere you look! Indulge in a massage for less than £4, or get your nails done for around £2.
#9. Hang out in a coffee shop
If you're in Ubud, make sure you head into one of the many coffee shops for a taste of the local brew Bali Kopi. The best are Seniman, Kafe and Atman.
#10. Go surfing
There are plenty of places along Bali's west coast to grab a board and challenge the waves. Some of the most famous beaches for surfing are Uluwatu, Kuta, Canggu and Padang Padang.
Where to eat in Bali
As Bali is well-developed for tourism, there are thousands of incredible eateries battling it out for the title of best restaurant, but it's not all about upscale dining. Some of the best food you'll have is in a simple Warung (local eating house), so don't miss out on the chance to eat like the locals do.
When choosing a Warung, opt for the busiest one you can find – particularly if it's filled with local people. You know the food will be deliciously fresh when it's busy and you can't beat a local recommendation for good food. During your first few days in Bali, try to eat with a large group and encourage everyone to order something different. This way you'll get to try all the local specialities and figure out what's your favourite.
Satay sticks are a firm favourite with most travellers to Bali. These are skewered, grilled meats marinaded in a delicious sauce and make a great snack when you're out and about. You can't miss nasi campur, a dish which often feels like a 'little bit of everything' served with white rice. Nasi gorang is a great introduction to Indonesian food, especially if you're already familiar with Chinese fried rice. Rice is stir-fried with meat and vegetables and served with a variety of toppings and sauces.
Ask locals and fellow travellers for recommendations for restaurants but here are some of my favourites.
Eating on a budget – Alleycats in Kuta
A fantastic, lively atmosphere and the food is as cheap as chips! Get a main course for around £1, and there are always drinks specials too.
Local food – Lada Warung in Ubud
This unassuming little place at the north end of Jayan Hanoman in Ubud is the perfect spot to pick up a plate of delicious satay, steaming noodle soup or Indonesian style beef jerky.
Best upscale choice – Locavore in Ubud
Eating at Locavore isn't just a meal, it's an experience. Choose from the 7 course meat or veggie option and then watch in amazement as you're presented with some of the best and most creative food you've ever put in your mouth!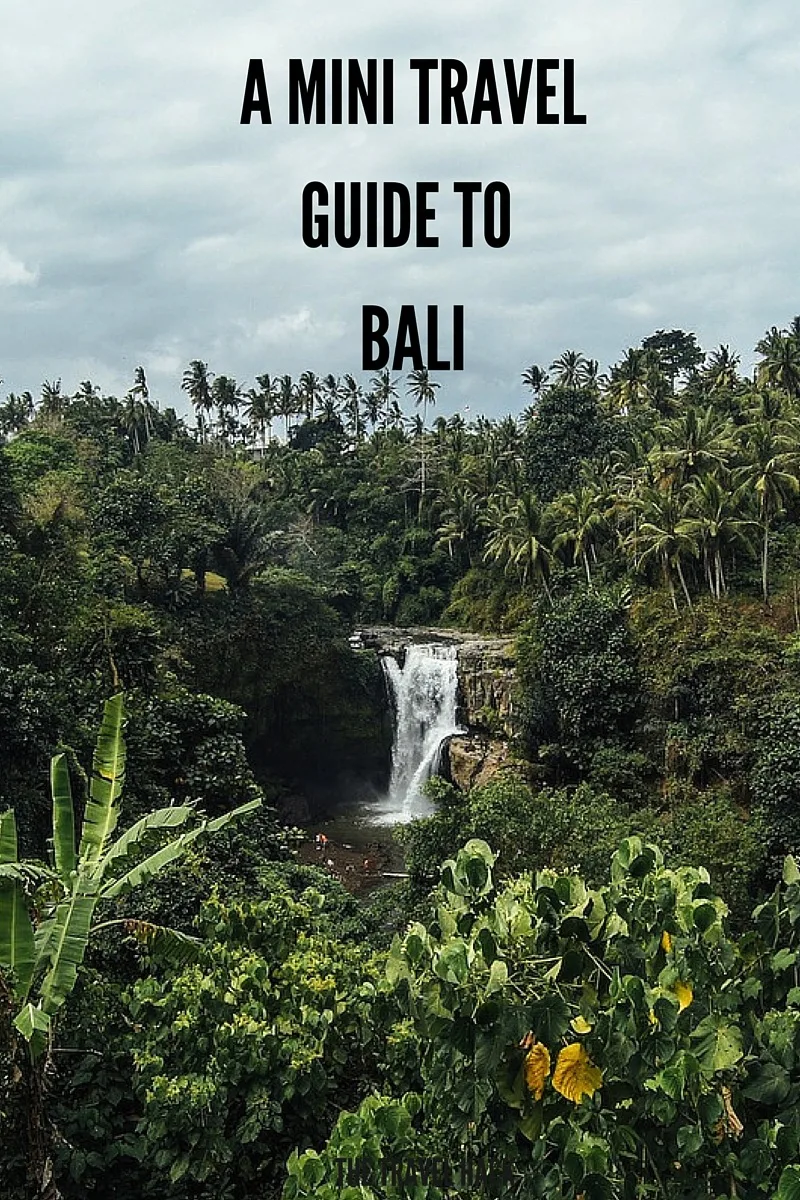 Do you have any Bali recommendations to add to the list?
Read more:
Nusa Lembongan – Paradise in Bali